You're going to find a torrent of accessories for a platform like the Ruger 10/22 since it has rapidly become one of the favorite shooting platforms for many hunters and target shooting enthusiasts. This overwhelming number of options for accessories also means the gear market is often flooded with a complete garbage kit that isn't worth the box it ships in.
That's why we've done the legwork for you and put together this list of the top 7 scopes for your Ruger 10/22. There are options for every need and every budget, from defense and small game hunting to target shooting applications. In the end, make sure you check out our buyer's guide, which will show you the key things to look at so that you're fully informed when you shop around on your own.
The 7 Best Scopes For The Ruger 10/22
Here are the 7 best options for a scope for Ruger 10/22 rimfire rifles. While each scope on this list earned its spot, we've also tried to include things we didn't like about them as well, so that you know none of them are flawless.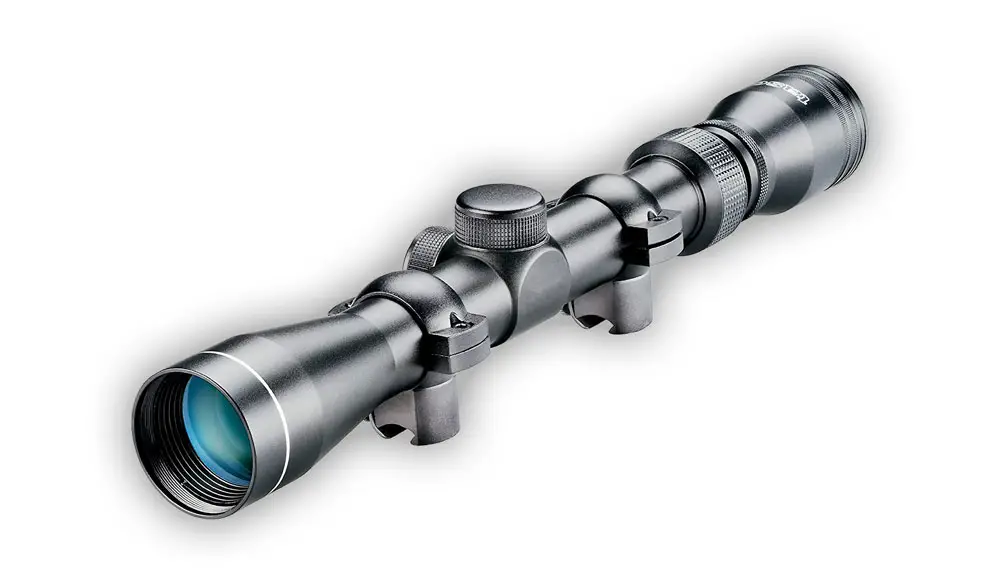 Tasco Rimfire Series .22 Riflescope
Best Budget Scope
Right off the bat, we're going to start with a budget scope winner. The Tasco Rimfire Series .22 Riflescope is great for small game hunting under 50 yards and plinking for fun. It probably won't win you any awards for aesthetics with its very simple and plain appearance, if you need to operate accurately in a mid-range environment, this could be a great option for you.
For youth rifle applications, or other situations where someone is just learning how to shoot and scope their rifle, the Tasco Rimfire Series .22 is perfect. It's simple and effective, and the price makes it the perfect entry point into Ruger 10 target shooting. The super lightweight construction makes it ideal for anyone that wants something they can carry around without additional chiropractic appointments
Pros
Super-easy to mount and adjust
lightweight construction makes
The magenta multi-coated lens gives a crystal clear picture
Lifetime warranty
Cons
Parallax adjustment is not possible, fixed at 50 yards
Multi-coated optics look less impressive in low light or long distance
---
Vortex Optics Crossfire II 2-7×32 Rimfire Riflescope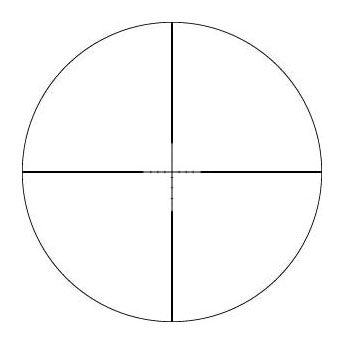 There's no way we could have shown the top scopes on the market and not have included one from the Vortex Optics assortment. The Vortex Optics Crossfire II 2-7×32 Rimfire is just one option in the Crossfire II line and has the features and the performance that you have come to expect from a Vortex quality scope.
Even though it has features like a monotube made from aircraft-grade aluminum that has been nitrogen purged and o-ring sealed to keep moisture out, and given fully multi-coated optics to maximize light transmission.
This flawless light transmission helps the Crossfire II to have bright, clear images, making it a high-quality scope that is on another level. Just as they do on all scopes, the Vortex Optics Crossfire II includes an unconditional and unlimited lifetime warranty.
Check out our full review of the Vortex Crossfire II rifle scope!
Pros
Lifetime warranty
Second focal plane V-plex reticle
Fast focus eyepiece
Cons
Ideal for Ruger 10/22 rifle applications, less suitable for carbine or pistol adaptations
Turrets of the Vortex Optics Crossfire II must be protected with caps during scope transport
---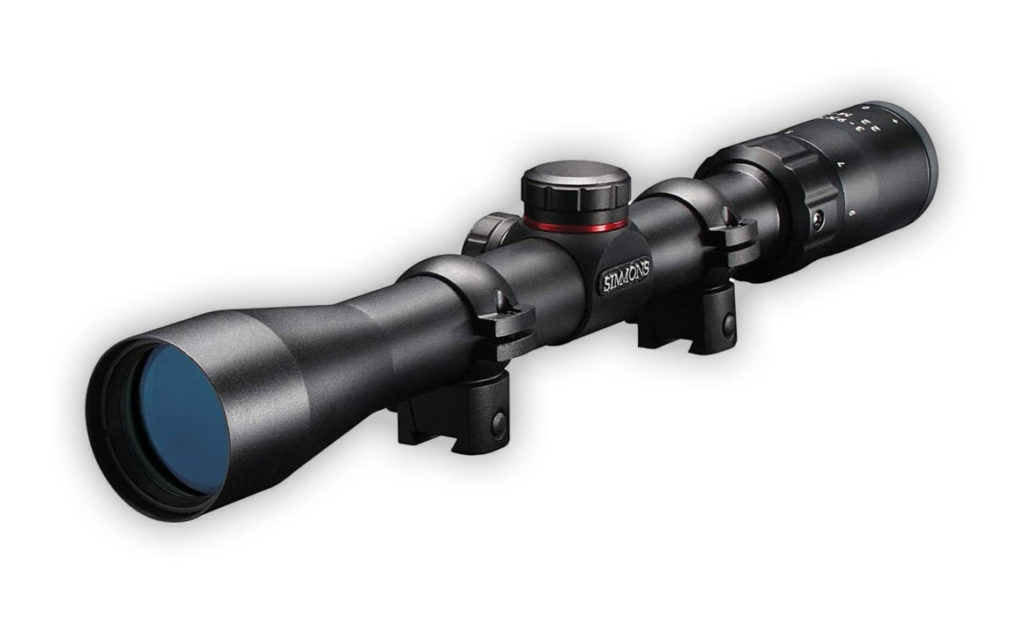 Simmons Truplex .22 Mag Riflescope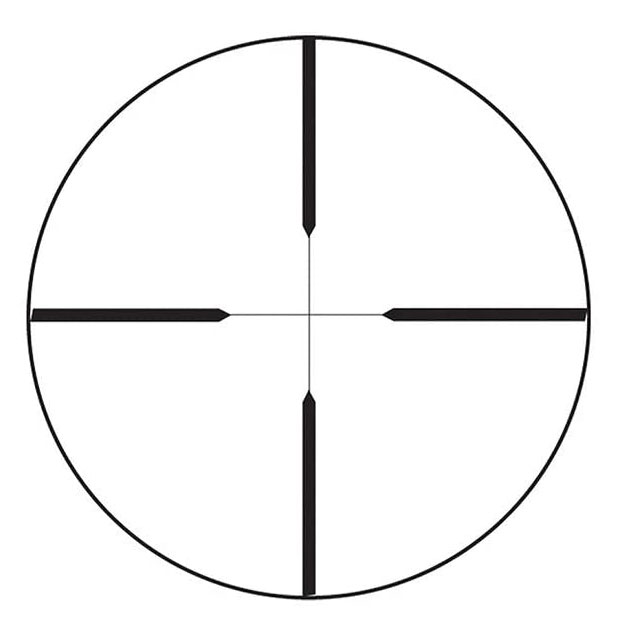 The Simmons Truplex .22 Mag Riflescope is one of the most popular starter scopes out there for the 10/22 platform, both for youth rifle applications and first-build target shooting applications as well. With a price that is well below the $100 mark, most shooters would initially be wary of the quality.
The body is a single piece of aircraft quality aluminum and the lenses include a hydro shield lens coating that helps to sharpen the image no matter the weather quality. This image will prominently feature the custom Tasco Truplex duplex reticle that has a dead hold BDC reticle so your zero stays at zero, no matter how many rounds are fed to it during target practice or hunting.
Pros
3.75″-4″ eye relief
Knobs for parallax adjustment and power settings are coated to prevent slippage
Fog-proof construction
Cons
Limited magnification setting, either 3-9 variable or 4 fixed, both with 32mm objective lens
The coating on the knobs makes them a bit bulky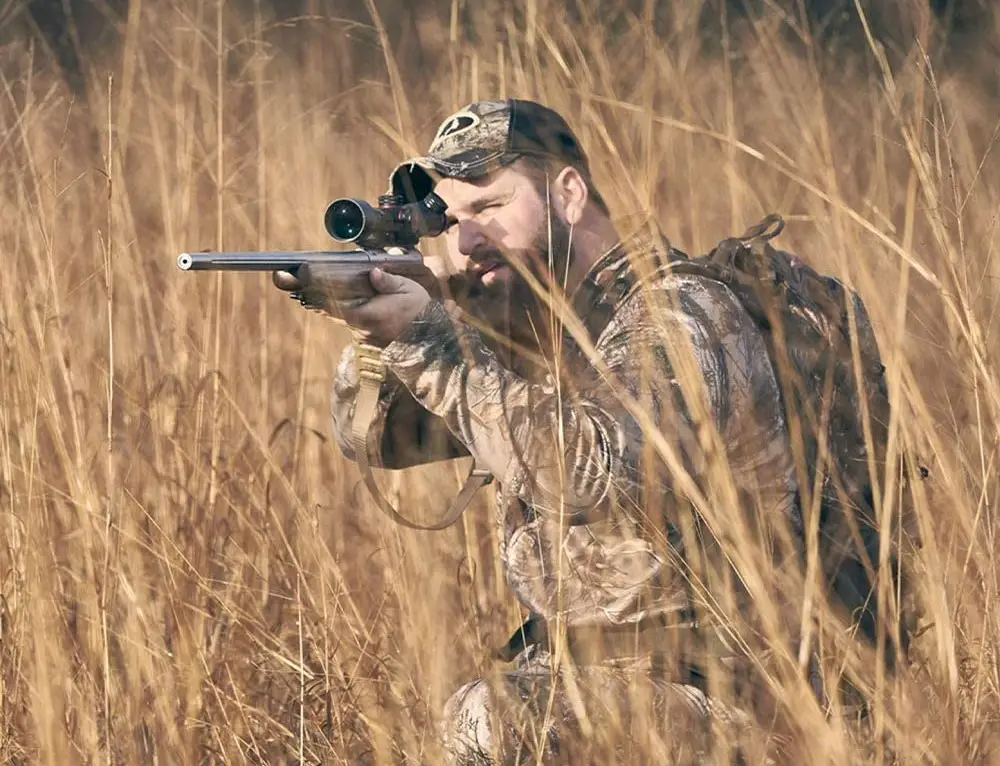 ---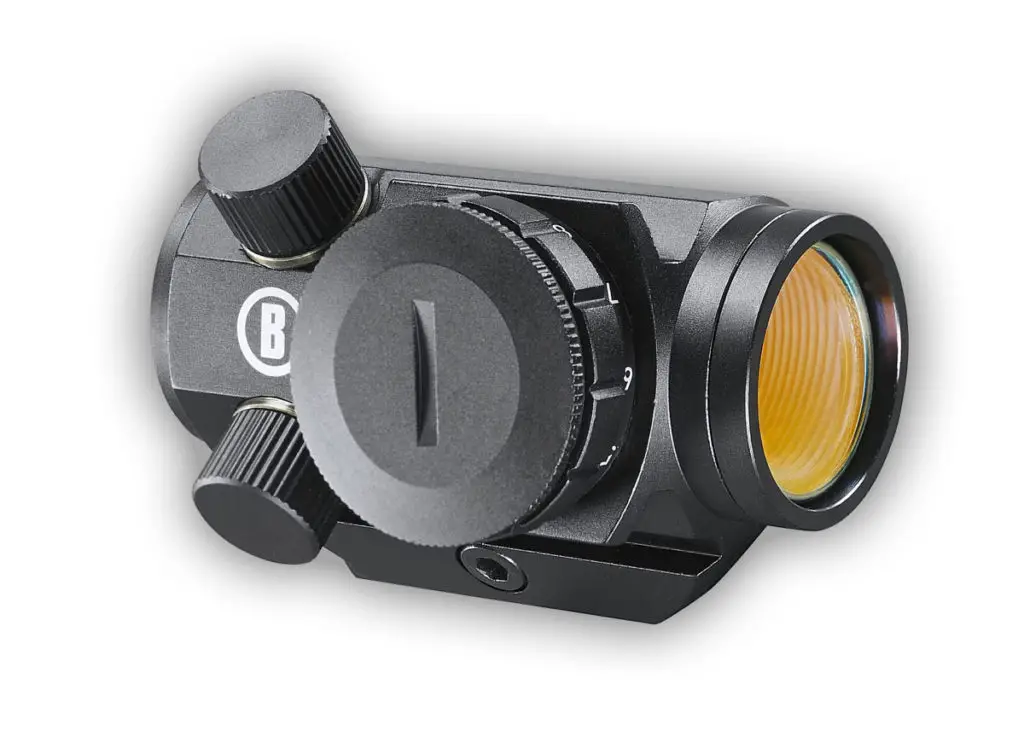 Bushnell Trophy TRS-25 Red Dot Sight


Best Red Dot Sight
While we'll be the first to admit that a red dot sight isn't technically a rifle scope, it still is one of the most effective ways to maintain quick target acquisition in close-range and mid-range applications. Bushnell optics has been a leader in sporting optics and rimfire scope quality for many years, and their Bushnell Trophy TRS-25 Red Dot Sight keeps that tradition alive.
Since the Ruger 10/22 is often used for applications where rapid target acquisition is essential, having a red dot sight is one of the best scope choices you can make. The Bushnell Trophy TRS-25 Red Dot Sight is waterproof, shockproof, and fog proof. It allows you to acquire your target without reducing your peripheral vision and situational awareness.
If your needs are often in close range, where a red dot could provide invaluable speed advantages, there's no doubt that the best scope for Ruger 10 could be the Bushnell Trophy TRS-25. You'll get the standard nitrogen purged, fog proof Bushnell optics for your rimfire rifle, as well as an illuminated red dot mil-dot reticle. It makes an ideal choice of scope for Ruger 10 tactical users.
Pros
A clear, bright red dot allows infinite eye relief
11 brightness settings for the red dot
Parallax set at 50 yards
Cons
Zero magnification
3 MOA default red dot setting only effective for approximately 100 yards
25mm red dot objective lens is limited to tactical for close range
---
Leupold VX Freedom Rimfire MOA Riflescope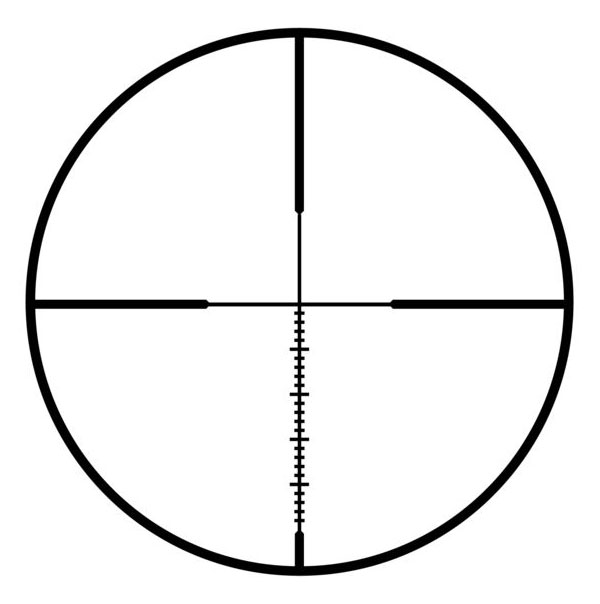 There are few more respected names in the runnings for best scope than Leupold. The Leupold VX-Freedom Rimfire riflescope isn't your average set of beginner's optics you ordered on sale, it is one of the most capable and robust rimfire rifle scopes available today.
The Leupold VX-Freedom Rimfire scope rings hold top-tier 40mm glass against a nitrogen-purged one-piece frame and are preset for parallax out to 60 yards. The elevation and windage adjustments are easy to get to and click audibly for each increment of change so that adjustments can be made with confidence.
Another feature of the Leupold VX-Freedom is that the light transmission of the twilight light management system makes it the best scope for shooting in low light conditions. For those with the budget constraints to allow it, the features and quality of the Leupold scope family put it easily in the runnings for the best scope for Ruger 10/22s.
Pros
Twilight light management system
Generous 3″ eye relief
Matte black finish reduces shine and glare
Cons
40mm objective lens is a bit large for most Ruger 10 applications
Leupold pricing is higher than most
---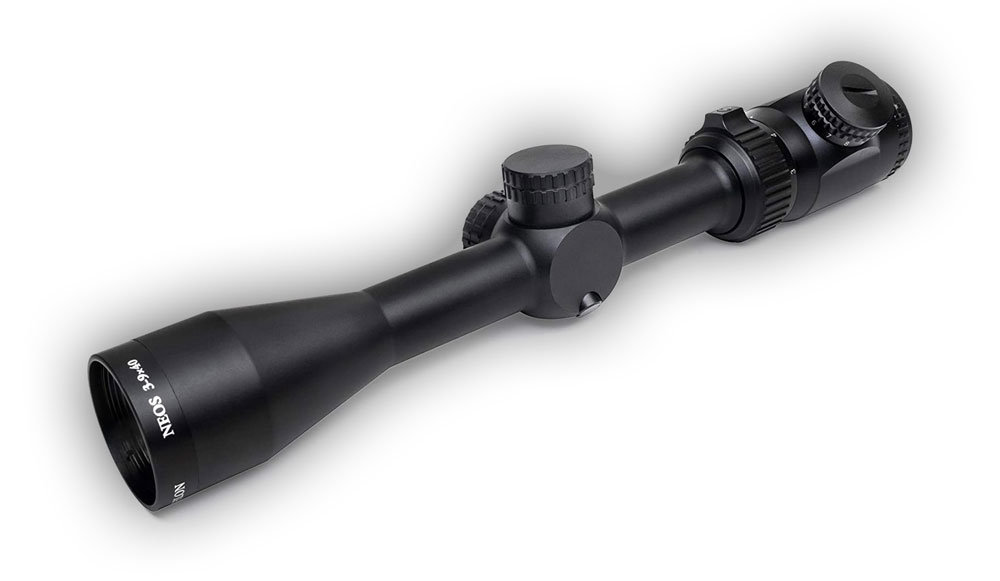 Athlon Optics 3-9×40 Riflescope
A lesser-known but formidable optics option for your Ruger 10/22 is the Athlon Optics 3-9×40, and it is one of the more reliable options for long-term use. While it is a significantly larger scope than some others, the aluminum construction helps to keep the weight down and prevents it from throwing off your gun's balance.

An option not seen on too many other guns in the class is the capped and resettable turrets for estimating windage and elevation without changing your zero. This also makes compensating for varying weather conditions on a hunting trip much simpler as well, making the Athlon Optics 3-9×40 a superb option for reliable small game optics.
The fully multi-coated optics help boost light transmission to help give you the clearest, brightest picture possible in the conditions. Since the Athlon Optics 3-9×40 comes with a drop zone BDC reticle, you'll be able to accurately project your shot's drop over distance. Overall, it could be the best scope for you to shoot more than 50 yards if you aren't used to it.
Pros
BDC reticle helps you estimate bullet drop
Low reflectivity helps keep you stealthy during a hunt
Cons
Limited magnification choices
Larger objective lens limits portability somewhat
---
Leupold FX-I Rimfire 4×28 Riflescope
Another great scope from Leupold for the Ruger 10/22 is the Leupold FX-I Rimfire 4×28. It offers a more manageable objective lens size than the 40mm on the Freedom line, but keeps many of the same construction features like a single-piece nitrogen purged tube with o-ring sealed scope rings and optimal waterproofing and fog proofing measures.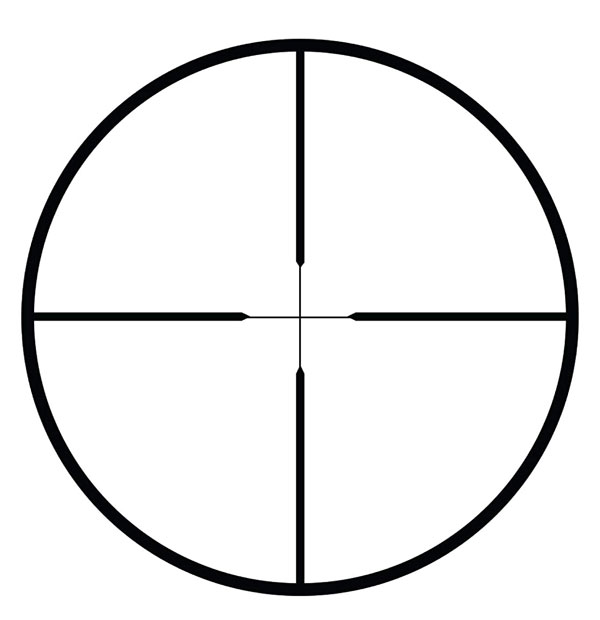 While the Freedom line of Leupold rimfire optics allows for variable magnification, the FX-I line is fixed. This gives you longer eye relief and faster overall acquisition, but it gives less versatility. On the other hand, those browsing Leupold optics are already looking for the best scope for Ruger 10/22 rifles, so they know what magnification they will need on a daily basis.
The Twilight Max Light Management System makes going on hunts or other nocturnal-adjacent activities much easier. While it doesn't amplify the light, the system works to collect and focus the light, transmitting it to where it's needed in the scope. This means you'll get the clearest, brightest picture possible during the day, and in the dawn & dusk periods, you'll enjoy a few more minutes of usable time.
Pros
Fine duplex reticle is simple and clean
Parallax preset at 60 yards
Twilight Max Light Management
Cons
Parallax non-adjustable
Fixed magnification could be a drawback for some
Robust price point.
---
Things to Consider when Buying a Ruger 10/22 Scope
Our list here is just a jumping-off point for the best out there, so when you need optics for your Ruger 10/22 make sure you consider a few factors before you commit to one.
Be sure you're getting an o-ring sealed quality scope made from aircraft-grade aluminum, to help keep it light. It should feature the standard parallax adjustment and elevation adjustment and should have crystal clear lens construction.
Beyond that, just be sure that the rimfire scopes you're looking at for your Ruger 10/22 are going to work well for your individual needs, whether they are hunting or protection.
It Should Be Sealed From The Elements
No matter what, every scope you consider should have waterproof construction and a multi-coated lens to help make the scope fog proof as well. In many cases, the scopes will be purged of atmospheric air and will be filled instead with an inert gas like nitrogen.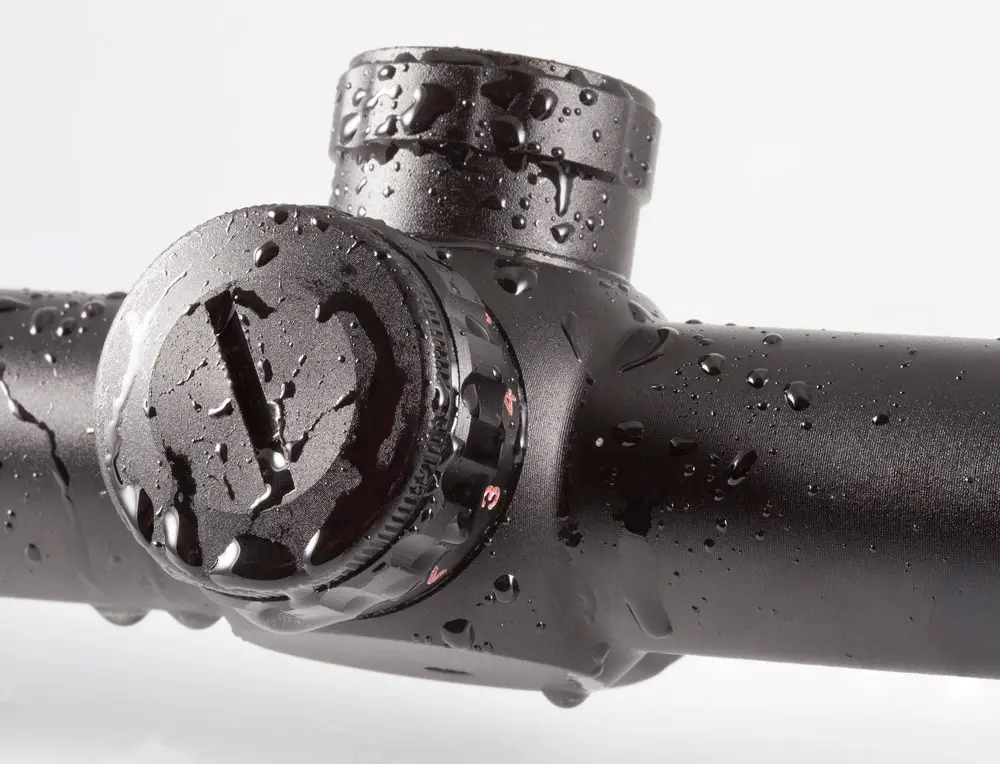 Be sure that any scopes you look at are single-piece, and have o-ring sealed scope rings, so they have the structural integrity to keep out moisture, mud, dust, and more. Maintaining a seal and keeping out ambient humidity helps to keep them from creating condensation, since a high-quality scope will be made of aircraft-grade aluminum, it will dissipate heat easily. It will help dissipate heat from your gun as well, and when a small amount of moisture gets in the tube it can create condensation.
Most abrasion-resistant lenses will also be fully multi-coated lenses so that they resist scratches, abrasions, and damaging debris, while still transmitting as much light as possible to the lenses for the shooter.
Weight Matters
While big scopes may look cool and lend to the aesthetic your rifle build demands, bigger scopes mean more glass. More glass and larger tubes to hold the bigger lenses all add more weight.
This additional weight is going to affect how your rifle carries, how it feels, and most importantly it's going to affect how it shoots.
Normally a higher-mass gun will help absorb recoil, but attachments like scopes don't add enough to help mitigate recoil, just enough to make them more awkward. If you have to transport your gun, having a large, bulky scope can mean having to detach the scope before safely transporting the gun.
Eye Relief
Eye relief will be an important factor, particularly for those that are set up for long-range shooting. For shots that are going to be reaching out to 25, 50, or even 100 yards you'll want a scope that will let you see your target easily, and allow for rapid target acquisition for subsequent shots.
Long eye relief means that you can be further away from the eyepiece and still see the full sight picture. Short eye relief will require your eye to be physically closer to the rifle scope during precision shooting, which can increase injury by impacting the scope rings or scope lenses.
Having an ultra forgiving eye box is the cornerstone of long-term comfort for shooters that spend a lot of time looking at the sight picture. The best scopes for close-range shooting are going to be quite different from those geared toward the mid-range shooting and long-range shooting.
What Magnification Power You'll Actually Use
Big objective lens scopes or long and low high magnification scopes may look great on your build, but if you're buying magnification power outside of what you're going to use, you're actually doing yourself a disservice. If you don't need anything above a 7x, then a 3-9 should have you covered for anything and then some.
Not only will a larger rifle scope add to the size and weight of the rifle, but it will require much more maintenance than a small rifle scope. It will need to be cleaned and zeroed just like normal, but bigger scopes tend to become less accurate much quicker than smaller scopes. You can get all of the scope features you want in a good scope for your Ruger 10/22 without getting a scope bulky enough to throw your shots off.
Reticle Style & Complexity
This certainly isn't a make-or-break category for many people, but for some shooters, it can be. Most shooters prefer a simple and uncluttered look, especially for the Ruger 10/22 where you aren't going to be sending your round 500 yards away.
Most Ruger 10/22 shooters use them as a target shooter, varminting, or small game hunting guns, so commonly short-range shooting won't need to account for windage or bullet drop.
For those that do need some marks for gauging bullet drop compensation for long-range shooting, there are plenty of options out there that will get you a comfortable and informative reticle.
Can You Shoot Long Range With A Ruger 10/22?
You can absolutely accomplish long-range precision shooting with a Ruger 10/22 and a solid rimfire scope. While the designation of "long-range" may be relatively subjective, you can shoot a Ruger 10 long-range much easier with a scope than without.
Even while most conventional shooters might tell you that anything other than iron sights for a hundred yards or less is cheating, the Ruger 10/22 platform is made for small game hunting and tight shot groups. A good rimfire scope for Ruger 10's can make the shooter far more accurate and effective at range.
For close-range shooting, you can't get much better than the Ruger 10/22, and when you want to really give yourself pinpoint accuracy, a red dot sight or something with no more than a 4x magnification power will be ideal. Mid-range shooting with a Ruger 10 rimfire rifle scope can mean you are much more effective in that crucial 50-100 yard gap.
For reaching out and touching small targets at 100 yards or more, you'll want at least a 6x and possibly up to a 9x. Any more than that and it's overkill, and any less and you just won't have the same clarity of the shot.
Why The Ruger 10/22 Is So Popular

The Ruger 10/22 has remained such an incredibly popular rimfire platform after more than 50 years of constant production for several reasons. It uses cheap and plentiful ammo, it's light and manageable, easy to customize, and has very little felt recoil.
The rimfire ammunition is one of the biggest selling points of the miniaturized M1 tribute. Not only can you frequently find .22 ammo in even the tightest of times, but it can be reloaded at home, increasing its economy even further. For those that like to shoot recreationally, or go plinking on their own property, the ability to use the cheapest ammo possible is a huge draw.
With a factory weight of only about 5 pounds, the Ruger 10/22 is a super-light and fun-to-shoot gun, but it also won't weigh you down when it counts the most. If you have to bring your gun on a healthy hike into the brush, having a gun with the lowest weight possible is less stress getting to your spot. Even with such a low weight, the Ruger 10/22 also has lower recoil than many other rimfire rifles.
Choosing The Best Scope For Your Ruger 10/22
When it really comes down to it, nobody is going to know which scope is best for you, except you. However, you are planning on using your Ruger 10/22 is going to weigh heavily on what factors are important in choosing your scope. Those who need fast target acquisition inside 25 yards are going to have wildly different scope needs than someone who uses their rimfire setup to varmint or hunt small game.
Out guide should have given you some great options for scopes to get you started, though. No matter what you're doing and what you need from a scope there's something in our list that you can drop into a cart today. Once you become a bit more accustomed to Ruger 10 scopes and comfortable in using a scope for shooting in general, you'll be ready to branch out and experiment a little.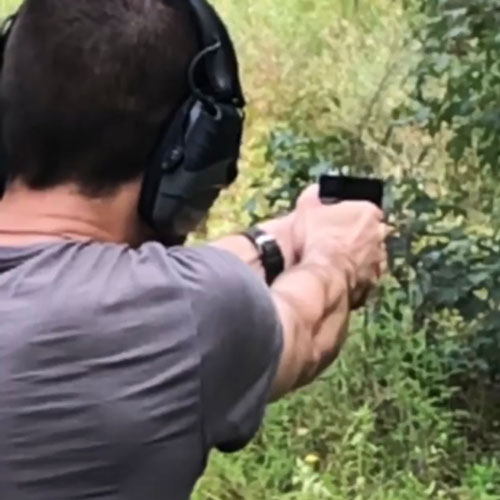 Growing up, John loved learning about the components of firearms and what makes them work, which still intrigues him to this day. He's a very outdoorsy person, and he loves fishing, hunting, and skeet shooting. He is a firm believer in the Second Amendment and the right to bear arms.