For a lot of shooters, the .22lr is the round that we learn to shoot with, and many of us have fond memories of doing some target shooting with a .22lr rifle. The round is an excellent one to train new shooters on thanks to the low recoil that makes it fun to shoot, as well as the low cost of the ammo. But, many people overlook rimfire rifles for accuracy in target shooting and hunting later on. An accurate 22 is one of the more fun rifles to shoot, and we hope you find one you like.
Often, 22 rifles are fun to shoot, accurate, and models are available in all kinds of form factors. Here, we're going to look at a selection that represents a wide range, from single-shot rifles to bolt actions, semi-automatics, and even 22 rifles made in the style of old west cowboy guns. We're considering what I think to be the best .22LR rifles at all price points. With ammunition prices being absolutely insane, one of the few ammunitions that you can still find and reasonably afford to shoot is the humble .22, so the time is now to consider it as a cartridge in which you'd want to have a nicer rifle.
Best 22 Rifle – Top Picks

The Henry Goldenboy
| | |
| --- | --- |
| Action Type | Lever Action |
| Capacity | 16+1-Round |
| Length | 38.5″ |
| Weight | 6.75 lbs |
Henry Repeating Arms is best known for their lever-action rifles, and have been making them for over a century. If I had to have one .22 to add to my collection that I would happily own until I passed it down to my children, it would be the Henry Goldenboy in .22 LR.

Appearance-wise, it is an absolutely gorgeous firearm: the brass receiver, contrasted with the reddish wood and the blued barrel makes it an instant classic, and anyone would smile shooting it, even the most jaded AR fans out there can appreciate the beauty of this gun.

It also has a mechanism that's seeing a resurgence in a variety of calibers, the lever-action. There's something deeply satisfying about shooting a lever action and having every part of the process be so intentional on behalf of the shooter.

As far as shooting it goes, these are a dream: the weight is fairly substantial, and the length of pull is perfect for adults. Once you're used to the sights, expect tight groups. Reloading is a little awkward at first, but the tube can hold 16 rounds, so it's not like you'll be doing it all that often.
Unfortunately, the Goldenboys are hard to find today with the constant shortage of firearms at most retailers. However, the much cheaper and still beautiful Henry Classic is typically available and easy to find.

---

Ruger Precision Rimfire Rifle
| | |
| --- | --- |
| Action Type | Bolt Action |
| Capacity | 10+1-Round or 15+1 |
| Length | 35.13″-38.6″ |
| Weight | 6.8 lbs |
There's always something new to learn about firearms. For example, I had no idea that real, serious accuracy competitions existed in .22 caliber. Well, apparently there are, and the piece of kit to have, assuming you're not custom-building a rifle, is the Ruger Precision Rifle in .22 LR. Ruger is getting a name for themselves in the high-end rifle game, and it shows here.
This is a nice bolt action rifle, period. The AR-style pistol grip, fiberglass chassis, heavy barrel, massive bolt handle, and ability to take any kind of accessory you might like, make this look like most tactical rifles you'd see at the range.
The main difference between this and its much, much more expensive cousins is the caliber. Here, having a .22 caliber rifle might make an awesome training tool: developing the muscle memory to shoot well, without the flinch that most people get with bigger calibers, would put you well on the path to accurate shooting, whether it's on this gun or a scaled-up version. Off the range, this would be the ultimate varmint rifle at medium to long ranges.
---
Smith and Wesson MP15-22
| | |
| --- | --- |
| Action Type | Blow Back |
| Capacity | 25+1-Round |
| Length | 30.7″ |
| Weight | 5 lbs |
I first saw one of these over a decade ago: a friend in the National Guard had one so he could practice AR fire controls at the range, for less money. At the time, I balked at this. But, back in 2011, .223 was only a little more expensive than .22. Well, he was right.
This offering, the Smith and Wesson MP15-22 is set up nearly identically to my .223 caliber AR. The furniture is standard AR Stuff, including a collapsing buttstock, nice fore-end, and all the rail space anyone could ask for. Internally, this will be a blowback-operated gun rather than the standard gas operation of an AR, but all of the controls are in the right place, making this a great training aid.
Since this one comes with iron sights, I would likely not add a thing to it. With that said, for a little more accuracy, a red-dot sight and a white light would make this a great training tool for your larger AR that has become too expensive to feed. Thus, you can save your $1 per round hollow tips for actual home defense, and use this excellent AR to get in your range time and keep fresh on weapon manipulations.
---

Remington 552BDL Speedmaster
| | |
| --- | --- |
| Action Type | Blow Back |
| Capacity | 15-Round |
| Length | 40″ |
| Weight | 5.75 lbs |
Before the times when Remington's reputation went downhill with some subcontractors making sub-par shotguns, the company built a global presence on excellent sporting firearms. This 552BDL Speedmaster is one of them.

This is a semi-automatic, tube-fed .22LR that can take both short and long cartridges. Sights-wise, you have a front blade and a rear notch. The whole thing is couched in American Walnut. This is what you're thinking of when you think " cool old .22 rifle" and its classic design still performs well today. Guns like this will always have a place in my collection, even if I'd rather have an MP5 for home defense.
---

Ruger 10/22 Takedown
| | |
| --- | --- |
| Action Type | Blow Back |
| Capacity | 10+1-Round |
| Length | 36.75″ |
| Weight | 4.3 lbs |
Most modern .22s follow the pattern set by the Ruger 10/22 Takedown, and it's one of the guns that has made modern Ruger such a trusted name in the industry. This is one of their morse standard models, with a 16" barrel, which is black, with the action bedded in a black polymer stock. It's the one you want if you want a long-lasting, rugged gun that will get the job done and can be accessorized any way you like.
In an ideal world, I'd track down one of the integrally suppressed barrels Ruger made several years back, and pop it on this gun to get a whisper-quiet pest control gun, but good luck finding one of those for sale anymore.
---
Most accurate 22lr rifle for under $400
In this piece, we're also going to cover five .22 rifles that can be had at a reasonable price range that are focused on accuracy. For each one, we'll make the case as to why we think it deserves a place in this list, as well as some of the features that we like about the rifle.

Marlin 60SS
| | |
| --- | --- |
| Action Type | Blow Back |
| Capacity | 14-Round |
| Length | 37.5″ |
| Weight | 5.5 lbs |
First up, we have the Marlin Model 60. We included this one because Marlin has been making absolute tack drivers for decades, and at this price, it will be hard to beat in terms of looks. This one, a semi-automatic, comes with a stainless steel barrel and wooden laminate stock that give it a modern, sleek appearance that we find attractive.
In terms of features, there are several that help the Marlin Model 60 make it to our list of these affordable .22lr rifles. First is that it comes with sling mounts: this may seem like a small thing, but it makes the model 60 a lot easier to kit out as a hunting rifle. Second, the adjustable sights on this make it possible to fine-tune the point of impact with the particular .22lr you're going to be shooting, as well as to the tendencies of the shooter. With a blowback-operated, semi-automatic action, the Marlin won't be the most accurate rifle on the planet, but since the trigger is excellent on these, we expect that the rifle will be as least as accurate as the shooter and the ammo you're going to be putting through it. When considering an accurate 22 rifle, you have to keep in mind that you'll likely be shooting at around 50 yards, so the loss in accuracy you might get from a bolt action model is likely not going to affect you.
---

Savage Arms Rascal
| | |
| --- | --- |
| Action Type | Single Shot |
| Capacity | 1-Round |
| Length | 31.5″ |
| Weight | 2.66 lbs |
If accurate target shooting and value are the things you care about, the Savage Arms Rascal is an option more than worth considering. This is a bolt-action rifle that only holds the round it has in the chamber. That cuts down on both cost and complexity, the latter of which adds to accuracy. Additionally, the peep style sight, the same kind used on, for example, the M16, makes sense for an accurate 22 rifle. As a more bare-bones rifle that is really just a barrel, and action, and a  synthetic stock with some sights, this gun likely to be accurate because it is so simple.  A single-shot 22 is a great training aid and target gun in its own right that allows you to focus on accuracy first and foremost.
This firearm would be an awesome target rifle to practice on, and it will certainly hold up with time thanks to the synthetic stock. One thing that makes it stand out, especially at this price range, is that the trigger is user-adjustable, meaning that you can play with the weight of the trigger until you like it. This rifle would be an ideal candidate for a scope to be mounted on it, but the built-in sights are more than adequate at the distances people usually shoot .22lr at. Overall, this bolt action rimfire rifle is a tack-driving training tool that would make for an interesting part of your collection.
---

Henry Repeating Arms Lever Action Youth Model
| | |
| --- | --- |
| Action Type | Lever Action |
| Capacity | 12+1-Round |
| Length | 33″ |
| Weight | 4.5 lbs |
One of the things I like most about rimfire rifles is that an accurate .22lr rifle can come in about any shape or size you can imagine. So far we've looked at a semi-auto and a bolt action rifle. Now for a lever-action! Henry has been making this action in all sorts of sizes and calibers for over a century, and this handsome rifle is part of that legacy.
This rifle has some features that make it stand out to us. First is that it is, in fact, a lever-action: these are gaining in popularity again and we think they're a ton of fun to shoot while remaining accurate target rifles. Second, thanks to that action, it can take both .22lr and .22 short ammunition. The latter is much less common than the former, but the flexibility is nice, especially these days when ammo can be hard to find. Additionally, the wood stock with blued steel metal receive and barrel makes for an excellent-looking gun that we'd be proud to own.
The Henry Repeating Arms classic also comes in an adult version that is roughly the same price and just as perfect. Get matching rifles for yourself and your youth to practice together. 
---

Ruger American
| | |
| --- | --- |
| Action Type | Bolt Action |
| Capacity | 10+1-Round |
| Length | 35.75″ |
| Weight | 5.38 lbs |
In the rimfire market, Ruger is one of the top manufacturers, so we're including a few of their rifles on this list as well. This one, their bolt-action offering, is the Ruger American. This particular model, which would be great for both target shooting and hunting, comes with a synthetic stock, a ten-round magazine, and excellent iron sights.
On the American, there are three things that we love about the rifle. The first is the extended magazine release: because .22lr magazines tend to be small, they can get finicky to get out of the gun, but Ruger's large magazine paddle makes that process a lot easier on the shooter. Second is the trigger, which is adjustable by the user: this and the barrel make it a great shooting rifle, even with the iron sights, and you can expect good groups at 50 yards with no problem. Finally, the tang safety. Because the safety is on the back of the receiver, it's a lot easier for left-handed people to use. Overall, the American is an awesome value at this price point if you want an accurate .22lr rifle.
---
Ruger 10/22
| | |
| --- | --- |
| Action Type | Blow Back |
| Capacity | 10-Round |
| Weight | 5 lbs |
Any list about affordable .22lr rifles has to include the 10/22, a classic in the rimfire space. This one comes with the same magazines as the American, and people commonly get 25 round versions as well. In this case, we're going with a classic model with a wood stock, though these can be found in all sorts of configurations, including pistols!
This 10/22 comes with a hammer-forged barrel that promises accuracy and has some nice touches to make it an excellent target rifle. The included iron sights have the front post painted gold: this helps get on target faster if you're in a competition. Second, there's an included scope-base adapter for those who want to add a scope. Lastly, the stock 10/22 triggers are typically excellent and make for a good overall rifle shooting experience.
---
Types of 22 Long Rifles
.22 Rifles come in a variety of types of action, and you'll want to be aware of all of them before you buy. 
Bolt Action
Bolt Actions are .22 rifles that you cycle manually from a handle at the back of the bolt, usually feeding from a magazine. These are reliable weapons that work extremely well, and, since you control the action, are also great hosts for suppressors, if that's the kind of thing that interests you. They're also easy to maintain for most people, which makes them popular.
Lever Action
Lever Action .22 rifles are also cycled by hand, but instead of a handle at the back of the bolt, there's a lever by the trigger that you actuate to load another round, typically from a magazine tube that is below the barrel. These are often recreations of guns from the Old West, so these are extremely popular with folks who are interested in that time period.
Pump Action
Pump Action rifles, even though they are uncommon, still exist mostly on the used market. These look and function much like a pump-action shotgun, but are scaled-down. These also feed from a magazine tube, but instead of a lever, you cycle the action with a pump that doubles as the fore-end of the rifle. These were popular in the early 20th century, but are hard to find anymore.
Single Action
Single Action .22s also exist, typically as a kind of bolt action. These exceptionally simple firearms are usually based on a bolt action design, but forgo a magazine of any kind. With these, you'd have to load each round by hand, making them both great training tools and exceptionally inexpensive thanks to the fact that they have few moving, internal parts. These are not the most common guns out there but are still newly produced and you can find them from time to time at large online retailers.
Semi-Automatic
More commonly these days, you'll find semi-automatic .22 rifles. These popular designs feed from a box magazine (sometimes up to 100 round drums!) and fire once with each pull of the trigger. The action of the firearm reloads for you, making the operation of these firearms a lot simpler for the user than about any other type of .22 rifle. These tend to be the most expensive as well, but are still often affordable guns. 
Best Uses for a 22LR
Learning How to Shoot
One of the most common uses for a .22 is to teach new people how to shoot. Because they don't recoil much and are very quiet compared to other firearms, it's a popular choice as a gift for someone who is getting into shooting, especially if the new shooter is a child. While they're still firearms, and thus still dangerous in the wrong hands, a .22 rifle is an appropriate training tool for new shooters.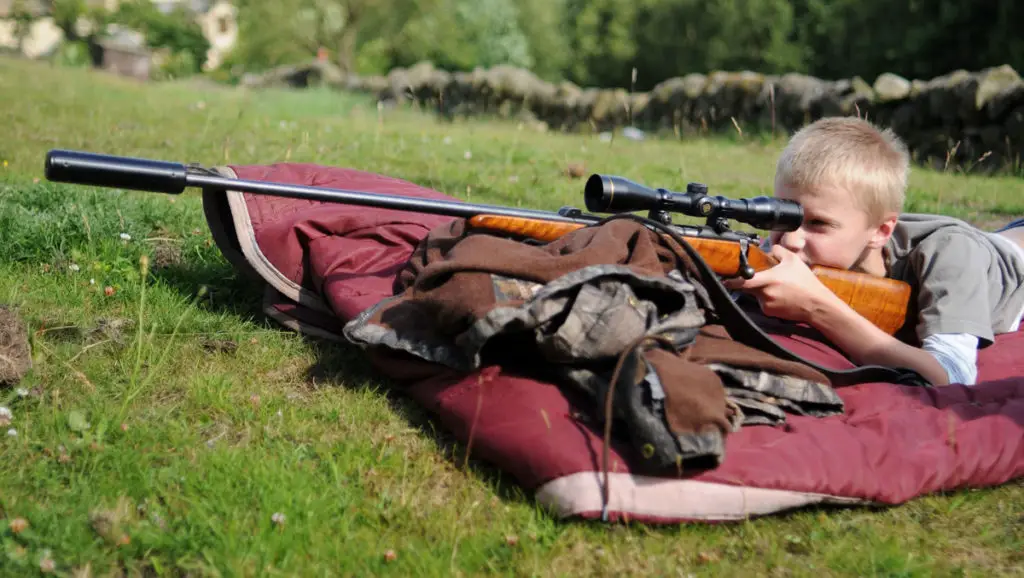 Training
For more experienced shooters, the same things that make a .22 a great choice to teach new people apply here too. Additionally, the lack of recoil helps you train to avoid flinching before you pull the trigger. As an added bonus, the fact that .22 ammo tends to be relatively cheap means that you can put a lot more rounds down range for your dollar, which we always appreciate. 
Hunting Small Game
Although you won't, or at least shouldn't, be taking any bear or deer with a .22, if you plan on hunting small game like ground birds, squirrels, or the like a .22 can be a great solution. In particular, some of the more accurate semi-auto options out there make for great hunting firearms that have been putting food on the table, and clearing out pests, for well over a century. In the right hands, a .22 can be an effective hunting rifle. 
Buying Guide – What to Consider Before Buying a 22 Rifle
Type of Action
The first thing we think about when buying a .22 is the kind of action we prefer. They all have their pros and cons, but deciding this first will narrow down this vast array of firearms into one category, so we can start to make other, finer comparisons that will lead us to a firearm that we like and is useful to us. Starting here makes the rest of the process easier.
What will it be used for?
The specific application of the firearm is also more than worth considering. For instance, a single-shot .22 rifle might be a great gun to train someone to shoot, but for folks who plan on going hunting, having to reload manually with loose ammunition after each shot makes a follow-up shot fairly unlikely. There, something like a bolt action, pump, or semi-automatic might be a substantially better choice. Again, context matters a great deal here. 
Who Will be Shooting it?
From there, we think about the person who is going to be using the firearm the most. For a child new into shooting, for example, you might want a cheaper .22 that's built with a smaller stock and shorter length of pull. That way, the child will have a chance at shooting comfortably, accurately, and developing good marksmanship habits right from the beginning. This will keep them in the hobby, hopefully for the rest of their lives.
Do you want a scope?
The ability, or inability, to put optics on the gun is one of the considerations that we also keep in mind. A lot of newly made .22s either come with scopes right from the factory or have a section of Picatinny rail upon which you can mount optics. This won't be the case with some older designs, which leave you stuck either with iron sights or with having to have a scope mount professionally installed by a gunsmith. We own examples of each kind, and here it's really about preference in terms of what optics you think you might want to use. 
Cost
Finally, if money is an issue or you want to get a design that is no longer produced, consider going used. There are lots of gently used, well-cared-for guns on the market that can fulfill your needs. With that said, having a new gun, and the warranty that comes with it, is often a great choice as well, but considering used can be one way to get into shooting affordably.
Frequently Asked Questions
What is a 22 rifle best used for?
A 22 Rifle is best used for small game hunting, pest control, training, and target practice. However, it can even be used for self defense.
Is a 22 long rifle good for self-defense?
The 22 long rifle can be a good choice for self defense, especially in states with stricter gun laws. However, it is a pretty small caliber which means it will have less stopping power. And, due to its longer barrel length, it might be hard to maneuver in close quarters where a handgun might be preferable. We recommend going with a handgun such as a 9mm for self defense.
Will a .22 stop an attacker?
Yes, a .22 can stop an attacker. However, due to its small size, you might need more hits and in more vital areas to stop an attacker with a .22 vs a larger caliber like a 9mm or .45 that has more stopping power.
Is a .22 lethal?
Yes, a .22 is lethal. All guns can be lethal and should never be fired at anything that is not a target or something you intend to kill.
Is a 22 long rifle a good round?
The .22 long rifle cartridge is a great round for hunting small animals or practice shooting. It has very little recoil and is not as loud or expensive as other larger rounds.
Is a 22 gun legal?
Yes, a 22 rifle is legal in all 50 states in the USA. However, some states might have restrictions on magazine capacity, open carry, etc.
Wrap Up
On this list, we've recommended several top of the line 22 Long Rifles as well as five .22lr rifles that we think are a great value at the $400 and under price point. Even without a massive budget, it is more than possible to get a rimfire rifle in the action type that you want, that will perform well in target shooting, hunting, or plinking.
As you can see, the .22 is a platform that allows you to get nearly any kind of rifle you like, and, even in 2021, feed it ammunition that you can afford without selling a kidney or taking out a second mortgage.
If you're also interested in a handgun, check out our article on the best 9mm pistols.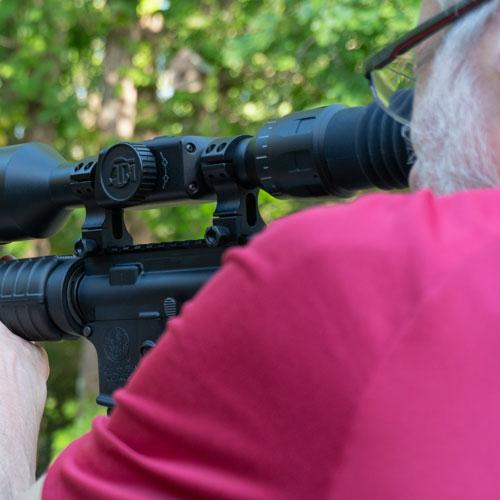 George has been an avid shooter for twenty years. He began shooting when he was gifted a Browning SA-22 for target practice. Now, as an academic, he combines his love of firearms and knowledge of history to write for firearms blogs and is still a frequent sight at the local range.