The best hunting coveralls can keep you warm and protected from the elements while out on the hunt. They make it possible for you to focus solely on the hunt and not any discomfort resulting from rain, snow, or cold weather. But that doesn't mean buying the first pair of hunting coveralls you come across. Doing homework and picking coveralls with attributes like water resistance, insulation, soft materials, and durability can set you off to a good start.
This article describes six of the best hunting coveralls to help you pick the best one. Keep reading for more information.
What Are Hunting Coveralls?
Hunting coveralls refer to a specialized piece of clothing used by hunters to cover the whole body when out on a hunt. They make it possible for people to hunt in wet and cold conditions by keeping hunters warm and dry.
Besides keeping the body warm, coveralls are waterproof and protect on windy days. In freezing weather, insulated coveralls block off the cold, making it possible for you to keep hunting. Some have multiple pockets for keeping accessories and enabling ease of access.
How Do You Size Hunting Coveralls?
It can be challenging to size a piece of clothing, especially if it is a pair of coveralls. For example, two coveralls could indicate they are the same size, only for one to fit more tightly than the other.
Therefore, it can be challenging to have standard sizing hunting coveralls. Regardless of your size, it is best to buy a piece of clothing tending to the larger size. Get a model with adjustable cuffs and an elastic waist for a universal fit if you're unsure about your size. Regardless of your body size, the coverall will fit around your body.
Best Men's Hunting Coveralls
When the hunting season arrives, you need to pick a piece of clothing to guarantee protection and keep you dry, warm, and comfortable. This post contains descriptions of some of the best hunting coveralls you can find anywhere.
---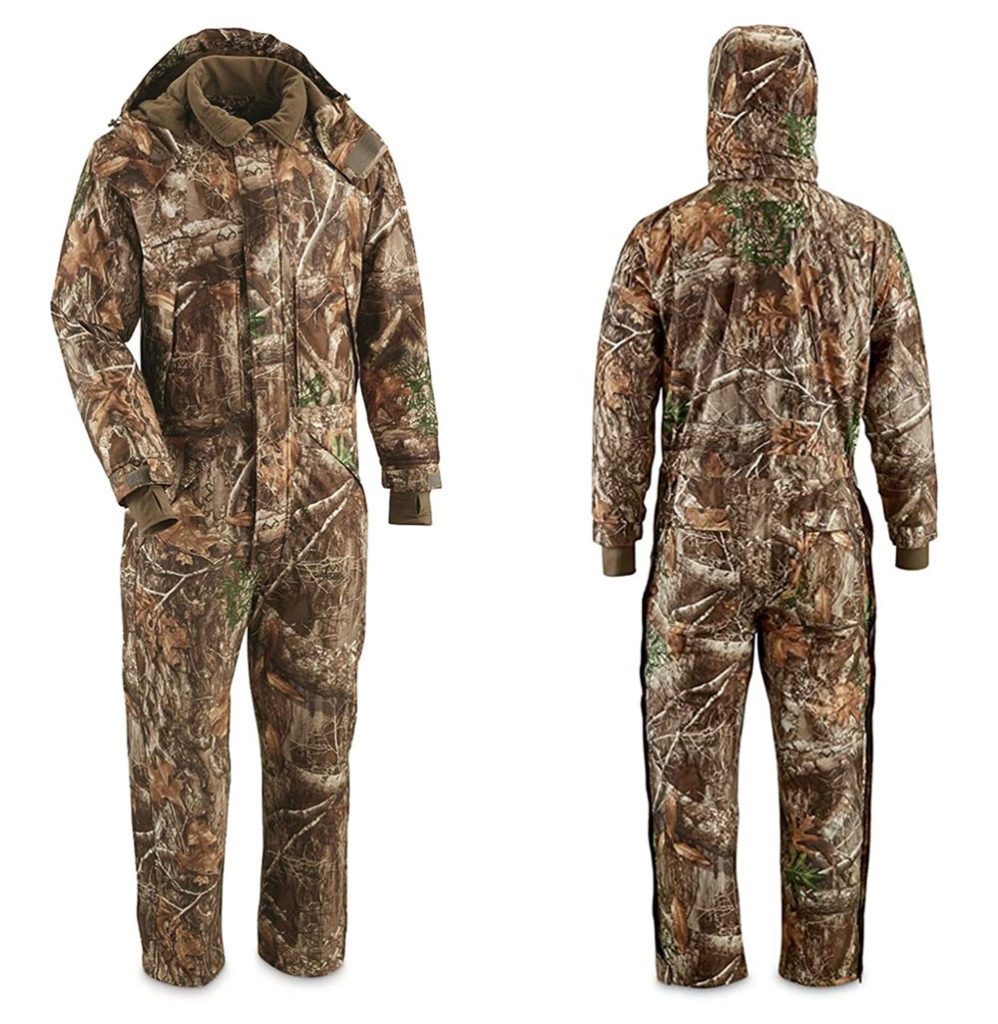 Guide Gear Men's Dry Waterproof Hunting Coveralls with Hood
The Guide Gear Men's Waterproof Hunting Coveralls is ideal for use in the most demanding conditions involving rain and cold, snowy weather. It can help you stay warm, dry, and silent. Thus, you do not have to worry about startling an animal before you get the chance to shoot it.
It features a Tricot shell that feels soft and remains quiet while you're looking to shoot an animal. The main fabric has a Thinsulate layer that provides insulation to keep away the cold. It is also incredibly comfortable to wear. That means that you can wear the pair of hunting coveralls over layers of other clothes in cold and wet conditions.
Even though it is waterproof, the coverall is entirely breathable, providing high levels of comfort when you have to operate in harsh conditions. With that, you no longer have to worry about being miserable while hunting in snowy, rainy, and awful cold weather. It is ideal for those who want an extended hunting trip combined with several nights of camping.
Guide Gear are a group of hunters who design products for hunters. So, you can expect gear that provides optimal protection while ensuring that you remain stealth even as you try to locate animals. It features plenty of pockets for easily accessible and secure storage. Besides, there is a hood, two snap-closure patch pockets, two rear patch pockets with zippers, and two hidden pockets with zippers.
Pros
Insulated membrane
Waterproof
Plenty of pockets
Silent operation
Cons
Flimsy zippers that can break off after extended use
---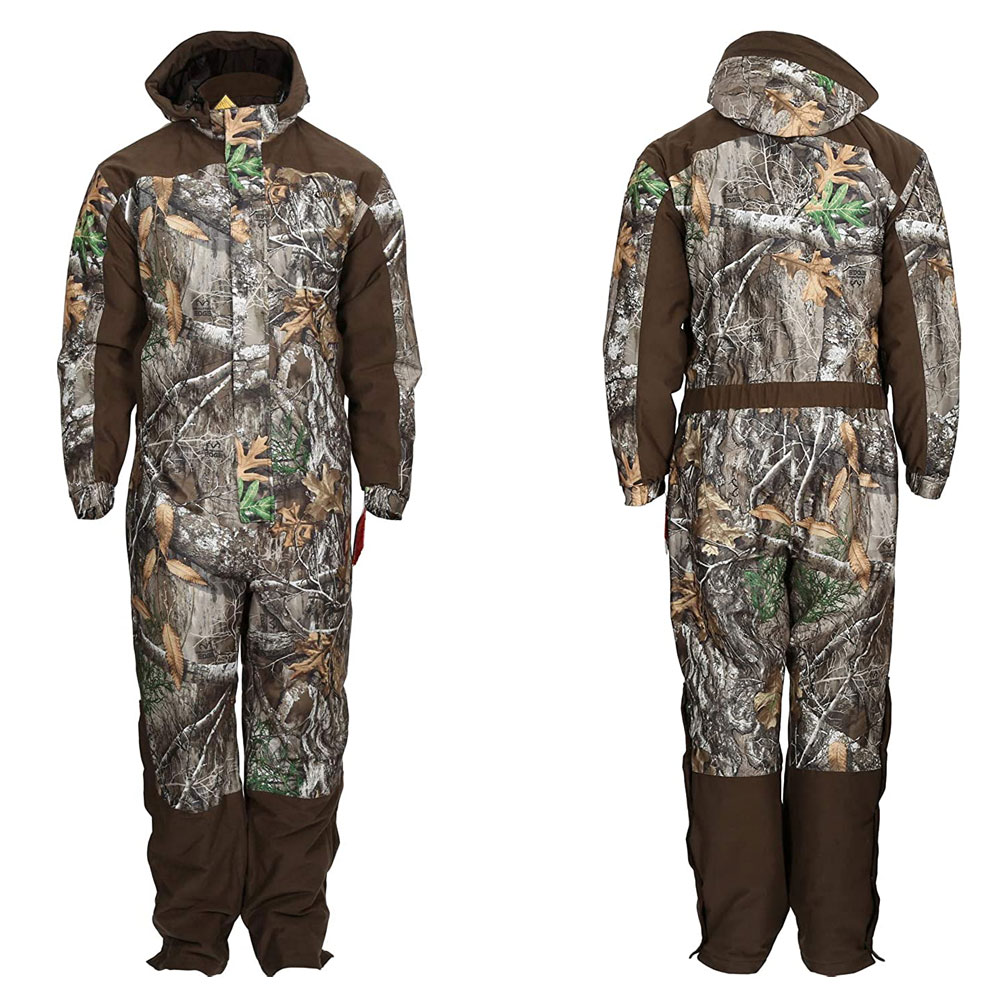 Rocky ProHunter Waterproof Insulated Camo Coveralls
The Rocky ProHunter Coveralls are made from 100% polyester, one of the best clothing materials for blocking out moisture. Its polyester micro tricot shell is 100 percent waterproof, making it possible to go hunting in rainy, snowy, and extremely wet conditions.
It is the perfect clothing for men desiring to stay camouflaged when hunting. That makes it possible to remain nearly anonymous in the forest, among brushes, or in the jungle. Besides, the fabric makes minimal noise, making it possible to remain stealth all the time.
Thanks to the 3-ounce polyfill insulation and the taffeta lining, it keeps you warm throughout your stay in the forest. The hood provides extra protection against the elements, especially if you are in snowy or rainy weather. The front pockets will come in handy whenever you need to keep your hands warm.
Whether you want to go hunting or you want to keep yourself warm with an extra layer of clothing, this particular pair of hunting coveralls is worth buying. Its windproof, masculine design makes it desirable for keeping away the chill. If you're worried about expensive hunting coveralls, this particular product doesn't fall within that category.
Pros
Waterproof polyester
Front pockets
Warm taffeta lining
Camouflaged
---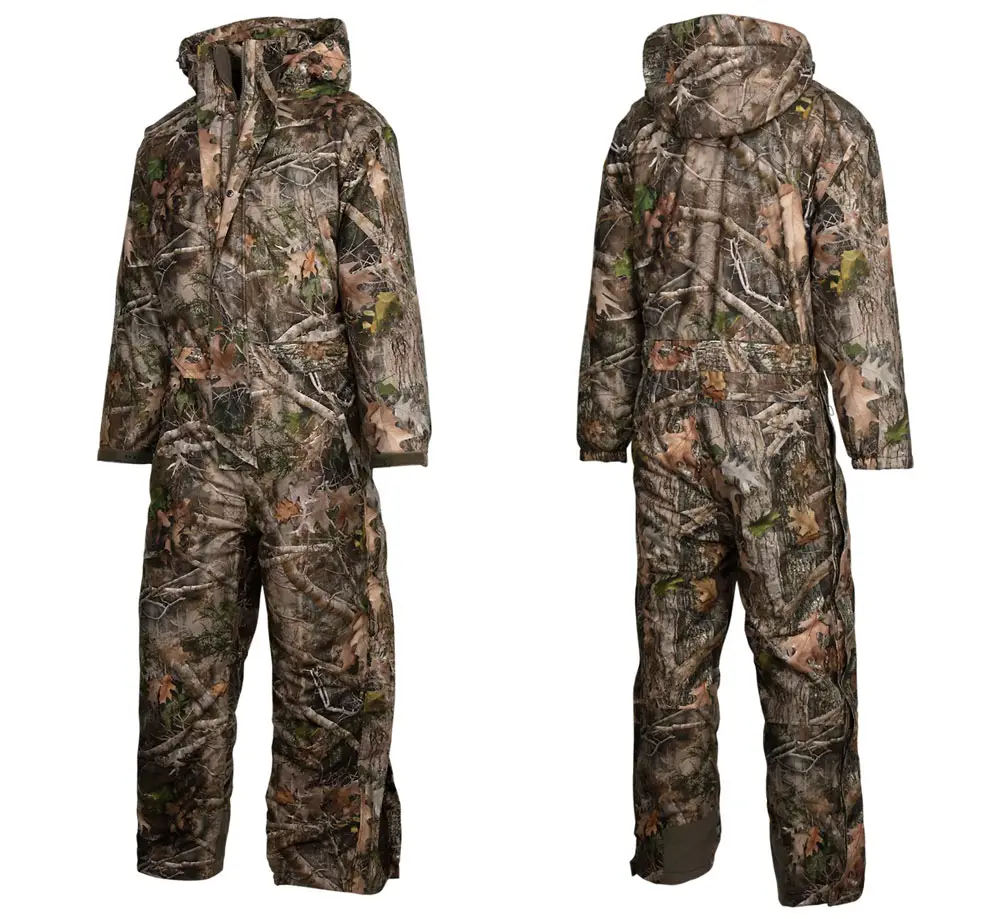 RedHead Silent Stalker Elite Coveralls for Men
With the RedHead Silent Stalker Elite Coveralls for Men, you can stalk your prey without giving away your position too early. One of its best attributes is the 100% polyester construction, which prevents moisture from reaching your body.
But that's not all concerning the impressive attributes this particular clothing has. It also has 200 grams of Thermolite Micro Insulation, which keeps you warm and protects you from cold weather. Since it is lightweight, the pair of coveralls can warm you up without weighing you down.
It perfectly falls in the categories of coveralls with hand warmer pockets with fleece linings and button storm flaps. Apart from keeping you warm, the insulated pockets can carry plenty of your gear. There is also a rear pocket with a zipper and two upper quick-access pockets with zippers.
The removable hood protects against snowy and rainy weather while providing custom venting or coverage. Other reliable attributes include the double-storm front-zip flap, providing rugged, reliable coverage. With the inclusion of Duraflex cuffs, the hunting coveralls have a uniquely tailored feel.
Pros
100% waterproof polyester
Quick-access front pockets
Removable, insulated hood
Insulated for warmth
Cons
Would be better if it had two-way zippers on chest and legs for more versatile utility
---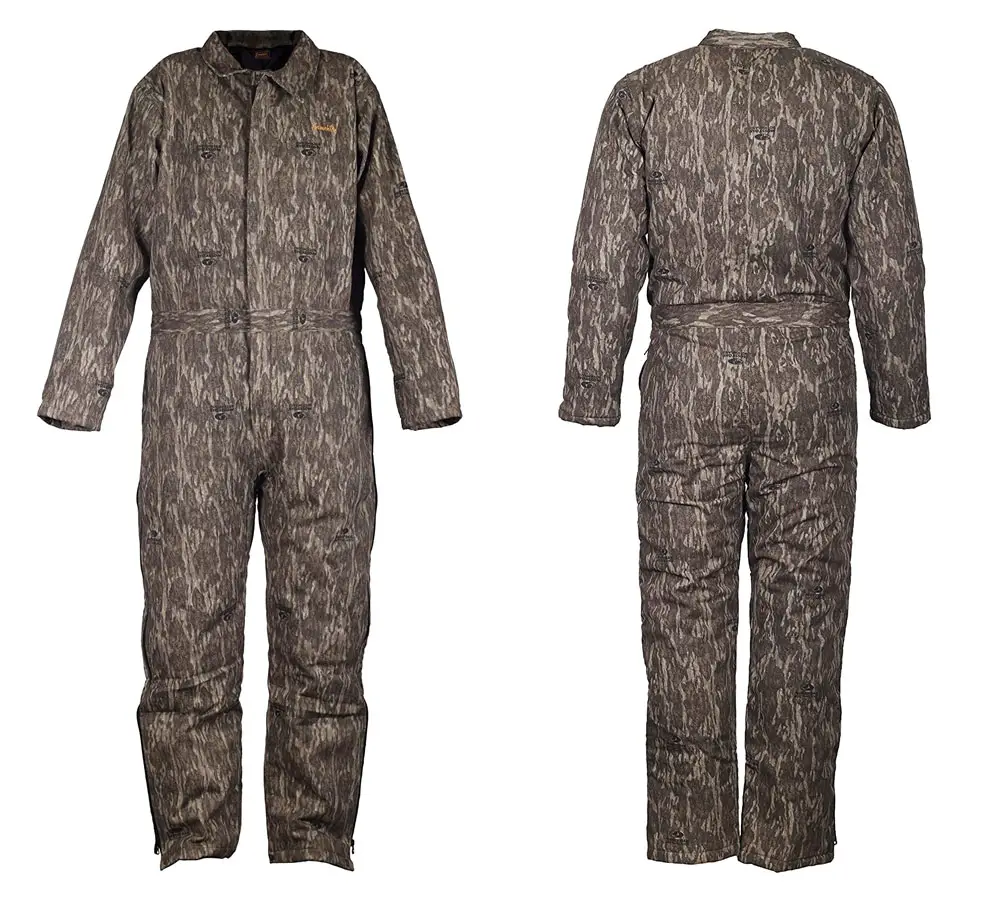 Gamehide Tundra Camo Insulated Cotton Coveralls
The camouflaged Gamehide Tundra-insulated hunting coveralls come with some of the most impressive attributes to keep you protected while out there on the hunt. For example, the coveralls have a 200-gram Heat Tech insulation that keeps your body warm without being too heavy to prevent you from moving.
Once you close the two-way front zipper, you can be assured of total protection from the elements thanks to its cotton canvas material. You can wear the piece of clothing over your regular pants to maintain warmth in your legs. It is easy to wear, thanks to the inclusion of easy use leg zippers.
Still, other must-have attributes include a bark camouflage pattern, making it easier for you to go hunting in a wooded area. Apart from concealing your visibility, the coveralls ensure that animals cannot hear the sound of you approaching. You can remain virtually anonymous, catching target animals by surprise.
When it comes to helping you survive cold weather, this pair of hunting coveralls rely on much more than just the insulating lining. It is designed with internal cuffs that work together with handwarmer pockets to keep away the vagaries of cold weather.
Pros
Insulated against cold weather
Two-way zippers
High-definition camo patterns
Easy to wear
Cons
We prefer a more varied camo style
---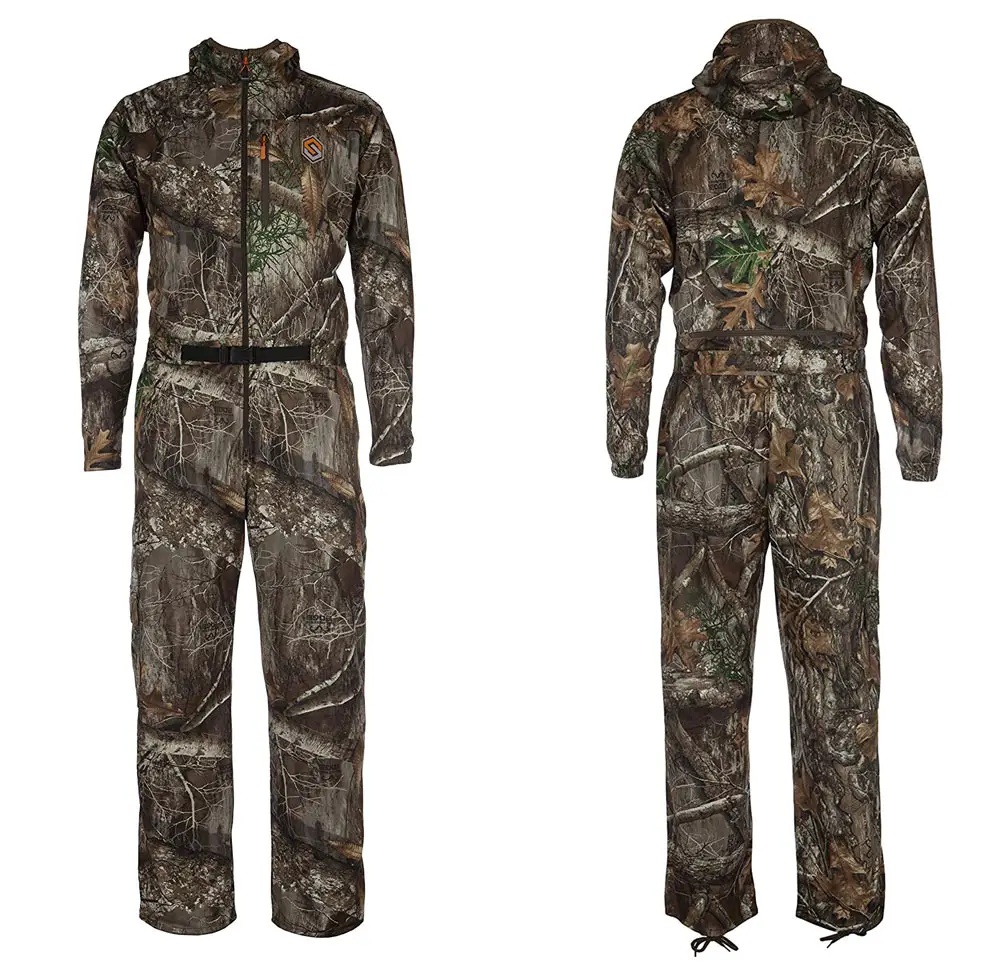 ScentLok Savanna Aero QuickStrike Lightweight Men's Camo Coverall
The most important attribute to look for when coverall shopping is their ability to protect against cold and wet weather. The ScentLok Savanna Aero hunting coverall features an ultra-light textured polyester fabric that protects you from all kinds of weather. Even as it protects you, the coveralls ensure maximum comfort and mobility.
One of its most impressive attributes is its scent control capabilities due to the inclusion of treated, activated carbon, and zeolite. Through the carbon alloy, the coveralls capture and trap your human odors while wearing them, thereby ensuring that you don't scare away game with your scent. You may not realize, but deer can smell a human from 1/4 mile away, so it is important to always remove as much of your scent as possible. Once you heat it in the dryer, the carbon in the coveralls get reactivated for the next use.
It also has impressive moisture-wicking attributes capable of keeping you cool and dry when your body becomes hot and sweaty as you run after the animals. As soon as sweat hits the fabric, it passes through and into the air, helping cool your body.
Apart from protection from the elements, the hunting overalls have four pockets, perfect for storing some of your smaller pieces of gear. A chest pocket, a thigh pocket, and two waist pockets make it easy to access when storing and retrieving your valuables. It fits true to size.
Pros
Absorbs odor
Wicks moisture
Comfortable to wear
It has several pockets
Cons
A little pricier than other options due to its added features
---
Best Kid's Hunting Coveralls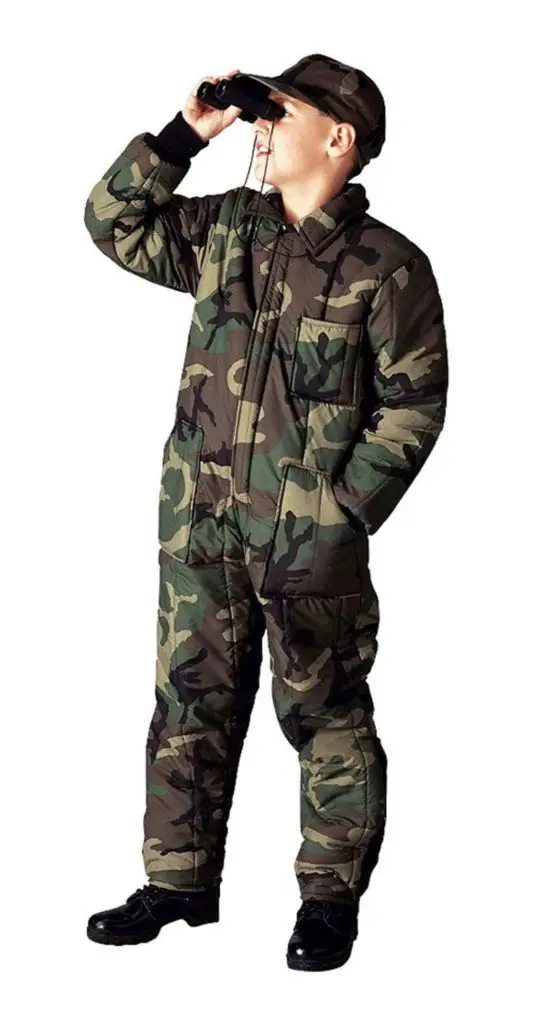 Rothco Kids Insulated Coverall
While the other items featured here are for adults, this particular one is specially designed for kids. These are great for trips with parents & kids when first learning to hunt. Even if they aren't going hunting, kids can still wear the coveralls to protect against cold and rainy weather.
Whether your kids are playing in the front yard or are accompanying you on a camping trip, the Rothco Insulated Coverall is worth buying. It comes with colorful printed camouflage, which can be helpful in some fun outdoor games if not serving purely aesthetic purposes.
It is straightforward to slip the pant legs over any boots they might be wearing. The coveralls have zippers running from the ankles to the hips, helping your kid wear and remove them quickly. Pull the zippers and slip the pants over your boots, no matter how big.
One of the best attributes of this coverall is how well it tends to fit. Being nice and snug, it keeps out the wind and water. It is the perfect clothing for boys and girls who love having adventures outdoors.
Pros
Insulated to maintain warmth
Easy to slip over boots
Wind-blocking capabilities
Perfect for the outdoor
Cons
Zipper is kind of cheap and can break after use
---
What to Look for When Buying Hunting Coveralls
When buying coveralls, there are several things you must consider if you want to get the best product covering legs, chest, and back. While researching for a suitable hunting coverall, the following are some of the factors to consider:
1. Water Resistance
The need for having a water-resistant coverall depends on the kind of climate in which you're hunting. If you live in a wet region, you need a water-resistant coverall to protect you from the sudden changes in weather. While some coveralls are water-resistant, others are waterproof.
Whether you choose a waterproof or water-resistant coverall depends on where you live and go hunting. A coverall that keeps you from getting drenched also ensures that you remain warm and comfortable during a long hunt.
Apart from fabric, the coverall should have a water-repellent membrane with the ability to keep you dry and warm in snowy and rainy weather. However, for wading through deep water or swamps, you'll want to be sure to get some high waterproof hunting boots.
2. Insulation
A Coverall's insulation rating comes second to water resistance since keeping warm is essential to survival and comfort when hunting. Water-resistant coveralls are made from synthetic material instead of wool, which provides the best insulation. Some manufacturers have solved that problem by adding a fleece lining inside the coverall. Check the insulation rating for a particular hunting coverall before buying it.
Even if you need a warm coverall, make a habit of wearing several layers of clothes to keep warm. When it gets too hot, you can remove some layers of clothing to feel comfortable. Luckily, several hunting coveralls feature liners, gloves, and hoods. You can decide how warm you need to be with these additional attributes.
Coverall manufacturers typically keep them insulated using Thinsulate or Sheer. While Thinsulate is a synthetic material, Sheer is a wool-based insulator that keeps you warm by trapping air molecules to curtail the infusion of cold air. In cold weather, an insulated coverall keeps you warm and comfortable.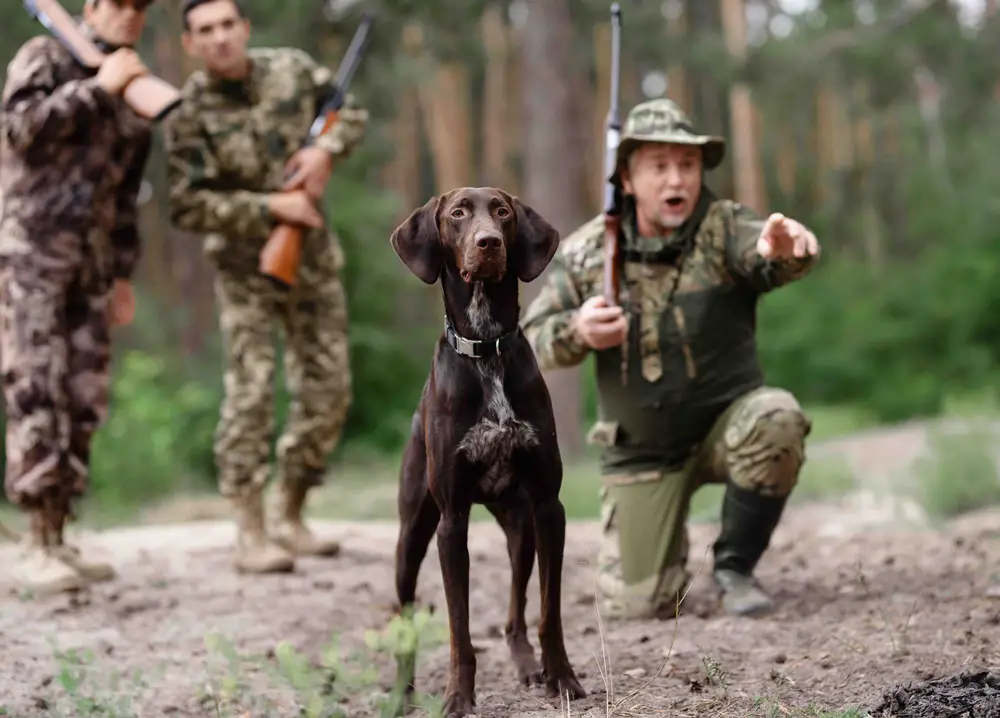 3. Design
Another factor to consider when buying a coverall is its design or overall look. The most significant determinant of a coverall style is the foliage of the location in which you'll be hunting. For most users, a standard woodland style camo is sufficient.
Most insulated coveralls have hand covers with dedicated thumb holes. They are suitable for aiming and shooting games without exposing the rest of your hand and arm to the elements. Hunters find this feature very useful, especially if they stay still in a tree for lengthy hours.
Bootstraps make for other helpful design attributes for coveralls. It keeps the feet warm by sealing the top of each boot, preventing your feet from getting soggy. This is especially useful when duck hunting.
Even though an oft-overlooked feature, pocket-size matters. It is essential to get hunting coveralls with big, insulated pockets. With cargo-sized side pockets, you can easily reach for what you need without interfering with your movement position. If you have some electronics, it is advisable to keep them in the stomach or chest pockets.
4. Noise-Free Operation
Successful hunting requires you to make as little noise as possible. When choosing coveralls, you should go for those that make little or no noise to ensure you don't accidentally scare away your prey.
Check out for those made from Tricot, a versatile fabric that minimizes noise and proves to be an excellent aid for close-range hunting.
If you ignore the need for noise-free operations, it can be impossible for you to successfully kill anything. Animals have a superior hearing ability and can catch the slightest sounds, including the one you produce as you reach out for your gun.
5. Durability
Any cheap-looking clothing tends to develop holes and tears, exposing you to the elements. That's why you should look for durable and stealth apparel capable of protection for long usage.
When buying online, you do not have the opportunity to inspect the coverall for durability or its lack. That's why you should read the reviews left by past users of the product to know how long it will likely last. If you have the opportunity to inspect a coverall, check for any loose stitches and strings, which is a tell-tale sign that it is a flimsy product.
Alternatively, you can run some quick research on the manufacturer. Today, hunters design most of the available coveralls, infusing features to help them survive the harsh outdoors.
6. Material
Like every other piece of clothing, hunting coveralls are made from various types of materials. Typically, the material determines whether the coverall shall be insulated, warm, water-resistant, or durable. A common material is a polyester. It is not only durable but also lightweight and water-resistant.
Another advantage of polyester is its ability to retain shape after use over a long period. However, you may also prefer coveralls that combine cotton and polyester. That variety of material quickly absorbs moisture and is easy to wash.
7. Comfort
Hunters need to be active either on their feet or stealth as they wait for animals. Suitable clothing for hunting should be comfortable, enabling one to move freely while on the hunt. That's why it's essential to get one that's perfectly stitched, easy to wear, and comfortable. Without comfort, it can be impossible for you to waylay an animal without giving away your position.
FAQs
Why are coveralls important in hunting?
Hunting coveralls keep you protected from the elements such as wind, cold, and rain. They also ensure that you remain warm and comfortable throughout your expedition. Also, the camouflage makes it nearly impossible for the animals to spot you among the trees.
What are the best coveralls for hunting?
The best coveralls for hunting are made from high-quality material, are water-resistant, are insulated, camouflaged, and user-friendly. Importantly, they should fit well to protect hunters from windy, cold weather.
What should I wear under hunting coveralls?
You can wear several layers of clothing under hunting coveralls. Ideally, the clothing should be long-sleeved. The pants should be warm and of a cozy, cool fabric. Of course, you can have several layers of clothing with a dedicated base layer.
Is it important for coveralls for hunting to be weatherproof?
Yes. Coveralls for hunting should be weatherproof to protect you against rain, snow, wind, and cold weather. With that, you can easily withstand the harsh outdoors while out hunting.
Wrap Up
Regardless of where you live, getting suitable coveralls can determine whether or not you will have a successful hunt. You should carefully assess them based on various factors, including design, insulation, water resistance, etc. Also important is the camo, which you should choose based on where you live or intend to go hunting.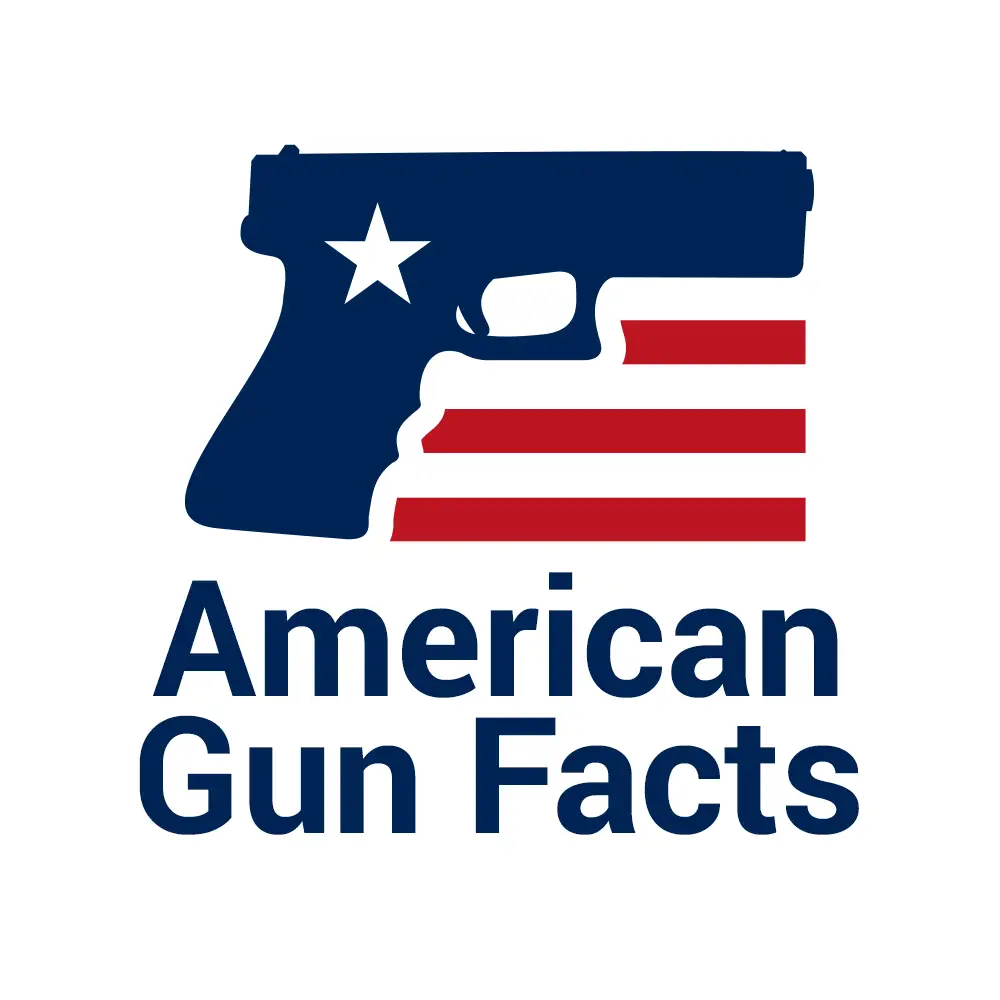 Researched and written by the American Gun Facts team. We are a group of Americans dedicated to providing factual information on firearms and fighting back against attempts to weaken or discard the Second Amendment. We write on topics ranging from firearm statistics, news, reviews, and more! AGF has been featured in the New York Times, NBC, MSN, Time, & many other publications.