Hunting is a favorite pastime for many outdoor and adventurous people. The exhilarating feeling of going into the wild, carefully selecting your prey, and hunting it down, is second to none. However, avid hunters will tell you that the best way to make the most of your hunting experience is to come prepared. From your rifle to your camouflage and down to your hunting boots, everything has to be ready and set before going out. You definitely would not want to hunt with uncomfortable boots and wet feet.
This is why selecting the perfect hunting boot is very important. Due to the fact that hunting seasons differ from time to time, it's near impossible to find a one size fit all hunting boot. What worked during the early season may not be feasible for hunting when the late wet snowy season comes around. Each hunting boot has its own unique features, desirables, and downsides that you need to consider before making your pick.
In this article, we'll review 7 of the best hunting boots you can buy for different purposes. Our review covers different types of boots including the best rubber hunting boots as well as the best leather boots you can purchase and other boots.
We'll also cover the basic things every hunter needs to look out for in order to get the best hunting boot. Let's start with a review of some of the top-selling boots you'll find online.
Best Men's Hunting Boots 
Muck Boot Men's Arctic Pro Rubber Hunting Boots
Made from high-grade waterproof rubber material 
Built for cold weather areas thanks to heat retention properties
Lightweight but durable midsole 
Rear pull loops for easy on/off
Made from 100% synthetic material, this muck boot is perfect for those looking for an alternative to boring old leather boots. The exterior material is made from 8 mm neoprene material which is both flexible and comfortable. This material also offers excellent waterproofing qualities and can absorb shock pretty well too. 
The lining material is made from a soft fleece lining fabric which helps to boost the comfort of the boot. This boot is particularly suitable for use in cold weather due to its impressive heat retention properties.
The fleece lining provides extra warmth for the wearer whether they're on a hunting trip, ice fishing trip in the arctic, or in any other rough terrain.
The Original Muck Boot Company is a very established brand and name in the boot industry. They are known for high quality products that are comfortable and will protect your feet well.

The muck boots also have a stretch-fit top-line that fits snugly around your feet and seals in the warmth. Additionally, the boot has a thermal memory foam that boosts the warmth of the footbed. 
The snug-fitting topline does more than keep the cold out. It also prevents debris from getting into your boots and protects the area around your heels and Achilles effectively. Despite being a lightweight boot, it is quite rugged and durable-delivering maximum protection in all terrains. 
---
Kenetrek Mountain Extreme 400 Insulated Hiking and Hunting Boots
Insulated with 3M Thinsulate for cold weather hunting
Exceptional grip to keep you stable and supported in all terrains 
Great hunting boots with the corrosion-resistant sole is good for all-terrain 
Made from 100% leather material double-stitched for added durability. 
The Kenetrek Insulated Hunting boot is made from 100% leather material and built for heavy-duty use in tough terrain. The 10-inches tall upper goes all the way up to the ankle-offering sufficient protection to your leg.
The boot's reinforced toe guard also helps to keep your toe protected in outdoor terrains against obstacles like tree stands, stumps, and so on. So if you hit your foot against a tree stand or any other obstacle, you'll not end up with injuries
The uppers are made from full-grain leather, double and triple stitched to maintain durability. The waterproof outer layer is reinforced with Thinsulate ultra insulation material which helps to keep your feet dry and warm without adding to the weight of the boots. 
Kenetrek is a trusted boot brand and has a number of different product options depending on your needs. For instance, if you're in a warmer climate, they have this same mountain extreme boot but in a non-insulated version for more breathability.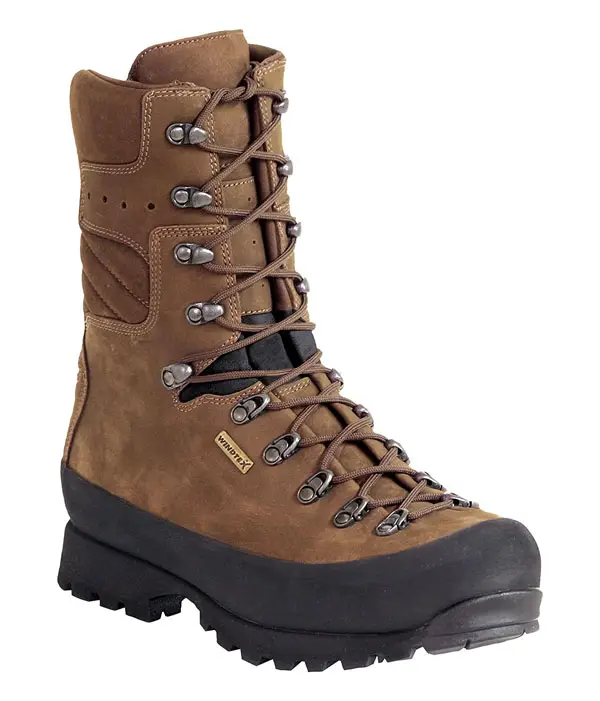 You'll love this boot's custom Outsole which is designed to provide exceptional traction, especially in harsh and rocky terrain, you won't have to worry about slipping.
The sole is also abrasion-resistant. This further contributes to the long-term contribute to durability of the boot among other benefits. 
---
Irish Setter Men's 838 Wingshooter Waterproof Upland Hunting Boot
100% Leather makes for a cool look
The ankle-high waterproof design keeps your foot dry in low water and cool in hotter temperatures
Moisture-wicking breathable lining keeps the boot moisture-free and comfortable 
Speed-lacing system for easy on and off
The Men's 838 Wingshooter Hunting boot is the flagship product of the Irish Setter brand. The comfortable boots is specially designed for new generation hunters and resonate with seasoned ones as well. The richly-colored leather upper is eye-catching and is one of the most attractive features of this boot. 
However, the main selling point of this shoe is its comfortable waterproof design. Many hunters that have used these boots say that they were comfortable all day in this moc-toe boot even when they were in rough terrain.
It uses a combination of UltraDry and effective moisture management lining to keep the boot waterproof at all times. Keeping water out of the boot like this also boost comfort and keeps the boot scent-free to prevent animals from being alerted to your presence. The ankle high design also allows it to be much cooler in warm weather hunting without sacrificing protect of your lower foot.  
The white prairie rubber sole is another iconic feature of this boot. This man-made rubber sole offers exceptional traction. The sole also has a steel support shank and the heel is molded for extra comfort. The Eva midsole also provides extra cushioning for your underfoot. 
---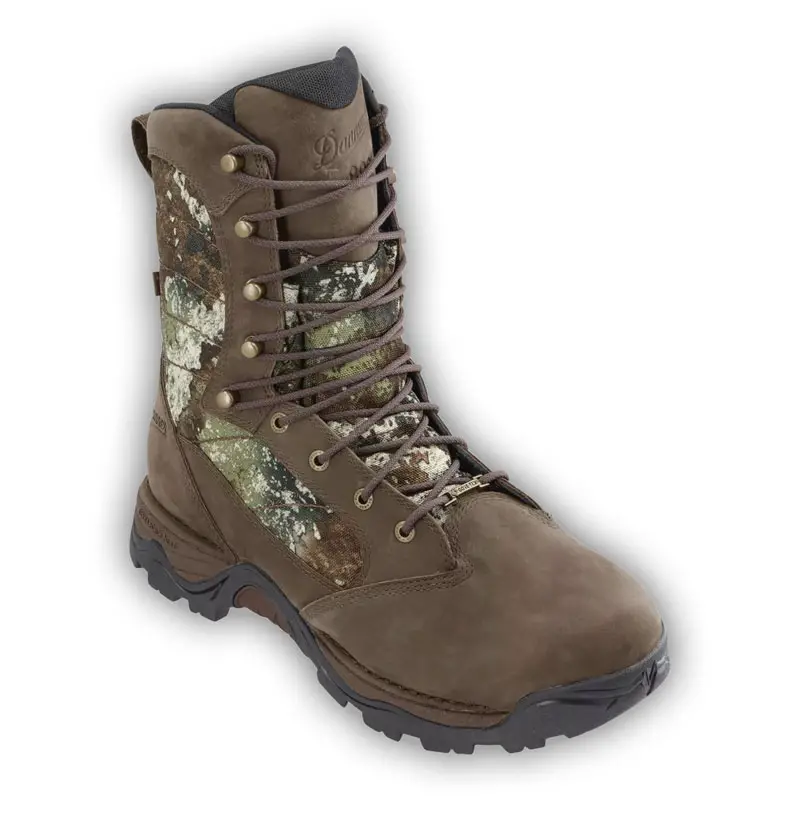 Danner Pronghorn 800 TrueTimber Strata Insulated GORE-TEX Hunting Boots for Men
All-round boot for different terrains 
Uppers are made from full-grain leather 
Maximum rebound and support 
Insulated boots to protect your leg in harsh conditions. 
If you love camo-patterned hunting boots, you'll surely find the Danner Pronghorn TrueTimber hunting boots attractive. But much more than its tough look, this hunting boot offers unmatched performance as well. It is tough and durable while offering great support for your legs.
For hunters that will be spending a lot of time on their feet, you need a comfortable place like this. The full-grain leather uppers are designed to blend neatly into your surroundings while you hunt thanks to the TrueTimber Strata camo pattern.
The upper's full-grain leather plus nylon mix makes it a 100% waterproof boot. The shoe also insulates your foot against extreme cold temperatures and will stay dry and comfortable under various harsh conditions. 
The boot itself is lightweight and provides supreme support to your foot. The midsoles provide the rebound you need to walk comfortably in the boots while keeping your feet protected and helping to resist blisters. It also features internal and external shanks for even more support and shock absorption
If you're looking for the right hunting boot to take on the most rugged terrain without compromising your comfort, the Danner Pronghorn 800 is surely a great option to consider. 
---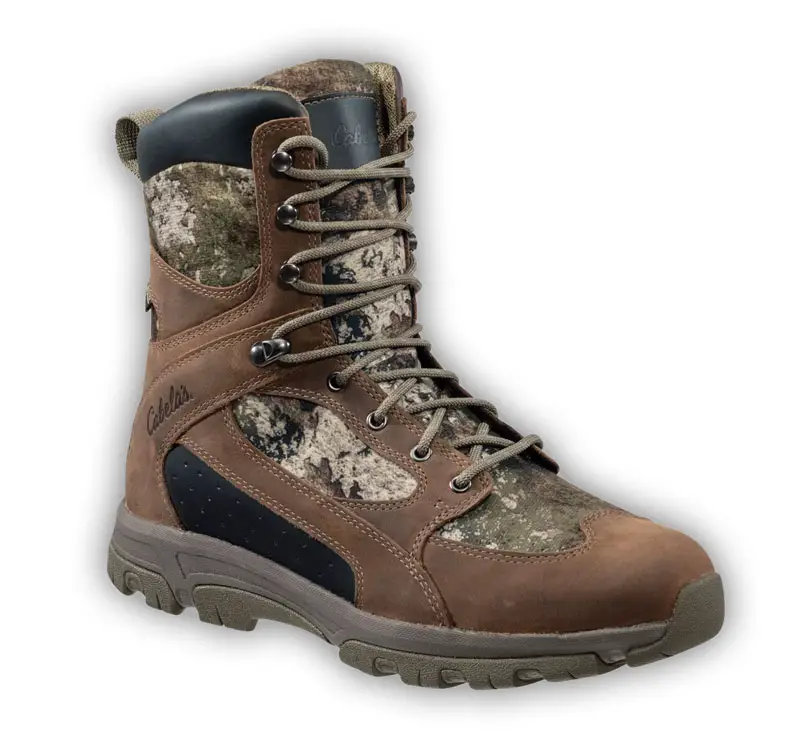 Cabela's Silent Stalk GORE-TEX Insulated Hunting Boots for Men
Tough and durable leather boots 
Insulated for cold weather hunting
Perfect for sneaking up on prey 
Breathable and lightweight boosts 
This hunting boot offers two vital things every hunter wants in his boots: stealth and durability. It is built specifically to help you sneak up on the game without notice. At the same time, it doesn't give up on toughness and durability.
The boot is made from a combination of rugged full-grain leather and Microtex® micro-weave fabric panels.
Cabelas also makes a non-insulated version for those hunting in warmer weather.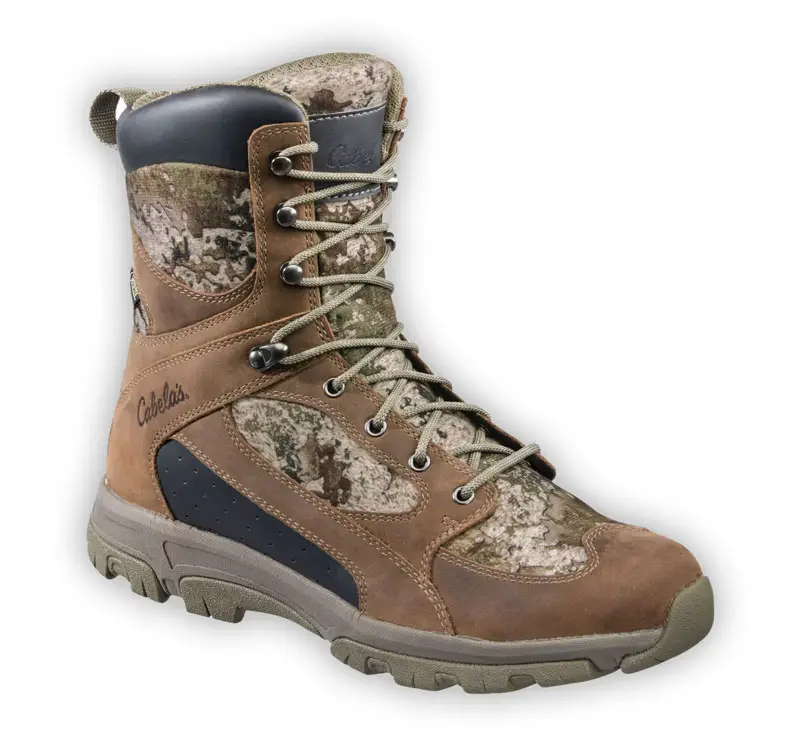 You'll love just how breathable these hunting boots are. The specialized spacer mesh collars ensure that the boot does not pinch your leg while retaining the toughness and lightweight.
It is waterproof and has moisture-wicking membranes that will help keep your feet dry for a long time no matter where you're hunting for game.  
The outsoles are made from durable and 100 percent natural rubber material and they deliver impressive traction in various terrains. The dual-density design of the outsoles makes it quite sensitive while walking. However this natural rubber does sometimes deteriorate over time so something to keep in mind if you're using them for rough terrain.
The midsoles and interior lugs further contribute to the sensitivity that makes the boot extra quiet. In all, the shoe delivers on its promise of stealth and will hold up well in a variety of terrains. 
---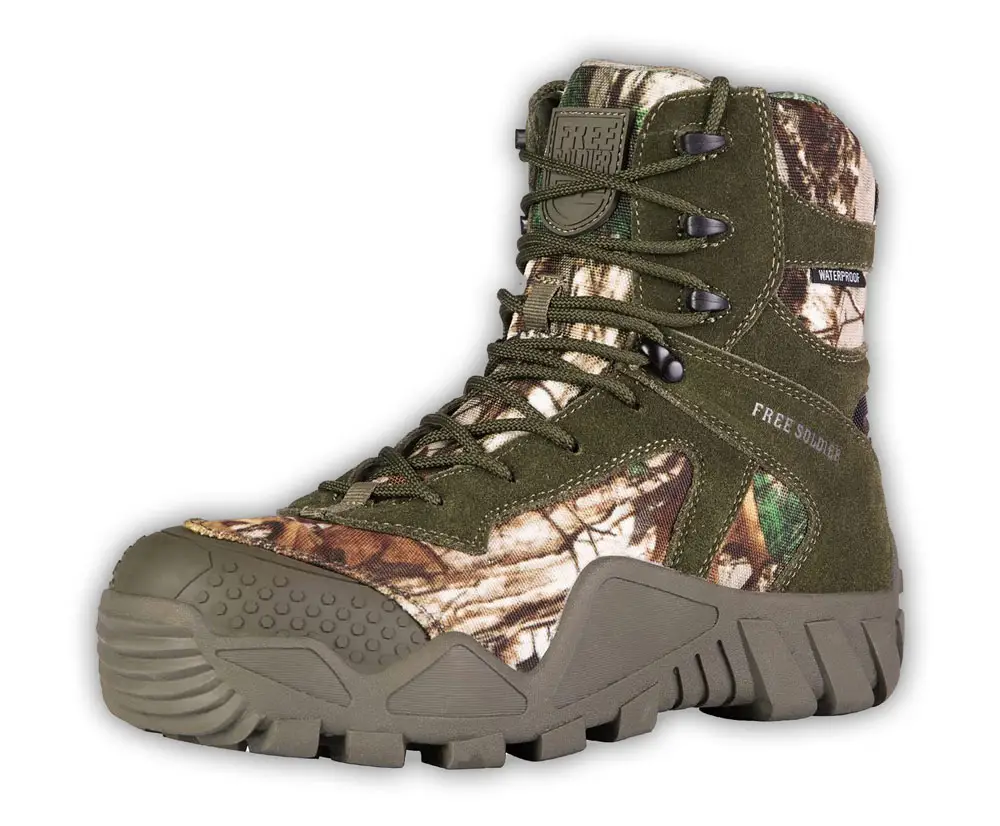 Free Soldier Outdoor Men's Tactical Hunting Boots
Cheapest Option on this List
Effective protection for all parts of your leg 
Quick fasten design to lace up quickly 
Waterproof boots keep you from getting wet feet
Lightweight build 
Made from flexible and durable material, the Free Soldier Outdoor Hunting boots are built for all kinds of terrain. The boots are made of abrasion-resistant and waterproof suede leather and reinforced to provide extra protection for the wearer. The boot is water-resistant to a depth of 5cm and the material is wear-resistant as well.
Despite being a heavy-duty boot, this boot is quite comfortable and lightweight. Each one weighs about 2 lb/ 32 ounces each which is quite comfortable for most users. It is also quite breathable, thanks to the nylon fabric inner as well as holes in the insteps which promotes ventilation and keeps the boot scent-free. 
All the features of this boot are specially crafted to protect the wearer regardless of your foot shape. It has an ankle-high design that wraps around and protects the ankle. There's anti-collision toe protection as well as a cushioning heel to protect the back of your foot.
The rubber sole is built to be slip-resistant. It also provides some extra midsole support and cushioning and shock absorption as you walk-giving your maximum comfort while protecting your foot and helping to resist blisters. 
---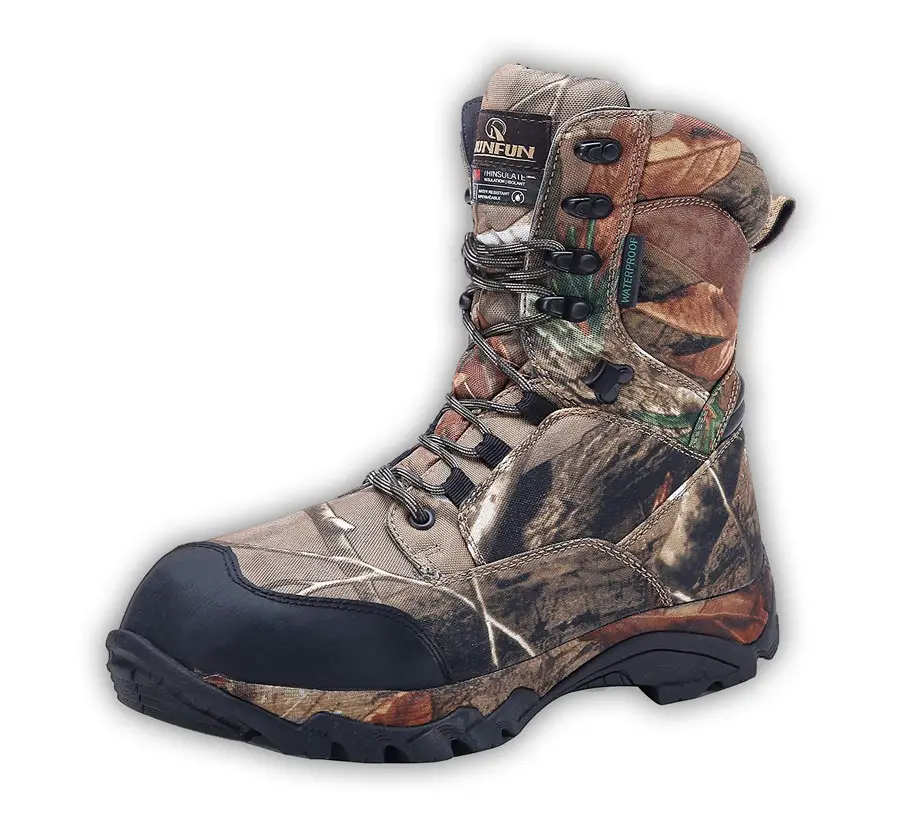 RUNFUN Men's camo Waterproof Lightweight Hunting Boots 
Very Affordable Option for Smaller Budgets
Waterproof and breathable shoes insulated with Thinsulate
Lightweight design reduces pressure on your foot 
Attractive wrap camo design gives the boot a rugged look 
If you're a beginner hunter looking for durable hunting boots that hold up well to normal outdoor hunting conditions, this boot is an ideal fit for you.
From the rugged wrapped cameo appearance, it's obvious that RUNFUN hunting boots mean business and the materials live up to the promise of being waterproof and lightweight. 
This boot can be worn all day without compromising comfort thanks to the lightweight design. The wrapped eva midsole ensures that there's no pressure on your feet.
The boots are breathable as well. It will wick moisture and provide proper ventilation, thus helping to keep your feet dry in all conditions. 
The outsole is made from Ethylene Vinyl Acetate material which has impressive anti-slip properties. You can trust the sole to hold up well even in extreme outdoor conditions without tripping you or wearing out. 
---
Things To Look Out For When Buying Hunting Boots
As important as the price is, it's not the number 1 thing to put into consideration. Fit, comfort height, and quality are some of the things you want to check before selecting a hunting boot. Here are some essential things that can help you make the right decision.
Insulation
Insulation is an important feature to consider when you want to buy hunting boots. Insulated boots are designed to keep your feet warm when hunting. These types of hunting boots are especially necessary when hunting in cold regions, mountains, or terrains. However even in the southern states, deer hunting in early January can be very chilly in the early hours of the morning.
If you'll be constantly on the move, and not staying in a sedentary position, you might want to consider getting less insulated or non-insulated regular hunting boots.
Walking or mountain hiking is a good way to boost blood circulation and keep your feet warm. Add insulation to the mix and your feet will become sweaty and clammy real quick. This could lead to blisters and make you very uncomfortable. Be sure to wear thick comfortable wool socks that will help keep your feet warm and prevent moisture buildup.
However, if you'll be participating in a hunt that requires you to be in a stationary position so for a long time during the snowy season, then insulated boots are highly necessary. You want to keep your feet warm and comfortable to avoid frostbite and numbness.
Waterproof
More often than not, your hunting exploits will take you through muddy and wet terrains, especially during the late season. Wearing boots that prevents moisture from seeping in is very important.
As the name implies, waterproof hunting boots are designed to keep your feet dry while hunting and keep out debris and other fine particles like sand or dust. Boots like these are typically lined with a waterproof covering, which on the downside makes them a bit heavy.
Non-waterproof boots are lighter and in certain cases, more porous than waterproof boots. They are great for early archery season as they allow air to enter the boots thus, giving your feet room to breathe and keeping it dry.
Unfortunately, they also leave space for dirt and debris to enter. If you'll be hunting in the late season or wet terrains, a waterproof boot is your best option.
Terrain
There are different types of terrains for different states, as such, you'll need to consider the kind of area you plan on hunting at, before selecting your hunting boots.
Rough or jagged terrains littered with rocks will require more sturdy footwear that can protect your feet and help you climb the mountains with less struggle.
They can hold you up and help you last longer. Flat terrains, on the other hand, are much easier to scale. Simple flexible and lightweight boots will do just fine for such areas. Most lightweight boots have soft soles that are quiet and comfortable to wear.
Sole Type
The sole of any kind of footwear is very important and it ranges from soft-soled to stiff-soled. Hunting boots are no exception. You'll find them to be either stiff or mid-stiff soled.
When buying boots for hunting, you should consider both the midsole and the outer sole. The outer sole comes in contact with the ground and terrain you're hunting at, so you need to consider that before making a purchase.
Needless to say, soft-soled footwears are a no-go for rough terrains. Boots with soft mid-soles or shanks are noiseless and lighter than stiff shanked ones. They are more flexible and ideal for less strenuous hunting expeditions.
If you'll be hunting in rough or jagged terrains and hiking for long, stiff shanked mid-soles are your best option. Although these boots weigh more, they have a lot more to offer in terms of protection for your feet.  
Boot Height
Hunting boots come in different shafts. They can either be tall, short, or medium. Boots with tall shafts have their lacing up till the calf and offer support and protection to the ankle. They keep snow, dirt, and fine particles out. The only downside is that they can be quite heavy.
If you'll be carrying a lot of hunting gear, you might want to rethink getting tall shafted hunting boots. Medium shafted boots are lighter and typically stop at the ankle. They don't offer as much protection as the tall shafted boots do.
Boots with low or short shafts are extremely light and perfect as mountain running shoes. So long as you won't be hiking through rough or swampy areas, you are good to go.
Type Of Material
There are two types of materials used to design hunting boots; leather and synthetic materials. Leather materials are more popular and have been the trend for hunting boots for a long time and for good reason too. They are durable, malleable, and highly functional.
Quality leather boots can last for a long time and there's always the option of resoling to increase its life span. They also protect your feet from harmful or hard objects like rocks.
Synthetic hunting boots also have their own merits. Although still relatively new to the scene, synthetic boots have quickly garnered attention with their lightweight and porosity. The best rubber boots are often more breathable than their counterpart leather boots and just as durable too.
When it comes to making a selection, it boils down to how sweaty your feet get, what your budget is, and just what you want.
Frequency Of Use
How often you go hunting is another vital factor to consider. If you're the occasional once-in-a-year hunter, you probably won't make use of your boots so much and any affordable off-the-rack hunting boot is good enough for you.
If you're careful, it could even last more than 3 years. Ardent hunters, unfortunately, won't be able to get away with this. The importance of quality and sturdy boots for active hunters cannot be overemphasized.
The boots you wear are synonymous with your hunting vehicles and the condition they're in, determines just far you can go. They also serve as protection for your feet so you can't afford to be miserly about them.
If you'll be making use of your hunting boots very often, then you can't afford to buy just any boots. You'll do your feet a great favor by getting quality and durable boots for them.
Proper Fit
It goes without saying that this is the most important factor to consider before purchasing any kind of footwear. Too big or too small shoes can cause discomfort, impair functionality and cause blisters. This is particularly important when selecting hunting boots.
Hunting boots are primarily protective gear for your feet and with the right features come added benefits like insulation, support, waterproofness, and durability.
If your hunting muck boots are too big, chances are your feet can slip out at any crucial moment. It will also make walking or running harder. Too small hunting boots will definitely lead to blisters and other injuries like an ankle sprain.
A fitted pair of hunting boots is simply the best. To find a perfect fit, you could go to the store along with the pair of socks you'll wear on the hunting expedition. That way, you can know precisely how the boots will feel with your legs in them.
Conclusion
Hunting boots come in different types, shapes, and styles, each with its own modification and uses. Different things determine what kind of boots to buy. From the various land areas to different foot types down to usage and fit, there's a lot to look out for before finally making the decision.
Like we said earlier, there's no one boot for all seasons, so you have to think about the one that best suits a particular season and hunt. The best kind of hunting boot is the one that's ideal for the season, properly fitted to your feet size, comfortable, breathable, provides enough support, and is perfect for the terrain you're hunting on.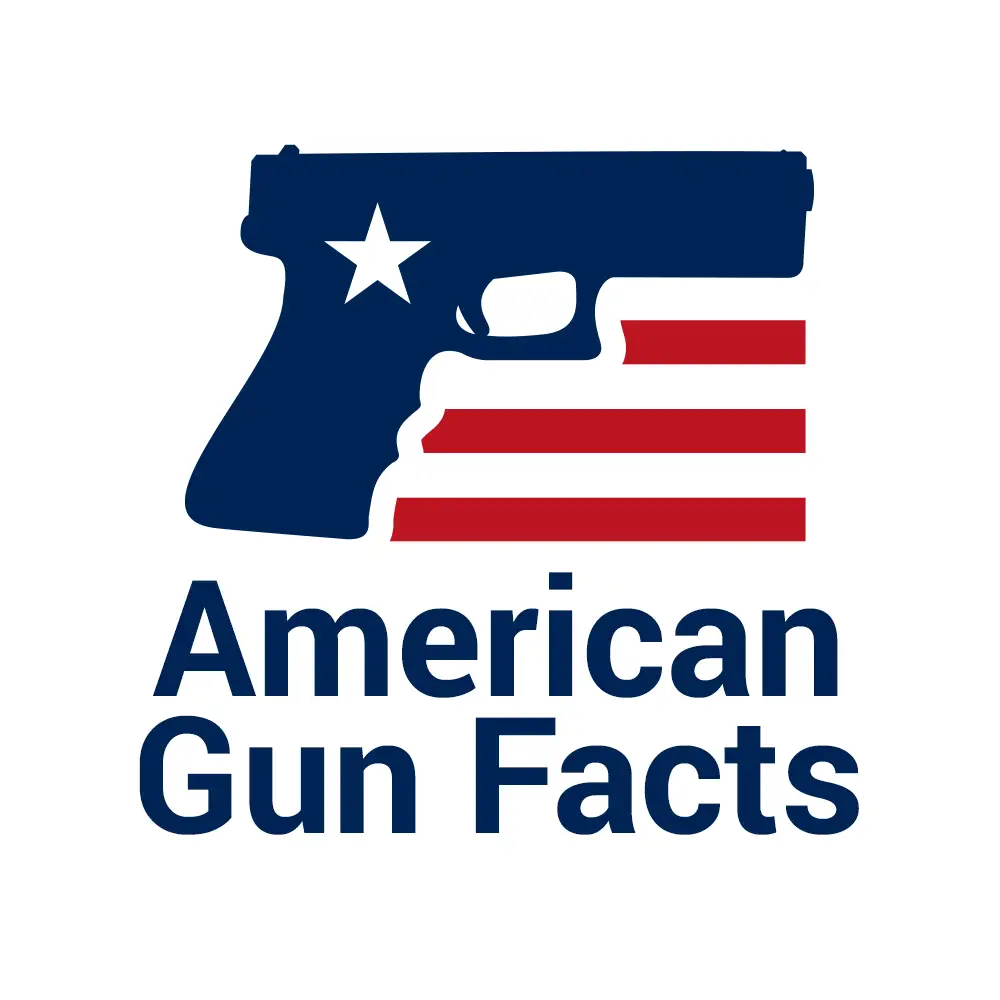 Researched and written by the American Gun Facts team. We are a group of Americans dedicated to providing factual information on firearms and fighting back against attempts to weaken or discard the Second Amendment. We write on topics ranging from firearm statistics, news, reviews, and more! AGF has been featured in the New York Times, NBC, MSN, Time, & many other publications.