Today we're reviewing the Sig Sauer Romeo 5 Red Dot Sight. This sight is super popular among our staff and is owned by a number of our authors. So, we asked several of them to write their thoughts into a review.
We're breaking this article up into the relevant section under which you'll hear from each of the three authors: Cameron, Michael Schuster, and Ryan Snider.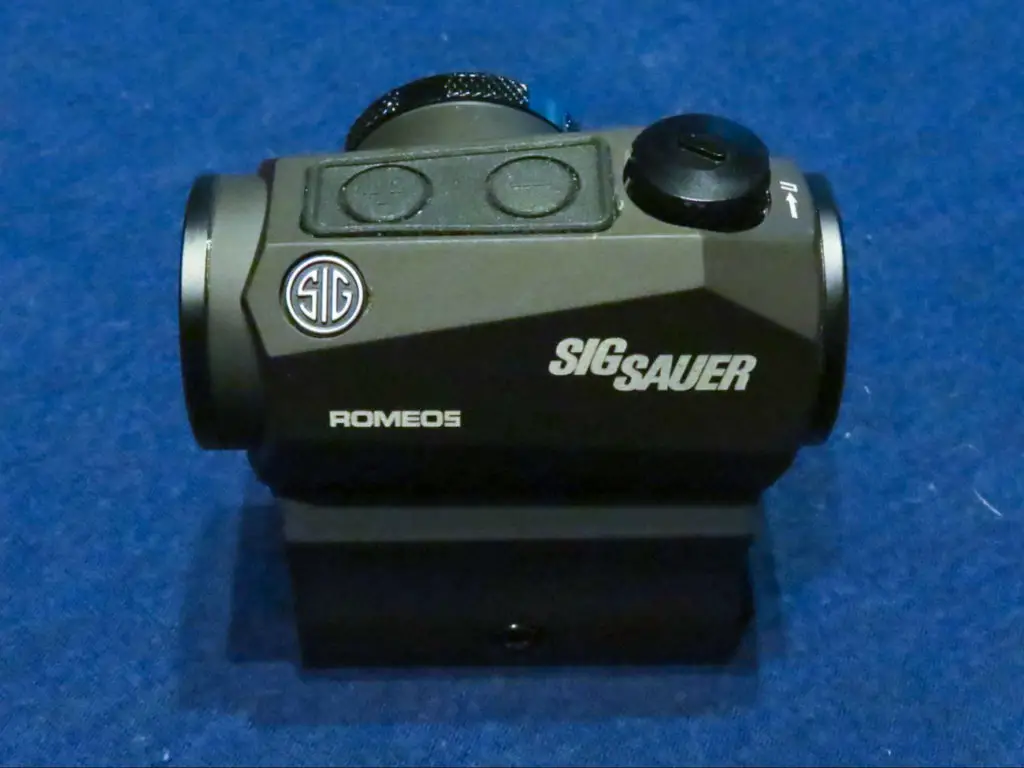 Check Price at:
Sig Sauer Romeo 5 Specs
Reticle: 2 MOA dot
Adjustments: 1 MOA
Battery Life: 40,000 Hours
Waterproofing: IPX 7 up to 400m
Parallax: Parallax Free
Optical Coating: HDX
Length: 2.47in
Width: 1.5in
Height: 1.52in
Weight: 5.1oz
Warranty: SIG SAUER Electro-Optics are guaranteed forever. It's an unlimited lifetime guarantee.
First Impressions
Cameron:
There is no denying that Short Barrel Rifles (SBR's) and AR pistols popularity has increased in the past few years. What follows is the constant debate on optics for such a build. While the number of great optics on the market is quite overwhelming, the Sig Sauer Romeo 5 is one of the top contenders. 
Sig Sauer is a well known manufacturer for high quality products. At nearly half the price of some of its competitors, like the Aimpoint PRO, the Sig Sauer Romeo 5 offers quality specifications along with comparable affordability. Not only can you typically purchase this optic for under 150$, it is enabled with motion activated illumination (MOTAC), and the red dot has a 40,000 hour battery life.
Now some may argue this optic is only useful for close range with its 1x magnification, but there is always the option of adding a magnifier, such as the Sig Juliet3, to expand your target ranges. Regardless of opinion, this red dot sight is durable, affordable, and practical in many scenarios. Here I will share my personal experience with this optic and why I recommend it as a great sight for those looking to build a quality Home Defense Rifle on a budget. 
Michael:
Sig gets a lot of flak for various products that have skipped the QA/QC line. From firearms to accessories, there have been more than a few hiccups in their product releases as of late. However, the ROMEO5 manages to pass muster each and every time it has been tested, and not just by me.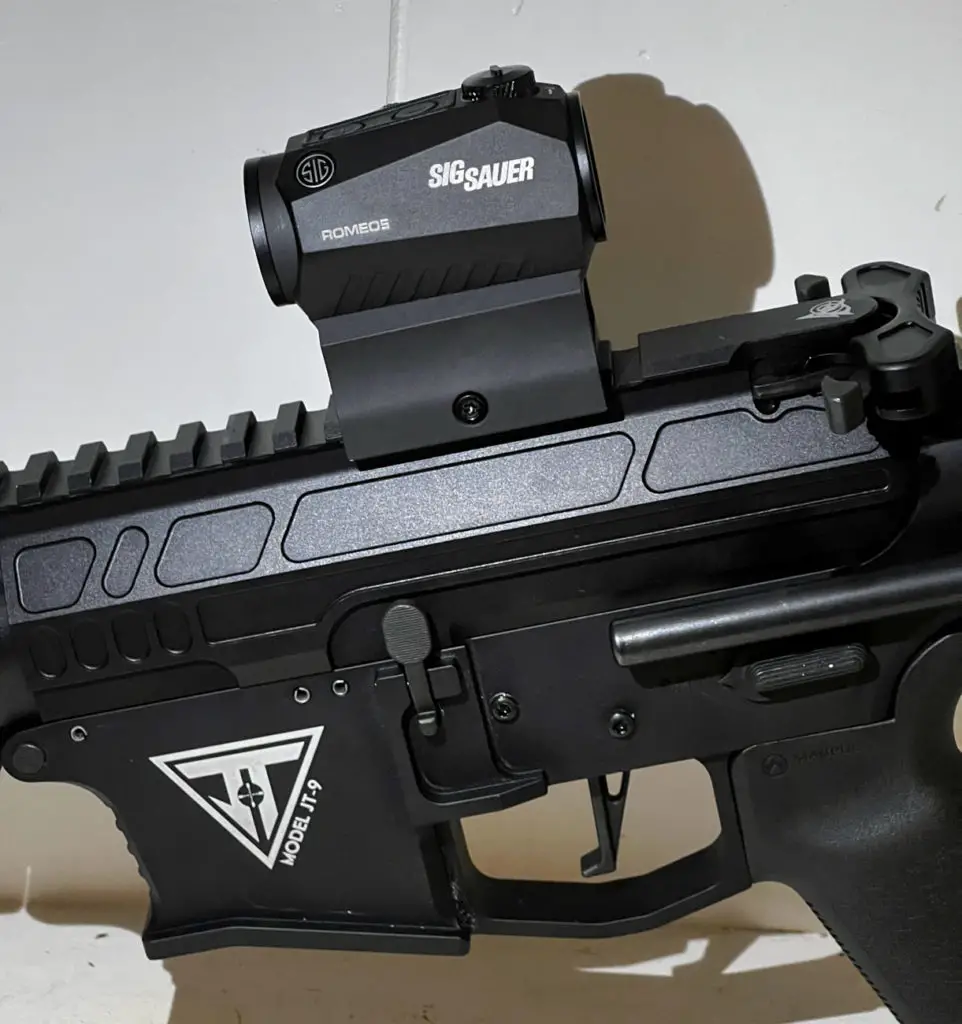 Ryan:
Long has the great debate of rifle sights been a topic of heated discussion.  Adding the purpose intended for that sight just seems to add fuel to the fire.  Red dots, LPVO, Long Range and even MPVO all have great uses. But what about dual optics? Most of the time you'll see a Long Range or even an LPVO with a mounted Red Dot sight. They feel like an afterthought or back-up plan to the original intention of the rifle.  What if we had a plan for everything mounted? What if everything had a purpose and a job to do as a forethought? That's what we're talking about today.
Red dot sights have come a long way over the years, we've seen a lot. From the cheap end amazon $50 specials to the Gucci $300 and up end. On either end of that spectrum is going to be problems between falling off target, to extra warranty purchases. Today, we are going to be talking about tried and true optics, that's not going to break your bank. We all come from different ends of the spectrum, new shooters, experienced, young and old alike.  I give you the Sig Sauer Romeo 5. 
Build Quality & Weight
Cameron: The Sig Romeo 5 is made out of lightweight Aluminum, weighing only 5.1 ounces. Along with its lightweight, the design is very sleek and modern looking, and is engineered to withstand possible force resulting in little to no damage. 
Ryan: Right out of the box, the Sig Romeo 5 has that look and feel of a quality optic. Free of cheap materials and coatings, with a crisp and clear sight picture. Featuring a 1x20mm 2 MOA (Minute of Angle) red dot, and ten illumination settings located on the top of the sight, eight for day and two for night.
Red Dot Reticle & Illumination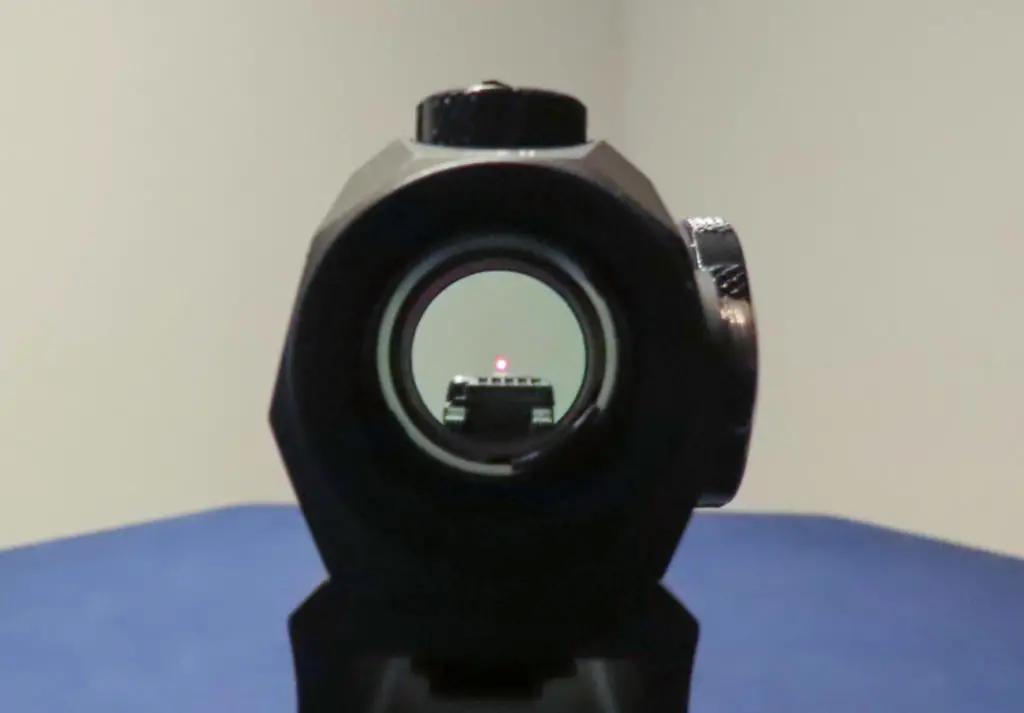 Cameron:
This optic comes equipped with a 2 MOA Red Dot reticle as well as 10 different illumination settings. Those settings include 8 for daytime scenarios and 2 for night vision. I will note that the brightest daytime setting is quite intense and creates a glare from the glass; whereas the lowest daytime setting being almost impossible to use in daylight or in darkness. I recommend sticking with settings 4 through 9 for optimal visibility in all conditions. 
Michael:
The unmagnified red dot features a 2 MOA single-point reticle with ten brightness levels (8 daytime, 2 night vision appropriate), all operated by rubberized buttons, rather than the traditional knurled knob. With 100 MOA of 1MOA adjustability, it is easy to cowitness with iron sights or line up with any laser attachments.
Ryan:
The reticle itself is small and crisp on the lower settings, while at a more increased illumination, you might lose a small portion of the target (depending on distance to target above 50 yrds). The sight itself provides extremely limited resistance to a ready position and target acquisition from any starting point.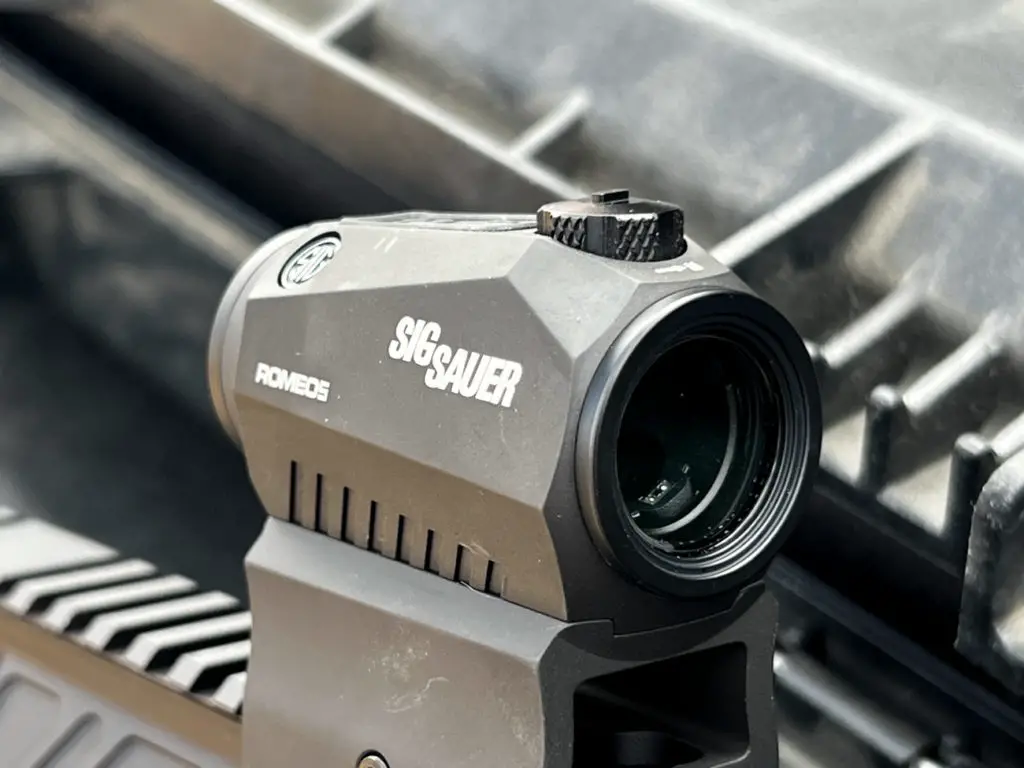 The Sig Romeo 5 is a x1 magnified sight. Being that it's a small magnification, you won't notice a sight picture change from your peripheral and the red dot remains parallel. This allows for a good field of view around the optic to keep the shooter aware, and not tunnel visioned while on target.
Glass: Waterproof and Fogproof
Cameron: In all weather conditions, you can always depend on the Sig Romeo 5 whether it be rain, extreme cold, hot sun, or even a drop in a puddle. With an IPX-7 waterproof rating the Sig Romeo 5 can handle being submerged up to 1 meter for 30 minutes. 
Michael: The objective lens diameter is 20mm, with an overall length of 62.7mm and a 38.1mm width. That translates to a fairly significant "black ring" around the sight picture, but with both eyes open, it doesn't destroy situational awareness. The sight also has an IPX7 rating, meaning survivability in puddles and small streams for up to 30 minutes, but fog and rainproof, nonetheless.
Ryan: The glass lenses are made with all conditions in mind: fog proof performance with zero glare. You're not fighting with reflections or shadows, too much or too little light.  Making the Sig Romeo 5 ideal for day or night shooting.
Buttons & Knobs
Michael: The sleek look is broken up by two caps, covering windage and elevation adjustments. Handily enough, these caps feature a protrusion that fits into the adjustment turrets to act as a tool, but more on that later. The large radial side feature houses the CR2032 battery for quick battery replacement.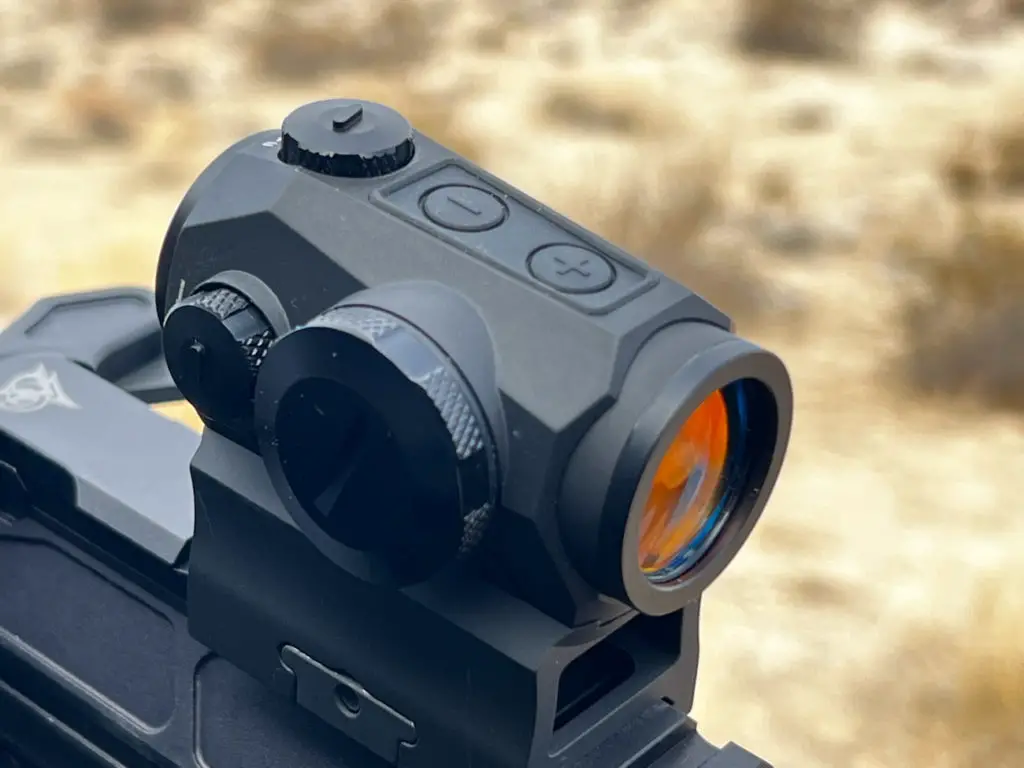 Ryan: When it comes down to ease of use, Sig Sauer has perfected their sights. The location of the illuminator buttons on the top of sight, give a nice haptic feel to increasing or decreasing intensity while still maintaining view of your target.
Vertical and horizontal adjustments are split under the smaller caps located at the top (vertical) and next to the battery housing on the right (horizontal). Making the last of the operational buttons your illuminator settings, located on the top of the sight. The most forward button increases the illumination while the one closer to the shooter decreases illumination.
Motion Activated Illumination
Cameron: One of the many beneficial features of the Sig Romeo 5 is its MOTAC technology, meaning you can pick up your rifle in an emergency and not have to worry about turning on your optic in a panic as it will automatically turn on when it senses motion. This in part is why the battery life is so extensive, because your optic will automatically turn off when there is no movement detected. 
Michael: The best feature has to be the instant-on "MOTAC", or motion-activated calibration. With just a few button presses during setup, you will no longer need to frantically press buttons in a defensive situation. With a ~40,000 hour battery life, you can be reasonably sure that your tinkering, training or LARPing won't impact the ability to see the dot when you actually need it.
Ryan: Simply holding either of the illuminators, turn the sight on and off. Simple, right? But what if they made it even easier? Well, Sig thought of that too.  Once the sight is powered on, we come to an impressive feature. Motion activated illumination, meaning simply that after your firearm doesn't move for a few minutes, the Sig Romeo 5 will turn off. But that's not even the best part. Once it senses motion, the Sig Romeo 5 will power right back on.  That's right, a phenomenal benefit to this compact sight is the fact that as soon as you need your rifle, like a home defense situation, you don't even have to remember to power it on. It's ready to go.
Battery Life
Cameron: The run time for the Sig Sauer Romeo5 is 40,000 hours. Now if you do that math, it equates to just over four and a half years which is quite a long time for a simple CR2032 battery. The battery housing is conveniently placed on the side of the optic, which makes installing or changing the battery very simplistic and eliminates the hassle of removing your optic to replace batteries.
Ryan: Advertised, the Sig Romeo 5 features a 40,000-hour battery life.  However, this does vary from an every now and again use to an everyday shooter. Everyday use will net around 10,000-hour life.  To put that into perspective that's about 416 days. So, you won't even have to change the battery out more than once a year.  The motion activated illumination feature will not draw any extra life from your battery either, making this particular sight still an absolute contender against anything on the market.
Zeroing
Cameron: Zeroing this optic is very simple with its windage and elevation adjustments in 0.5 MOA increments. When you dust off the old rifle from the gun safe or even drop it, you can guarantee an easy zeroing process due to its quality build structure.
Ryan: Zeroing in at 25 yrds took all of 5 rounds with a 1 click value being 1 MOA. Now that comes from experience and will vary based on shooter knowledge.  With that being said, I found this sight to be easier than others in the past.  The more important question though, did it hold? With over 10,000 rounds through this sight, it has held its zero.   
Mounting
Cameron: Besides the fact that the Sig Sauer Romeo 5 is such high quality for such little money, Sig also ships the optic with industry standard mounting options: both a T10 Torx Low Profile M1913 Picatinny mount and a co-witness 1.41 inch riser mount. This is unlike many other optics which only offer a riser mount at an additional purchase. This makes this optic optimal for AR builds with high cheek welds or something like an AK where you might prefer the low profile mount.
Michael: The high (1.41") mount cowitnesses irons at the lower 1/3rd height, and the package includes a low mount as well as the necessary Torx wrench to swap them. The Torx wrench also has a tab on top of the thumb paddles which can be used to adjust the turrets. The footprint of the sight is the same as an Aimpoint T2, making it compatible with many aftermarket mounts, should the included ones not meet your needs.        
Ryan: Once mounted, it never needs to be removed. With the battery housing on the outside right underneath a secure cap, quick battery replacement is made even easier for the small CR2032 battery.
Price
Michael: This pretty impressive little package retails for approximately $150, but can be found between $120-$130 with minimal effort. But for $130, you get a motion activated red dot sight that holds up to just about anything 1 meter of water deep or above. And no matter what happens over the course of its life, its backed by the Sig Sauer Electro-Optics Infinite Guarantee.
Best Uses
Cameron: The best uses for the Sig Romeo 5 are focused on closer range scenarios because it is a 1x Red Dot with unlimited eye relief and little to no Parallax. However, there are the exceptions to adding a Juliett3 3x which could expand your situational use. 
Home Defense Situations
Say you hear the front door alarm go off in your house, wouldn't you feel more comfortable knowing when you grab that gun out of your safe or from under the bed that your red dot sight will be on and ready? Rather than having to fumble around in the dark to find the buttons to turn on your reticle in a situation where every second matters? I know I'd feel better equipped in that situation with the Sig Romeo 5. Especially on a rifle built for home defense, you are going to be looking for light weight products as well as high quality and low profile, which is exactly how I would describe the Sig Romeo 5. Home Defense or CQB is the more optimal recommended use for this red dot, but it can also thrive in varmint hunting or target plinking. 
Varmint Hunting and Plinking
For varmint hunting inside of 100 yards the Romeo5 is widely applicable, and if you want to extend your range a bit you can always pair it with a Juliett3 magnifier. I have yet to test the magnifier combination on the Sig Romeo 5, but I do have a Vortex Strikefire 2 with a Vortex VMX-3T 3x flip magnifier. It really makes a world of difference with furthering range while maintaining precision. Target plinking is also great with the Sig Romeo 5 because of its easy zeroing, low parallax, and low profile. I would say it is very much a point and shoot optic.
The Competition:
Michael: While Holosun makes some aesthetically comparable red dots, the HS503C is much more expensive and the only major features differentiating it is the added 65MOA reticle option and a solar cell. At its price point, the ROMEO5 is less expensive than the directly comparable Holosun HS403B. The closest real competition is the Vortex SPARC Red Dot Sight with an additional auto-off feature, but even that is a tad more expensive and a smidge heavier.
Improving the Romeo 5 with a Vortex VMX-3T Magnifier
Ryan:
A Dual Optics setup is exactly that. Dual Optics. A red dot dedicated to the situation of defending a home, a close quarters fight. A magnifier for a situation outside the confines of a building. Each has a purpose, each has a job, and when done right, they work harmoniously. Harmony breeds confidence. Confidence results in quality shooting.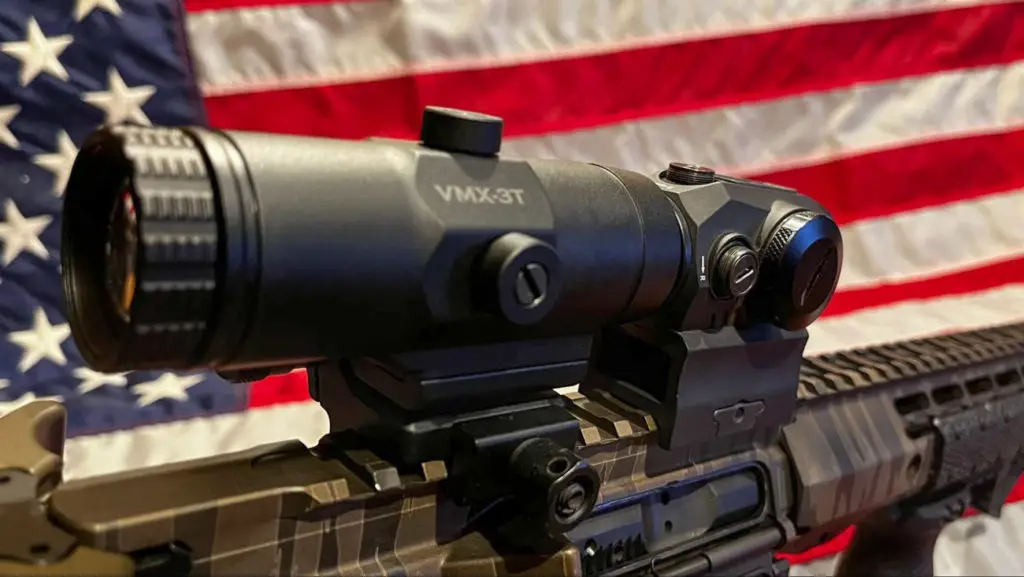 On the cost side of things, a quality LPVO is going to run around $600 plus. Even more at $1,600 if you decided to go for a EOTech Vudu LPVO. This article is your friendly reminder though, that higher cost, doesn't mean, better product. We're going to look at two non-expensive quality optics, both with lifetime warranties and both are perfect for the new and experienced shooter. 
So we have our RDS but how are we going to improve that? What's going to be the ideal optic to bridge the gap between our red dot sight and a LVPo? We need a magnifier. Over the years, special operations forces have proven the effectiveness of dual optics and specifically, we are talking about the VMX-3T Magnifier from Vortex Optics.  While traditional LPVO's can be raised and lowered in power, the magnifier is a set amount, the real benefit to these flip magnifiers is the fact that it flips out of the way when you don't need it. With LPVO's, regardless if you're at a lower x1 power or a x6 power, you'll always be looking down a tube, sacrificing some amount of peripheral vision. The versatility and use of those tubes will always be behind a functional setup that has a job that doesn't require the shooter to change their head or eye position.  
Magnification and Operation
The Vortex VMX-3T is a x3 optic. It will never go above or below that power. Additionally, because it is only a magnifier, it requires no battery to operate and no sight-in required.  Simply mount to the rear of the RDS that you are using, focus the lens using the rear dial and off you go.  Operation differs from past flip optics in two distinct ways.  Previously, optics would flip to the shooter's right side, but this was changed because of the ejection of casings either being too close or impacting the glass. 
Additionally, we now have a locking mechanism for both active and inactive settings. Personally, I had never found either of these to be a problem in the past. However, the change feels phenomenal.  By simply cupping the top of the sight with your left hand, your thumb is in perfect position to depress the action button and have a firm and deliberate motion to move it. Simple and refined.
Effective Range
The range associated with the VMX-3T is above 25 yards to about 100 yards. This is what we mean by giving your optics a job as a forethought.  While not needed in CQB, the second that environment changes, a quick flip up brings you at equal to longer ranges. No Fuss, no dial in. 
Pros: 
Cameron: From what we can see so far, the Sig Romeo 5 is the most bang for your buck when it comes to budget red dots. In my personal opinion, the Romeo 5 is ideal for home defense and other close range applications because of its:
Great battery life expectancy 
Easy zeroing and unlimited eye relief
MOTAC technology for Motion Activation and Deactivation
Side-loading battery
Lens Clarity
Lightweight
Budget friendly
High quality materials and sleek design
Minimal Parallax 
Rapid Target acquisition
Cons
Cameron: That being said, the only real downside I have found with this optic is the red reflection you get from the lens tint and the wide spectrum of daytime and night vision settings. Sig Sauer adds a sort of polarization to prevent glare from occurring, but in my opinion the tint ironically creates a reflection instead. Also, the array of day and night settings is a bit excessive, and I recommend sticking to setting levels between four and nine. 
Michael:
The sight does have some negative attributes, which do affect ease of use. Firstly, the adjustment caps are hard to use as adjustment tools. Yes, the cap's protrusion fits nicely, but the amount of torque required often means leaving knurled print patterns in your skin once finished. While the included Torx wrench or a small flathead does the trick every time, it is something to consider for those who have reduced grip strength or dexterity.
A 20mm objective lens might not seem so bad, but with nearly a centimeter of aluminum housing on either side, it pressures the user by constricting the eye box. Since there is no magnification, there is no parallax, but that doesn't mean a proper cheek weld isn't necessary. Realistically, this problem is solved with practice, so it shouldn't be a dealbreaker.
The brightest setting for the dot is definitely daylight bright, but causes a serious blooming effect, almost completely obscuring a standard man-sized target between 75-100 yards. That said, the setting immediately below mostly takes care of that issue and is still bright enough to draw the eye under rapid sight alignment. The next two settings are ideal in their intensity and can easily be used in almost all controlled conditions.
While more of a matter of personal use, the sight also comes with neat rubber lens covers that fit snugly to the sight. They are attached to each other via two thin rubber straps. They are great for protecting the lenses from smudges or during transport, but don't plan on leaving the covers on if you're putting the Sig Sauer ROMEO5 on your defensive or emergency firearm. If you do, you might end up wishing you had budgeted an extra 2 seconds for your response time in an actual situation.
Verdict: Sig Romeo 5 Review
Cameron: I mostly have put this scope to the test in range settings, both indoor and outdoor, up to 100 yards. After putting thousands of rounds through my rifle with the Sig Sauer Romeo5, I learned that compared to a few other Red Dots I own or have used, it outperforms them all in its own way. Of course there are red dots on the market that are much better, but for the price of the Sig Romeo 5 you will not find one. I personally love the build quality and the price point, and I will surely make this my go to optic for all future similar builds. The Sig Sauer Romeo 5 will continue to be one of the top selling red dots because of its comparable price and quality. It is lightweight and ready for action in the blink of an eye, whether that be at the range (rain or shine), varmint hunting, or in the case of an immediate threat in a household environment. All in all it's a great choice for experienced shooters as well as inexperienced shooters looking to build their first budget rifle build.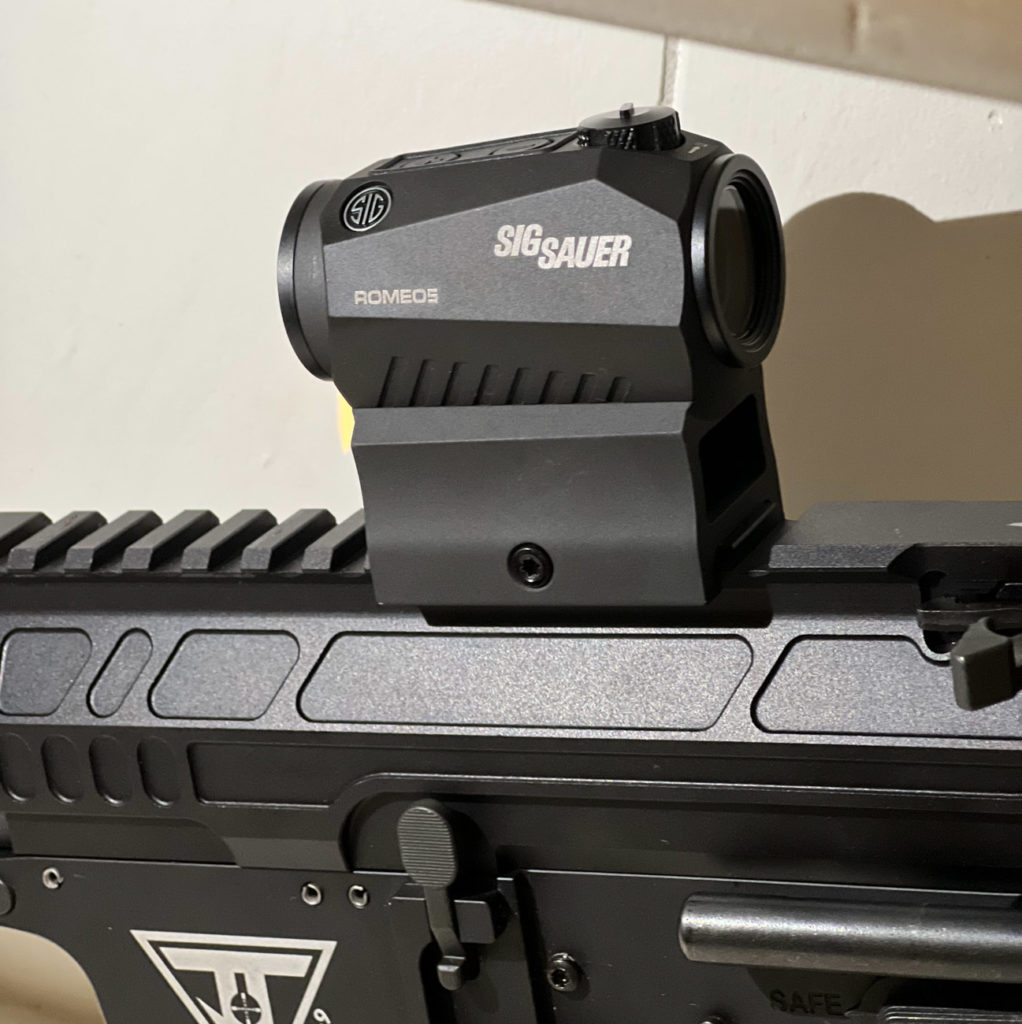 Michael: A red dot sight is used for quick acquisition of a target, and the ROMEO5 is easily a top contender amongst the options available. Its lightweight 5.3 ounces will not impact firearm handling or maneuverability and its 2MOA dot is sharp enough to do precision work out to 100 yards or more, depending on your eyesight or use of magnifiers. Unless astigmatism is a factor, it's a budget buy that has both form and function all shooters can appreciate. Barring the aforementioned issues, this red dot sight will be great on anything with a picatinny rail, from pistol caliber carbines to duty-use rifles.
Michael Schuster has nearly two decades of firearms experience. Beginning his career in the firearms industry, he initially worked as a range safety officer and training liaison. There, he found a passion in helping others achieve their goals as they pertain to their personal safety. His various proficiencies and adherence to facts over fiction led him to be a valued source of information to new and prospective firearms owners.
Check Price at: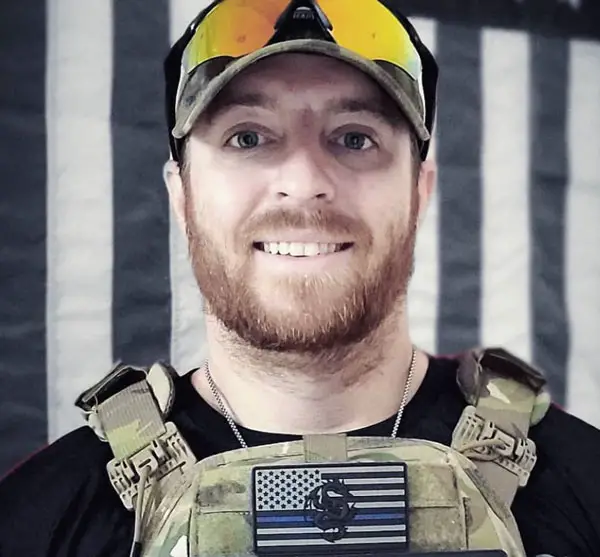 Ryan is a Pistol and Rifle Instructor for new and experienced shooters of all ages and has 10 years of knowledge and experience in the industry. He's ran classes for CQB, long range and CCW for experienced adults as well as children and adults who've never been on a range before. Ryan works to provide quality information and proper training to breed confident, reliable shooters.