Sig Sauer has been in the media quite a bit lately with their contract wins both for firearms, optics and their new suppressor line. One of their product offerings that I believe doesn't get enough attention is their lineup of red dots. This review will go over what is, in my humble opinion, their flagship red dot: The Romeo 4T. 
Sig has been making optics for several years now, you can find their magnified optics in most stores and their cheaper line of red dots such as the Romeo 5 and the MSR. The Romeo 4T is in my opinion the best carbine red dot for the price on the market today. The price is competitive with the likes of Eotech, Aimpoint, Vortex, Trijicon, etc. Now let's get into why I believe it's the best of the bunch. 
Check Price at:
Who Is It For?
The Romeo 4T is the ideal red dot for someone in the market for an upgrade from their entry level red dot, or someone looking at higher quality optics but wants to save some cash. The Sig Sauer Romeo 4T is at home on recreation guns, competition guns and duty guns alike. 
Designed for modern semi-automatic rifles/pistols, MSR platforms and shotguns, it's ideal for short and medium ranged engagements and works well in sport shooting on a wide variety of calibers and in any lighting condition. The Romeo 4T is fully ruggedized and impact resistant for the toughest environments, as it is constructed from ultra durable and lightweight 7075 aluminum. The Romeo 4T comes standard with a 1.41″ riser mount with additional lower 1/3 co-witness spacer as well as see-through lens covers and hex bolt mount. It has undergone complete Mil-Spec testing, is submersible up to 20 meters and is Waterproof, IPX-8 rated, and fog-proof. 
The 4T Runtime is in excess of 100,000 hours with solar and battery usage. There are both Ballistic Circle-Dot and Ballistic CirclePlex reticle models available. Users can select from 4 different integrated reticle options (Dot, Circle-Dot, Dot with Holds, Circle-Dot with Holds) and Unlimited eye relief to acquire aiming point and target, regardless of eye position behind sight. Utilizing Sig Sauer's MOTAC (Motion Activated Illumination), the Romeo 4T powers up or down when sensing motion. It uses an ultra-efficient red LED illumination for daylight visibility and extended runtime.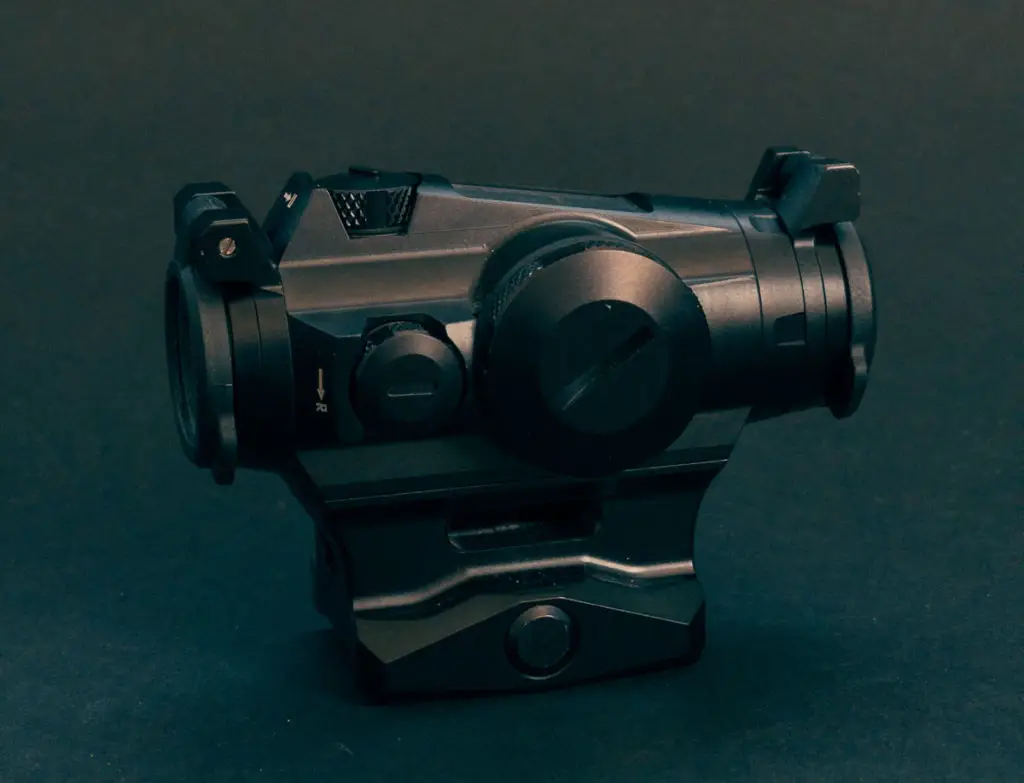 The Romeo 4T is the perfect optic choice if you like the profile of a smaller red dot but enjoy the donut style reticle of an eotech. With the ability to switch between a simple 2MOA dot to a 65MOA Circle Dot with the press of a button, it's no wonder one of our nation's most elite Counter Terror units run these optics. 
Optic Details:
Magnification: 1x
Length: 84.7mm
Width: 49mm
Height: 67.8mm
Weight. 7.6oz
Reticle: 2 MOA Ballistic Circle Dot 
Reticle Color: Red
Illumination Settings: 10 Daytime/ 2 NV
Colors: Black & Tan
Mount footprint: Aimpoint T1/2 Micro Footprint
What's in the Box?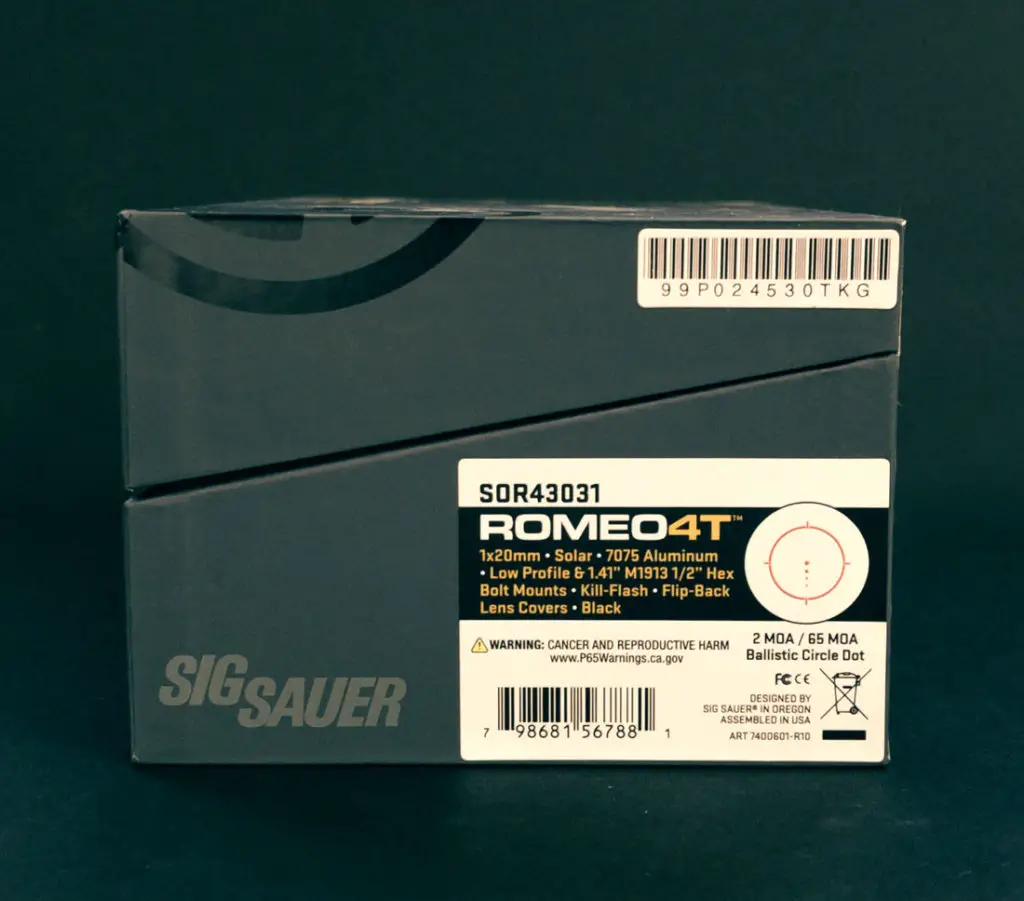 Romeo 4T Optic
Set of Sacrificial lens caps
Front Lens cap
Rubber Lens Cover
CR2032 Battery
Optic Adjustment Key
Front Lens Killflash
1.41" Riser mount
Lower ⅓ co-witness spacer
Low Profile Mount
Lens Cleaning Cloth
User Manual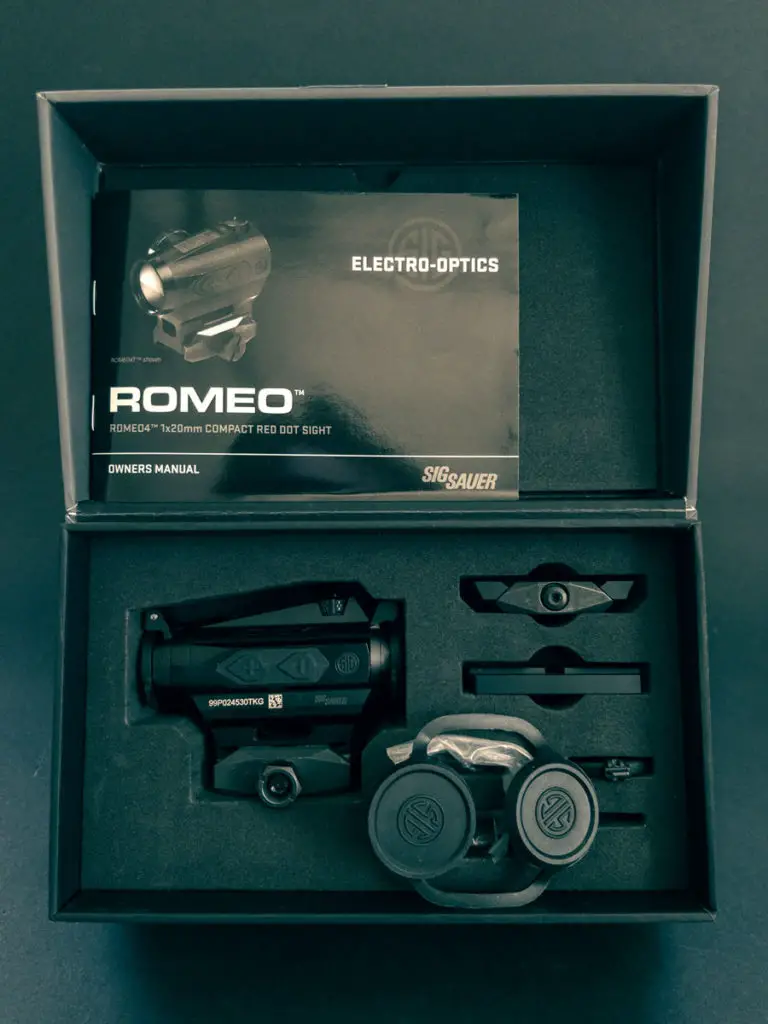 Why The Romeo 4T? 
I picked up my first 4T a few years ago. I was in the market for a new red dot and was torn between an Eotech and an Aimpoint T1 Micro. Both optics were in the $600-700 range. I can hear people saying it now: "Why spend that much on a red dot when you can get one for $150…" Because I learned long ago to suck it up and follow the old adage "Buy once, cry once".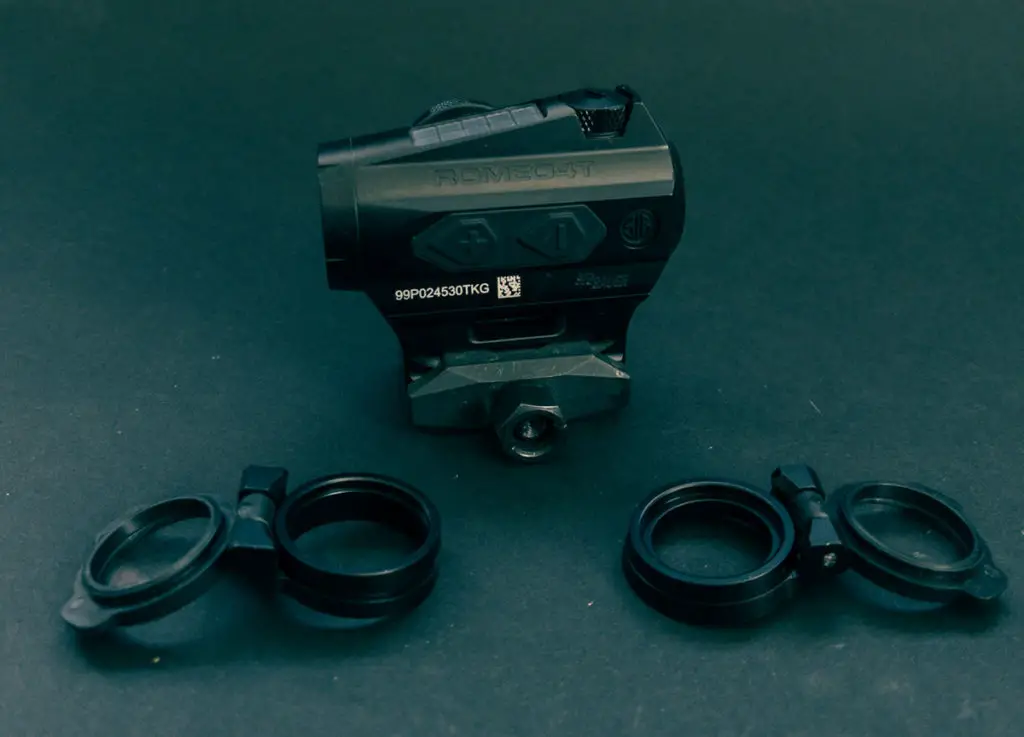 I remained undecided for a few weeks when a friend recommended I look into the Sig Romeo 4T. The Eotech had the better reticle but the aimpoint had the better profile. The 4T was special because it had the best of both worlds. And it was ¾ the price. That was enough to tempt me to gamble a bit and see what the 4T could do for me. Three years later, now I have three Romeo 4Ts as well as two other Sig Optics, the beefier big brother, the Romeo 8T and Sig's new Pistol Red Dot, the Romeo 2. Reviews on both of those will be forthcoming. But let's dive into the 4T.  
Models, Fit & Finish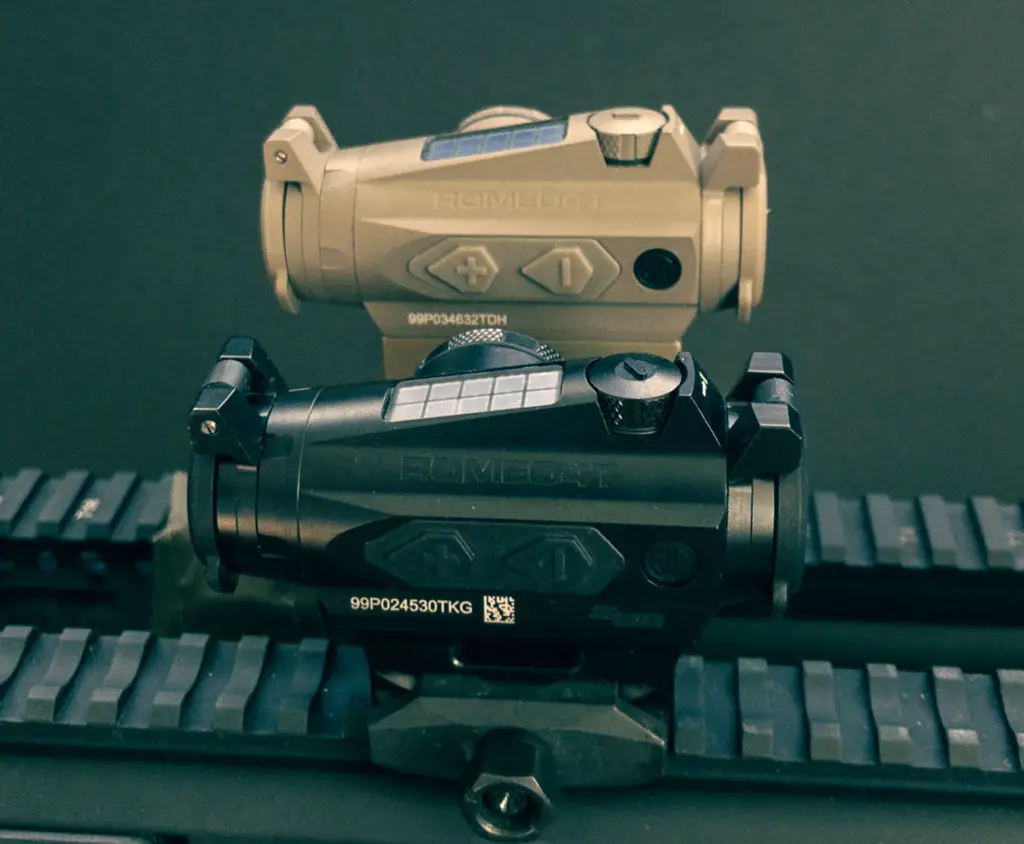 Romeo 4Ts come in two different reticle options (Circle Dot or Circle-Plex) and two different colorways (Black or Tan). I have both Black and Tan Romeo 4Ts and both serve their purposes. The newer generation 4Ts in Tan features a matte finish though this wasn't the case on the older generation 4Ts, so if you decide to pick one up second hand, make sure you are okay with the finish beforehand. I talked to a Sig rep awhile back and was told the Black 4T is an anodized finish and the Tan is Cerakote. Both finishes hold up to abuse well, I haven't had any chipping or peeling with them. Aside from the obvious color difference the only other difference is in the price. Romeo 4Ts in Black have an MSRP of $583 whereas the Tan models have an MSRP of $608, if purchased directly from Sig Sauer.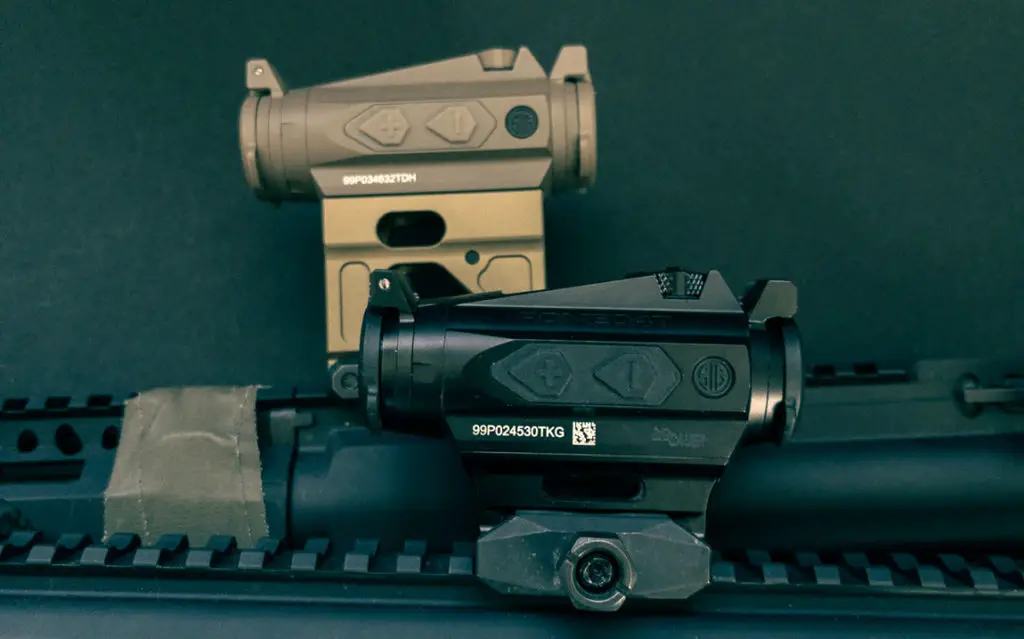 The Circle Dot & Circle-Plex options are quite simple but can get confusing depending on where you buy your Romeo 4T from. Some sites don't state the difference and users have bought one thinking it was the other. The big difference between the two is One is a dot, and the other is a small crosshair. The Circle-Plex (crosshair) model is only available in black and the SKU is SOR43032 so if you're looking on a website and you're not sure which model you're potentially buying just be mindful. I prefer the Dot versions as I personally don't see the benefit or advantage of the circle-plex. There is no MSRP difference between the Circle Dot and Circle-Plex models but some sites and aftermarket sellers will upcharge the Circle Dot models as they tend to be more desirable. 
Reticles
The Romeo 4T has four different reticle options the user can toggle between:  2MOA Dot, 2MOA Dot with holds, 65MOA Circle with Dot, 65MOA Circle with Dot and holds. That may sound confusing but refer to the picture for clarity. This is a major selling point on this optic for me. For some who first get into the world of red dots, acquiring the dot can be difficult. After a few hundred repetitions at the range or during dryfire practice, it can quickly become second nature to acquire the dot.
If you're involved in competitive shooting or are in a profession where speed and accuracy need to be applied together without room for error, then having a Circle Dot reticle option comes in handy. Eotech's famous "donut" reticle has been tried and true for many years as it is easy to acquire and provides a bigger circle to help more accurately anticipate bullet accountability when you squeeze off a round. Now the Romeo 4T has the same ability but in a much smaller profile and a much greater battery life. The Reticle is easily adjustable with up/down and left/right turrets, simply use the tool included in the box or a simple flat key or screwdriver.
Battery
Running on a single CR2032 battery, the 4T boasts an impressive 100,000 hours of runtime most easily comparable to the Aimpoint T2 Micro which claims 50,000 hours of constant operation on the same CR2032 battery. These are taken directly from the Manufactures websites and there are many variables that aren't specified or outlined so take both numbers with a pinch of salt.
We know everything from brightness level to temperature can easily affect the life of a battery but where the Romeo 4T has a boost is with the small Solar strip on the top of the optic that will at least in some small way aid in battery life. This isn't new technology, the likes of Trijicon and Holosun utilize similar design to achieve solar assisted battery life. I could tell you I haven't replaced the batteries on my Romeo 4T for years ( ps: I haven't) but that wouldn't really mean anything because battery life is directly tied to usage, brightness and  climate. So you really just have to experiment with your own usage, brightness needs and climate of where you live and where/when you shoot the most. 
The bottom line is, we should all replace our batteries yearly if they are on guns we use and rely on. Someone once recommended picking a memorable day and replacing all your optics batteries at the same time. The only reason I haven't replaced the battery on one of my 4Ts is for science and it's sitting on a recreational gun, not something needed for essential use such as hunting or defense. 
MOTAC
Another beneficial feature of the 4T is MOTAC. Motion Activated Illumination. That's Sig's way of saying shake awake. The Romeo 4T once turned on, will remain on while its in use, ie. when it's in motion, or sensing movement.  If no movement or use is detected after two minutes, the optic will shut off until motion or movement is sensed again. In short, once you turn it on, if you're using it, it stays on, if you put it back in the safe or the gun bag, it's off.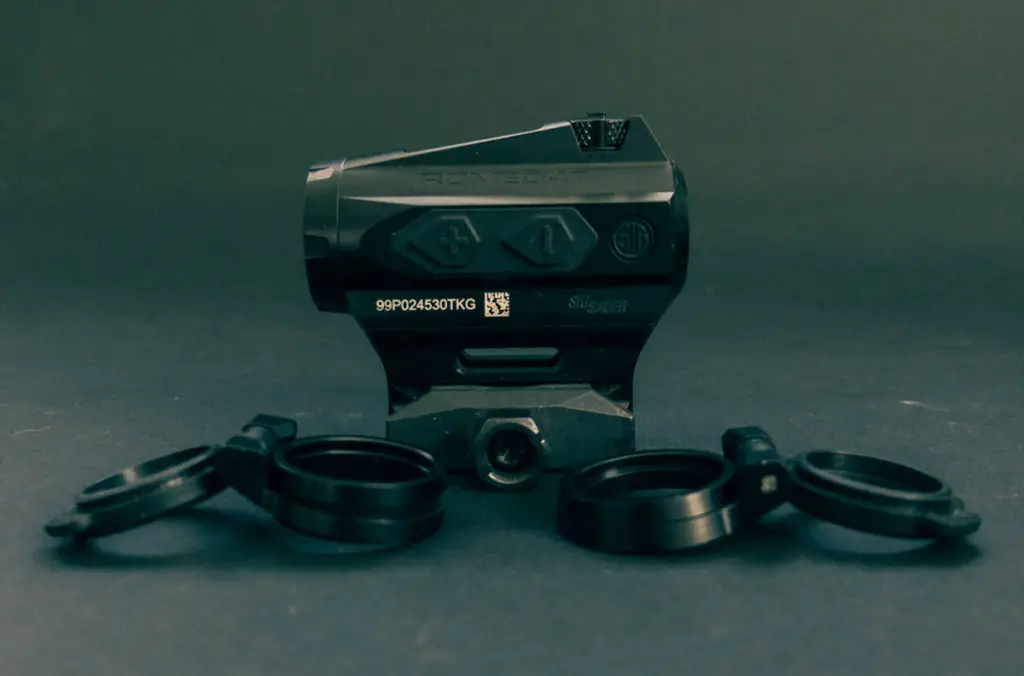 The Romeo 4T is not the only optic with this feature, Motion activation has secured its place as a valuable and highly sought after feature in major optics brands and Sig Sauer has, in my opinion, nailed the execution. If you're storing a gun for a long time and know you won't need it, you can simply turn the optic off and preserve the battery. 
Aftermarket Options
If you're like me and experiment with optimizing weapon setups and continually finding ways of improving then aftermarket options for things is a consideration for most things you buy. It happens in the world of optics that you're excited for this new red dot and when you get it, you notice it has a proprietary footprint and you can only use the stock mount that it comes with.  Welcome to 2008. Thankfully this is rarely the case anymore and most optics share mount profiles and bolt patterns so companies that come out with risers or offset mounts can make products for the end user to customize.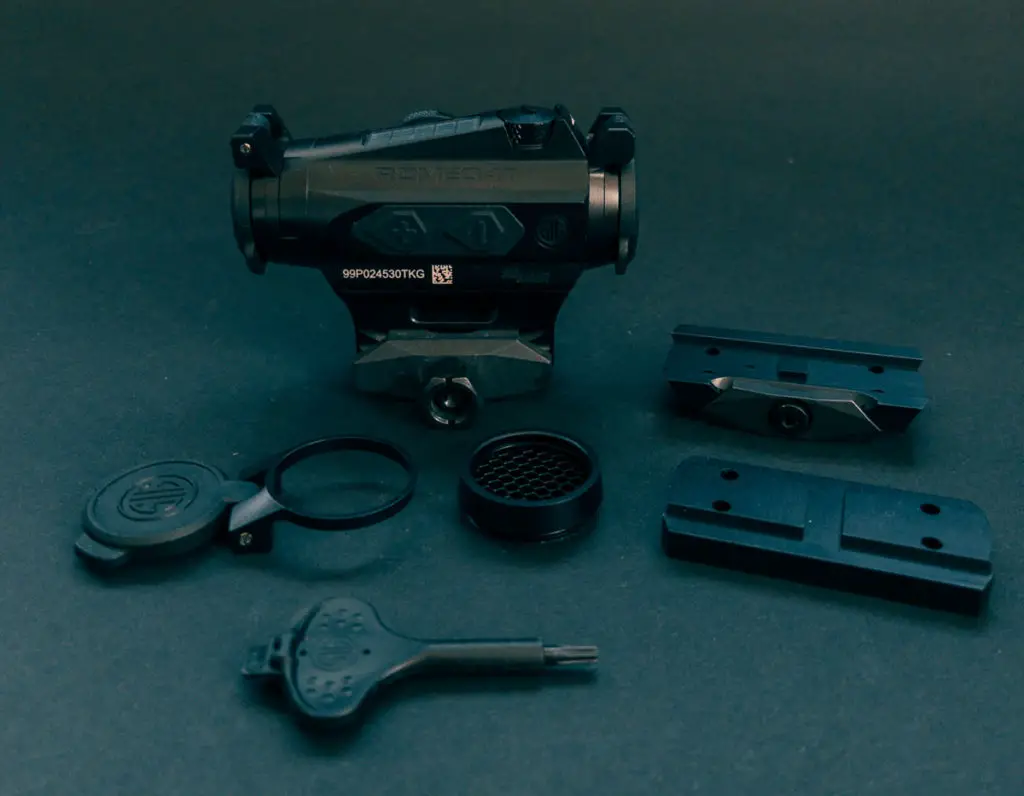 The Romeo 4T is an Aimpoint Micro footprint meaning any mount that is made with the T1/2 Micro pattern, the 4T will mate with. As you can see I have a few of my 4Ts on the Unity Riser mounts on my guns as it provides a more heads up shooting posture and doesn't interfere with night vision or respirator masks. Sig Sauer understands the need for customization though and includes a flat mount, a 1.41" riser mount and a lower ⅓ co-witness spacer that can be applied.
I would be remiss if I didn't highlight another worthy companion to the Romeo 4T, Sig Sauer's aptly named Juliet 4. A 4x magnifier that fits perfectly with the Romeo 4T, after all what is romeo without juliet. The Juliet family of magnifiers offer 4 models: Juliet 3, Juliet 3 Micro, Juliet 4, and Juliet 6. As you probably surmised the numbers equal the level of magnification. I have been using the Juliet 4 behind my 4T for over a year now and can attest at the difference having a little magnification makes. It goes a long way… Dad jokes aside, if you're thinking about trying a magnifier behind your red dot, the Sig Sauer Juliet magnifiers are a great investment. 
Pros
Build Quality
4 Reticle Options
Mount Compatibility 
Motion Activated Illumination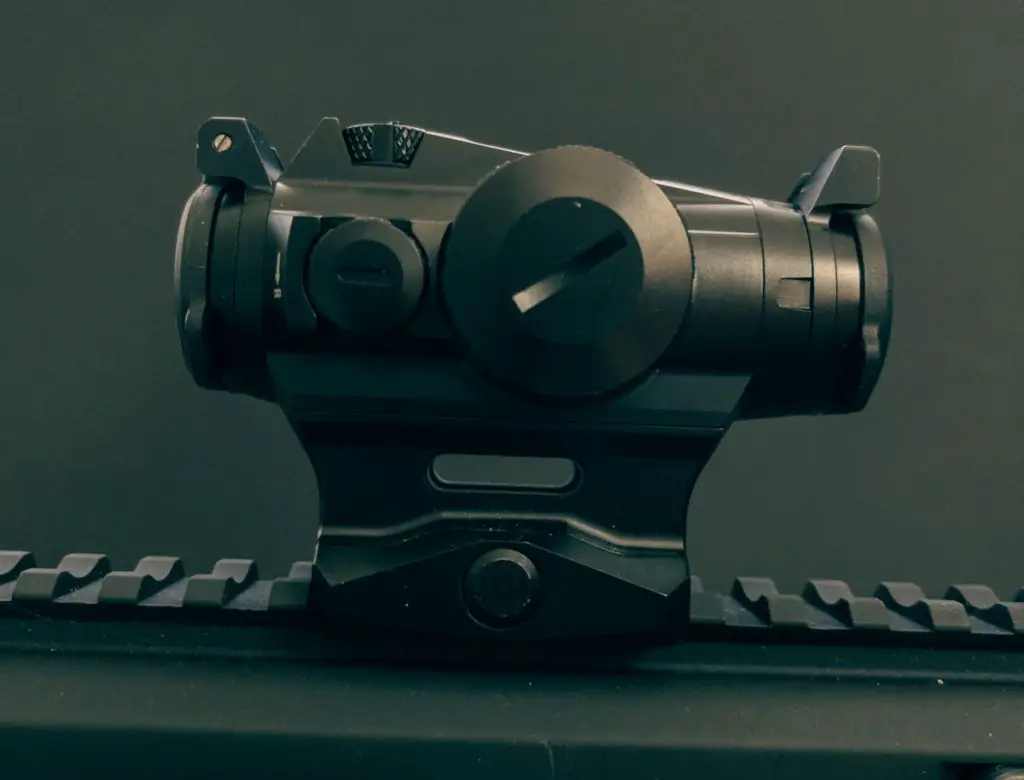 Cons
The black model has a slightly shiny finish. (Yes I know it's nitpicking)
The Circle-Plex Model
Closing Thoughts 
The Sig Sauer Romeo 4T is a serious contender in the world of red dots and shouldn't be overlooked. With its reticle options, motion activated illumination, battery life and aftermarket mount options, It is no wonder they are in use with tier 1 special mission units around the world such as Delta and the SAS. I have several of the optics the 4T is in competition with and they are by no means poor choices, it just depends on what you want out of one optic. Is the Romeo 4T a "do it all" optic? No, I personally don't think there is ever truly a "do it all" solution. That being said, if you are looking for a red dot that is high tier quality at mid tier pricing, the Sig Sauer Romeo 4T is worth your consideration. 
Check Price at: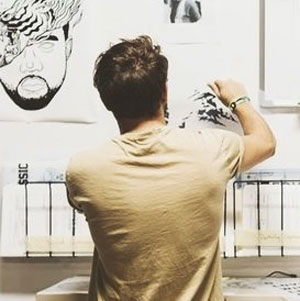 Kolton's grandfather taught him gun smithing and reloading at an early age and the passion grew from there. 15+ years of experience has given him a keen eye for quality and an appreciation for craftsmanship.