What's the best AR15 that's on the market today? Because there are so many good AR 15 rifles out there, we'll recommend ten of the best ar 15 rifles that we can think of for various purposes, and then two budget options that we'd be proud to own and shoot.
To further help you decide what the best AR15 is for you, we'll also give some commentary on a few of the best manufacturers of complete rifles. To round things out, we'll make the case that the AR 15 is a great rifle, and buying a complete rifle is an excellent idea for a wide variety of shooters, though some people will choose to build their own as well.
Our Top Picks for AR-15 Rifles
There's probably a great rifle or two that we forgot, so let us know in the comments if you think there are any we should add. We also don't consider any gas piston rifles since we're trying to be purists here. These are not necessarily in any given order as all of these rifles are amazing and might serve people better depending on their budget or needs.
This carbine, by Springfield armory, is an excellent choice for people who are looking for a self-defense rifle. Out of all the rifles we mention here, this one might be our pick for the best use of an AR Platform for self-defense. Particularly, the free-floating handguard helps with accuracy and gives lots of room for attaching accessories, either to the Picatinny rail or the m-lok slots, and the muzzle brake is aggressive enough to tame the recoil for rapid fire.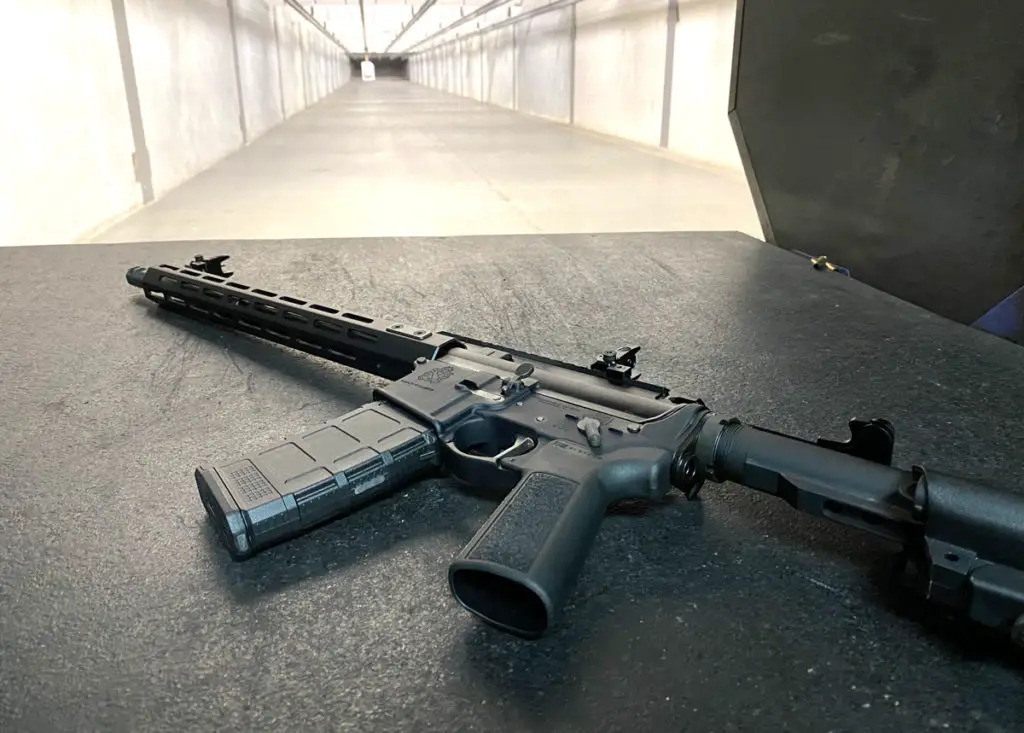 Were it our gun, we'd simply slap on a red dot sight and consider this direct impingement gun to be our ideal home defense setup.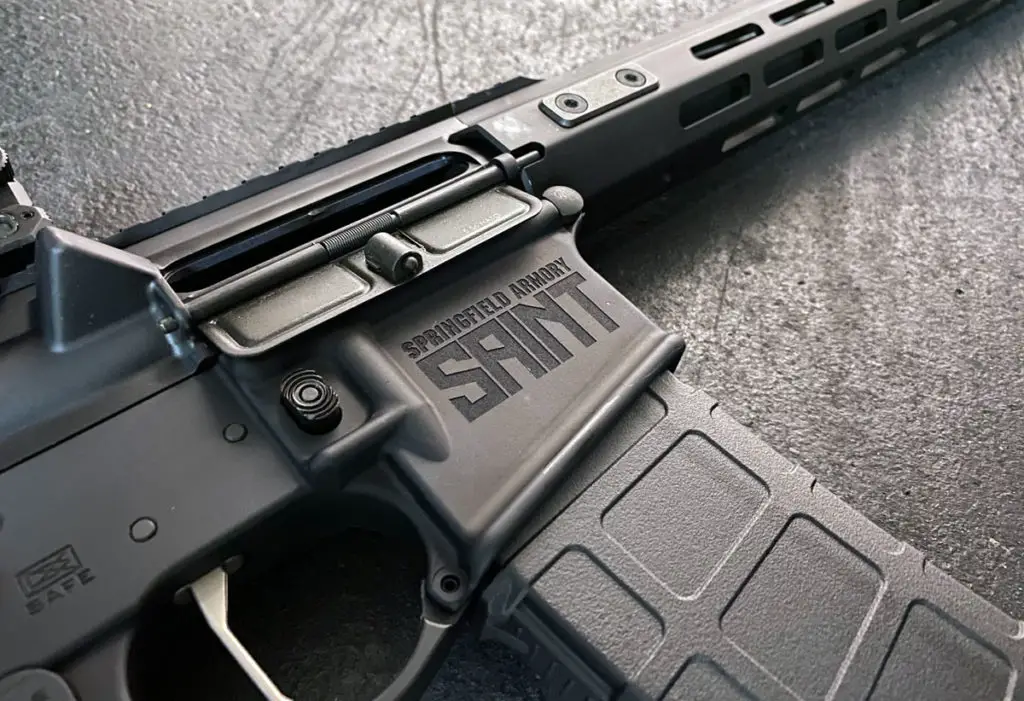 Palmetto State Armory, which we talk about below as a good source of affordable rifles, also makes some excellent high-end rifles as well. This one has billet receivers, a custom M-Lok Handguard, and a a4150V Chrome Moly Vanadium Steel barrel that will last for a long, long time.
Add in the upgraded trigger, Magpul furniture, and included Vortex red dot sight, and this is a truly awesome rifle with no qualifiers for value or price needed. It's just plain good.
Over the years, Knight's Armament has become one of the premier AR builders and makers, including a lot of contracts for special forces, including the development of the legendary SR25, basically, an AR 10 meant for use by special forces. This has all the bells and whistles, from fantastic barrel material, an enhanced bolt carrier group, a cold hammer-forged barrel, and two-stage triggers that make this awesome for rapid-fire and precision.
Slap a red tod on top and you'll have one of the best home defense guns out of all the rifles we consider here. If you took a mil-spec M4 and upgraded every single part, this is the rifle you would end up with, and it's a contender for the best AR for sure.
Geissele is best known for its AR 15 accessories, but they also make an awesome complete rifle. if you're looking for something well beyond mil-spec, with a carbine length gas system, upgraded trigger, and flared magazine well, this rifle is an excellent choice.
Given that the magazine well is flared on this, we think that this would be a great competition gun to take to shooting matches: the upgraded charging handle, bolt release, and two-stage triggers offered in these make them excellent choices for people who want a complete rifle. There's also a muzzle brake on the end that works well on its own and is widely compatible with popular suppressors. This, we think, is about the best AR for someone who wants a good home defense gun that is also more than ready for competitions.
Over the years, a variety of companies have produced the M16 and its variants for the military, and FN is one of them. This is, in effect, a civilian version of the mil-spec M16A4, with a flat top rail, Knights Armament rails, and sights, as well as a rifle length gas system.
Basically, we think this is an excellent option for people who like a fixed front sight on their M16, and want a reproduction of a modern firearm that's currently in use by the US military. Out of all of the ones on this list, this is likely the most capable of long-range shooting thanks to the long barrel length.
We'll admit it, we're suckers for old-school mil-spec guns. This one is Palmetto State Armory's take on the M16A4: it has a 20″ barrel, a fixed front sight, and a flat top upper receiver that has lots of Picatinny rail for attaching either the included carry handle or any other rear sights that you might want to put on the gun.
These days, full-length rifles are a little less common, but the M16 silhouette is an iconic one, and the long-range ballistic performance out of a 20″ barrel makes it something that we want to include on this list despite it not having the newest and most accessory friendly hand guard on the market.
Because of this somewhat stripped down build, the PA15 is one of the more affordable options on this list.
For those who want a carbine length gas system in their rifle, and don't want to deal with assembling one, this offering by Bravo Company Manufacturing is an awesome rifle. Bravo makes excellent guns, and this one is no exception.
We like that attention to detail they put, in particular, into the barrel on this one: it has the proper M4 barrel cuts for a grenade launcher, even though you probably don't need them, as well as a carbine gas system, to make it look as much like the M4 as possible. The trigger on this is mil-spec as well, meaning that folks who have been issued AR 15s for duty purposes will feel right at home with this rifle.
For those looking for an awesome hunting rifle, we think this offering by sig is about the best AR you're likely to find. It has a free-floating handguard, lightweight handguard, a threaded muzzle for attaching a muzzle brake or suppressor of your choice, and, thanks to the low profile gas block and lack of fixed front sight, it's ready for a hunting optic of your choice.
The barrel length, 16″, is just about optimal for people who want the ideal length for most bullet weights, and sig's inclusion of a fixed stock tells us that they mean this to be one of the best AR 15 rifles for people who want a balance between light weight and precision in a hunting context.
Colt was the original commercial manufacturer of the AR 15, and they still make some of the more popular rifles today. This is their 16″ law enforcement model, which has a railed upper receiver and a fixed front sight to give you lots of options for optics, as well as a collapsing, M4 style stock.
Some people love Colt simply for their heritage, but these are also, generally, good quality firearms that will serve you well as a general-purpose rifle. Rifles just like this, with a red dot sight or something similar, are in patrol cars all over the country.
Best Cheap AR 15 (Under $700)
Most of us don't have several thousand dollars to just spend on a rifle at once. Thus, we wanted to include two AR 15s here that we think are great and are a little easier on the wallet. At the end of the day, the best AR for you in a defensive situation is likely the one you have on hand.
These aren't necessarily the cheapest available on the market, as you want to ensure any gun you buy is trustworthy and not going to be dangerous. So, here are our top picks for the Cheapest AR available that is still reliable and high quality:
This rifle isn't only good for being a cheap AR 15, it's just a good AR 15. This rifle has a chrome-moly vanadium barrel, and a free-floating handguard comes with iron sights and is ready to go out of the box for home defense.
Nothing super fancy here, just a mil-spec AR 15 that will do the job for you for years to come.
One of our writers has this rifle, but with a fixed front sight as his primary AR, and we want to recommend this specific package here. With a 16″ barrel, adjustable stock, nice pistol grip, and even a red dot sight tossed in if you get this deal from Palmetto.
It's hard to find deals this good on an AR with a chrome-lined barrel that's ready to go. The low-profile gas block makes it simple to mount optics and, as it is from the factory, this is a great home defense AR 15.
We also recently tested out several thermal scopes on the M&P 15 Sport II. It is a great platform for any customization and upgrades you might want to add. The thermal scopes were a lot of fun to play around with and work great on an AR for self defense or hunting.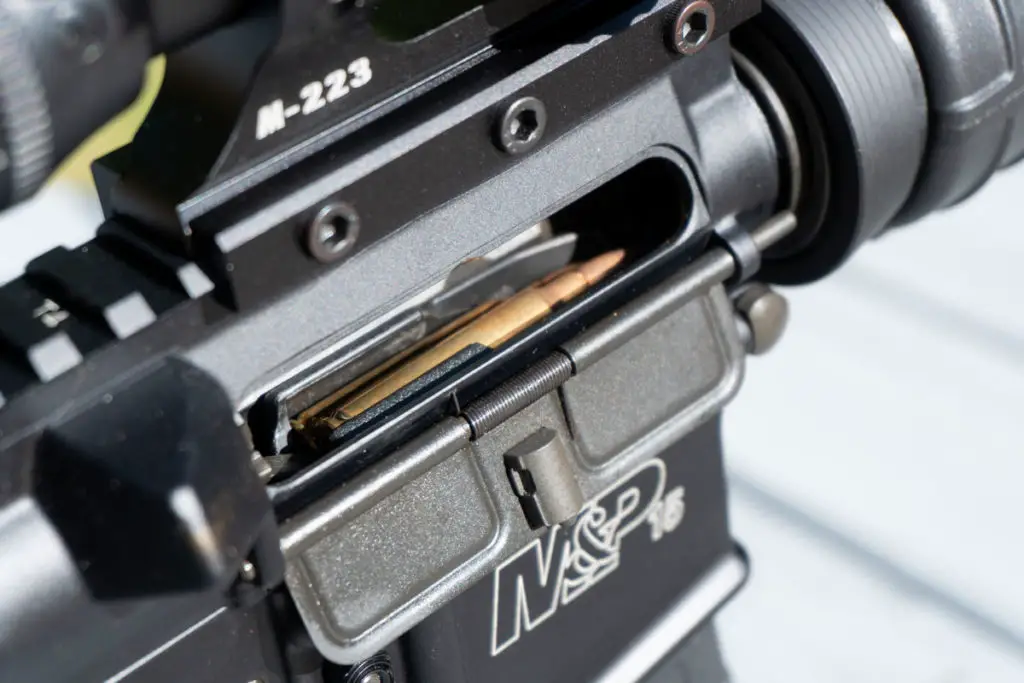 Best AR Gun Brands
These days, there are easily dozens of AR manufacturers, and our list here is not even close to exhaustive. Instead, we wanted to give you a few examples of AR 15 brands and manufacturers that we've dealt with in the past, and have a good impression of.
Colt: Colt has been making AR15s since the very beginning, and they still put out great direct impingement rifles for military, law enforcement, and civilian shooters today. They may charge a fair bit for their reputation for what are, essentially, mil spec guns, but they do have a lot of experience making AR 15s.
FN: Fabrique Nationale, or FN, is a Belgian-based company that makes awesome firearms for the military, and sometimes sells them to civilians a well. FN makes some of the M16s and M4s for the military now, and some consider them to be the best mil spec AR 15 manufacturer on the market today.
Knight's Armament: Knight's has had contracts to develop, maintain, and modify weapons for SOCOM, or Special Operations Command, for years, and their civilian products, in both quality and price, reflect that they are absolutely committed to high quality, accurate, and durable firearms. The AR 15 rifles from Knight's are type top-of-the-line pieces of equipment for professionals and amateurs alike.
H&K: Heckler and Koch, of MP5 fame, are now in the business of making some of the best gas piston rifles on the planet, including the HK416, which is in use by some military units around the world. While these gas piston guns are not, in our minds, AR 15s at all, if you're willing to consider different operating systems in your AR, these are a great way to go.
Geissele: Geissele have been making parts for competition AR 15 rifles for some time, and now their complete rifles are some of the best out-of-the-box AR 15s on the market today. If you're looking for the best AR for competition, one of their rifles would be a great place to start.
Palmetto State Armory: PSA was once known for making super cheap AR 15 rifles. They're still known for that, but their increasingly large range of original designs has put them on the map as a serious gun manufacturer, and we're on board with their mission of making shooting accessible and affordable for a lot of Americans.
With all of these in mind, we can't claim that this is an exhaustive list in the least. There are a lot of great manufacturers out there, and documenting all of them properly would be a book-length work. We happen to like the ones listed here, but we always welcome discussion about who you're getting your ARs from.
About the AR 15
The Armalite Rifle 15, or AR 15, is part of a series of direct impingement rifles developed in the 1950s. Since its adoption by the United States Military in the 1960s, the AR 15 has gone through several iterations and various upgrades, which we'll cover in the next section, which concerns the history of the platform.
In purist terms, an AR 15 is a direct impingement gun: this means that the expanding gasses from the fired rounds are fed, via a gas block and gas tube, back towards the bolt, which cycles the bolt and feeds another round. This system can be fully automatic, semi-automatic, or made to fire bursts, usually of three rounds. While there are currently guns in various rifle calibers sold as AR15s, the original design was for the then-new 5.56mm NATO cartridge. This cartridge is dimensionally the same as .223 Remington, but the NATO cartridge can be loaded to higher pressures, and thus the two are not exactly identical.
As it was first designed, the AR 15 was, indeed, an assault rifle: it was a select-fire rifle that fired a small rifle caliber (when compared, for example, to the then commonly used .308 or 7.62mm NATO) from detachable box magazines. it was designed to be lightweight, easy to carry, and accurate, which reflected the needs of urban warfare at the time.
While the smaller caliber of the AR15, 5.56mm might not be the best for long-range shooting, engagements past 200 yards are extremely uncommon in modern combat, though they do occur from time to time. Thus, the AR 15 was designed, primarily, for close to medium-range engagement in infantry combat, wherein both suppressive fire in fully automatic, and aimed shots in semi-automatic were necessary requirements.
Since its development, the AR 15 has become one of the most widespread weapons in human history. There is no one source of how many AR 15 rifles exist: there are, at the very least, several million in the hands of American civilians, millions more in military arsenals, and there are manufacturers, both legal and illegal, all over the world.
Additionally, there are some variations on the AR operating system that aren't quite AR15s in our view. First, there are pistol caliber carbines, usually in 9mm, that use either a gas system or a direct blowback system, but borrow aesthetics and parts from the AR 15. There are also gas piston guns such as the HK416 that look like an AR, but, in their operation, are more functionally similar to an AK47 that has a lot of AR parts and takes STANAG magazines. All in all, the AR 15 an exceptionally popular platform, and is likely to remain so for decades to come.
History of the AR15
The AR 15 began in 1956. With the lessons learned from both World War Two and Korea, the United States, and NATO, undertook a twofold project. First and foremost, NATO wanted to standardize as many small arms and logistics components as possible in order to make it easier for allies to fight together.
Second, some major changes had happened in warfare over the preceding 50 years. During World War One, troops engaged each other across trench lines most of the time, meaning that large-caliber rifles and rapid-firing machine gun emplacements were the weapons of the day. World War Two, on all of its fronts, was a substantially more mobile war, meaning that small squads of troops had to bring their own firepower with them. Many belligerents upgraded from their bolt action rifles to semi-automatic rifles during the war: the American M1 Garand was one such upgrade, as was the Soviet SVT40. By the end of the war, however, the Germans had a novel weapon design that caught the world's attention, the StG44.
The StG44 was the first assault rifle fielded by a national army. Thankfully, this select-fire rifle, firing from detachable magazines was only issued late in the war, and in relatively small numbers. The Soviets, at nearly the same time, developed the AK47, which followed similar principles. Now, the tide of history was turning to individual troops carrying rapid-firing assault rifles.
Responding to NATO and the US's calls for a similar weapon, Eugene stoner developed his AR10, a direct impingement rifle in .308. Colt, and then the US Army, rejected this design and wanted something smaller. Taking the same rifle, moving the charging handle onto the side, and making in the newly developed 5.56mm NATO, Eugene Stoner brought the AR 15 to Armalite for both government contract competition and commercial sale.
Armalite ultimately sold the right to the AR platform to Colt, who would offer it as the Colt Automatic Rifle, or CAR to the US government. It was trialed, and accepted as the M16 in 1962: units began getting the rifles in Vietnam as early as 1963. There were, of course, some early teething problems: the first batches of barrels were not chrome lined, and troops were told that the hot gas would clean the system, and that direct impingement guns did not need to be cleaned, both of which lead to jams in the field.
But, the US military slowly began to love the M16, experimenting with different barrel lengths, including shorter barrel versions like the CAR15 line of rifles, that were far shorter than the minimum barrel length civilians can buy as normal rifles today.
The M16 series underwent several updates over the years, eventually resulting in the M16A4, an M16 with a removable carry handle, some Picatinny rail on the top of the receiver, and an enhanced barrel.
The biggest change to the series so far was the wide adoption of the M4 as the standard service rifle of all US military branches in the 1990s: this shorter, handier rifle is still being developed and changed today and shows that a good weapon design can be updated for half a century before it needs to be fully replaced. AR rifles of one kind or another are likely to be in US and global service for the foreseeable future.
Should You Build or Buy Your Next AR15?
The case for Buying
As we've mentioned a few times here, there are a ton of awesome AR manufacturers out there today. Many of them have decades of experience making the parts and building the rifles, meaning that you can be nearly certain that most AR 15 rifles, from the factory, will function properly and shoot well. Many of the best AR 15 Rifles are those that were made well in the factory, were not messed with by their owners, and will continue to shoot well for years.
Big companies also have the benefit of economies of scale: buying 10,000 barrels is a lot cheaper per barrel than buying one or two at a time like we can do. A lot of manufacturers, especially those looking to get at the budget-minded segment of the market, pass down these savings so that our AR 15s are affordable to a lot more consumers.
The case for Building
First and foremost, building an AR 15 is really satisfying, and can be a lot of fun. Nowadays, there are even awesome digital tools to help you do so online, for free, to make sure that your parts are compatible.
Building also lets you run with the concept of what the Best AR 15 is for you: you'll have total control over barrel material, muzzle bake, pistol grip, gas block, and every other single part. You can make a totally standard mil-spec AR carbine, up the barrel length and get a rifle, even make an AR pistol if you so choose.
That level of control means that you'll have to worry about fiddly things like the gas tube and getting the gas system length correct to make the gun function properly, but with that control comes the ability for nearly endless customization.
What We Recommend
For first-timers, buying an AR 15 is likely the best choice: the ones you can buy come in all shapes and sizes, and there's so much to learn about the AR world that we can see a newcomer getting discouraged trying to build.
For those with a little more experience, however, we think that building an AR is a great way to go. This is especially true if, for example, you have an existing upper receiver or lower receiver laying around, and you want to do something a little more custom to make a second gun. AR 15s are often called adult LEGOs, and we think that getting into the building aspect of ARs is a great way to have fun, get some new skills, and, of course, make AR 15 rifles that are tailored to your experience.
If you want the best AR 15 for you, you'll probably do what we did: buy a mil-spec AR to learn what you like, start messing with parts, and, eventually, build a gun. that fits your needs exceptionally well.
Why Get an AR 15?
So, why bother with an AR 15 at all? We think there are several good reasons.
Self Defense
First and most importantly, AR 15s are highly effective tools for self-defense. There's a good reason that, despite mil-spec AR 15s not being much to write home about in terms of long-range shooting accuracy, they're still sued in combat all over the world today. The 5.56mm cartridge is light, doesn't have much recoil even without an aggressive muzzle brake, and coming out of 30 round magazines, is exactly what you want in a combat situation, whether it's in Vietnam, Iraq, or your living room.
Rifles are used in about 13% of self defense shootings in the United States. For close combat a pistol might be preferable for maneuverability, but for multiple attackers (51.2% of incidents) then having more ammo capacity such as provided by an AR could mean the difference between life and death.
Easy to Use
Even though Joe Biden (in his infinite wisdom) says a shotgun is far easier to use than an AR-15, this is simply not the case. A 12 gauge double barrel shotgun has far more kick, less accuracy, and less ammo capacity than an AR 15.
Also, don't fire warning shots in the air as Biden recommends – that's illegal and incredibly stupid. You've also just left yourself unarmed.
AR 15s are also extremely easy to use: you don't have to mess with an adjustable gas block to get them tuned correctly, barrel length is mostly a matter of fun discussion, and the pistol grip is in a spot that, especially with an adjustable stock, is ergonomic for most people. Pick up the rifle, run the charging handle all the way back, let it go, and you're ready to shoot. That simplicity is what makes even a mil-spec AR an exceptional tool in high-stress situations.
Customizable
ARs are also highly customizable. Here, we're being purists and sticking mostly to guns in the style of the mil-spec M16. But, you can make anything from a piston-driven AR 15 pistol with a folding brace to a precision rifle in 5.6 Creedmoor: you can build an AR-style platform for just about anything, which is one of the many reasons that the platform has stuck around for such a long time.
Reliable
The AR-style of rifle is also exceptionally reliable. Assuming you don't do anything totally silly in terms of letting dirt into the chamber, a totally incorrect relationship between barrel length and gas system, or something of that nature, most ARs will last for tens of thousands of rounds, and you could probably pull one out of your closet today, dump 1000 rounds of the cheapest ammo you can find through it, and it'll be fine tomorrow. Of course, clean your rifles often, but the AR is exceptionally reliable.
Uses For an AR15 Rifle
The AAR 15 was developed as a combat weapon, and it still serves in that role well. A simple, mil-spec AR is still what is in the hand of American troops all over the world and the platform has been adopted by dozens of militaries on the planet, and for good reason. As we outlined above, it's a lightweight, effective, and reliable weapon that will do the job out to several hundred yards.
Home Defense
This same effectiveness translates to home defense as well. Our ideal home defense setup, in fact, would be a shorter barrel length AR pistol or short-barreled rifle with a suppressor, a flashlight, and a red dot sight. With that setup, you'd have a short, handy, and light package that would be more than capable of engaging at close range, great at medium ranges, and an exceptionally good way to defend yourself.
Hunting
Of course, the same things that make the AR 15 a great platform for combat and defense, make it good for hunting, too. It was designed, after all, to make mammals of about 150lbs cease their current behavior and way of life. The 5.56mm is an effective round against both enemy personnel as well as deer or smaller game animals.
If you want to go for a larger game animal, it's also more than possible to use the same platform, and swap to a larger-caliber upper, such as .300 Blackout or 6.5 Grendel.
Combine your AR with a thermal scope and you have an excellent tool for ridding your property of hogs or any other pests – especially ones that are active at night.
National Defense
For those concerned about civil unrest, the outbreak of war, or the like, an AR 15 is an excellent choice as well. As some folks are currently experiencing in Ukraine, the standardization of ammunition, parts and logistics is a boon to people fighting off a foreign invasion. In the case of such as thing happening where you are, being able to share magazines with a large portion of those around you is not something to be underestimated.
Practice & Training
Finally, the AR is an excellent platform on which to train shooters. Whether a short-barreled rifle or some other format, a lot of younger shooters have their first time holding the pistol grip of a mil-spec AR 15 as their first shooting experience, and the recoil is light enough to make it a good one. In fact, when our non-shooting friends and relatives want to learn how to shoot, an AR 15 with a mil-spec trigger is the first weapon that we usually try with them.
FAQ
Conclusion
In this piece, we've covered a lot of ground about one of our favorite weapon platforms, the AR 15. First designed in the 1950s in the wake of the Second World War, the AR 15 has grown into a globally accepted weapon.
With that storied history in mind, we recommend ten ARs that we think are top of the line. Whether you're looking for a historical reproduction, a new mil-spec gun, or something a lot more specific, it's possible to buy a complete rifle today that will meet that need for you well.
Of course, for the more budget-conscious, like us, it is entirely possible to get a functional, well-made, and fully featured AR at a reasonable price, even with the cost of pretty much everything rising these days.
The AR platform is a useful, light, and durable system that can, from the factory, satisfy the needs of most people who just want to buy a rifle and be done with it. Of course, for those looking for a challenge, you can buy all of the parts and build the rifle yourself: this will be a great way for you to have total control.
All in all, we're happy to own an AR15, will probably build more as time and budget allow, and will continue to shoot them for years to come. As always, thanks for reading this, and we hope you learned something new from it!