My Uncle gave me a Red Ryder lever action carbine for my 8th birthday, it was the first "gun" that I owned. This created a special place in my heart for lever action rifles, and that fondness was heightened by my Grandpa who took me hunting as a kid with a Marlin 336 in .30-30. My young attachment to lever guns prompted me to purchase several of them as an adult, and one of my favorites is the Henry H001 "Classic Lever Action" rifle chambered in .22 Long Rifle.
The Henry rifle is a classy gun. It's not just appealing to look at, it shoots great and handles the way a well-built rifle should. I wouldn't be alone in claiming a Henry as a favorite – according to the manufacturer website (henryusa.com), over 1 million of the Classic models have been sold!
The popularity is due to Henry's excellent reputation among shooters of all types and ages, its great looks and features, and best of all – this rifle can be had without breaking the bank with an MSRP of $417. I'll explain more in-depth below why this is one of my favorite guns, explaining some key features and the results of a field test.

Check Price at:
Features
The Henry Guarantee
I don't usually lead an article by touting ancillary features, but Henry leads the industry in doing a lot of things right besides manufacturing, so it's worth mentioning. I would like to quickly note that I'm in no way compensated by Henry (or anyone else) to spin this in a positive light, everything you read here is from the heart and is my honest opinion from firsthand experience.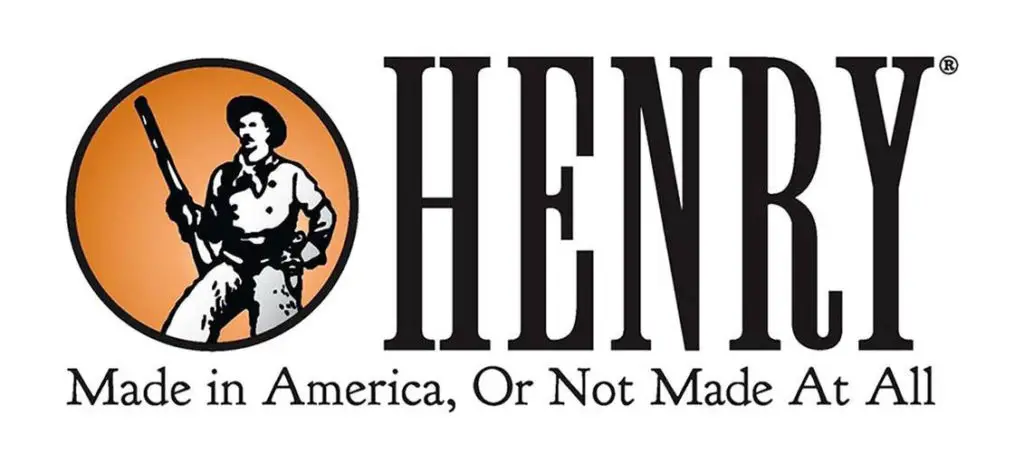 First off, you have Henry's CEO Anthony Imperato offering his personal guarantee of 100% satisfaction. Anthony worked his family – owned gun shop located in New York from 1978 prior to founding Henry alongside his father Louis in 1996, so he's been in the industry long enough to know what customers desire in both firearm quality and in customer service.
Second, Henry guns are made right here in America – "Made in America or not made at all" as Mr. Imperato's famous saying goes. Not only are Henry rifles assembled in the USA, there are 3 manufacturing facilities (2 in Wisconsin and 1 in New Jersey) dedicated to producing the parts right here at home. I haven't had any issues with any Henrys that I personally own, but from my experience in retail and wholesale I can attest that the customer service provided by Henry lives up to the hype.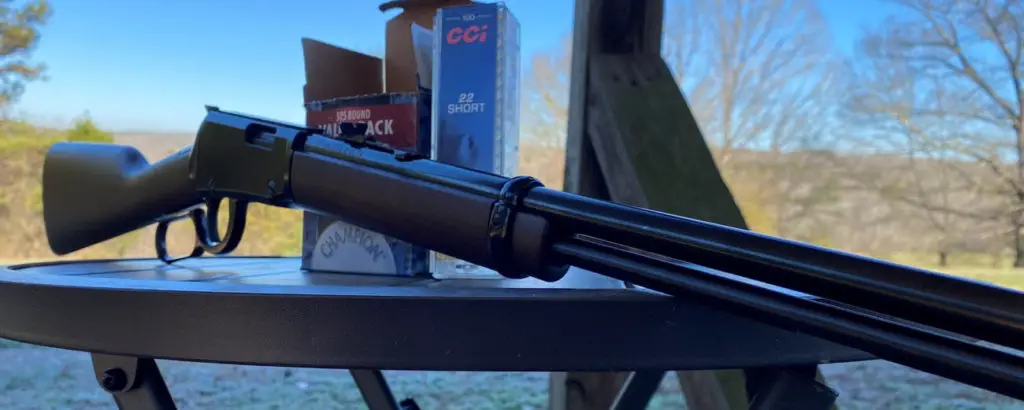 If you're like me and love to see American companies spurning our local economy instead of sending profits and manufacturing processes overseas, buy a Henry. 
Aesthetics
Henry makes a good-looking gun. Despite the Classic Lever Action being the least expensive lever model in their lineup, it's a fantastic looking gun. As a dealer, I've seen a lot of these over the years, and the consistency is always there.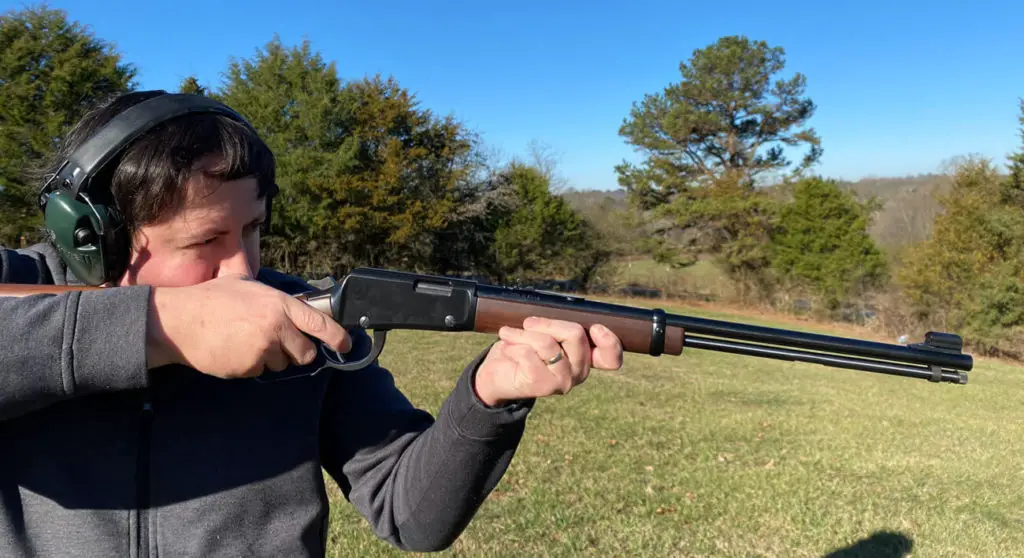 Unlike many products, the quality of Henry rifles has not decreased over the years. You can count on Henry to not cut corners. The stock and forend is made of American walnut wood, which stands out nicely against competing models with cheaper hardwoods. The receiver, barrel band, and lever have a matte black finish that matches perfectly with the blued steel barrel.
It's worth mentioning also that this gun has no plastic – I called Henry customer service to verify this, and the representative stated the barrel band, front sight, and buttplate are all metal. 
Fit and Finish
The quality of assembly and parts is definitely there – there isn't any rattling or looseness that is often found with lever guns. There is absolutely zero of what I call "cheapness" felt when the gun is held. The metal front sight hood has saved the post plenty of times.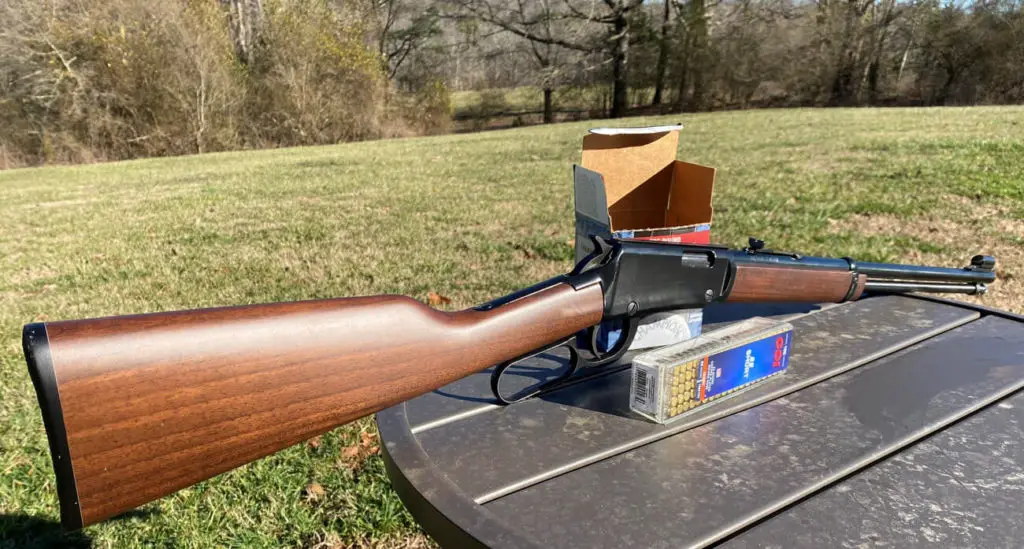 Just because it's a .22 doesn't mean it's any less of a gun than a big bore rifle in terms of build quality. After a few years of use, the bluing has held up nicely. I appreciate Henry upholding their traditional values in this gun, without making it too nice.
As pretty as the Henry "Goldenboy" H004 is, a common problem many people claim is that it's so nice it's just a wall-hanger. Not so with the Classic. While it's one of the best looking .22's I've had the pleasure of owning, it's definitely a shooter. Hunting, plinking, and goofing off in the woods are all okay to do with this gun because you don't have to worry about damaging a nice collectors piece.
Size & Technical Specifications
| | |
| --- | --- |
| Caliber | .22 S/L/LR |
| Capacity | 15 LR / 17 L / 21 S |
| Total Length | 36.5″ |
| Barrel Length | 18.5″ |
| Weight | 5.25 lbs. |
| MSRP | $417.00 |
The Henry H001 Classic Lever Action is a repeating rifle that was first released in 1997. The target demographic is small game hunters and target shooters. The serial number and model identification can be located on the bottom of the gun, concealed by the lever when the action is closed. Henrys older than a couple of years will not have a model identifier.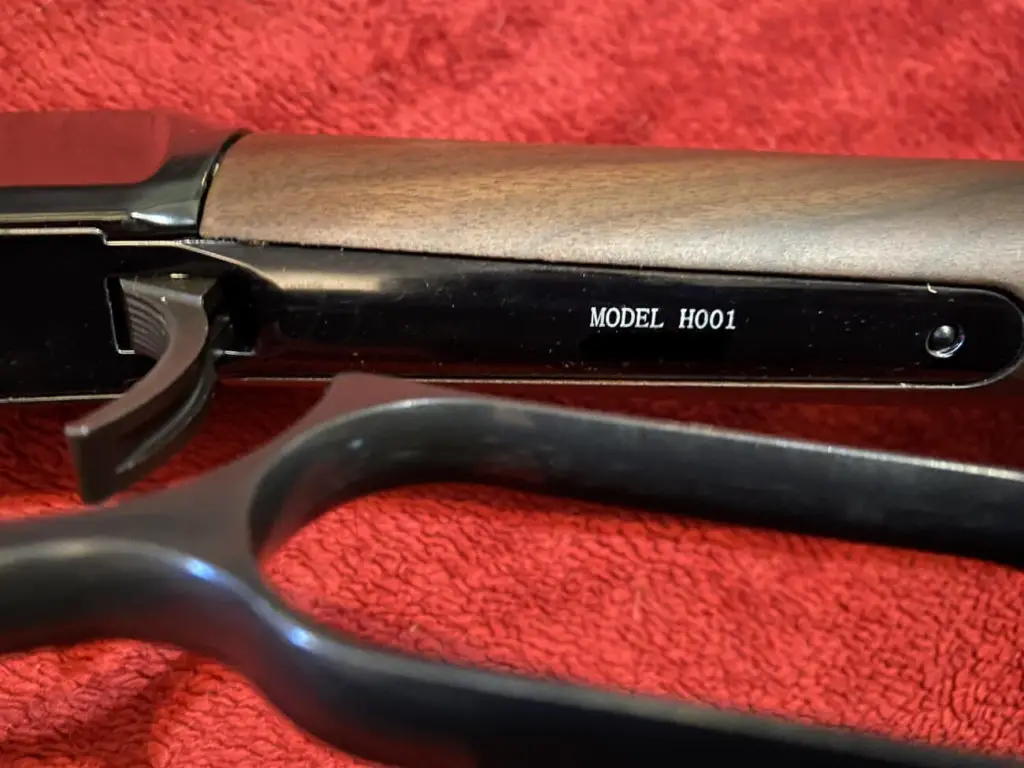 The rifle is chambered in .22 S/L/LR meaning it's primarily designed around the familiar 22 Long Rifle (.22LR) cartridge, but will also fire .22 Long and .22 Short ammunition. The versatility makes the gun perfect for all types of plinking and small game hunting.
Capacity is 15 LR, 17 Long, or 21 Shorts. A youth model featuring a smaller stock and shorter barrel, the H001Y, is also available at many retail shops. The standard H001 has a round 18.5″ long barrel – if your heart is set on an octagon barrel, you'll need to buy a Frontier or Goldenboy model.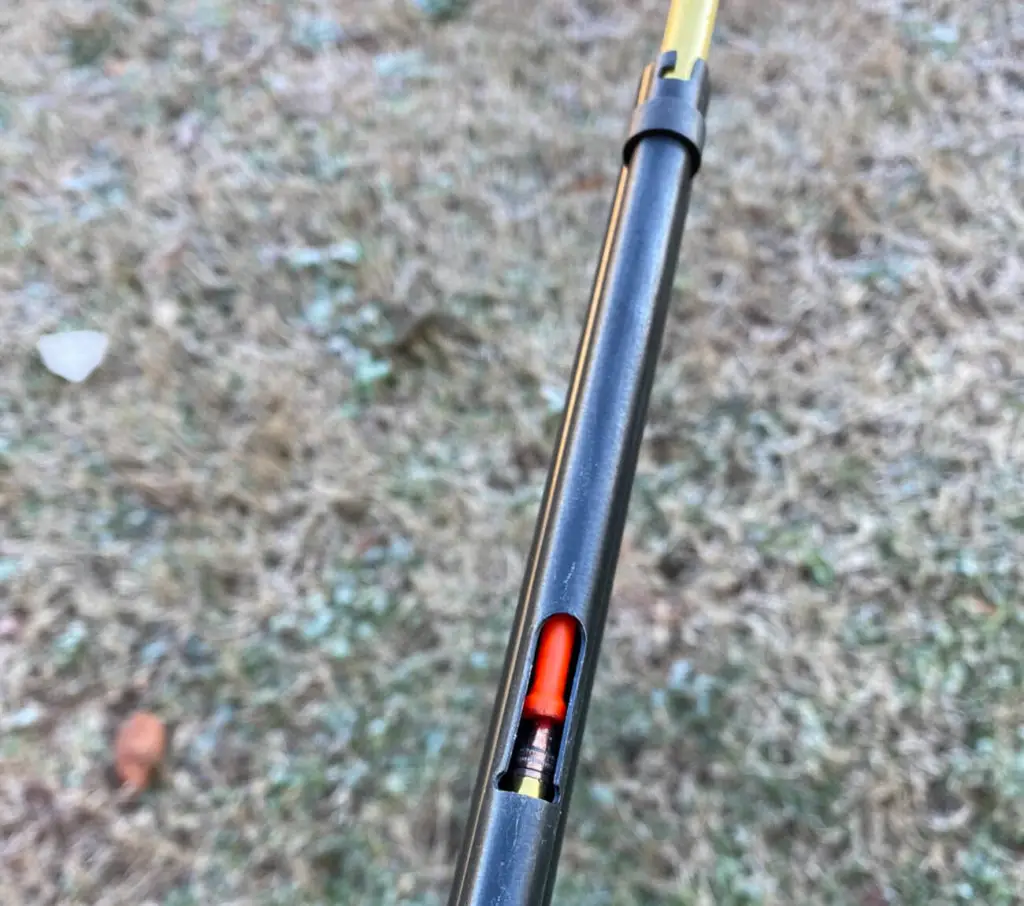 Rate of twist is the standard 1:16, meaning that a fired bullet rotates once for every 16" of barrel. Overall length is 36.5", length of pull is 14", and weight is 5.25 pounds. The sight configuration is typical for 22's you've already shot with a fixed front post sight and adjustable rear. The rear sight is a plain blade type with an elevation adjustment ramp. Windage is adjusted by drifting the sight, so while elevation is field adjustable, windage is not. There is a 3/8" dovetail base milled into the receiver for easy scope mounting. Safety type is 1/4 cock.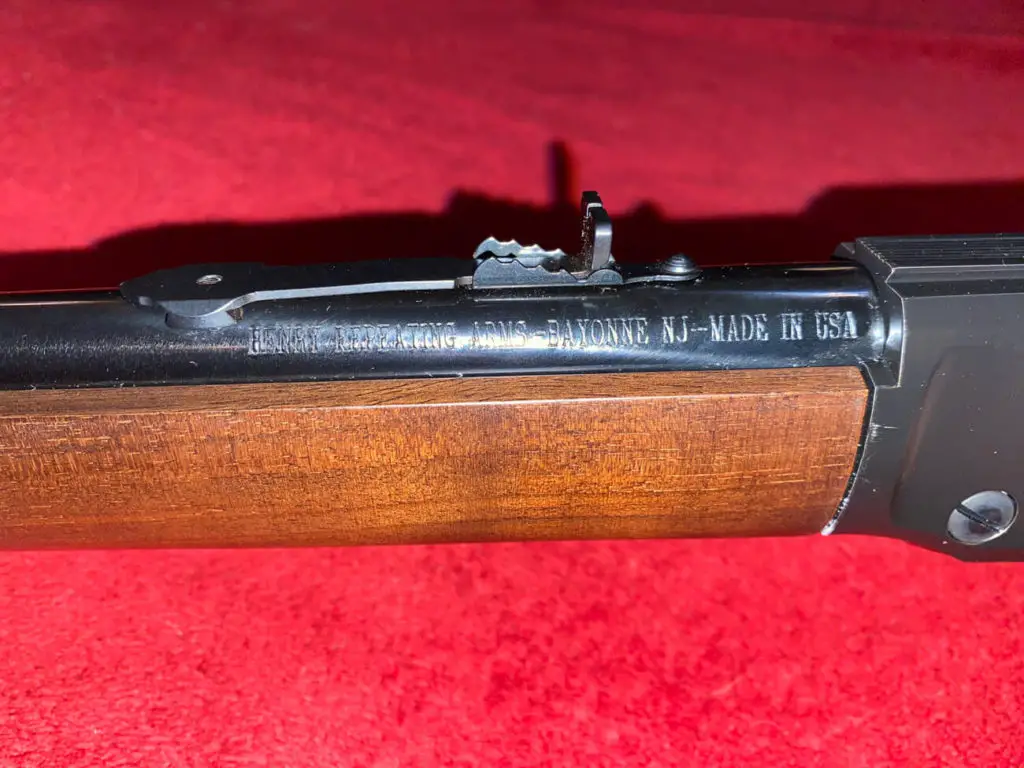 Field Test
Purpose
The Henry H001 is a .22 caliber rifle intended to be used for small game hunting and target shooting. We'll shoot it with these parameters in mind, testing it at 10, 25, and 50 yards with the iron sights as well as scoped.
What's in the Box
Nothing fancy – just the gun, some protective wrapping, and a user's manual/warranty pamphlet. There isn't really anything else you'd need or expect – if you want to shoot with an optic, the dovetail base is milled into the received and does not require an additional base to be installed.
How does it shoot?
The first word that pops into my head when people ask me about shooting a Henry rifle: FUN! It's lightweight, compact, holds plenty of ammo, and it's accurate. Plus, left handed users will be delighted to find that they will have just as much fun. I loaded up some .22 LR ammo and had a blast.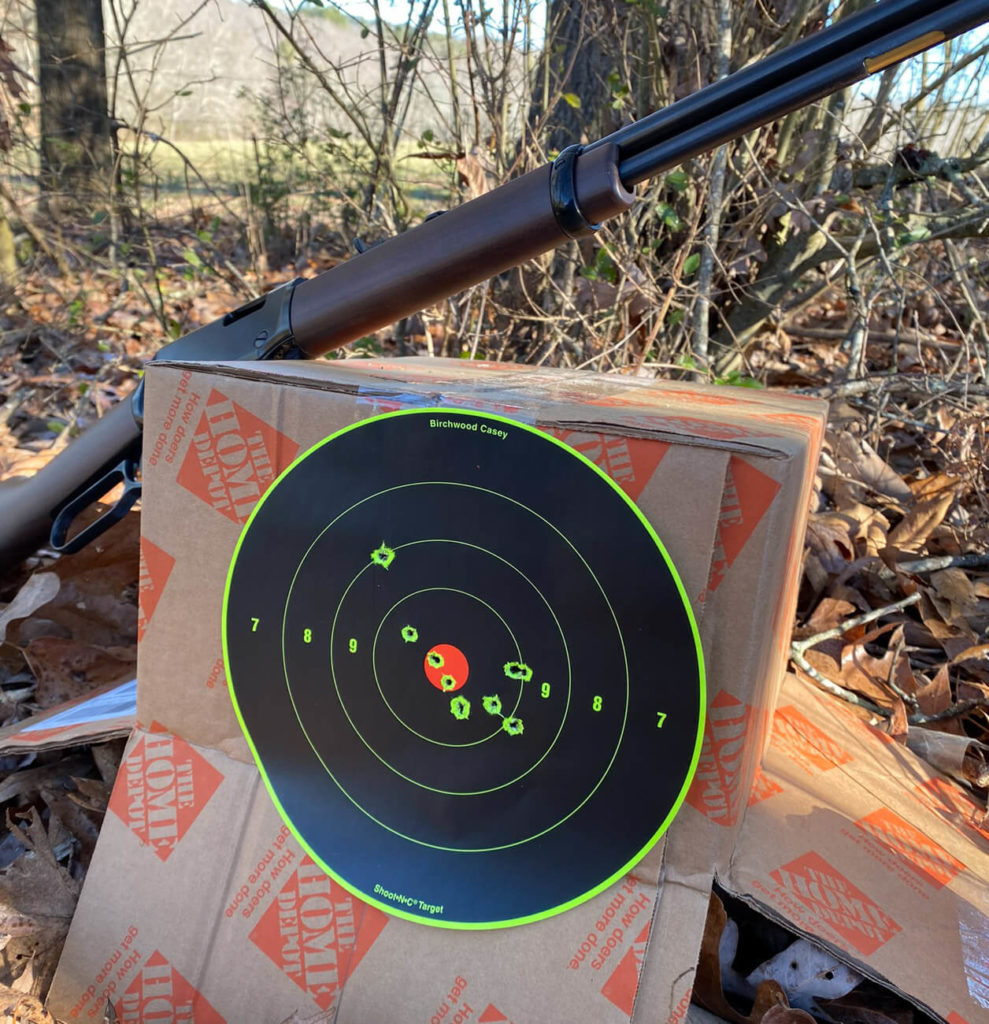 The Henry dedication to quality is clearly evident with the mechanical features just as it was with everything else I've gone over so far. The 18.5" barrel delivered shot groups that would easily take down a squirrel or rabbit at 10 yards with open sights. The iron sights are plain but intuitive and simple to use. The lever is smooth as butter, there is no rattling, friction, or side-to-side movement, plus the action gives an indescribably pleasant audible "click" every time it goes into battery as the lever is closed. If quality has a sound, this is it. This gun is well-built.
I fired off a few 22 shorts, and while they aren't useful for much beyond 10 yards, they were super fun. The 21+1 ammunition capacity with shorts loaded seemed nearly unlimited! I'd recommend shorts for new shooters and the gun-shy. At just over 5 pounds, the rifle was easy to transport, aim, and shoot. It's a lightweight but durable firearm. In a nutshell, the H001 shoots great with any ammo and met all my expectations for both utility and fun. I'd consider any day in the field with it to be a great day.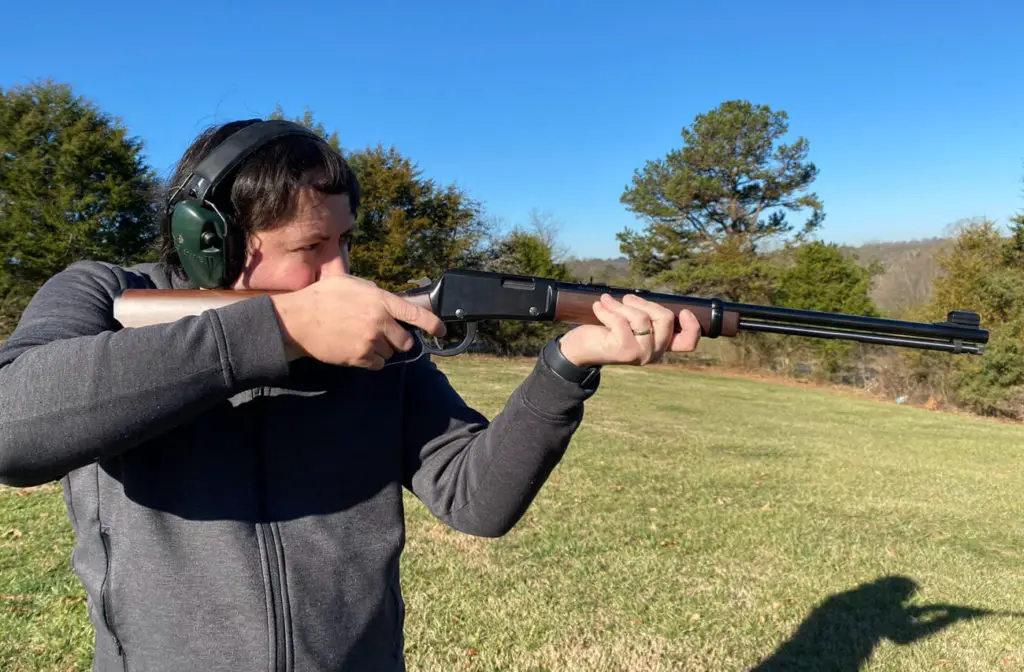 Accuracy
I used Federal 40 grain for most tests, and the gun was dead-on right out of the box. At 10 yards, hitting a target or small game is easy with iron sights paired with regular old bulk .22 LR ammo. At 25 yards, the shot pattern opened significantly as expected with open sights and groupings grew to around 3" – still not bad at all.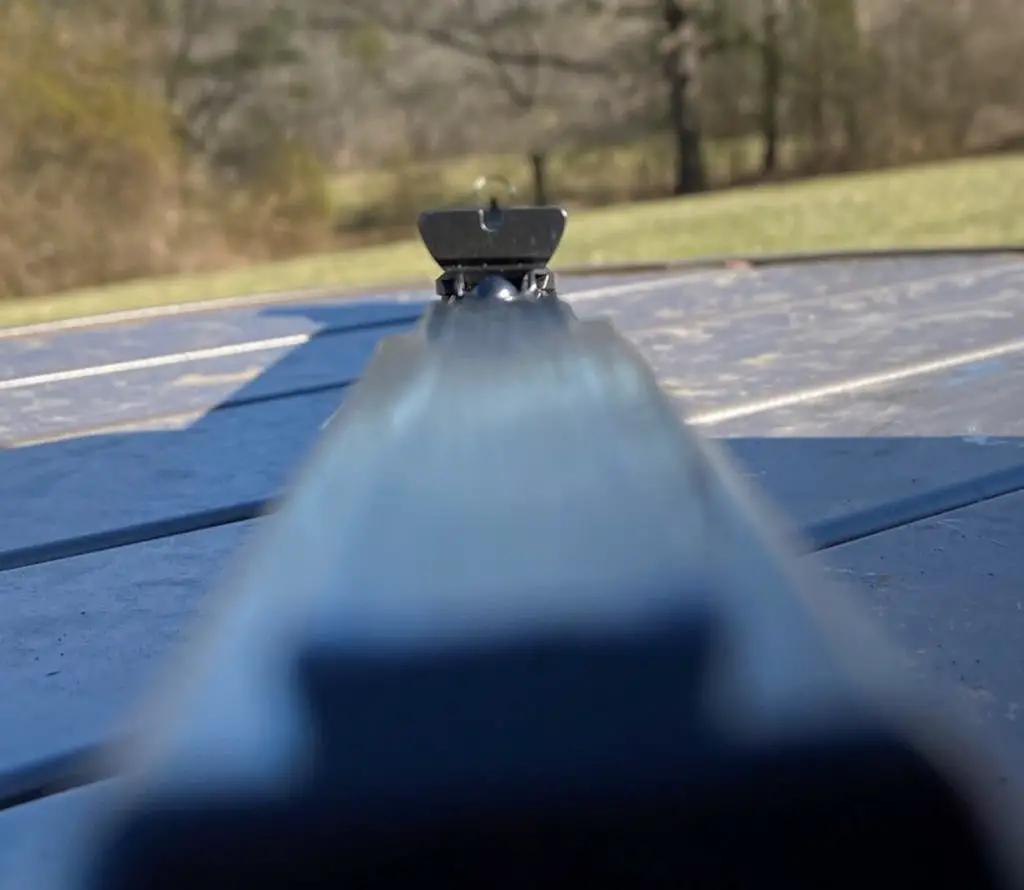 I installed an inexpensive BSA fixed 4x rimfire scope to further test the gun's inherent accuracy – I want to discover what the gun can really do at further distances if we use a scope instead of irons. The scope installed easily and I am grateful that the receiver is milled and I didn't have to purchase an additional base. I continued using generic 40 grain bulk ammunition (Federal mostly, nothing fancy) and got back on track with quarter-sized groups at 25 yards with the optic mounted.
It's a clear day with little wind, so I pushed the targets out to 50 yards. Henry again pleasantly surprised me with how accurate this gun is. I was expecting to shoot decent groups at 25 yards, as one would with a .22 that costs $400, but the gun shoots fantastically even at 50 yards. I was able to record 2-3" groups at 50 yards with the scope installed. Impressive!
For a little fun, I took the scope back off and took a few pot shots with the irons. The shot group opened up to around 6" as expected, but still – not bad. You could ring a 8" gong all day at 50 yards with this gun's irons. It would be a challenge to find a gun that shoots this well for the money.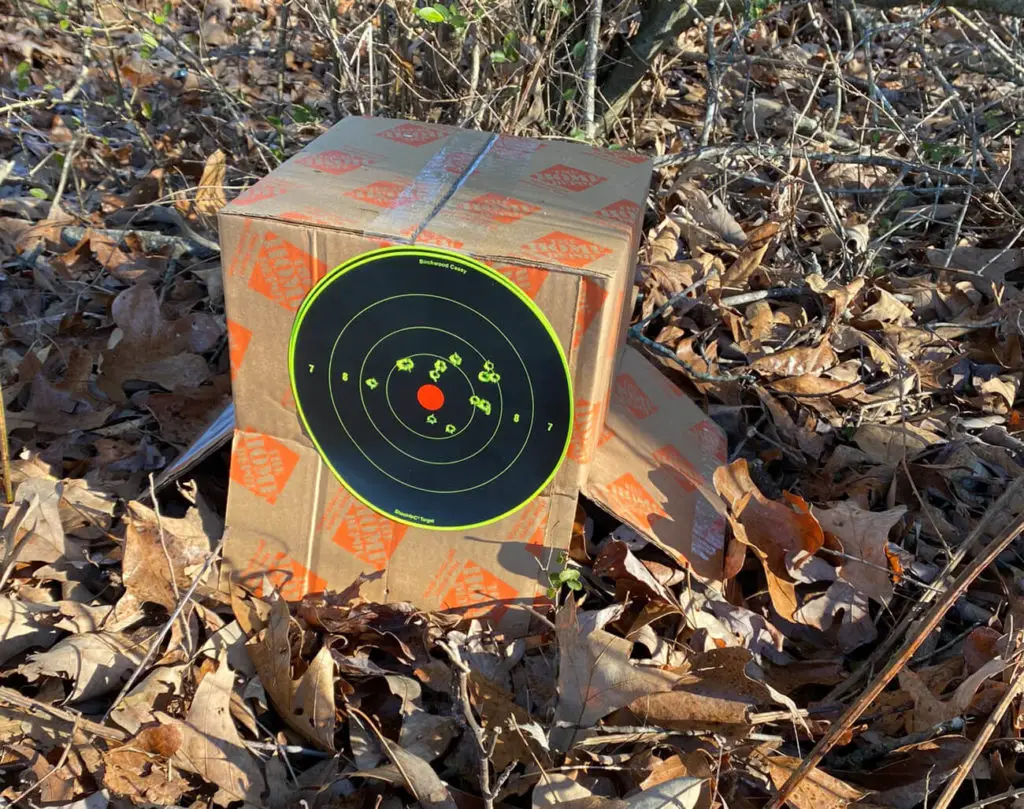 Rate of Fire
Like all Henry lever guns, the H001's roots go back to the 1800's. Bearing in mind the lever gun was designed to compete against muzzleloaders, rate of fire is pretty spectacular. Jokes aside, the H001 holds no records for reinventing the wheel so to speak – it shoots as fast as you can rack the rounds into the chamber.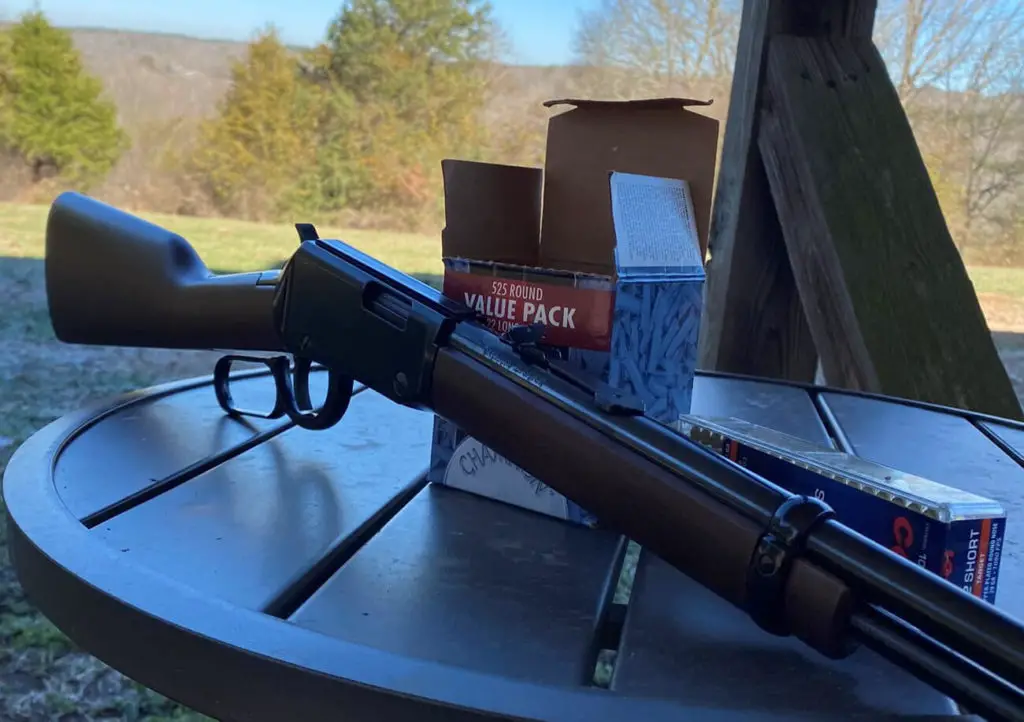 Similar to a bolt gun and unlike a semi-auto, you'll have to re-acquire the target after each shot, until you practice enough to become a cowboy-action shooter. I still maintain my position that this gun is way more fun to shoot than any of my other rimfire rifles.
Reliability
I used bulk Federal and Winchester 40 grain .22 Long Rifle ammunition without issue. Similarly, CCI Mini-Mags in .22 LR cycled flawlessly. I've had this gun for several years and never had any problems with feeding, extracting, or loading.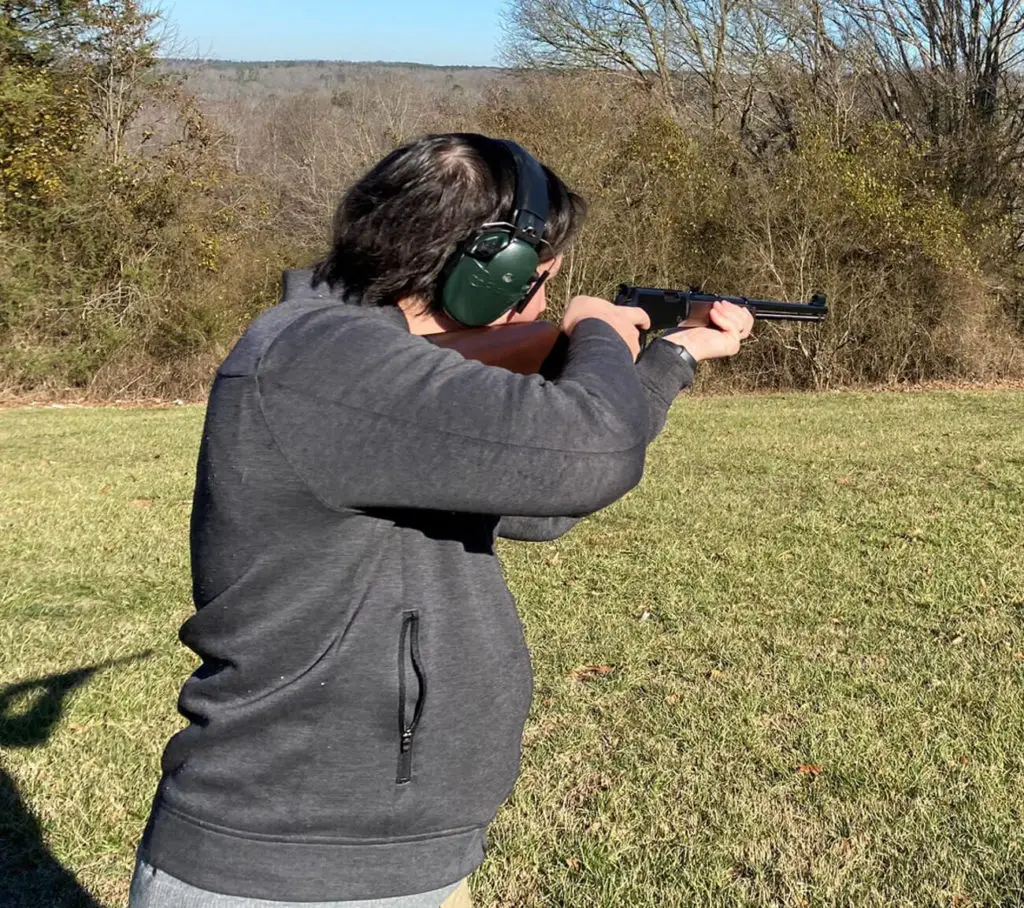 As ammo can still be tricky to source, I didn't have a line on any .22 Long, so that caliber was not tested. I was able to come up with some .22 Short, and shooting those is a blast! No issues cycling any ammo. I would also like to mention that the quarter-cock safety feels exceptionally tactile and has my complete trust.  
Durability
Since this isn't a "tactical" or home defense gun, I performed zero torture tests. It's pointless in my book to brag to anyone that my H001 can shoot after being dropped or buried in mud, and as such I've not intentionally dropped it or buried it in the mud.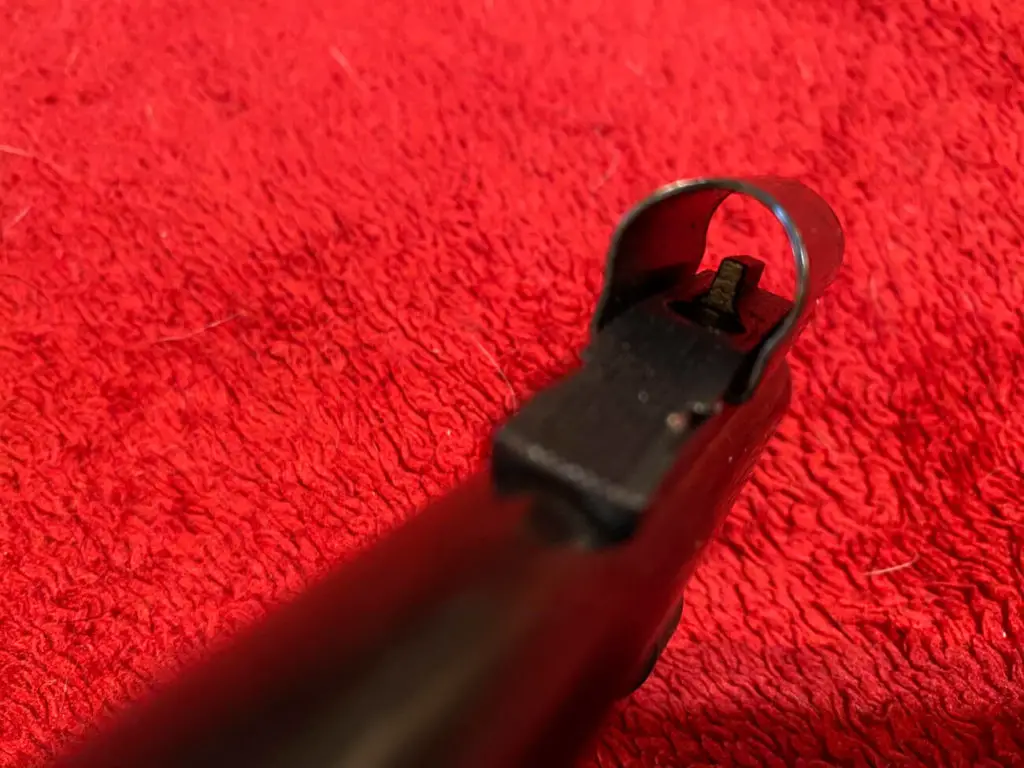 I can tell you that in my 8 years of retail experience and 3 years of personal ownership of this gun, complaints are incredibly few and far between. I take good care of my guns, but I also enjoy employing them in their useful purpose as tools, so I've given my Henry a few dings here and there. With regular shooting and even a few hunts though, it still looks nearly brand new.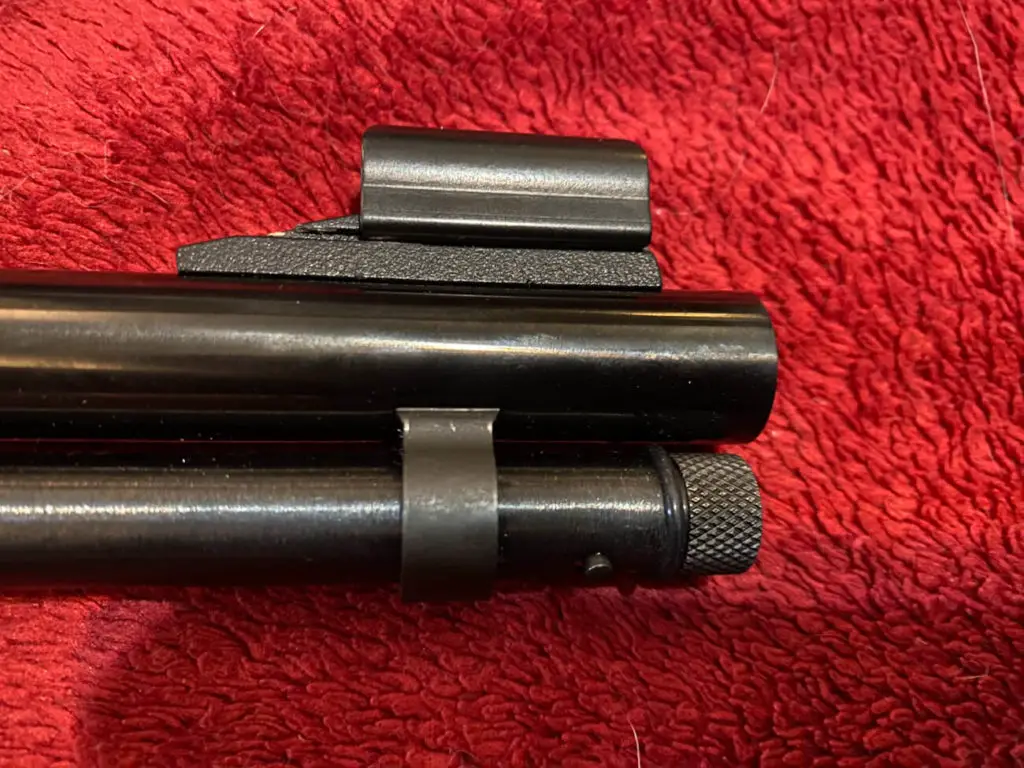 The metal finish and the wood have proven beyond satisfactory to me, and with no plastic parts I've had no gripes about anything broken. The lever still runs smooth and the action spits spent shell casings like a champ. I've never had any mechanical issues, but should you experience a problem you can trust that Henry's customer service team is on your side.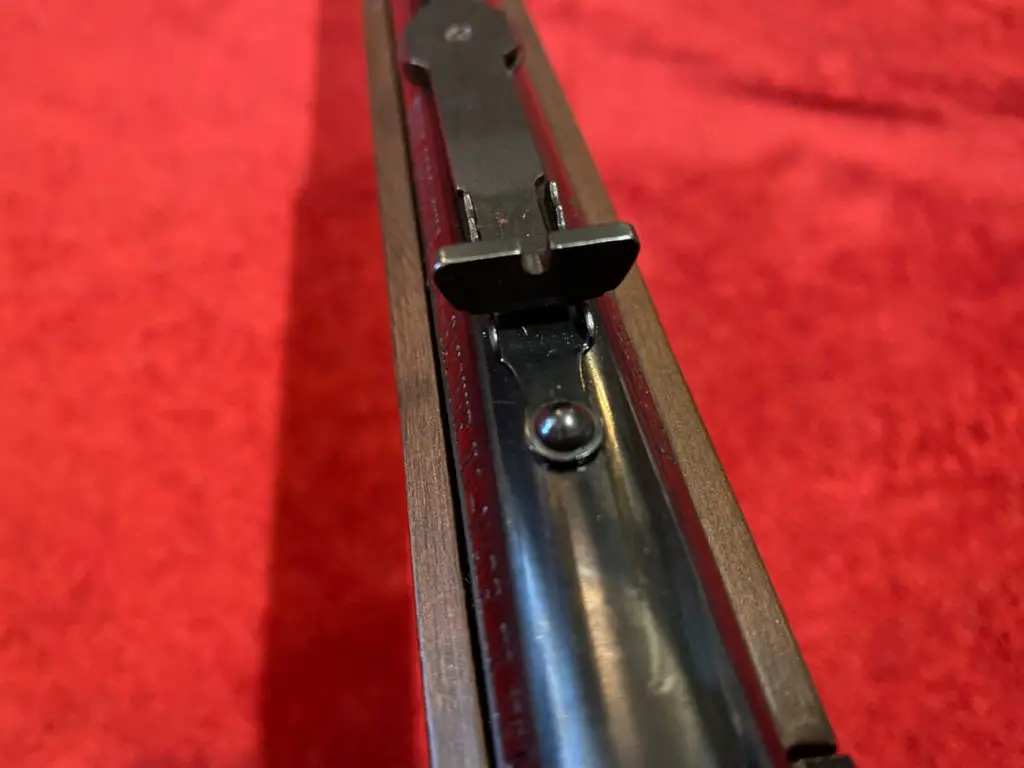 Design (and flaws)
There isn't much to gripe about when handling a good old fashioned, well-built lever gun. Henry lever action rifles are fun to shoot, reliable, hold plenty of ammunition, and just as accurate (if not more) than any other rifle in its class. Henry does a fantastic job upholding this standard with their H001.
As is true with anything though, there is room for improvement. Henry has implemented many of these improvements in the Frontier model line, and again – for $400 the H001 is a contender you'd be hard pressed to defeat. Here are a couple gripes I had while shooting the gun: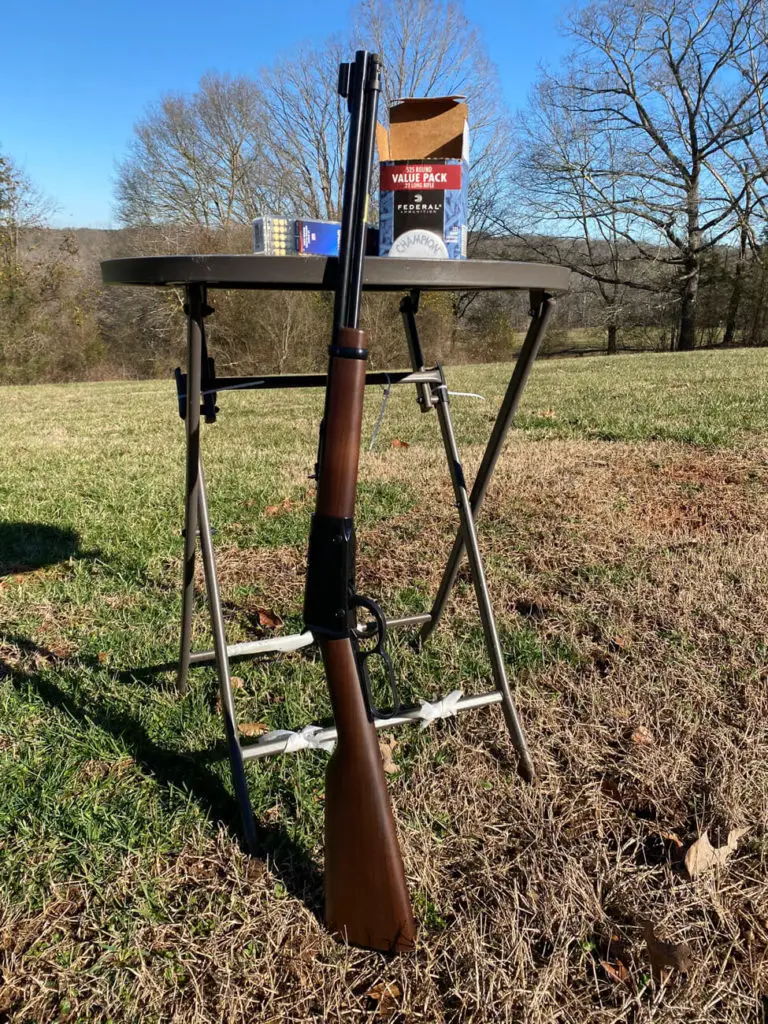 No sling mounts. A swivel kit is sold separately at henryusa.com for $23.95 – installation not included, so if you're a dummy like me good luck drilling in the right spot and not messing up the lovely walnut wood. I feel slightly shortchanged when shooting because of this, there have been many times I've had nowhere to put the gun when inspecting targets or bringing in game. I'll have to admit it's fallen a few times because of this. Fortunately the rifle isn't heavy and so not too much of a burden to carry around.
The sights. The front post is OK – it's metal, easy to see, and shrouded by a metal hood which not only protects it but also enhances the sight picture – but I wouldn't shed a tear if it was upgraded to a fiber optic, gold bead, or at least tipped with paint. The rear sight is a little easier to criticize. The blade style is nothing to write home about, and the sight picture easily gets lost when shooting in lower light conditions and darker backgrounds that are found in the forest.  The sight picture becomes completely lost when shooting against a dark target, such as my Birchwood Casey Shoot-N-See. It's really tough to pick out the target bullseye at 25 yards and further because the sights just blend in with the background. The dovetail mounting style is a huge pain to adjust for windage should the need arise. Again, I'll point out that mine was ready to rock straight out of the box, so maybe I'm making this a bigger deal than need be – but nonetheless, I'd still like to be able to adjust all parameters of my sights on a $400 rimfire rifle. Although I'm grateful for the metal hood over the front, the sights as a complete package just aren't that great. 
Henry Classic vs. Frontier
I've thrown the Frontier name out there a time or three in this review, so I wanted to go ahead and articulate a few thoughts and give an opinion on upgrading.
I have the 24" Frontier Long Barrel model and wow, it's a substantial upgrade. The extra 5.5" of barrel length increases the sight radius and extends distance the bullet remains in the barrel, increasing accuracy by a wide margin and also providing higher velocity.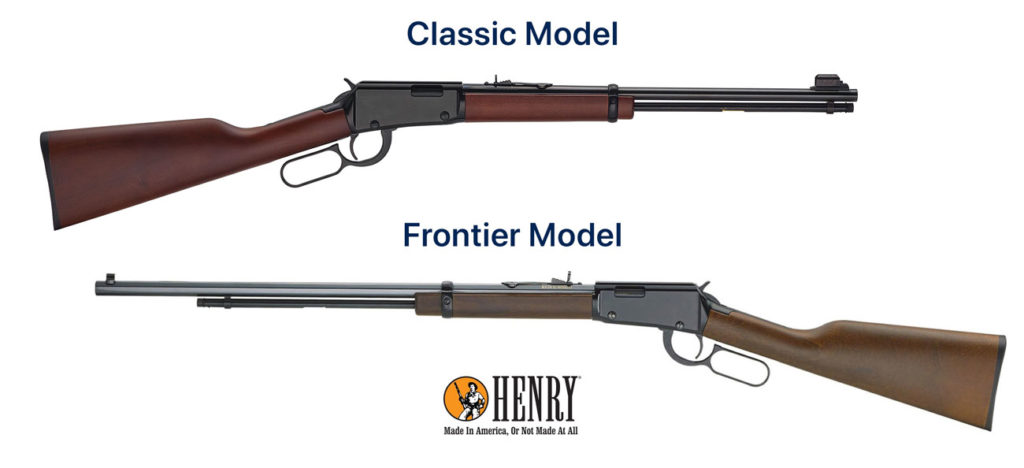 I'm a fan of the old style octagonal barrel, it looks cool and the extra weight feels more balanced. As soon as Henry announced this gun, I was beyond excited and knew I had to have one. The sights received the much-needed improvements griped about above, with the front post being upgraded to a gold bead and the rear upgraded to semi-buckhorn with a target diamond.
MSRP is $570, but give it a shot – the upgrades in style and accuracy are worth the extra money in my opinion. The Frontier model is by far the most accurate rimfire I've ever laid my hands on.
My Rating
You scrolled past all the technical jargon and gun-puns, and just want to know "is this legit or not!" – I get it, we don't have all day – so here it is: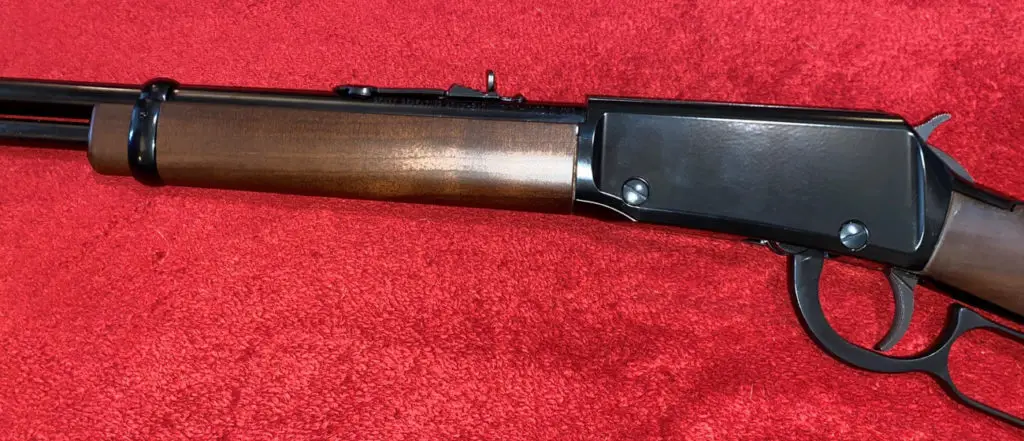 Check Price at: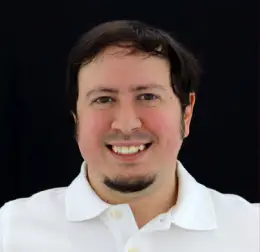 Jordan is an avid hunter and gun enthusiast. His fondest memory of shooting was when his Grandpa took him squirrel hunting for the first time. Jordan has been in the sporting goods industry since 2011 when he opened his gun shop in Georgia.