When I turned 21, I was employed as an ATM technician by a local convenience store chain. As I was responsible for the logistics of around $25,000 in cash money daily, I hastily picked up my Georgia WCL and headed to the local gun shop. I took a hefty beating on trading in an old Kel-Tec PF-9 I had bought from a friend, and walked out with a brand new 9MM Glock 26, 3rd Generation. 
When I purchased my model 26 in the early 2000's, there were only 3 Glock offerings in 9MM – Standard/Duty (Glock 17), Compact (Glock 19), and Subcompact (Glock 26). Today, there are closer to 10 choices in 9MM alone. Glock has also advanced to the 5th generation model line.
While you can still purchase a 3rd Generation model, the 4th and 5th generation brought many improvements to the frame, slide, trigger, guide rod assembly, and magazines. The price difference is negligible, so if you do end up purchasing a Glock 26 (or any model), I'd definitely recommend a 4th or 5th generation model. Starting with the 4th gen, you also get 1 additional factory magazine in the box (3 mags vs 2 mags with 3rd gen) to offset the minor price difference.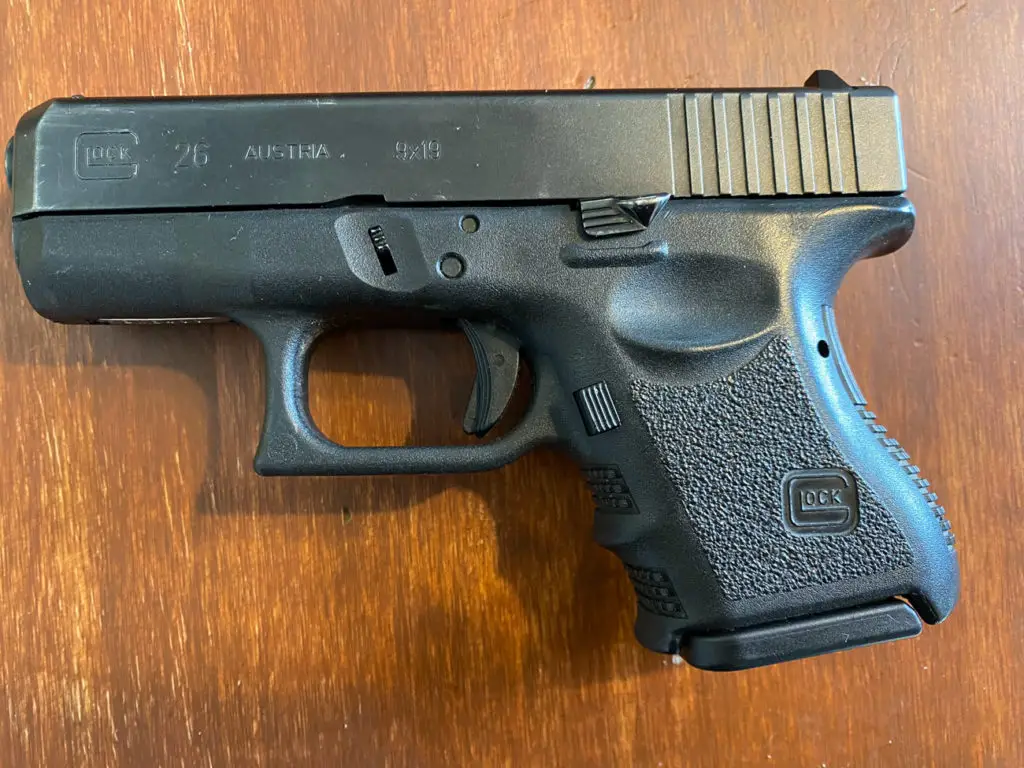 The fact that Glock still produces the model 26 after more than 20 years of production speaks to the quality of the gun. That said, times are always changing – in fact, the last 5 years have seen a massive evolution in handguns. "Red-dot ready" went from being reserved strictly for expensive competition models to being now available on nearly every handgun, including smaller models intended for everyday carry.
A new caliber, .30 Super Carry was introduced by Smith & Wesson to the M&P Shield lineup. Carry pistols have become slimmer, while ammunition capacity has increased. Many manufacturers, including Glock, broadened their line of carry guns by several models. With all these advances in technology bringing the consumer a plethora of choices, is Glock's model 26 still a contender? Today we'll review the features, size comparisons, conduct a field test, and then make an educated decision.
Check Price at:
Glock 26 Specs
| | |
| --- | --- |
| Caliber | 9x19mm |
| Capacity | 10+1 (optional upgrade) |
| Total Length | 6.50 in |
| Total Width | 1.26 in |
| Total Height | 4.17 in |
| Weight (no mag) | 19.40 oz |
| Weight (loaded mag) | 25.75 oz |
Glock 26 Features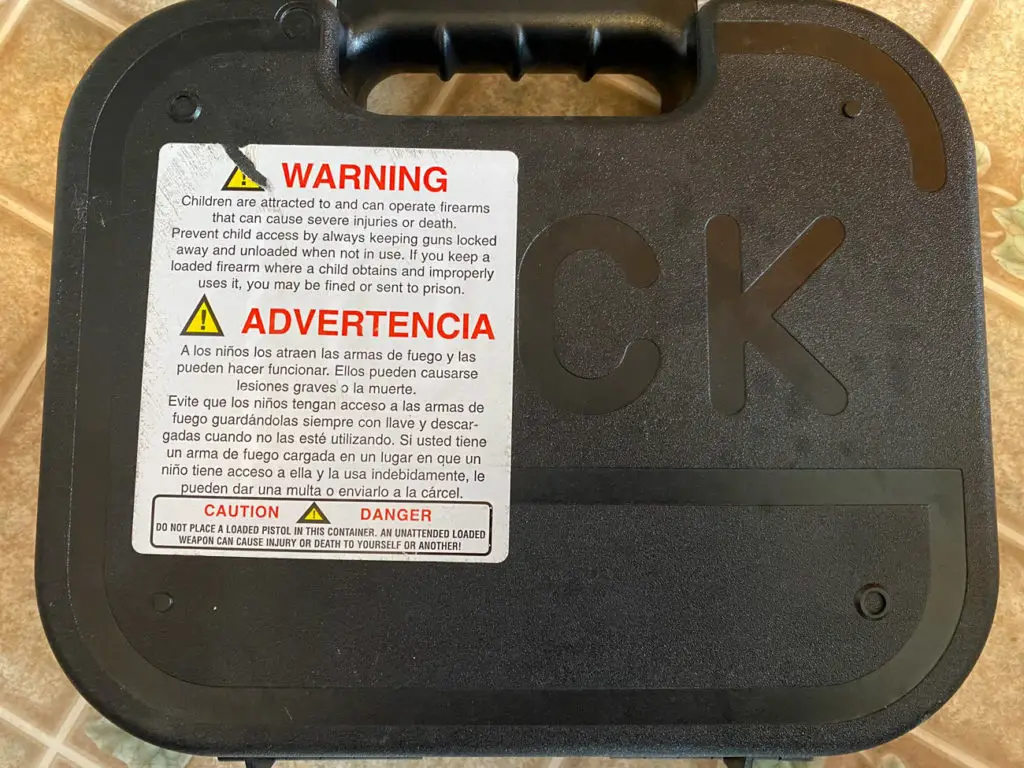 While I have in hand a 3rd generation gun, many of the features (and nearly all the dimensions and specs) carry over to the newer generation of Glock handguns. You'll find this review helpful whether you're considering a 3rd, 4th or 5th generation model. The main differences are largely cosmetic such as finger grooves, stippling pattern, etc. Glock still manufactures, and retailers still have readily available, inventory of the 3rd generation line. The Glock model 26 is chambered in 9×19, commonly known as 9MM Luger or just plain 9MM. Glock also offers the 26's twin, a model 27 in .40 S&W. 
Safe Action System Trigger
The #1 feature of any Glock gun is the Safe Action System. This is an internal safety with 3 redundancies that guarantee the gun will fire only when the trigger is pulled. Glock claims that their guns are drop – safe, and this is a tried-and-true feature that has withstood both the test of time as well as the tests of many YouTube reviews.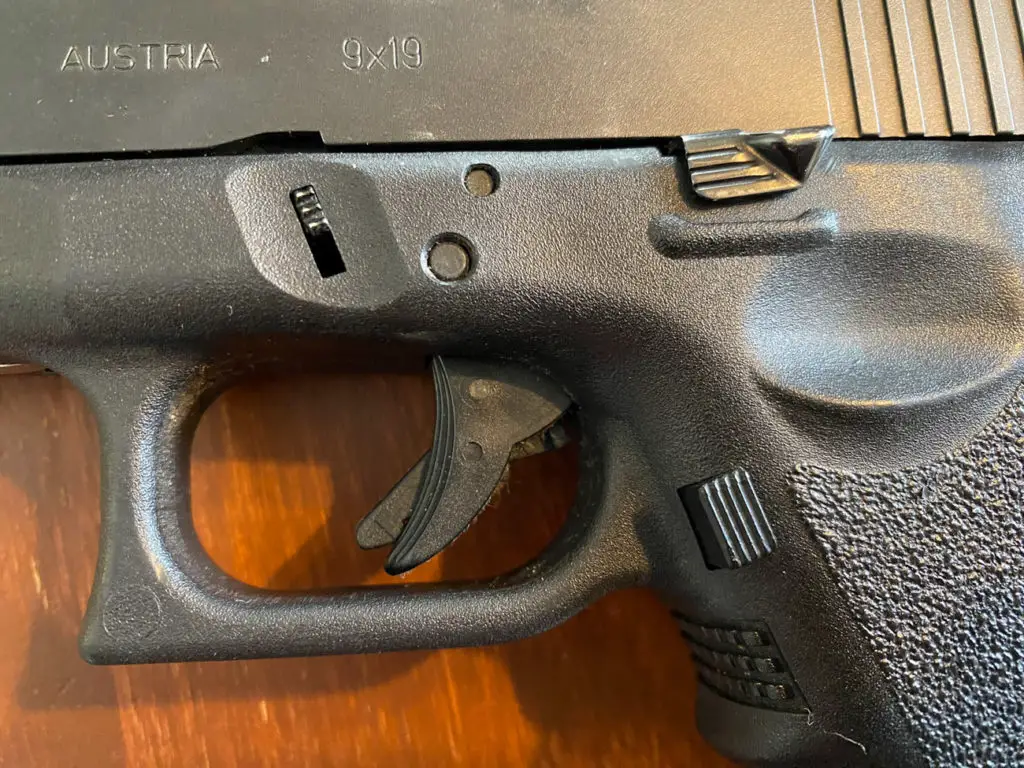 For myself and many like-minded shooters who understand the safety on any gun is between your ears, not on the gun itself, a quality internal safety is of high importance. The Glock duty gun, the model 17 is NIJ tested and certified. Glock does not make any model with a manual safety, so if you need an additional safety measure beyond your finger being in the proper place (off the trigger until ready to fire!), you won't find a manual safety on any Glock pistols.
Magazine Capacity
Capacity on the model 26 is decent. It has a double-stack 10 round magazine, complete with round counting windows in the rear, metal internals, and a removable floor plate. Gen 3's come with 2 magazines, and newer guns come with 3 magazines from the factory.
Spare magazines retail around $30-$40 and are readily available nearly anywhere guns are found. I found the price of extra mags to be pleasing compared to H&K, Sig, and FN. Pearce offers a +2 magazine extension that also lends a place for the pinky to rest. Promag and other 3rd party manufacturers produce cheaper magazines for Glock guns, but a wise man once said "a handgun is only as good as the magazine" – stay with the OEM mags for reliability reasons in my opinion.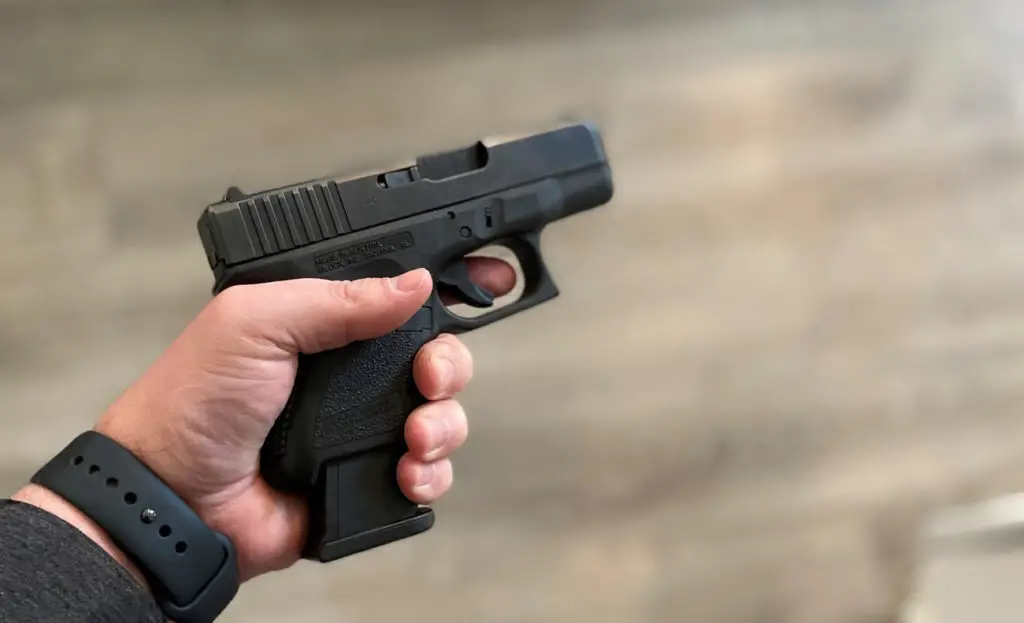 Magazines are interchangeable with other Glock 9MM double stack pistols, so you can use any larger magazines you might already own with the model 26. This is a great feature if you already have a Glock 19 or 17. 
Maintenance
Takedown and maintenance is a breeze. A picture is worth a thousand words, and a YouTube tutorial is worth a thousand pictures, so if you're a first-timer get a little practice in and you won't be cussing that first sentence!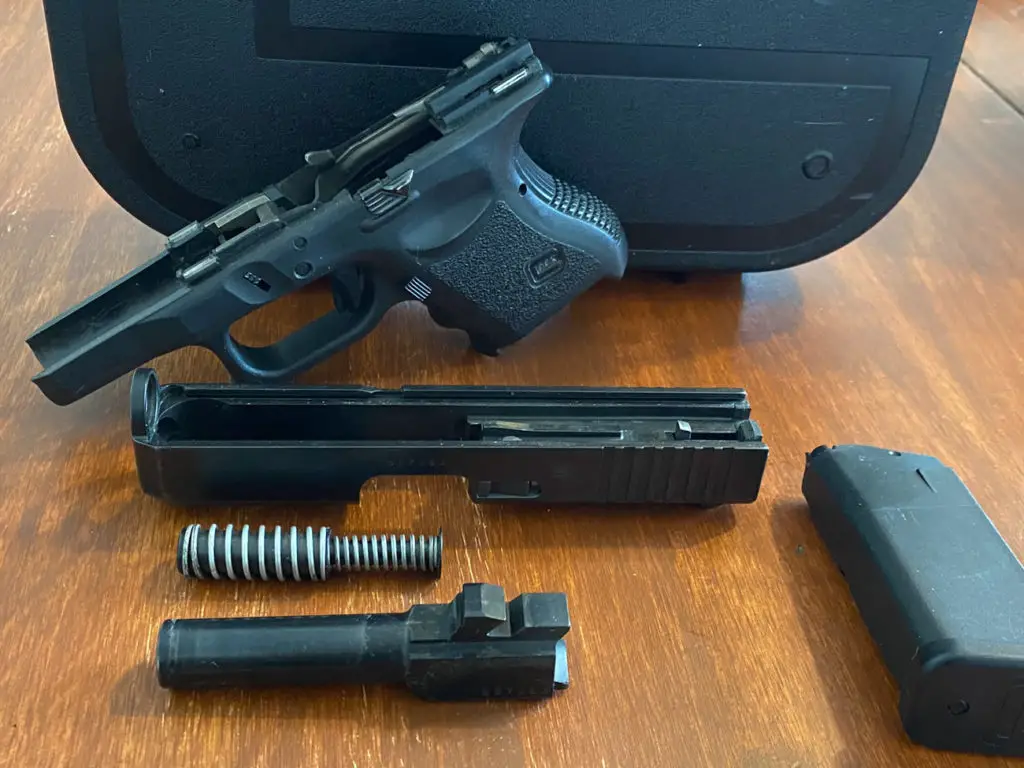 Once the slide is forward, the gun breaks down into very easy to clean parts – even the barrel is completely removable. Reassembly is just as simple. I was impressed by the lack of flying springs and absence of hoops to jump through to maintain the gun. The gun is incredibly easy to clean, and since it stays that way, I've never had any malfunctions while firing. A bore brush and patch tool are included from the factory, which is a nice touch.
Slide
The slide features Glock's standard U-notch sight setup, serrations, a loaded chamber indicator, and Glock's proprietary metal finish. There is also a tactile loaded chamber indicator, which also doubles as a reminder where your finger should be resting when not shooting.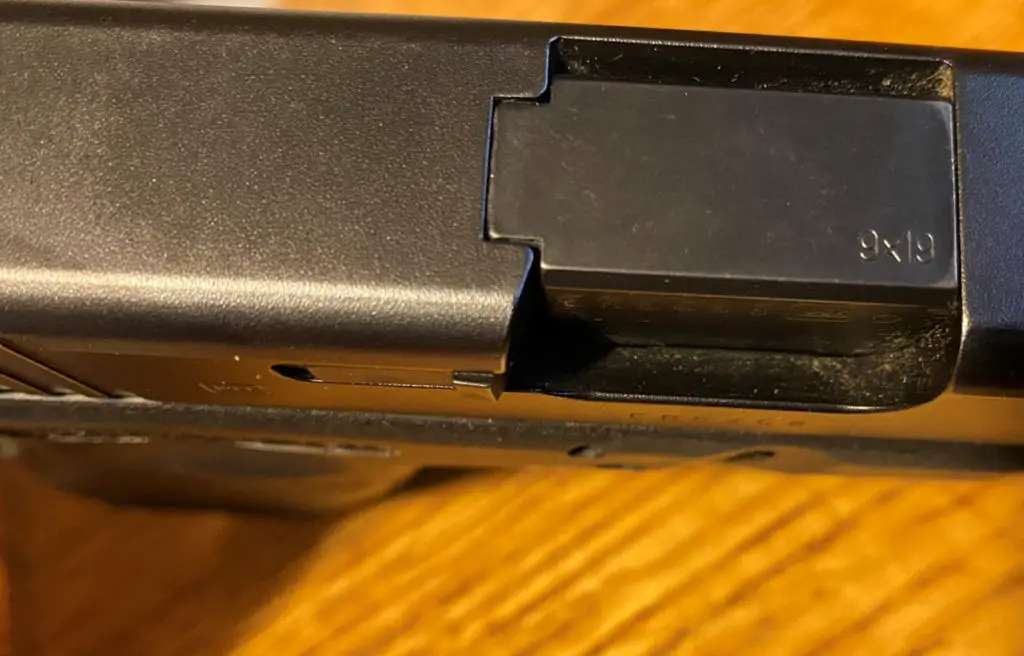 Iron Sights
The sights are customizable, although you'll need a sight tool to adjust or replace the rear sights. The front sight is easily replaced and if you're looking for a night-sight option, Glock's popularity means there are several aftermarket accessories to pick from.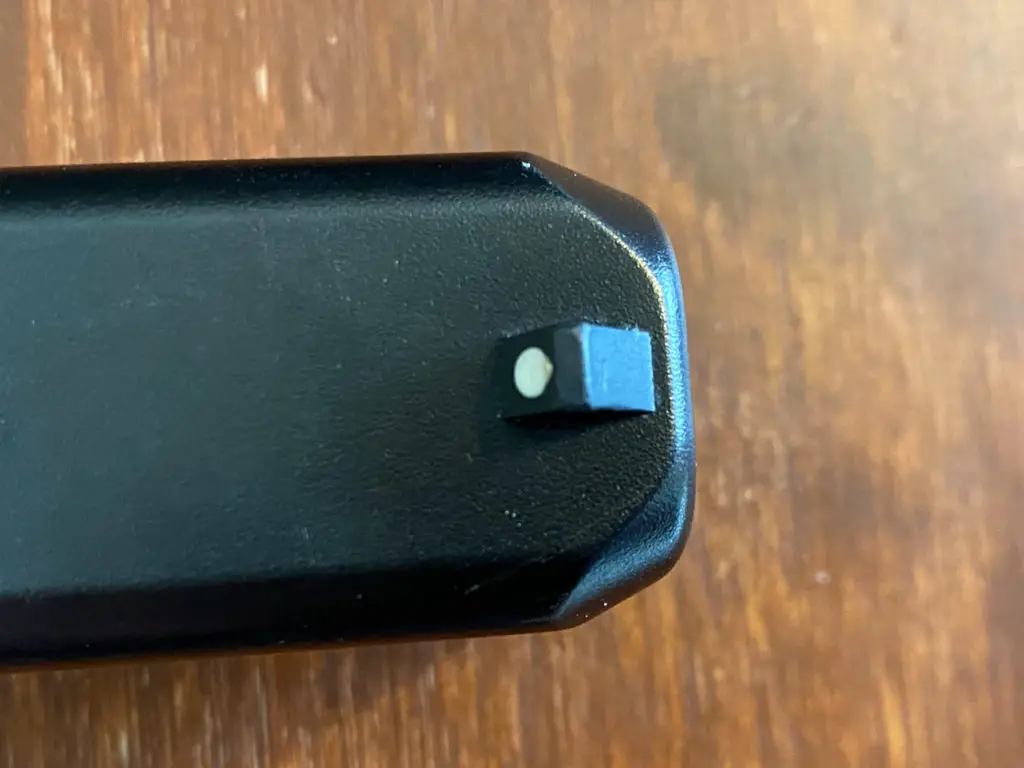 At the time of publishing, there is not a optics-ready option from the manufacturer on the model 26. An additional disappointment is the lack of an accessory rail on the frame. The gun is certainly wide enough to have accommodated one.
Crimson Trace and Lasermax offer grip mounted and guide-rod laser options. Streamlight offers a weapon light for the G26, but that's about the only option – and it's not that great of a light in my opinion.  
Trigger Pull
If you're the type of person that enjoys drama, head to the local gunshop and ask in crowded room: "Does Glock have a good trigger?", and let the bickering begin! I've shot just about every handgun on the market, and I'll tell you the truth – it really depends on your personal preference. I won't lie and say it's perfect. It's safe, that's what I cared about when I bought mine.
It's a personal defense gun, not a competition winner. What I found good about the ~6 pound (Glock advertises 28 Newtons) trigger pull is that the reset is predictable every shot. I also found that, as with most things in life, practice really does make perfect. After around 100 rounds, the trigger goes from "spongy" to easy to anticipate where it breaks, and after 500 rounds you're hitting man-sized targets at 25 yards without issue. The trigger is actually decent, it's just very different from most guns and takes getting used to.
The 5th generation is slightly lighter, but generally they all break around 5.5 – 6 pounds of pull. There are a few aftermarket options (Apex and Ghost, to name a few) that vastly improve the trigger, although Glock recommends against this as this voids the warranty and can reduce the effectiveness of the Safe Action System. I personally wouldn't alter the safety features of my carry gun, so take that money and spend it on range time instead.
Concealed Carry
The Glock 26 is known as the "baby Glock" as it weighs 21.5 ounces (unloaded), has a 3.4" barrel with overall length of 6.5", and width of 1.25". The height as measured from the top of the rear sight to the magazine floorplate is 4". The sight radius (distance from front to rear sights) is 5.25".
So what does this all mean? For starters,  while quite small this is not a "pocket pistol". There are pocket holsters marketed for this gun, but trust me – it's too clunky.
Instead, if you plan to concealed carry, I would recommend using a standard in-waistband holster. My trusted concealed carry carry holster is a fitted Versacarry IWB leather, although there are plenty of great IWB, OWB, ankle, and Kydex holsters out there.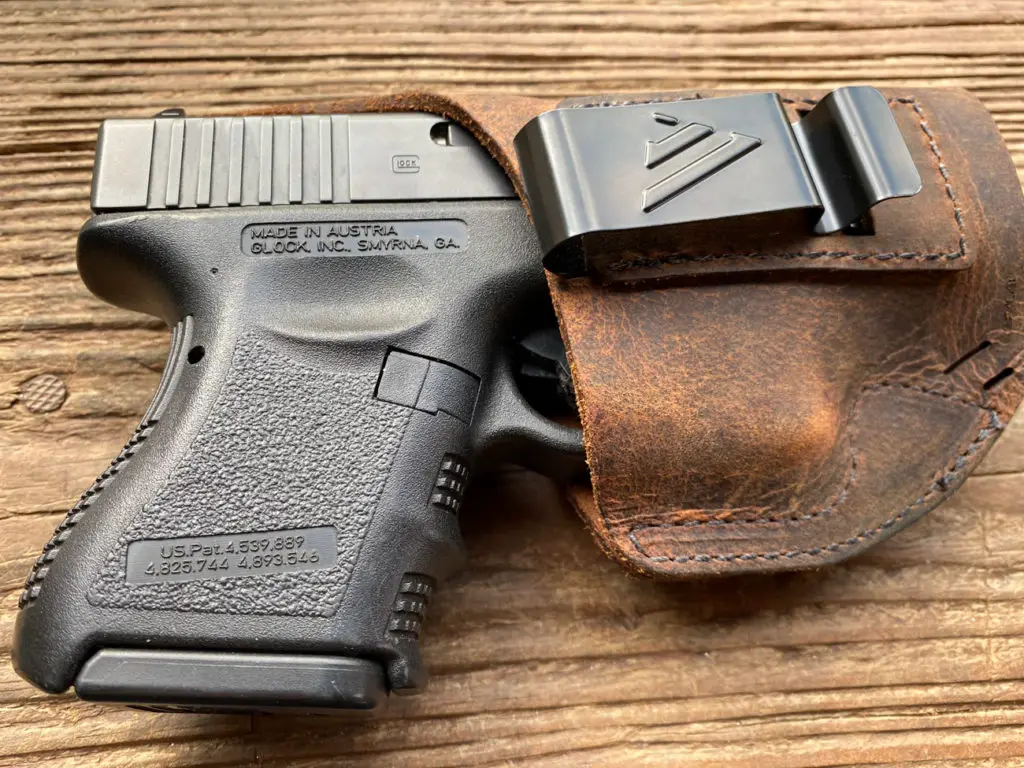 I'm torn on the height of this gun. One on hand, the gun virtually disappears with the proper holster, even with lighter clothing. The ease of concealment comes at a cost though – the grip only offers a 2-finger hold. It's the way the gun is designed – I'm not a large person, and I'll never get a proper 3-finger grip with the factory setup magazines. I've gotten over it, but definitely hold this gun in person before you decide to buy one – it could be a deal breaker for you.
If you're going to add the magazine extension, you might as well buy a Glock 19. The width of the gun compensates by way of managing recoil, but follow up shots do take a little more time without that 3rd finger to balance things out. The gun is still pleasant to shoot, but shooting a 26 vs. a 19 is a world of difference.
Compared to other Glock subcompact offerings, the 26 is the bulkiest. It's descended from the tried-and-true godfather of Glocks, the model 17, so if you want to retain the reliability of the original design the 26 is the way to go. If you want to take advantage of the latest technological developments from Glock, there are other choices to consider.
The deep concealment follow up to the Glock 26 came out around 10 years ago with the introduction of the model 43. The 43, also chambered in 9MM, is slimmer, shorter, and lighter; but at a cost having only 6+1 capacity. The model 43X came out recently with similar dimensions to the 43, but with 10+1 capacity. The frame of the 43X is slimmer and longer than the 26, so it offers easy concealment while also having the same capacity, plus you can get your whole hand around the grip.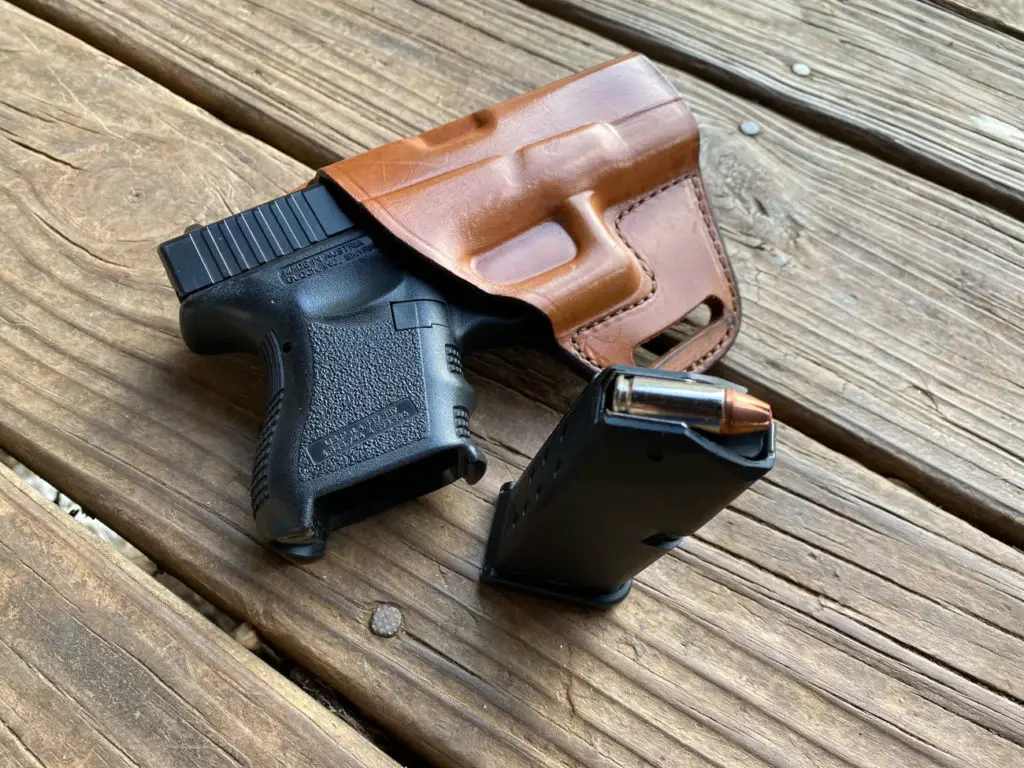 Compared to similarly priced guns in the 9MM arena, the Glock 26 underperforms. Smith & Wesson's Shield Plus is also 10+1 capacity, but is slimmer, lighter, and priced less: The Glock 26 Gen 5 is $647 MSRP (retail: $529) vs. $499 for the Shield Plus. Springfield Armory's XD Subcompact is nearly identical to the 26, and also a good deal less expensive. The newer XD-S and Hellcat models from Springfield are also strong contenders to consider. The Sig Sauer P365 is smaller and lighter than the Glock 26 as well, although similarly priced. The double-stack Canik TP9 Elite, FN 503, and Ruger Security-9 should also be considered prior to pulling the trigger on the Glock 26.
Field Test of Glock 26
What's in the Box?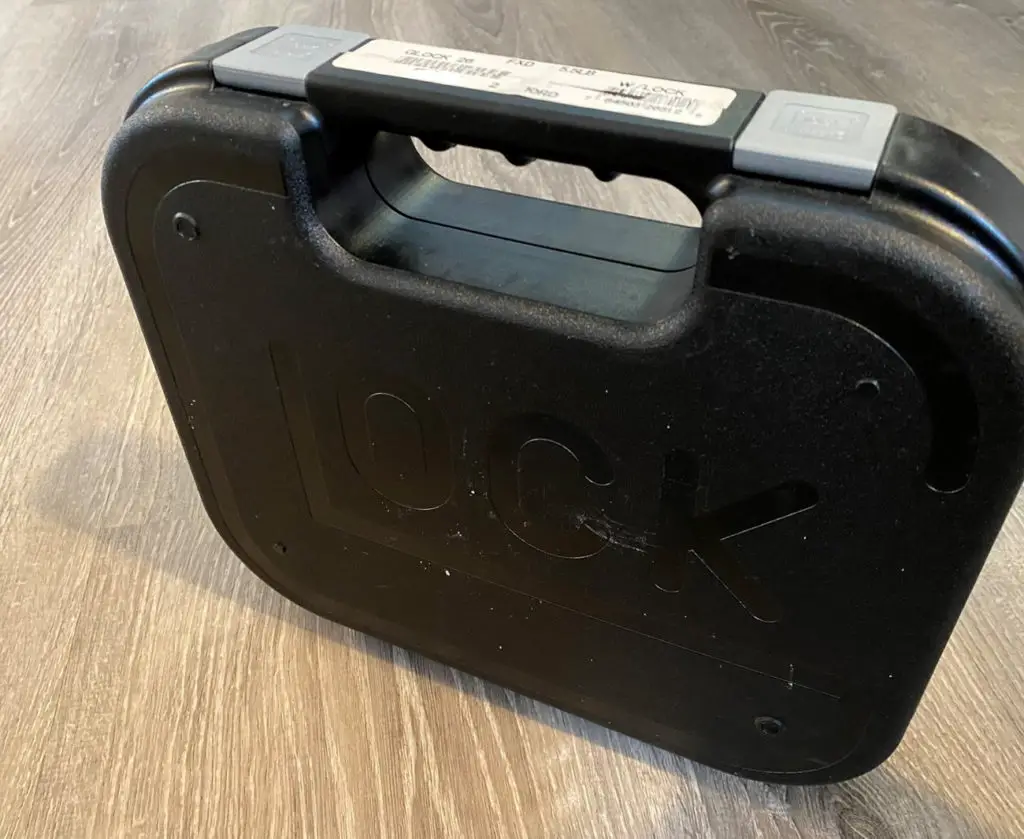 The Glock 26 comes ready to rock with 2 magazines (3 magazines with 4th/5th Gen pistols), cleaning kit, and manual, all packed in a nice hardcase. The plastic case is decently built and will hold several extra magazines for range day. You can also fit eye protection and earplugs, although over-the-ear muffs won't fit. It should be noted that the case isn't lockable or water resistant – it's just a nice hard case.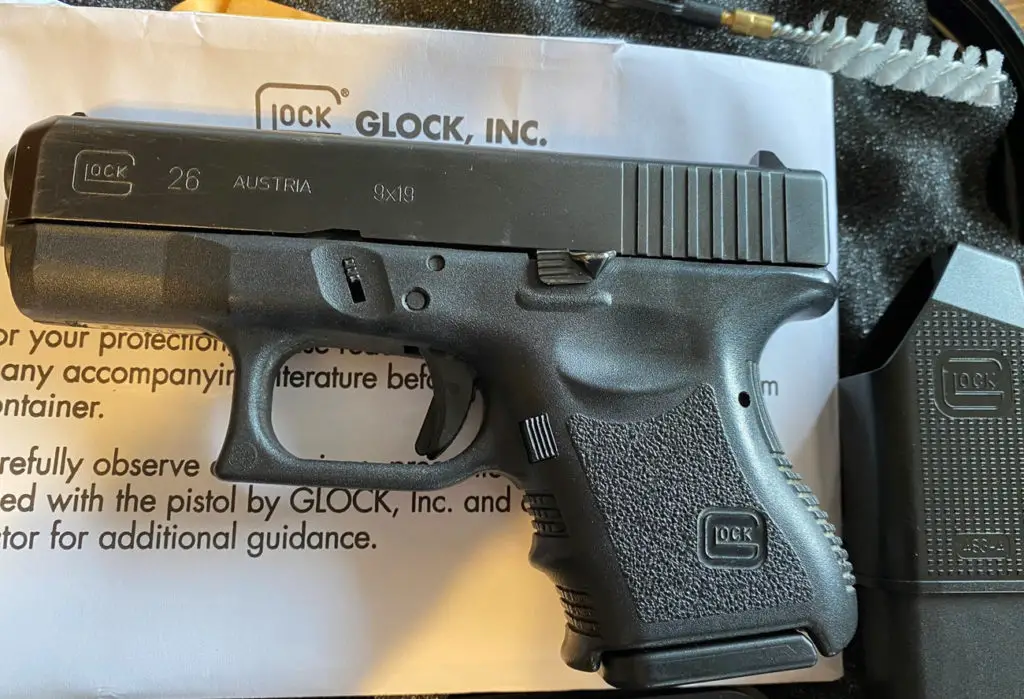 Shooting
As noted, without a pinky extension the Glock 26 is a little jumpy; however, it's still a joy to shoot and something that can be pleasantly done all day, unlike some smaller and lighter pistols.
Once you get a feel for the trigger, the short 3.4" barrel delivers surprising accuracy. Hitting a body-sized target at 25 yards is no problem, and 8" groups can be easily had out to about 15 yards with a little experience.
The slide is long enough to provide a decent sight radius, and the sights themselves are intuitive. The trigger breaks consistently and the reset is both audible and highly tactile, making follow up shots faster and more accurate.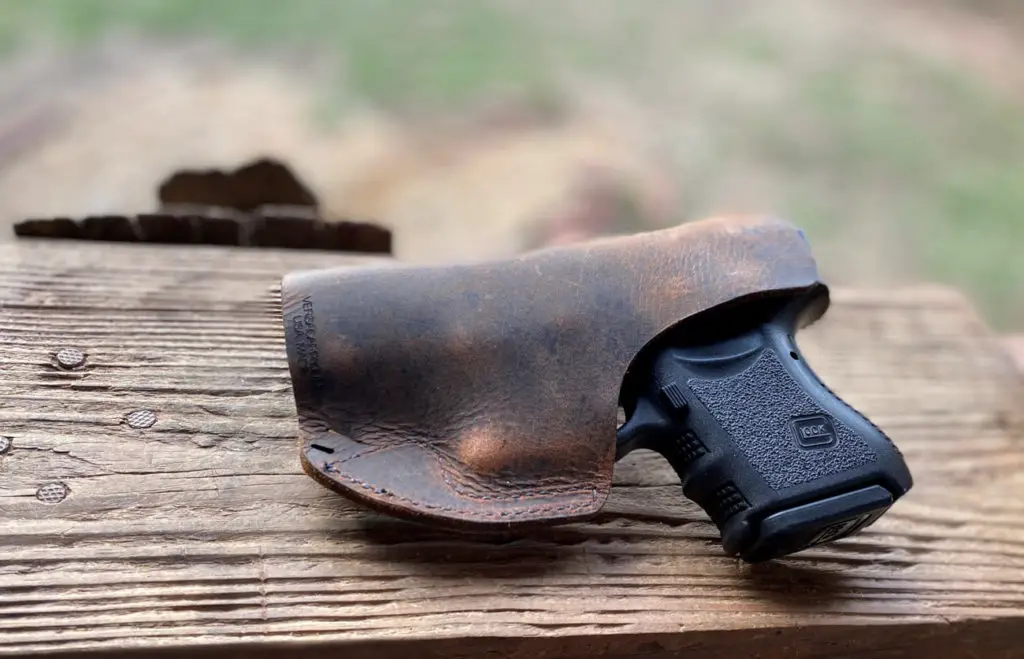 The 5th Gen trigger is slightly improved, from 28 Newtons (Gen3/4) to 26 Newtons in the Gen 5 according to Glock's website. I could feel some kind of difference, but the trigger pull scale didn't tell the same story. All of my Glock's seem to break around 5.5 to 6 pounds. Everyone has their opinion, and in my book the 4th gen trigger is the best as far as having a reliable, clean break and the best reset. They are nearly identical across the 3rd / 4th / 5th generation, so that might just be me being a stickler or a little crazy. Until you've run a few hundred rounds, you won't really notice anything different.
Reloading is consistent, and I prefer the extended magazine release that comes standard on the 4th and 5th gen models. For left-handed shooters, the magazine release can be swapped to the South Paw side (4th / 5th Gen only). Newer shooters as well as the meaty handed will be delighted to find an included extended beavertail backstrap (again, Gen 4+ only) to prevent "slide bite". The G26 definitely ticks all the boxes for firing in a self-defense situation.
Reliability
I've owned this gun for around 15 years now, and I've never been let down once. It's one of my favorite range toys and still gets carried from time to time, so it's been fired extensively – my best guess would be at least 1 case of ammo, but probably closer to 1,500 rounds of ammo has passed through my Glock 26. Want to know how many times it's malfunctioned? ZERO!
I want to give my full endorsement to this gun as a reliable carry weapon. This gun has my complete confidence, even after moderate use. My ammo of choice is brass-cased 115 grain FMJ from PMC, Winchester, Remington, or Blazer (CCI). 124 grain Hornady Critical Duty or Federal HST is my go-to for defense ammo, and I've had no issues with those either.
I've used both new (always factory) magazines as well as ones that have stayed loaded in the safe these several years, no failures. The older magazines feel just as springy as the new ones, even though they've been loaded up for years.
Pro-tip: I know it's expensive, but make sure you run at least a box or 2 of your favorite hollow points through your carry gun at the range before you carry it. This ensures you won't have any issues, even if you ran ball ammo flawlessly. 
Durability
For a LEO backup gun or every day carry weapon, I wouldn't anticipate any issues under any but the most extenuating circumstances. I like my guns, so I didn't "torture test" this pistol, although Glock regularly passes such tests as seen in abundant online videos. I'll point out where I think the points of failure are from my experience as both a Glock 26 owner and my evaluations of my shop trade-ins.
On the Gen 3, the sights definitely needed the re-engineering that came about with the 4th Gen. The U-notch design is fine, my problem is how they are attached. The rear sights are durable enough. I've knocked mine around a few times without issue. The front sight on the other hand, can come out with even a small amount of force. If you dropped it on the front or came around a corner and hit the sight on a door frame, there's a 50/50 chance the sight will pop off. I've even had a 3rd gen come in from the factory with the sight already missing.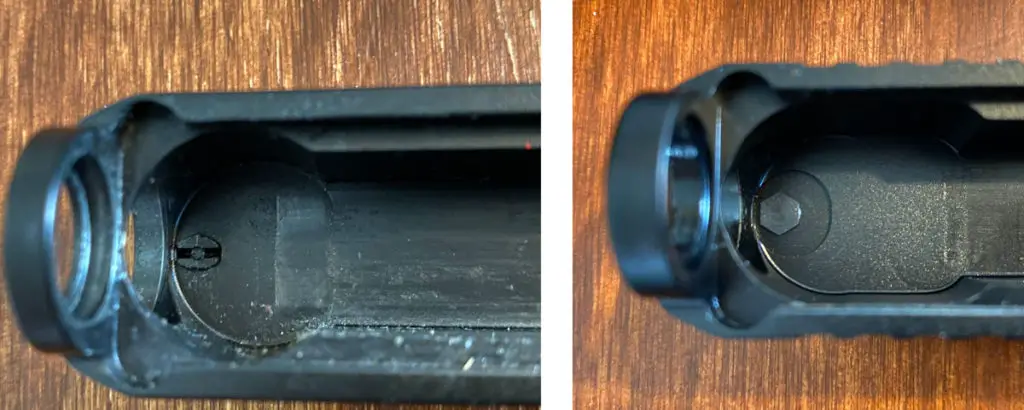 Thankfully, the 4th and later gen models have a major improvement by means of screwing the sight in, rather than pressing it. That's really my only gripe in the durability arena, again no doubt the gun will fire reliably.
A minor issue, but an expected one: the finish will wear off with use of a hard holster, such as Kydex or a Blackhawk Serpa. The barrel will feature the classic Glock "smiley" at around 100 rounds, and after 500 rounds cosmetic wear progresses pretty heavily. It's a defense gun and not a collectors piece, this this doesn't bother me. Accuracy seems unaffected after 1,000+ rounds and I doubt you'll ever shoot enough to wear this gun out with regular use.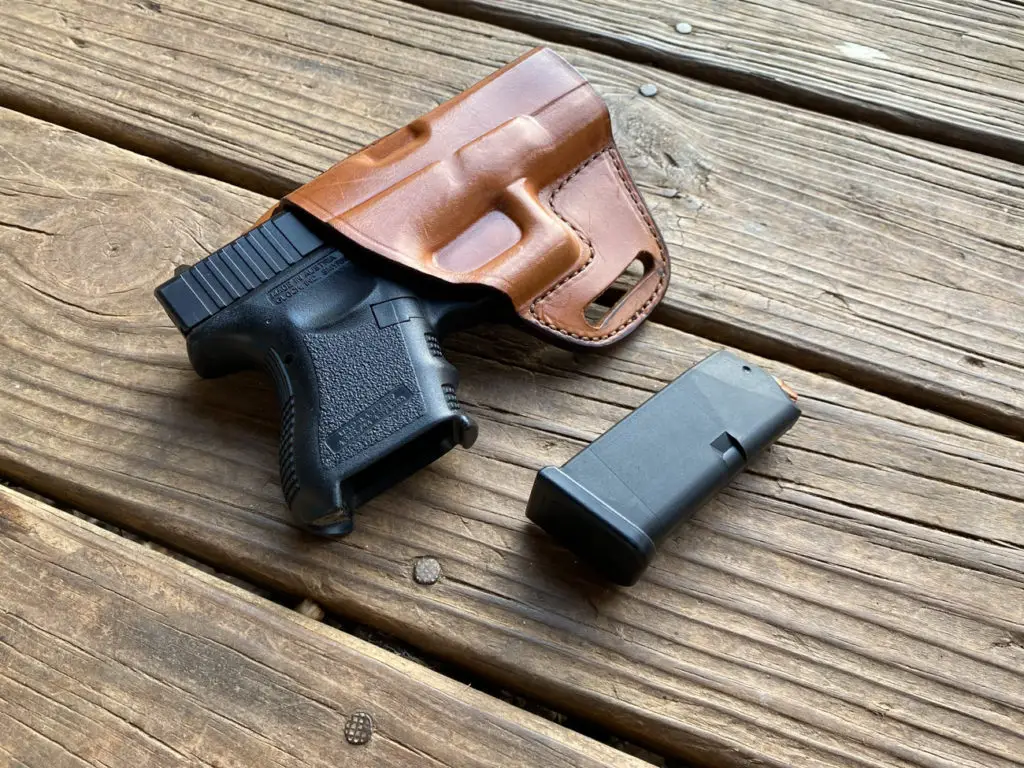 Design Flaws
When the Glock 26 was first introduced, weapon lights were not as compact and bright as today's LED versions, and Holosun optics wasn't even a company yet; so while we'd like to call this a "wishlist" instead "flaws", it's 2023 and Glock is still manufacturing the model 26 in Gen 3, 4, and 5 configurations without the below much-needed upgrades.
For starters, the consumer should have the option right out of the box to have a pinky extension for the magazine. Just about everyone I've talked too says they hate shooting the gun without one.
Second, this is a beefy gun. A front picatinny rail could easily be implemented, giving the shooter an option to add the light or laser of their choosing. Lastly, the slide is the same width as the Glock 19, which has MOS ("Modular Optic System") capability – why can't the 26 be milled out for an optic as well? Nearly every other Glock, including the slimmer G43X and G45 have MOS offerings. A good optic would be an excellent addition to this gun to further take advantage of its inherent accuracy.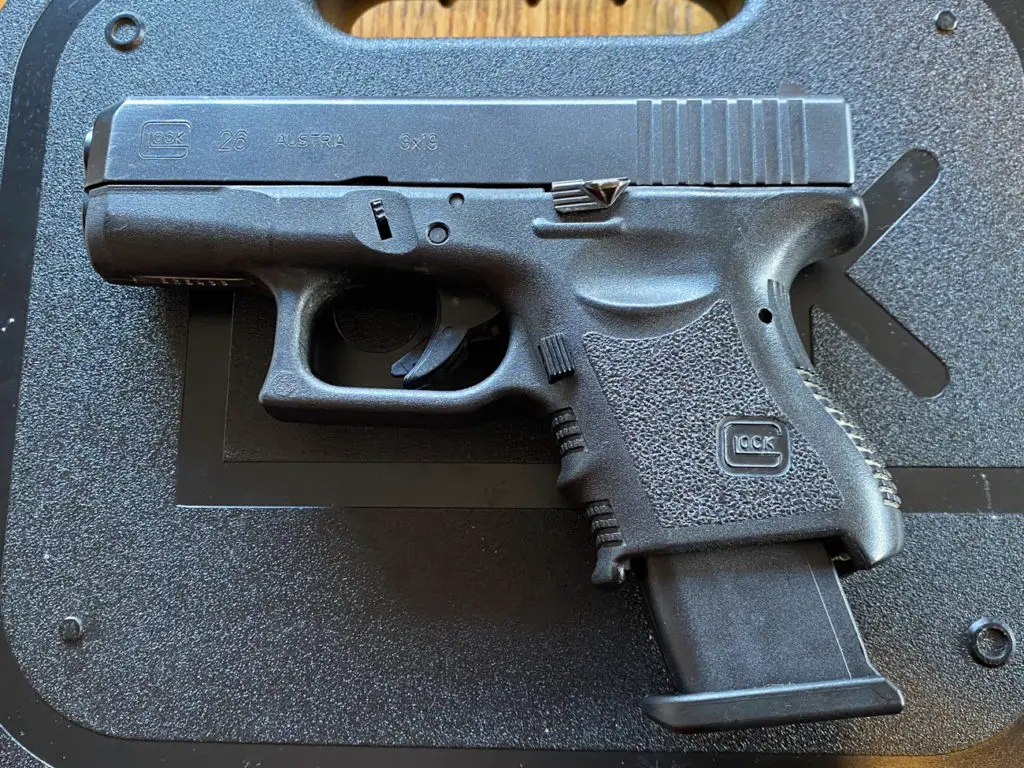 The Educated Decision
Technological advancements made possible through scientific research have had an effect on every industry in the past 20 years, and firearms are no exception. In the last few years we've seen carbon-fiber wrapped rifle barrels, solar powered red dots, higher capacity handguns, and massive improvements to weapon lights thanks to LED technology.
While Glock as a company has stayed on the cutting edge of handgun enhancements with the introduction of the G43X, the G45, 5th Generation improvements, and the MOS optic system, the G26 has fallen by the wayside. Once the mainstay of Glock's subcompact market, the G26 appears to be left in the past. It features a wide grip but only holds 10 rounds, and despite only having a 10 round capacity it's still too bulky to pocket carry. It lacks a rail, so you can't mount a light. There are no optic-ready versions. The pinky awkwardly hangs off the grip when shooting.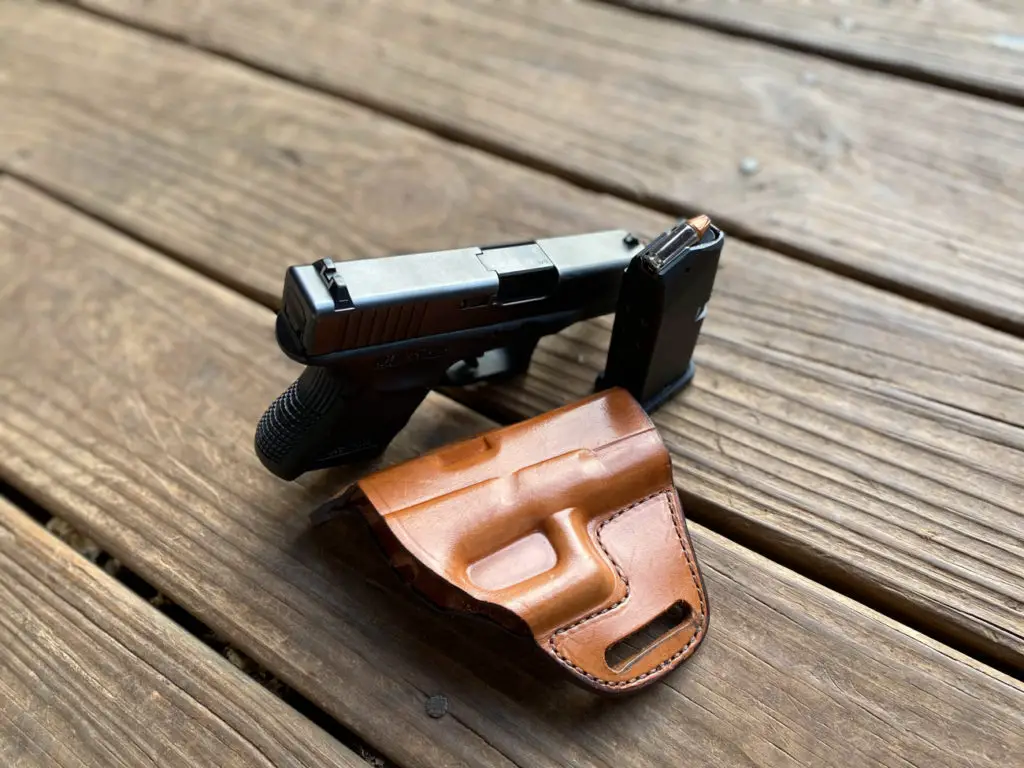 At the turn of the century, this was an excellent gun. If your purchase decision is weighted 100% by reliability, it still is a perfect gun. I don't regret this purchase at all, and it's served me well over the years – but are there newer, better options out there in 2023? Absolutely. From Glock's own G43X MOS, to the Sig P365, to the Springfield Hellcat and more, there are plenty of great contenders for your money that are lighter, slimmer, or hold more ammo.
Thanks for reading my story, and whatever you decide for your next every day carry purchase, be safe, and be sure and clock plenty of range time!
Verdict
You scrolled past all the technical jargon and gun-puns, and just want to know "is this legit or not!" – I get it, we don't have all day – so here it is:
Glock 26 (4th or 5th Gen): 4 out of 5 Stars
Price: 4/5
Durability: 4/5
Design: 3/5
Reliability: 5/5
Accuracy: 4/5
Check Price at:
---
(3rd Gen): 3 out of 5 Stars
Price: 4/5
Durability: 3/5
Design: 2/5
Reliability: 5/5
Accuracy: 4/5
FAQ
How much is a Glock 26?
The MSRP for the Glock 26 is $647, but you can often find the gun for sale online and in stores for under $530.
What caliber is a Glock 26?
The Glock 26 is calibered in 9mm and can handle the same magazines as other double stacked Glocks.
What is a Glock 26?
A Glock 26 is a subcompact 9mm pistol that was designed by Glock and has been in production since 1995.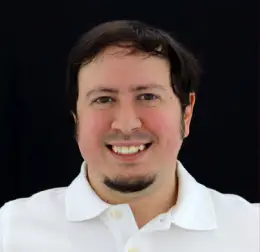 Jordan is an avid hunter and gun enthusiast. His fondest memory of shooting was when his Grandpa took him squirrel hunting for the first time. Jordan has been in the sporting goods industry since 2011 when he opened his gun shop in Georgia.