For over a century, the 9mm has been the pistol round of choice for military, law enforcement, and civilians alike. While that means that there are lots of 9mms out there for you to consider for self-defense, it's hard to figure out which is the best one for you and your needs. We've put together a buying guide on the best 9mm pistols for each use case, a rundown on the best 9mm pistol of each brand, and a quick guide to the best type of 9mm ammo to use for each situation.
Top Overall Pick: The Best 9mm Pistol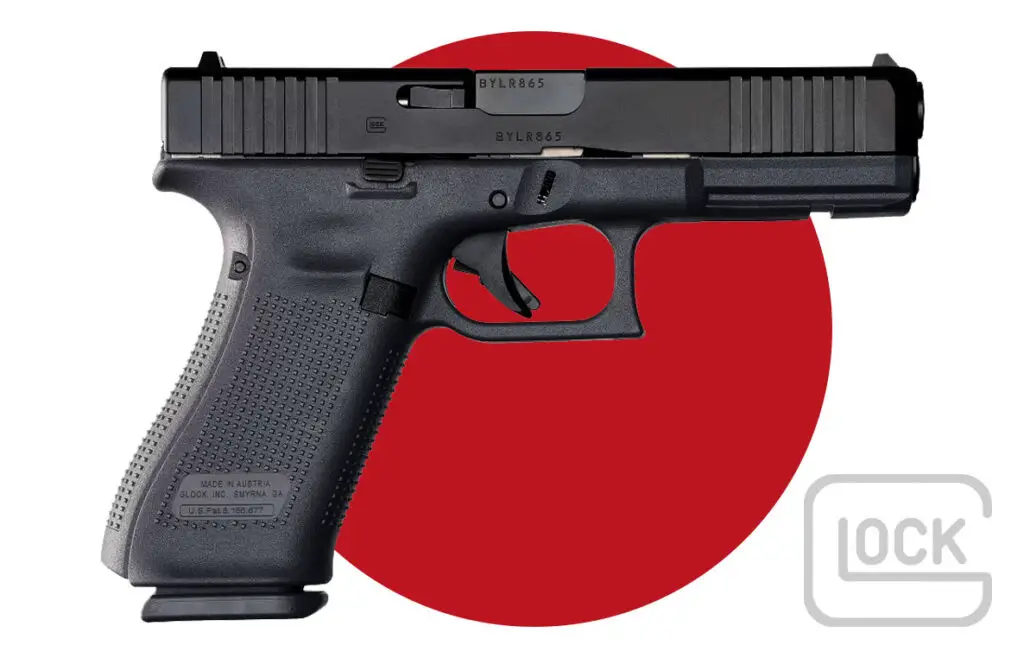 Glock 17 (Gen. 5)
Check Price
For us, the best 9mm pistol overall has to be the Glock 17. This series of striker-fired pistols have become the mainstay for militaries and law enforcement for a reason. With a polymer frame, a double-stack magazine, giving it decent magazine capacity, and the sheer availability of parts for the ubiquitous 9mm handgun makes it a standout in its own right. But, let's look at it in terms of the categories we just suggested.
Advantages
In terms of our purposes, we're assuming home defense. Thus, the large magazine capacity and moderate barrel length make the Glock 17 a natural choice. Similarly, with some night sights, it's a more than capable gun for fighting in low light conditions.
Training used to be a weekly thing for us before ammo prices for even 9mm started to get a little absurd. Now, with a little less time and ammo budget to work with, something familiar, like the striker-fired Glock is one of the best 9mm pistols to put in a drawer and forget about until you need to use it.
Since we're reading this in terms of self-defense at home, the best 9mm in this situation is one with night sights, a large double-stack magazine, a reasonable trigger pull, and enough barrel length to get the most velocity out of a 9mm Luger. So, again, a full-size striker-fired pistol fits the bill nicely.
As far as familiarity, this is our primary reason for the Glock 17. Once you've shot one stock Glock, you've shot them all, so our previous time with the trigger pull of a Glock 17 will translate well to a Glock 19 or anything else striker-fired pistol in 9mm.
Availability
Availability-wise, the Glock 19 is the Honda Civic of handguns. They're for sale used everywhere, in conditions ranging from excellent to beat down. Pick one without anything silly done to the polymer frame by a previous owner, and you're in good shape as all of the other parts can be shipped to your door.
Glock pistols have become the industry standard for police forces, and that's no accident. Most Glocks are built well and will get the job done in the worst of circumstances. While we think Sig makes more handsome-looking guns, Heckler Koch makes cooler ones, and a single-stack 1911 is a thing of beauty, when things have gone seriously sideways, we want a Glock 17 in our hand.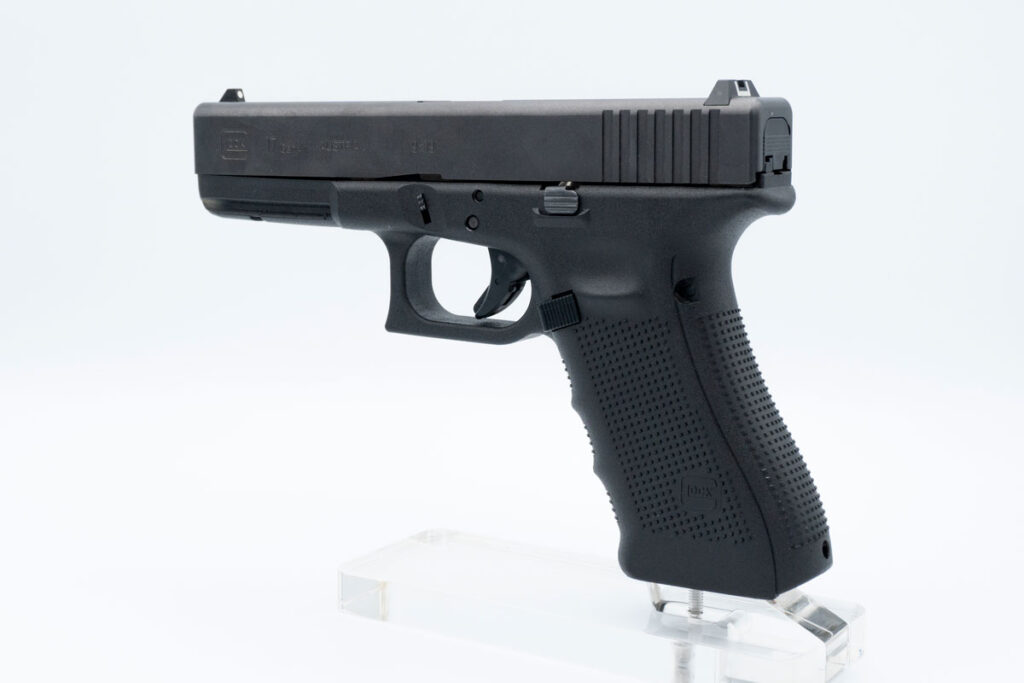 Add-Ons
For nighttime home defense, there is no better addition you can buy for your firearm than a laser/light combo. This has the dual advantage of ensuring you have a clear picture of what/where you are shooting while also blinding the intruder.
Our editor recently added the Streamlight TLR-8G to his Glock 17 and can't recommend it enough. The light is quite bright at 500 lumens and the green laser makes it incredibly easy to accurately shoot rapid fire without ever having to look down the sights. This light is built to be compatible with many of the guns on this list – not just the Glock 17.
Specs:
| | |
| --- | --- |
| Capacity | 17+1 |
| Length | 7.95″ |
| Width | 1.34″ |
| Height | 5.47″ |
| Weight | 24.97 oz. |
Pros
Well made
Relatively Affordable
Light Polymer Frame
Widely Available
Cons
The stock trigger pull is long
It is a little bit big for some concealed carry applications
---
Best Concealed Carry 9mm Pistol
In addition to the specific recommendations we made above for a carry handgun, we also like to think about one final question: will I be willing to carry this gun everywhere I can legally. If the answer is yes, then that's your handgun. Otherwise, rethink the criteria we listed in the early part of this article and try to find something that fits your size and mission profile a little more closely. For example, I know a friend who is a truly tiny woman, but she took a liking to an HK VP9 at the range one day, and now she carries one in her little clutch every day to her clerical job. Not the choice I would have made, but she's safer every day and can shoot great groups with it.
For this category, we're going to break it down into a few subcategories, since the world of concealed carry is a relatively wide one. No one mode of concealed carry will work for everyone, so thinking through the different kinds of pistols that someone might choose for different circumstances is a useful exercise when picking your own pistols.
Best Compact 9mm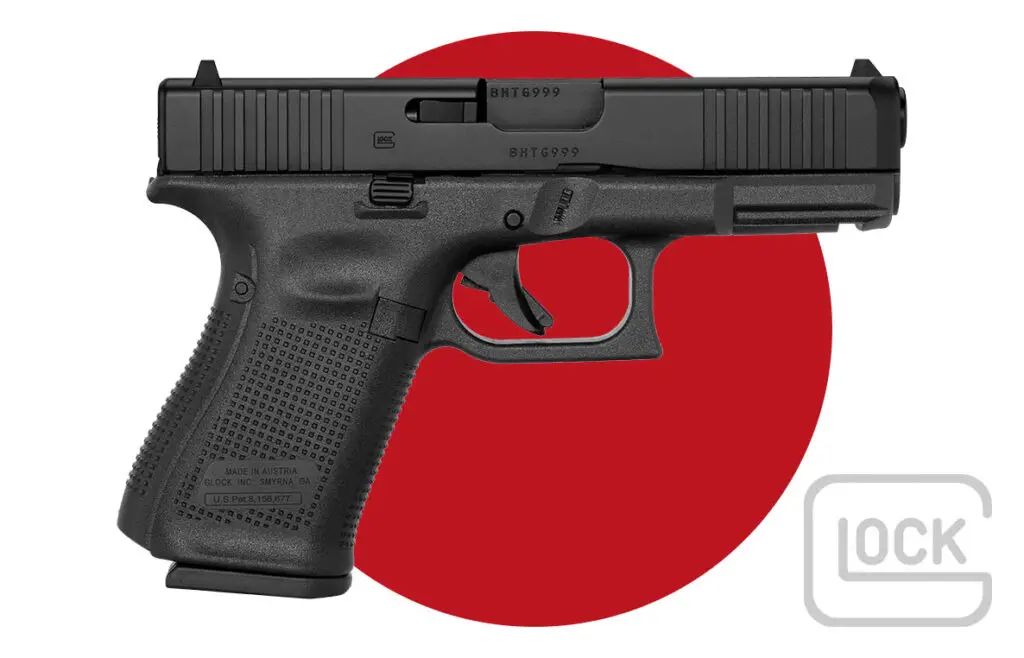 Glock 19 (Gen. 5)
Check Price:
We're going with the Glock 19 for the same reasons we list above for liking the Glock 17 so much. In the wide world of 9mm handguns, sticking with a well-known platform with decent magazine capacity is a good way to go. A Glock 19 is an excellent firearm that is chosen by both civilians and police forces looking for something a little smaller than a full-size Glock or Sig.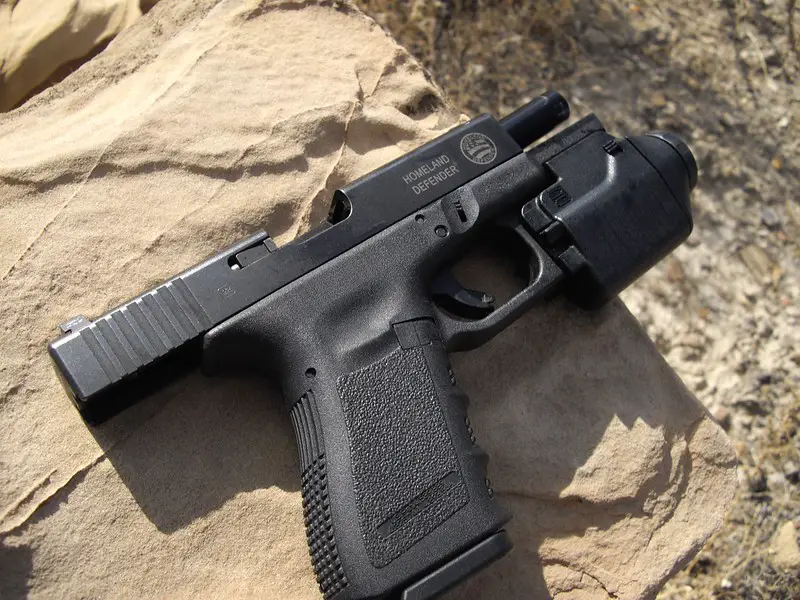 Furthermore, the Glock 19 has a standard barrel length short enough to be easily concealed without giving up much velocity. The Glock 19 also has a reasonably simple trigger pull like most striker-fired pistols, which makes it easy and fast to deploy from concealment.
Specs:
| | |
| --- | --- |
| Capacity | 10+1 |
| Length | 7.28″ |
| Width | 1.34″ |
| Height | 5.04″ |
| Weight | 23.63 oz. |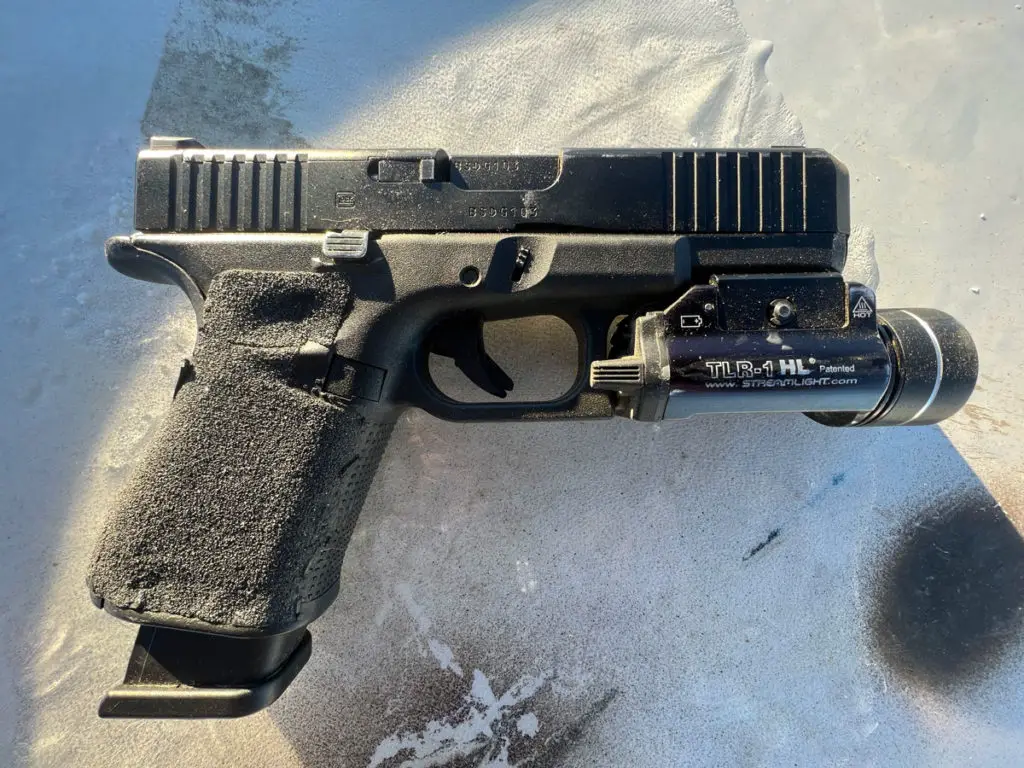 Pros
It's a Glock 17, but smaller!
Cons
A shorter barrel length will cost you some velocity
---
Best SubCompact 9mm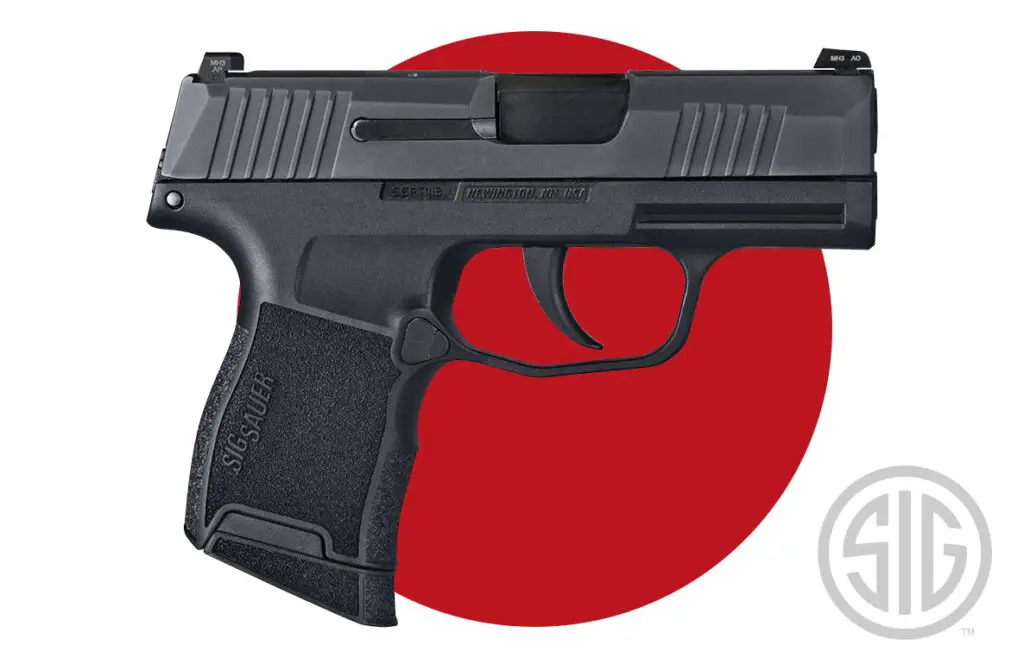 Sig Sauer P365
Check Price at:
For us, the best subcompact 9mm pistol is the Sig Sauer P365 Nitron. One of our writers has the similar .380 P238 and he is in love with the firearm. This tiny series of Sig firearms are some of the smallest concealed carry guns out there, and they're also fantastically accurate.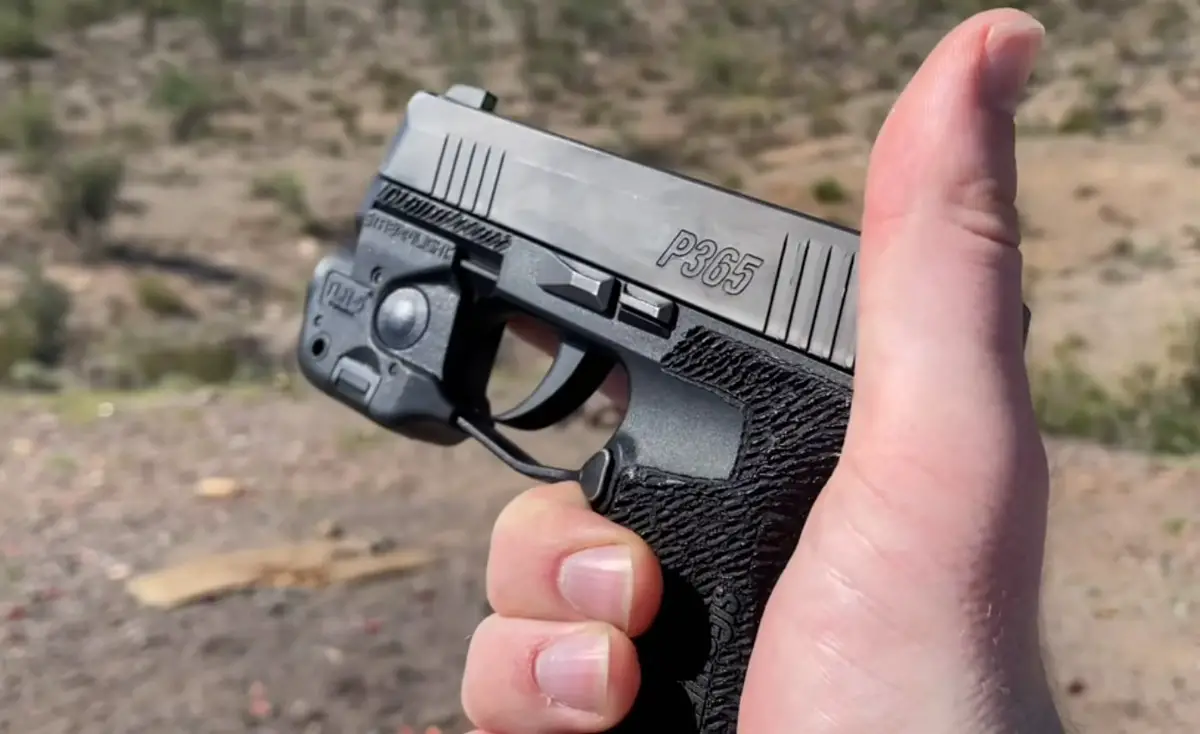 While the modified double stacked 10+1 round magazines aren't the largest out there, they are pretty impressive for a subcompact and the small size means the magazine and grip feels great in the hand. Compared to equivalent 9mm pistols by other brands such as the Glock 43x, the Sig P365 is quite short and light, making it ideal for concealed carry. If you want more capacity, there are 15 round magazines available, but of course this will extend further beyond the base of the gun.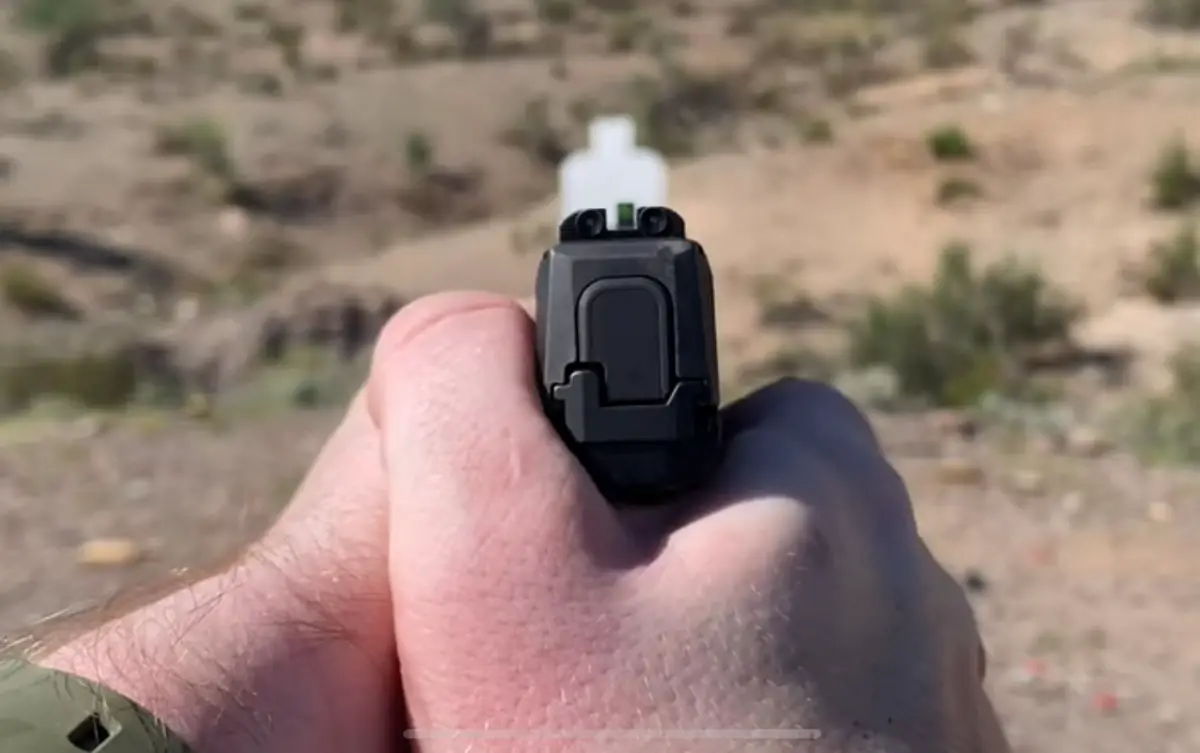 Most models also come with night sights that make them awesome for shooting in adverse conditions. The trigger is also excellent: Sig seems to care deeply about every firearm that goes out of their factories, which is why gun owners the world over have taken to Sig in recent years.
Specs:
| | |
| --- | --- |
| Capacity | 10+1 |
| Length | 5.8″ |
| Width | 1.06″ |
| Height | 4.3″ |
| Weight | 17.8 oz. |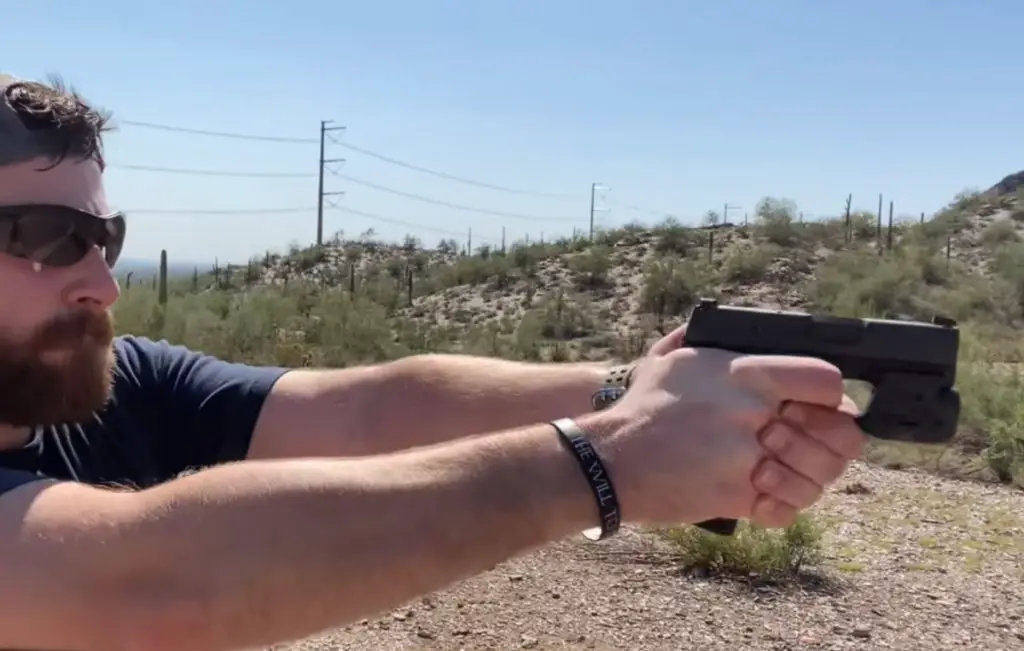 Pros
Excellent Tigger Pull
Small and Light
High ammunition capacity for its size
Shoots very well
Cons
Limited magazine capacity, it is a single stack magazine after all.
This polymer pistol had some early safety issues
---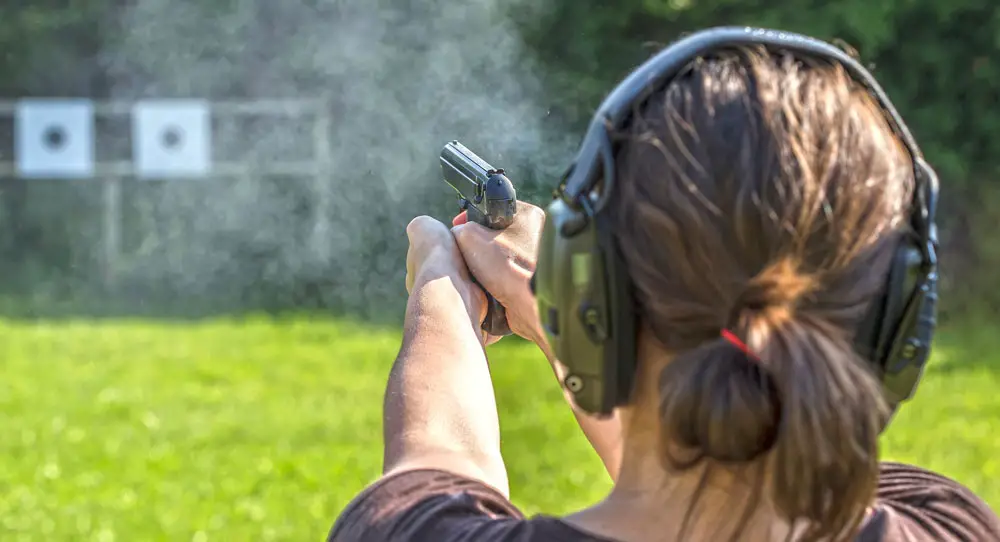 Best Handgun for Women – Concealed Carry 9mm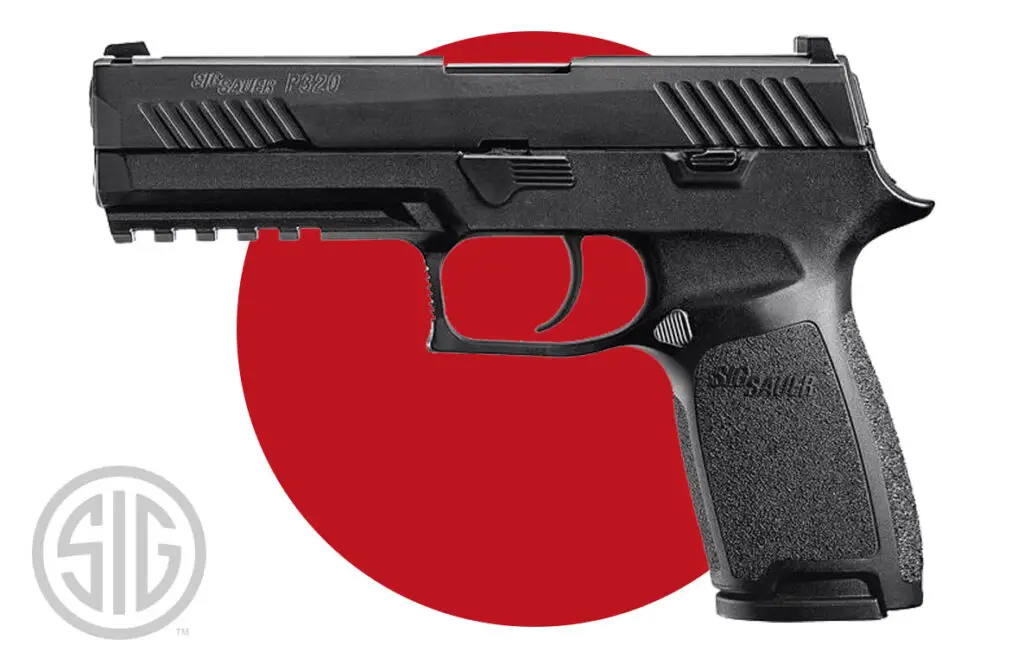 Sig Sauer P320
We don't think gender matters a lot when it comes to gun selection. But for women there's one awesome thing going for them besides not having big egos at the range and thus taking pointers much more gracefully: women often carry a purse. That opens them up to larger handguns, so here we're recommending a full-size Sig P320.
Sig Sauer is now making these for the U.S. Army, meaning that it's a quality, accurate 9mm semi-auto pistol that comes with a decent trigger. Put in a pocket holster inside of a purse, and anyone would be happy to have one: no pink marketing nonsense required. The Sig p320 is also more of a platform than any individual firearm. On most guns, the serialized part is the polymer frame: for the Sig P320, it's the metal chassis upon which the rest of the components can be fitted.
For our tastes, we'd make our Sig P320 the full-size model with the standard-sized frame. After all, if we have a purse with a spare pocket, it only makes sense to throw a big gun in there, and the P320 can certainly become a big gun with a large magazine. Besides having larger capacity magazines, a full size firearm will have the advantage of feeling less recoil.
Sig also makes P320 barrels, grips, and the like that are a lot more compact, making them easier to conceal, for example, on the body. If a lefty wanted to use a Sig P320, for example, there are safeties available right from Sig that will make the P320 friendly for their hands.
All in all, we think Sig hit it out of the park with the P320 as a rugged, all-around platform that will do well, and thus we'd want our partners to be carrying a Sig P320 if they needed a firearm with which to defend themselves.
Specs:
| | |
| --- | --- |
| Capacity | 17+1 |
| Length | 8.2″ |
| Width | 1.3″ |
| Height | 5.5″ |
| Weight | 29.6 oz. |
Pros
It's passed U.S. Army trials
If you want, you can put a red dot sight on them
They're in use by the military and police, so you'll have good aftermarket support
Cons
It's large
Some people would prefer a grip safety for extra security
The trigger is a little gritty
Sig also makes a compact version of the P320 for women looking for something a little smaller for body holsters or for smaller purses.
Specs:
| | |
| --- | --- |
| Capacity | 10+1 |
| Length | 7.2″ |
| Width | 1.3″ |
| Height | 5.3″ |
| Weight | 25.8 oz. |
Best Home Defense Pistol
While any defensive shooting is an important one, home defense is, in many ways, the final line of defense. Thus, for home defense guns, we're going to make sure to stress two points.
First, you may well have to fight in the dark. That means that, for us, night sights are/or a flashlight are an absolute must. We're not willing to take the chance of errant rounds in our own homes.
Second, it's entirely possible that someone else, like your partner with no training, might have to use it to defend you or themselves. In a case like that one, we'd want our partner to have something familiar, not an oddball Hechler and Koch VP9 with a giant grip safety that they'll likely not no how to use.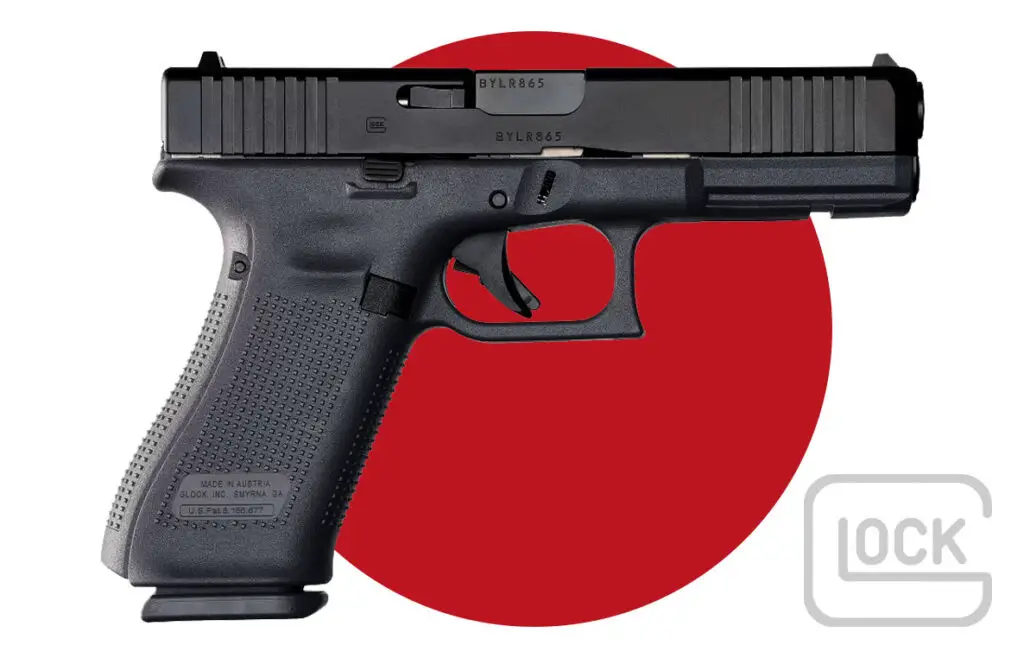 Thus, we're keeping it super simple here and recommending, for the same reason we did above, the Glock 17. The striker-fired classic with its generous magazine capacity is one of the most popular 9mm pistols for a reason: it has no secondary safety unlike most of its hammer-fired counterparts and, thus, the single-action trigger can be used by about anyone. A P320 would also be a decent choice for this: there are simply more Glocks in the world at the moment, so the design is the most familiar for most people to own, use, and shoot.
If it were up to us, we'd also add a micro red dot sight, a threaded barrel, and a suppressor to keep the rounds on target, muzzle flask relatively low, and keep us from blinding ourselves with the first round we fire in the dark hallway.
---
Best 9mm Revolver
Almost every 9mm pistol on the market today is going to be semi-automatic. But, some 9mm handguns are, in fact, revolvers. If you're looking for a fun piece, or if things like magazine capacity aren't a concern for you, a revolver might be exactly what you want in your concealed carry pistol. Thus, we'll recommend two that we think are worth a look if you happen to come across one at the gun store counter.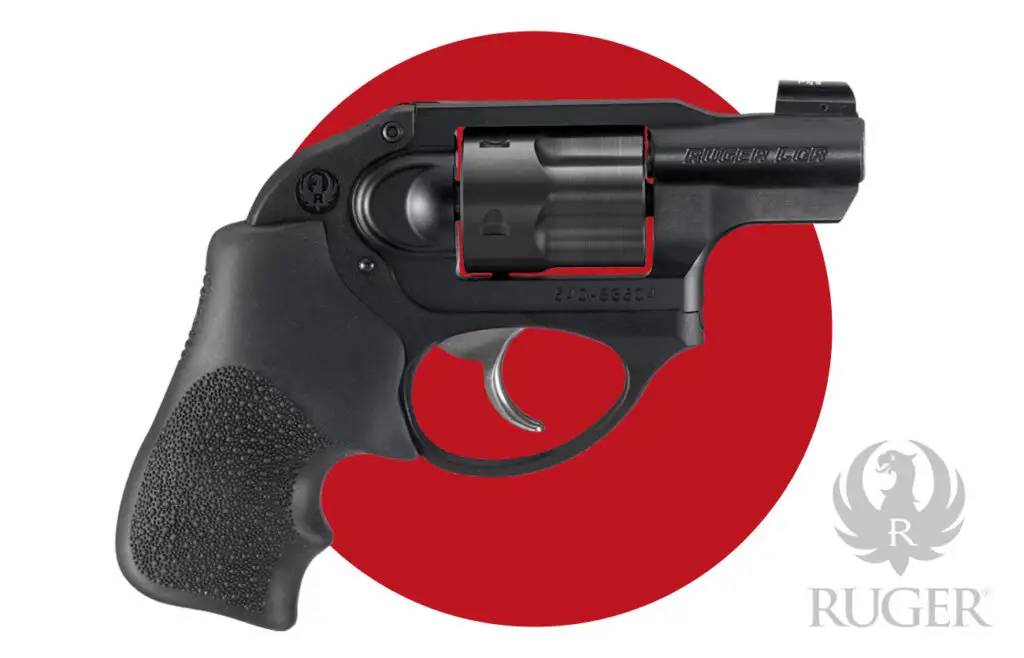 Ruger LCR
The Ruger LCR, a modern 9mm revolver with a 5-round magazine (cylinder) is aimed squarely at the subcompact market with a short overall length and its being an extremely concealable 9mm pistol. It's the smallest one we'd seriously consider carrying, and it's worth a look.
Specs:
| | |
| --- | --- |
| Capacity | 5 |
| Length | 6.50″ |
| Height | 4.50″ |
| Weight | 17.2 oz. |
Pros
It's both tiny and lightweight while shooting 9mm
Cons
It has a 5 round cylinder, which is less than even the small 7 round magazine you'll find in something like a Sig P239.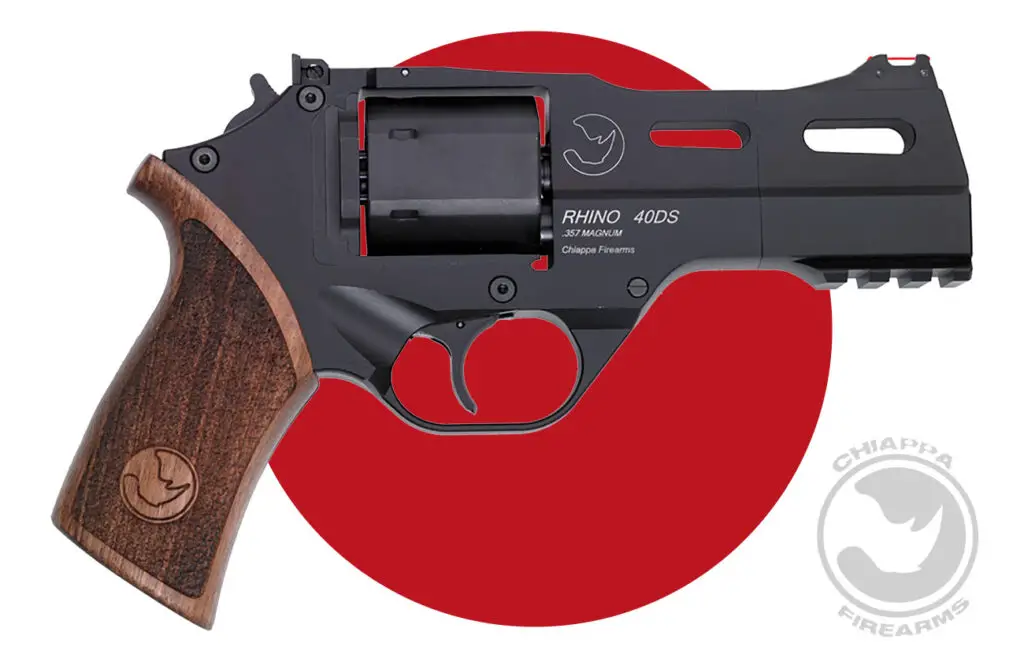 Chiappa Rhino
This one is a bit of an oddity, in that the revolver shoots from a barrel that is in line with the bottom cylinder rather than the top. This puts the barrel in line with the wrist of the shooter, reducing muzzle climb substantially. It does have a long overall length, however, so we don't think we'll be using one as a concealed carry firearm any time soon.
Specs:
| | |
| --- | --- |
| Capacity | 6 |
| Length | 9.5″ |
| Weight | 31.52 oz. |
Pros
It's among the most unusual 9mm handguns that you're likely to ever see.
The barrel placement does make it fun to shoot.
Cons
It's far too long to be practical as a carry gun in 9mm and is mostly a range toy to us. It's about as far from the practicality of the Glock 19 as one can get.
---
---
Best 9mm for the Shooting Range / Having Fun
Not all guns have to be an ultra-practical choice, and we do love historical firearms. So, for our range toys, which would still make great carry handguns, we're going to offer three blasts from the past that feature zero tactical features, Picatinny rail sections, or red dot sights.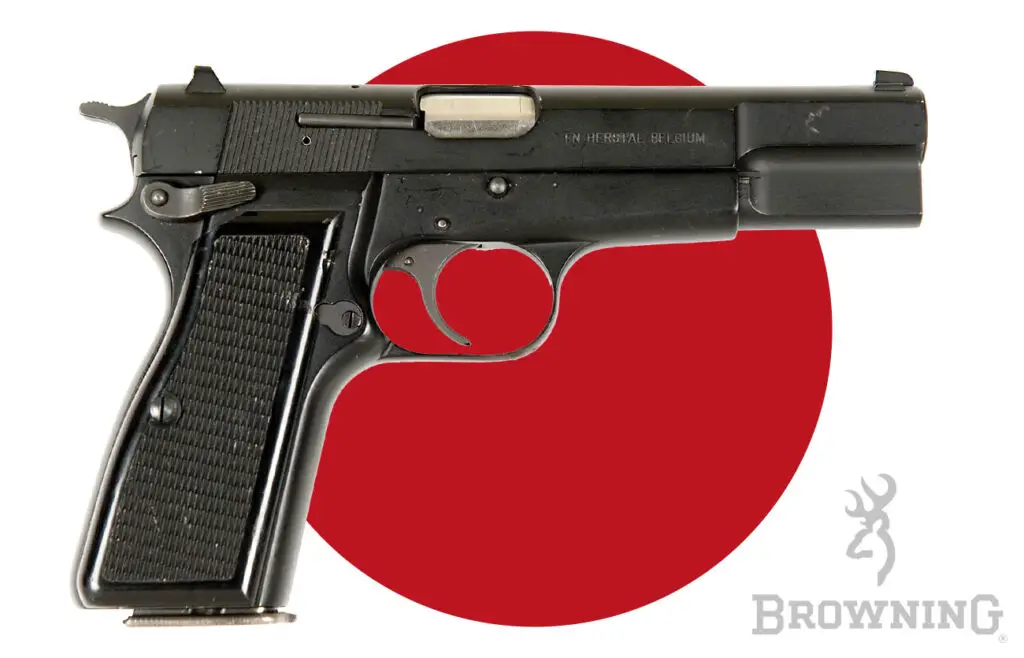 The Browning Hi-Power is way too big and heavy to make a decent concealed carry gun, but it might be the best 9mm pistol we've ever shot in terms of its smooth action and excellent trigger. Designed in an era when the .45 was the most common American pistol round, Browning hit it out of the park with this total classic and the single-action trigger is smooth and crisp.
While it's great to shoot in its own right, the Hi-Power also shows how far 9mm handguns have come, from heavy steel-framed pistols to the new, modular designs like the P320.
Specs:
| | |
| --- | --- |
| Capacity | 13 |
| Length | 7.8″ |
| Width | 1.4″ |
| Height | 5″ |
| Weight | 31.75 oz. |
Pros
Excellent Double Action Trigger
One of the best looking handguns in the world
Cons
Magazines are expensive
It's a heavy pistol
The sights were designed a century ago and look like it.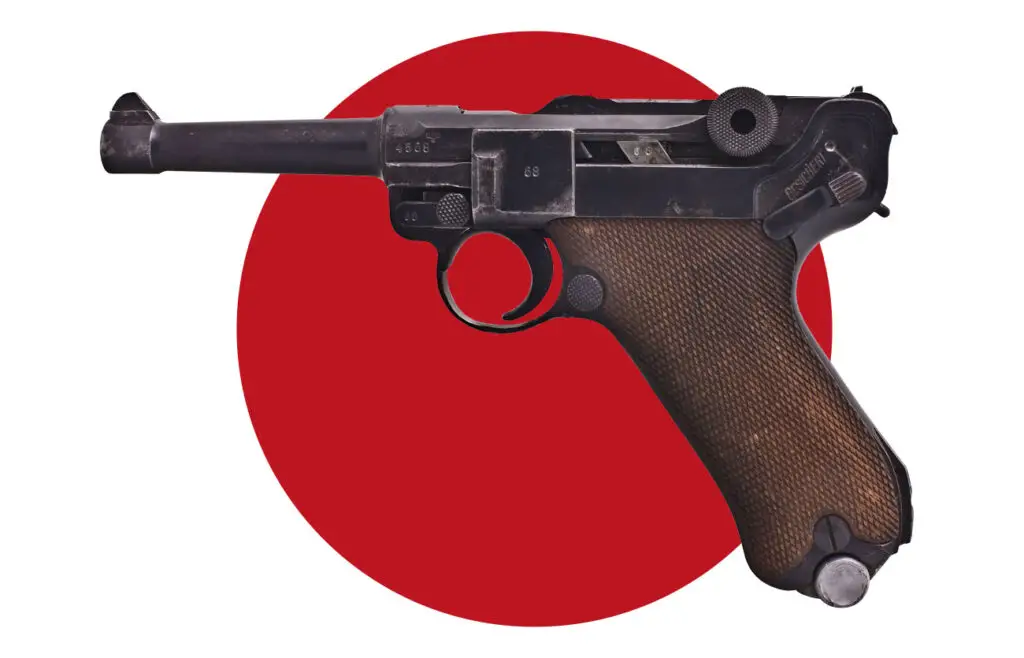 The P08 Luger, a German design dating back to the First World War, is truly a pleasure to shoot. Its single-action trigger, toggle lock, and comparatively ancient design make it an increasingly rare sight at shooting ranges, but if you happen to get the chance, you should absolutely shoot one if you can. Upon shooting it, you'll find out why this gun was one of the most popular handguns for decades. Its steel frame, low bore axis, and light muzzle flip make it a joy to shoot. We might not want to carry one, but it's a fun gun for sure.
As a daily gun, we might not trust a P08, even in good working order and with match grade ammunition, but, as a fun gun and an art piece, it's certainly got a lot of style.
Specs:
Pros
It's old school cool for sure
Cons
Toggle locks are hard to maintain.
Century-old firearms are very expensive to keep running in 2021.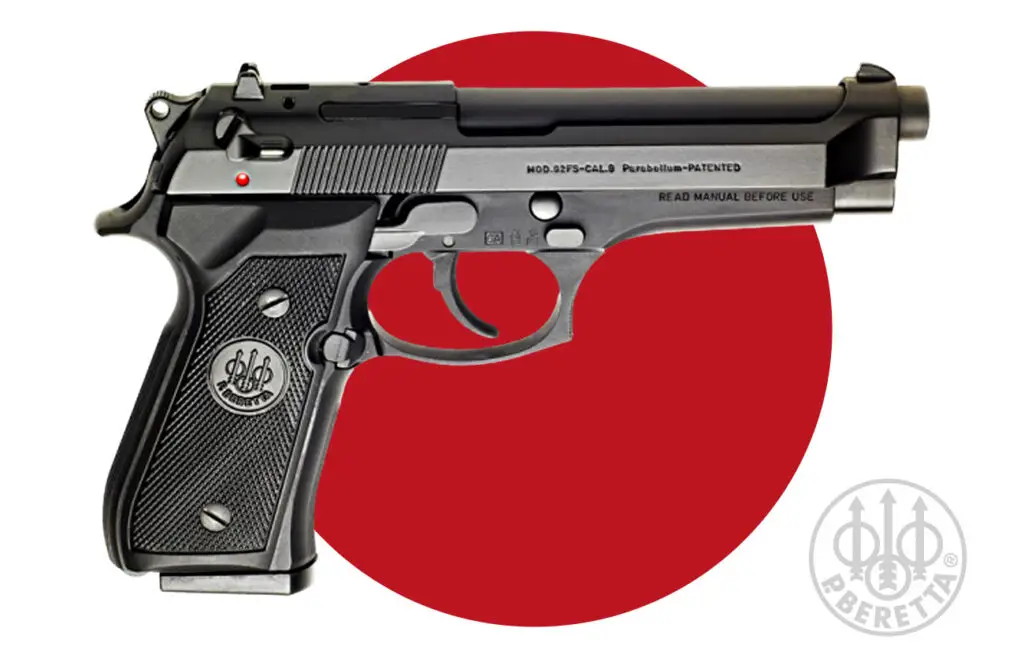 The Beretta 92, also known as the M9 in military circles, is a handgun that has seen law enforcement, military, and civilian use for years. Often you can pick up a surplus one of these steel-framed guns for relatively cheap at gun shows, and if you pick one, you'll find them to be excellent shooters. The Beretta 92 is a slightly long gun in terms of overall length, and to carry one would be a little bit large and heavy for our tastes, but the beretta m9 is certainly an effective gun today.
Ultimately, the M9 has been replaced in service by the P320, but we see why the M9 has so many fans in the world, it's an excellent shooter.
Specs:
| | |
| --- | --- |
| Capacity | 15+1 |
| Length | 8.5″ |
| Width | 1.5″ |
| Height | 5.4″ |
| Weight | 33.4 oz |
Pros
It's an excellent 9mm semi-automatic handgun that you can find relatively cheaply.
The single-action trigger is great!
Cons
It's a large enough handgun that we wouldn't carry it.
There does tend to be a lot of muzzle rise on these.
---
Things to Consider When Buying a 9mm Pistol
While we think it's hard to declare and winner for "best 9mm pistols" without knowing a little bit more, some basic criteria can be used to figure out what constitutes a good 9mm pistol for you. Here are five we think matter:
1. What's your purpose?
If you're law enforcement, for example, what 9mm pistol you'll end up using might well be dictated by the department, and will likely be a Glock or some similar striker-fired pistol with a double-stack magazine. For us civilians, though, concealed carry might be a lot more likely, so our 9mm is might well be something with a shorter barrel length. Regardless of your purpose, though, it's more than possible to find a high-quality 9mm pistol.
2. How much are you going to train?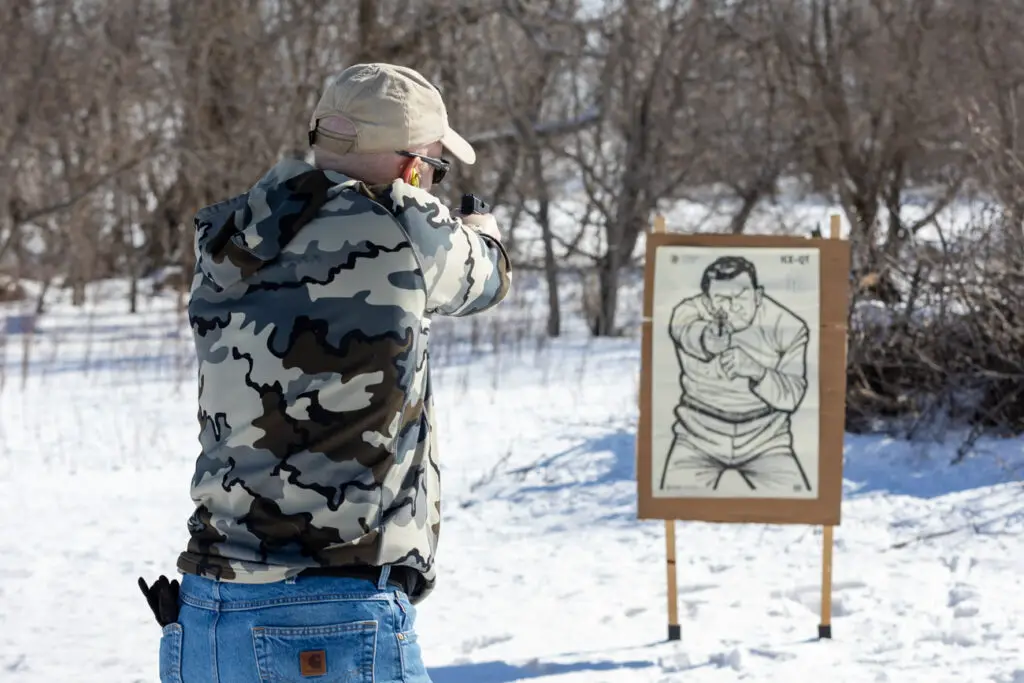 Things like trigger pull, magazine capacity, and sights vary widely between pistols. With that said, your carry gun should be easy for you to use. Some people love their double-action/single-action handguns, but something like that takes a little more dedication in terms of training when compared to the usual polymer-framed guns with a single-action trigger.
3. Where are you going to be using the handgun?
For a lot of us, buying a 9mm will mean considering concealed carry. The best handguns in the world will do you no good sitting in the drawer, so, in terms of concealed carry, a more compact handgun might make a lot more sense. But if you are going to be at home, a large, steel-frame handgun might be just what you want to keep muzzle flip doing if you do end up having to shoot in the dark.
4. Do you have any prior experience?
There's no need to reinvent the wheel necessarily when it comes to finding a good gun in 9mm Luger. If you're prior military, law enforcement, or simply have a lot of trigger time on a particular design, it might be wise to stick with that. People who are great with hammer-fired guns would do well to consider one for the concealed carry pistol, for instance.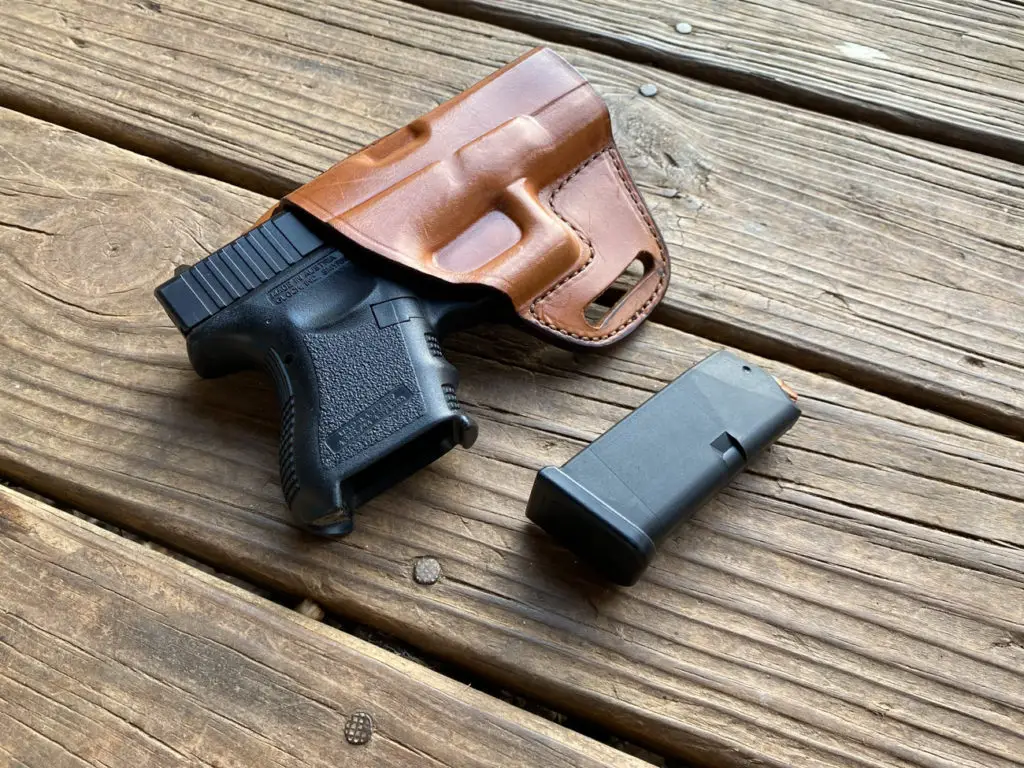 5. What is available to you?
Again, the best 9mm pistol in the world does you precisely zero good if you can't get your hands on it. Thus, whether you're planning on using it for concealed carry or home defense, if there's limited availability of guns in your area or for your budget, then the best gun might be the 9mm handgun you can pick up at a local shop today.
---
Best 9mm Ammo for Each Use Case
Once you've picked from among the best 9mm pistols we've recommended here for whatever you need to do with it, it's time to pick some ammunition.
Be sure when you go to the store that you grab the right type of 9mm ammo. There are a lot of different variations.
Whatever kind of shooting you plan on doing with your pistol, the thing we can't stress enough is to test your concealed carry ammo in your gun at the range before you start carrying that ammunition in that gun on a daily basis. First and foremost, you need your pistol to work, and ammunition tolerances vary between pistols of the same make. For instance, my friend's CZ75 would eat about anything he could put in it, but another CZ75 I rented at the range about a year ago refused to run hollow points at all.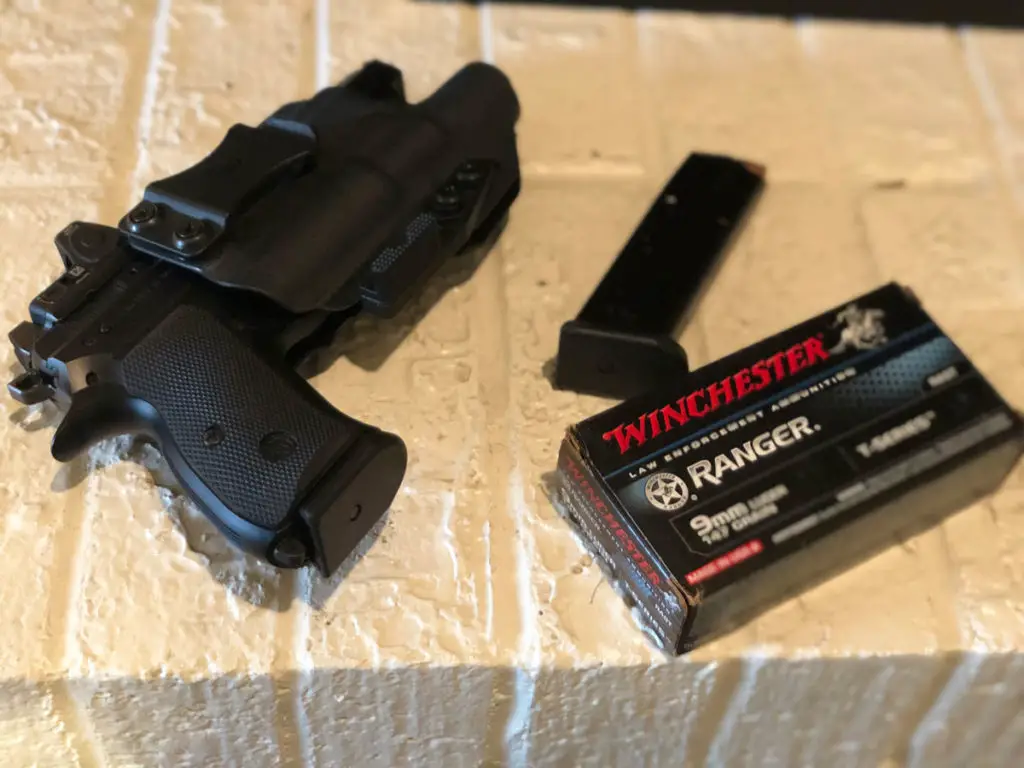 Best 9mm Ammo for Self Defense & Concealed Carry
For self defense, the best ammo to use is hollow points. This recommendation comes from two angles. First and foremost, and as ugly as it is, shooting from concealed carry is shooting your pistol with lethal intent. Thus, I want one of the best 9mm pistols shooting the most lethal ammo I can afford to use. Ideally, with a well-placed hollow point, one round should be enough to end the fight.
With today's shortages, sometimes hollow points are difficult to find unfortunately. But keep an eye on your local Academy or Cabellas and ask the cashier when they get new ammo shipments. You might be able to show up early and get a few boxes before they are gone. Going to nearby smaller towns can also be a good strategy to find ammo that might be sold out in larger cities with higher demand.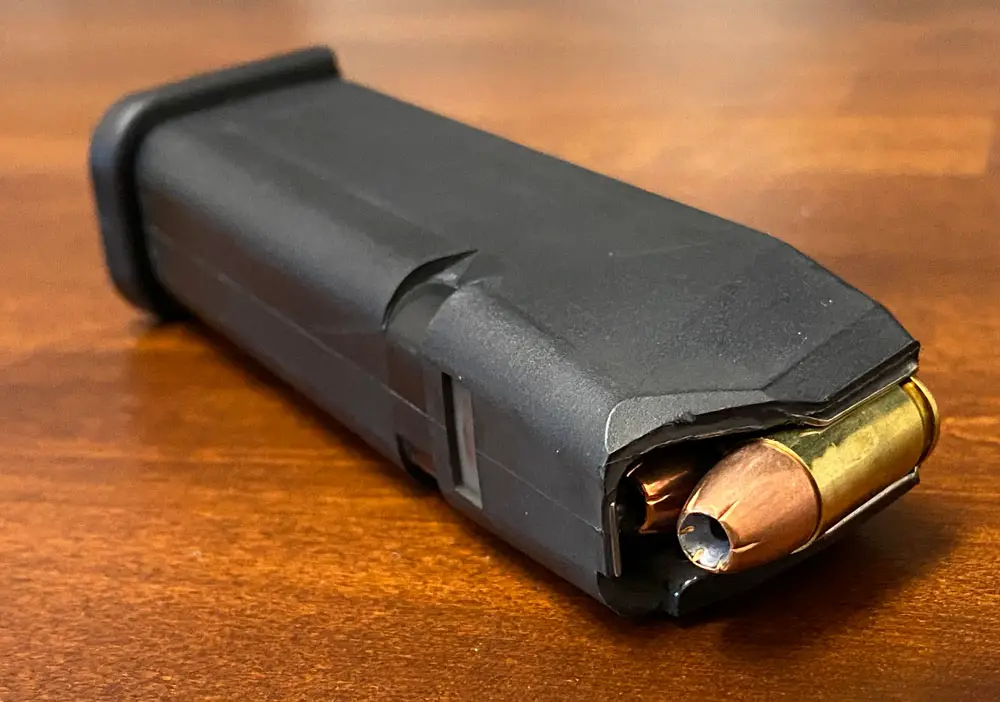 Best 9mm Ammo for Home Defense
For home defense, the best ammo to use is hollow points. Similar to concealed carry, home defense shooting with your 9mm pistols is shooting in a life or death situation, so many of the same considerations apply and I recommend good, available hollow points you can afford to practice with. There is, however, one further consideration to shooting 9mm pistols indoors: penetration.
Regardless of your trigger discipline, once a round leaves your gun indoors, it might well embed itself into something you did not intend to do. In a home, this might mean people you love. This is why I recommend hollow points: they tend to shatter on impact with anything, including drywall. This leaves you with a lot less chance of you having used your pistol to accidentally harm someone who did not need to be harmed.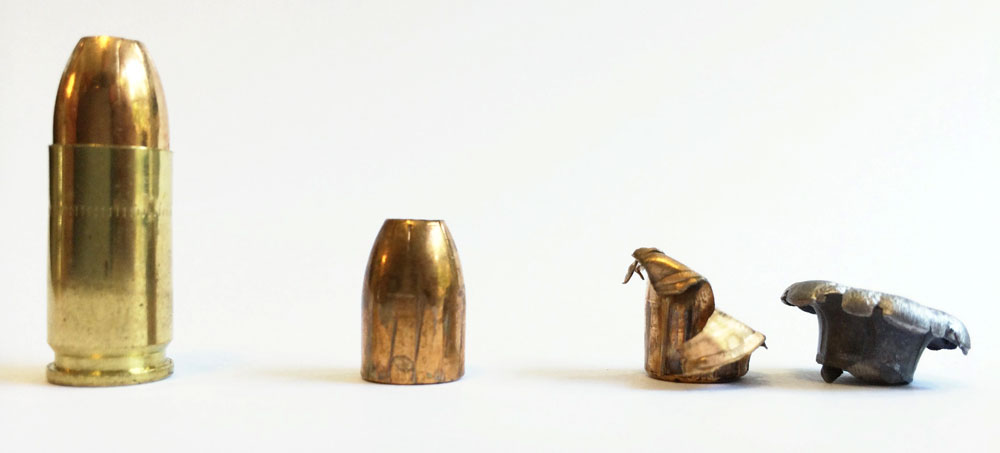 Best 9mm Target / Range Ammo
First and foremost, follow the rules for your local gun range. No one wants to be the dude who gets thrown out for using steel or frangible ammo at an indoor range with big, serious signs to the contrary.
For range shooting, go with the cheapest full metal jacket ammunition that will run in your gun reliably. For me, going to the gun range is about the chance to practice accuracy and trigger discipline in a safe environment, so being able to put as many rounds through my pistols as I can is paramount.
I'll put one important gun range caveat here: always practice with your carry ammunition as well. You need to not only know how your gun functions in terms of the trigger, but also how it groups with the ammo you intend to carry in a bad situation. So, I always bring a full magazine of my carry ammo with me when I want to shoot my Glock or Sig pistols since those are the ones I concealed carry the most.
Best 9mm Ammo for Competition Shooting
The key thing with gun competitions, especially shooting pistols, is consistency. Thus, I want to train with ammunition that I can afford to shoot a lot of in order to get a feel for the trigger and get my times down as much as possible.
Additionally, making hits saves time. Thus, I want as low recoil from my gun as humanly possible while it still cycles every time without fail.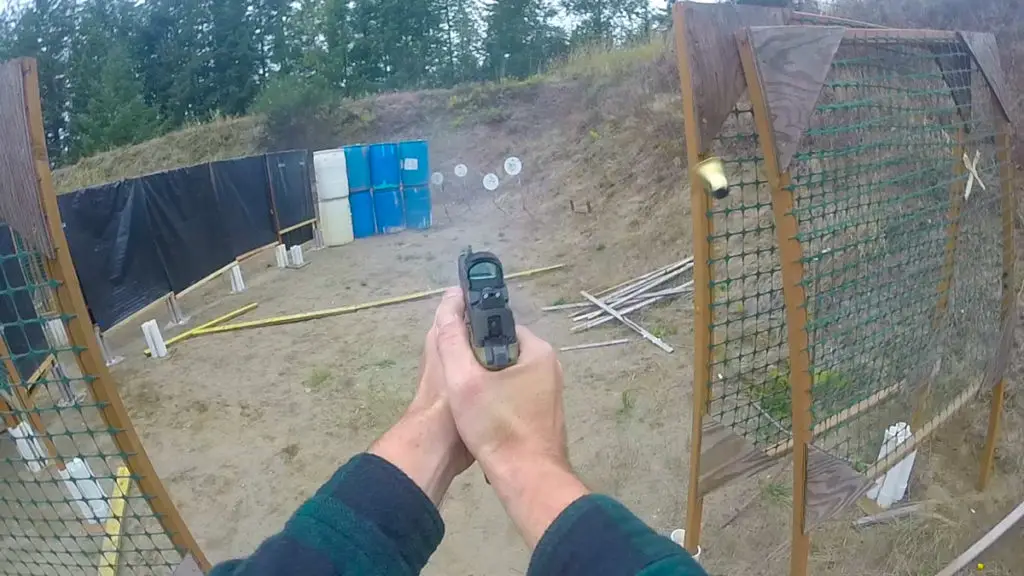 So for gun competitions, I recommend that people use full metal jacket ammunition that's cheap, so long as it's consistent. There's no point working on trigger control if you switch ammunition for matches and the groups are all over the place.
Instead, get cheap and consistent full metal jacket ammunition that you can afford to run in your pistol, but has low enough recoil so that your Glock pistols, or whatever you plan to shoot, stay close to on target for fast follow-ups should you need them.
Types of Handguns
Revolvers
One of the older and still common types of handguns you can find on the market are revolvers. In general, revolvers have a cylinder of five or six rounds, and that cylinder rotates into place behind the barrel to fire the cartridges.

Revolvers have been around and common since the middle of the nineteenth century. While that might them seem like a somewhat antiquated design in terms of concealed carry or defense, we beg to differ. With a century and a half to develop the concept, many contemporary revolvers are highly reliable, well-made, and are, overall, excellent firearms.
Single Action Revolvers
Some revolvers have to be cocked before shooting, and the hammer has to be manually cocked after each shot. Such revolvers are known as single action, as the pulling of the trigger only does one thing: releasing the hammer onto the primer of the cartridge.
These are the oldest types of revolvers, and famous models from the Old West such as the Colt Single Action Army are great examples of these. While these might not fire as fast as other pistols, a quality single-action revolver, especially a vintage one, can be a real pleasure to shoot at the range.
Double Action Revolvers
More contemporary designs, such as the Ruger GP 100, are what's known as double-action revolvers. With each pull of the trigger, the hammer is cocked, a cylinder is rotated behind the barrel, and, at the end of that relatively long trigger pull, the hammer drops and the firing pin ignites the primer of the cartridge, igniting it.
Double Action revolvers are what you're likely to see sold as new-production revolvers meant for self-defense, and many of these end up being people's chosen carry guns for the fact that they're small, easy to shoot, and extremely reliable even with little maintenance. 
---
Semi-Automatic Pistols
With the 20th century came the advent of semi-automatic pistols. These get their ammunition usually from a box magazine inside of the grip, and cycle each time a round is fired, chambering the next round for you.
The benefits over a revolver here are twofold. With a semi-auto, you can both fire much more quickly, and get substantially higher ammunition capacities than would be possible in a reasonably sized revolver. That's why these have come to replace the revolver in most military, law enforcement, and civilian circles for defensive purposes.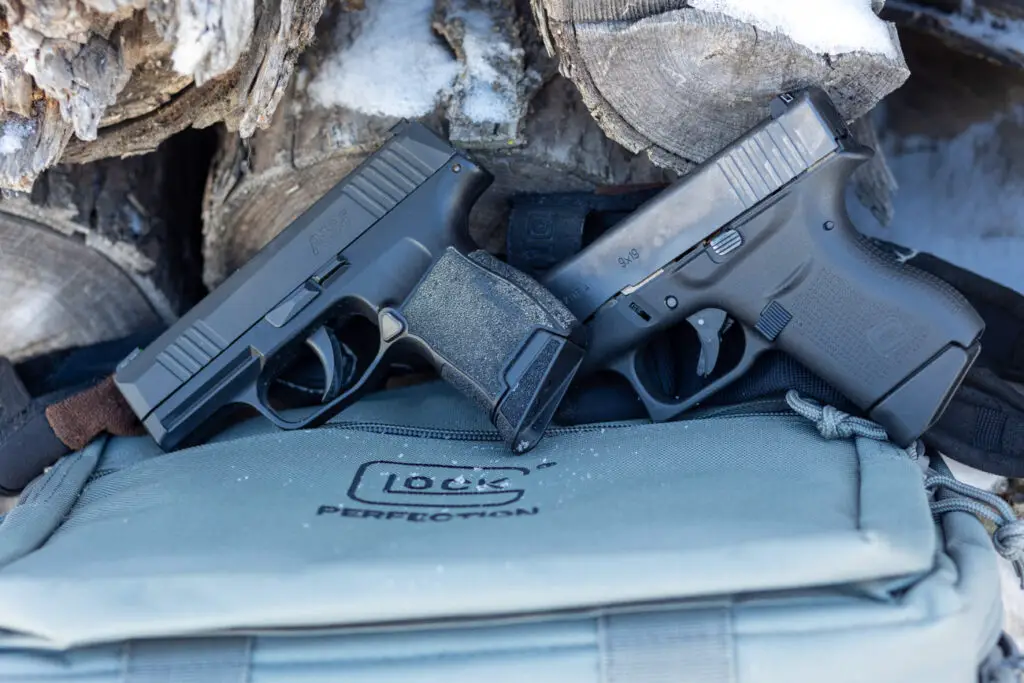 Hammer-Fired
Many semi-automatic pistols take some design cues from revolvers and retain an exposed hammer. That hammer then strikes the firing pin, igniting the primer and detonating the cartridge. Hammer-fired, semi-automatic pistols have been around for a long time, and designs such as the  Colt 1911 are classics that have stood the test of time.
These days, some folks choose not to carry hammer-fired pistols since many of them are intended to be carried with the hammer cocked and a manual safety engaged: this means that there are extra steps to firing when compared to other types of semi-automatics.
Striker-Fired 
Some semi-automatics, for instance, the famous Glock family of firearms, are striker-fired. With these pistols, cocking them by racking the slide back holds the firing pin under spring tension, which is then released when the trigger is pulled. These tend to have triggers that are heavier, and less crisp, then hammer-fired triggers, but to alleviate the need for a manual safety in most models.
While hammer-fired pistols are still produced, the vast majority of law enforcement officials these days carry some variation on a striker-fired pistol design, meaning that there's also a massive aftermarket for parts and accessories on these.
Single Action Only Pistols
Among hammer-fired pistols, there are a couple of variations that are worth considering. Some are single action only, or SAO. On SAO models, the hammer has to be cocked before the first round can fire. Once the first round has fired, the recoil of the weapon will move the slide back and cock the hammer for the second and subsequent rounds.
Designs like this are still common and tend to have the best triggers out of all semi-automatic pistols. Sig Saur's P238 is an example of a small, concealable SAO pistol.
Double Action / Single Action Pistols
Other pistols, such as the venerable Beretta M9, are double-action, single-action designs, also known as DA/SA. These pistols can be carried with their hammer in the forward position, making them, theoretically, slightly safer to carry than an SAO design.
With these pistols, the first round can be fired without cocking the hammer, as a long trigger pull cocks the hammer before it's released. After the first round, subsequent rounds are fired in the same way as they are in a single action, with a lighter, usually crisper trigger pull. These are popular designs for folks who like hammer-fired pistols, but worry about safety in carrying a firearm cocked and locked. 
---
A Couple of Oddities 
There are two types of pistol that are rare, but we wanted to talk about them anyway. The first is bolt action pistols like the Christensen Arms Modern Precision Pistol or MPP. These are, in effect, bolt action rifle actions without stocks, and made with barrels of a relatively short length. While these might seem like an odd design choice, we think they'd have a place. In particular, we would put a pistol brace on one of these and try to do something like deer hunt at short to moderate ranges.
There are also single-shot pistols, commonly known as Derringers, named after a popular manufacturer of these tiny handguns from the early to mid 20th century. These are often sold to be carried as backup guns, and, despite not having much firepower, we think it's preferable to have a single shot of .22 than nothing at all, so we can see why someone would purchase one of these.
The world of handguns is a large one, and, we have a feeling, once you start collecting you'll end up like us and have an ever-growing list of guns you want to own or try out at the range.
Wrap Up
There's a lot to learn and even more to shoot in terms of 9mmm semi-automatic pistols. With that said, if you take some time, do your homework, and hit the range regularly, this old but excellent cartridge is likely to yield good results, regardless of the kind of shooting that you intend to do.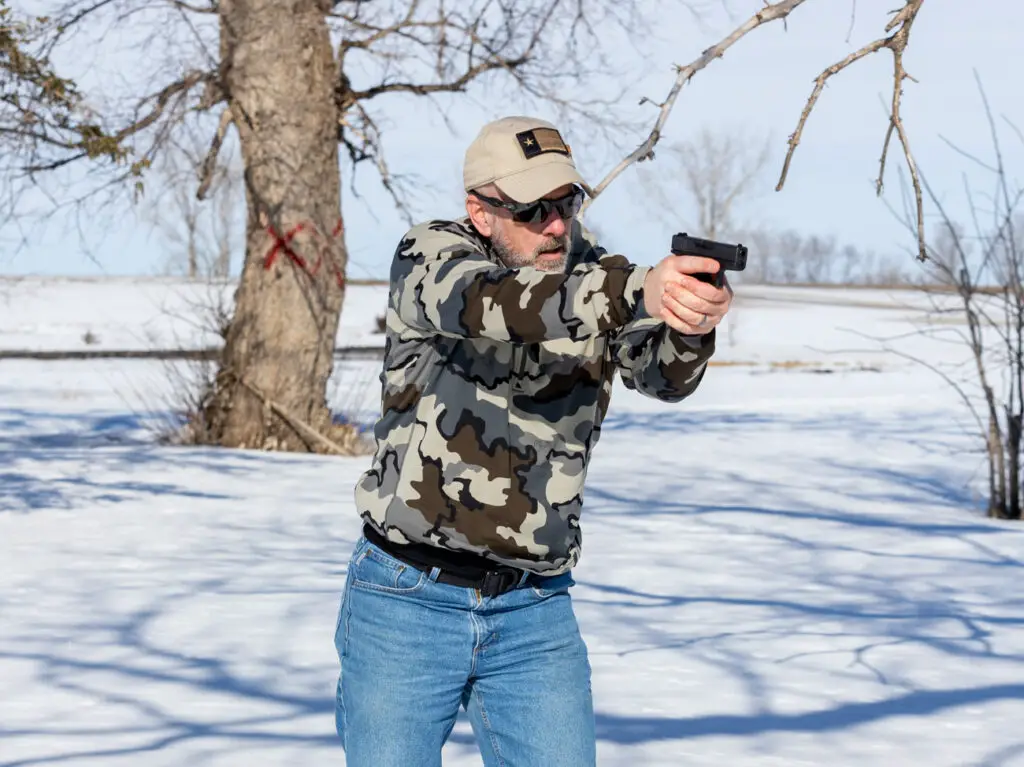 Overall, the 9mm is the chosen pistol round of most people and agencies that are serious about handguns, and we expect that to be the case well into the future. It's a cartridge that has seen a lot of focus and development in the last century, and it's likely to be popular until there's some radical change in firearms design. So, if you want a safe bet in your handgun choice, go with a solid 9mm handgun, and we think a Glock 17 is the best overall choice.
If you're also interested in getting a rifle, check out our article on the best 22 long rifles and the best AR-15 rifles.
FAQ's:
What's the smallest 9mm pistol?
The smallest 9mm pistol is likely the Bearman 9mm Derringer. But, considering 9mm is meant for much larger guns, we would not necessarily recommend going for a gun that small, and with a single shot, unless you needed to conceal a firearm inside of a pair of underwear for some reason.
How much does a good 9mm pistol cost?
New 9mm pistols typically run around $500. At an estate sale or a gun show, you might be able to get a decent 9mm for under $100. A decent handgun at the used section of a gun store will likely run around $300, which we highly recommend.
Are 9mm guns good for self-defense?
9mm pistols are great for self defense! There's a reason it has become the globally accepted pistol cartridge, and most decent hollow point loadings are excellent for defensive purposes.
What Do You Think?
Did we miss any of your favorites? Think the list is accurate or think there is one we need to change? Let us know in the comments below!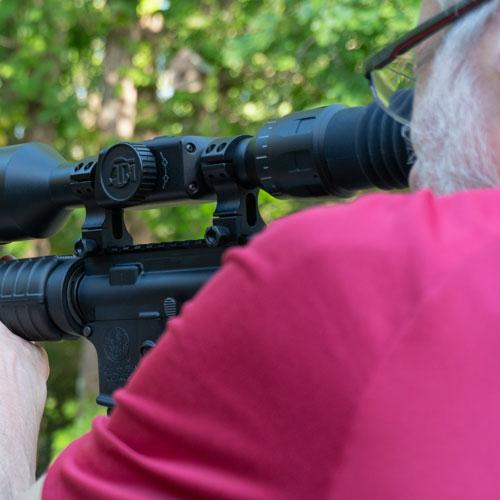 George has been an avid shooter for twenty years. He began shooting when he was gifted a Browning SA-22 for target practice. Now, as an academic, he combines his love of firearms and knowledge of history to write for firearms blogs and is still a frequent sight at the local range.