Thermal scopes use various heat signature imaging technologies to help you acquire and shoot targets in low light or nighttime conditions. What was once the stuff of only the most elite tactical units around the world is now available for us to purchase on the consumer market.
Here, we've reviewed what we think are the best thermal scopes out there today in 2023. For our pick on the best thermal scopes, we're aiming for thermal scopes with a good refresh rate, long detection range, and overall value.
Best Thermal Scope Under $1000
BEST CHEAP THERMAL SCOPE
ATN Thor LT
Check Price at:
Sensor: 17 µm
Thermal Resolution: 160×120 or 320×240
Magnification: 3-6x, 4-8x, 5-10x
Display: 1280×720 HD
Color Modes: 2
Battery Life: 10+ hrs
Human Detection Range: 475 – 1620
Weight: 1.4 lbs
Starting off with what is probably the best cheap thermal scope you can buy, we have the ATN Thor LT. This one is meant to sit at an intersection of features, quality, and affordability that we really enjoy. This optic can be had for a relative bargain compared to others and gives you 3-6x zoom and over 10 hours of battery life. We think the Thor LT gives you a lot of bang for the buck.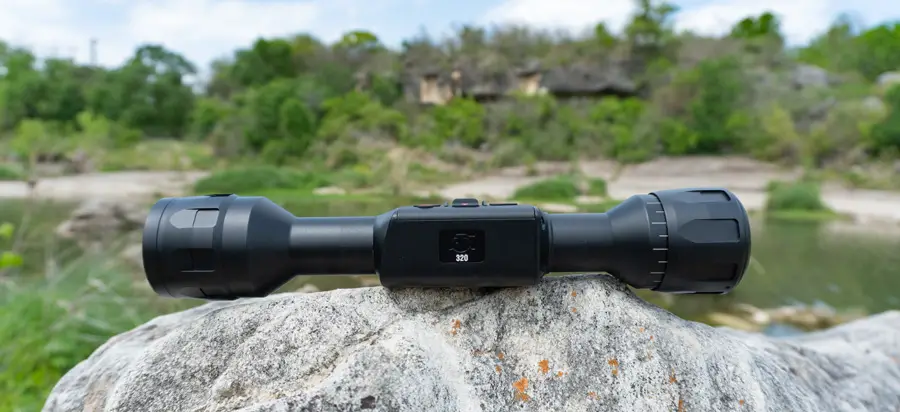 While the LT lacks somewhat in magnification compared to more expensive models, that also means that this model is a little bit lighter weight, which we always appreciate on hunting rifles, as it means less fatigue on our backs and knees. It can be a bit longer than some other thermal scopes, especially once you put the eye piece on the back.
As you'll see over the course of this list, we reference ATN multiple times in various price brackets from the cheapest option to some of the most expensive ones available. American Technologies Network, Corp. (ATN) is based in San Francisco and is known to make some excellent products.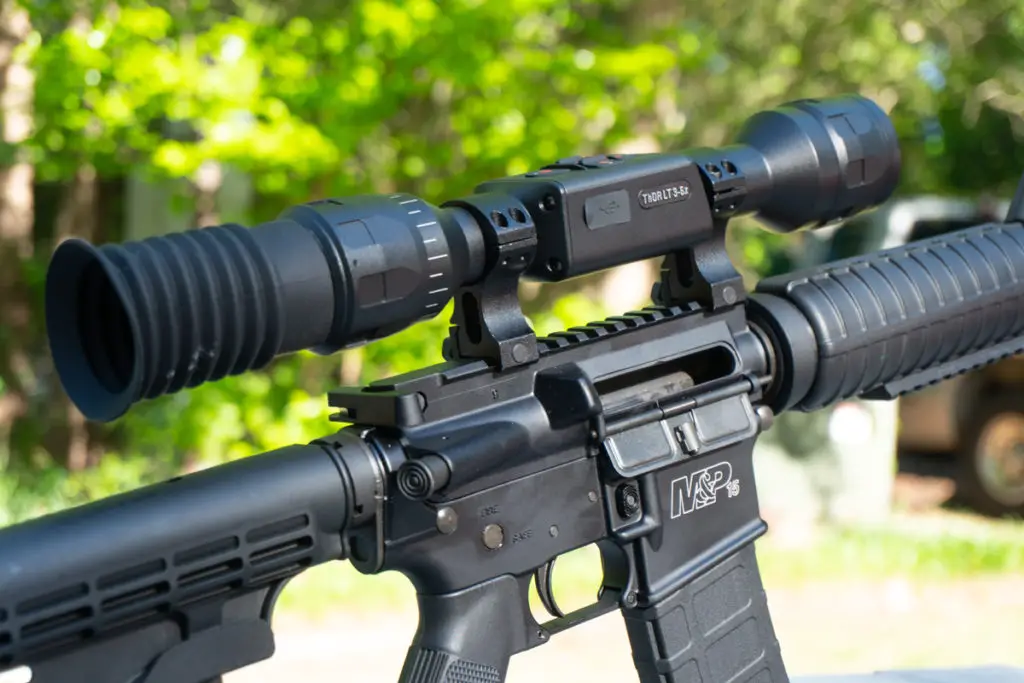 We got a chance to test out the ATN Thor LT in person for a few weeks. You can read more about our thoughts here:
As a special pick aside from the ATN Thor 4 or LT, we did want to include the fact that the LT model comes in a special edition made in collaboration with Mossy Oak, the makers of camouflage. While this piece focuses mostly on finding the best thermal rifle scope in terms of their features in comparison to night vision scopes, we think considering camouflage is important here.
Check Price at:
Given that a lot of other game animals can see in low light conditions much better than we can, it's worth considering masking your thermal imaging device if you can. After all, the best thermal scope in the world does you no good if the hog spots the black shape of the scope and runs off.
With that in mind, we don't love the idea of doing a DIY camo job on an optic that costs more than our first car. With that in mind, the Thor LT is already a contender for the best thermal scope, so having it come from the factory with a professional camo pattern applied is something that distinctly appeals to us.
Best Thermal Scope Under $2000
BEST CHEAP CLIP ON THERMAL
AGM Rattler TC19 (Clip On)
Check Price at:
Sensor: 12μm
Thermal Resolution: 256×192
Magnification: 1x
Display: 1024×768 HD
Color Modes: 4
Weight: 0.92 lb
This one can almost be moved up into the sub $1000 range, as its barely over the line – which means its a good value.
AGM did not sponsor this article in any way, but this is the first of a few AGM scopes on this list. The reason we include so many AGM optics on this list is that, in the last several years, they've become a force in the thermal optics space, not only catering to the ultra-wealthy but also making optics that both work well and are in the reach of more budget-constrained folks like ourselves. A great example of this is the TC19-256 model from their Rattler series.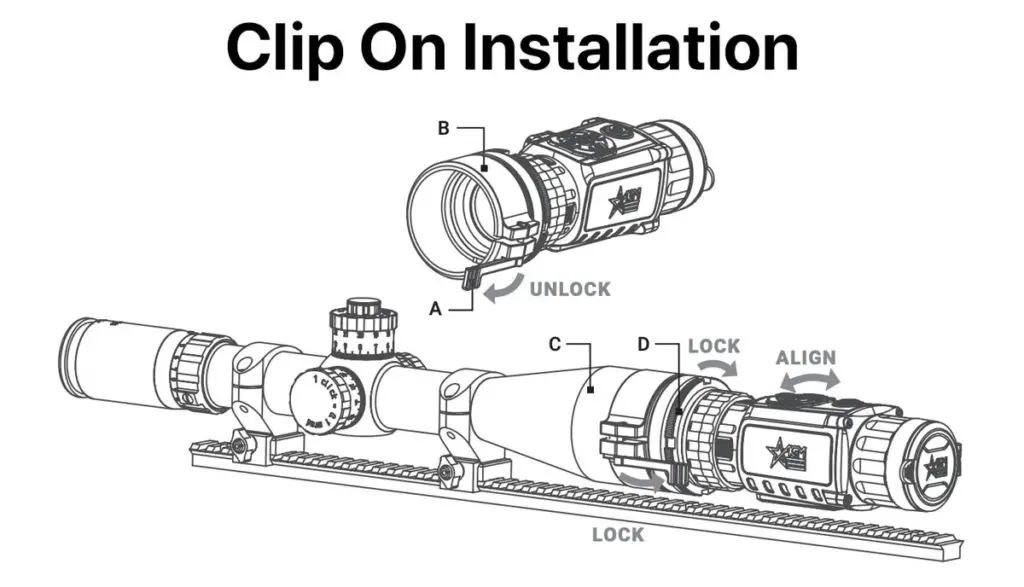 Many folks already have a magnified optic that they quite like mounted to their rifles, and do not necessarily want to spend several thousand dollars on a second scope that will have occasional applications. Thus, this model forgoes the magnification of most of the other optics on this list entirely and is simply a thermal display that you can put in front of an existing scope.
Check out how crisp and incredible this thermal detection is at long ranges:
While this is awesome and gives people the opportunity to access thermal imaging at a much lower price point than was previously possible, there are some small downsides to this approach.
First, this is going to be heavy: the TC19 itself is already .92lb, and chances are, the scope you're running will weigh at least that as well. Then, you will also have to deal with a mounting solution of some kind, which you will have to figure out since each setup is slightly different. This does come packed with the usual AGM features such as being waterproof, WI-FI capability, and USB-c charging so the inconvenience of weight and mounting might be worth it for some people.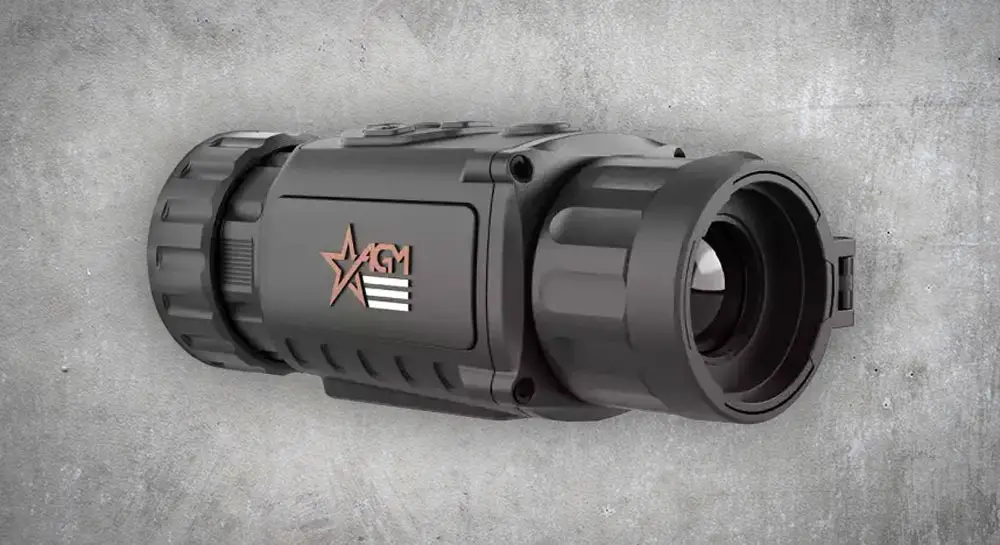 All-in-all, this would be a great solution if you already like your scope, and might want to occasionally hunt at night, but would not be our first choice for a dedicated night-time rifle setup. We'd recommend it to folks who plan to dip their toes into night hunting but might not be quite ready or able to spend three or four times this amount on a dedicated thermal optic.
It's not the best on the market, but it's certainly not a toy or gimmick either: this is a quality piece of kit for what it's intended as.
---
GOOD VALUE
ATN Thor 4 Thermal Scope
Check Price at:
Thermal Resolution: 384×288 or 640×480
Magnification (384): 1.25-5x, 2-8x, 4.5-18x, 7-28x
Magnification (640): 1-10x, 1.5-15x, 2.5-25x, 4-40x
Display: 1280×720 HD
Color Modes: 8
Battery Life: 16+ hrs
Weight: 1.93 lb – 2.35 lbs
Human Detection Range: 750 – 3300
For a relatively low price for a thermal optic, the ATN Thor 4 is feature-packed. This optic, which is in the running to be considered our best thermal scope, has a long battery life, adjustable settings to dial it into your preferences, and allows for easy range-finding.
The sheer list of features, from a reasonably good refresh rate, multiple vision settings, and the digital features make this a competitor for best thermal scope in not only this price range but overall.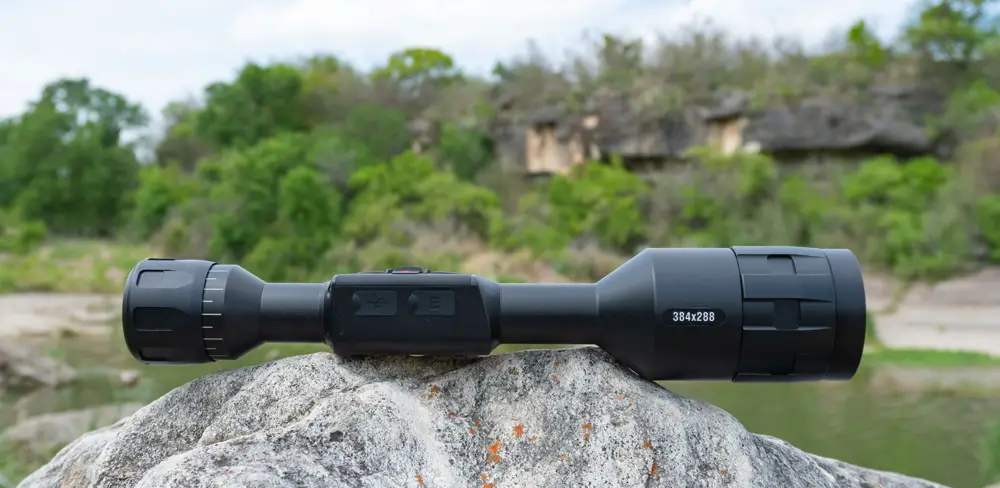 Taking advantage of some features well above this price range, the ATN Thor 4 also allows you to share video via either wi fi or Bluetooth, meaning that with this scope, you can also share your hunting experiences with others.
For a relatively affordable thermal scope, the ATN Thor 4 is feature-rich, though we imagine it might slightly sacrifice in zoom and durability to maintain a reasonably low price point.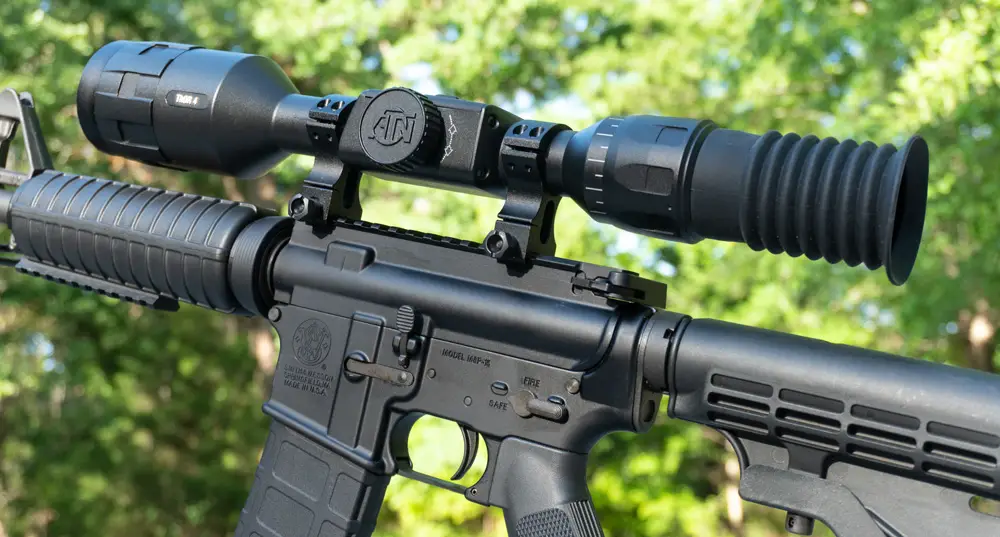 The great thing about the ATN Thor 4 is that it comes in such a huge price range depending on what size zoom and resolution you want. You can get the lower resolution 384×288 for under $1700 or you can spend a little more ($4,000+) and get the 640×480 with up to 40x zoom.
The ATN Thor 4-640 is the most fully-featured and accurate member of the Thor lineup we have thus far presented. Where this one innovates over the others in the product line is increased resolution, battery life, and build quality.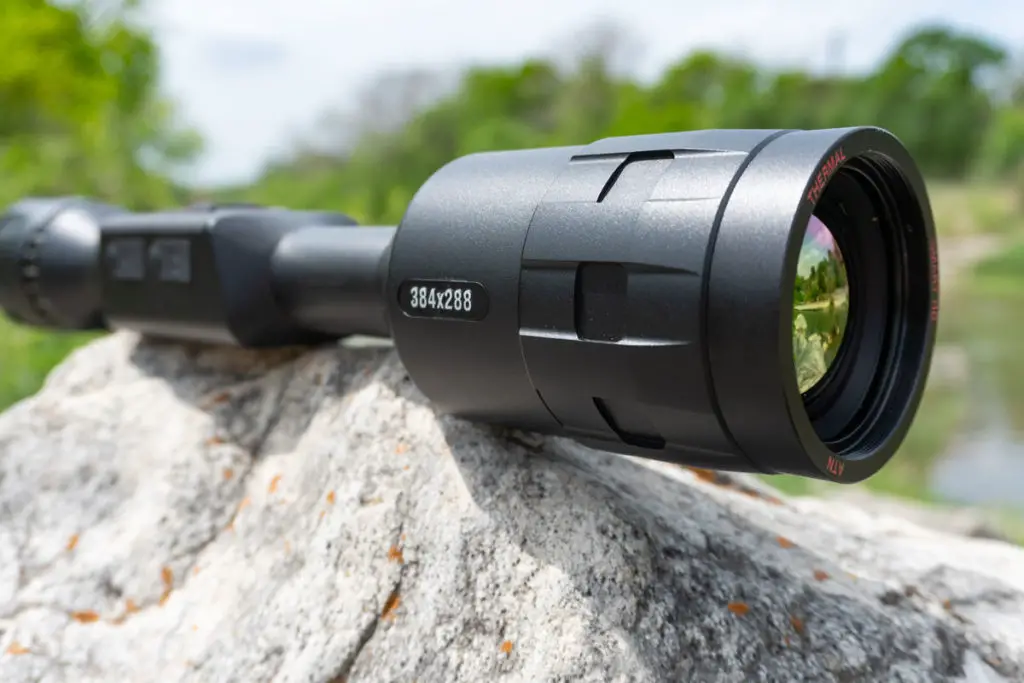 One thing we love about this line of scopes is that they include a ballistic calculator: that means that you never need to take your eyes off of the scope in order to make repeated, accurate shots at long distances. An optic like this one would be suited for someone who does a lot of shooting in the dark and wants the absolute best gear.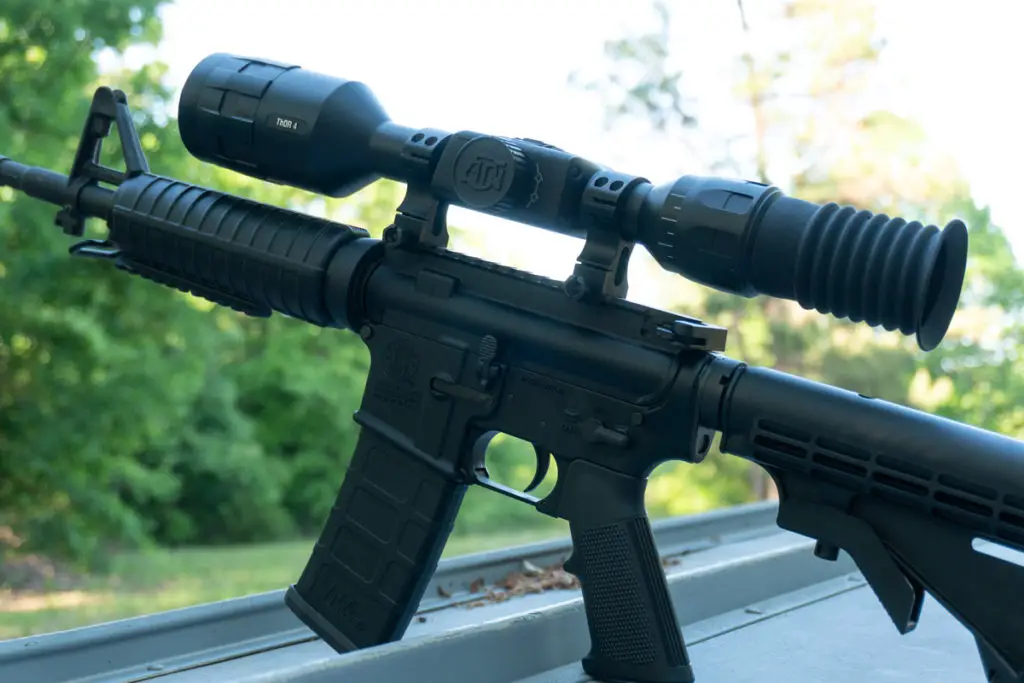 Check Price at:
---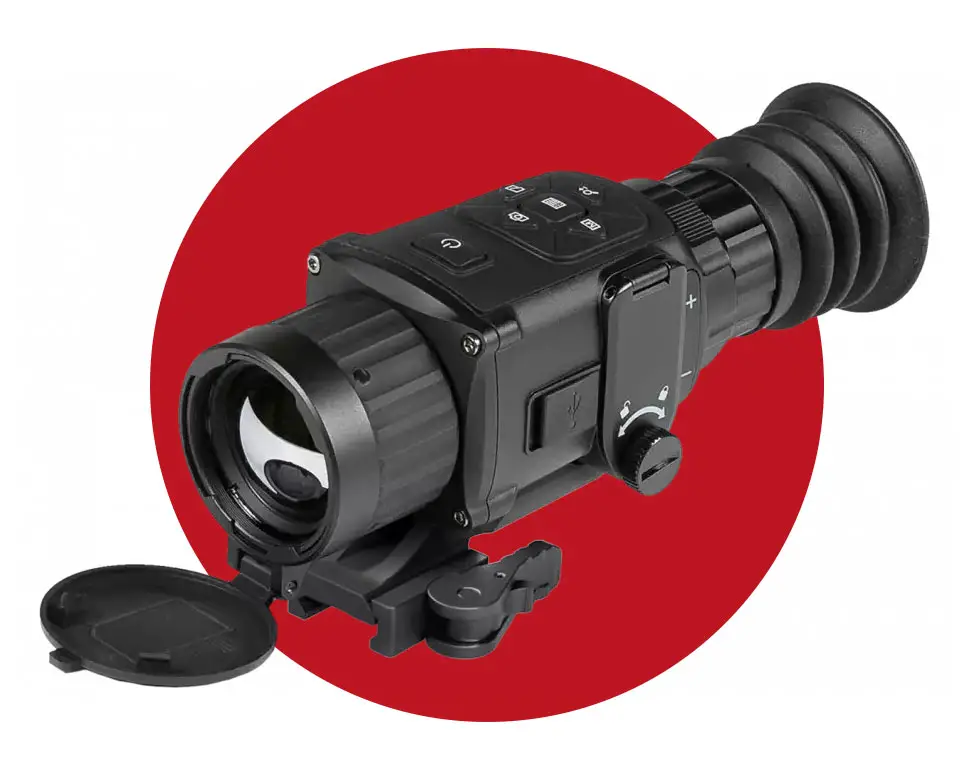 AGM Ratler TS25
Check Price at:
Sensor: 17μm
Thermal Resolution: 384×288
Magnification: 1.5x
Display: 1024 × 768 OLED
Color Modes: 4
Battery Life: 4.5 hr
Human Detection Range: 1250m/yd
Weight: 0.91 lb
For some seriously cool tech, our pick here is the AGM Ratler TS384. This model is compact, which is in and of itself nice, but the features list is impressive. Beyond the internal battery, it's also possible to hook it up to batteries via USB, making longer observations possible. While we don't think it's the best scope on the market, the WI FI broadcasting capability, high image quality, and more than adequate detection range put it well on our list.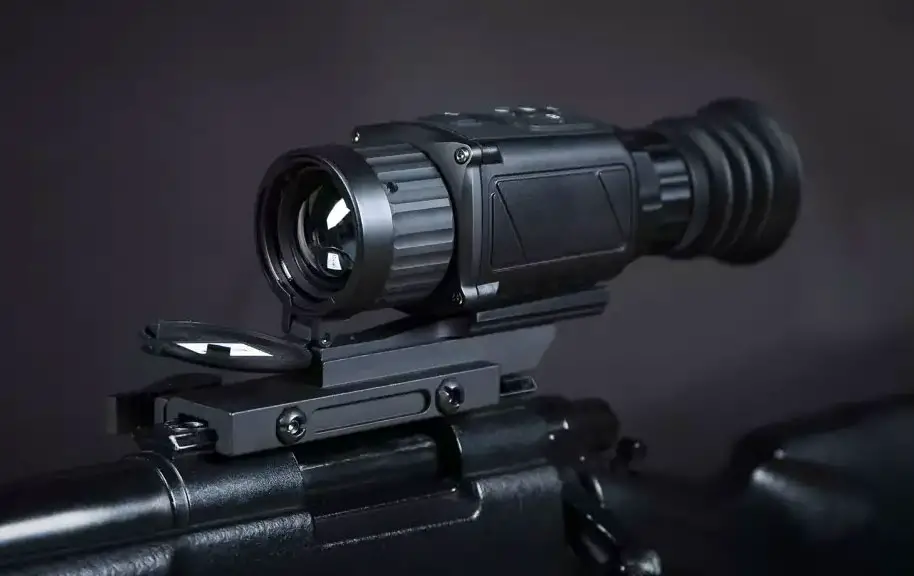 In a very cool addition, it's also possible for you to stream your scope's footage via WI FI to another device, making it possible for you to record all of your missions or make a game hunting video channel with this as the main camera.
All in all, it is very possible to get an excellent scope at this price range. This thermal weapon sight gives you a lot of capabilities beyond standard rifle scopes, and we think it would ideal for applications such as hog hunting at night.
---
Best Thermal Scope Under $3000
EDITOR'S PICK
Sig Sauer Echo 3
Check Price at:
Sensor: 12µ
Thermal Resolution: 320×240
Magnification: 1-6x or 2-12x
Color Modes: 8
Battery Life: 6 hrs
Weight: 0.89 lbs
For us, one of the best thermal rifle scopes is the Sig Sauer Echo 3. We think that this scope scores well in terms of relative value, taking advantage of true thermal imaging technology, and overall build quality as reported in reviews.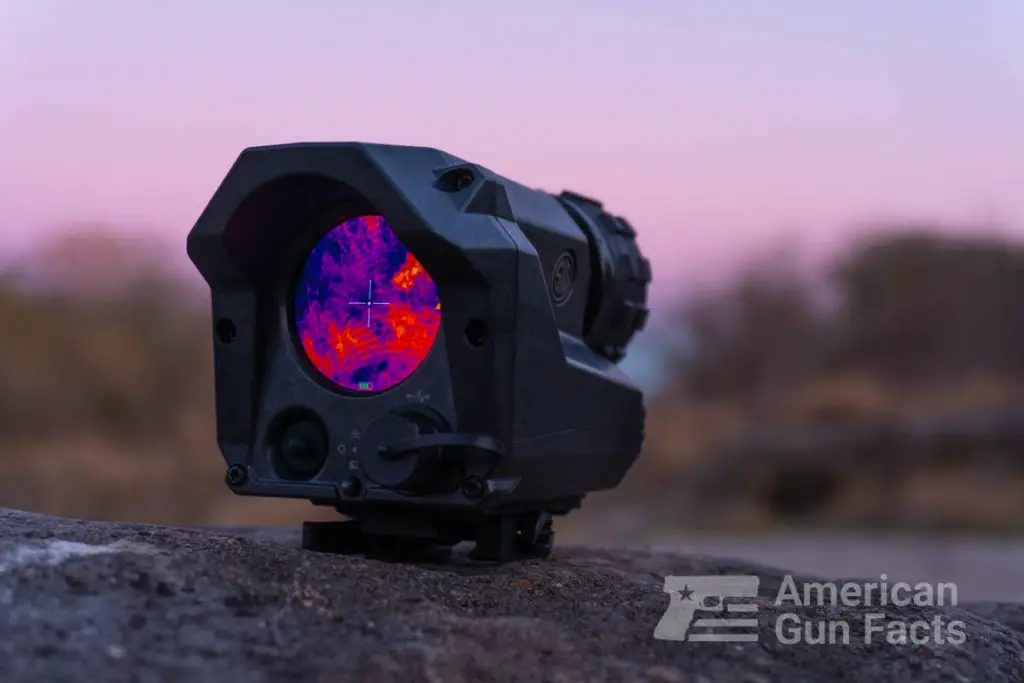 While there are other, more expensive options, we like this thermal scope because it has a lot of the features we want, without being the most expensive option out there that takes advantage of thermal imaging technology. This thermal rifle scope, in our mind, is about the best thermal optic on the market for average folks who don't have the budget of a small government behind them.
Where most of the optics on this list focus on long-range targeting, the Sig Sauer Echo3 looks to help you light up closer ranges at night. This optic is a small reflex sight that would be ideal for anyone who is looking to build a night-fighting gun for home defense. Stick it on your AR-15 and you'll never have any problem with finding targets in the dark.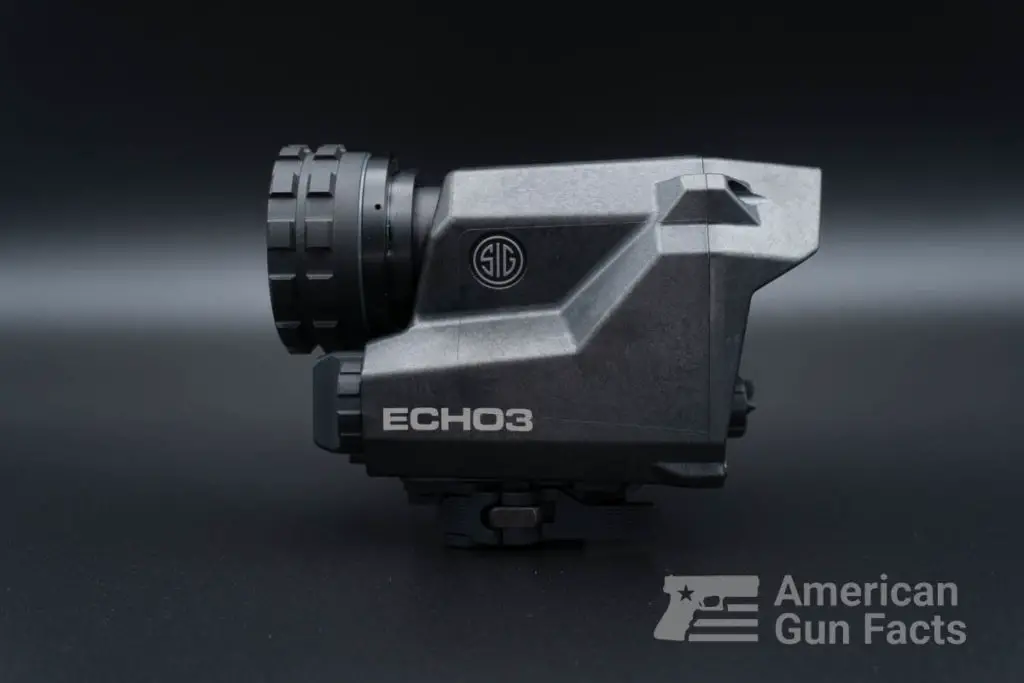 But, since it does have the ability to dial up the magnification, you can certainly use it outside, where the small form factor will be appreciated when you have to move long distances or over obstacles with your rifle.
Because the Echo 3 is a reflex sight, it means you don't have to be so close to the optics to see the image, but can sit a little further back for more comfort and ease of shooting. There is no eye relief as you're not looking through a lens, but instead just looking at a screen.
See the Echo 3 in Action:
There's also a great video by a group who went hog hunting in Texas with the Echo 3 thermal scope and a suppressed rifle. Hogs are legal to shoot year round in Texas due to their overpopulation and destruction to the environment. The Sig Echo 3 is perfect for hog hunting because they are most active at night. With a thermal sight, you can spot them clear as day and easily ensure an accurate shot.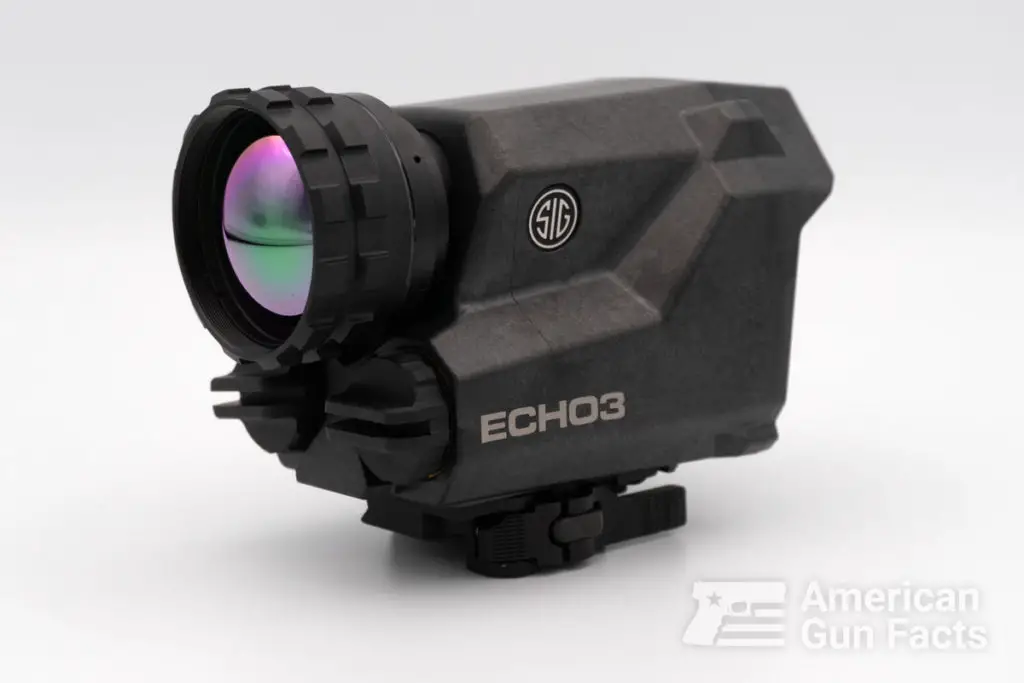 ---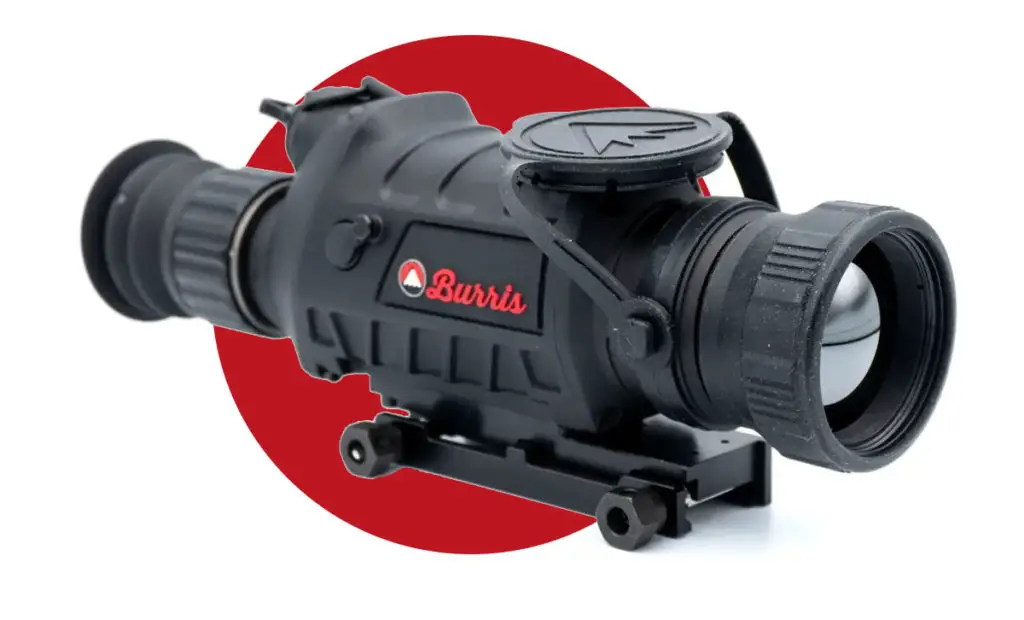 Burris BTS 50
Check Price at:
Sensor: 17μm
Thermal Resolution: 400 x 300
Magnification: 3.3-13.2x
Display: 1024×768
Color Modes: 7
Weight: 1.58 lbs
Moving up into our next pricing bracket is the Burris BTS 50. This sight is meant for folks who want great quality in thermal imaging and are willing to pay for a rugged option that has a lot of excellent features. As the price goes up in these rifle scopes, so does detection range, image quality, and features that make it worth your time to use a thermal scope.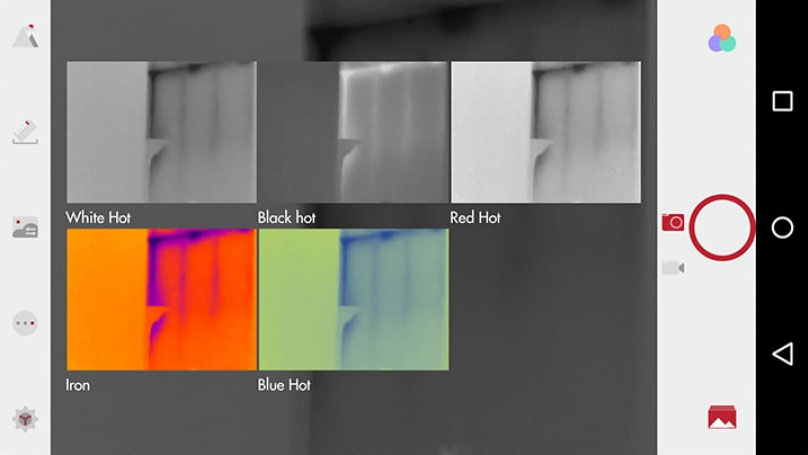 One of the things that attract us to this scope is how customizable it is. Like most thermal optics, this one has the ability to change between color mods with the touch of a button. Unlike most, especially at this price range, you can also choose between seven reticles and nearly a dozen color pallets.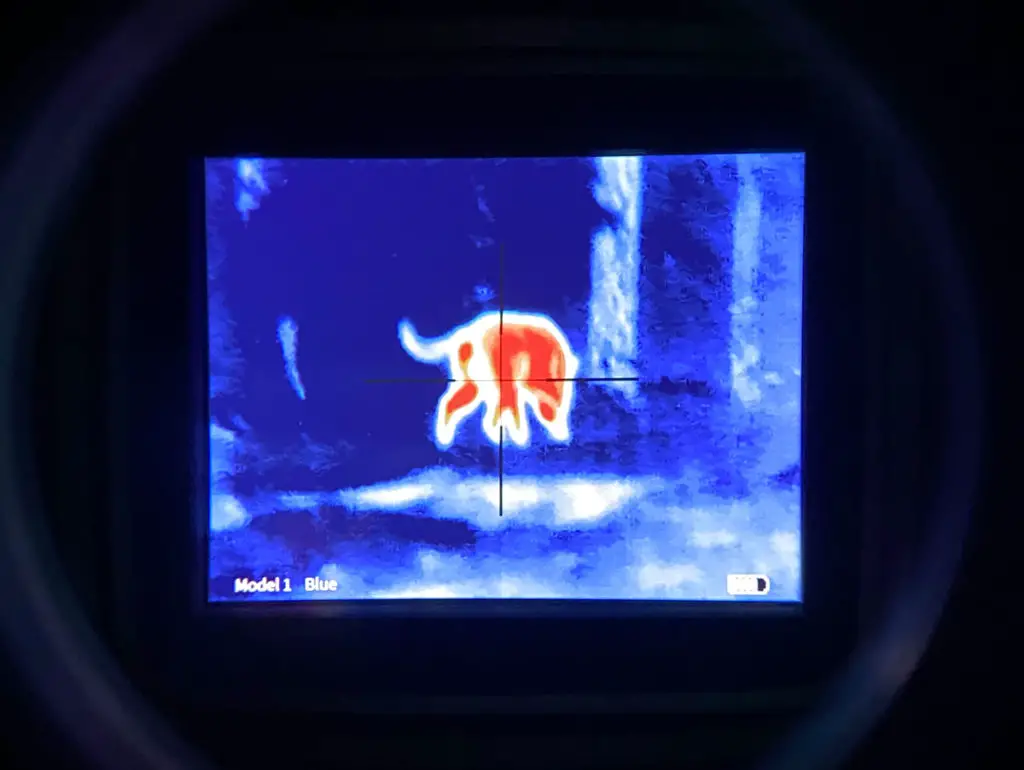 This not only allows you to customize things for the sake of your aesthetic preferences, but also to help you see targets better based on your eyes, conditions in the field, and targets you may be looking for.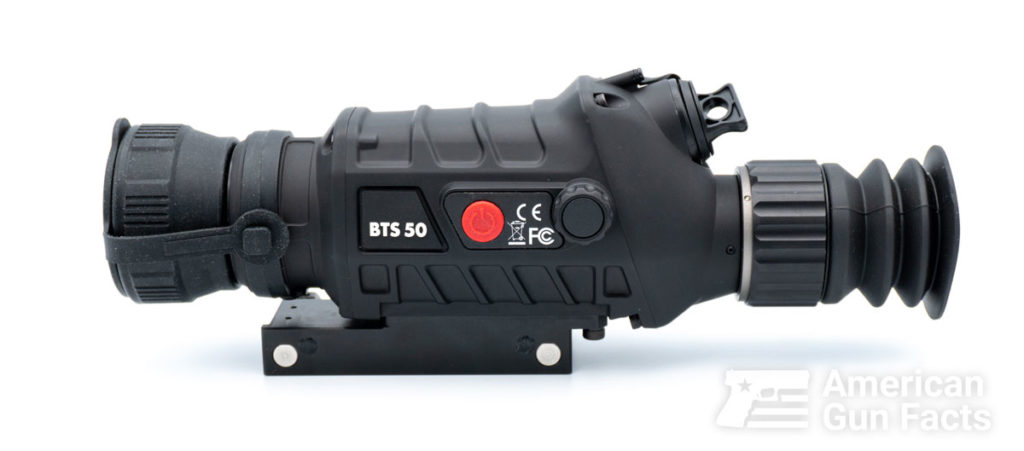 One nice advantage of the Burris BTS 50 is its relatively compact size. You can see it here when we compared it against the ATN Thor 4, that it makes for a much smaller package (and this is without the eye piece attached to the Thor 4 which would make it even longer).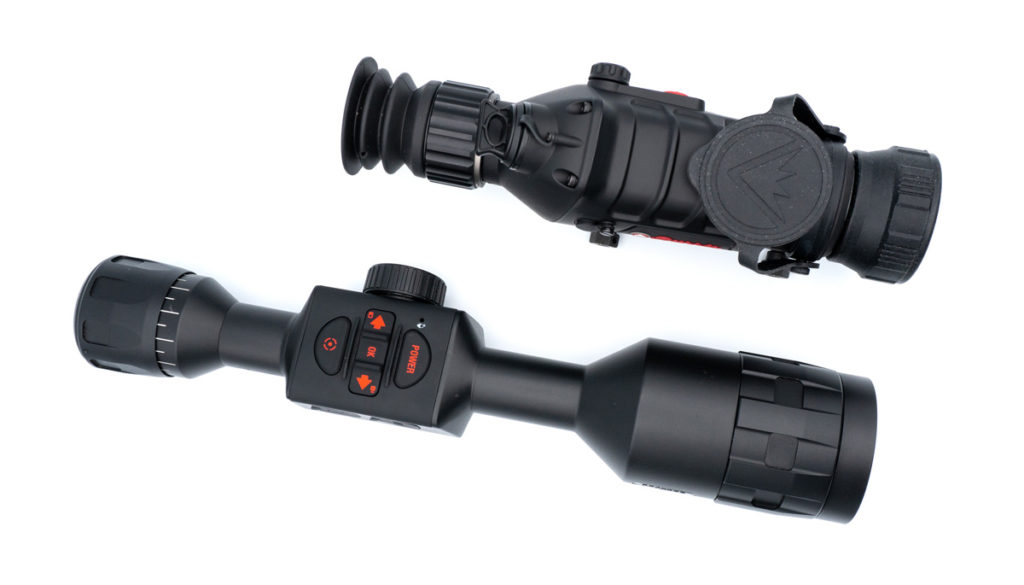 Finally, attaching this scope is dead simple, as it bolts onto any standard 1913 rail section. Overall, we'd recommend this scope for someone who knows that they want to make use of a high-quality thermal scope that will last them a lifetime but is intending to do so at moderate ranges, so there's no real need to spend several thousand dollars more on something that will be good out to a mile or more.
---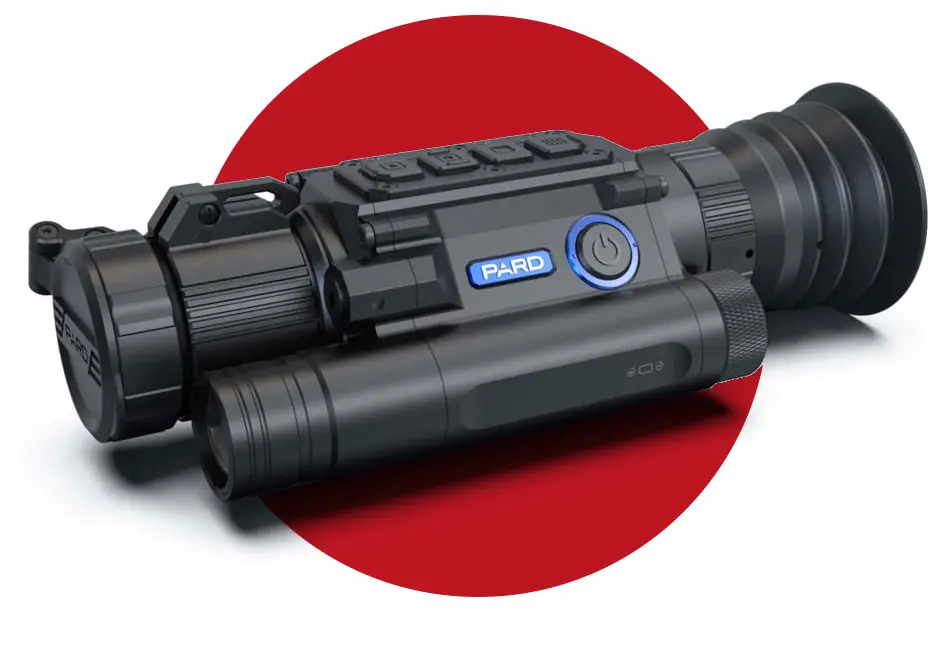 Pard SA32
Check Price at:
---
Sensor: 12μm
Thermal Resolution: 384×288
Magnification: 2x/2.6x/3.7x/4.7x
Display: 1024*768
Color Modes: 4
Human Detection Range: 800 – 1700 m
For a mid-priced thermal optic that is fully featured and meant to work well in a wide variety of conditions, it's hard to go wrong with the Pard SA32. While it's certainly not on the cheapest end of the spectrum for thermal optics, its no-nonsense design and feature set make it well worth considering for someone who plans to use their thermal optic in the field, and not merely as an expensive range toy.
The thing here that we appreciate the most is the durability: this is IP67 dust and water-resistant, meaning that it should be more than capable of withstanding any conditions that you would normally put a scope into, including rain and dust when hunting hog or coyote in poor conditions. 
This also comes with the now industry-standard set of features that you can expect at his price range, including Wi-Fi broadcasting and a higher resolution display than others in this category. We do wish that it had the ability to charge and run via a cable to an external battery, but this is a relatively small gripe considering that the tradeoff here was extreme waterproofing. The more ports there are in an optic, after all, the more opportunities there are for dust and water to ingress into the system.
This is an ideal scope for those who are looking to use it in the field, in pretty much any condition on the planet. Make sure to keep a spare battery or two with you, but, otherwise, this is an excellent optic that meets in the middle of the road in terms of pice, but that punches well above its weight in terms of overall feature set, especially in terms of durability. 
---
AGM Varmint LRF TS35
Check Price at:
Sensor: 12 μm
Thermal Resolution: 384 × 288
Magnification: 3x
Display: 1024×768
Color Modes: 4
Battery Life: 4.5 hrs
Weight: 1.44 lb
Human Detection Range: 1,750m/yd
AGM makes a range of thermal optics for all kinds of applications. This one, which they call the Varmint LRF, is ideal for, as you could guess, varmint hunting. That moniker is used for a whole series of scopes, but here we're specifically making mention of the TS35-384 model.
In this range, we think that the TS35-384 is certainly worth a look for anyone who is interested in medium to long-range night-time engagements, and for folks who plan on doing so on foot. We make this recommendation for two reasons: the weight of the scope and the options for charging it.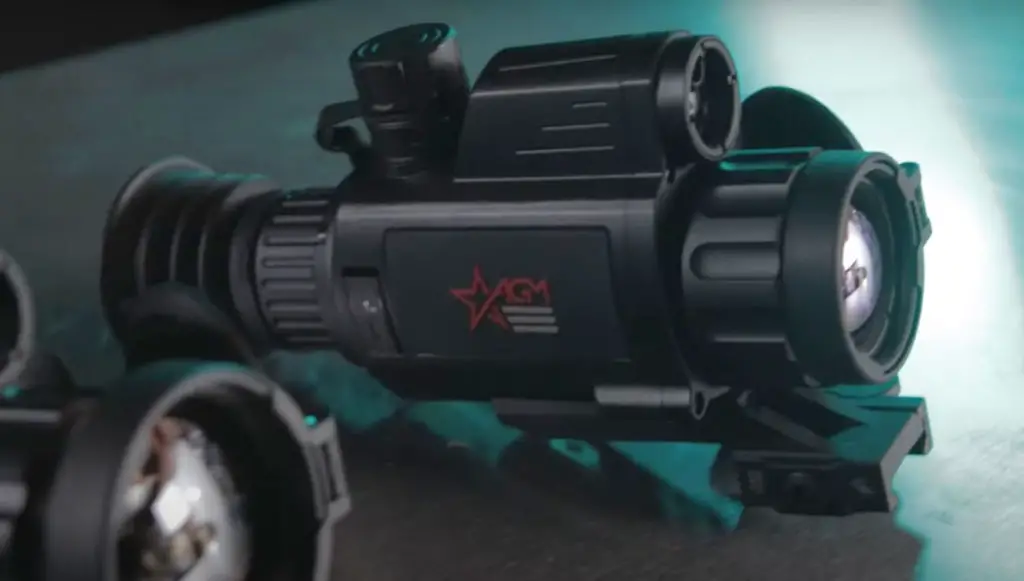 With the onboard battery, the TS35-384 weighs 1.44 lbs, which makes it possible to walk with this on your rifle for long periods without causing major fatigue. Additionally, you can have the scope feed off of power from an external battery via a USB-c cable. That means that you can run a much larger, and longer-lasting battery in your backpack that doesn't have to sit on your rifle. In our view, that's the ideal way to run this.
Additionally, the durability stands out here: AGM has drop-tested this scope from five feet. We're going to take their word on that, as we do not have one for testing, and if we did the last thing we'd do with a thermal scope is drop it on purpose. 
The sheer slate of features makes this scope something that we'd have seen in science fiction about a decade ago: in one lightweight scope, the user can pick up thermal images with up to 8x digital zoom, record that via wireless internet, and, with an external battery, do so all night. The screen is both a little small and slightly lacking in resolution, but that's one of the few concessions in this otherwise awesome model.
We would highly recommend this optic to someone who plans on using it on a regular basis: for example, a hunting guide or a farmer who has a serious problem with feral hogs. This is, in short, one of the premier thermal optic manufacturers out there these days, and the Rattler line has a robust set of features for various kinds of shooters.
Best Professional Thermal Scopes
BEST CLIP-ON THERMAL SCOPE
Armasight CO Mini (Clip On)
Magnification: 1x
Battery Life: 24 – 45 hrs
Weight: 1.06lbs
If a little bit smaller optic is what you're looking for, the Armasight CO Mini is an excellent option for you. Effectively, this is a secondary optic that clips onto an existing rail section and mount that allows you to use your normal daytime scope at night.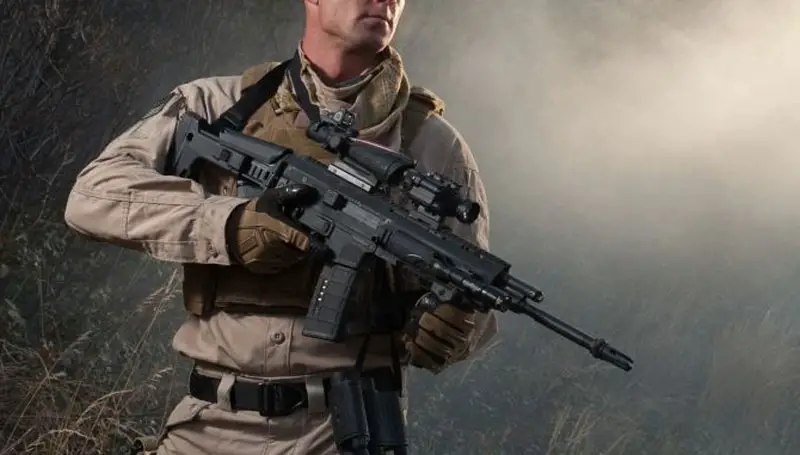 A lot of folks who use high-quality tactical rifles already have a favorite scope and reticle that they love during the day. The problem is that, at night, that scope becomes much less useful. Having the ability to equip night vision sometime later without losing zero on your optic. While that is a specialized role, for those who need to do it, a tool like this one is invaluable.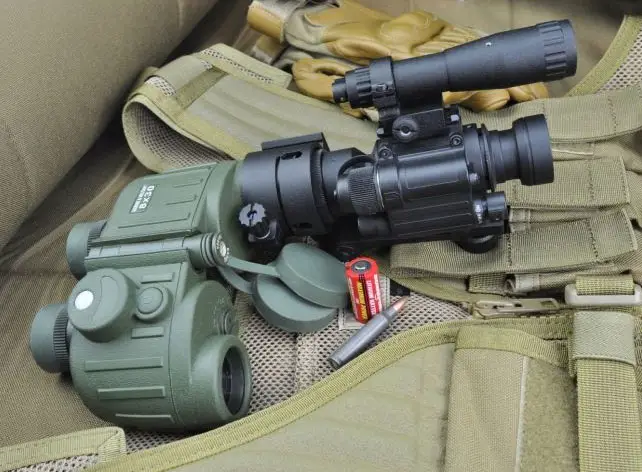 The first time you set up this kind of optic, it will likely take some messing around with the rail sections, potential risers, and the like to make sure you have a good sight picture. From there, you can safely keep the Armasight CO Mini in your range back or somewhere on your tactical rig, and attach it when you need it for nighttime use.
We would recommend this for two kinds of users. First are tactical response teams who need to be ready for everything, but only have one duty rifle with which to respond. Second, this would be great for people who were intending on, for instance, going on a hog hunt at dusk that may well turn into some night hunting. 
---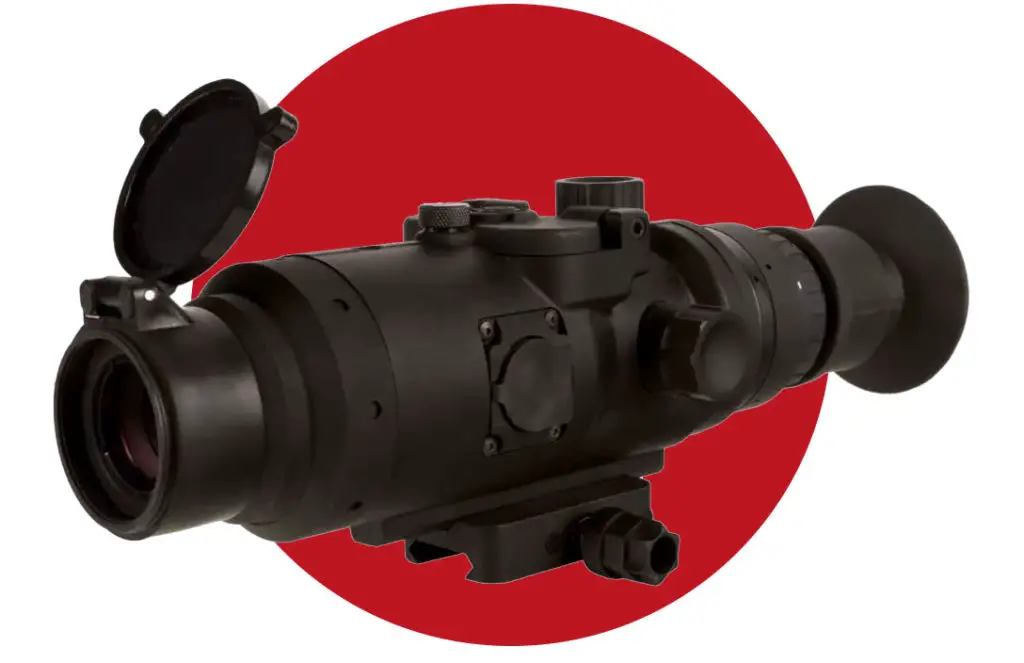 Trijicon Electro IR Hunter
Check Price at:
Sensor: 12 micron
Thermal Resolution: 640×480
Magnification: 1.2x, 1.75x, or 3x
Display: OLED
Color Modes: 3
Battery Life: 4 hrs
Weight: 1.78 – 2.54 lbs
When you're looking over the $3000 mark for a scope, there are a lot of excellent ones, such as the Trijicon Electro IR Hunter. I would not be surprised in the least to see this optic on rifles in armories used by special operations types all over the world.
The major benefit of this one is that its resolution is about double that of most other scopes on the market, making fine-grained target identification, even at distance, more possible than with previous technologies. Additionally, you can run it off of a USB-c battery in case your operations are of the all-night sort.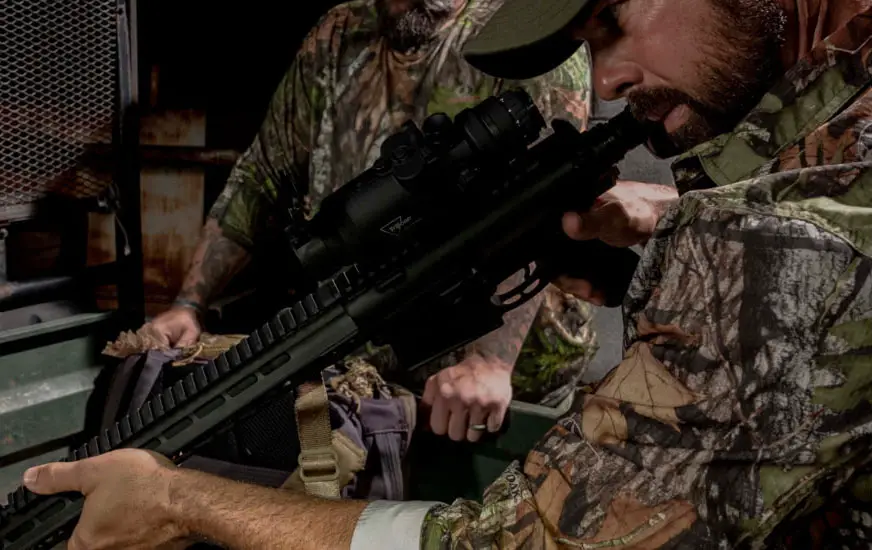 ---
AGM Rattler TS50
Check Price at:
Sensor: 12μm
Thermal Resolution: 640 × 512
Magnification: 2.5×
Display: 1024×768
Color Modes: 4
Battery Life: 4.5 hrs
Weight: 1.33 lbs
Human Detection Range: 2,500m/yd
For an optic that is a little more moderate in size than some of the others on this list, the AGM Rattler TS50 is an excellent choice. While the resolution won't be as high as some of the other options in this price range, the lightweight on this one makes it a lot more reasonable for a rifle that you plan on doing a lot of walking with.
We'd use this one, for instance, if our task was to patrol an area at night, or we were hog hunting on foot for several hours.
---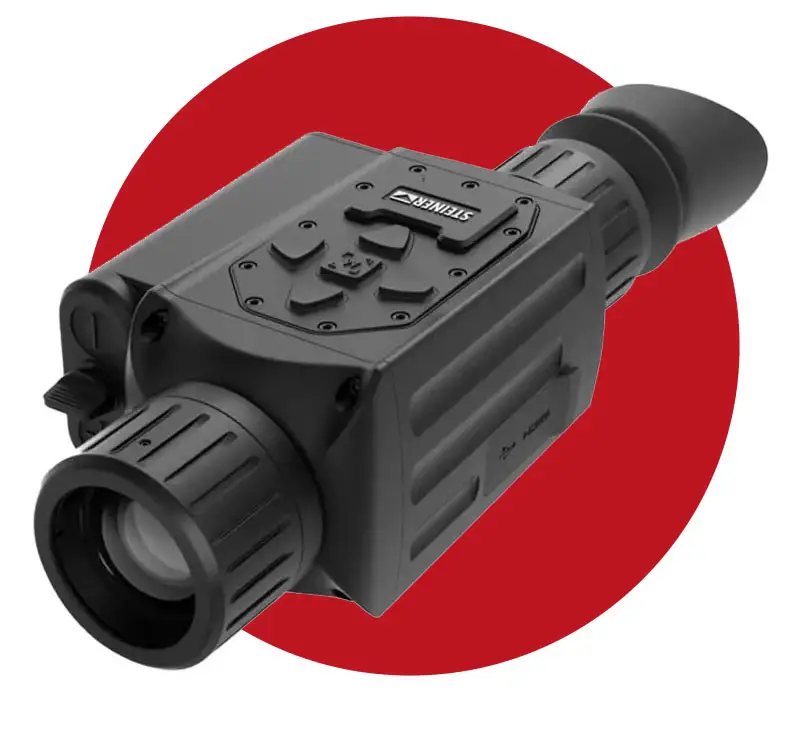 Steiner NightHunter S35
Check Price at:
Sensor: 12μm
Thermal Resolution: 640X480
Magnification: 1-8x
Display: 1024×768
Color Modes: 6
Battery Life: 5.5 hrs
Weight: 2.25 lbs
Human Detection Range: 1800 m
If money is truly no object, or you have somehow stumbled into a part of the Department of Defense's budget, the Steiner Nighthunter is a truly excellent scope. Steiner is a global name in optics for all kinds of things, they don't only make thermal imaging optics, and those guys have devoted all of their efforts to making the highest quality and most durable product possible. In fact, they've been making optics for military use since 1947, when thermal optics were just barely becoming technically possible.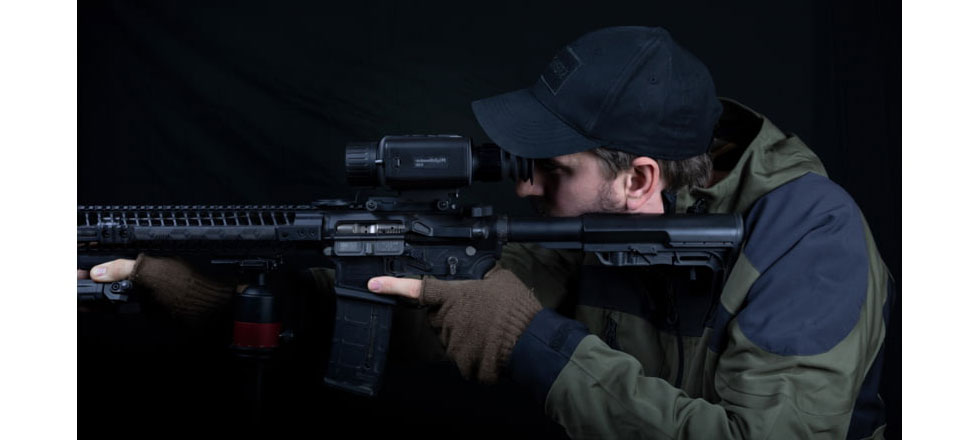 Assuming that you need accurate shots, in the dark, at distance and need not worry if your optic is fragile, this one is a great call. The sheer build quality on this one alone is almost hard to comprehend. We would be more than happy to own the Steiner NightHunter.
In terms of applications, anything that you would need to do with a thermal optic, you could do with this one. Specifically, tactical operators who would need to shoot in extremely adverse conditions, and those shots need to land thanks to national security interests, would find a great use for these. Aside from that, folks who are professional hunters and guides who need both quality optics, and can write them off as business expenses, would do well to take a serious look at Steiner's offerings. These are great, rugged optics that will perform in nearly any conditions you can think of.
---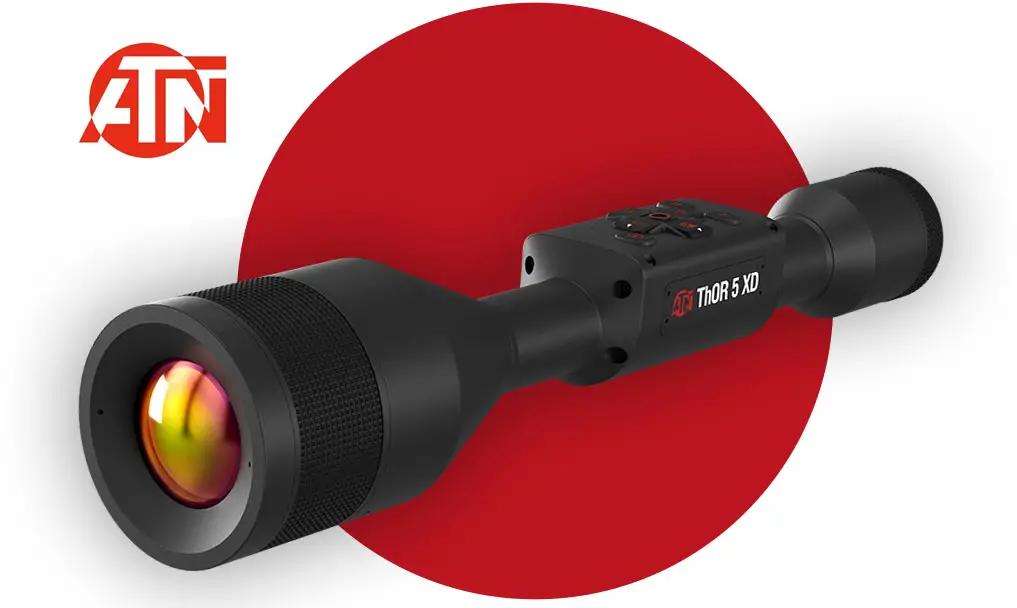 ATN Thor 5 XD
Check Price at:
Sensor: 12 micron
Thermal Resolution: 1280х1024
Magnification: 2-20x, 3-30x, 4-40x
Battery Life: 10 hrs
Weight: 1.93 lb – 2.05 lbs
Human Detection Range: 2150 – 4000
When it comes to top-of-the-line thermal optics, ATN's new Thor 5 Series is seriously pushing the boundaries of what's possible in an optic that people might actually be able to afford without access to a government budget.
Specifically, the XD line of the 5 Series packs a rich set of features into a relatively small package that makes using the optic in the field much easier. What's more impressive is that even with an expanded feature set, this optic boasts a ten-hour battery life, making it an ideal scope for those who want to become masters of nighttime hunting.
Several features of the 5 Series stick out to us as being above and beyond what other manufacturers offer. First is the laser rangefinder included optionally on some models. While still sticking with a moderately-sized platform that uses standard 30mm scope rings, including a rangefinder directly in the sight means that the user will have one less piece of kit to take with them into the field: when you're talking about adding heavy optics to a rifle anyway, the idea of some weight savings, and having one less thing to potentially forget, is a significant value added to an already robust and capable optic.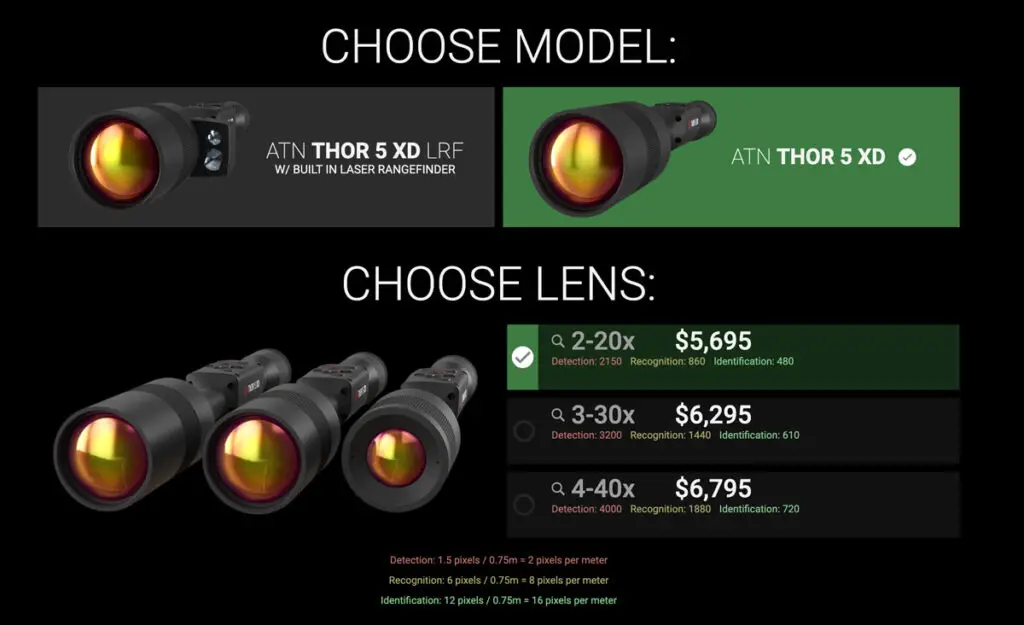 The one-shot zero feature is another major plus to this series: the high-definition display is great for seeing what you're aiming at, but all of the resolutions in the world is no good unless you can quickly zero the scope to your rifle. Given the sheer expense of one of these scopes, we imagine that most users will swap it between rifles occasionally. When you do, the ability to get zeroed in a single round, or a small handful at most, will save you time so that you can spend more time in the field and less tinkering with the scope's zero.
Possibly the most impressive feature here is the 10-hour battery life in a scope that, in its heaviest configuration and with an included laser rangefinder, weighs just under two pounds. This makes it more than possible to use this scope all night for hog hunting or other applications without having to bring any additional power source to recharge on the go. Of course, this ten-hour rating might not always be the case, for instance, if you use the wifi and rangefinding features constantly, but with just a little bit of care you'll be able to go entire hunting sessions on a single charge, which is noteworthy.
This series of scopes is one of the best on the market today. If you can afford one, it will serve you well for years to come for nighttime hunting or security needs. ATN has packed it full of features and then made it small enough to use for long durations without worrying about fatigue. With advances in battery life an image quality in the past few years, the ATN Thor 5 is currently the optic to beat, and it is truly a world-class piece of kit for anyone serious about thermal scopes.
Thermal Scope Buying Guide
Thermal scopes are fairly complex and are capable of some remarkable technical feats. With that said, it can be a little daunting to buy them, so we've put together a little buying guide ot try and keep things relatively simple and consistent when comparing different scopes, before making a purchase decision.
Resolution
Just like your phone, monitor, or television screen, the resolution of the scope matters a great deal. The resolution refers to the number of pixels that are displayed to you in the viewfinder, and the more you have, the more detail that can theoretically be rendered in that viewfinder.

But, as you go with higher resolutions, you also increase costs of the scope, so finding a balance is vital to getting a scope that works well for you, in your budget. Tied to this, some people want to have a possible wi-fi connection for their scopes. If, for instance, you want to record your hog hunting adventures, being able to hook your thermal riflescope up to wifi makes sense.
Magnification
Magnification refers to the degree to which the lenses and cameras in the scope can magnify the image before it is displayed to you. Ideally, you'll go with a primarily optical means of magnification, as digital magnification often comes with a sharp reduction in quality.
Here you can see an example of digital magnification. This is like when you zoom in super far on your phone camera and the image becomes pixelated. Whereas with an optical zoom scope, the image is sharp.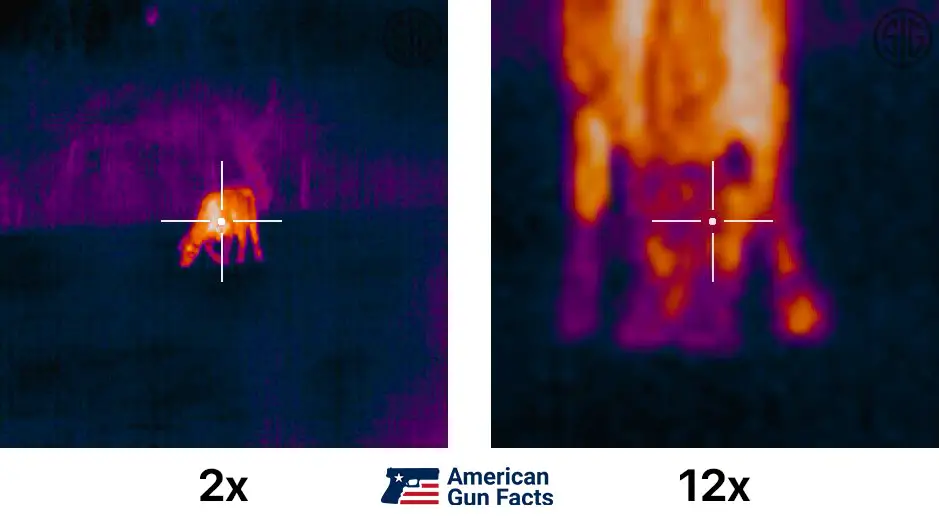 The longer the range you want to shoot, the higher magnification that you will need, and a lot of folks will go with scopes that have variable levels of magnification.
Refresh Rate
The refresh rate refers to how often the image displayed in the viewfinder is refreshed by the computer inside of the scope. A higher refresh rate is generally better, especially if you're trying to track a moving target, but a high refresh rate also comes with a decrease in battery life, all other things in the scope being held equal.
Detection Range
Related to magnification, any thermal scope can only detect heat at a certain distance. This distance will dictate the maximum effective range of the scope, so we recommend looking for this first and foremost, then worrying about magnification after that.
Reticle Options
One of the awesome things about thermal scopes is that they have fairly sophisticated computers inside of them. This means that on most of them, you can choose between a variety of different reticles intended for different circumstances. When shopping for an optic, pic one that has a reticle, or set of reticles, that you like to use.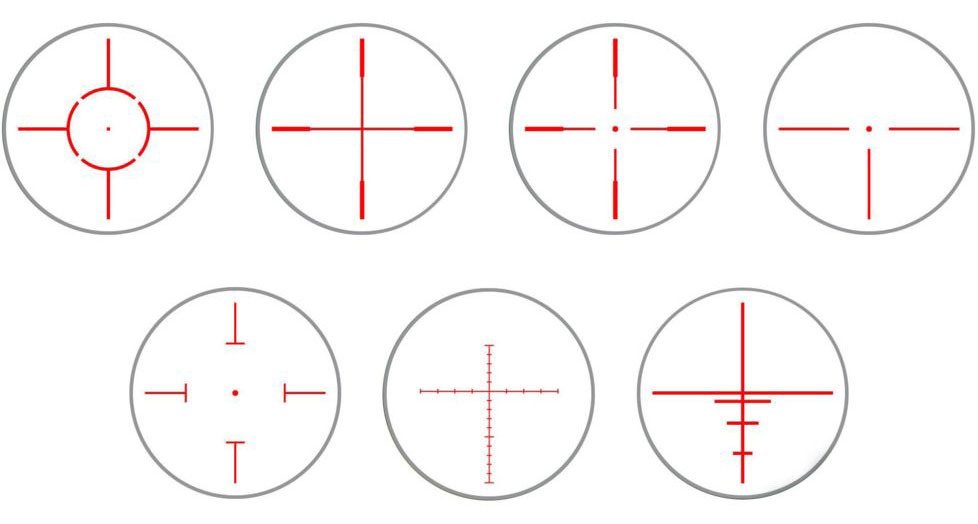 Battery life
Of course, none of this fancy technology works very well without electricity. With that said, the battery life of the optic is of utmost importance to keeping the system as a whole up and running. The longer the battery will last, the better. Some optics also have the ability to hook up to an external power source, which we think is an excellent idea.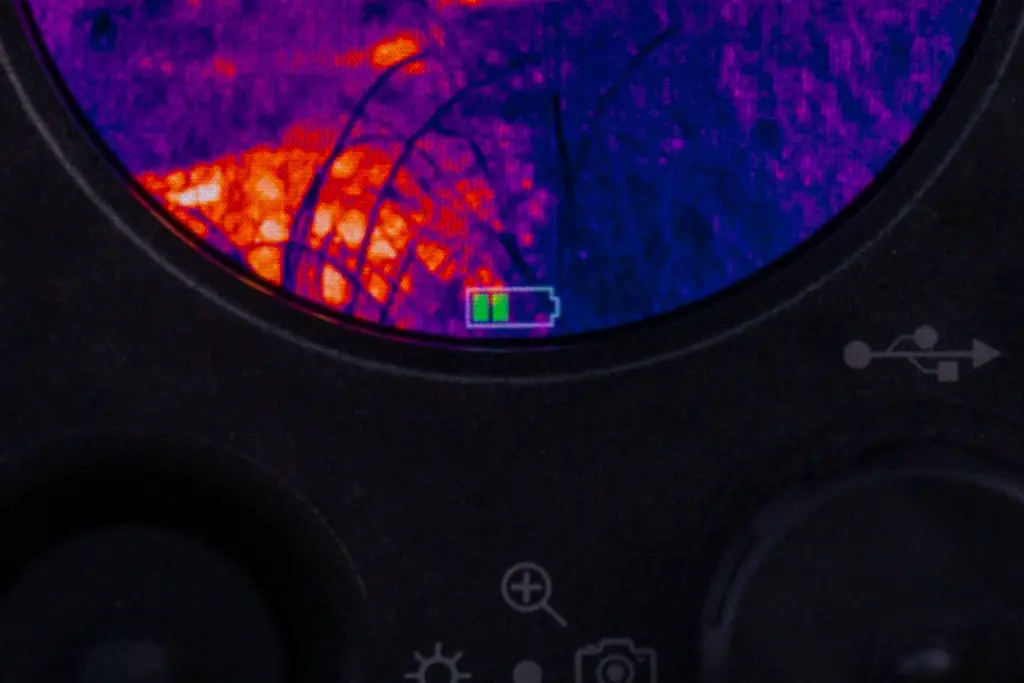 How do Thermal Scopes Work?
In technical terms, thermal scopes are called Forward-Looking Infrared, or FLIR scopes. Thus, to get a little more accurate, what we usually call thermal scopes are infrared scopes, sometimes spelled incorrectly as inferred or inferred scopes.  All of these refer to the same general technology that takes advantage of animal biology to make them work.
Infrared, or IR, scopes are optical devices that measure heat radiation. Mammals, which are typically the kinds of animals that we hunt as game, are exothermic. This means that they generate heat, which makes them the opposite of endothermic animals, such as lizards, which take in heat from the outside.
When mammals, including deer, hogs, etc. emit heat, this is done as radiation which is a form of energy like visible light, although it is not visible to the human eye: it's the same general principle as the sun. Where something like the sun generates other forms of radiation that we can, in fact, see with the naked eye, you can also feel the heat from a great distance. Thermal imaging, thusly, helps you see in a different spectrum of light than you normally do, which aids in shooting at night.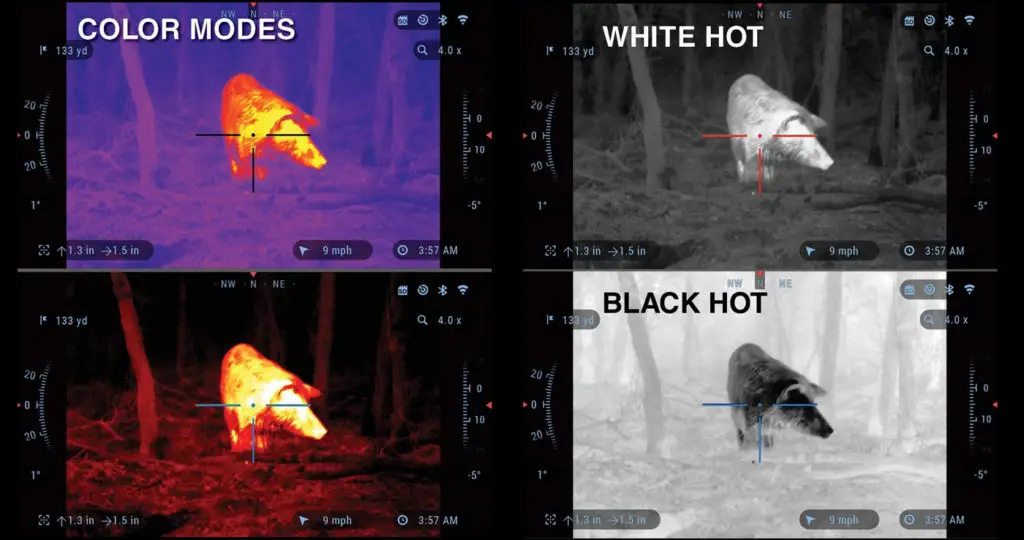 Thermal scopes are built to see in the heat spectrum of light, thus, when you point it at a source of heat, that heat source will glow. This makes thermal scopes ideal for hunting at night. There is one drawback, though: if the game animal is the same temperature as the environment, the scope will not see the animal very well. So, for example, if it's about 100 degrees, and so is the surface temperature of the animal, you won't see much.
A really contemporary thermal riflescope may well also come with the ability to connect via wi fi to a computer or streaming service. With that wi fi connection, you'll be able to broadcast or save your nighr hunts to share with others or to improve your own shooting by reviewing them later.
Uses of Thermal Scopes & Optics
Hunting
One of the ways most civilians will want one of these optics is for hunting. Assuming it's legal in your part of the world, any of the options we list here give you a lot more options in terms of encountering nocturnal game animals.
Even during low-light day conditions, a thermal sight could come in seriously handy if, for instance, you were hog hunting in fog or brush: the ability to see the animal even when it can't be seen with the naked eye is an awesome capability to add to your arsenal.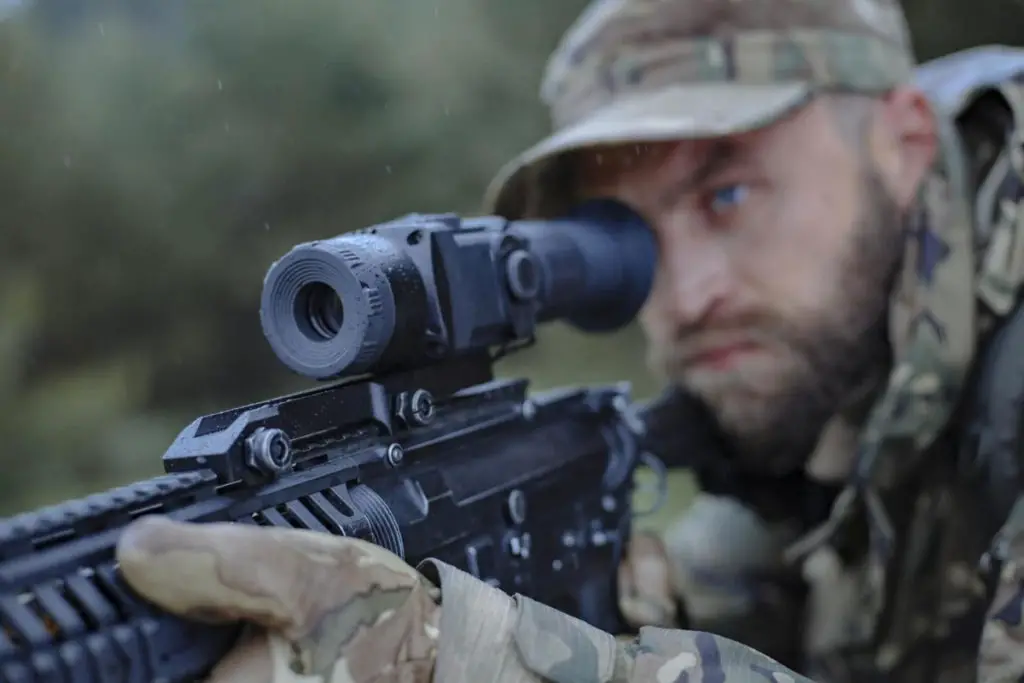 Self Defense
For self-defense, some of the smaller optics also would make a highly compelling option. For example, if you're in the midst of a home invasion at night, you turning the hallway light on will also tell the intruder exactly where you are. Thus, being able to avoid that is a major plus. In cases like that one, we would also combine your thermal sight with a suppressor so that you don't blind yourself with the first shot.
Overall, thermal imaging scopes add a whole new dimension of possibilities to shooting and, if you have the budget, it's a fascinating part of the shooting world that civilians are finally starting to get some access to.
Differences Between Thermal Scopes and Night Vision Scopes
Thermal scopes, as we noted previously, see in a spectrum of light that is not normally visible to the human eye, rendering heat visible to us through the use of a camera and a computer to aid our vision without visible light.
A thermal scope, thusly, will work in an environment that is utterly dark to the human eye, so long as there is some thermal energy being emitted.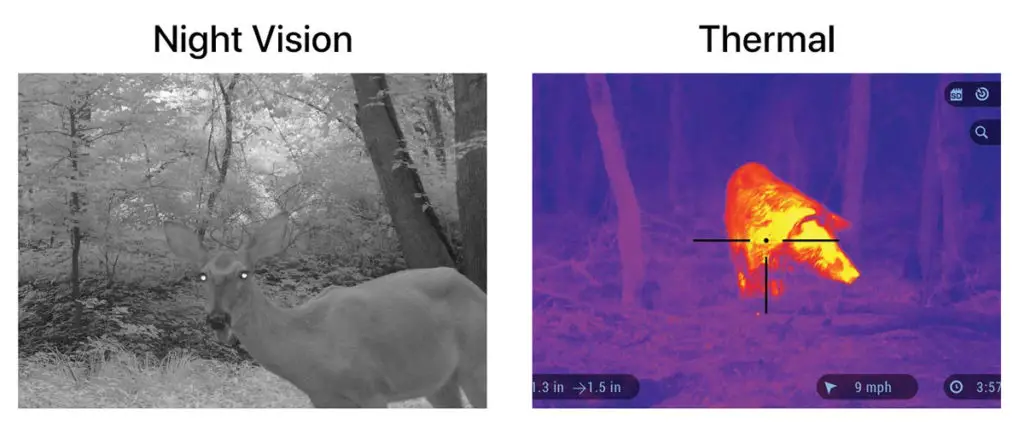 Night vision scopes, on the other hand, do require visible light. Night vision relies on the same spectrum of visible light as human beings to see, and they act as a means to amplify that light.
These scopes take advantage of the light that you can already see, but amplify it and often translate it to a different color, often green, to make it easier to see by using the scope. In a totally dark room, a night vision scope will not work.
The advantage of night vision is that it does not require a temperature differential between objects to work well. The downside here is that game animals will not glow in the scope's field of view, meaning you'll have to sort out things like shadow and shape in a way that is often a little confusing to the normal human eye, which makes heavy use of differences in color and depth perception, both of which are lacking in most night vision scopes.
Wrap Up
Buying any thermal optic is more than a little bit of an investment. Keeping these features in mind, it's a good idea to think through exactly what you plan on doing with the optic. Buying one that works for you will mean striking a balance between all of them in order to achieve your shooting goals when out in the field.
FAQ:
What's the best thermal scope for coyote hunting?
For coyotes, we'd recommend going with the cheapest option available such as the ATN Thor LT. Now, if you were being paid by a rich rancher to keep his land clear of coyotes, then something in the $3000 range would be a great option. Really, it all comes down to how much you're willing to spend and the sky is the limit here.
How long do thermal scopes last?
Thermal scopes can last a lifetime if cared for properly. You get what you pay for. At the highest end of the range, expect lifetime warranties and a customer service number where you can talk to a real human being should a problem arise. Most of the companies making the highest-end ones are also military contractors, which helps a great deal in terms of optics quality.
How much is a thermal scope?
Thermal scopes range in price from $900 – $5000 or more depending on quality and features. Since these are technologies that are just now trickling their way into the civilian world, you can expect them to be extremely expensive for years to come. Ideally, in about another decade these will come down in the same way that daytime optics have in the last decade or so. Overall, these are a fairly serious investment at this point in time.
How far can you shoot with a thermal scope?
A thermal scope can detect heat signatures from 1000 yards away. Beyond this distance, most thermal scopes' effectiveness in detecting heat tends to fade. Of course, this doesn't effect the range of your rifle, just how well you can pick out hot targets.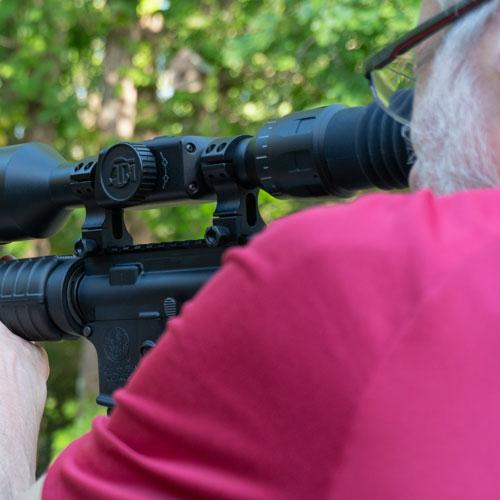 George has been an avid shooter for twenty years. He began shooting when he was gifted a Browning SA-22 for target practice. Now, as an academic, he combines his love of firearms and knowledge of history to write for firearms blogs and is still a frequent sight at the local range.