As thermal scopes have become more popular, they are also becoming increasingly cheaper. But when you're buying something as expensive and vital as a thermal scope, the last thing you want to do is skimp on quality for a few bucks.
As you may already know, the ATN Thor LT is one of the lower priced thermal scopes on the market today. So, is it worth the money or are you getting what you pay for? We think you'll be surprised by how many features ATN packed into this bad boy – it truly delivers in terms of quality and value. ATN let us borrow the Thor LT to try out hands-on for a few weeks and put it to the test. Read on to see our thoughts:
160 Model Review
320 Model Review
Comparison Chart
About ATN

ATN (American Technologies Network, Corp) is a thermal scope company that has been open and operating in the USA since 1995. They also recently opened up a brick and mortar store in the Grapevine Mills mall in the Dallas/Fort Worth area. Their goal is to make a thermal rifle scope that is high quality, durable, and performs much better than a traditional glass optic for law enforcement, military, and civilian shooters alike.
If you're reading this, chances are you're either interested in thermal scopes more generally, or you're considering buying one. If the latter applies to you, then we think that ATN is a great scope manufacturer: their contact information is upfront and centered on their site, and you can contact ATN at any time to get expert input on considering buying one of the Thor LT rifle scopes. As you can see by the product pages, thermal scopes are quite the investment, so we think it makes sense to do as much homework as possible before making a purchase of this magnitude.
Also, because of the technologies involved in making a scope that produces a thermal image, the Thor LT is an ITAR product, which means that you will not be able to cross international borders with one of these scopes without some serious government paperwork.
160 vs. 320: Which is better?
Here, we're going to look at two major models of the ATN Thor LT Thermal scope, the 160 model and the 320 model. Each one of these scopes comes in various camo skins and they have some shared features, which we'll highlight in just a moment. In particular, we're going to go through the whole ATN Thor LT lineup in terms of their technical specifications in sensors, lenses, available colors, and included accessories.
The choice between the 160 and the 320 really comes down to resolution and your budget. The 320 will grant you longer detection range and higher resolution, but it comes at an increased price tag. Read on below to see a full comparison.
Each scope that ATN sells is suitable for higher caliber weapons, and is made from a hardened aluminum alloy. Since these scopes are meant to take advantage of ambient light to display a thermal image, they do all rely on battery power, though battery life will very much depend on conditions and how you're using the specific scope.
All of these scopes also have a handy one-shot zero reticle that makes zeroing the thermal scope a lot easier, and will likely save you on ammunition and battery power over time.
ATN Thor LT 160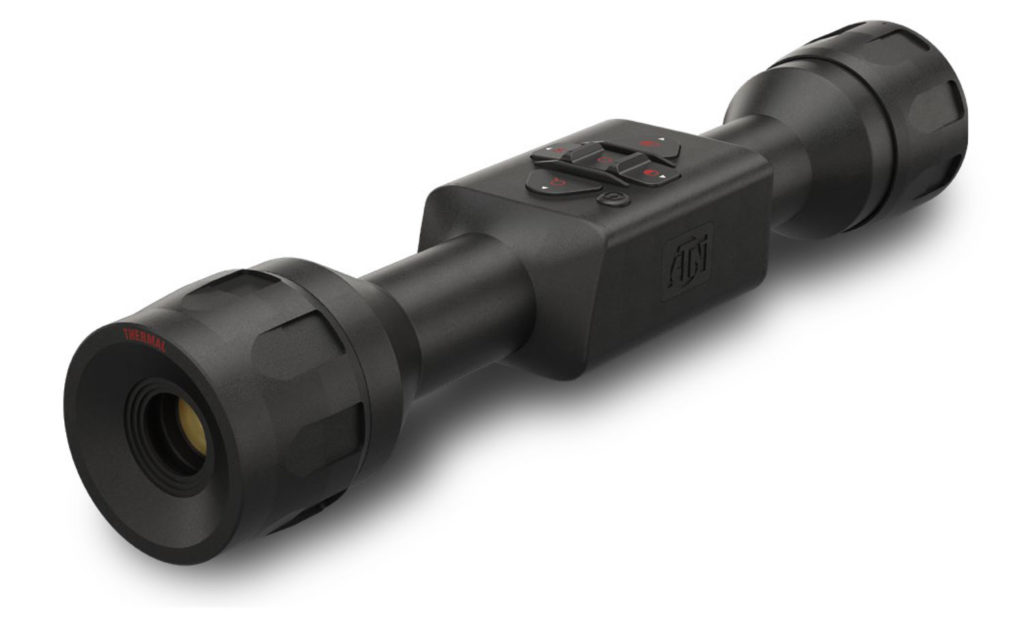 The ATN Thor LT 160 is an ultra-light thermal rifle scope, coming in at just 1.4 lbs. Coming from something like the world of air rifles, that sounds like a lot of weight, but when it comes to scopes that also have some fairly serious computer hardware in them, this is light in comparison.
When compared to other platforms, the ATN Thor LT 160 is something of an economy purchase, providing a highly capable scope at a reasonable price. It's made out of hardened aluminum alloy, runs of off continuous battery power, and has a built in one-shot zero feature, which makes sighting in the scope a breeze, and can detect prey up to 995 feet. All together, this is an exceptionally fully-featured scope for the price.
Though it is the smaller sensor of the two models we're looking at, it is still an extremely capable thermal imaging scope that provides decent battery life and, like all of the Thor LT thermal rifle scopes, comes with the excellent customer service provided by ATN. We'd highly suggest this as the first thermal scope someone buys if they are willing to spend for quality, but don't need the very top end of the scope market in terms of price.
Sensor
The first thing you'll get to pick in the configuration part of ATN's website is the sensors. On the LT models of the ATN Thor LT Thermal Scope, there are two offerings, 160×120 (17 micrometers) and 320×240 (12 micrometers). Everything else being equal, the smaller the sensor in micrometers, the more native magnification you will get and the smaller field of view. The 160 sensor offers a lower sensor resolution (19,200 pixels) than the superior 320 sensor (76,800 pixels).

In general terms, you want a balance between field of view and resolution. Thus, depending on your application, you'll likely be just fine with a 17-micrometer sensor. Not too many years ago, 25 or even 35-micrometer scopes were the norm. Between better sensors and li ion batteries, thermal scopes really have come a very long way in the past several years, especially for the relatively light piece point of the ANT Thor LT 160 models.
Lenses
The ATN Thor LT thermal rifle scope comes in a variety of lenses. Whichever one you purchase, know that the base scope and functions are the same, with the one-shot zero feature baked in, as well as the scopes being recoil resistant. They also all share the ability to change color modes to suit your liking, with black hot or white hot options, the former being better for bright light conditions where you still want to use a thermal scope.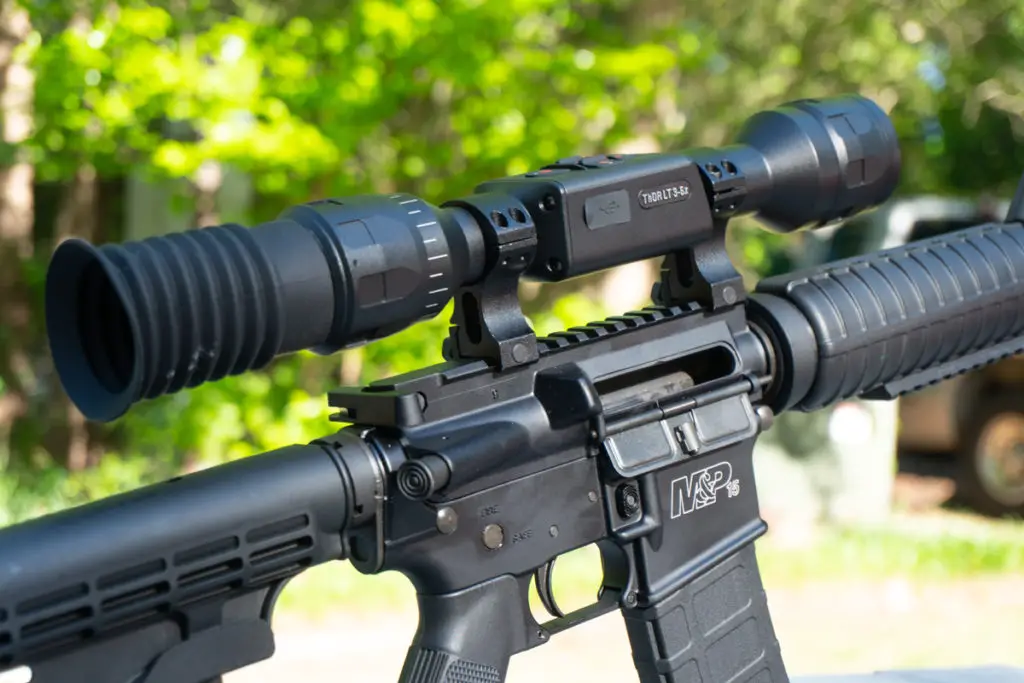 There are thee lens choices for the LT 160 model. The first is a 3-6x thermal option, with the next one up being a 4-8x, and, finally, a 5-10 x. This means that all of these are variable power optics that are suited for a variety of ranges. It's worth noting that higher magnifications are better for extreme ranges, but the higher the magnification, the higher the purchase price. If you want to keep things under $1000, then the 3-6x thermal scope is a great option that can get you landing shots out to some fairly impressive ranges with a little bit of training. The folks with government budgets or very deep pockets, on the other hand, will likely want an ATN Thor LT 160 with the 5-10x lens or the 320 model.
Available Configurations
ATN THOR LT 160 3-6X
ATN THOR LT 160 4-8X
ATN THOR LT 160 5-10X
Colors
Once you have the sensors and lenses picked out, then you get to pick the color of the scope that you'd like. Basically, your options are between black and three kinds of mossy oak camouflage: break up country, elements terra, and bottomland.
Included Accessories
With the kind of money, you'll be dropping on an ATN Thor LT Thermal scope, it's nice that they do include several important accessories. No matter which configuration you get, there's an eyecup to help you keep out bright light and adjust for multiple eye relief positions, as well as a nice cover for the scope and a charging cable. All in all, ATN will make sure that you have what you need when you make your purchase.
Sleeve to store the scope
USB charging cable
Eye cap
Were it up to us, we'd likey go with the 3 6x model with the 17-micrometer sensor, in a mossy oak camo that would look good with our current flat dark earth AR10 setup.
ATN Thor LT 320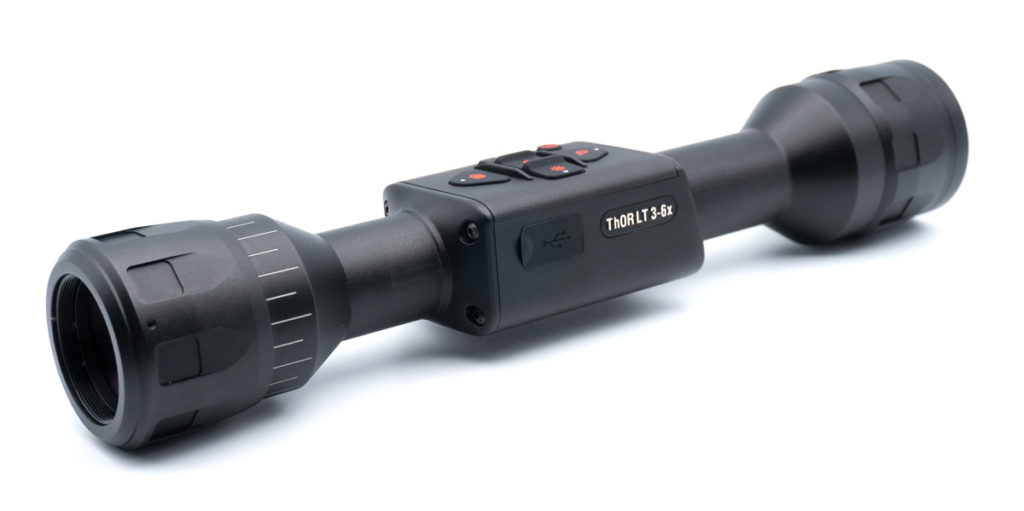 Packed with all of the same great features as the 160 model, the ATN Thor LT 320 has a higher sensor resolution and smaller micrometer size, which grants it some impressive spec upgrades. Similar to the 160, It also weighs 1.4 pounds. It comes with a built in 1280x720p HD display, 10 hours of battery life, one shot zeroing, and can detect prey up to 1620 feet. It has a white hot or black hot mode so you can set it to your preference.
You can choose between no warranty, or 1, 2, or 3 years for accidental breakage. At such a low price, this could be worthwhile for those who like a little peace of mind to protect a large purchase.
Sensor
With a 60Hz 320×240 px sensor, this model has 4x the sensor pixel resolution as the 160 model. This means that you get a higher resolution look at your heat source as well as increased detection and identification range on the scope.
In terms of sensor, the ATN Thor LT 320 model comes with the smaller, 12-micrometer sensor. This has some advantages over the 17-micrometer sensor of the 160 model. In particular, the 12-micrometer sensor is better for maintaining good resolution at longer ranges and higher magnifications, which will influence the lens choice we'd pick for with this scope. Because it is a new technology this does mean a higher price tag – the latest and greatest will always be more expensive, and that's true of thermal rifle scope the same way it is for cars and phones.
Lenses
The ATN Thor LT Thermal Rifle Scope comes in a wide range of lenses, each of them capable of the one-shot zero feature and several color modes. The lens you choose largely depends on what kind of application you are looking to use the scope for.

At the lowest end of magnification, you have the 2-4x option, which we think would be great for people who don't plan on using their Thor LT at extreme ranges but might, for example, need to do some hog or coyote hunting at night. From there, there's the mid-range 3-6x thermal scope, which extends your range out a little bit father, at the cost of higher initial magnification that does restrict the field of view slightly. Getting into the longer-range options, we think the 4-8x lens is an excellent option on a thermal rifle scope that you intend to use at fairly long ranges most of the time, considering that even the base magnification is fairly strong. At the highest range in terms of both magnification and price, is the variant with the 5-10x scopes: this is the scope you want if you plan on making one-shot kills on game animals or other targets at fairly extreme ranges, and is truly a top of the line thermal rifle scope.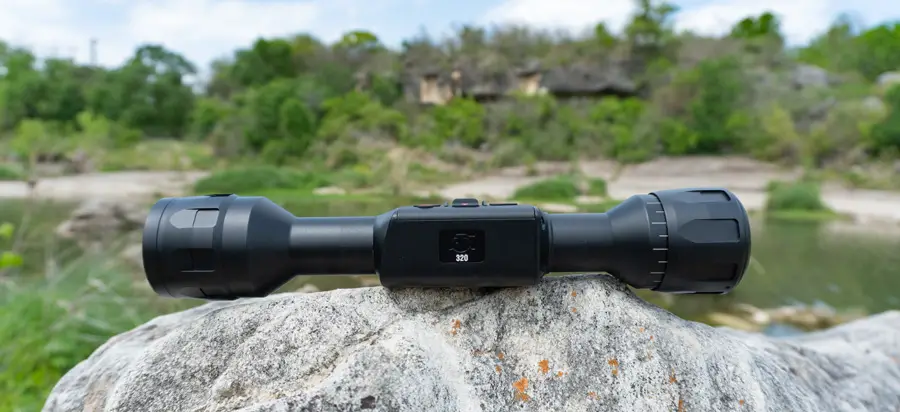 All of these scopes share a basic feature set, including the ability to switch between color modes to a black hot option, as well as being well-built and coming in a variety of colors.
Available Configurations
ATN THOR LT 320 2-4X
ATN THOR LT 320 3-6X
ATN THOR LT 320 4-8X
ATN THOR LT 320 5-10X
Colors
Speaking of colors, the same options that come on the 160 line are also available for the 320 line, including the three patterns of mossy oak camo.
If it were up to us, we'd probably stick with black on this one and go with the most expensive model we could find, as you'd likely end up painting or using some other camo netting to disguise your rifle and this scope if you're the kind of person who has a serious need for stealth, thus necessitating a rifle scope that cost more than one of our writers' first car.
Included Accessories
Each ATN Thor LT Thermal rifle scope comes with the same accessories. Right in the box you get:

Sleeve to cover the scope
USB charging cable
Eye cup
Lens cleaning cloth
Comparison Chart
160
(3-6X)
160
(4-8X)
160
(5-10X)
320
(2-4X)
320
(3-6X)
320
(4-8X)
320
(5-10X)
Sensor Pixels
19,200
19,200
19,200
76,800
76,800
76,800
76,800
Display Resolution
1280×720 HD
1280×720 HD
1280×720 HD
1280×720 HD
1280×720 HD
1280×720 HD
1280×720 HD
Field of view
11×8.3
8.3×6.2
4.6×3.3
11.6×8.7
8.8×6.6
6.3×4.7
11.6×8.7
Detection Range
475
625
995
715
910
1510
1620
Recognition Range
240
315
465
305
455
680
710
Identification Range
160
210
285
200
290
400
415
Eye Relief
90 mm
90 mm
90 mm
90 mm
90 mm
90 mm
90 mm
Weight
1.4 lb
1.4 lb
1.4 lb
1.4 lb
1.4 lb
1.4 lb
1.4 lb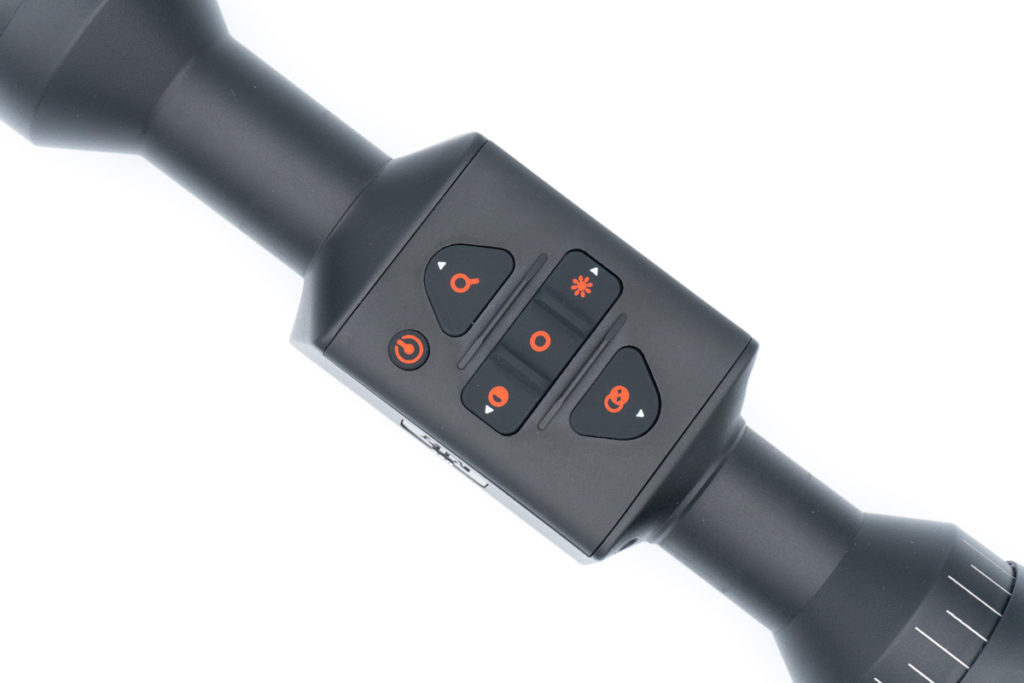 Additional features of the Thor LT models:
HUD Levels
Zoom button to cycle
Brightness settings
Contrast settings
White hot vs black hot color profiles
Focusing rings
Pros & Cons
Pros:
Most affordable option for a thermal scope. There are few (if any) that can match it at the price
Multiple configurations for sensor size and zoom to get just what fits your needs and budget
Very simple and intuitive controls
More compact & lighter than ATN Thor 4, its higher tier brother
Cons:
Larger form factor than some of the other thermal scopes we've tested
Doesn't have some of the more advanced features and settings of the Thor 4 or other scopes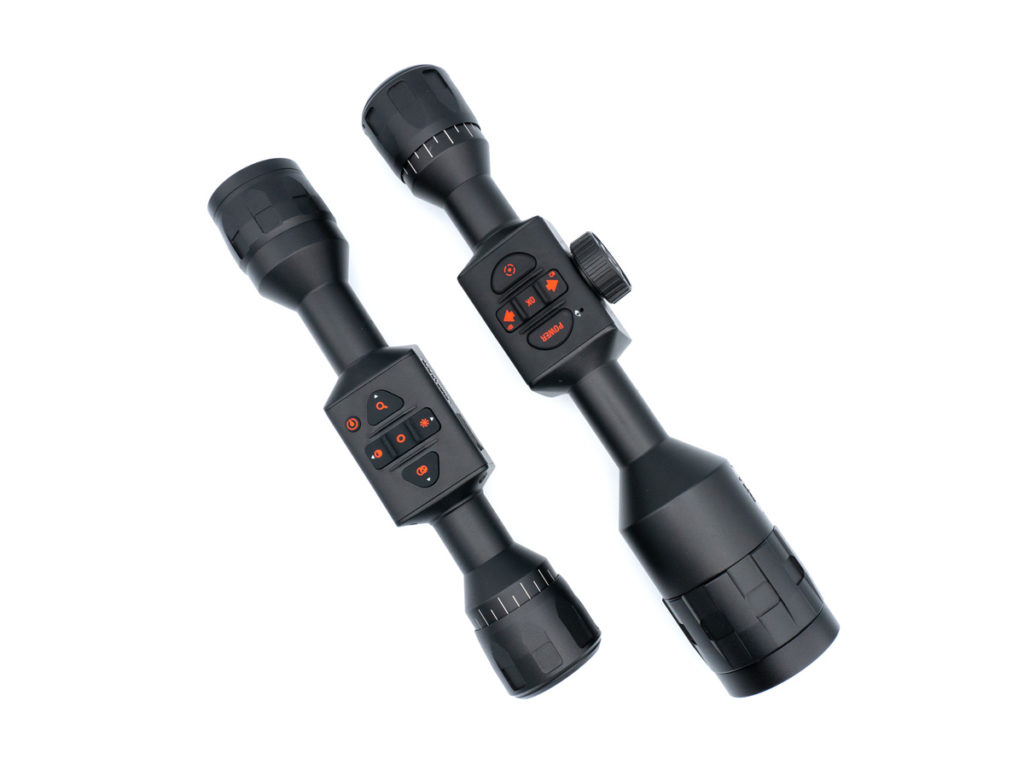 ---
Best Uses & Rifles for the ATN Thor LT Thermal Scope
AR Platform
If we were considering adding an ATN Thor scope to one of our rifles that we intended to use for hog or coyote hunting at night, we think that adding the 160 model to an AR15 or AR10 would be great. In our ideal world, we'd set that same rifle up with an excellent suppressor as well as a bipod to help manage the somewhat stout weight of the scope.
Specifically, we'd configure the 160 model with the 3-6x thermal lens: we like the high end of the magnification for long shots, but having a relatively low magnification on the other end helps with the field of view, and we'd keep it on that setting most of the time unless we knew we would have to make longer-range shots that we would be comfortable making at 3x magnification.
Handily, it looks like ATN makes a mount that's meant to mount straight to the 1913 rail that is common to most ARs these days, so it's possible to mount the unit yourself without needing to go to a gunsmith to have that done. For long night hunting sessions, we'd also rig up a charger so that you would be able to use the USB c cable to supply continuous power to the scope as you use it as a spotting scope and leaving it fully charged for when you have to run after a hog in the dark.
Bolt Action Rifle
We also think that the ATN Thor LT thermal rifle scope would make a perfect addition to a bolt action rifle for either hunting at night or whatever tactical operations you might have in mind. Specifically, we'd choose the 320 model with the 5-10x lens so that we could get the most long-distance performance possible out of the rifle in that kind of configuration. With a bolt action rifle and a sensor that's good out to extended ranges, we think that this could be an excellent way to get a hog or deer hunting gun that is extremely capable at long ranges either at night or in cold, foggy daytime conditions in which the heat source of a mammal presents a big target.
The mount setup might be simple, assuming your bolt action rifle has Picatinny rail on the receiver. If not, you might be shelling out a little extra money to have a gunsmith mount the unit for you, but if you're looking at a scope this expensive you expect that sort of thing as part of the deal. From there, we think it makes sense to take advantage of the accuracy of bolt action platforms, and we'd make sure to equip a bipod and, if we had it, a suppressor to maintain as much stealth as humanly possible. Much like with the AR setup we have in mind, rigging a charger with the usb c cable when you're stationary makes sense so that the scope remains fully charged when you do need to become more mobile.
Recommended Accessories
Regardless of the kind of rifle you plan on running with your ATN Thor LT, we think a few accessories make some general sense to have either on the rifle or in your kit.
Bipod / Mount
Because these scopes all weigh a pound and a half, it makes sense to us to also run a bipod on the rifle. This will add even more weight, but we prefer to have the ability to get the rifle set up and shooting well as opposed to depending on our arms not getting tired.
Thermal Targets
Its good to also think about getting some of ATN's thermal targets: these are targets that show up as a heat source, and are an excellent way not only to zero the rifle but also to practice using the scope in a controlled environment. Just using a normal target will make it significantly harder to practice with the scope since it will blend in with the rest of the environment as a cold object.
Batteries & Chargers
Since these scopes run on batteries, getting a large, or several small, USB power bricks makes a great deal of sense as you'll also probably have a smartphone with you while you're out in the field. We think of this as just one more addition to the basics of food, water, and ammunition for a successful hunting trip.
Warranty
Lastly, ATN does offer warranties on these scopes for an additional fee. We don't normally bother with that kind of thing for normal consumer electronics, but this is clearly something a little outside of the ordinary, and we'd like to know that we're covered for several years after the fact.
Conclusion
So, do we recommend the ATN Thor LT line of scopes?
We absolutely do.
We really enjoyed testing out the ATN Thor LT & its higher tier brother the ATN Thor 4. They were a ton of fun to shoot with and are super helpful in spotting prey in the brush or in low light.
For the price, they're some of the best thermal scopes on the market. With that in mind, do not simply take our word for it. There are several customer reviews on ATN's site, and we recommend reading them as well. ATN also has that customer support line, and they'd be happy to help you with any questions you have, especially the technical ones that we would rather have them answer than having us stumble through them here.
Each scope we're looking at here magnifies the thermal radiation that comes from a heat source such as a mammal (either two-legged or four) and presents that image to you through thermal imaging. Thus, the ATN Thor LT line is a thermal rifle scope making use of a true thermal imager, which puts it in a class of users that makes it not only a good scope but something fit for use by the most demanding shooters, many of whom will need to operate at night under demanding conditions.
ATN Makes the Thor LT Thermal Rifle Scope to be durable: these are recoil-resistant scopes that are appropriate for use in the high caliber weapons common in night sniping and hunting types of scenarios. Although, we suppose that if you felt the need and had to have a varmint rifle capable of hunting at night, then you could also put this scope on an air rifle: the sky and your wallet are the limits here in terms of what you can do with a light thermal rifle scope.
All in all, we would recommend buying an ATN Thor LT. If we were doing it, we'd start the process by going to ATNs configuration page: it looks like many of those are common to the car industry, and you can take your time to build the ideal scope for your needs. From there, talking to the customer service folks would likely be a great part of the process, as it will save you time and headaches in the future. Thermal scopes are complex, expensive items, and thus we would strongly urge you to call ATN for more details if you're interested in one of these scopes.
This line of ATN Thor LT thermal scopes presents options that are light weight, highly effective, and would likely be the crown jewel in your outdoor gear collection if the reviews and our research have anything to say on the matter.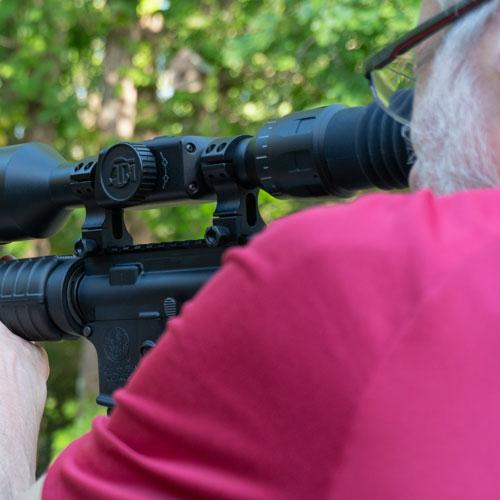 George has been an avid shooter for twenty years. He began shooting when he was gifted a Browning SA-22 for target practice. Now, as an academic, he combines his love of firearms and knowledge of history to write for firearms blogs and is still a frequent sight at the local range.