With the growing popularity of AR15-style hunting rifles, it was only a matter of time before optics companies started working up scopes that were specifically designed for this extremely popular platform. Bushnell has come up with its own solution to the budget AR Optic itself. So today we're looking at the Bushnell AR Optics 3-12×40 SFP Scope.
From paper-punching to coyote hunting, the optic we're talking about today has been through numerous disciplines of shooting. Not only is it a firm and well-built scope, but it comes in at a price that will leave you extremely satisfied with your purchase. If you're looking for an entry-level optic for more than one purpose, Bushnell has a compelling argument with their AR Optic line.
Check Price at:
About Bushnell
Bushnell is a top-tier scope manufacturer based out of Overland Park, Kansas. Some people may have fists to shake in my direction upon hearing that they're a top-tier scope company, but it's the honest truth. With amazingly popular scope companies like Vortex and Leupold often taking the spotlight on the consumer-facing market, Bushnell often gets swept behind the curtain despite having extremely competitive optics options for the everyday firearm enthusiast. 

The optic we're taking a look at today is the Bushnell AR Optics 3-12×40 SFP Scope. This optic is Bushnell's entry-level scope for any beginner's AR-15 or AR-10. This scope is smaller and lighter in stature than what I'm personally used to using, but it's earned its spot in my gun safe next to all the other scopes.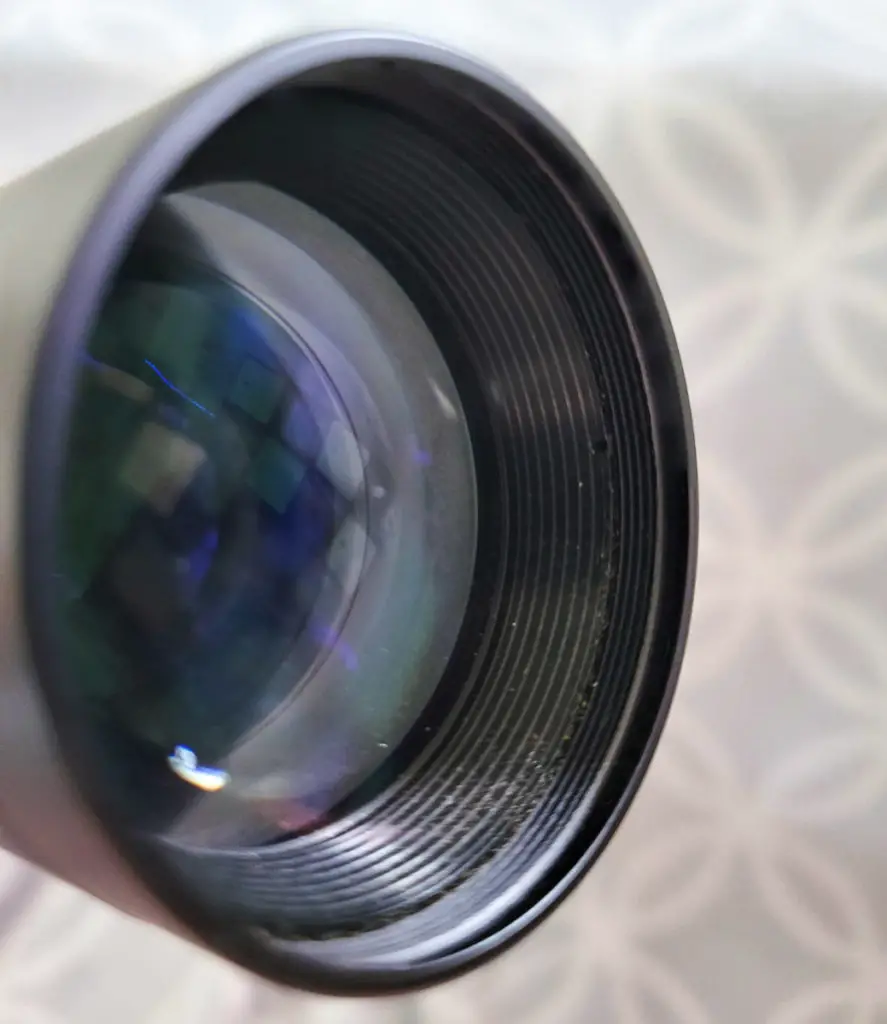 Bushnell makes this line of scopes in Korea. Some people are picky about where their glass is from, but I have no problems with shooting Korean glass. The image in this scope is as crystal clear as I could want in a scope. In a nutshell, this scope is solidly built, clear, and overall a beneficial optic that would be a great addition to anyone who needs something at the beginner level.
It doesn't have some of the fancier features like a zero-stop or illumination, but I would gladly take the $180 price tag to get into an optic when I don't have much money over having features in a scope that I wouldn't use. All of this and more is in store as we get into this fascinating scope.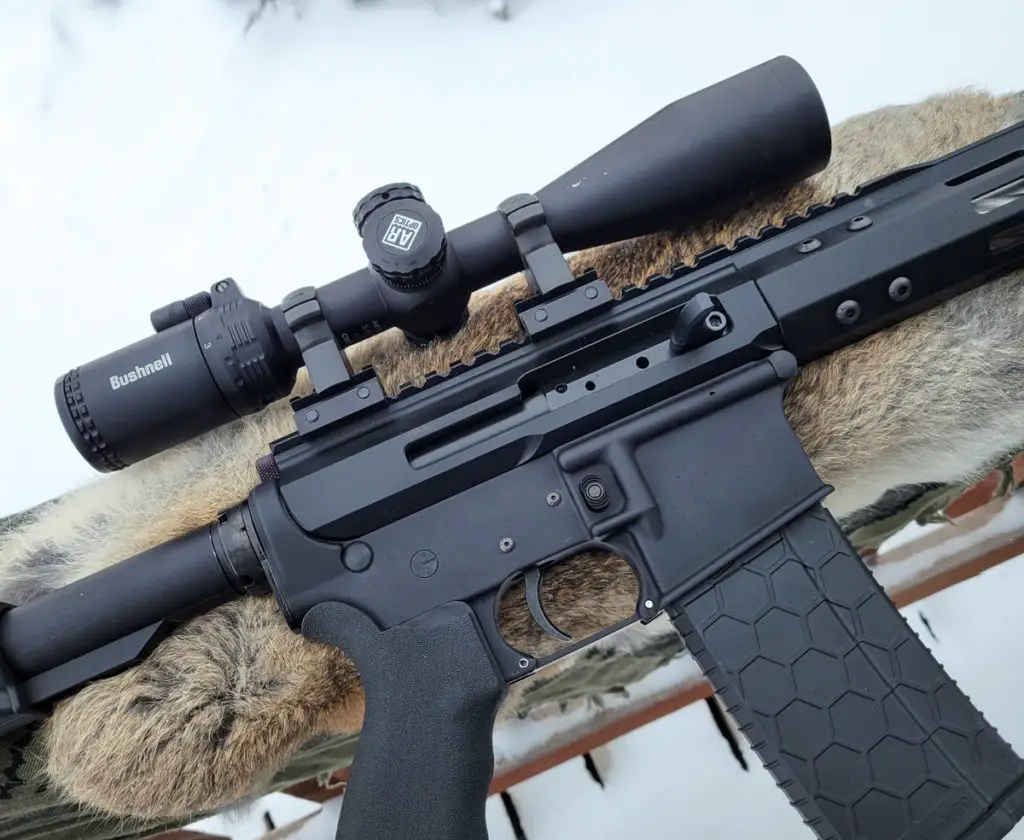 Features
This scope has been an all-around beauty to work with over the past couple of years. Not only has it been dragged through the dirt, but it's taken many coyotes in Western Nebraska. It's been used on steel targets 400 yards and in, and the optic performs admirably while doing so. Since it's been used so extensively, it's only appropriate that we go through some of the major features before diving head-deep into this scope review.
40mm Objective Lens
Awesome "Drop Zone" Reticle
Folding Throw Lever
10 Yards to Infinity Parallax
Excellent Value
Second Focal Plane
Now it might be said later on in the article, but this scope wins no beauty pageants by any means. This scope is more like the old reliable car that you bought with cash and it hasn't let you down since. It may not have all the features and looks of a scope three times its price, but it'll get you through all the hunts and outings you want it to.
This scope does everything well without excelling above the competition when it comes to one specific thing. All of this ties into the fact that it's a $180 optic and not meant to be the Cadillac of AR Optics. If it was, some people would focus on keeping this optic in tip-top shape rather than focusing on hunting coyotes or prairie dogs.
Mounting
AR-15s are tricky to mount scopes to sometimes. The trick is to have the right combination of scope rings and objective bell lens diameter to make sure nothing makes contact that shouldn't. Bushnell manufactures these scopes in many different magnification ranges, but the one common theme among their highest 3 magnification range scopes is that they all share a 40mm objective lens. While this size objective lens may not gather as much light as a 50mm or 56mm objective lens, there's a specific reason why Bushnell made this scope that way.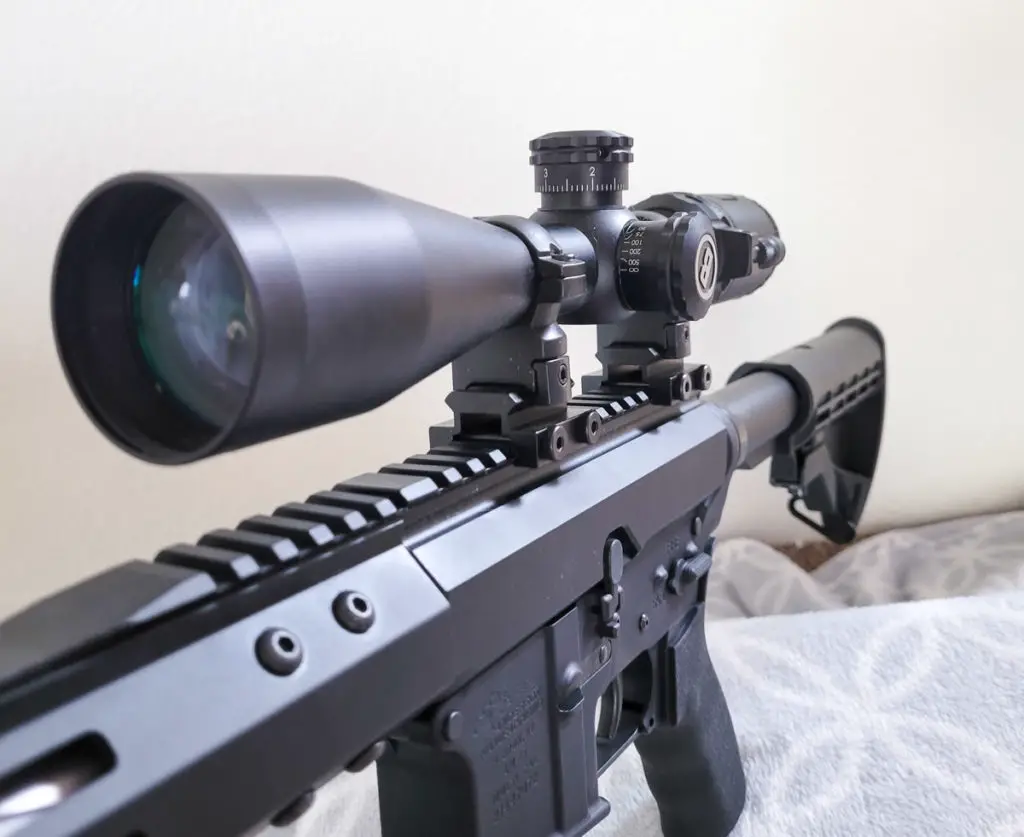 With a 40mm objective lens, the scope has a slimmer profile and can be mounted on the AR lower than scopes with larger objective lenses. The difference is most notable when you try obtaining your cheek weld with your AR stock after first getting the optic mounted. Since the 50mm objective lens needs to be mounted higher, your head needs to be higher off the cheek rest. The 40mm objective lens on the AR Optic makes the cheek well very comfortable and gives you more freedom with what stock combination you want to use with your AR.
Since AR15s are equipped with handguards that extend at the same height as the picatinny rail you mount your scope rings on, you have to make sure you get the right ring/scope combination to prevent the objective bell from contacting the handguard.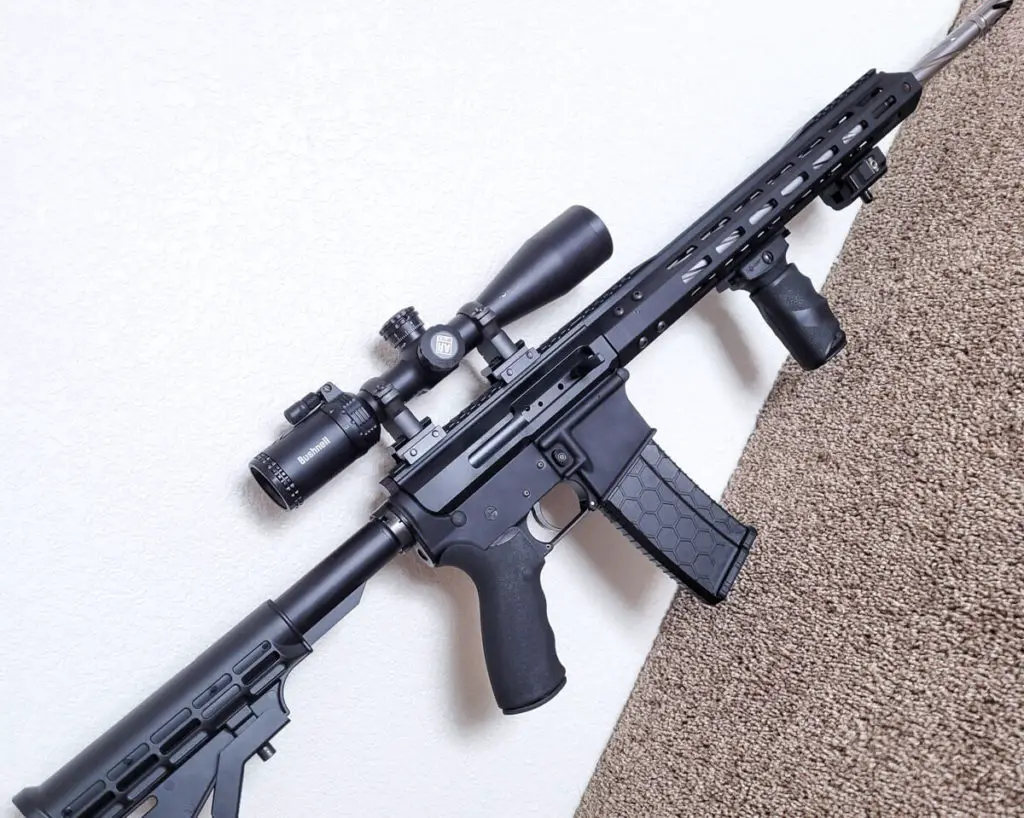 Granted, my scope may have been mounted too high, but I'd rather it be too high than touching the rifle. Mounting is made as simple as it is with any other firearm, but if you're looking at getting a Bushnell AR Optic, just know that you will have more leniency on ring height than you would with an optic with the same magnification range and a 50-56mm bell.
Ease of Use
In past reviews, I've mentioned that some scope companies lose customers over having their products designed to be "too complicated". When you pick up this scope, the first thing you have in mind is that it was built for the humble and simple hunter. There's no complicated reticle, massive adjustment knobs, or even a large tube size.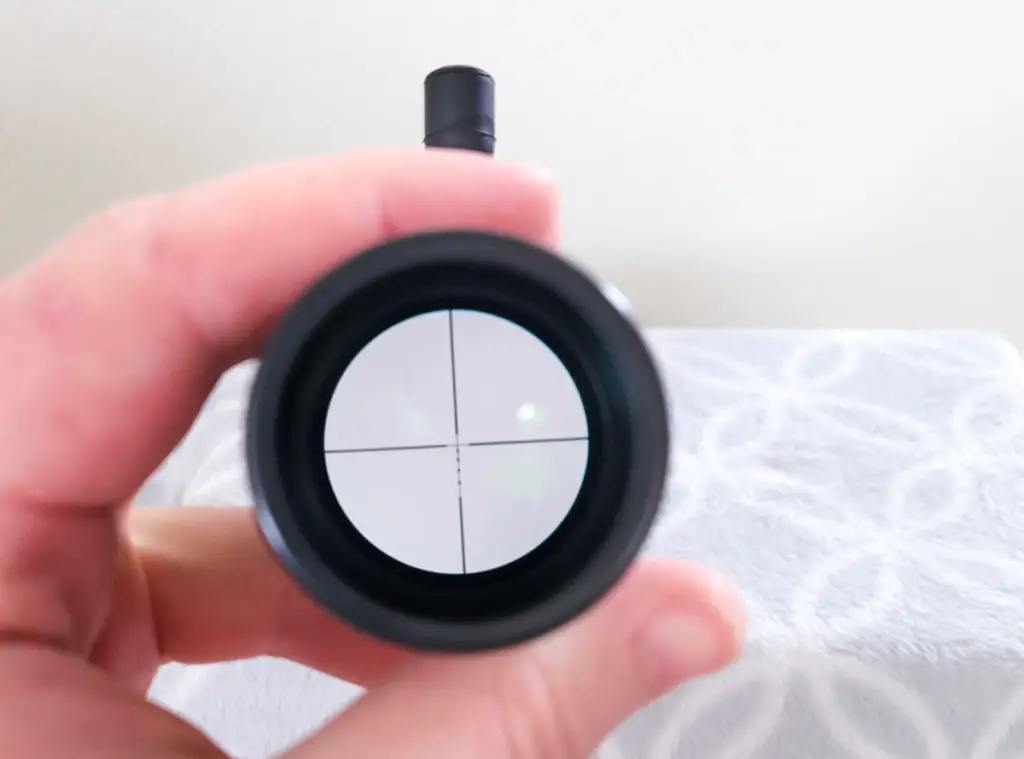 Things are kept simple with a 1" tube and a reticle with three elevation holdovers. The Bushnell handbook that comes with the scope gives you a cheat sheet for those holdovers, and they've designed the reticle to be crazy simple. I'm glad that Bushnell kept this optic priced lower on their scale of optic families in order to allow beginners to get their hands on a scope like this easier. It's everything I would have wanted to start out with at the beginning of my shooting experience. Everything you learn while shooting with this scope is easily scalable to an upgraded optic.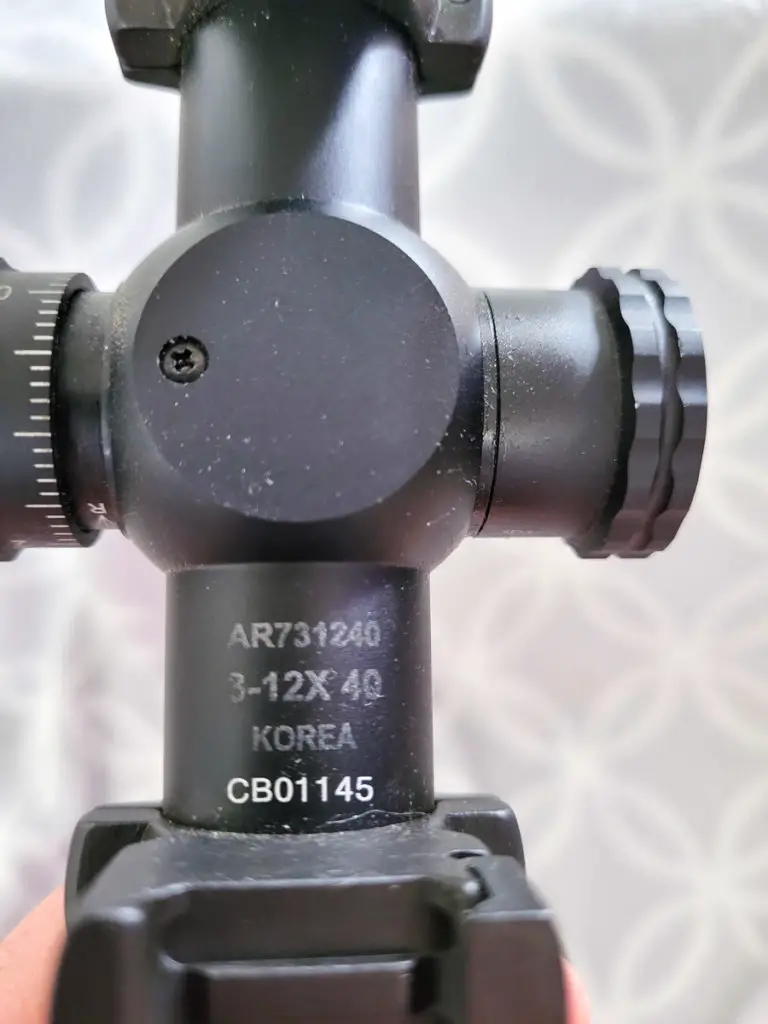 When you go the other way and start out with a massive $3,000 scope, you can often get lost or discouraged in how to use it. Not only that but if you don't know how to properly use all the features and functions of a $3,000 optic, are you really doing yourself justice by spending that much money for one scope? The Bushnell AR Optic is much like the AR-15 in the sense that it's easy for everyone to use.
Adjustment Turrets/Tracking
Remember when I mentioned that this scope does a lot of things good, but nothing terribly great? The turrets are very firm and crisp which is what you want with exposed turrets. If I had one drawback with the turrets is that they're not very loud. Usually, scopes have a loud click that goes with each notch on the dial, but the click with this scope is barely audible.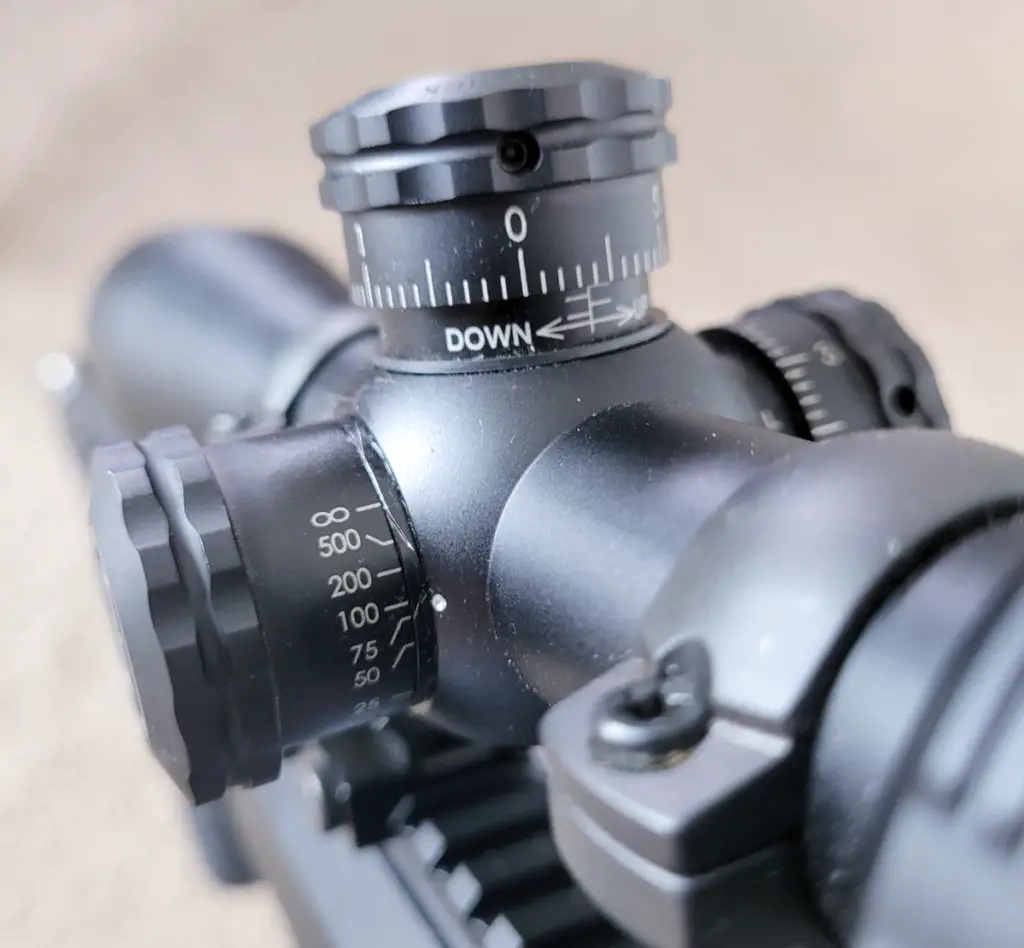 If I was Bushnell heading into the Gen 2 with this scope, I would just cap the turrets in all honesty. As was mentioned above, when the reticle removes the need to dial your holdovers, you might as well run an optic with capped turrets. Bushnell could have even gone weirder and only capped the elevation turret while leaving the windage turret alone. That's actually an idea that some scopes are starting to encompass on their optics.
Reviewing the turrets also comes with testing out the tracking. My biggest pet peeve with an optic is any inaccuracy in tracking ability. The good news is that the reticle gives you holdovers, so dialing isn't necessary very often. But I have run the turrets to both ends of the spectrum to make sure the optic returns to zero and it does it every single time.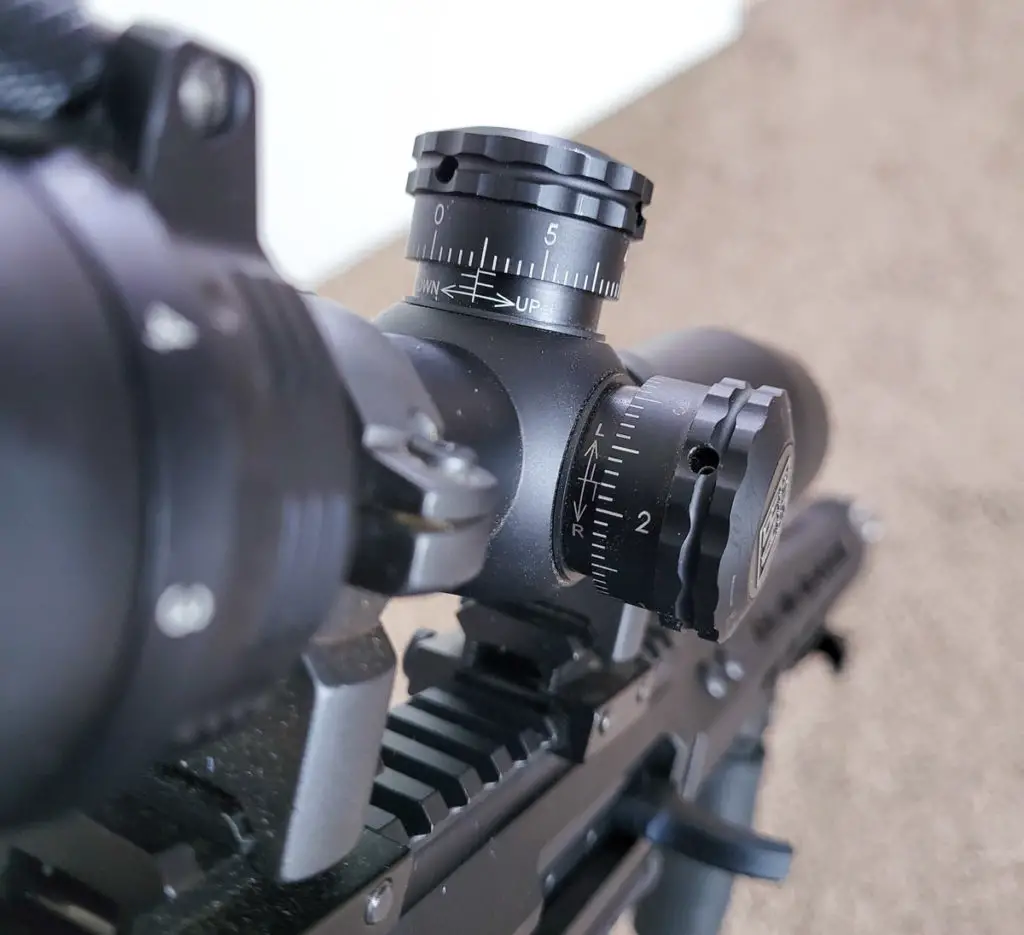 It does not have a zero stop, but for those wondering, I'll give you a tip to always be able to find your way back to zero if you lose count of your elevation revolutions. When you're not at the range, take your scope and write down on a piece of paper what number it's on. Then, bottom out your elevation turret, making sure to count each time you pass zero. Now, no matter where you are in your scope's elevation, you can bottom out your scope, and then count up in revolutions as you get back to your zero number.
This scope tracks and the turrets are firm as they sit while being crisp in adjusting. As someone who works a lot of different optics, that's a win in my book. The heart of a rifle scope is the accuracy it claims to have, and I give this scope a pass with flying colors in that regard.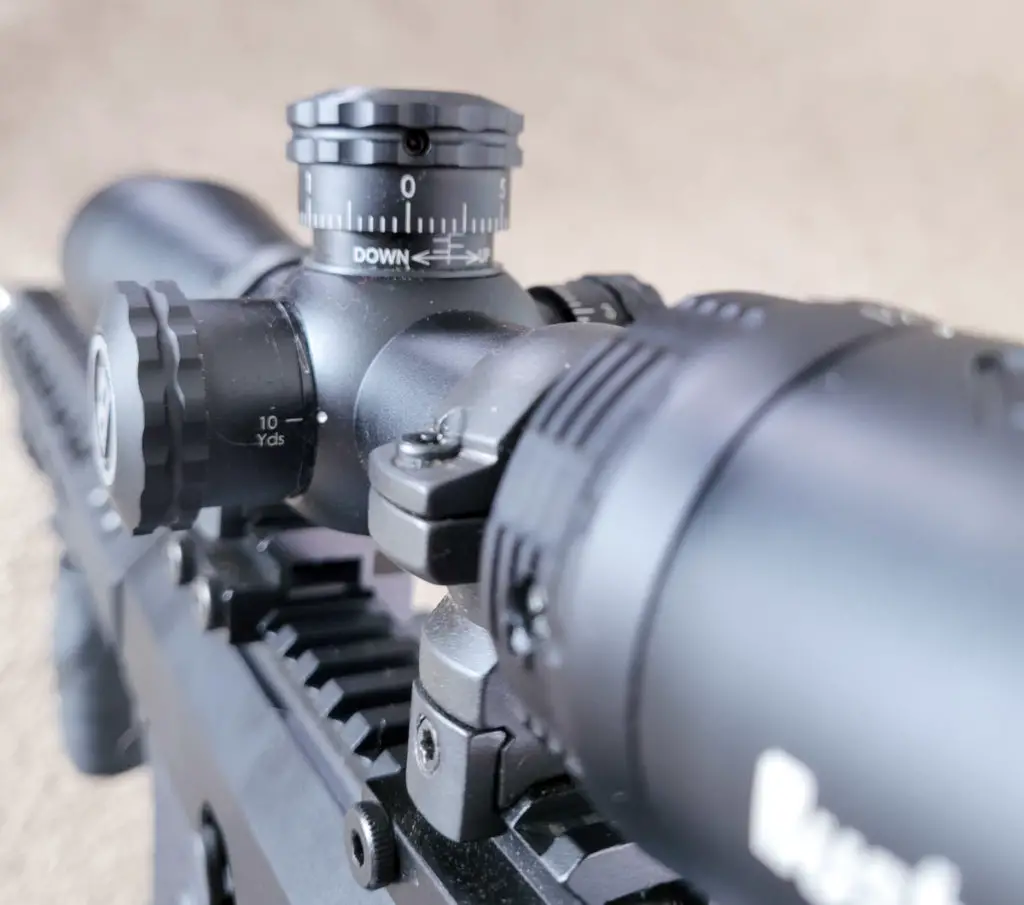 Throw Lever
This is one of the best throw lever systems I've had the pleasure of finding on an optic to date. It's such a good throw lever that it gets its own section in the review. This is the only optic I've found where the throw lever is foldable to the side. As someone who hunts coyotes year-round, a throw lever makes it easier for adjusting magnification while keeping your eyes on a moving target.
At the end of the day, however, the throw lever can be folded to the side so it's not caught sticking up when you're putting the gun back in the case. And when I take the gun out to shoot at steel, I can leave the throw lever down and it stays convenient and smooth at all times. It's also nice because it's a removable throw lever with the help of a flathead screwdriver. 
Throw levers are starting to be more popular with modern optics, but Bushnell got the head start on this kind of design for the most convenient throw lever. To give the shooter the option to fold the lever over, or remove it entirely is one that's uncommon within the optics world. This feature doesn't make this scope a complex machine, but I like pointing out the smaller features that I really appreciate about this scope.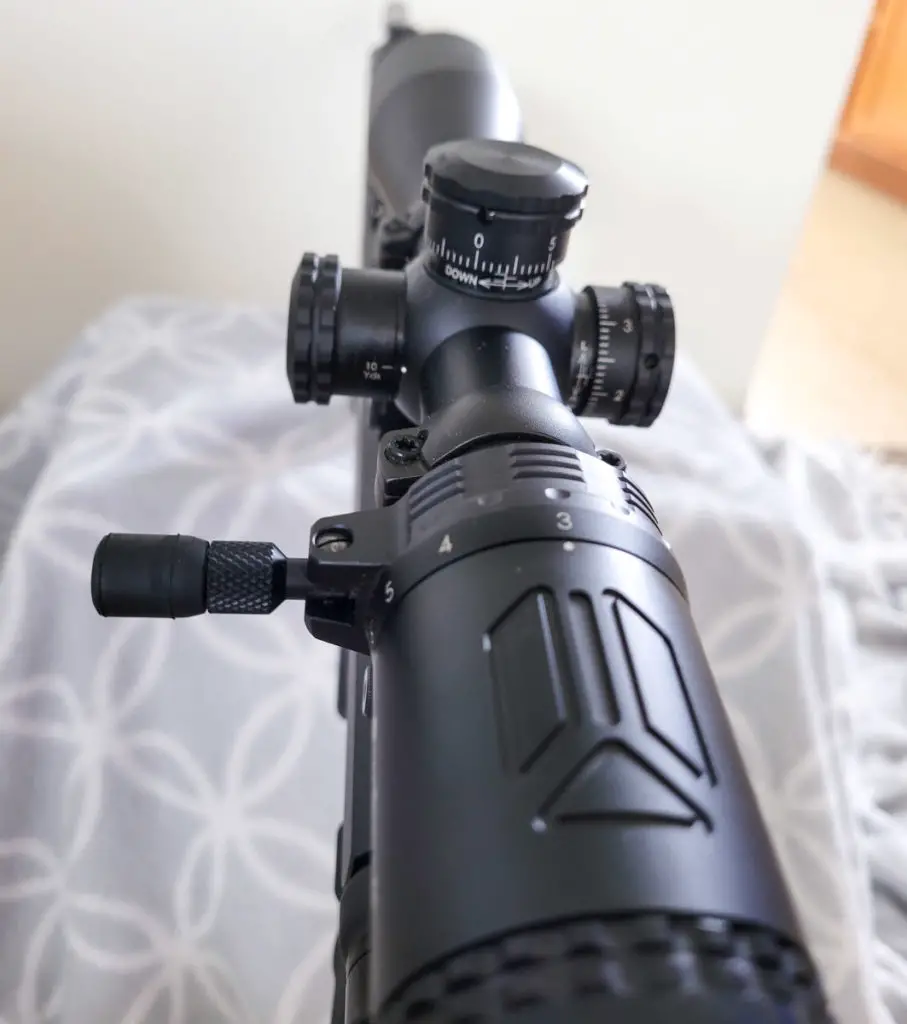 Overall Cost
There was a time when I was a broke college student who needed an optic for AR coyote hunting. When you're dealing with a budget of a couple of hundred dollars, you should be the pickiest customer in the market. Bushnell made this scope specifically for AR-15 users. The modularity and overall build of the scope beg you to put it on a flat-top AR.
Bushnell's website advertises this scope for $180 but there's no doubt that if you were patient and observant enough that you could find a deal for this scope at around $150 or less. Bushnell's biggest favor to their customers was making this an entry-level optic instead of their top-of-the-line expert-level scope. It doesn't have some of the features of more expensive scopes that would make it nicer, but does it really need those features to satisfy a large majority of beginners? The answer is definitely no. 
As mentioned above, this scope doesn't scare anyone off with its complexity. But keeping it simple to the point where Bushnell doesn't have to charge $700 for just this optic is something that's needed more in today's market. The gun industry is getting used to pumping out more and more technologically complex and expensive items for consumers to buy. Making the optic line was a brilliant move on Bushnell's part because the rest of the optics industry doesn't have something exactly like the AR Optic line, and instead of making something like it, they're focusing more on making scope lines that cost thousands of dollars to the consumers.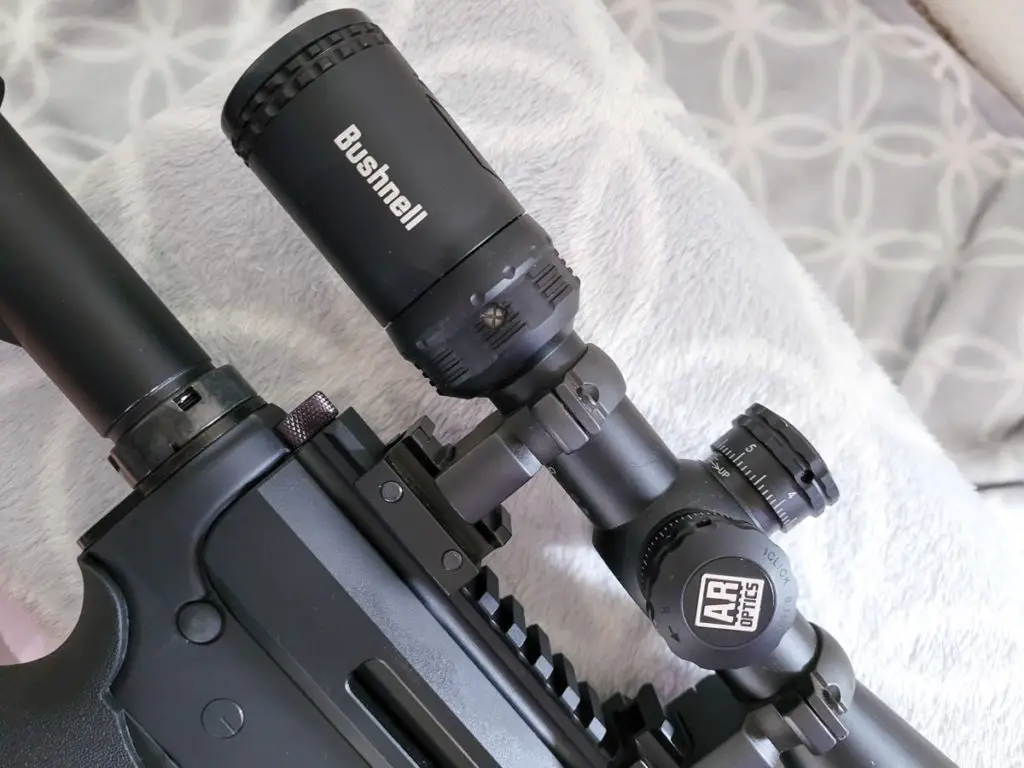 For under $200, you can get yourself a fine scope that will put bullets where you aim. If you play it right, you can use the money you save buying this optic over others to pour back into ammunition, training, or upgrades for your AR.
Pros
Before getting into the pros, there's one that won't make the list that I haven't pointed out yet. You can still put this scope on a bolt gun. In fact, the holdovers on the reticle in this scope have data for a multitude of calibers like .308 and 6.5 Creedmoor. That may be meant for AR-10-style rifles, but there's nothing saying you can't put this scope on your favorite bolt gun and run those holdovers that way. You would be doing yourself a disservice by thinking you had to get a different optic to run on bolt-action rifles. But with that being aside, let's get into the pros we talked about with this review:
Slim Scope Profile
Great Throw Lever Design
Easy-To-Use Reticle
Second Focal Plane
Only 19 Ounces
The hunters will absolutely love this scope. Weighing in so light and having a 40mm objective lens keeps this scope slim and packable. A 3-12 magnification range is more than respectable for many different shooting disciplines, and I've found myself to be very comfortable using that mag range.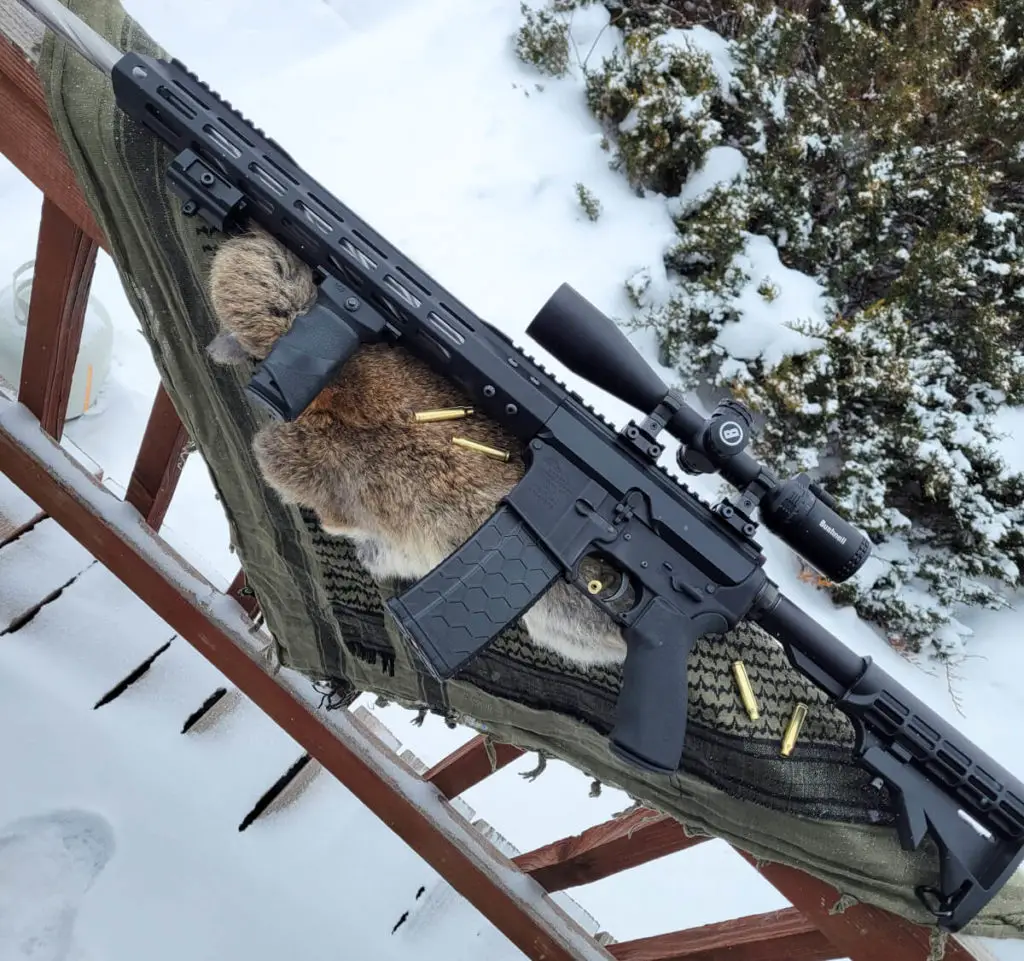 The real things to appreciate about this scope are the small features. The throw lever and the reticle can be used as much or as little as the shooter wants. The fact that it's second focal plane may be a thumbs down to some people, but I would argue that making this optic a first focal plane would ruin the price point of the optic and ward off some shooters who just need a crosshair.
Additionally, most hunters actually prefer second focal plane scopes for their rifles due to the chance of losing your reticle in the low magnification ranges of first focal plane scopes. You can definitely use this optic to shoot steel and paper, but when you use this scope, you can also tell that Bushnell created this scope line for the varmint and predator hunters.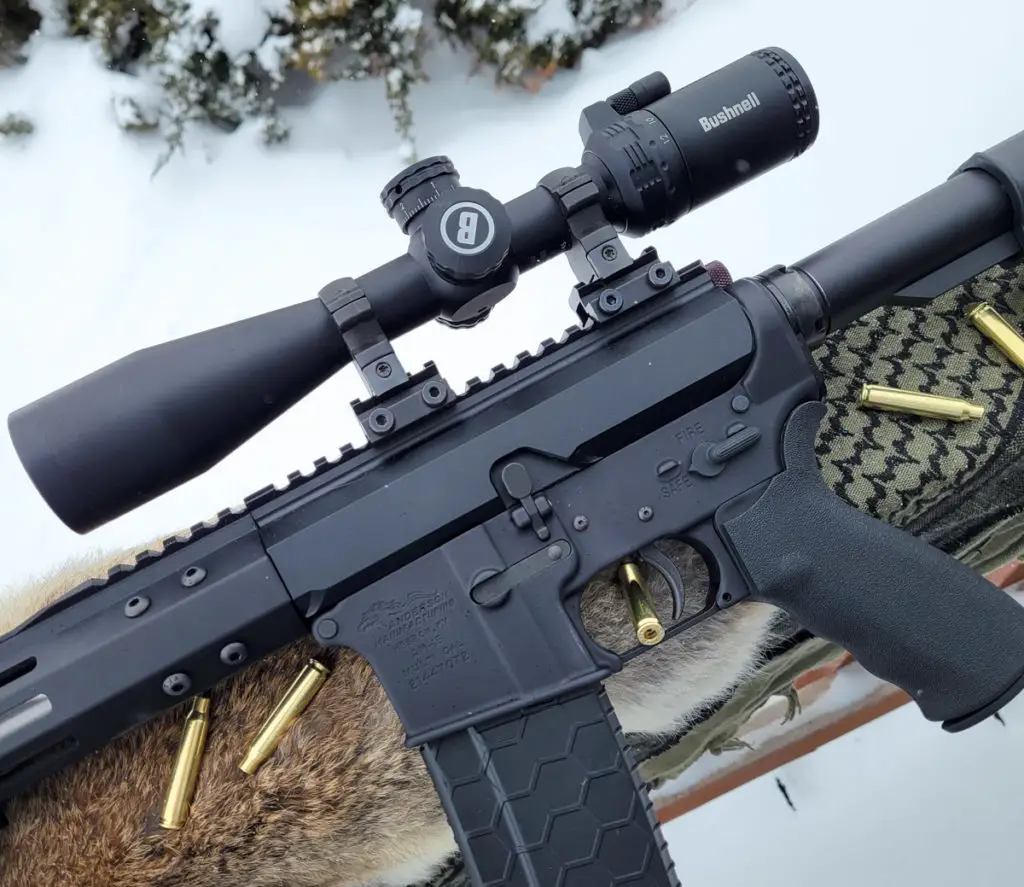 Cons
This is a good scope to get if you're looking for an optic that has a bigger pro list than a con list. Sure, the 3-12 magnification range isn't the shiniest car on the lot, but it's an extremely utilitarian mag range that is useable for plenty of applications. With all that this scope can be used for, here's a short list of some of the shortcomings that come with this optic:
No Illumination
MIL and MOA Adjustments
Exposed Adjustment Turrets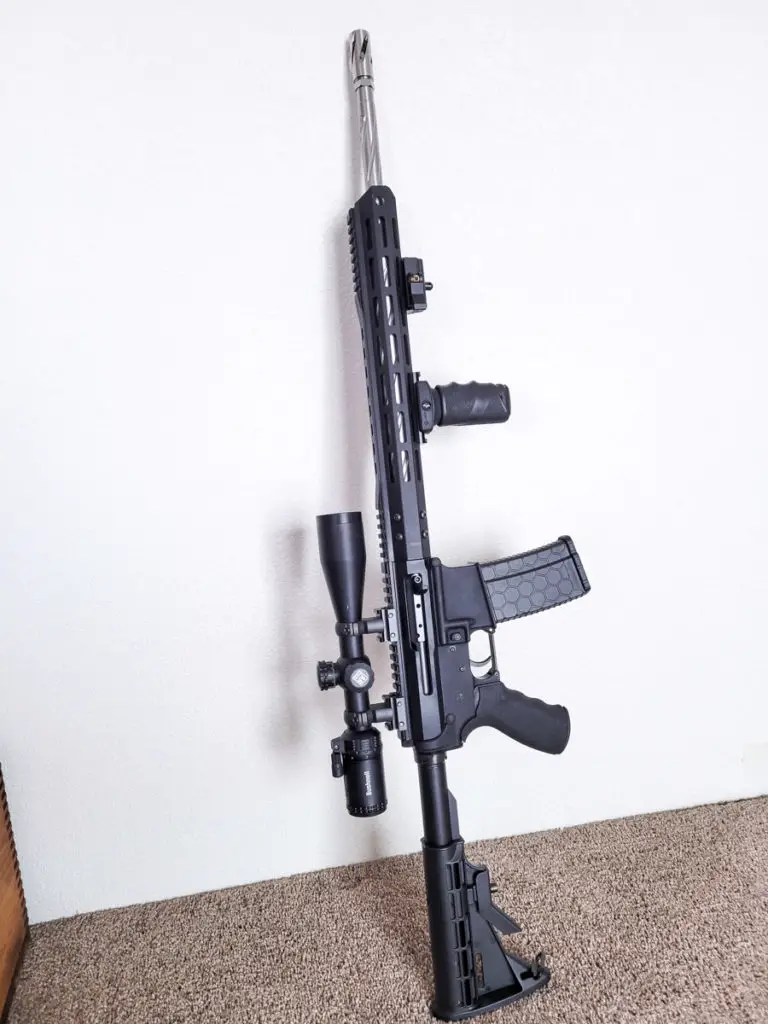 No illumination in an AR Optic? Really? It's understandable if you want to save the weight, but when people are shopping for an AR hunting scope, they're going to be using it in low-light conditions while on the prowl for coyotes. As someone with experience with this, it's probably my biggest drag on the scope. The good news is that Bushnell is now releasing these scopes with illumination options, but since we're reviewing the scope that's on my rifle, it gets put on the con list.
One of the weirdest parts about this scope that isn't seen as much in this modern market that we have is the reticle that measures in MOA while the turrets measure in MILS. Math is already not my strong suit, but in order to measure anything with your reticle, you would have to translate whatever figure you get to MILS before you can dial an adjustment. There's a reason this is a very uncommon practice among optics companies, and it's because consumers find it annoying.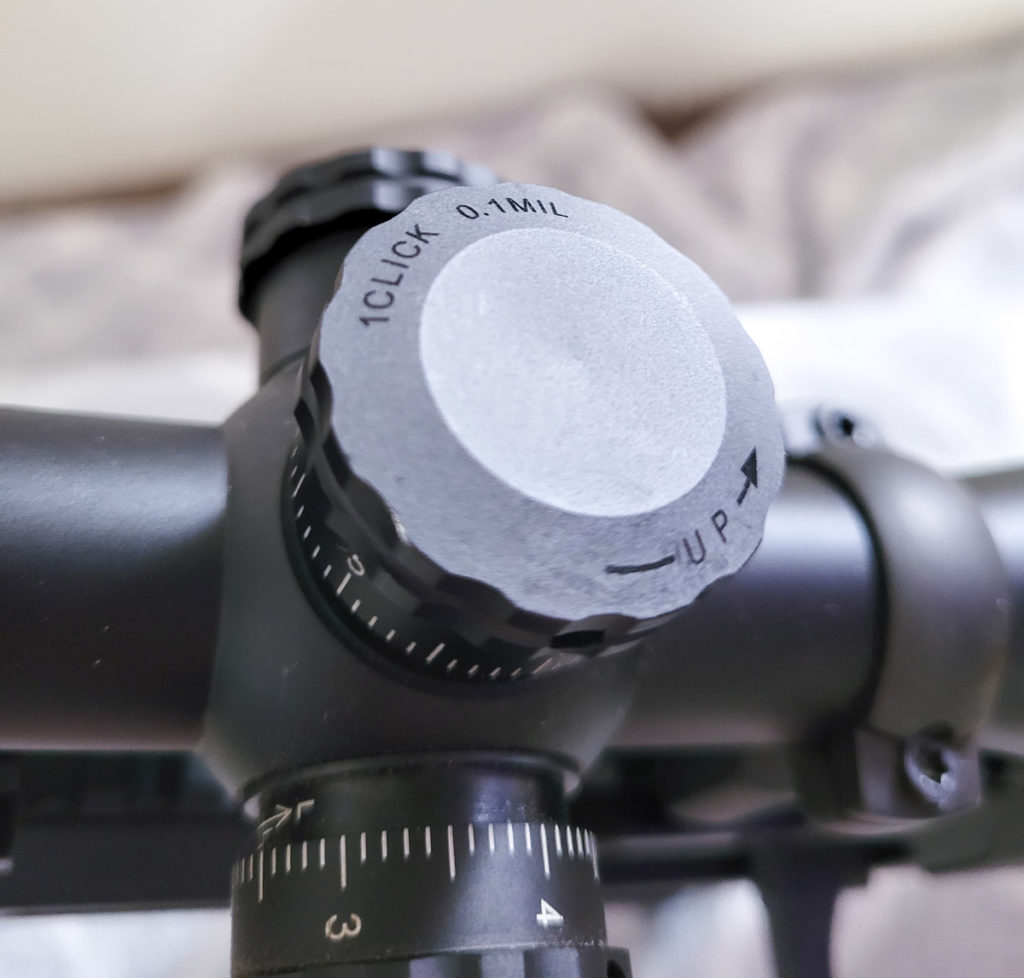 The last con for this optic might have some people scratching their heads. Yes, exposed turrets aren't ideal for a hunting optic. For people who are going to use this for steel and not hunting, the reticle should do 90% of your work anyway. This scope doesn't require a lot of dialing because you get most of your holdovers built into your reticle. Once this rifle was zeroed the turrets go untouched. This isn't the biggest thing to trip over, but it's definitely notable if you're nit-picky about your optics like I am.
One final con before moving on, but Bushnell did move on to the second generation of this scope. One of the moves they made was actually not to manufacture the 3-12×40 model with their second generation. All that being said, you can no longer find my specific scope for sale unless you're going through a used optic dealer. You can still find this scope line in magnification ranges like 4.5-18×40 but you won't be able to find the 3-12×40. The best advice I can give you is that this review should carry weight for the entire line, and Bushnell should have only made these scopes better by releasing the second generation.
Verdict
I don't think there's an easier way to wrap up this review than to say that I'm very satisfied with the Bushnell AR Optic 3-12×40. If I had to go back to when I was shopping for optics like this one, I might have waited a little bit for the second generation of scopes to come out so I could have the illumination and a bigger magnification range on hand. With how many coyotes this scope and rifle combo have taken, however, it's easy to say that I have no plans on replacing or upgrading this scope anytime soon. 
This is a scope that I'll never sell. Not because it wouldn't be worth it, but a scope like this gets used so much that when you take it out on your next hunt it feels like a part of the rifle and an extension of yourself as the hunter. I have fancier optics that would work great on my AR, but I've learned and shot so much with this optic that it might be the one I'm at my best with.
If you're just starting out with your optics and firearms journey, my advice would be to save some money by getting a scope like the Bushnell AR Optics 3-12×40 and running it into the ground. The lessons you'll get out of this little scope will prepare you for the bigger optics you might want to run on your bigger guns with longer shots.
Check Price at: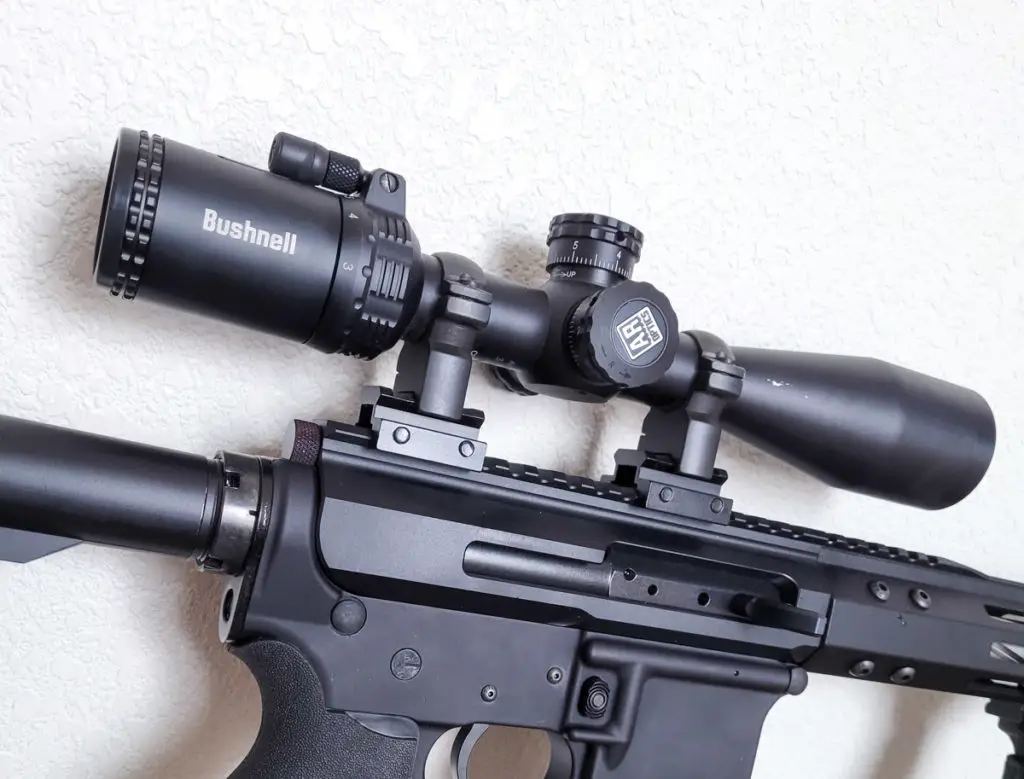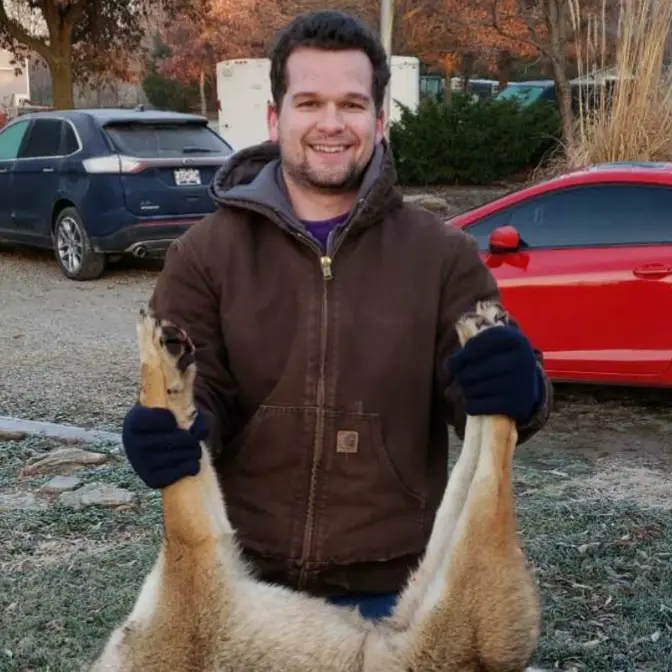 Growing up, Buck was taught about firearm history and appraisal. Getting to know so many different firearm platforms eventually lead to his long-distance shooting exploration. While his main hunting past time is coyotes, he still find just as much satisfaction punching steel at distance. Every shot taken is with the purpose to become a better shooter.