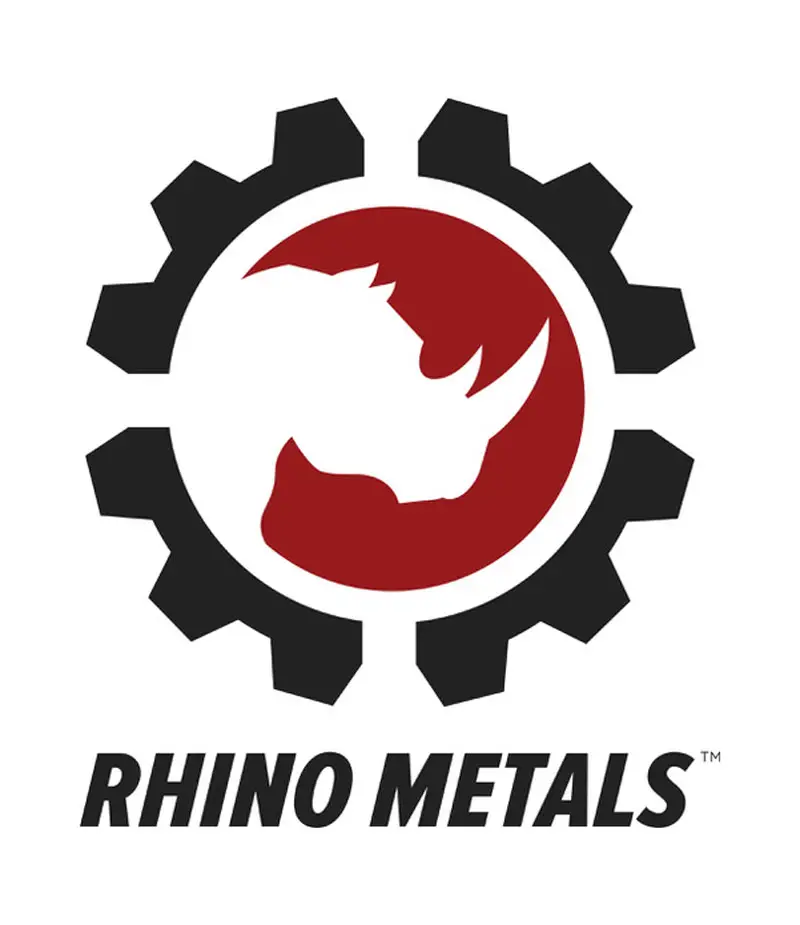 Today, we're going to be taking a look at Rhino Safes, an American safe company that makes awesome ways to secure your important property. To start things off, we'll talk a little bit about the history of the company, before getting into their range of products.
From there, we'll highlight three of their safes in particular that we think work for a variety of purposes. To round things out, we stopped by one of their distributors in our area to have a look at these safes in person.
In this case, we were impressed with the combination of value, features, and looks on these safes.
About Rhino Safes
Rhino Safes has been operating in the US since 1995. Their main business, aside from safes, is making metals for all kinds of industrial applications. If it requires high-quality steel, whether it's for equipment or buildings, Rhino has a hand in making it. The base materials for their safes, then, is more than strong enough for anything we might need to store or protect.
They've been making safes since 1999, when, apparently, the founder of Rhino Metals was asked to make a gun safe for his father. Being a good son, and a veteran who supports the Second Amendment, Rhino safes came into being shortly thereafter. Rhino safes have, since then, committed to making safes that are of high-quality materials, at reasonable prices, for folks who want to protect their valuable property.
In a lot of ways, Rhino is the quintessential American business story. It began as a provider of high-quality base materials that are useful to all sorts of people and in all sorts of industries. From there, an idea around a dinner table has turned into one of the better safe manufacturers in the country. They are currently based in Caldwell, Idaho.
Rhino has several brands or series of products that they sell:
Rhino
Rhino Ironworks
Kodiak
Longhorn
You'll see these names mentioned several times in this review, but they are all made by Rhino.
From what we learned from the local distributor that we talked to for a bit of a secret shopper review, the sales folks at Rhino are friendly, knowledgeable, and are always trying to educate not only sales staff, but their customers to get the best possible safes for whatever application the customer has in mind.
Rhino has a massive number of authorized dealers for their products. There were two stores near us that carried their safes. This can save you some time and money in shipping as well as allow you to get a hands-on look at the safes before you buy them.
Best Rhino Safe Under $500
One of the best ways we can think of to secure a few handguns or a lot of important documents is the Longhorn LSB1014. While it's an extremely sturdy safe, it's still light enough to keep on a heavy desk. It comes in an incredibly cool old west style look and finish. This isn't your standard lock box.

Small Longhorn Gun Safe (LSB1014)
| | |
| --- | --- |
| Outside Dimensions | 10″H x 14″W x 10″D |
| Weight | 30 lbs |
| Fire Rating | 30 Min @ 1400°F |
| Material | 14 gauge Steel Body |
| Capacity | Handguns & Documents |
Even at this relatively modest price point, Rhino's safes can withstand a lot of heat and abuse, so we'd consider this one for our own offices if we were at all concerned about a break-in or fire.
Best Rhino Safe Under $1500
For a full size safe that can fit 30 long guns and 10 handguns, it's hard to beat the Kodiak KB5529ECS. This safe comes in an at an affordable price just over $1000, which is hard to beat for a good quality safe of this size.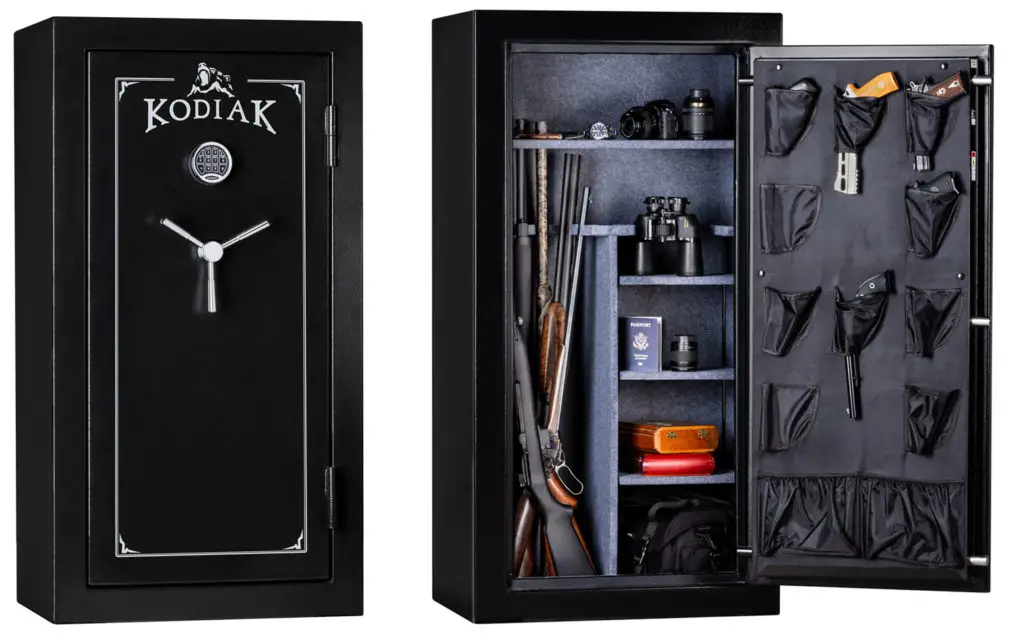 Kodiak Gun Safe (KB5529ECS)
| | |
| --- | --- |
| Outside Dimensions | 55″H x 29″W x 20″D |
| Weight | 340 lbs |
| Fire Rating | 30 Min @ 1400°F |
| Capacity | 30 long guns & 10 handguns |
Unlike some of the other safes on this list, this Kodiak safe features a more simple understated style with black body and white detailing. If you're planning on putting your safe in the back of a closet, its not worth paying extra for a statement piece that won't ever get seen. What you need is a workhorse that will get the job done.
Best Rhino Safe Under $5000
Coming in at just under $5000, we're recommending the Ironworks AIW6033X, which is the model we spent some time with in a show room recently. The one we saw was all tricked out, with the nicest biometric lock as well as a swing-out gun rack that we really liked.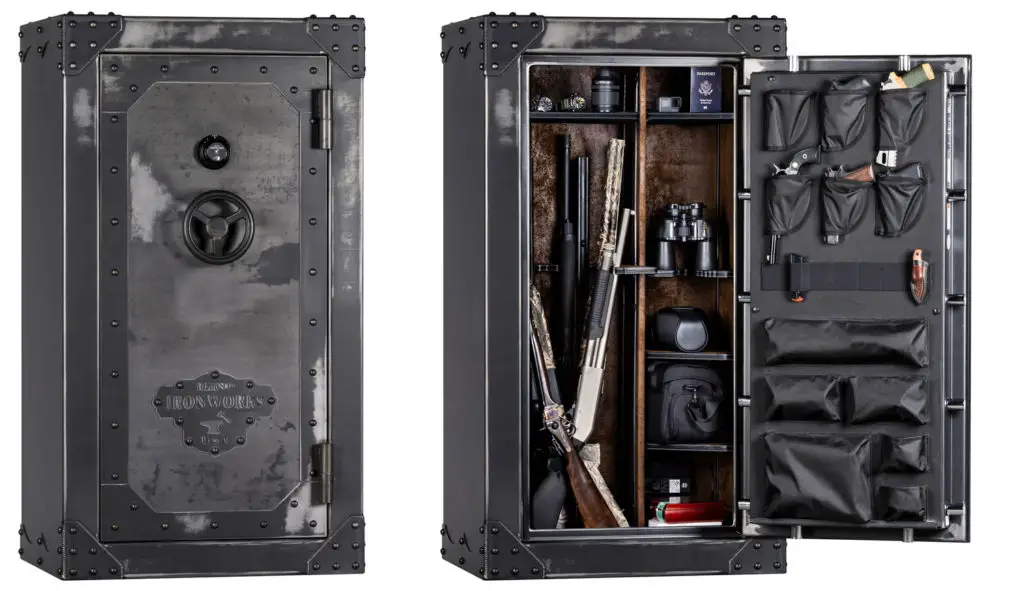 Ironworks Gun Safe (AIW6033X)
| | |
| --- | --- |
| Outside Dimensions | 60″H x 33″W x 27″D |
| Weight | 960 lbs |
| Fire Rating | 130 Min @ 1400°F |
| Material | 10 gauge formed steel body |
| Door | 5 ¾" Thick |
| Capacity | 36 long guns & 6 handguns |
In addition to being super secure, we like that it has an aesthetic that evokes an Old-West bank vault. Though, we do think that these would stand up a lot better to a robber with a revolver than an old-timey bank vault based on the sheer weight and security features that this safe affords.
Best Rhino Safe Under $9000
The Ironworks Thunderbolt IWT7242X is one of the nicest gun safes we have ever seen. This thing is a BEAST. Not only can it store a large collection of long guns, handguns, ammo, or other valuables, it can also stay in a house fire for about four hours without damaging the contents much!
Thunderbolt Gun Safe (IWT7242X)
| | |
| --- | --- |
| Outside Dimensions | 72″H x 42″W x 27″D |
| Weight | 1526 lbs |
| Fire Rating | 170 Min @ 1400°F |
| Material | 3/16" formed steel body |
| Capacity | 54 long guns & 10 handguns |
It comes in a beautiful steampunk / old bank door style with aged welded steel touches. This safe is a piece of art and would be perfect for someone who wants a statement piece that will be seen by visitors. It warrants a prominent place in a man cave, office, or gun room.
There are several add-on features that you can include such as swing out gun rack which you can see pictured below. This makes it easy to keep your firearms organized and easy to grab as needed.
There's also built-in lighting and electrical outlets inside of the safe so that you can rig it up any way that you want. If we could talk Rhino into sending us one of these for "demo" purposes, we'd consider ourselves set for several lifetimes in terms of safes.
Our Hands-on Review
To get a better sense of Rhino Safes' products, we found a local distributor on their website near us and we stopped in. Rhino had no idea we were doing this, and neither did the distributor. We simply walked in like a normal customer and began to ask some questions about what they thought would be the right kind of safe for a few ARs, a hunting rifle, and a few handguns. After looking around at some of Rhino's options, here are our thoughts.
Style
Fit and finish-wise, we were impressed. A lot of Rhino's safes use an Old West aesthetic, which we like personally, but know is not for everyone. Luckily, Rhino also makes more subdued designs as well, and we think those would work well for anyone. The inside of the safes were all finished beautifully: they have good upholsterers on staff, and we couldn't find any rough edges.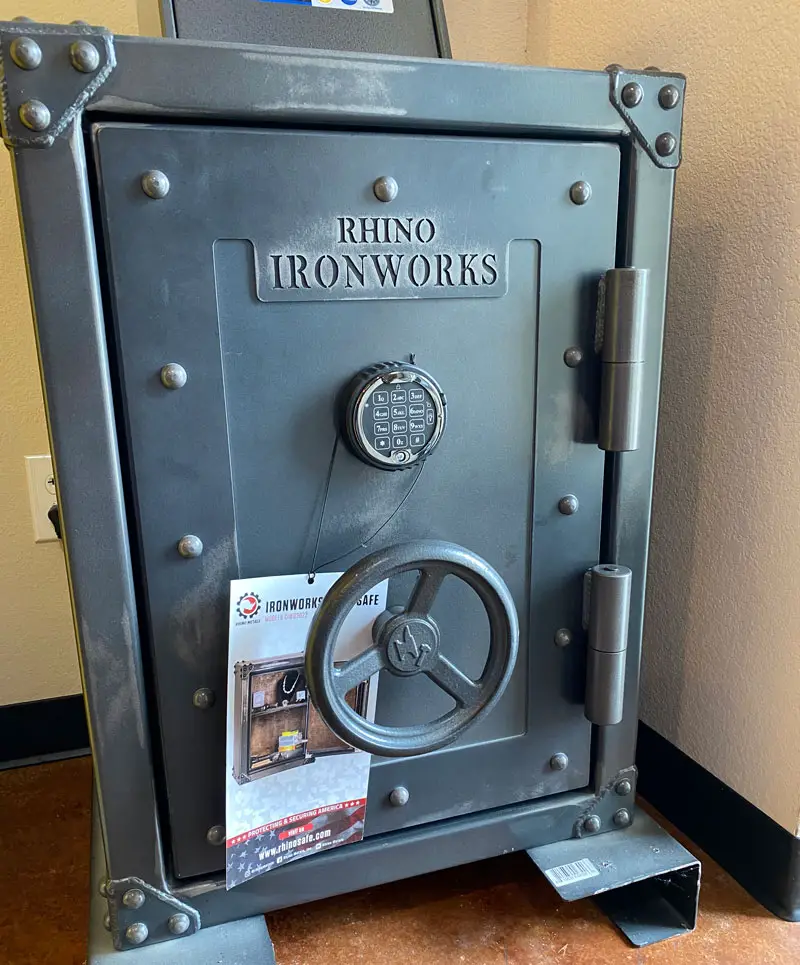 One of the Ironworks safes that we took a look at had a finish inside that was almost like a brown suede: we liked this one the best and it seems like it will hold up to wear and tear over time without showing too many stains from over-oiled firearms. 
Features
In terms of features, Rhino's safes offer a lot of awesome stuff and very little fluff. The locking mechanisms are all strong, and the fire ratings are excellent across the board. The biometric locks in particular worked quickly, which is something that we appreciate in a gun safe since you might have to get to your firearms in a hurry. Although it's an option on most, we would strongly advise you to consider the swinging gun rack that some of the larger models can include, as it seems like an excellent way to access your long guns without having to take all of them out of the safe.
Quality
The build quality is also nothing to shake a stick at. When we were being shown around the showroom, some of the safes cost twice what a Rhino does for the same size and similar ratings in terms of security.
The Rhinos seems as well built as any of the more expensive options, and the doors are weighted so that anyone can get them open and closed with one hand. Overall, these are clearly built by people who care about what they do, and we can see it in every safe we've gotten to look at.
Price
Applications-wise, most of Rhino's safes cost a fair amount, so we'd expect people who have sizable firearms collections especially of expensive guns to consider these as an excellent way to protect their investment. In that vein, if you do get one it might be worth checking with your homeowners' insurance will give you a break on your premium for doing something extra to secure your firearms. For folks like us with more modest collections, one of their smaller safes, or their gun cabinets would be an excellent option to secure your firearms and valuables.
What Rhino Sells
As you'd guessed by the name, Rhino makes a wide variety of safes, but it's not their only line of products. Here, we want to talk in general about their safes, as well as taking some time to highlight their other products as well.
Safes
In terms of safes, Rhino has something in all shapes and sizes, from a small gun safe that you can put a on a shelf, to floor safes big enough to hold all but the largest of firearms collections and that would take up a small closet by themselves. 
The most affordable end of safes are still built to last and can withstand half an hour of being in a fire, and resist almost every attempt to break the mechanism. On the high end, your safe will be able to withstand several hours in a fire, making them awesome for protecting valuables and documents among anything else.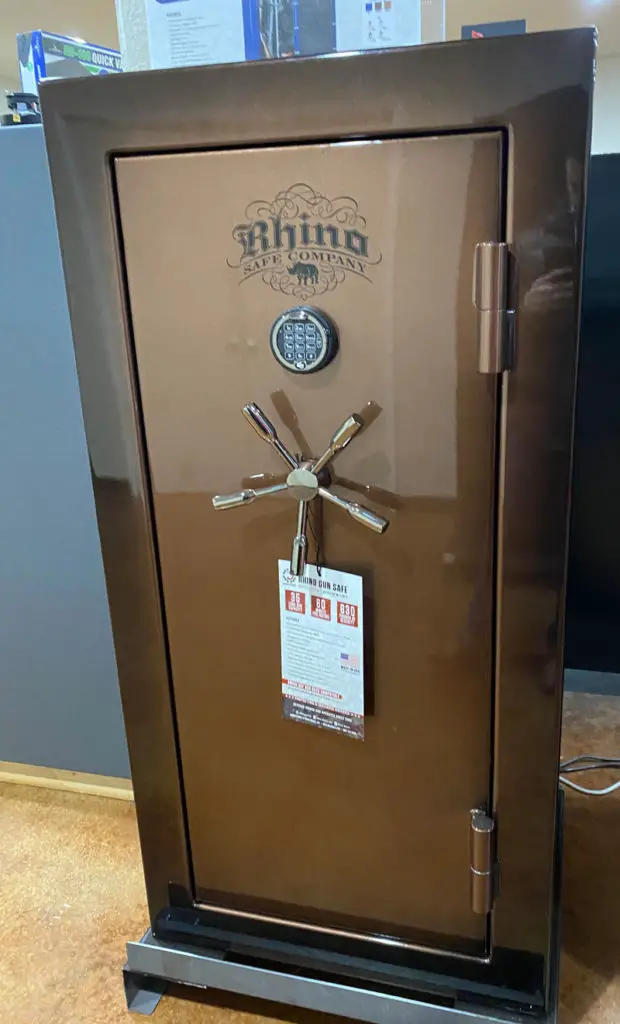 Gun Cabinets
Aside from safes, Ironworks makes gun cabinets that are a little less secure than a proper safe, but are still made from the finest materials and are a massive improvement on cheaper brands of cabinets. 
Workbenches & Accessories
If you happen to be in the process of building a gun room or vault, Rhino safes also make doors that you can install. For inside the gun room, there's also the option of adding one of their gorgeous workbenches that are made in the same styles as their safes and doors. Rhino's product range is a wide one, and if you want to secure your firearms in style and security, they have something for you.
In addition, Rhino also sells all the accessories you need to trick out your safe to your liking such as lighting, dehumidifiers, racks, etc.
Shipping
Safes are obviously very heavy and with that comes higher shipping costs. That is just something you should expect to pay when buying any safe – online or in store (assuming you don't want to haul it yourself).
The great thing about Rhino is that they aren't just an online store. They have a ton of local authorized dealers all over the country (including Hawaii) that carry their safes in person.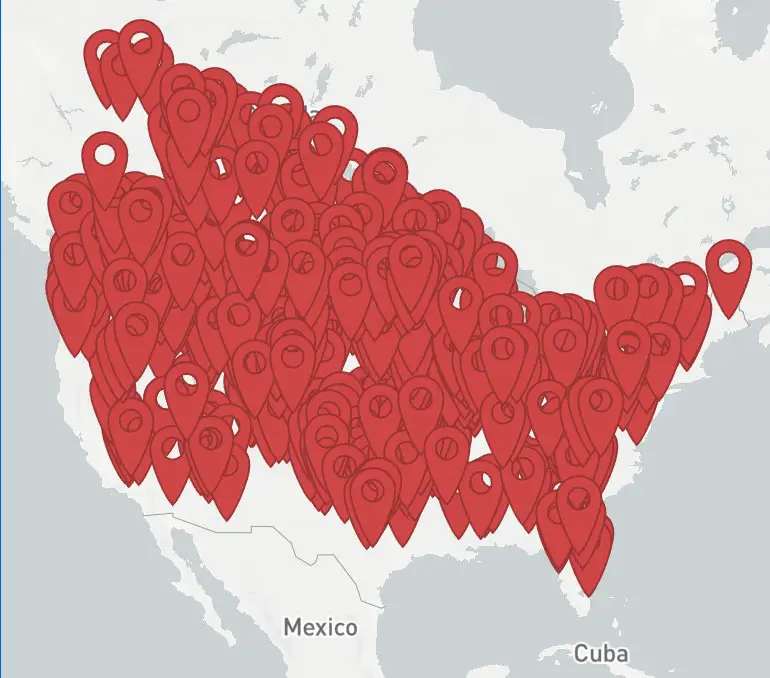 Shipping costs and time will vary depending on which safe you purchase and where you are located. For us in Texas, purchasing a mid-range safe pulled up the following shipping prices:
They offer 4 different shipping options:
Curbside Delivery (you are fully responsible for taking it inside your house or garage)
Garage Delivery
In-Home Delivery with 1-2 Stairs
In-Home Delivery with 3+ Stairs
Obviously the cheapest is curbside, but be sure you have a couple of strong friends and a dolly to get it inside and where you want it.
Conclusion
In looking at Rhino Safes, we've been impressed with what we've seen. Yes, these safes are by far not the cheapest on the market. But, if you want a Made-In-USA (minus Kodiak line) safe, made by people who care about fit and finish, and you want to secure your firearms well, we think a Rhino Safe would be an excellent way to go.
If you're looking to secure your firearms and you're in the market for a nice safe, we'd highly recommend having a look around Rhino's website. From there, go into a distributor, and we imagine they'll tell you a lot of the same things about Rhino Safes that we've found.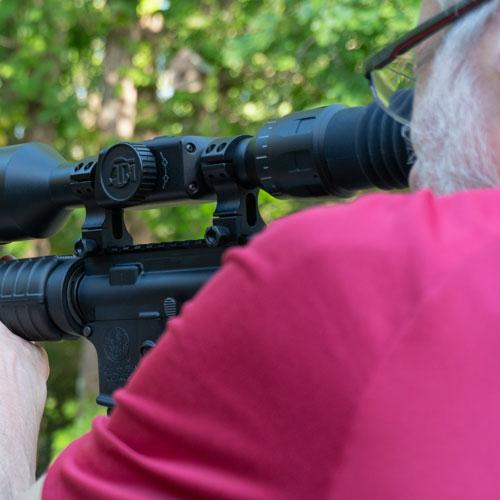 George has been an avid shooter for twenty years. He began shooting when he was gifted a Browning SA-22 for target practice. Now, as an academic, he combines his love of firearms and knowledge of history to write for firearms blogs and is still a frequent sight at the local range.