If you're in the market for a new holster, online searches will only take you so far. There are several million results out there, and it's hard to sort out the ads, disgruntled reviews from customers, and marking nonsense from manufacturers to find a good quality holster for your firearm. Here, we're presenting reviews of three holsters made by We The People Holsters.
Before we get to the holsters themselves, we're going to tell you a little bit about the company. Aside from being a decent group of guys and gals, we've found their products and services to be as promised, and they deliver a generally great holster. Once we've gone over a bit about the company, we'll tell you what the offer in addition to concealed carry holsters, so that you can decide for yourself is some of these products are worth your hard earned money. The based in USA company has done well by us so far.
After we've gone over the company, we'll get into the three detailed reviews of the holsters that we acquired, including walking you through an in-depth experience from the perspective of the customer rather than simply a sponsored review by the company itself.
Get 15% off site wide with code: WTPAVT15
About We The People Holsters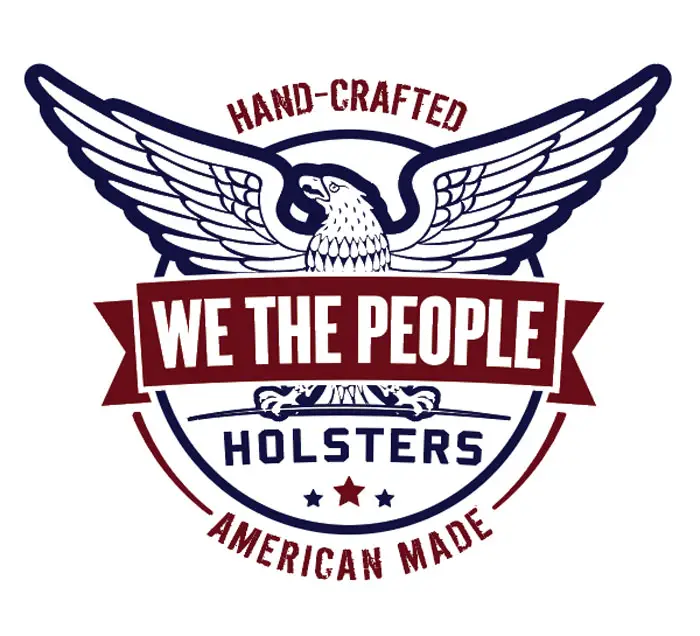 If you find the "About Us" Page for We The People Holsters, they start it off with, "Who are we? We are gun nerds, holster nerds, kydex nerds and most of all fun loving Americans."
This gives you the gist of the kind of folks behind these holsters and other products. They're folks who enjoy shooting as an activity and have devoted no small amount of their time and effort to helping people get the right holster for their weapon. While they do offer lots of other products (more on that in a minute), their name and website make it clear that the most important thing to them is the making and selling of a quality holster. In fact (and this is an important bit of information for you, the customer), they proudly advertise their 30-day return policy right upfront. If you do end up disappointed in one of their holsters, it does look as though they'll be more than happy to issue you a refund and ship you something that you'd prefer instead.
Looking around the website, there's no one segment of the market or aesthetic that they cater to specifically. The line of holsters is a wide one, ranging from duty-style outside the waistband (OWB) setups to tactical leggings (again, more on those in just a minute): some of these are decidedly tactical, whereas others are meant for people who might be just getting into the shooting and concealed carry world.
Whether it's on the holsters or their other merchandise, We The People Holsters do not take themselves too seriously, and you can expect to see political content, jokes, and the occasional meme on their wide range of products. The goal here, it seems, is to give people more than they expected from an American-based holster company.
What They Offer
Of course, the main event here is the holsters themselves, but before we spend the rest of the piece discussing them, we did want to cover, briefly, the rest of the items that they sell.
We The People Holsters has a pretty sizable line of apparel, ranging from sweatshirts and t-shirts to hats and slightly more tactical garments including a few kinds of gun belt and concealed carry leggings. Focusing in for a moment on the leggings, these might be nice gifts for someone who is considering a change in how they concealed carry, and they're a lot better than the usual sportswear solution of a belly band that's suffocating. The leggings, which are secured by a proper gun belt, allow folks who wear leggings to concealed carry, and they're worth a look for that reason alone.
Also, if you're thinking about next Christmas already, we'd recommend a hoodie and a gift card if you can't quite decide which handgun your family member or friend concealed carries.
Moving on from the apparel, they have a line of somewhat assorted things including mugs, bottle openers, and catchall trays that are both handy, and usually have some kind of slogan or message on them. Here, it might be somewhat practical to get one of those little trays if you plan on buying a holster with a claw, as you'll see that you might have some smaller parts to deal with as well. Aside from holsters, as you can tell, there's a wide variety of things that can be purchased from We The People Holsters.
If you want to carry a spare magazine, We The People also offers a line of magazine holsters that attach to gun belts: these are a nice option for people who want to carry more than one magazine, or want more options to customize the layout of their gun belt.
All in all, We the People makes a fairly wide range of products that are geared toward folks who want to concealed carry or are simply into firearms. Now, onto the reviews!
Our Review of the Holsters
In reviewing these holsters, we tried out three different holsters and had three different team members review them. Two of them (which I'll identify in a moment) were provided directly by We The People Holsters for the purposes of this review. The third, to ensure some level of transparency and fairness, was bought by one of our writers as a regular customer for a fair evaluation of the holsters.
So, keep in mind that We The People knows about and was involved in this review. But we do our best to maintain standards that are fair. In carrying these holsters ourselves in public for some time, we did put them to the kind of test that most customers will with these holsters, and we're happy to point out the flaws that we found as well as the positives.
We The People sent us two holsters, an in-waistband (IWB) holster for a Glock 43x with a holster claw, and an outside waistband (OWB) holster for a Glock 17 with a Streamlight. Our third reviewer bought an IWB Holster for a Sig P238 with the claw.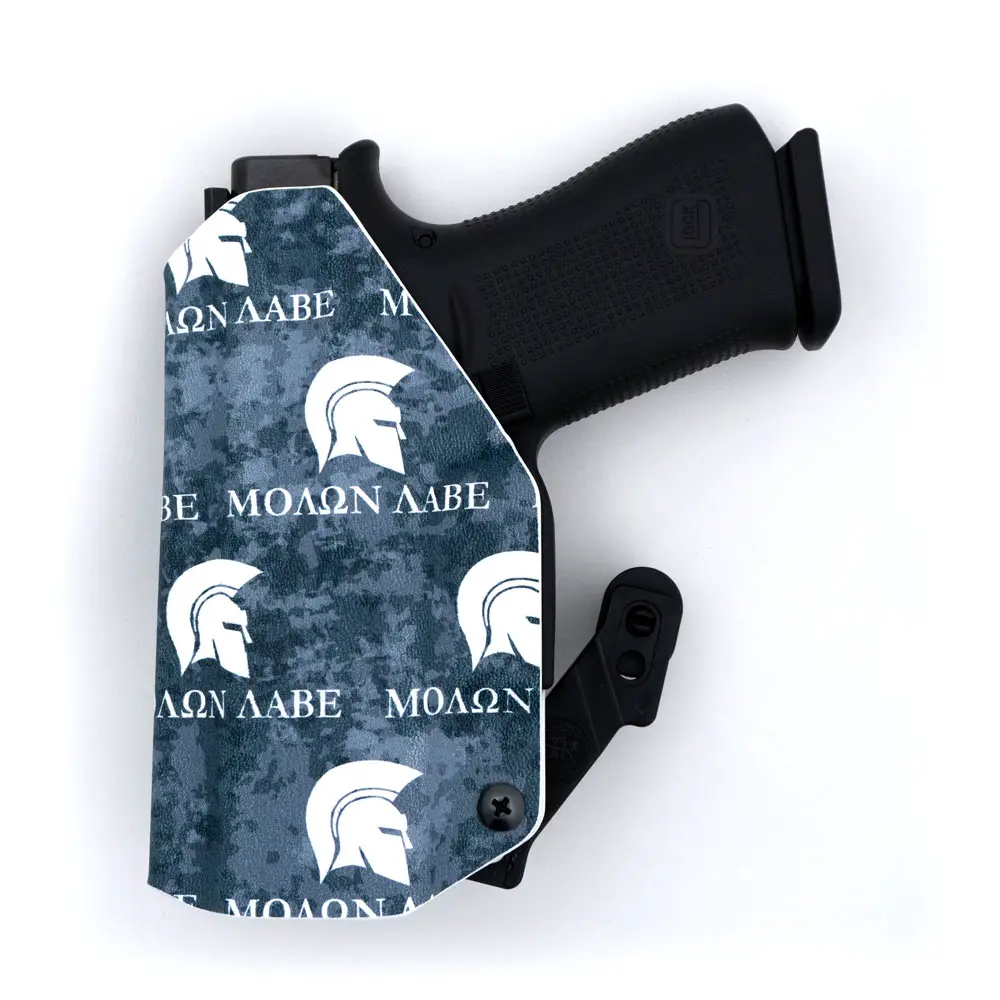 IWB Glock 43x + Claw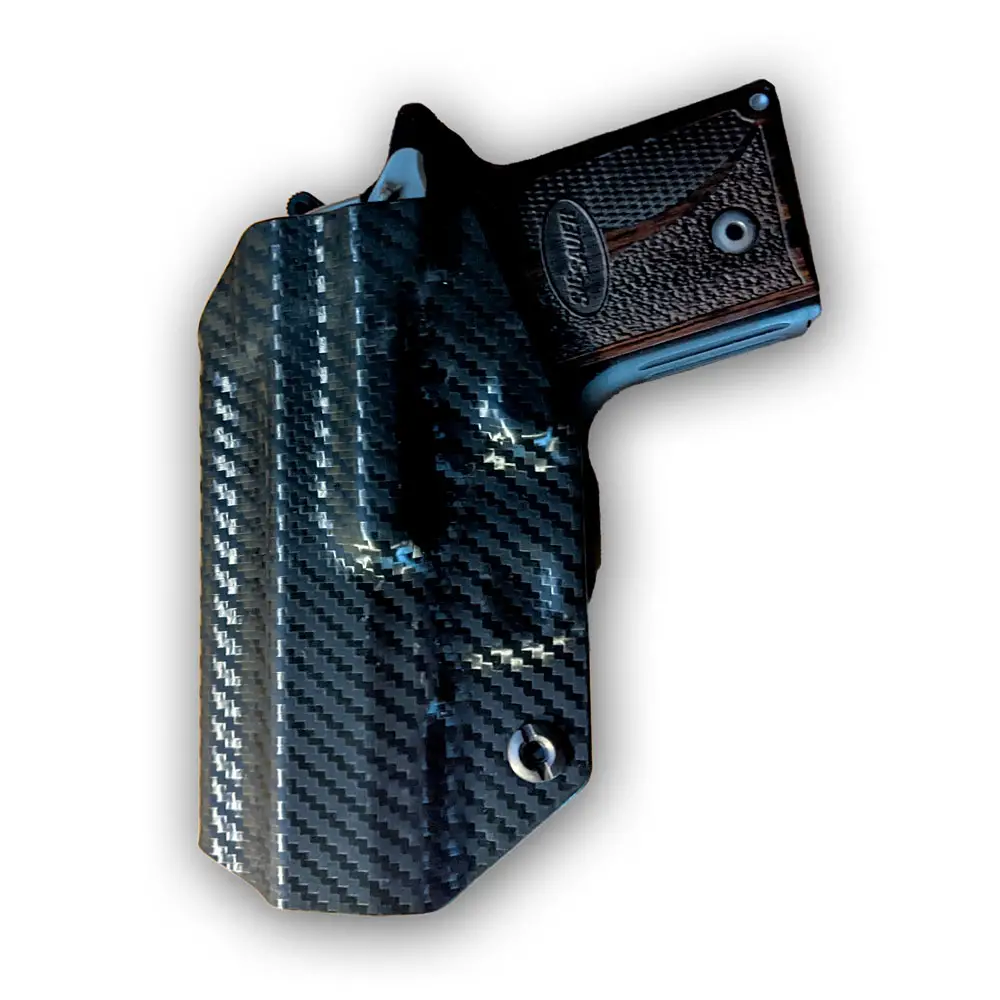 IWB Sig P238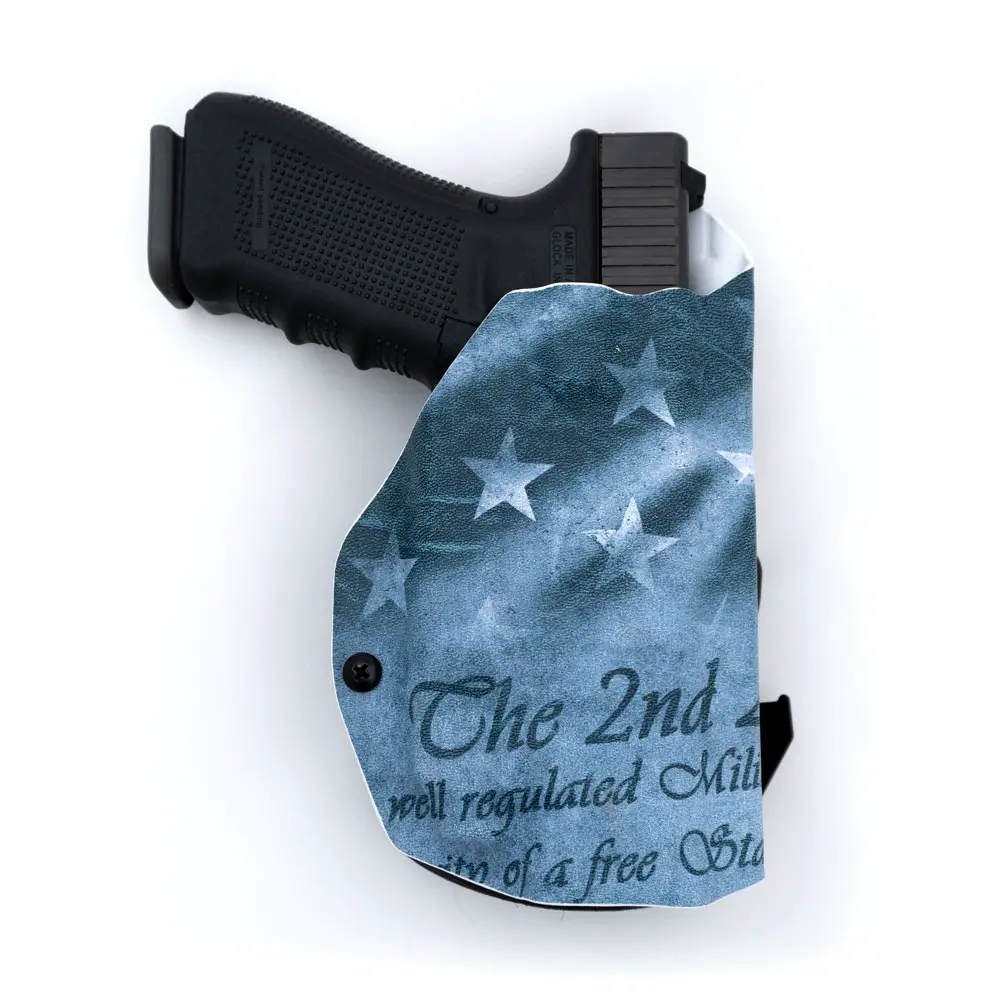 OWB Glock 17 w/ Light
Once we got the holsters, we followed any included instructions to install accessories, and then then used the holster for over a week with our primary concealed carry firearms. Our third reviewer also did a few different tests to see what the holsters were capable of.
In getting three different holsters, for three different handguns in three roughly different sizes (P238 as a subcompact, Glock 43x as a compact, and the 17 as a full-size), we think we got a fairly good sense of what these holsters can do. Here are some of our thoughts on each of the holsters:
Pros
Lightweight
Good Quality
Comfortable to Use
Fun Design Options
American Made
Cons
Concealment claw add-on could be better secured & come pre-installed
Shipping times are long
Quality & Safety
All of the We the People holsters we tested were very safe holsters. The retention screws worked perfectly and allowed for easy adjustment of the "grab" of the holster on the pistol. They let you dial it in to your liking, and we don't see any issues with the holster in terms of retention any time soon: we feel comfortable carrying this holster with a concealed pistol for the long term.
The wide belt clip of the IWB makes it easy to draw your firearm without risking ripping off the holster as a whole, which I have had issues with on other brands in the past. Its a very secure clip and will hold your pistol firmly where you place it.
The OWB holster has a large insert paddle and the hooks on the paddle grip your pants well – once it's on, it's staying on until you decide to take it off. Thankfully taking it off when you want to isn't super difficult – just pull the holster away from your pants and rotate it to keep the hooks from catching again.
In terms of fit, the Glock 17 OWB holster was advertised to work with a Streamlight TLR7/7a light. I asked We the People Holsters customer service if it would fit a slightly larger TLR 8G and they said that it would. The TLR8G has a laser on the underside that makes it slightly taller so we were skeptical but sure enough it did fit as well! Your mileage may vary, but it does seem like you can use similarly sized Streamlights to what is mentioned on the product page.
The holster walls felt thin, but Kydex is a tough material and we don't see these breaking any time soon even with continued usage. This thinness did result in a lighter holster than others we've tried which we mention in the next section.
Comfort & Concealment
We found the holsters to be very lightweight, which we like in a holster. Guns are heavy enough when loaded so no need to add to the weight with the holster.
Obviously any concealed carry holster that is sitting between you and your pants isn't going to be the most comfortable or natural thing in the world. It definitely takes some getting used to if you're not accustomed. But as far as holsters go, we found the We the People holsters to be nice to wear.
The in-waistband holster back comes up high to rest between your skin and the gun, which can be a lot more comfortable than having the back of the slide rubbing against your skin all day. This could be a personal choice though.
For those worried about printing, the claw does seem to push the gun further into you, which makes it less likely to print, with only a small sacrifice of comfort. This can help conceal your firearm especially when wearing less bulky clothing like a t-shirt or light jacket.
The OWB holster paddle was very comfortable. It slid down the side of my pants and I quickly forgot it was even there.
Options Available
As far as the holsters go, they sell a pretty wide range to account for all kinds of fits, handguns and concealed carry styles. On the largest end is their Freedom Holster, which is an outside-the-waistband, paddle-style holster that keeps everything in place and would probably make the most sense on a duty belt with a full-size handgun.
A little bit smaller and more concealable, their outside the waistband (OWB) holsters can be customized to your gun, hand preference, as well as a fairly large smattering of color and pattern choices. Much the same can be said for the line of inside the waistband (IWB) holsters as well.
Both the IWB and OWB holsters come in a large variety of printed Kydex designs to choose from as well as a beautiful leather style. Kydex is a thermoplastic acrylic-polyvinyl chloride material that is lightweight but very tough and can be molded to fit any form factor, making it perfect for gun holsters. All of the holsters we reviewed were the printed Kydex type.
Once you've selected a design you like on the site, you will be given the option to make it left or right handed as well as choose the firearm to mold it to fit. Their pistol list is pretty comprehensive and includes variations of specific models such as ones that might have a rail vs no rail. Some models even have the option to fit a Streamlight or Olight, which is much appreciated as one of our editors has a Glock 17 with a light mounted and it fit perfect in the holster.
You can also add on the concealment claw which helps reduce imprinting of the gun against your shirt, making it less obvious to observers.
In terms of fit and finish, we would have preferred that the inside of the two printed holsters were black to make it more subtle instead of white. We also would prefer if the Molon Labe & Second Amendment holster prints were a little more grey (like the photo above) instead of bluish in tone, but we understand firsthand the difficulty of printing color accuracy. On a similar note, the photos of the prints are a little inconsistent on the website. The designs on the main landing page were a little darker and more saturated, but once you select the gun model then the design might look a little lighter. The important thing to note here is that the specific gun model picture is more accurate so what you are seeing once you've made your selection is what you'll actually get.
Price
Compared to similarly designed kydex holsters with printed designs, We the People runs about middle of the pack in terms of price. Its definitely not the most expensive one you'll find, but its not the cheapest either. You'll find even cheaper options on Amazon, but those are typically not known brands and may vary in quality and features.
The IWB Kydex holsters start at $41 as of the writing of this article, but increases in price depending on the design chosen. The OWB Kydex holsters start at $50. The add-on claw for extra concealment is an additional $18. When we went to the website for the first time, there was a popup to put in your email address and get 15% off your order which can help bring that down a bit. There is also free shipping on orders over $50 which you're almost guaranteed to hit with any of the holsters. The leather holsters cost $149.
Shipping Time
We personally ordered the IWB Sig P238 holster separately from the other two which were provided to us, so I'll talk a little about shipping. The order did take quite a while to deliver: I ordered Black Friday weekend at the end of November and got it a few days before Christmas.
Looking at online comments, it seems almost all of the negative ones revolve around shipping and wait times. During checkout, I didn't notice any mention of expected delivery dates or even a general range. Making this information more accessible and obvious would probably alleviate many of these frustrations – especially when people might have missed Christmas gifts for friends and family due to the extended shipping times that they weren't anticipating.
In the age of Amazon Prime, we (myself included) have become accustomed to getting items pretty quick. I would assume this longer processing time was due to them receiving a lot of Black Friday and Christmas orders. So your experience during the rest of the year might be much shorter.
I asked their customer service about the long ship times and she explained that each order is made as it is placed. This way the holster you get matches exactly what you requested. This also helps prevent WTP from having to hold large amounts of inventory – especially since they offer so many options for their holsters. She said that during the Black Friday / Christmas rush, they got way behind but are working to increase production to counter this issue in the future. So we're glad to hear that.
The packaging was more than adequate, and it even came with a nice, branded bag I currently have my old holster and the claw sitting in.
As noted in the pricing section, they do offer free shipping for orders over $50 which would include almost any holster you order – so at least you're not paying for shipping!
The Concealment Claw Add-On
By default, the holsters do not come with the concealment claw, but you can add it for an additional $18.
Being that the Sig P238 is a subcompact, it does not print much to begin with, but I was curious about the claw, and thus ordered one. Installing it took some doing, but the included link to a video did make it possible. In the end, I ended up removing it for the sake of simplicity.
One downside to the currently claw setup is that it can shift and rotate out of position over time if the screw isn't super tight or if you apply enough pressure (when installed on the bottom hole). We would have preferred that the claw had two screws through both holes to secure it instead of one which would eliminate this problem. It does have a lock washer to help prevent this unintended movement, but we found that it didn't completely prevent the issue.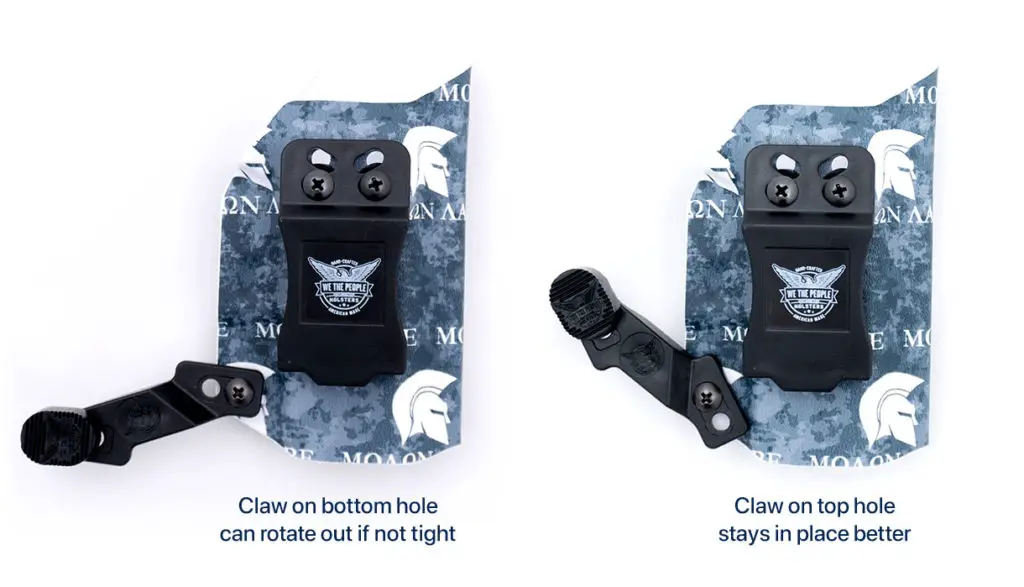 The claw itself does work as intended and pushes against your pants to tuck the handle of your pistol closer into your side. This can be especially nice if you're on the skinnier side like me. Another nice feature is that the screw for the claw is independent of the retention screw. So feel free to tighten the claw screw harder while setting the retention as desired.
Overall, I'm pretty happy with the holster and this will become my new daily carry choice.
How to Install the We the People Holster Concealment Claw
The little instructional paper that came with the claw was rather meager in its explanation, so We the People has provided a helpful walkthrough video on installing it.
We definitely recommend watching this video before starting as there are several important details that you might miss if you try it yourself first without it (as we did).
Our Rating of We the People Holsters
Do we recommend We The People Holsters? In a word, yes.
The add-on holster claws for their IWB holsters could do with either a redesign or an extra screw to keep it in place, but other than that we're happy with these holsters. They also need to revamp their shipping process and make expected wait time more obvious on the site. But if you're not in a hurry, then its worth it!
As our collection of handguns grows (as it always seems to) We The People Holsters will be on our list of places to look for a quality, Made In USA holster that fits and works well.
Get 15% off site wide with code: WTPAVT15
---
Disclaimer: We the People Holsters sent us two of their holsters so that we could test them out and write this review. We also purchased one ourselves secretly to get the true buying experience without them knowing. As in all areas, we try to provide objective and honest information. Purchases made through links on this article may earn us a commission.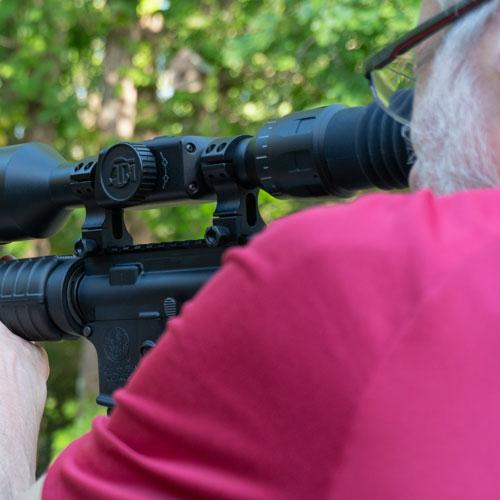 George has been an avid shooter for twenty years. He began shooting when he was gifted a Browning SA-22 for target practice. Now, as an academic, he combines his love of firearms and knowledge of history to write for firearms blogs and is still a frequent sight at the local range.