For this review, we're getting hands on and in-depth with both the Vortex Razor HD Gen II-E 1-6 and the Gen II 4.5-27×56 rifle scopes. Two of our reviewers each had one of the models so you'll get two different perspectives on this amazing scope.
Check Price at:
Vortex Razor 1-6 Review
by Jacob Clinard
Just a few short years ago, the Low-Power Variable Optic (LPVO) reigned supreme as the go-to choice for glass on duty rifles, self-defense rifles, battle rifles, and even some hunting rifles. The versatility of a LPVO was the main draw as they offered ability to act as pseudo red dot at 1x magnification while doubling as a medium range-capable platform on 6x-8x magnification (depending on the optic). However, the insurgence of the Medium-Power Variable Optic (MPVO) as of late has brought into question the viability of the LPVO as the best jack-of-all-trades option for your rifle.
One such high-quality, popular LPVO option that could easily go by the wayside is the venerable Razor HD Gen II-E 1-6x by Vortex Optics. Considering the continued advancements in optics allowing for larger magnification ranges to be kept in compact, lightweight packages, one might be able to argue that the aforementioned LPVO could already be obsolete. Particularly when you match it up against the likes of commercially available optics ranging in magnification from 2.5-12x or 15x, and even some 1-10x such as its successor, the Razor HD Gen III 1-10x, it is justifiable to question the need for such a scope.
So, how does it hold up? Does the Vortex Razor Gen II-E 1-6x still offer enough to earn a spot on your rifle?
So why the Razor HD Gen II-E?
Of all the flavors of LPVO that were brought to the table the Razor HD Gen II 1-6x was ubiquitous throughout the tactical gear subgenre of the 2A community, a group that became affectionately known as the LARPers (I am one of you), and for good reason. While there were several offerings, the Razor HD Gen II 1-6x and its main competitor, the Nightforce ATACR 1-8x, were at the pinnacle. Both offered exceptional, top-of-the-line glass quality, an illuminated reticle, great light transmission, and a solid magnification range delivered in an impressively compact 10-inch piece of kit.
One thing that set that these two options apart was the reticle. The ATACR utilized first focal plane (FFP) and the Razor the second focal plane (SFP), but at this lower magnification range focal plane preference isn't as important as it would be on a long-range precision rifle.
Both certainly have their merits, but the choice is pretty subjective here. However, the two aspects that really differed between the two were weight, with the Razor weighing in at 25.5 oz and the ATACR at a svelte 21 oz, as well as price point, with the ATACR coming to market at $2,500+ (closer to $3,000 in many cases) while the Razor had an MSRP of $2,000 but could typically be found in the wild between $1,500 and $1,800. This difference in price certainly made the Razor an attractive option for those looking for an extremely high-quality piece of glass for their kit, aka their "Gucci" gear, but it would come in a significant 25% increase in weight over the ATACR. Four ounces may not seem like a big deal, but facts are facts – ounces become pounds very quickly, so saving weight wherever you can is always important.
Enter the Razor Gen II-"E", E for enhanced. Vortex recognized that they were coming in overweight in their LPVO class, especially with a magnification range of 1-6x as opposed to the ATACR's 1-8x, so they went to work shaving off the ounces. What they brought back to market with the Razor HD Gen II-E 1-6x was the same top-tier glass clarity, high light transmitting, 10-inch optic but at a much more respectable 21.5 oz. Furthermore, they did it without increasing the price point. 
| | | | |
| --- | --- | --- | --- |
| | Nightforce ATACR 1-8x F12 | Vortex Razor HD Gen II 1-6x3 | Vortex Razor HD Gen II-E 1-6x4 |
| Length | 10.1 in | 10.1 in | 10.1 in |
| Weight | 21 oz | 25.5 oz | 21.5 oz |
| Tube Diameter | 34 mm | 30 mm | 30 mm |
| Objective Diameter | 24 mm | 24 mm | 24 mm |
| Eye Relief | 3.7 in | 4 in | 4 in |
| Focal Plane | First | Second | Second |
| Parallax | 125 meters | 100 yards | 100 yards |
| FoV@100 yd | 96.1 – 13.1 ft | 115.2 – 20.5 ft | 115.2 – 20.5 ft |
This was a big deal, and essentially allowed Vortex to corner the LPVO market. The proliferation of the Razor HD Gen II-E was vast, and that's not to say that it made all other LPVOs irrelevant because it didn't, but the Razor did become the most popular and most highly recommend by influential members of the 2A community and "Guntubers".
Many Nightforce fanboys will argue that the ATACR is better because you get the 1-8x magnification range and will focus in on the point that SOCOM chose the ATACR 1-8x for their Squad-Variable Powered Scope contract. While this is true, more cultured enthusiasts (such as myself) will bring light to the fact that the Razor HD Gen II-E 1-6x has also seen widespread use throughout the SOCOM community.
So, with the weight problem solved, and a pedigree of usage by some of the most skilled operators in the military, the Vortex Razor Gen II-E 1-6x scope was hard to beat. 
Features
Image Quality
You don't have to just take everyone's word for it, though. The specifications of the scope alone scream top tier. At the heart of the scope is Japanese glass (this is not a knock, as the highest quality scopes across the entire spectrum utilize Japanese glass), with high definition, low-dispersion lenses that really do make colors pop and offer impressive resolution.
The lenses are coated with an anti-reflective coating that also aids in light transmission to enable peak image clarity at even shockingly low levels of light. Along with the etched reticle comes true a daylight bright illuminated center dot. Almost all scope manufacturers that offer an illuminated reticle will state that their illumination is daylight bright, but in my experience that it rarely the case. However, Vortex's claiming of daylight bright illumination in the Razor Gen II-E 1-6x is legitimate.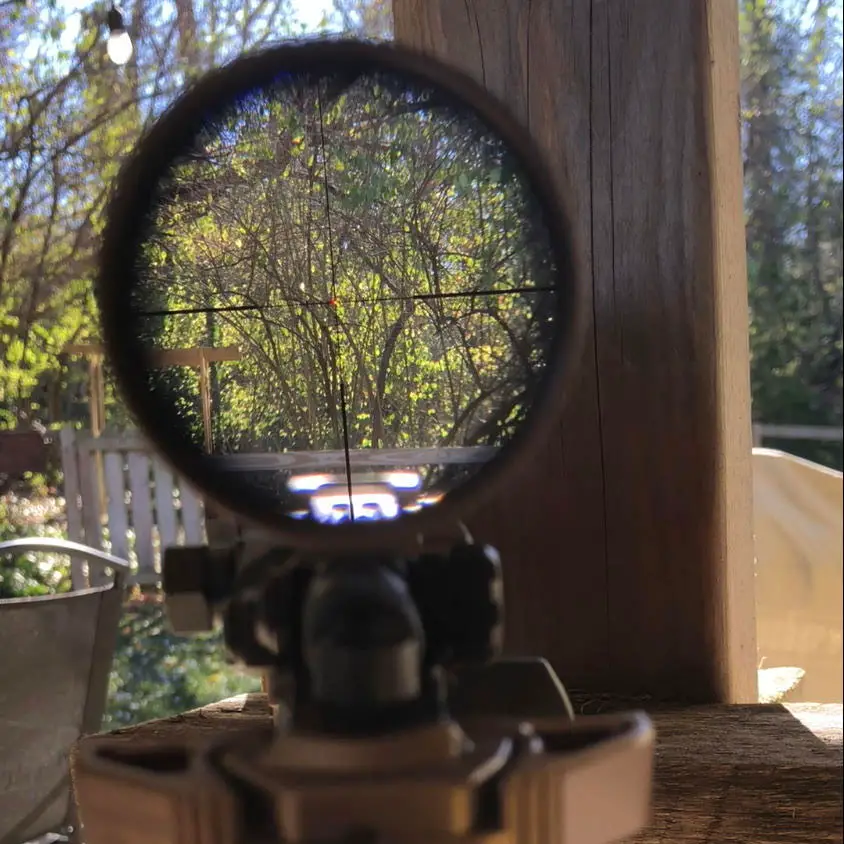 Vortex also claims that their 1x magnification level is a true 1x. It's not, it is very close, but there is still a very small amount of discernable magnification. To be fair, this is another thing that all scope manufactures claim when they have a variable power optic that includes 1x, and the Razor HD Gen II-E ranks among the closest to true 1x of the scopes that I have experience with. And this is important since this is really the claim to fame for the LPVO tier of optics.
As previously mentioned, the ability to act as a red dot and adapt to a platform capable of reaching 400 meters accurately with a simple change of magnification is what drove the popularity of scopes such as these.
Bomb-proof Construction
Being made with usage by military operators in mind, the scope had to be made tough to survive the extreme levels of abuse that the military is famous for inflicting upon their weapons and gear. Be it getting knocked on the side of a vehicle during infil or extraction, a 10-meter drop during a repel, or any other imaginable strike, the scope would need to be able to reliably maintain zero and hold together. Vortex took this to heart and produced a scope that could rival Trijicon's ACOG in durability.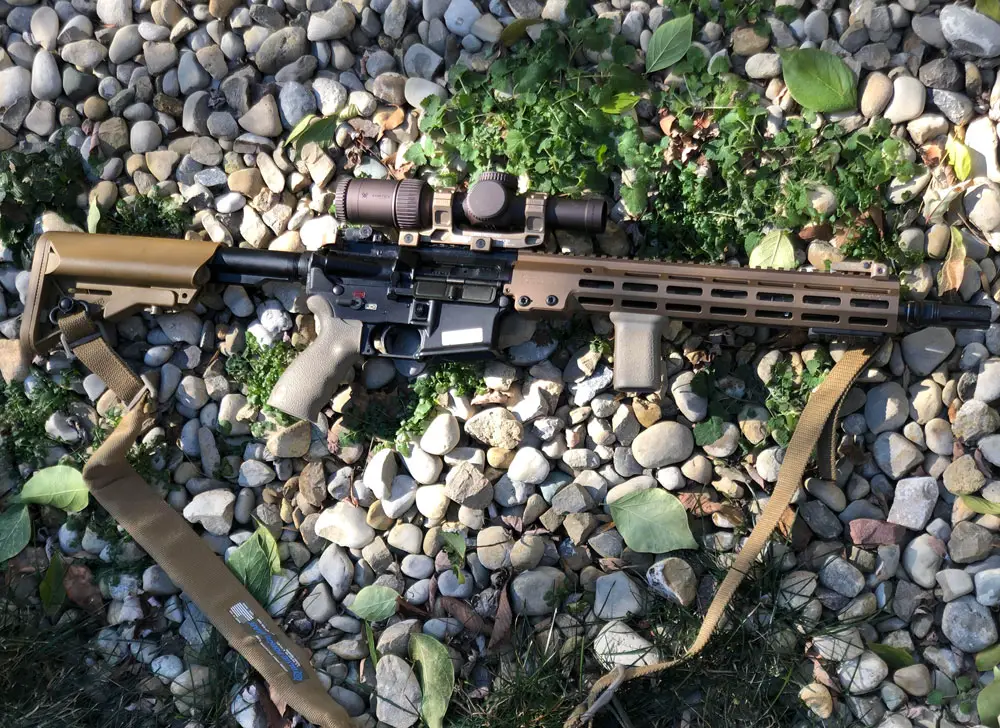 The single-piece, aluminum, 30mm tube is the key to its rigidity and ability to handle the abuse. There are numerous videos out there of people putting this scope's durability to the test, including all kinds of drop tests and strikes conducted by third party reviewers as well as Vortex themselves. I'm not going to toss mine around, but those videos are easily found, and you can see for yourself just how tough the optic really is. Along with being shock-proof, it comes as no surprise that it is also completely waterproof. This is to be expected from any modern scope manufacturer, but it is O-ring sealed and you can trust that it will keep all moisture, dirt, and other debris from getting inside.
One of the things that makes this scope readily identifiable among other similarly-sized optics, and that it has really become famous for, is its immaculate rose gold finish that really compliments your "50 Shades of FDE" rifle. This one-of-a-kind coloration is of course due to Vortex's hard-anodized finish accompanied by their ArmorTek® coating which offers a very-hard, durable protective surface. 
Turrets and Adjustments
One of my favorite features of the Razor HD Gen II-E is the large diameter of the turrets. Even with gloved hands, you can easily grasp them and make adjustments. The turrets' clicks are also very audible and tactile, so you'll never have to question whether you went one click or two.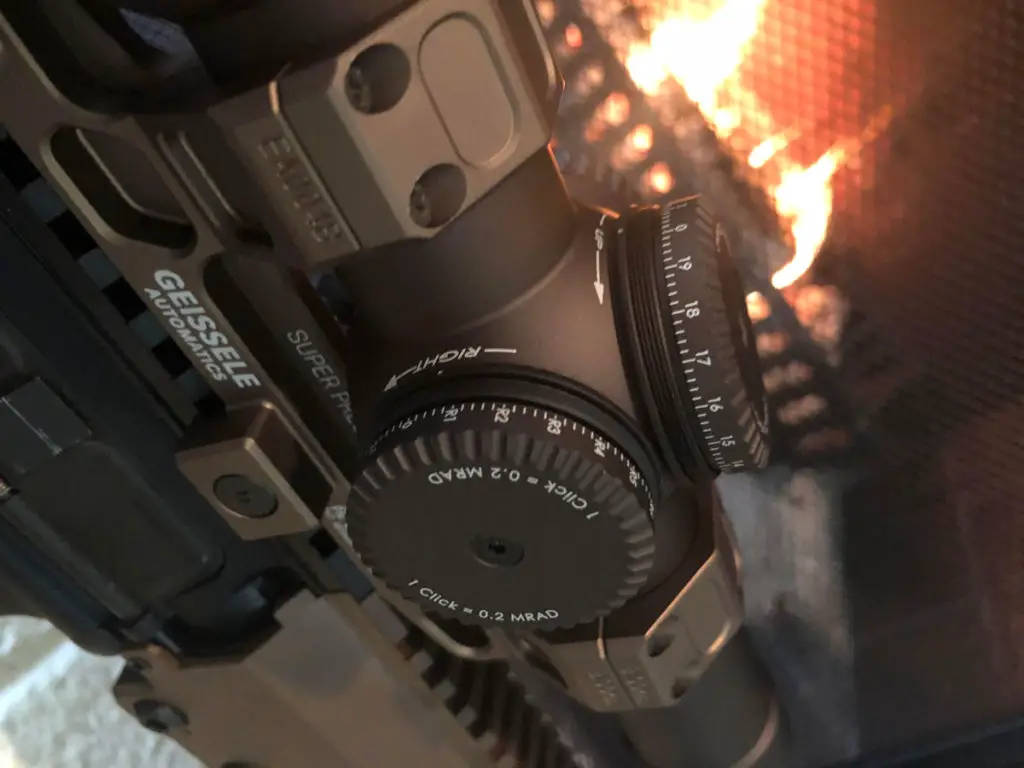 The turrets also allow for easy zero-mark adjustment for making elevation and windage adjustments. After sighting in, simply remove the central screw of the turret, adjust so that the zero marks are aligned, and tighten it back down. Precise tracking of the reticle is expected from any quality scope manufacturer, and is more important in long range precision scope, but the reticle in the Razor Gen II-E 1-6x tracks as accurately as you would expect from a company like Vortex.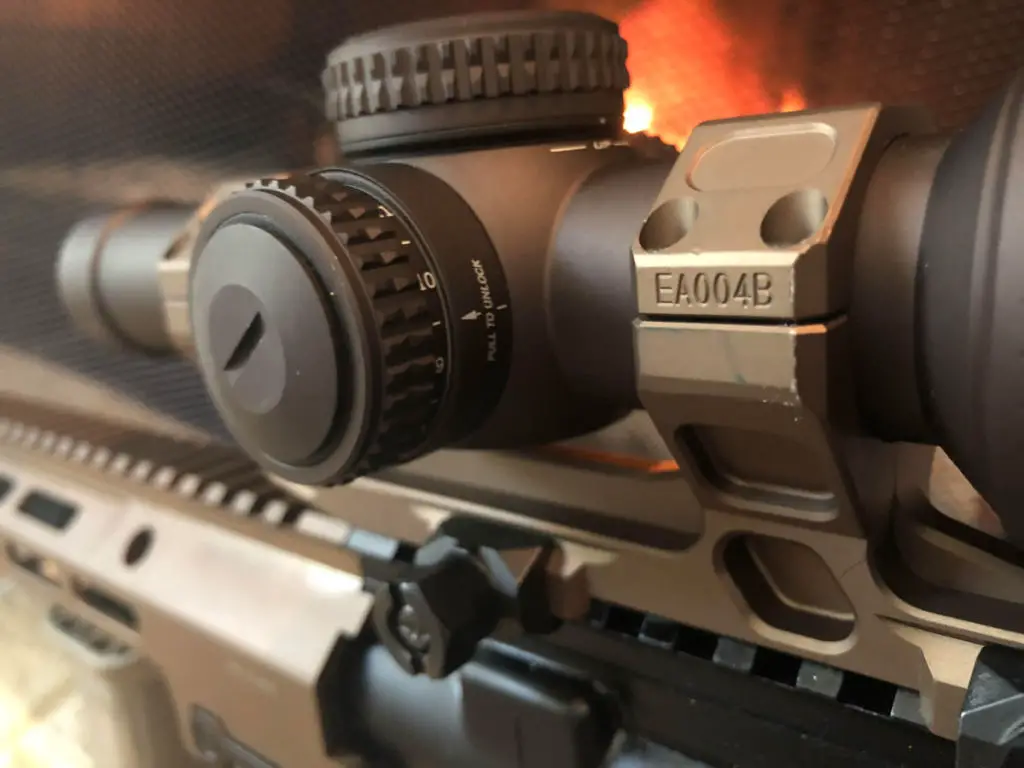 The illumination dial provides 11 different levels of illumination with an "off" click between each level so that the shooter can go from "off" to their preferred level of illumination quickly. Changing batteries is also incredibly easy by removing the battery cover on the illumination dial with a flathead screwdriver, and replacing with a fresh, and readily available, CR2032 battery. The scope offers a comfortable four-inch eye relief with a fast focus eyepiece that is set and forget…until you turn 40 and your eyesight inevitably starts to go.
The ONLY gripe I have with the Razor HD Gen II-E is the magnification adjustment ring. It is way harder to rotate than it needs to be. Sure, you want it to be stout enough to ensure that any changes to magnification are made deliberately, but you have to really crank on the ring to change it. Especially considering that it requires a half rotation of the ring to go from 1x magnification to 6x magnification, it takes a decent amount of time and effort to make that adjustment. This, to me, is the one area where Vortex fell short, and it wouldn't be a problem at all if they provided an adjustment lever with the optic. Sure, you can buy one and easily attach it, but for what you're paying for the scope it should really be included. 
Were LPVOs Just Another Tactical Fad?
Maybe, even probably, they were kind of a fleeting fad…but this is a common theme throughout the gun community, but it isn't a bad thing and doesn't necessarily mean that the products developed during the fad phase are no longer useful and obsolete. The real question is, with the rising popularity of MPVOs (another fad), are LPVOs even worth it anymore.
Born of the development in optics capabilities to include magnification ranges from 1x, 1.25x, and 2x on the low end and 10x, 12x, and 15x on the high end, still in relatively small and lightweight packages, the MPVO certainly offers a lot for a wide variety of applications. The original draw of the LPVO also became overshadowed by the increasing popularity of coupling them with a top-mounted or offset red dot, essentially making the low-end magnification capabilities of the LPVO unnecessary and relegating it to a fixed 6x or 8x optic. This has also translated to the MPVO, reducing the need to have a 1x capable scope but allowing it for higher top-end magnification. So, why even bother with an LPVO like the Vortex Razor Gen II-E 1-6x? The answer: application.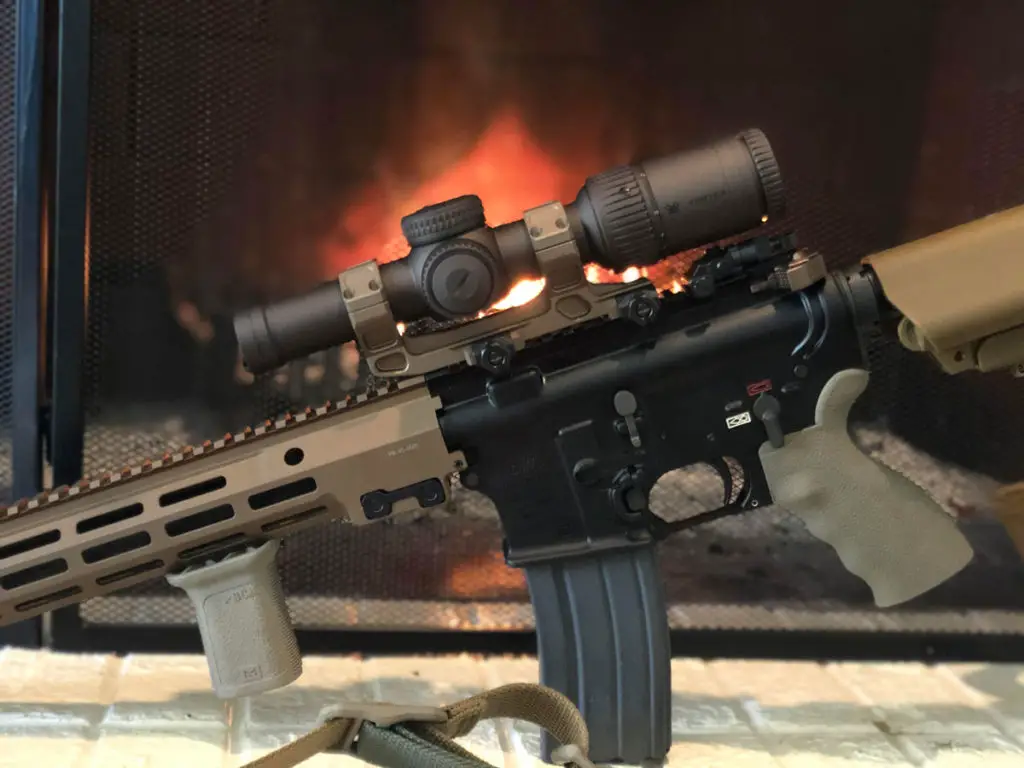 The LPVO, particularly the Razor HD Gen II-E 1-6x with its very-close-to-true 1x, is wholly capable of close quarters work and transitioning to a medium-range platform in a matter of seconds, all in a single, lightweight package. You don't NEED an offset red dot to perform the close-range work, even if it does look really cool. And the vast majority of rifles that are going to be utilizing this style of optic will overwhelmingly be 5.56/.223 platforms. That makes the Razor Gen II-E 1-6x more than capable of enabling shots at the max effective range of that caliber.
Can the 5.56 reach out and be effective past 400 meters? Sure it can. Will you be attempting to make effective shots with a 5.56 beyond 400 meters? Outside of an attempt at a .223 precision rifle, almost certainly not. That means the platforms that will be making the best use of a MPVO's capabilities are 7.62/.308 battle rifles. That's also not necessarily a bad thing, but everything boils down to weight…and cost. A robust 5.56 rifle with an LPVO, such as the Razor HD Gen II-E 1-6x, will commonly weigh in at under eight pounds unloaded. You certainly can't say the same for a 7.62 battle rifle. You're likely looking at over 10 pounds unloaded with an optic, and then you're likely also added an offset red dot.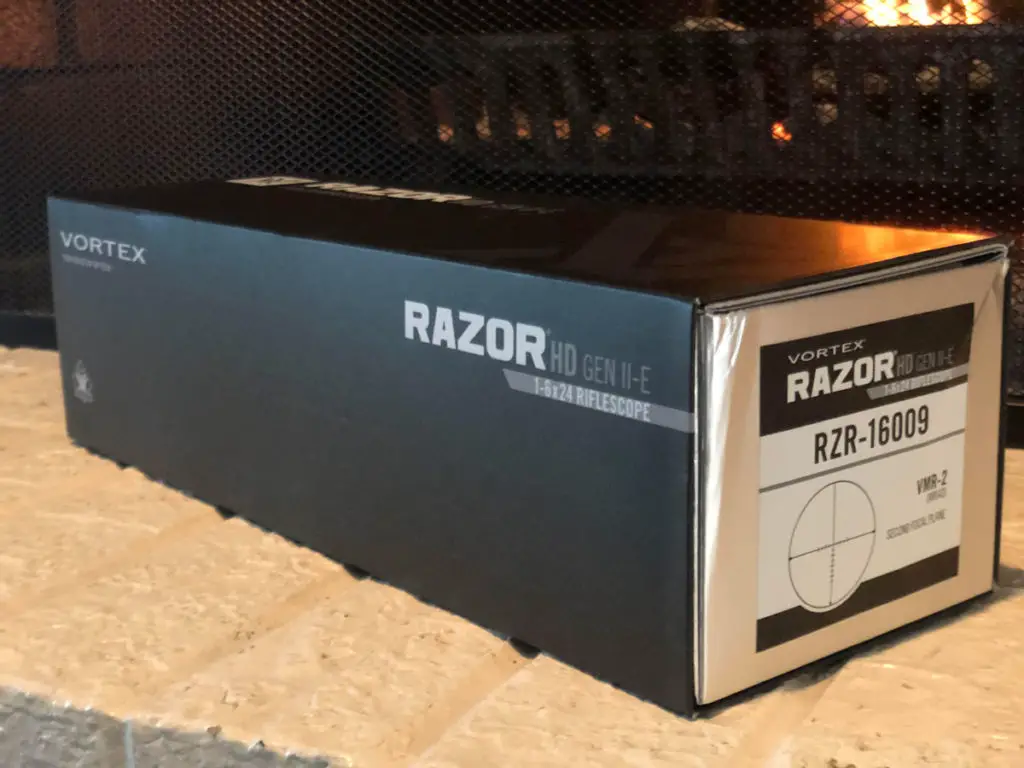 OK, but earlier you mentioned the Razor HD Gen III 1-10x, why wouldn't I just get that instead? This where that other little reason comes in, PRICE. These days you can readily find the Razor HD Gen II-E 1-6x for under $1,300, and even for a cool $1,000 if you find the right sale. The absolute best price I have seen for the Razor HD Gen III 1-10x is $2,000 ($1,999.99).
Bottom Line
The Vortex Razor HD Gen II-E 1-6x LPVO is more than worthy of consideration as the optic for your go-to rifle, even with the plethora of other options available these days. Lightweight and compact, you'll have plenty of rail space left for your PEQ, pressure pad, and back-up irons. Durable enough to take any abuse you'd reasonable throw at it.
A versatile magnification range allowing for close quarters work and 300–400-meter shots with a simple, but stiff, turn of the dial. Top-tier glass clarity and light transmission make for an optimal hunting scope that can provide a high-resolution image from dusk to dawn.
All of this coming in a package that can be had for as low as $1,000 with enough scouring for sales, and even cheaper if you're willing to pack the extra five ounces and consider the non-"E" version. It's also an attractive piece of kit that looks right at home on your AR, bolt action, or even that tactical lever gun that you're afraid to admit that you actually want. Now go get one!
References
https://vortexoptics.com/razor-hd-gen-2-e-1-6×24-riflescope.html
https://www.nightforceoptics.com/riflescopes/atacr/atacr-1-8×24-f1/
https://vortexoptics.com/catalog/product/view/id/957
https://vortexoptics.com/razor-hd-gen-2-e-1-6×24-riflescope.html
https://thereptilehouseblog.com/2017/11/29/tan_rifles-cag-hk416d/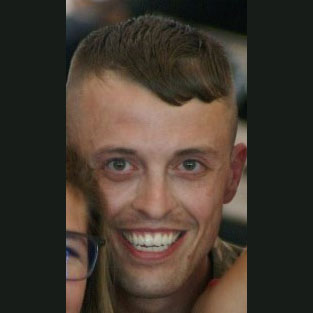 Jacob Clinard is an aerospace engineer and a USAF officer. He's been hunting and shooting since he was about 10 years old and has experience with numerous weapon platforms. He shot competitive trap and skeet in college, and now shoots local IDPA matches whenever he can.
---
Vortex Razor 4.5-27×56 Review
by Jonathan Swanson
The general guideline for building a long-range rifle is to spend what you have to on a decent rifle, and spend as much as you can on the glass.  But how do you choose one?  There are an overwhelming number of options when shopping for rifle scopes.  Within each brand there are several different models to choose from.  Each model will likely have multiple variations.  When you start factoring in zoom capabilities and reticle options within each brand and model, there can be hundreds to choose from.   
I have put together several rifles intended for long range shooting.  Every time I put one together, I see it as an opportunity to try a different scope.  I always end up telling myself, "Why put a new scope on an old rifle when I can just build a new rifle?"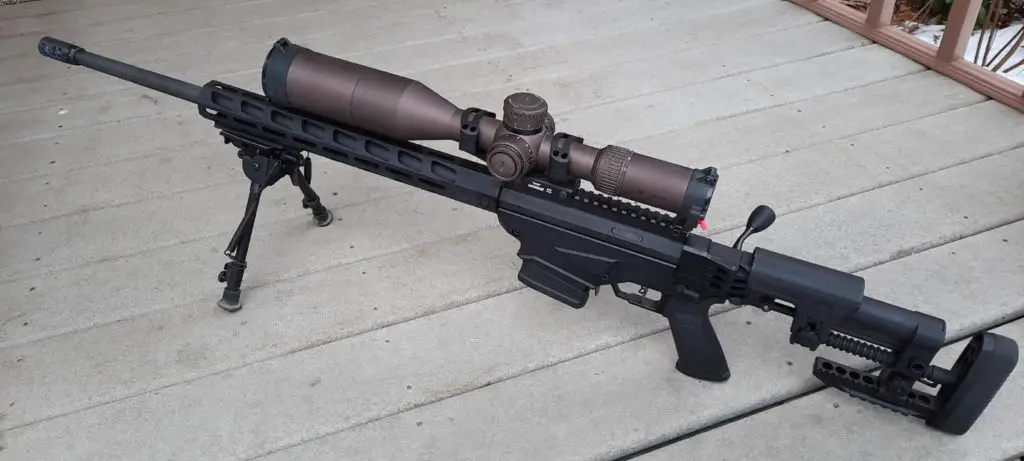 Most recently, I bought a Ruger Precision Rifle chambered in 6.5 Creedmoor.  I decided to top the rifle off with a Vortex Razor HD Gen II 4.5-27×56.  That decision was largely based on recommendations from friends followed by a bit of research, as I had no first-hand experience with Vortex scopes.  
Appearance
The first thing I noticed about the Razor is its distinctive color.  A Razor can readily be identified from across the room simply by the bronze color.  Aesthetically I wondered how a bronze scope would look on top of a black rifle.  Honestly, once the scope was mounted to the rifle, the color difference bothered me for a few seconds, and then I never gave it another thought.  
Weight
The second thing I noticed was the weight of the scope.  For its size, the Razor is by far the heaviest scope I have encountered.  The manufacturer lists the weight at 48.5 ounces (just over 3 pounds).  For shooting long distance at the range, I actually prefer a heavier rifle, but a 3-pound scope would add considerable amount of weight for a rifle that was intended to be carried in the field. 
I should also point out that the weight of the scope did give me a strong sense of durability.  Overall, the scope does feel like it would sustain being run over by a truck, and that maybe the truck would get damaged before the scope did.  I suppose the weight consideration comes down personal preference coupled with how you intend to use your rifle.
Reticle / Illumination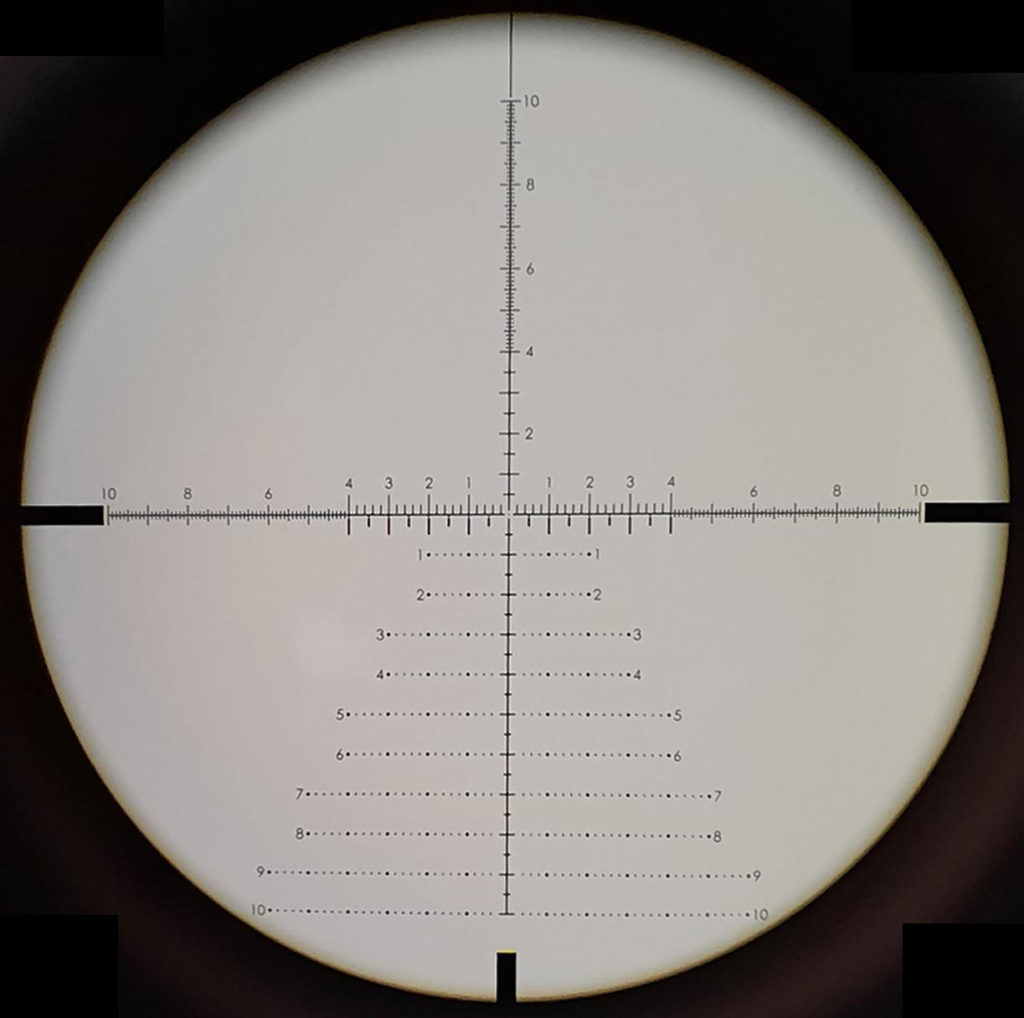 Moving on to more functional aspects, the reticle is probably my favorite part of the scope.  There are several different options when it comes to reticles.  My scope has the EBR-7C reticle (EBR=Enhanced Battle Reticle).  The windage tree is crisp and easy to read, and the crosshairs are open with an extremely fine dot in the center.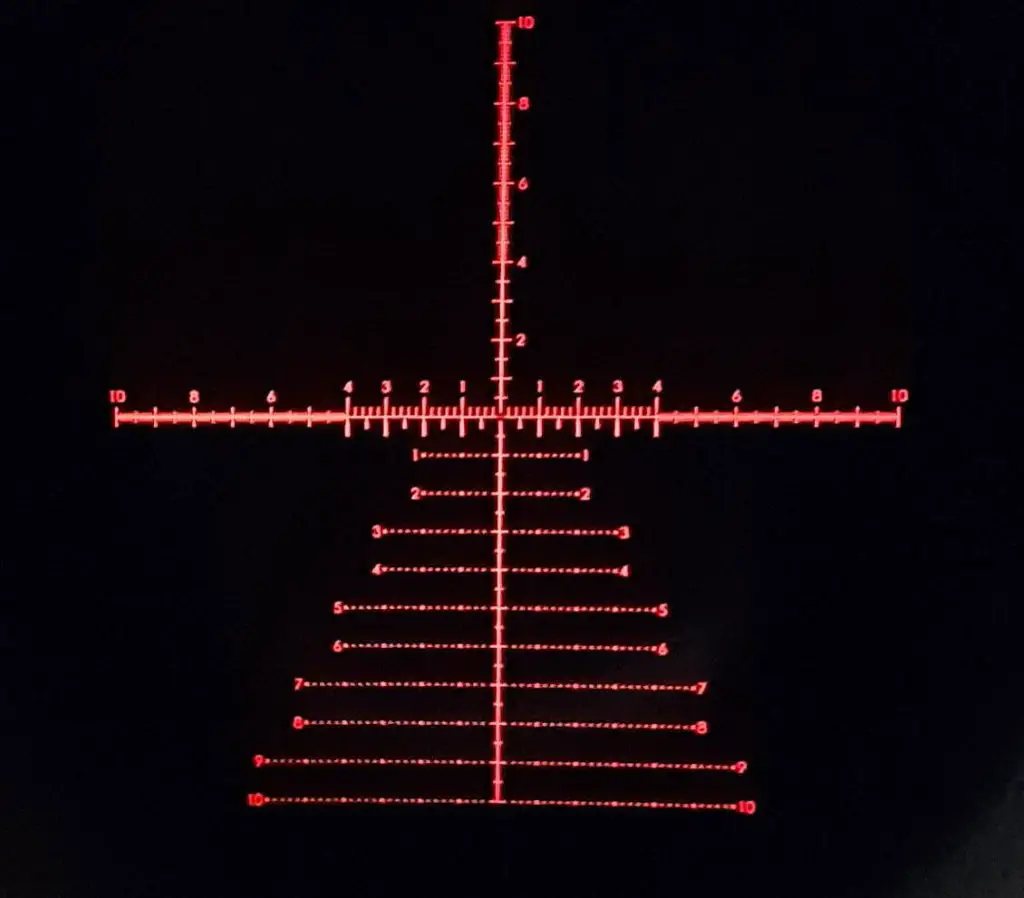 On other rifle scopes I have noticed that less is sometimes more. Thick crosshairs, heavy dots, and heavy fonts can sometimes obstruct the ability to see the target, particularly when shooting at a distance.  This was absolutely not an issue with the EBR-7C reticle.  The Razor is a first focal plane scope, which means the MOA/Milliradian indicators on the windage tree remain true regardless of what zoom power the scope is set to. 
The left side of the scope has a knob to turn on the battery-operated reticle illumination. The illumination is powered by the very common and easy to find CR2032 coin battery.  
There are 11 intensity settings for the illumination, making it versatile in any lighting conditions.  The illumination feature is not only useful in low-light conditions, but also during daylight when the target is a darker color or is being shadowed.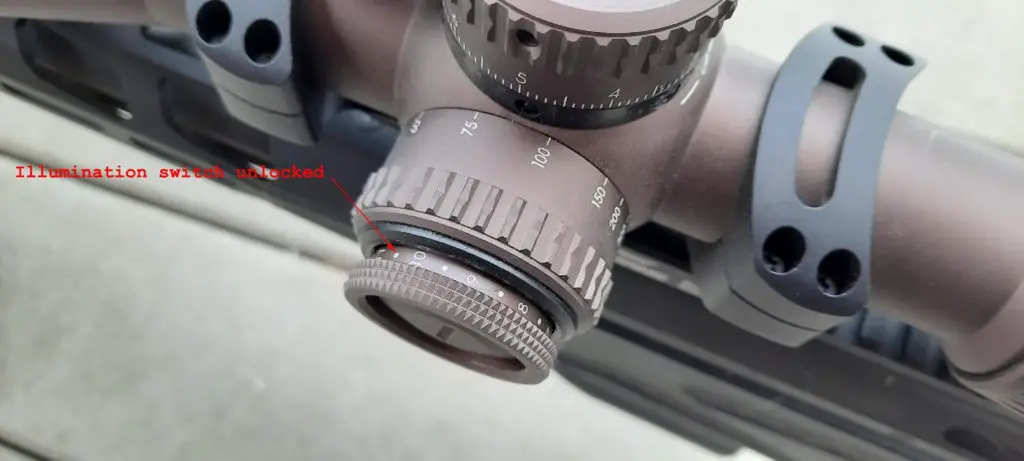 Turrets
The Vortex Razor comes equipped with L-Tec turrets.  Essentially what this means is that in order to make windage/elevation adjustments, the user has to pull the turret out away from the scope before the turrets can be turned.  It took me a short time to get used to the extra step.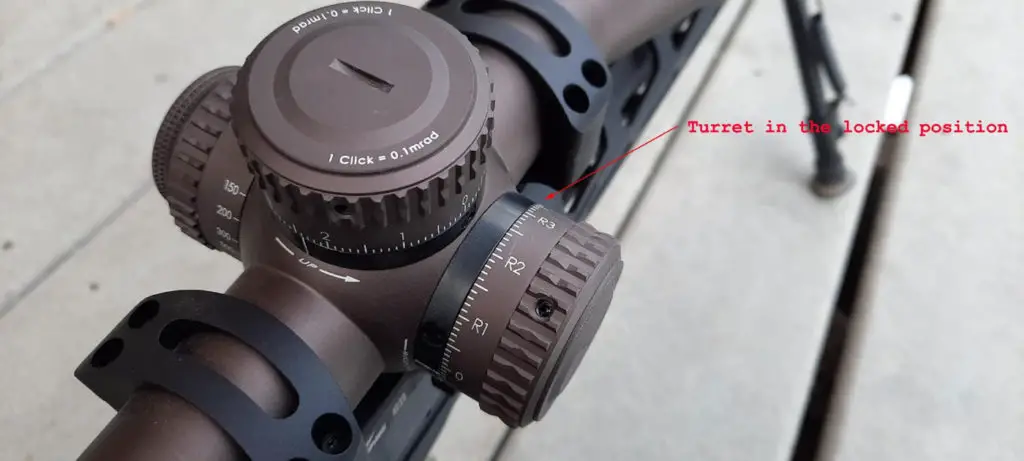 After giving it some thought, I have to admit I like that there is almost no chance that a turret accidentally gets turned one way or another.  As long as you remember to lock the turret in place, it will always stay right where you left it.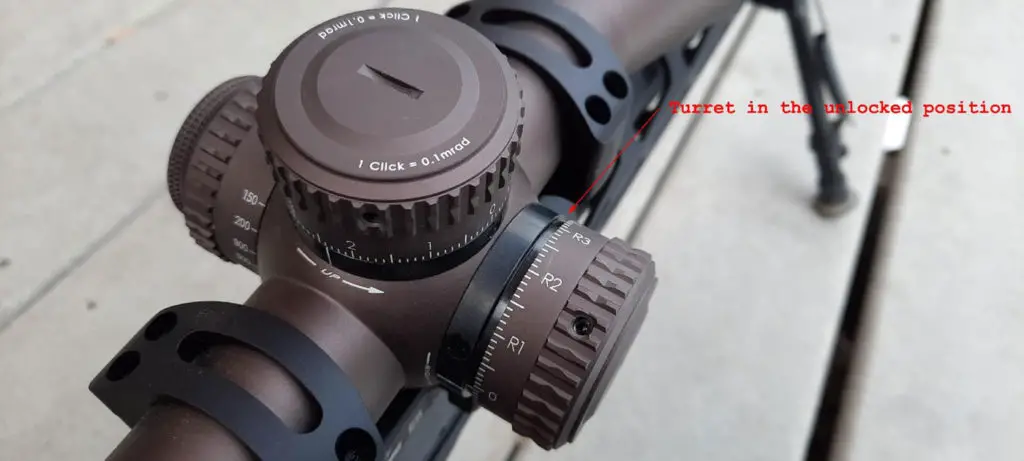 I was less than impressed with the need for a tool to adjust the zero when sighting the scope in.  In zeroing other scopes I have used, elevation and windage are adjusted by simply turning the respective turret until the point of impact matches the crosshairs.  Once the scope is dialed in, the outer portion of the turret can be removed and replaced in the zero position.  This is not the case with the Razor.  To sight in the Razor, the turrets are left in the zero position.  Small hex head set screws need to be loosened, and the end cap of the turret needs to be removed to expose the fine adjustment screws.  
The process seemed as bit tedious to me, although there was one aspect I did appreciate.  One click on the turret adjusts the scope ¼ MOA (or .1 mils if your scope uses Milliradians).  The adjustment screw under the end cap turns smoothly when it's being turned.  What this did for me was to have the ability to make finer adjustments when I was zeroing the scope.  In theory this would only really matter if the rifle was capable of sub ¼ MOA groups.  Keep in mind that while ¼ MOA is only about ¼" at 100 yards, it becomes about 2 ½ inches at 1000 yards.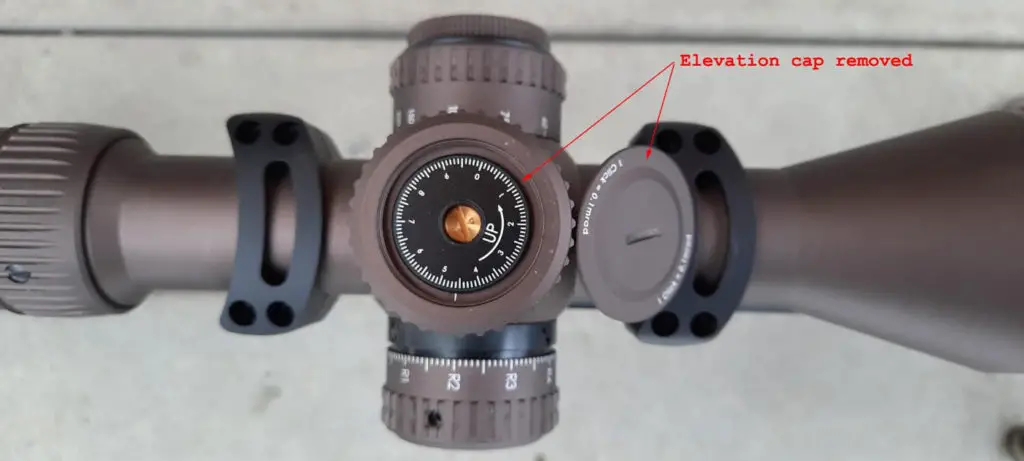 All in all, the clarity of the glass and the general quality and durability of the Vortex Razor HD Gen II 4.5-27×56 was as good or better than any other scope I have had the pleasure of using.  That coupled with the Vortex lifetime warranty makes it an easy recommendation to anyone looking to maximize the effectiveness of their rifle. 
Price       
The Vortex Razor HD Gen II 4.5-27×56 retails for anywhere between $2,500.00 and $2,900.00.  It comes with an L-Tec tool, a 2mm hex wrench, a 4-inch sunshade, a CR2032 battery, and a lens cloth.  The price may seem steep for some, but it is in the range of any high-quality scope, and I am a firm believer that you get what you pay for. 
Is it Worth Buying?
Personally, whatever buyers' remorse I may have had disappeared after the first few shots.
Check Price at: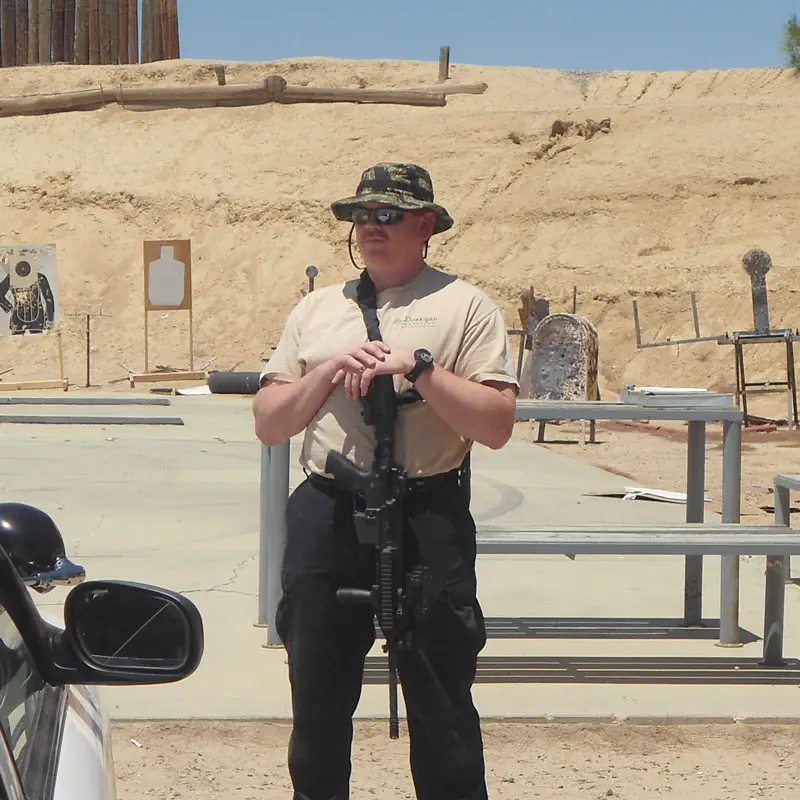 Jonathan started his career as a Police Officer in 2001. In 2010 he was promoted to the rank of Sergeant and became a firearm instructor (rangemaster). He has instructed law enforcement officers in the use of pistols, rifles, shotguns, and submachine guns. Jonathan is a certified armorer for the Colt AR-15/M-16 and for Glock. He served as a Sergeant and Rangemaster until his retirement in 2022.