Trijicon was in many ways the first company to bring a red dot to market that could handle the abuse of being slide mounted for military, police or sport shooting applications. The initial type 1 RMRs (ruggedized miniature reflex) saw extensive military use as a secondary optic on everything from rifles to medium machineguns.
For use on pistols though, the type 1 had a major shortcoming with the battery connection under recoil, was initially recalled and then replaced with the type 2. Today we'll be looking at the Trijicon type 2 RMR with a 3.25 MOA dot reticle. This optic does also come with options for 6.5 MOA and 1 MOA dots. 
Check Price at:
Specs
Out of the box the type 2 RMR is going to come with a CR2032 battery, 2 RMR screws, hex wrench, manual, Trijicon Sticker (which looks great on my safe), and warranty card. The factory box essentially looks like a small pelican case which is a nice touch as well.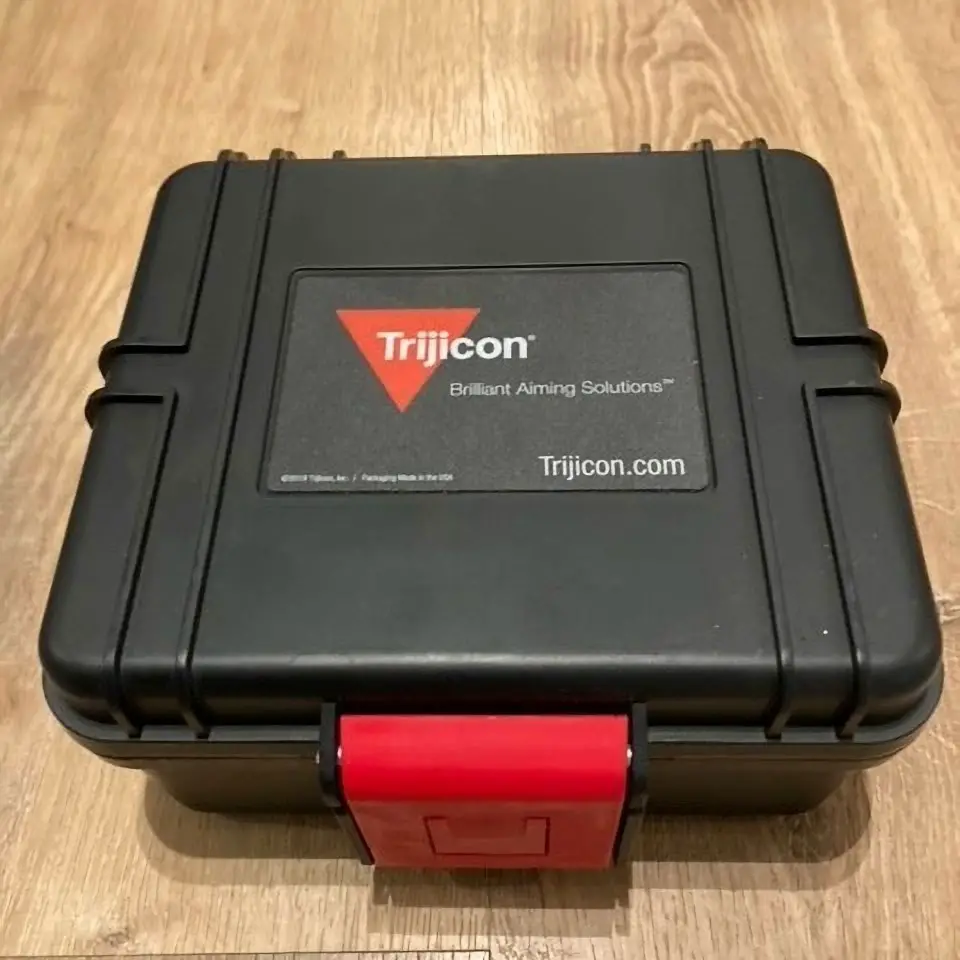 I'll touch on the major features of the optic below as a quick summary: 
3.25 MOA red dot with an automatic brightness mode and big adjustment buttons for ease of use. 
Patented housing diverts force of impact away from the lens, making this thing tough as nails. 
Conservation mode that adjusts aiming dot to ambient lighting conditions after 16.5 hours. 
Button lockout that prevents accidental adjustments. 
Waterproof to 20 meters.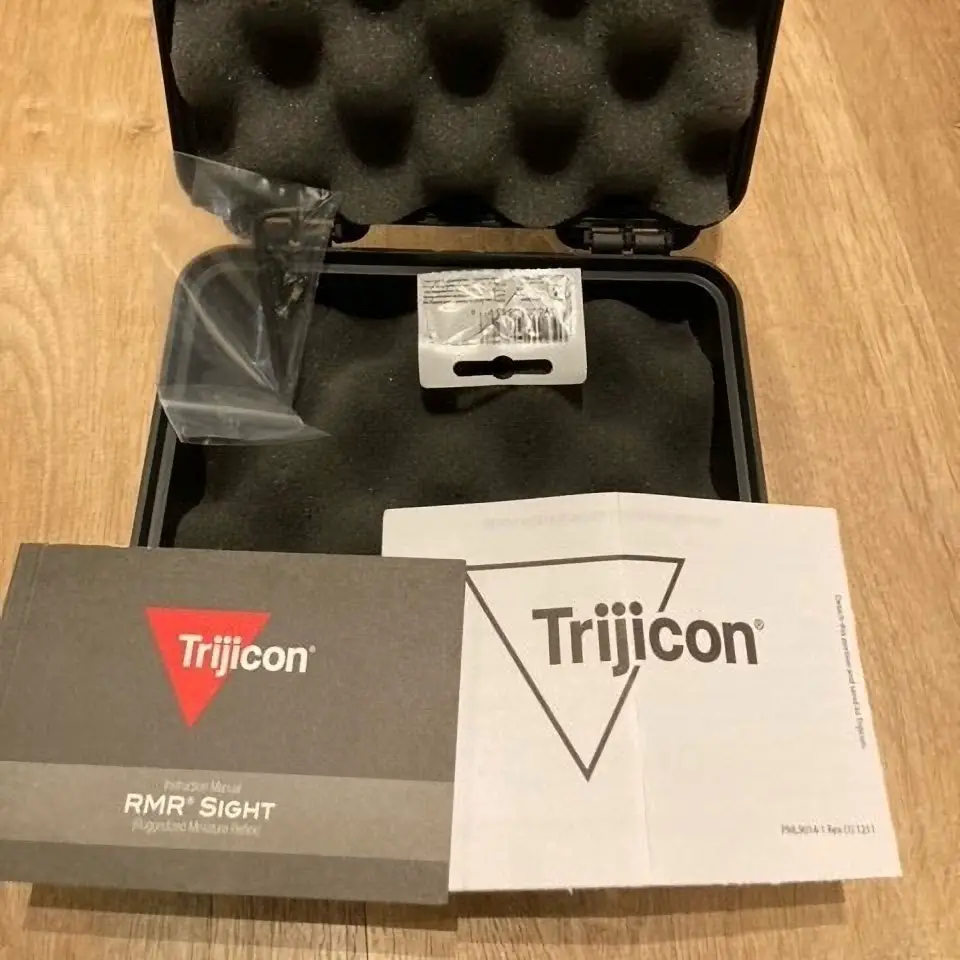 If you're short on time and want the reader's digest version of this review the Trijicon RMR type 2 is the toughest pistol mounted red dot you can get with an unparalleled track record in both military and police work. But there are some downsides and the competition is catching up quick. Plus, all of those features are going to lighten your wallet by a bit. 
Performance
Overall, the Trijicon RMR type 2 is a star performer. As I've said, the durability of this optic (mostly due to its unique housing) is virtually unmatched. If you don't believe me just look at some of the great work done by Sage Dynamics on pistol mounted red dots. While I haven't intentionally tried to break mine by dropping it over and over on concrete, I have carried it as a duty optic for the last year and a half in addition to using it for the odd competition here and there. So, at this point I've got a about 1500 rounds with this particular optic, the sum total of wear and tear that I can tell from my use is a bit of finish wearing from the corners of the housing.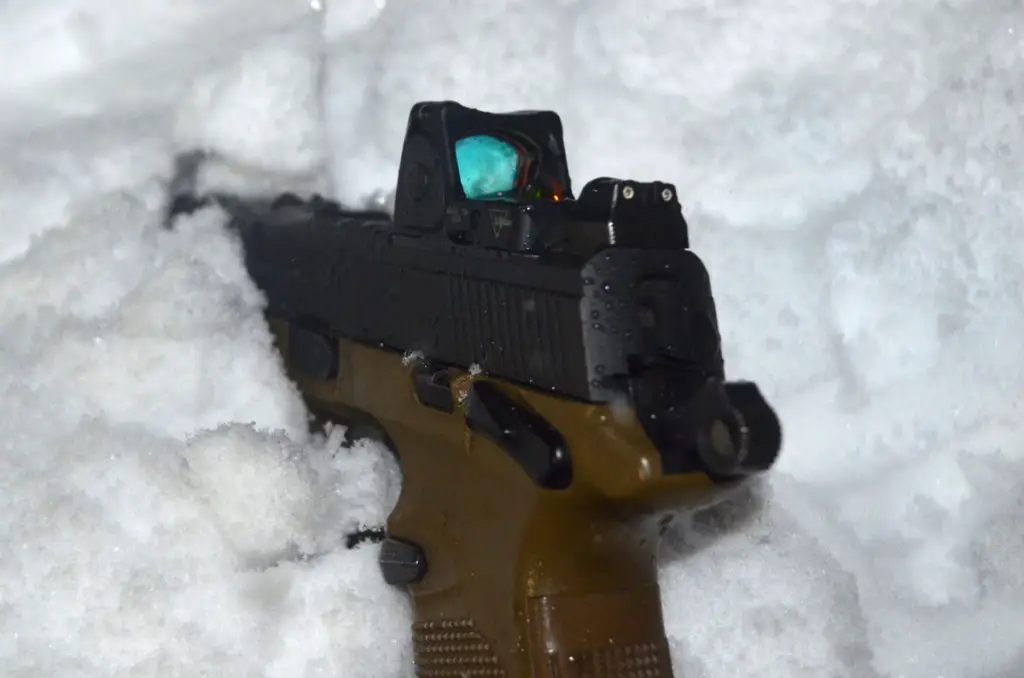 At this point my assessment is that unless I go out of my way to intentionally break this piece of equipment, no amount of incidental exposure to the elements or using it to cycle my handgun off a nearby object will do it. 
That is not to say by any means that these optics are indestructible. Like anything else these optics can fail. While taking a handgun optics instructor's course several years ago we did a exercise where we removed the slides of our pistols. These were then placed into zip lock bags of water which were in turn placed into ice chests for several hours. Out of the fifteen or so optics in the class the only one to fail was a Trijicon. Due to a faulty seal around the emitter water had entered the optic and then frozen, breaking the internal components.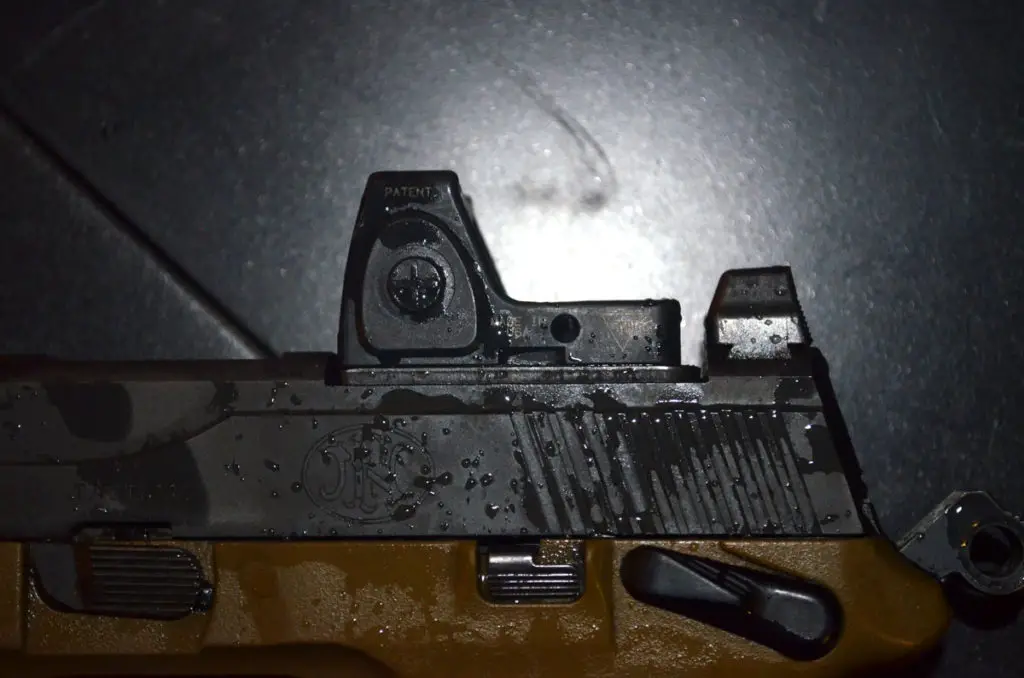 So, what happens if by some poor luck on your part you end up having to contact Trijicon regarding a warranty issue? While I have never had to contact Trijicon for a warranty issue they do guarantee their products to be free from manufacture or materiel defects for the lifetime of the original owner. If there is an issue Trijicon will either repair or replace the item. The electronics specifically are warrantied for five years from date of manufacture.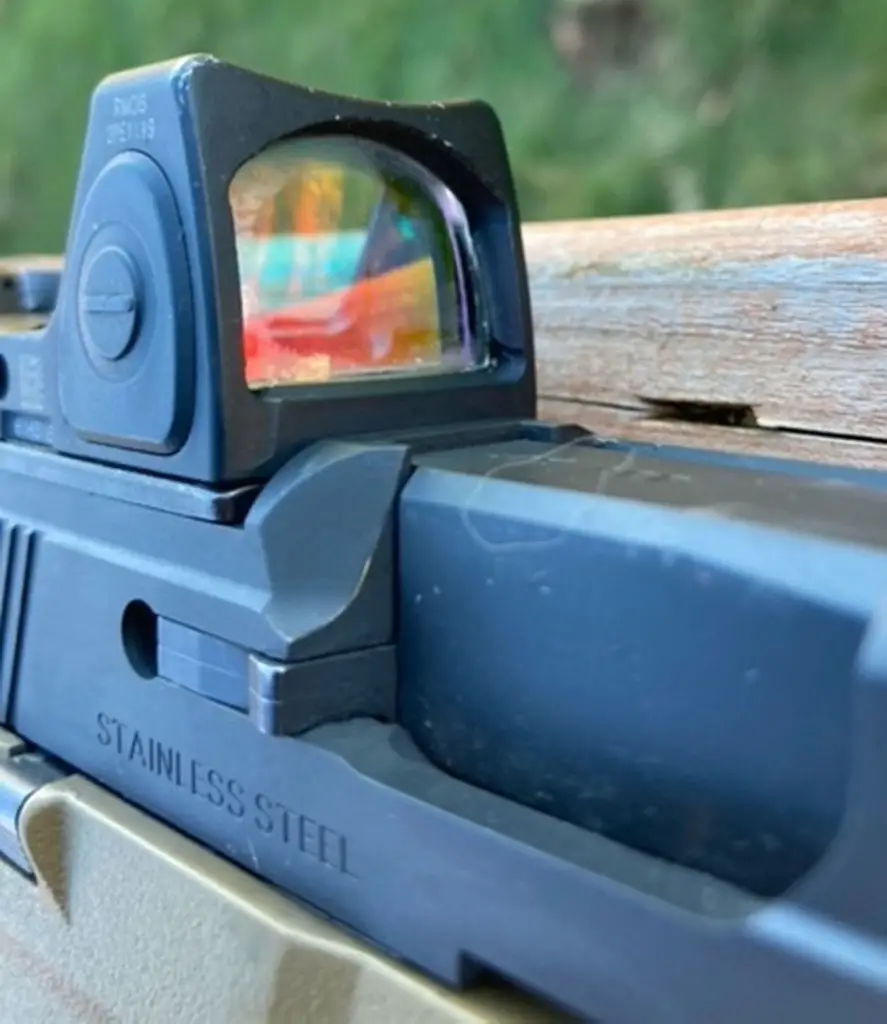 Being as this is a battery powered optic the issue of battery life is always on people's minds. The Trijicon type 2 runs off of a CR2032 battery (as do most pistol mounted optics). I have never left one of these in my optic long enough to run out, since it's a duty optic I rotate the battery annually, on their website Trijicon claims 2 years of battery life under normal conditions though. Speaking of the battery, the Trijicon RMR type 2 loads the battery from the bottom of the optic. This nessesitates removing the optic from the handgun in order to switch out the batteries.
Now, it is always recommended that you check your zero after remounting the optic, but bewteen us, I've done this on mulitple pistol red dots and never found them to shift zero. Several other manufactures have put out models with top or side loading batteries. These models solve the problem of removing the optic but generally speaking make the base of the optic thicker. If you are combining this with a mounting plate like the Glock MOS system the total height can obsure even supressor height iron sights. Each one of these options has ups and downs, honestly, pick the one you like and go with it.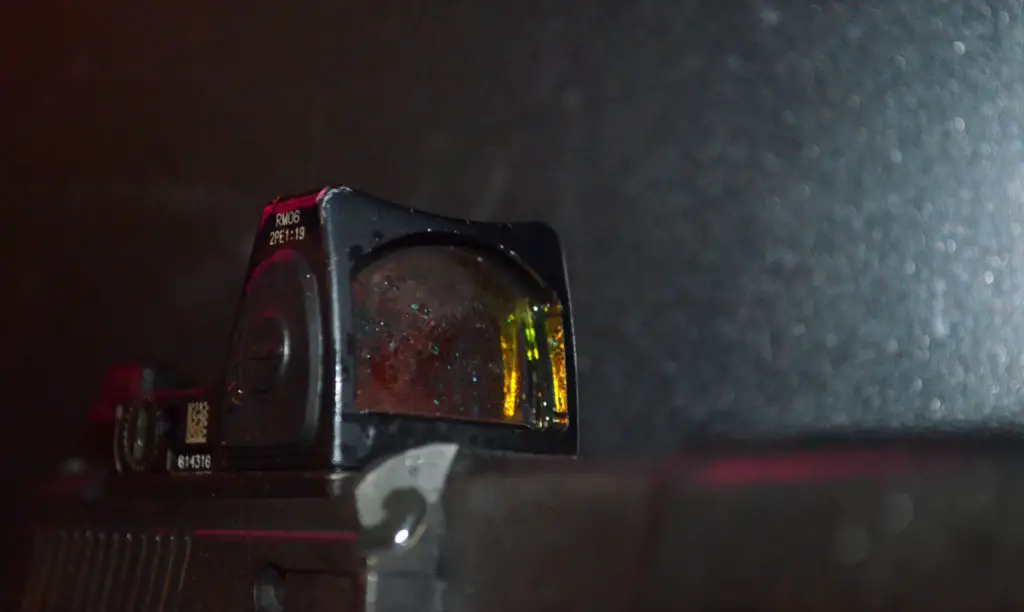 Another feature that has become common on a number of competitor's optics is auto on/off. The Trijicon has conservation mode which adjusts the optic to ambient light conditions if it isnt used in 16.5 hours. Overall I would prefer the auto on/off function; whether it is for self defence or duty use I do not like auto adjusting optics at all. On multiple occasions I have found myself standing in a dark environment, such as a room and looking through my optic into a light environment. The light differential effectivelly washes out the dot. I much prefer a manual brightness adjustment that I can set slightly higher than I need so that it doesn't get washed out.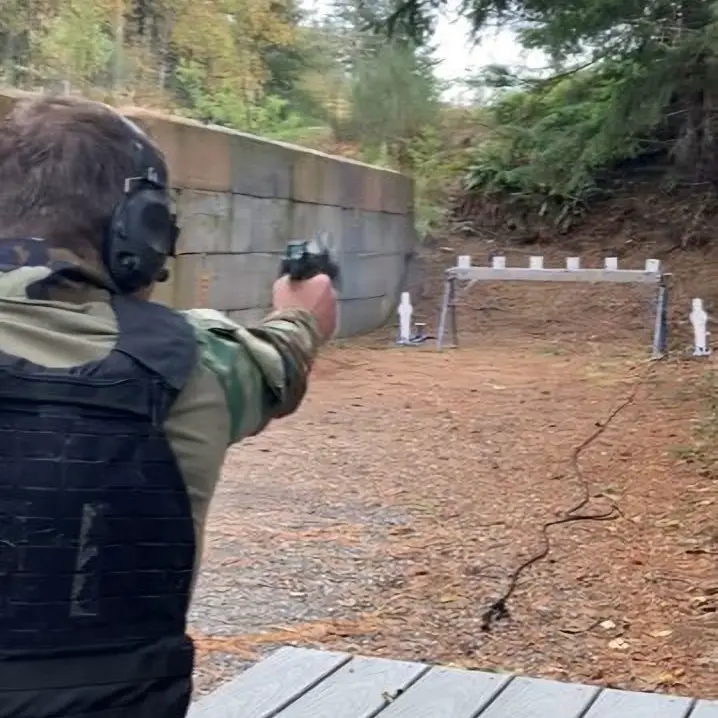 Trijicon also touts a button lockout feature on this optic. I've never had issues with the buttons on mine being inadvertatly hit. So, I've never used this function, but I'm not a fan of the fact that this feature puts that optic into auto adjust mode. For the reason I stated above. 
Like the majority of optics on the market the Trijicon RMR Type 2 is an open emitter system. This means what it sounds like; the emitter is exposed at the rear of the optic and projects the retical onto the class lense. The emitter is protected withing the housing of the optic, but things like rain, snow, mud, ect can obscure it if they accumulate. There are multiple ways to mitigate this from happening in the first place or shoot with the optic obstruted, but those are topics for another time.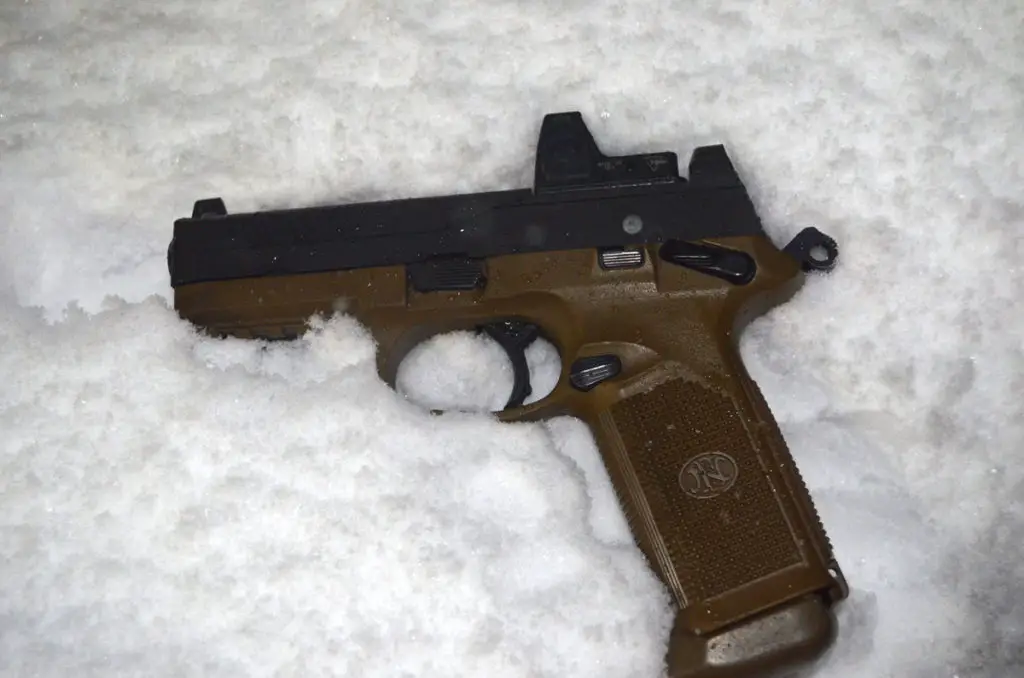 When it comes to mounting the Trijicon RMR Type 2 you are in luck, the footprint used by this optic is one of the most common ones out there. The optic itself utilizes two screws to mount either directly to your pistol or the mounting system you are using. These screws can be seen on the top down picture in the controls section of this review. 
Controls
The controls on this optic are simple and well thought out. While I do like the Trijicon RMR Type 2 I would consider it to be fairly basic in some ways, and it's controls reflect that. For example, some pistol red dots are now coming with multiple reticle options or solar powered options integrated in the same unit. Since these features aren't present in the Trijicon RMR Type 2 there are less combinations of buttons to press to access potential options. 
So, what we are left with is a large and easy to find button on each side of the optic. These are clearly marked with a plus and a minus sign and are obviously for controlling the brightness of the reticle.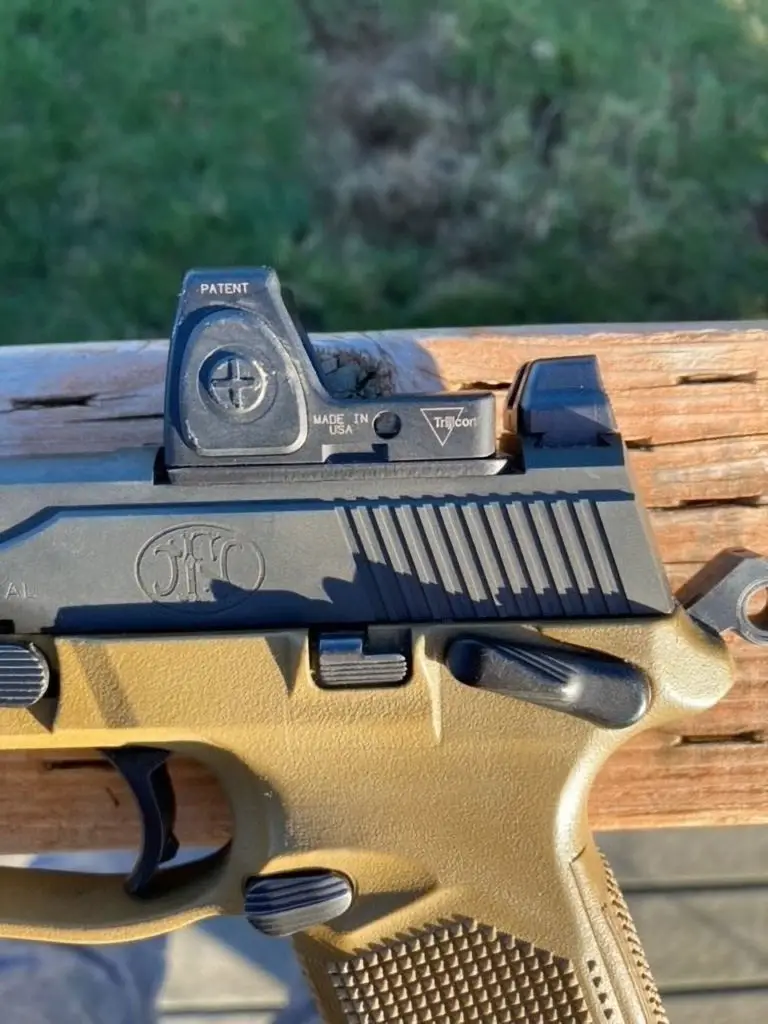 You can also see in these photos the hole in the side of the optic to drain any water that accumulates near the emitter. 
The buttons on the side of the optic are also used to cycle through the available options; such as button lockout, auto adjustment vs manual adjustment and turning the optic off/on. 
The other controls found on this optic are the horizontal and lateral adjustments used for zeroing. The horizontal adjustment is found on the right side of the optic and can be adjusted at a rate of 1 MOA per click of the dial. These adjustments don't require any special tools beyond a small flat head screwdriver or anything else you can find that will fit that profile. The vertical adjustment is located on the rear portion of the optic's base and is of the same style as the horizontal adjustment.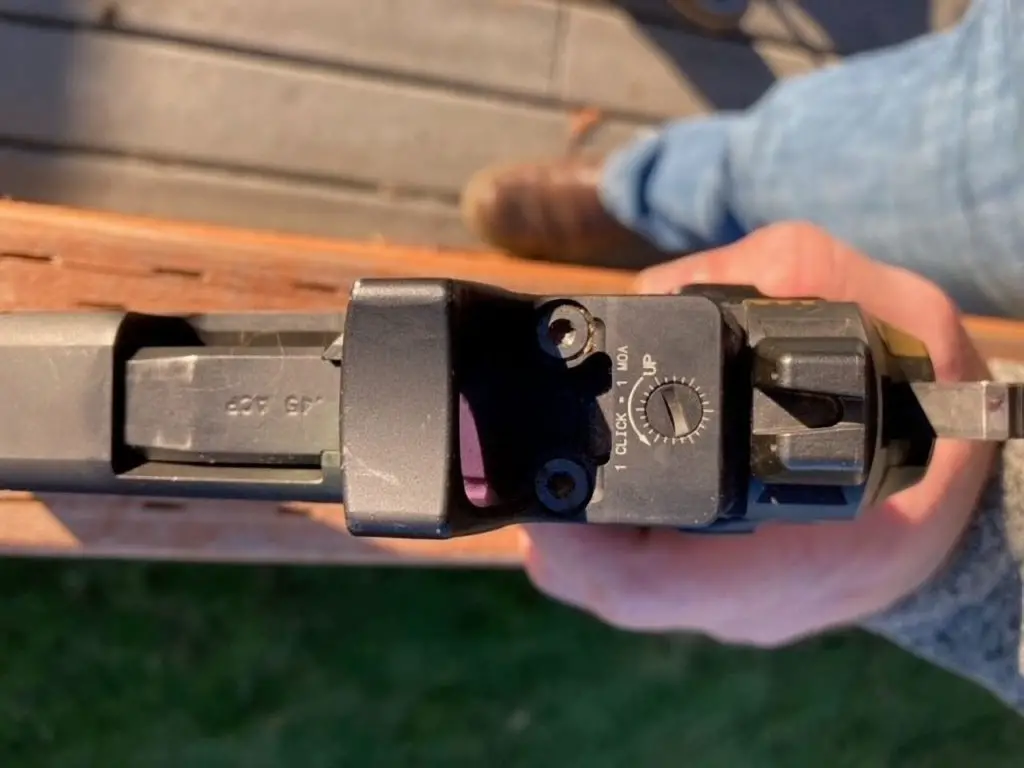 Glass
I've got no gripes about the glass on this optic. I have found it to be clear and easy to see through in a variety of lighting conditions. Trijicon talks up the fact that the lens is true color and multi-coated, this, they say creates minimal change in the color of the target. In practical use I do see a slight blueish green tint when looking through my optic but it is not enough that it bothers me. Since this is a red do with no magnification there is no eye relief associated with it's use, just get your face aligned behind the sight and your good.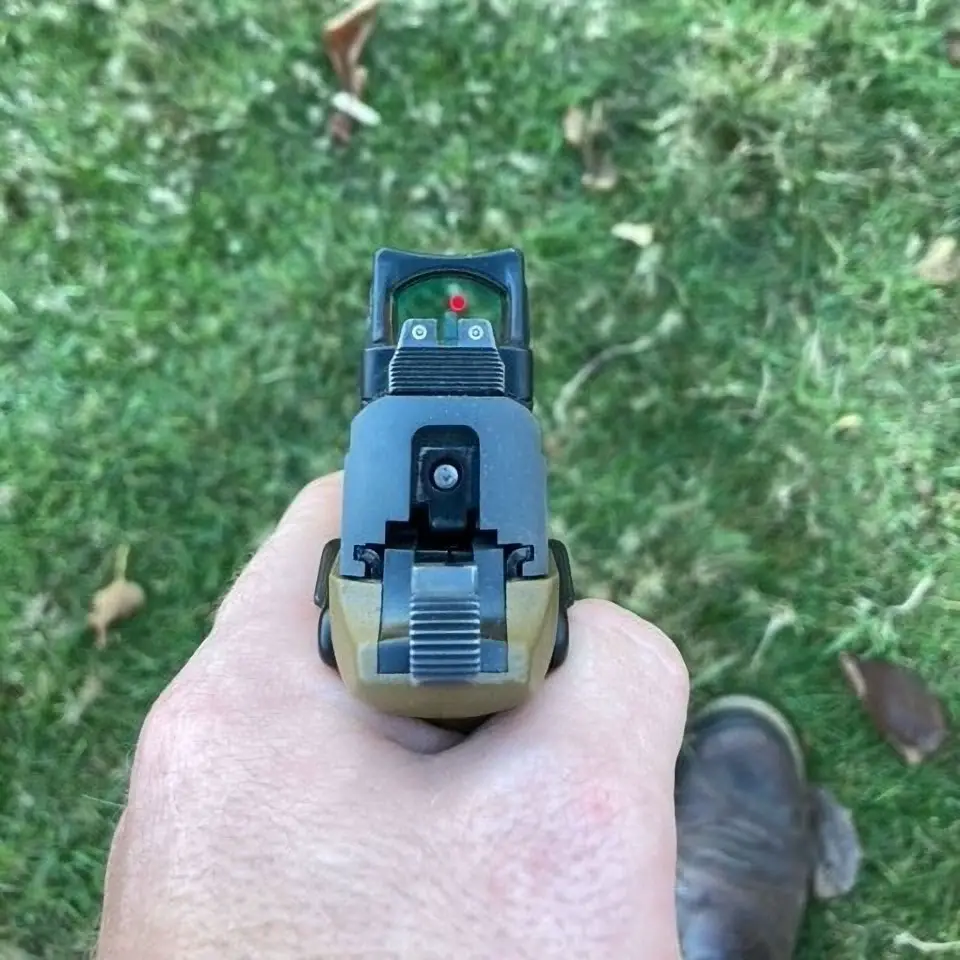 I've always liked pictures like this, since I have an astigmatism in my eyes the dot looks like a star to me. 
In both my professional and personal use I have exposed this optic to all kinds of junk that has gotten down into the lens. My cleaning regimen usually involves breathing on the optic to fog it up (the same way you would a pair of glasses) then wiping it down with a Q-tip. But, on occasion I may have used my t-shirt. The point is though, that I am not always the most carful when cleaning the glass on this thing; and so far I have not managed to scratch it. That is a testament to both the quality of the glass and the coatings being used. 
In the right conditions, the glass on the Trijicon will fog just like any other optic. If your wanting to solve this problem look to the aftermarket. Just use caution that any products you put on the lens aren't going to mess with the factory coatings.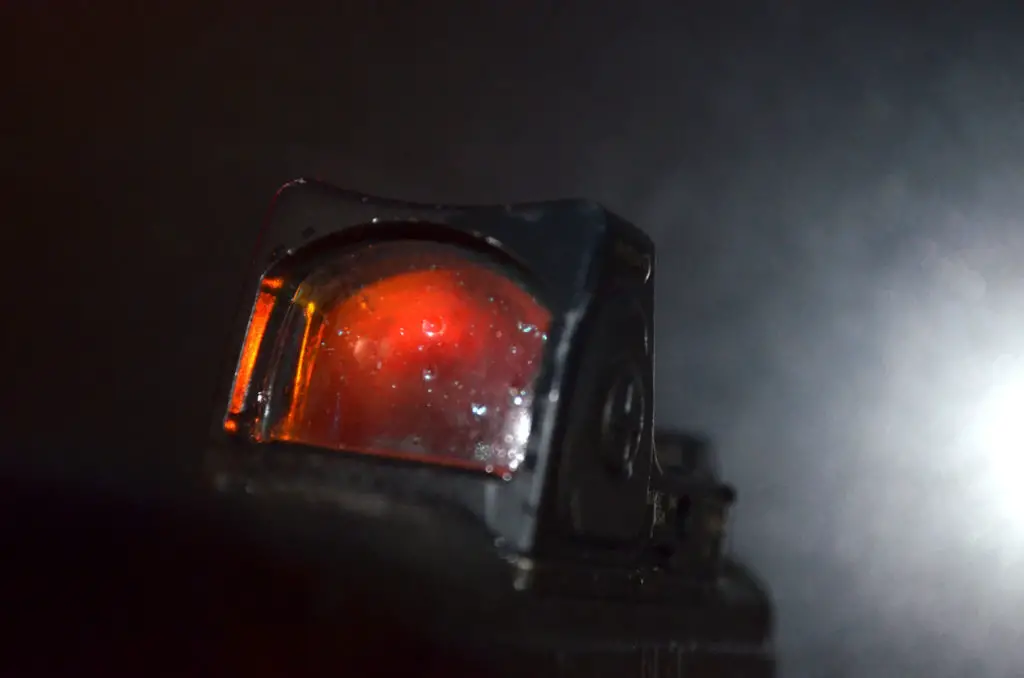 Like I said above, the quality of the glass on this optic is great. But, one area that the Trijicon RMR Type 2 is starting to be distinguished from several of it's competitors is window size. While I find the viewing window to be of average size and present no problems while using the optic there are several competitors offering substantially larger options. These options come with their own issues like everything else, the larger viewing window is more difficult to protect making those optics less sturdy when it comes to direct impact to the housings. 
So, if you want a bit larger viewing window there are options out there. But the size of the window on the Trijicon RMR Type 2 is pretty much the industry standard and the glass they are using is top notch.   
Pros
Durability
Track record
Largely considered the industry standard
Solid Warranty 
Very nice adjustments for brightness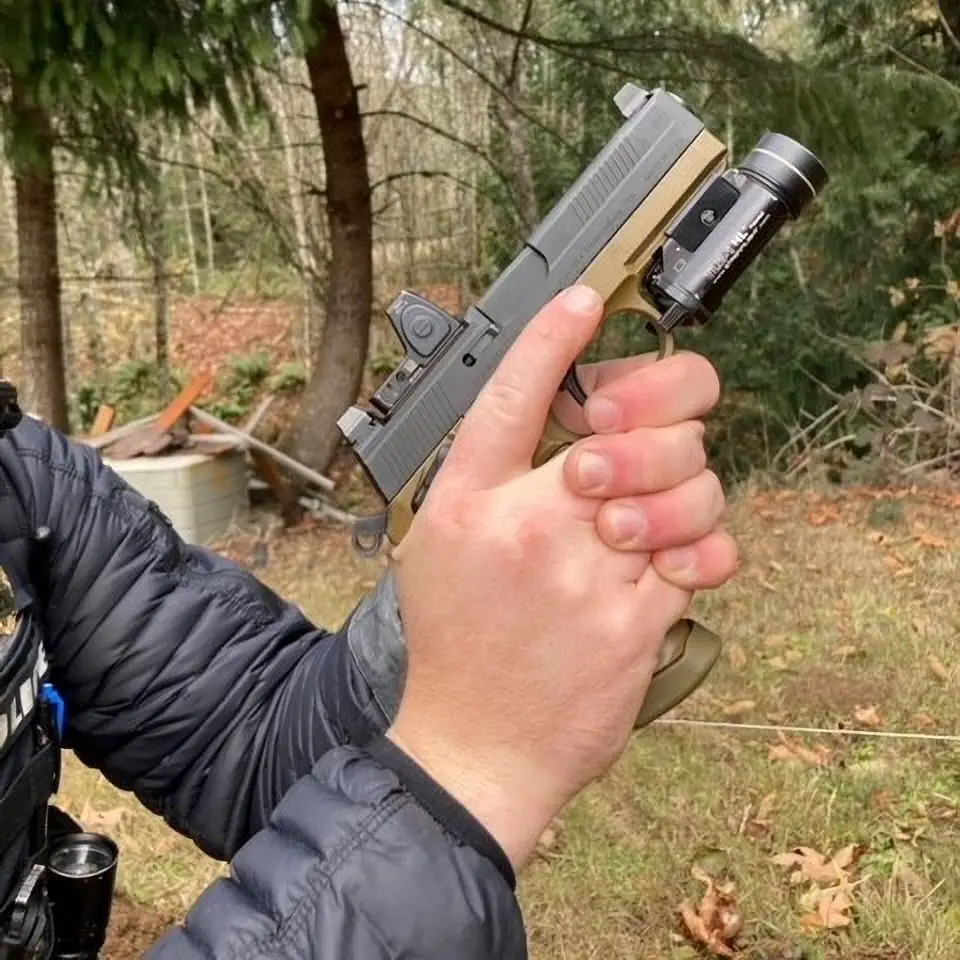 Cons
Cost
Lack of features like multiple reticle options, solar or auto off/on 
The competition is catching up 
Conclusion
Value is always something that is hard to conceptualize and something that varies from person to person. If you are looking for a pistol mounted red dot that is North of $400 in cost, I think this optic is a good value. The Trijicon RMR Type 2 offers the durability and quality that you would rightfully expect of an optic at this price point. 
But, if you are just looking for an optic to throw on a pistol that doesn't require the quality of materials or design of the Trijicon RMR Type 2 there are other options out there that will save you some money. Because lets be real, not everyone has $479.99 (current price on Primary Arms) to spend on a pistol optic. Like I said though, if you want a serious optic for serious work, this is the one for you. 
Check Price at: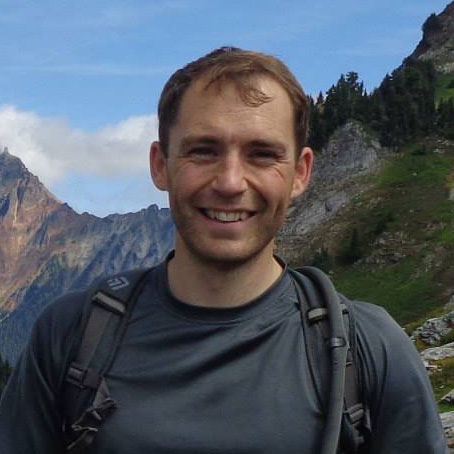 From a young age Jesse has been an avid shooter and outdoorsman. He is a Marine Corps veteran, and has worked for the last decade as a commissioned, full-time, municipal Police Officer in Washington State. He is a state certified law enforcement firearms instructor, teaching courses in pistol, rifle, shotgun, and handgun optics, as well as other specialized fields. In his free time, Jesse continues to enjoy the outdoors hiking with his family, hunting, and shooting competitively in the Pacific Northwest.