Today I am going to talk about the Vortex Diamondback HP 4-16×42 rifle scope. Vortex is a well known brand in the optics industry and has put out a lot of great scopes through the years. We've reviewed a number of them on our site.
Check Price at:
Specs
Magnification – 4-16x
Objective Lens Diameter – 42mm
Eye Relief – 4"
Field of View – 23.8-6.1ft @ 100yds
Tube Size – 1"
Turret Style – Capped, Finger Adjustable
Adjustment Graduation – 1/4MOA
Travel per Rotation – 15MOA
Max Elevation Adjustment – 80MOA
Max Windage Adjustment – 80MOA
Parallax Setting – 30yds to Infinity
Length – 12.5 inches
Weight – 18oz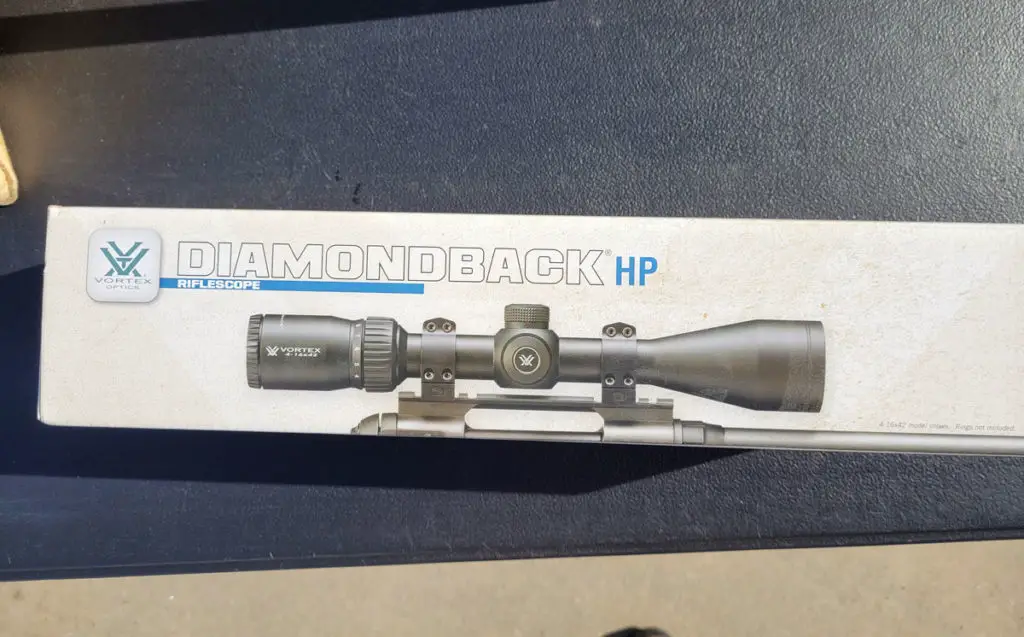 First Impressions
Initial impression of this scope was very positive. 
It came packaged very well. That is always a good indication of a quality product. Included in the box with the scope were a 4" sunshade, protective lens covers, & a lens cloth.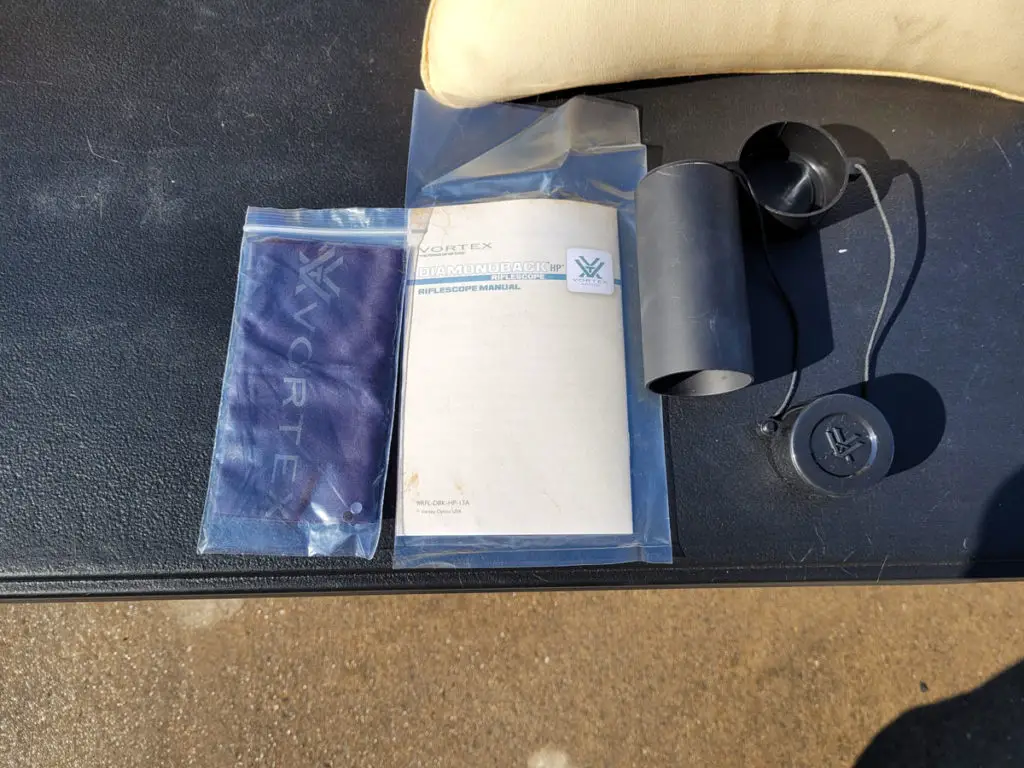 Glass & Clarity
The first thing I noticed when I looked through the scope was the clarity. It was much clearer than any of the lower price scopes I have looked through before by a large margin. The reticle appeared clear & sharp.
This scope has side focus capability instead of an adjustable objective lens. This option makes adjusting the parallax much easier from the shooting position while looking through the scope.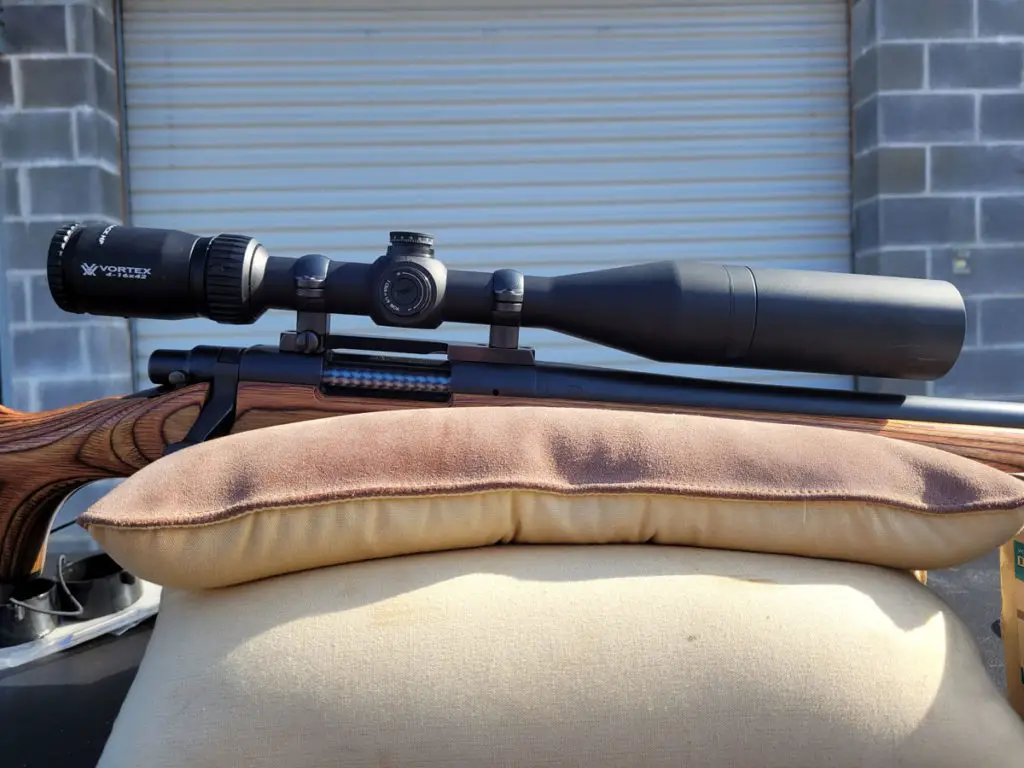 This scope features the XD extra low dispersion glass which is reported to increase the resolution & color. The lenses are multicoated to help with the transmission of light.
My observations were that this scope was bright & had good resolution. Confirming the effectiveness of the lenses & coatings.
Knobs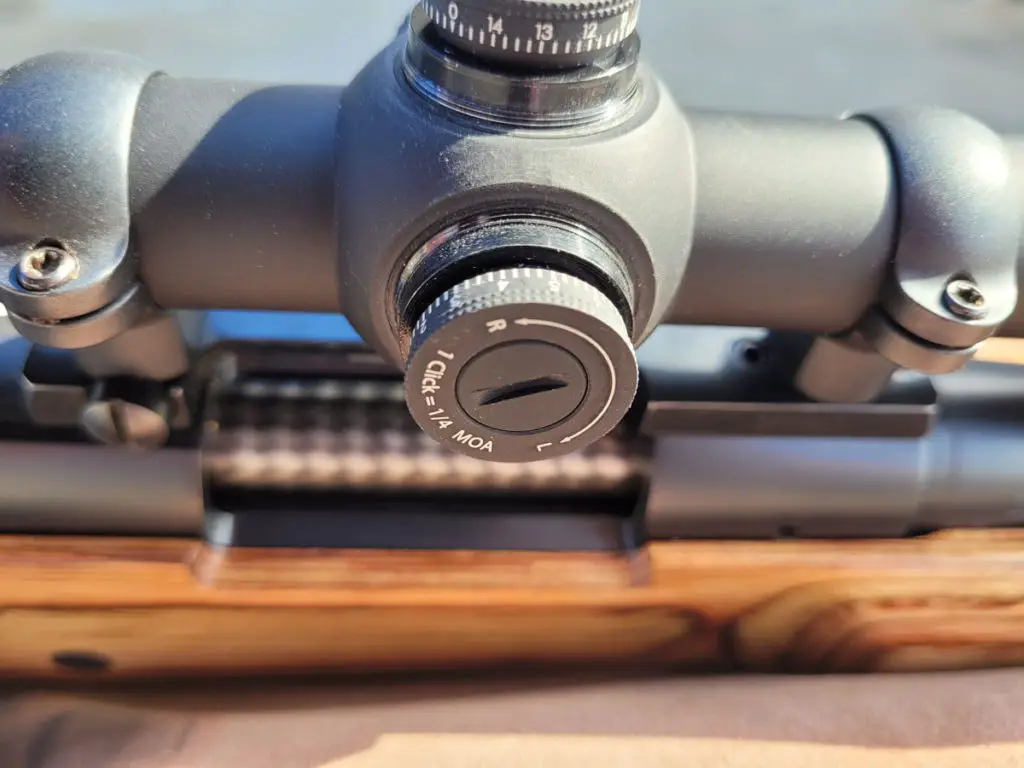 The knob has just the right amount of friction resistance. The windage & elevation knob are covered with threaded caps. The knobs are finger adjustable with positive, tactile clicks. Once you have the scope sighted in, the option to set the knobs to zero is available to you. This is a nice option if you have the need to dial in added MOA for distance. You will need to pay attention to your starting point you are dialing from to return to your original zero as this model does not have a zero stop feature.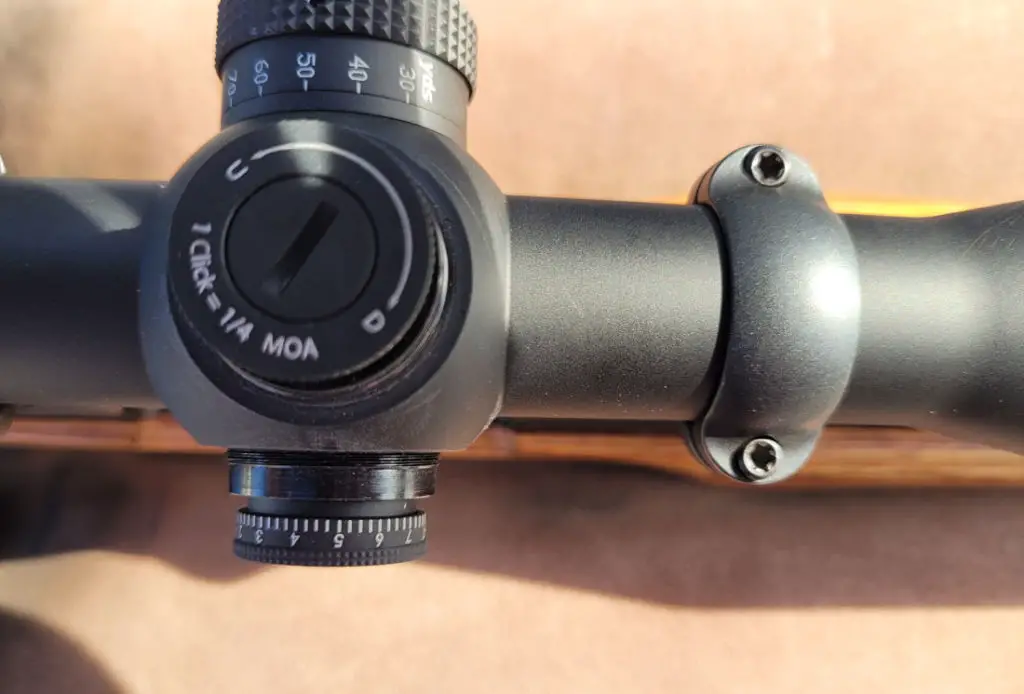 Vortex does have a link to Kenton Industries on their website. Kenton can make custom turrets to help aid in bullet drop compensation. This could be handy when using the elevation knob to dial in for distance if you are using a specific load in the rifle.
Reticle
Vortex lists the reticle in this particular scope as the V-Plex. The reticle in this model is in the second focal plane. Reticles that are in the second focal plane (SFP) remain the same size throughout the magnification range.
If using the reticle for indicating range the scope typically needs to be at its highest magnification setting or at a specified setting indicated by the manufacturer. This scope must be at its highest magnification setting in order to use the reticle to determine range.
Shooting with the Vortex Diamondback
I mounted this scope on a very accurate Remington 700 VLS rifle chambered in 223 Remington.
This particular cartridge is not very punishing from a recoil perspective but the scope is a robust unit. I would expect it to handle the shock produced by a cartridge capable of producing much more recoil without any issues.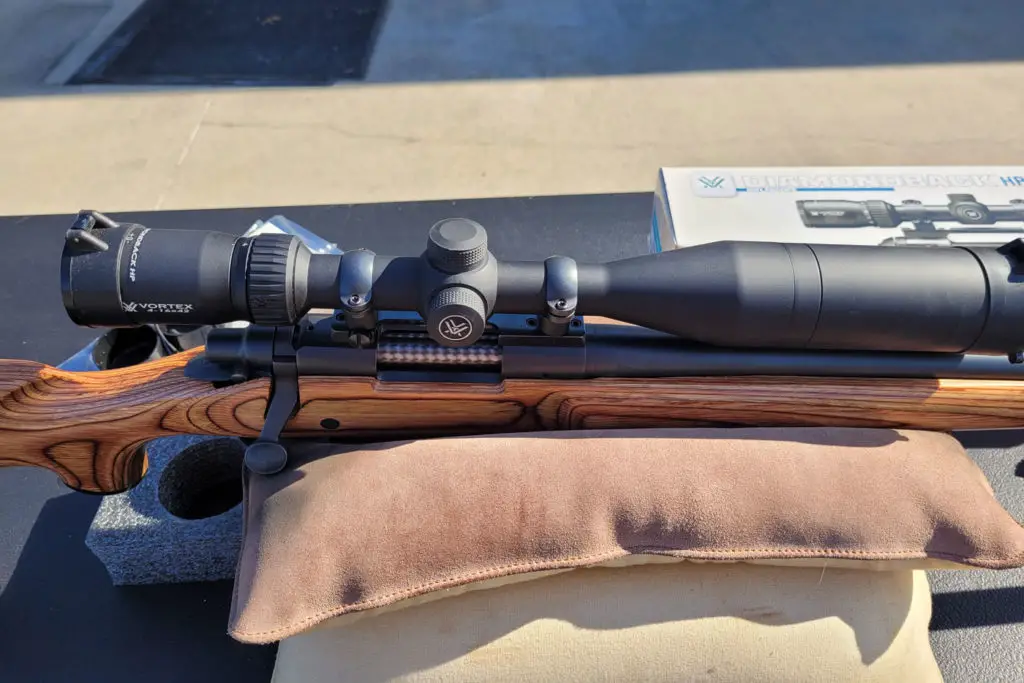 Once installed I took this rifle/scope combination to the range to sight it in. Zeroing the Vortex Diamondback went very well. I fired the customary 3 shots & determined what windage & elevations adjustments were needed. Once those adjustments were made, I fired 3 more shots. The second group was very close to the desired placement on the target. I only made a minor adjustment after the second group & that was really just me being picky.
Windage & elevation adjustment on this optic are in the ¼ minute of angle (MOA) scale. The 100-yard range I was shooting requires 4 clicks to move the point of impact (POI) 1 inch. If the distance had been 200 yards 4 clicks would have changed POI 2 inches, at 50 yards it would take 8 clicks to move POI 1 inch etc.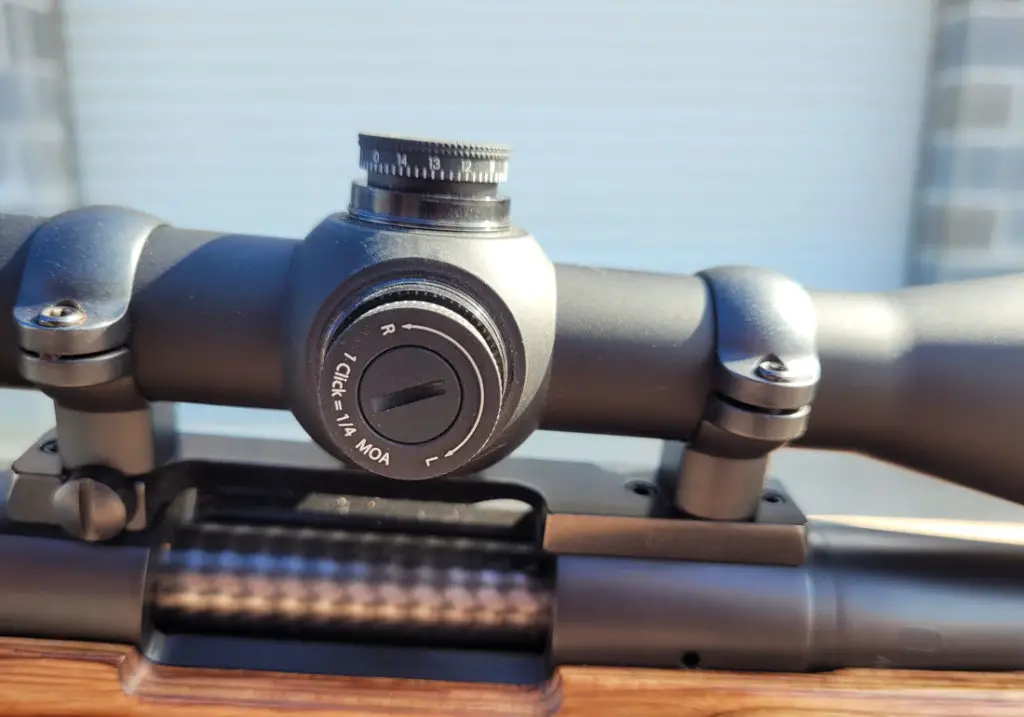 I was able to make adjustments & predict where the POI would be on the target. My evaluation is that the adjustments tracked accurately.
The side Parallax adjustment knob has distance marked on the knob & it was very close to being accurate when the parallax was adjusted to the target distance.
The eye relief for this scope is listed at 4 inches by the manufacturer, this distance typically will decrease as the magnification is increased. This holds true for the Vortex Diamondback as well. I did not think that was a very big issue, especially on this particular rifle. It is however something that a person might want to pay attention to on a heavy recoiling rifle. Obtaining proper eye alignment was not hard to accomplish especially at the lower magnification setting. As with all adjustable magnification scopes the higher the magnification setting the more effort was needed to obtain proper eye alignment.
I spent some time working with this rifle scope combination as I worked up a load for this rifle.
I never had any issues with the scope losing its zero. No other problem presented themselves during this process.
Field Test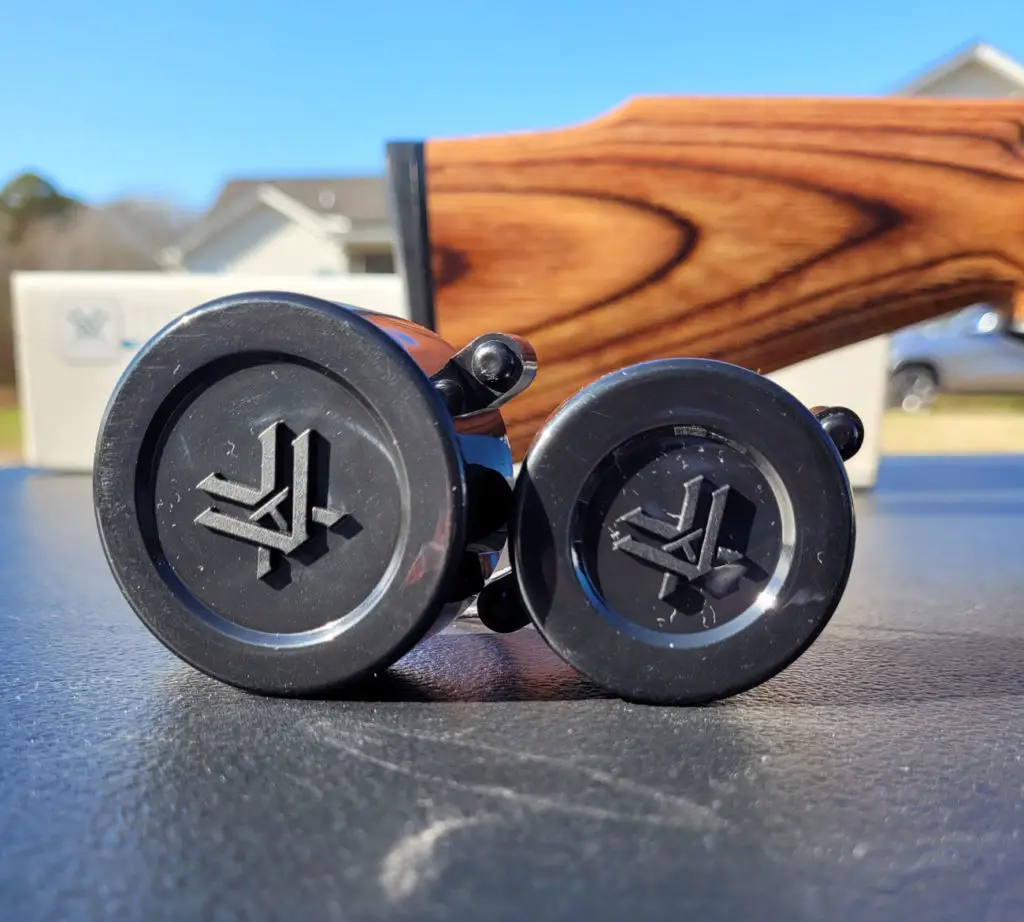 I took this rifle & scope combination out west for the opportunity to shoot at some small varmints. I transported this rifle & scope combo using the normal care in handling that anyone would use. The scope made the trip there & back with no issues whatsoever. The POI never had any indication that it had shifted on the trip out or the trip back.
While I was there, I was able to engage targets at distances from 75 to 300 yards. The weather was perfect & the picture in the scope remained clear & vibrant. 
I tested the scope upon return from the trip to see if it maintained zero, it did.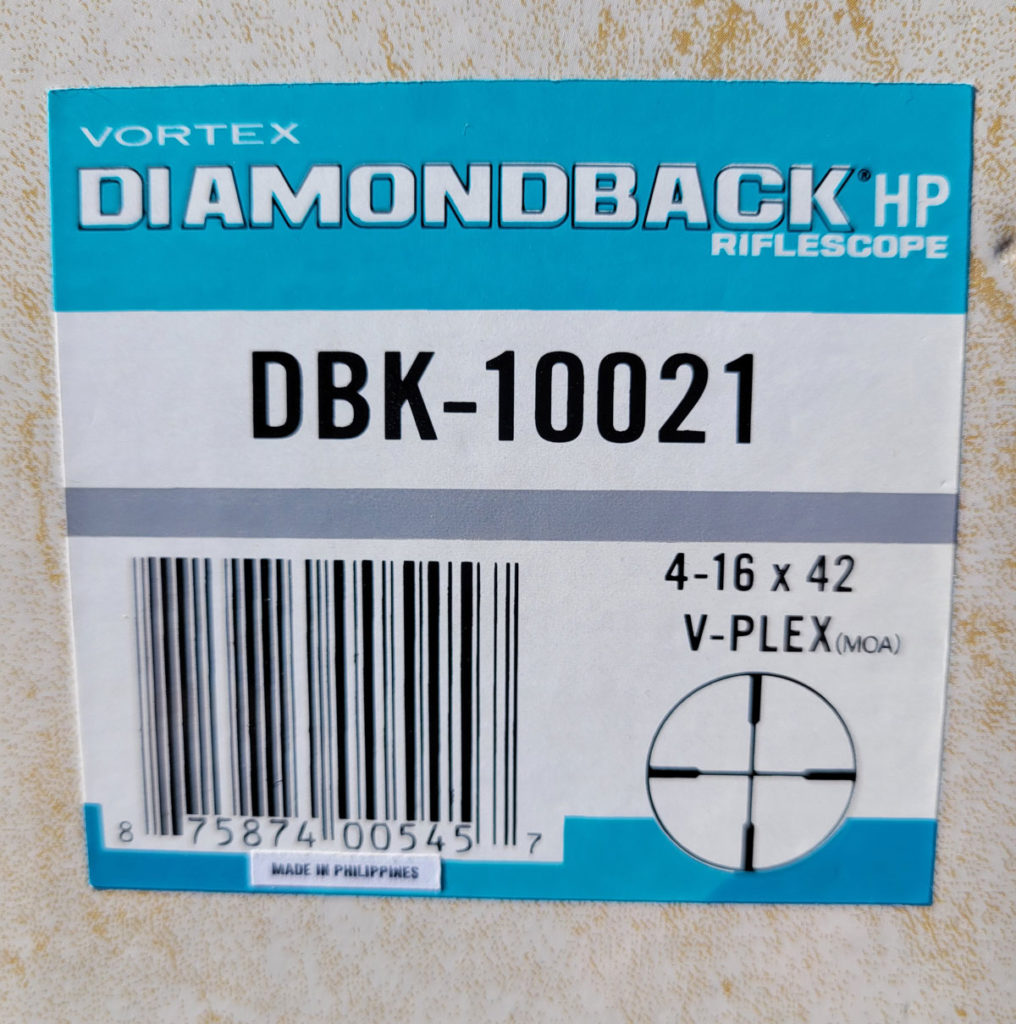 Conclusion
Vortex has already established a reputation for building very good rifle scopes. They manage to do this at a price point that makes their scopes a great value. 
I am very happy with the Vortex Diamondback HP 4-16×42 rifle scope. Vortex does manufacture higher end scopes as well. These higher end products are packed with features that make them worth taking a look at. If your budget allows, it would be to your benefit to check out Vortex Optics.
Check Price at: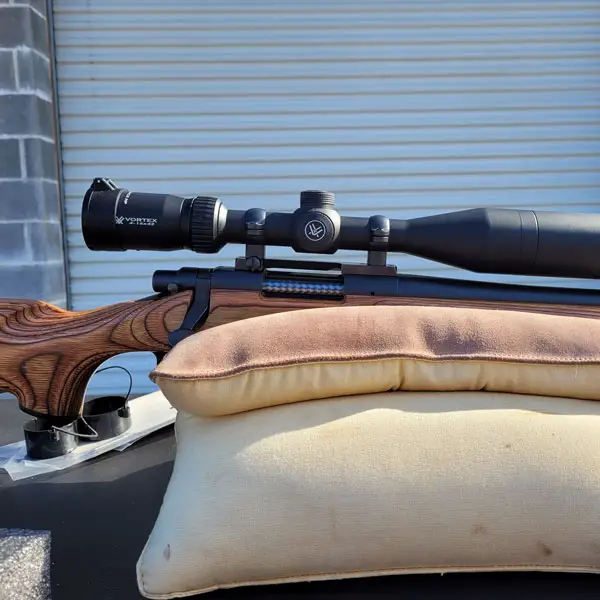 Joe has over thirty years of firearms experience. His experience includes participating in small bore silhouette shooting, steel challenge competitions, & white tail & varmint hunting. Joe is an accomplished reloader & does some gun smithing as well.