The Glock 48 is Glock's first attempt at a slimline compact pistol. Coming out in January 2019. It was a surprise. Trying to bypass tyrannical state laws it came with a ten-round magazine, standard Glock pistol sites and a choice between an aluminum color slide or a black slide.
Coming in two models the basic 48 that has no major features and the MOS model that is optic ready and a tactical rail for lights. Allowing a person to pick what they want for what they plan to do with their new gun. 
Slimline guns have been gaining more popularity due to capacity and the weight, making for more comfortable and concealable firearm. For small people, those who prefer more form fitting clothing this is a huge benefit that was once only covered by the smallest and most anemic of pocket guns. Now one does not have to sacrifice the widely available 9mm for a .380, or 32ACP or a .22 because the Glock 48 filled a gap that needed to be filled.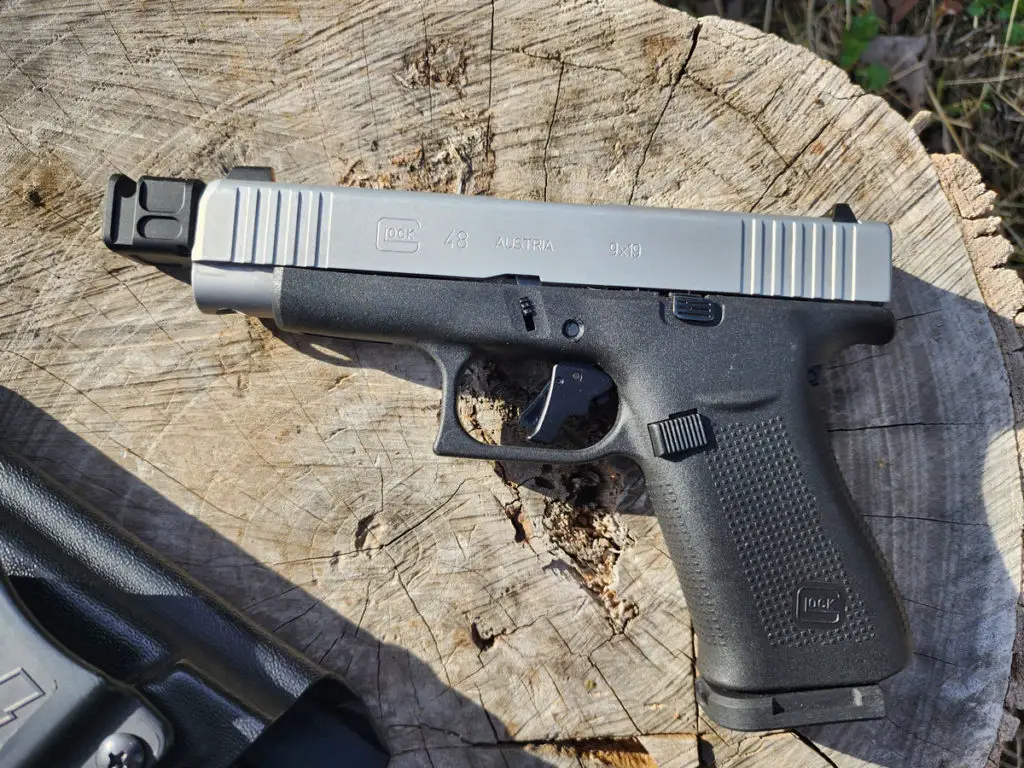 Check Price at:
Glock 48 Specs
Caliber – 9x19mm 
Magazine Capacity – 10+1
Barrel Length – 4.17in
Weight (Unloaded, no magazine) – 18.48oz
Weight (Unloaded, with magazine) – 20.74oz
Weight (With loaded magazine) – 25.12oz
Length (Overall) – 7.28in
Slide Length – 6.85in
Width (Overall) – 1.10in
Slide Width – 0.87in
Height including Magazine – 5.04
Cost
Coming in at just over $500, the Glock 48 Gen 5 fits right in with every other brand-new Glock. The price does beat out the Springfield Hellcat by over $100 which makes it a lot more appealing for those looking int a slimline compact pistol.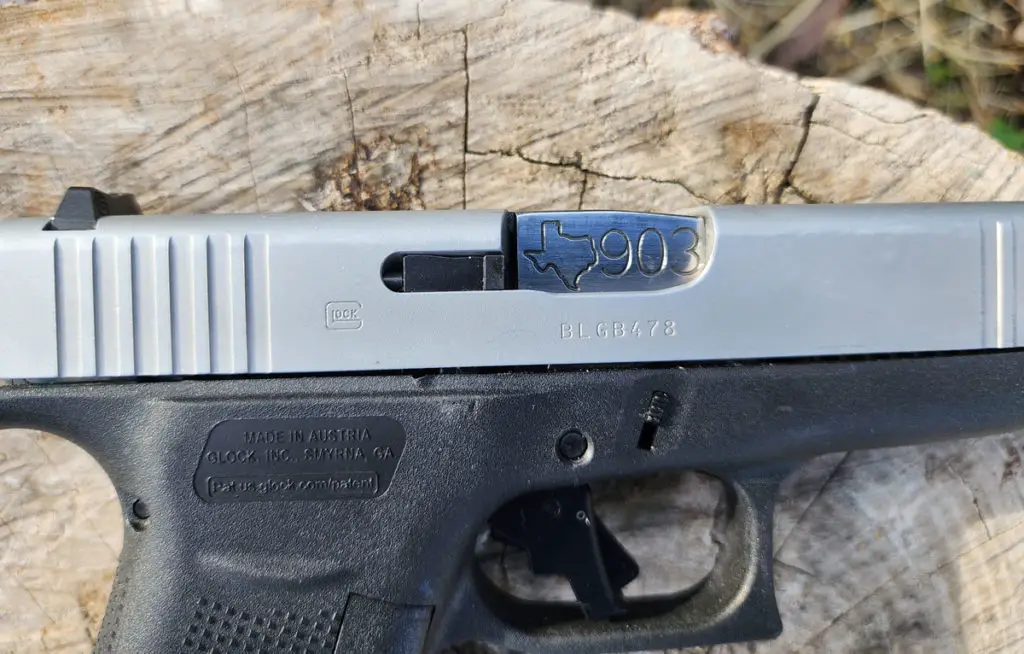 With the massive aftermarket support that the Glock 48 has now, and its upgraded model the Glock 48 MOS it fits right into many budgets for those who want to work with a stock gun or want to spend money to build it up into a completely different firearm. I opted for the silver slide option, but it also comes in your standard Glock black slide.
How It feels
Holding this slimline pistol Glock for the first time is a different feeling. Being used to full sized guns from a Jimenez arms JA9 to the Beretta 92FS, to my current collection of full-sized CZ and previous collection of full-sized polymer striker fired pistols. It felt like I was holding something that weighed and felt like nothing. 
The relatively smooth texture that comes on stock Glocks has never bothered me and with the Glock 48, it felt pretty good. Generation 5 Glock pistols do not come with finger grooves, but that didn't hurt my grip any. The sight picture was natural and mag release was responsive and spat the magazine out easily.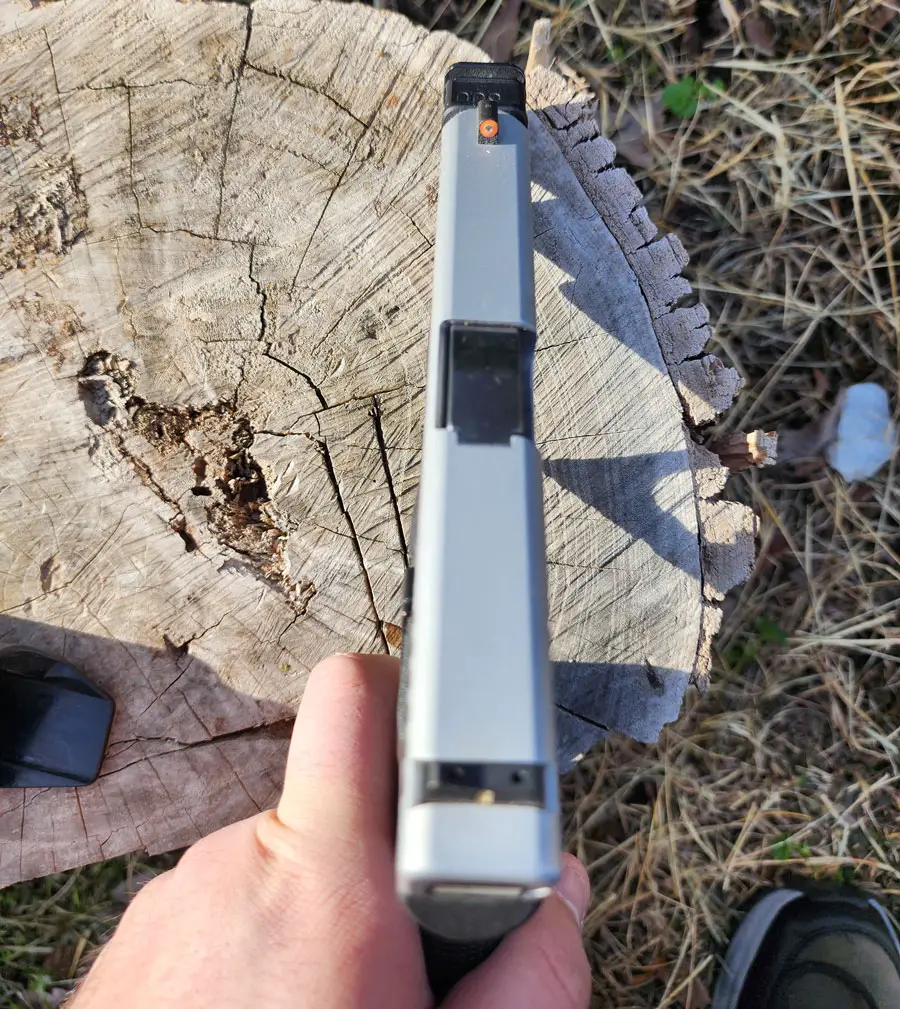 The Glock 48 overall felt great the first time I picked it up and it hasn't changed in my feelings on it in the last three years. 
How it shoots (pre-modifications)
The Trigger
While I waited for my threaded barrel, I took it to my buddy's range and shot the Glock 48. This being a Glock, the stock trigger is still a Glock trigger. I have never been fond of stock triggers that come with Glocks (just personal preference), and I always upgrade them, it felt a bit long and the breaking point was further back than I wanted. But it still shot well.
Running Ammo
I always test my guns the same way, a mixture of ammo. I start with the most common ammo, Winchester white box 115gr 9mm. I shot around five magazines after tossing some Hopps-9 gun lubricant onto the rails. This fed flawlessly without any issues for this single stack pistol.
Next, I ran around fifty rounds of Winchester USA Forged steel case ammo. This again ran with no issues with the Glock 48. I use steel case because they can have issues with some firearms and when considering a firearm that might be there for me in case of any situation, I feel that a gun needs to be able to shoot all ammunition I have on hand or that I could find. 
Finally, I ran Federal jacketed hollow points. Due to the nature of jacketed hollow points, I always recommend that if you plan on using a gun for self-defense, that you shoot the ammo you plan on carrying. The Glock 48 ran the one-hundred rounds of Federal with no issues. 
Recoil
As with any lightweight firearms, the recoil needs to be learned. The Glock 48 is a prime example of this. A standard Glock 19 which is larger than the Glock 48 can cause a new shooter to come off target if they are not prepared for the recoil. This is the way I felt initially when shooting the Glock 48.
After adjusting my grip and shooting a few magazines the recoil became much more manageable. For an untrained shooter, or people sensitive to recoil I do not recommend the Glock 48 as it is snappy, and it will make their accuracy suffer. 
How it shoots (post-modifications)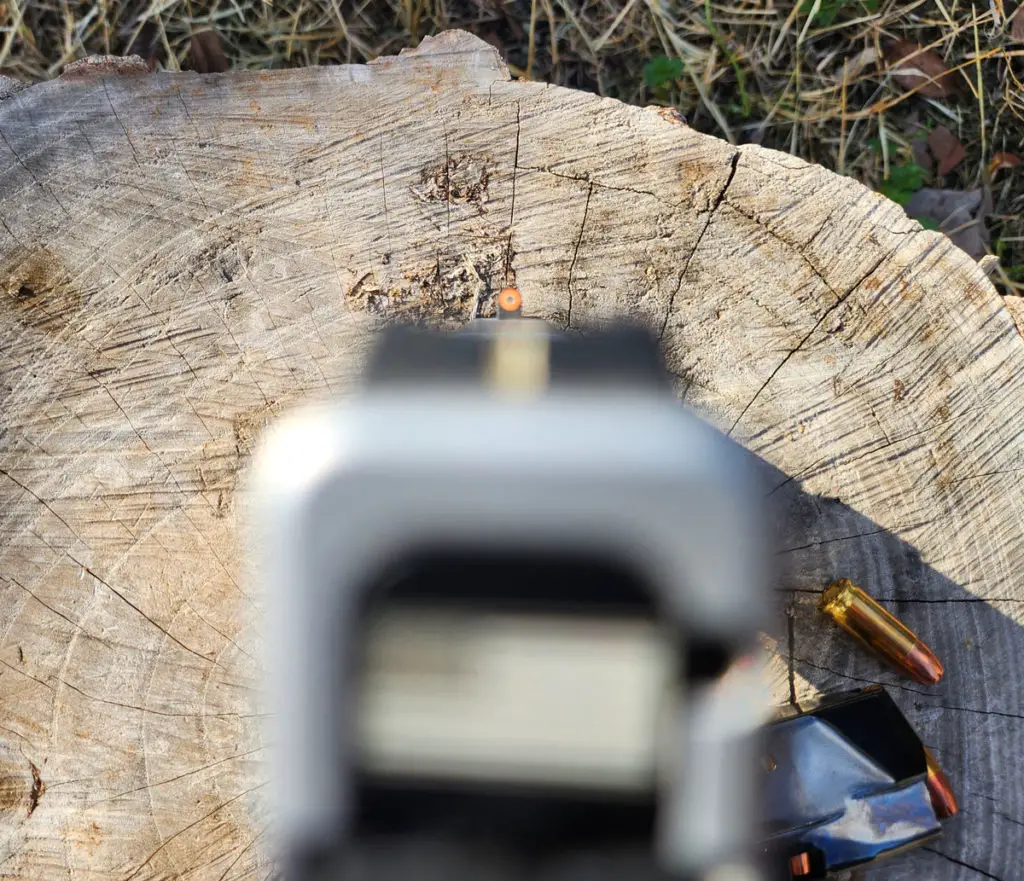 I did five major upgrades to my Glock 48. The first was the sights. Upgrading to the XS Sights big dot, with tritium was a no brainer for me. Next was the barrel, as stated before I had a threaded barrel made so I could install it onto my Glock 48.
Next was the Arc Micro Comp, this is a comp that was specifically designed for the micro compacts like the Glock 43. The second to last was the Shield Arms S-15, fifteen round magazines.
Modified Trigger
Finally, I added an Apex Trigger. These triggers are my favorite when it comes to modifying my Glock. They reduce the travel distance and break cleanly. They come with everything you need to replace the trigger making the work worth it. 
Taking it back out to the range I ran few more magazines of the Winchester white box and USA Forged. The recoil was much more controllable with the compensator and the trigger was much nicer. The sights were a definitive upgrade over the stock sights which made the seven meter target a quick and easy acquisition. 
After Market Magazines
The Shield Arms S-15, fifteen round magazine was something I had been following since the day I got my Glock 48. There were a few companies racing to get a larger magazine into the Glock. I followed all of them and the Shield Arms was the first to finish and hit production.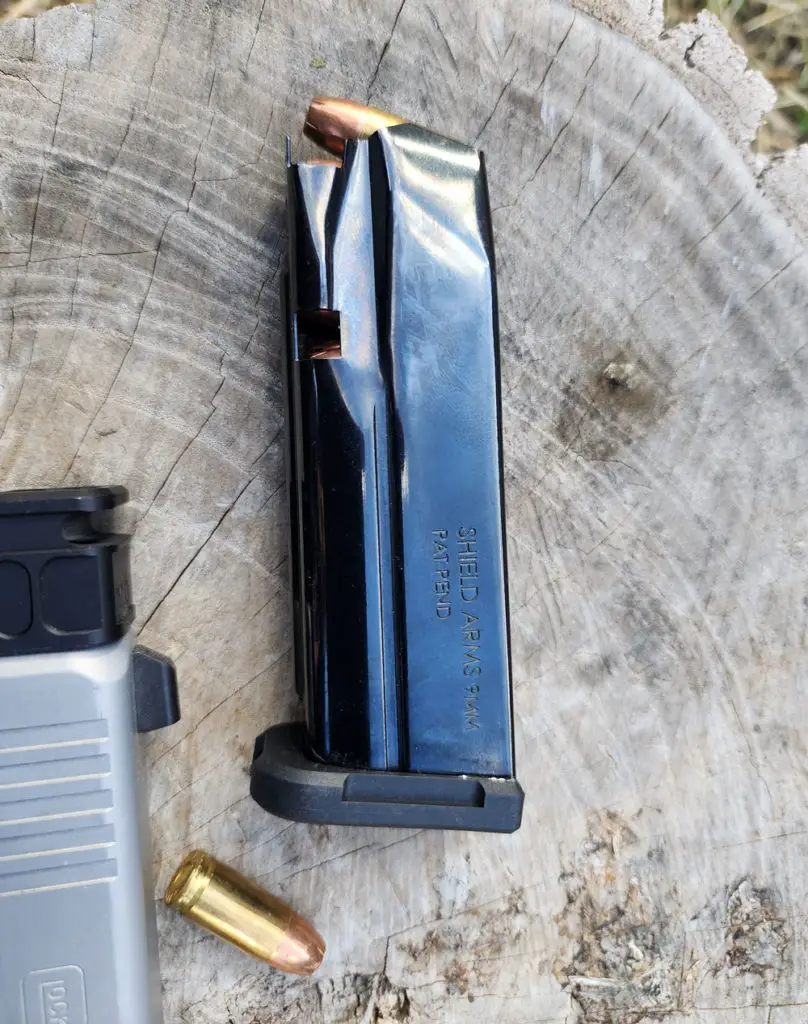 Taking the Glock 48 to the same capacity as the Glock 19, but at half the width was something I couldn't resist. The magazines for me have been reliable and I carry them with me every day. With them you get a fifteen plus one. Which compared to guns like the Springfield hellcat, that is three more rounds. The Smith & Wesson Shield which has a thirteen plus round capacity, giving you a to round advantage. 
Best Uses for G48
Concealed Carry
What is the Glock 48s best usage? Personally, daytime concealed carry if you do not want the MOS version. The standard Glock 48 does not have a tac rail, making it nearly impossible to find a light for the gun and a holster that would fit it all for nighttime concealment.
If you live in an area that is well lit, or you're carrying at a store then it is fine. Same thing with home defense, if your home is dark at night without any lamps or similar on, the Glock 48 would not be optimal for this but is still functional unless you opt for the MOS version. The MOS version comes with a light rail which can be used for adding a weapon mounted light.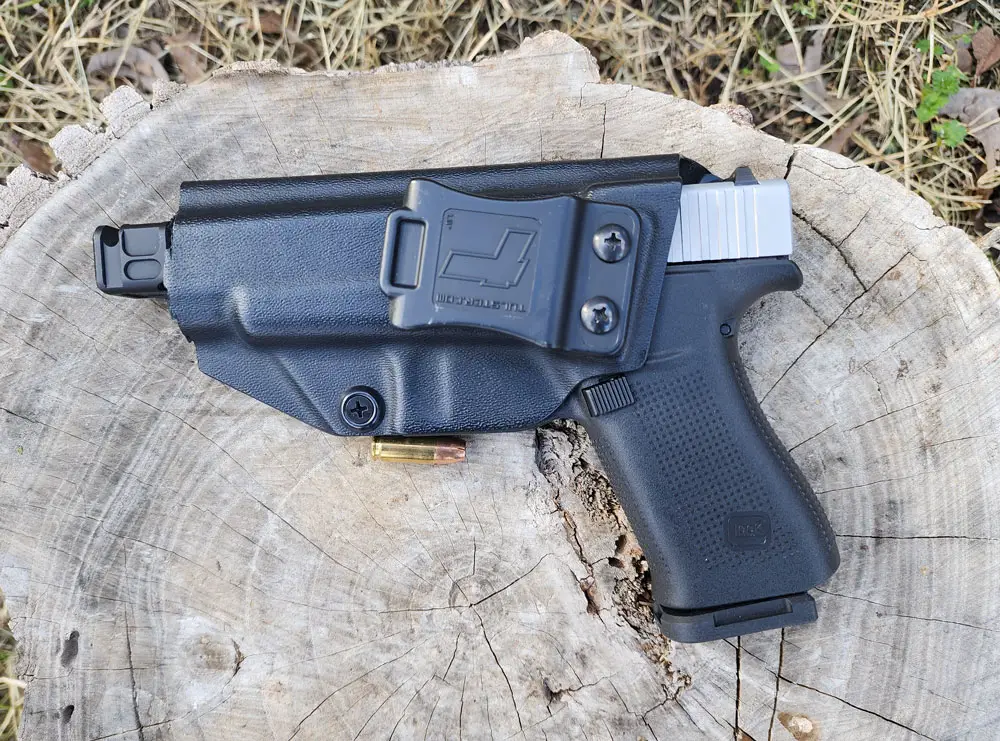 The Glock 48 can be carried easily concealed. With the correct holster, you can carry in shorts during the summer or in your pants in the winter. It is small enough that if you need to take it off to carry, like in a toolbox, it won't take up too much room. This is a perfect carry gun for anyone who are looking for smaller and lighter than a Glock 19. 
Carrying this while backpacking on well used trails with limited chances of large animals being encountered would be perfect. The less weight one carries while backpacking is essential for longevity and the Glock 48 fits this perfectly.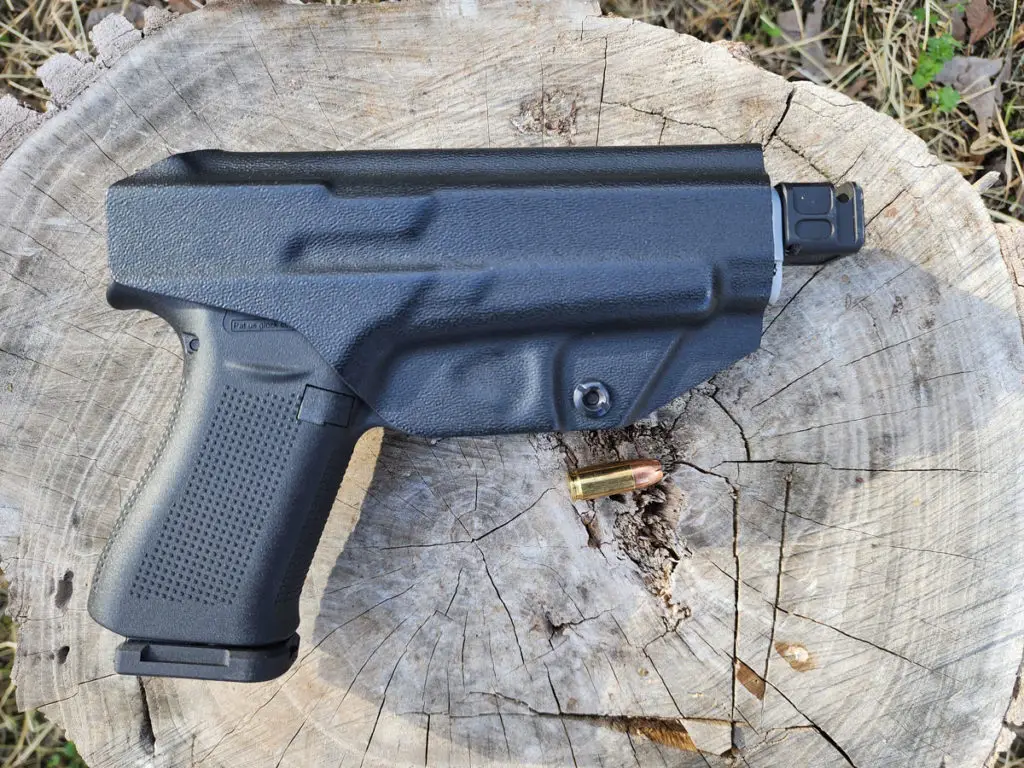 If you're going for a casual walk around your neighborhood, a local walking trail or even for outdoor exercising would the Glock 48 would fit into this easily and readily. It doesn't add too much weight and can be taken with you anywhere. 
Carrying around the house as mentioned is easy and since the weight is minimal you can still do maintenance around the house without getting in your way and causing issues. I even put up my Christmas lights this last year while wearing my Glock 48. 
When carrying larger and heavier pistols it is easy to just not want to carry sometimes because of the weight, even with quality pants and specifically made concealed carry belts that can pull your pants down heavily, and unless you like wearing bulky or heavily oversized clothing you are going to be printing. While I do understand that most people will never notice this, I notice it and it bothers me. I have never felt like this was an issue with my Glock 48 except when wearing my tighter shirts. 
Slimline pistols offer a ton of advantages for concealed carry and with some simple modifications the Glock 48 rises above many of its other competitors and even other Glock pistols. It has the reliability and history of Glock, and it has the option for many people who are stuck under tyrannical laws to get their hands on and carry a reliable firearm for self-defense. 
My Experience Modifying the Glock 48 
The size of the Glock 48 and my hidden love for all things Glock instantly brought it to my attention. At the time I was only able to purchase it in February 2019 after I saved up for it.
Holding it in my hand was an interesting experience at first. I have large hands which is why I normally ignore sub compacts and compact pistols and choose to carry full sized firearms like the CZ-75SP01 or Glock 22 with a 9mm conversion barrel. Holding it while a hair small, it fell well in my hands, but I did not have an issue. I did end up choosing the bicolor, aluminum finish slide and black frame. 
Adding a Compensator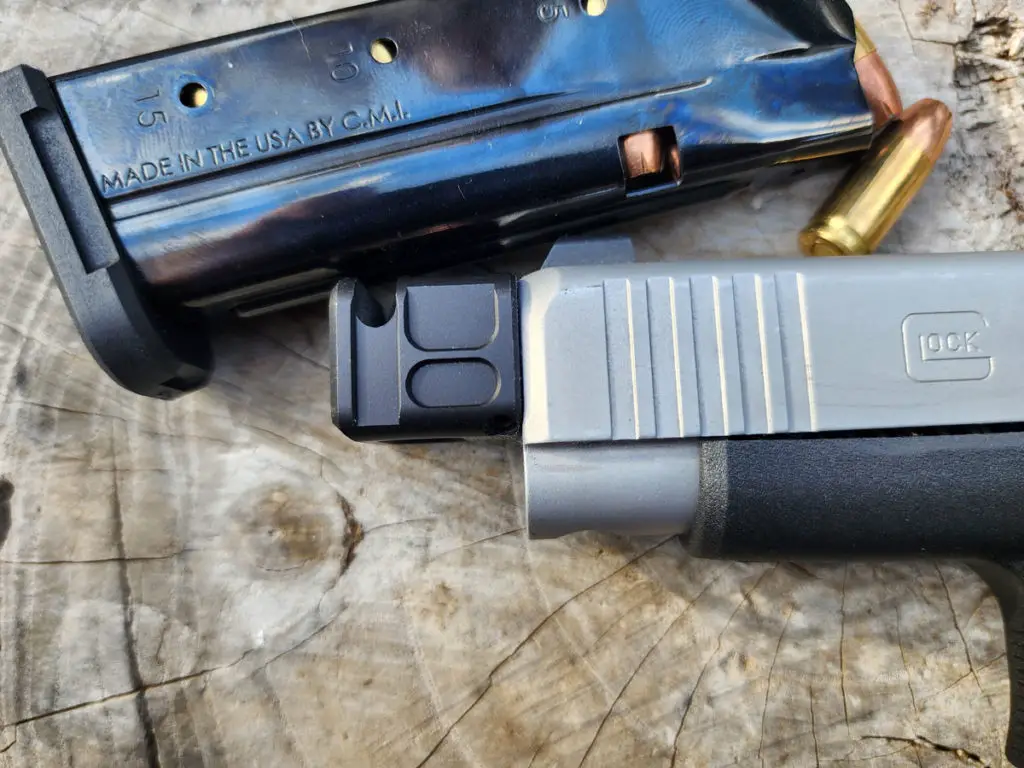 I purchased this Glock pistol with the express intent of compensating it. I had a friend from Texas manufacture me a threaded barrel for it as at the time, no one had a threaded barrel left. Once I had the newly made barrel in my hands, I attached my compensator to the barrel and added a set of XS sight Big Dots.
Cutting down a Glock 48 kydex holster, I was able to complete the ensemble that became my daily carry and has been for three years.  
Shooting the Glock Model 48
With the previously added upgrades the Glock 48 has risen to one of my favorite guns to shoot. It does not beat out my steel frame CZs, but when I look back at all the striker fired pistols I've owned, which is not a small number, it is only beaten by one, the M&P 2.0 with the Apex trigger upgrade.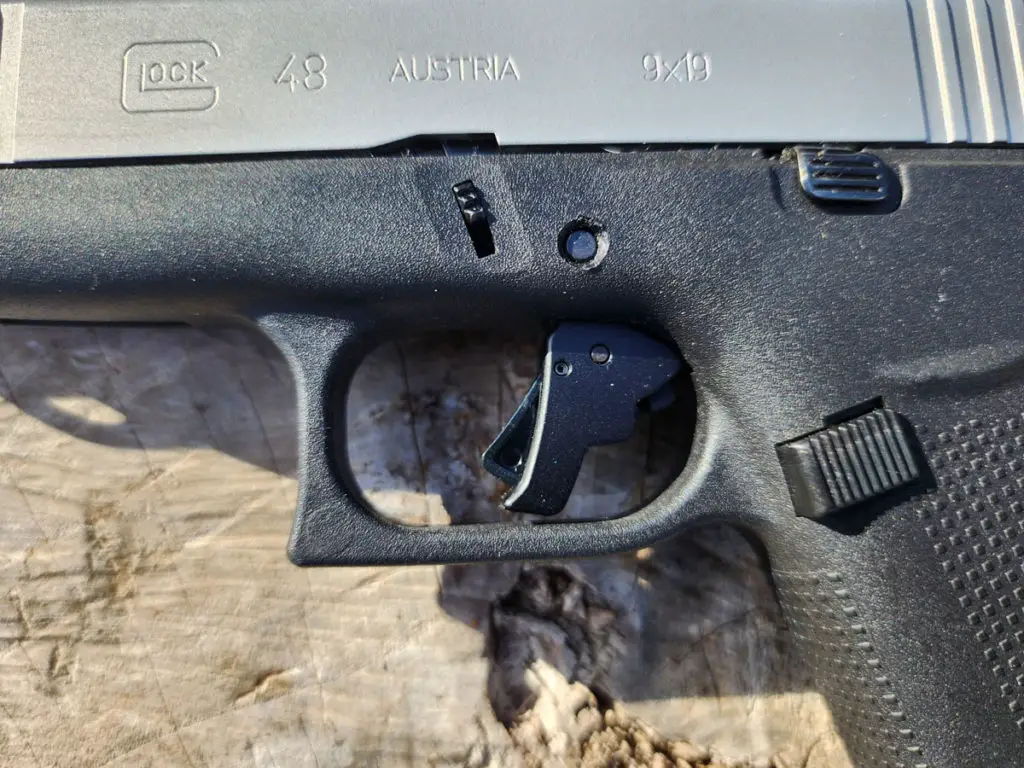 When even compared to other Glocks such as the Glock 22 and Glock 34 I've owned, the Glock 48 beats them out. Not in accuracy, but just in the way it feels and how it feels in my hands. Pulling it from my holster, getting on target and shooting is fast even with a compensator. 
Daily Carry
I have carried this gun almost every day in every condition from snow to burning summer heat. The gun has been with me through every Walmart trip, it traveled with me across the country when I moved. It was with me when I visited my parents for thanksgiving. I have carried it around my house and have sat down on my couch and slept with it on. With a simply kydex holster on this gun has quickly become my favorite to carry. 
Taking it to the range, it is not sidelined at all by my larger more fun guns to shoot, and I do grab it if I am looking for just a quick trip to the range. For me I wish I had waited for the MOS version and had gotten an optic for it and a light so that I could carry it more reliably at night. Otherwise, this gun has quickly risen to one of my favorite guns I've carried and shot. 
Why I chose to modify it
I chose to modify this single stack pistol even before I bought it because one of the best things about Glock is that they can be modified at home. They can be modified simply with the most basic set of tools and no experience. There isn't a single Glock that I have owned, that hasn't had a compensator, new sights or stippling done to it. 
Sights
I also carefully chose the parts knowing what I wanted the Glock 48 to be. It is a concealed carry gun. With most incidents of self-defense happening within thirty feet, I knew I didn't need a set of precision sights and needed something I could acquire quickly and easily from a draw.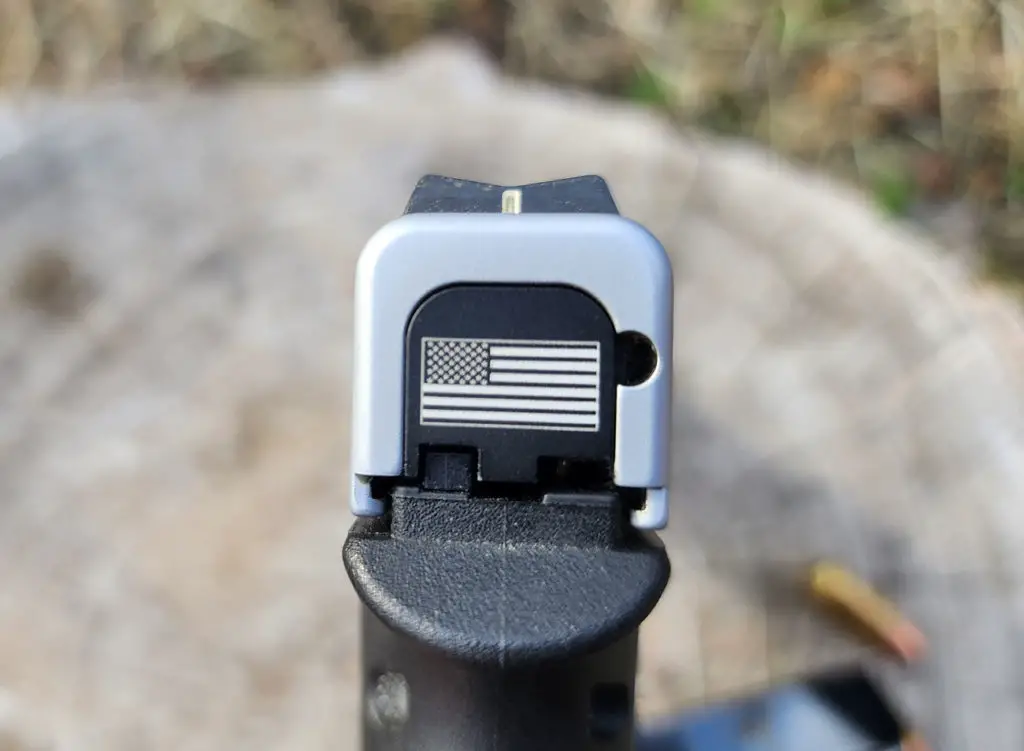 This is where the XS Big Dot sights came from. I've used them a number of times on previous guns and have loved them on all of them. 
Compensator & Barrel
The compensator and barrel are obvious. The Glock 48 is small, it is light which makes the recoil annoying to deal with on follow up shots. The compensator mitigates that immensely and makes shooting follow up shots much easier. Just harder to find a holster that works with the gun. Many will say that compensating a 9mm is useless, but I'll take any advantage I can if I am in a life-or-death situation.   
Magazine Capacity
This leads me to my magazine choice. Upgrading the single stack 10+1 to a 15+1 in a gun that can easily fit in my palm is simply amazing. Carrying two of these after market magazines give me thirty-one rounds at any give time to be able to defend my wife and kids.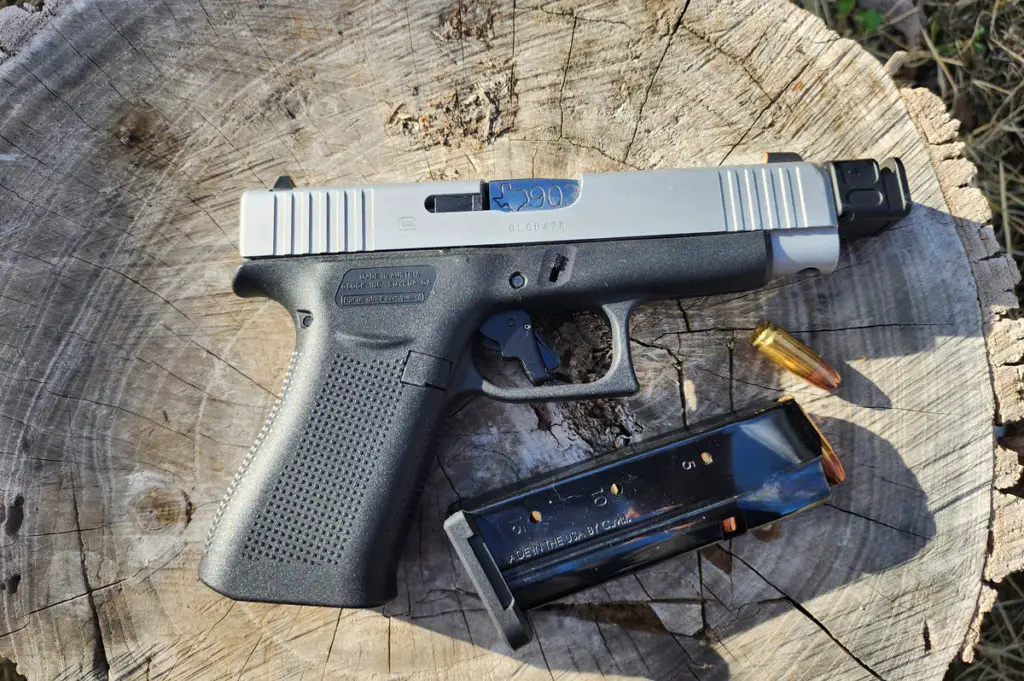 Taking any and all advantages because in a life-or-death situation there is no such thing as being over prepared. 
Customizations
The final modification that I did not mention is an American Flag back plate. I did this so that hopefully if I go to the range and there are others there with a similar Glock 48, we do not mix them up. Plus the American flag looks amazing on this backplate.
Pros and Cons
There are many pros and cons. If you are looking at this gun for yourself, I have listed below a series of pros and cons to help guide you. These are my pros and cons and I expect these would be different for everyone.
Please use them as an outline and example to look for when you are decided to drop a couple hundred on your new firearm. Ever since I got deeper into firearm ownership. I use a similar list to guide me every single time. From my Glock 48 to my CZ TSO 9mm, I have made my choices because the Pros far outweighed the cons. 
Pros
Slim
Customizable 
Upgradeable
Beats out tyrannical laws
Easy to shoot
Fairly priced
Depending on the version, optics ready and tac rail
Holster Availability
Concealability
Cons
Recoil Control
Limited Capacity without the magazine upgrades
Trigger being like every other stock Glock Trigger
Conclusion
The Glock 48 is one of the best guns Glock has come out with. They have had their line of subcompacts for a long time, and they have had their full-sized guns. They have failed until 2019 to have something that bridged the gap between their subcompacts like the 43 and 42 and the 19 and 17. This was covered by companies like M&P with their shield and Springfield and their hellcats. This was a huge market gap with Glock that they filled successfully and beautifully. 
The Glock 48 as stated has become my favorite carry gun. It has taken the spot of my CZ-SP01 which I swore I would never give up carrying. The gun fits beautifully in my hand, and it shoots well. It fills a market gap that had been filled previously by other companies.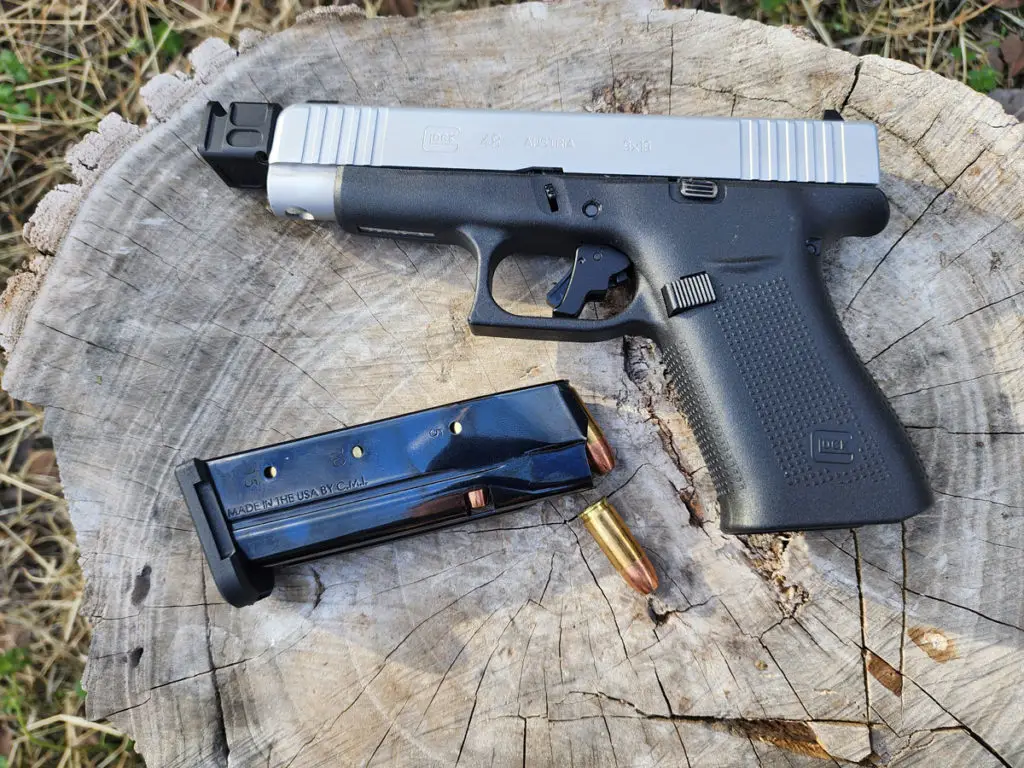 The massive amount of work and engineering that came after the Glock 48 came out to give it a higher capacity blew me away. I was watching a literal arms race between three companies, all trying different things to give us a flush fit magazine, so it didn't change the aesthetics of the gun. 
I saw holster companies looking at specs online to build blue guns so they could have holsters ready the day that the Glock Model 48 came out so people could immediately start carrying. They spent hours working to make sure they could meet the demand of the potential customers. The arms race to build the new triggers, was fun but expected as it was built off the 43 trigger so only minor modifications were needed. 
My personal experience with my friend who told me about the process of building my threaded barrel. It took weeks of measuring, cutting and designing from existing barrels of a Glock 17. He milled it down, checked tolerances on his own new Glock 48 and once tested he sent me the barrel to put into my own gun.
All of this convinced me that when presented with new tools, the gun community will come together and make improvements on a new design that they see flaws in, or where improvements can be made. I cannot wait to see what the gun community will do when the next new Glock comes out. 
The Glock 48 has filled a void I did not expect or know I needed. I will recommend it to anyone I think can properly handle it, or even a new shooter who has a good instructor as a great starter gun. The Glock 48 has proven itself to me to be a reliable firearm that I would trust to protect my family and myself and I do not see any gun in the future that will replace it as my daily carry. 
Check Price at:
Spec Source: Glock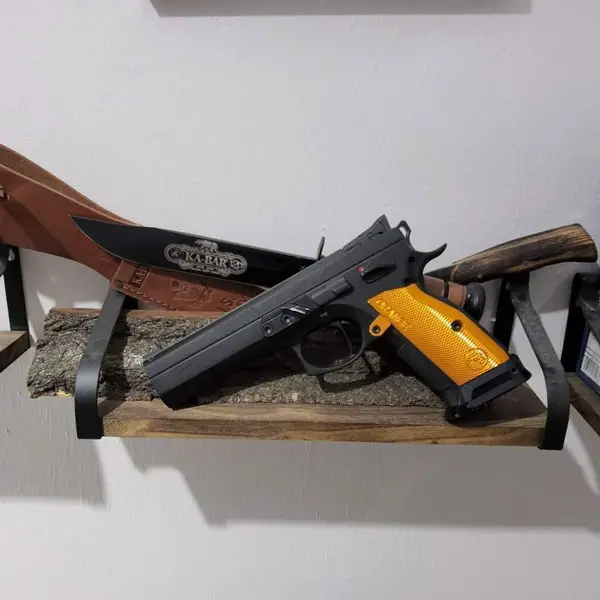 Donovan has been shooting since he was ten years old. He has shot precision air rifle competitions and went hunting with his dad. After graduating high school he joined the US Army where he was trained on rifle, handgun and machine gun usage. After completing a tour of service in Afghanistan, he came home and started buying guns learning what he liked and didn't like with each gun he bought.