The 4Lux CQ is the latest tactical entry in the Fore grip / Light Combo lineup from Viridian. It's a lightweight, rugged polymer compact fore grip that features a handstop, 400 Lumen tactical light with auto-activation, and can be purchased in either M-Lok or Picatinny rail configurations. It's intended for use on tactical weapons, including shotguns.
Current color finish offerings are FDE and black, with $199 being the MSRP for either. Today we'll be reviewing the 4Lux CQ in M-Lok configuration on an AR-15 type rifle with a Rise Armament rail. Viridian were kind enough to send us this product to review, but as with all our reviews we always try to be objective. Author's note: it's a violation of Federal law to install a fore grip to any pistol – consult your local licensed dealer if you have any questions about your particular firearm.
Features
The Viridian 4Lux CQ is loaded with popular features, including M-Lok installation, a 400-lumen light, auto-activation, advanced ergonomics, and readily available CR2 batteries. It also has some proprietary features that I'm eager to put to the test: "Grip 'N Rip" light activation and the "Close Quarters Beam". It's stated to be impact resistant and weather resistant, and so we'll see exactly how it all holds up in a thorough field test – results below. MSRP is $199, and it's backed by a 7 year warranty with 30 day money back guarantee.
Construction and Durability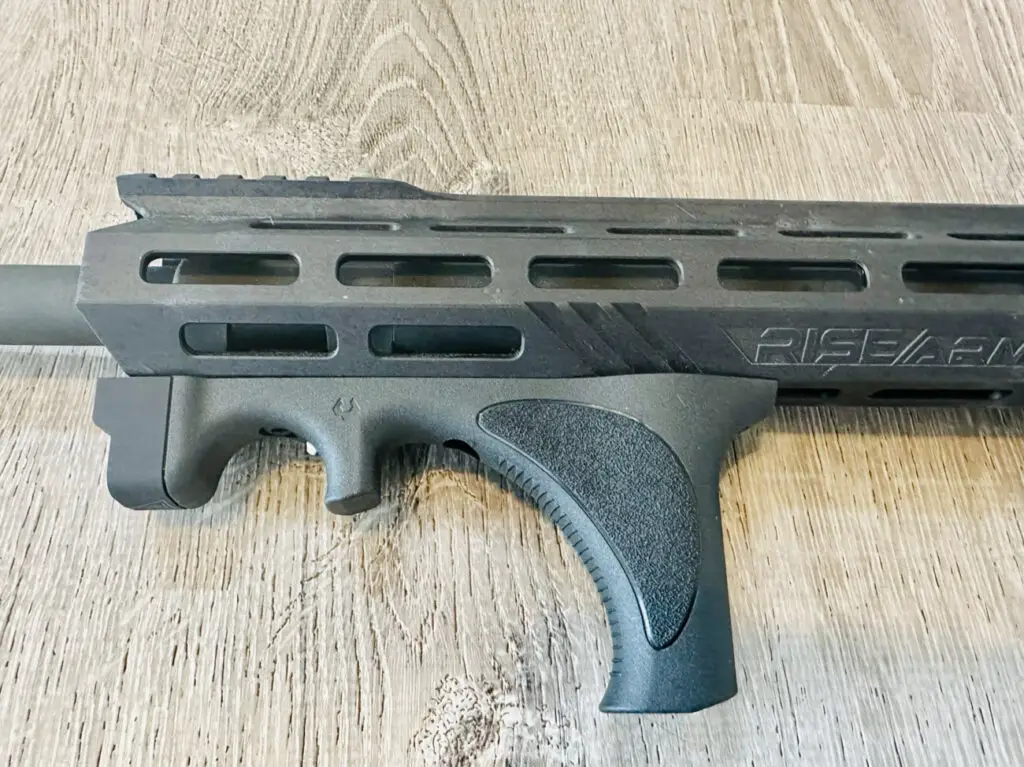 Like all Viridian products, the 4Lux CQ is manufactured here in the US, at its Minnesota headquarters and is constructed of "High Strength Thermo-Molded" Polymer. There are metal M-Lok attachment screws and battery compartment, as well as a machined aluminum LED housing with a heat dissipating device. Ergonomics look great, and having a combination light/grip saves rail space and reduces overall weapon weight. The 4Lux CQ adds only a meager 1.76 ounces of weight, and the innovative design adds aesthetic value (it looks cool!).
Tactical Light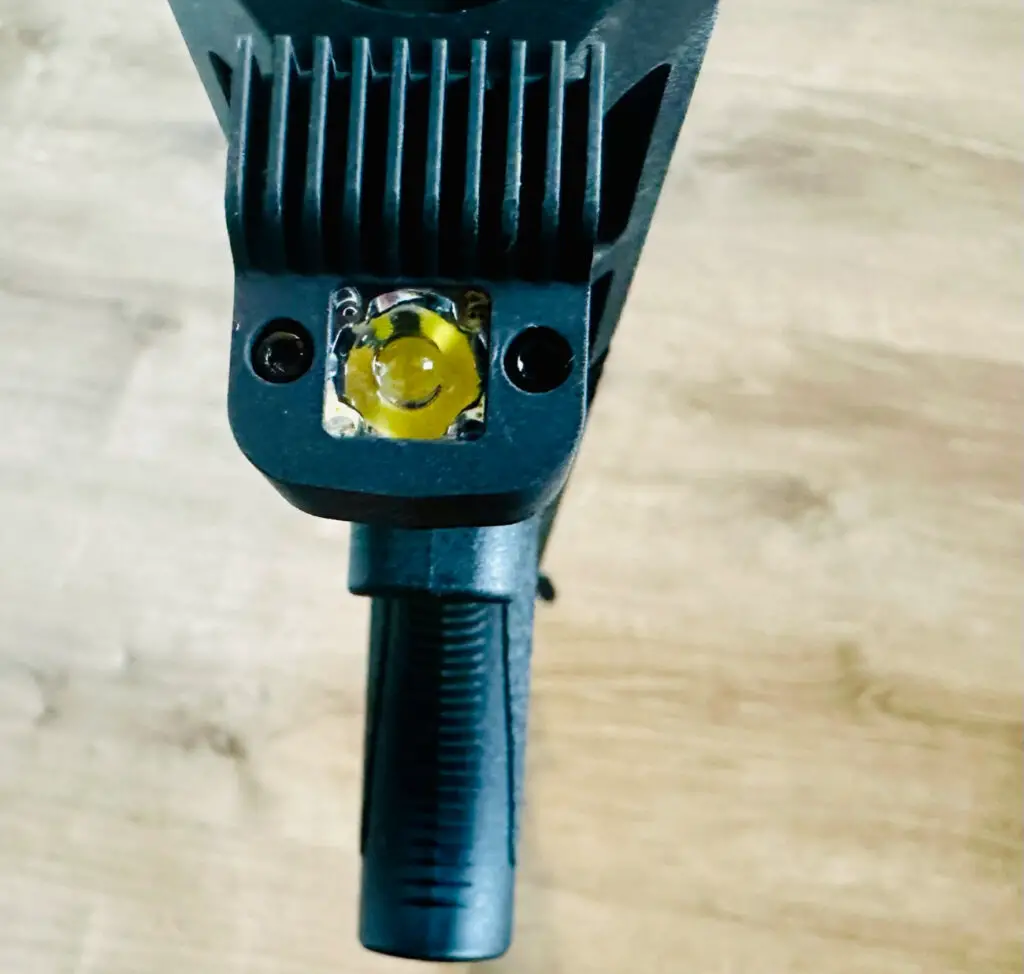 The light consists of a 400 Lumen "Close Quarters Beam" LED light, "specially designed" according to Viridian for CQC (Close quarters combat). It's activated by a small pressure pad for "auto activation" recessed within the handstop section of the light. Viridian markets this as Grip 'N Rip "auto-activation", a distinct tactical advantage. The stated range of the light is 60 meters. The aluminum LED housing not only protects the light from impact damage and moisture, but also features a heatsink – a fanned blade style of metal manufacturing with the intent to dissipate heat quickly. The included CR2 lithium batteries are stated to run continuously for 90 minutes.
Field Test
Purpose
The 4Lux CQ is marketed as a close quarters light to law enforcement and tactical shooters. I'll test the functionality, features, durability and see how it holds up under fire.
What's in the Box
A hex key to attach to M-Lok rails, 2 Lithium CR2 batteries, and installation instructions. It's important to note that the light requires both batteries to operate, so 1 is not a spare.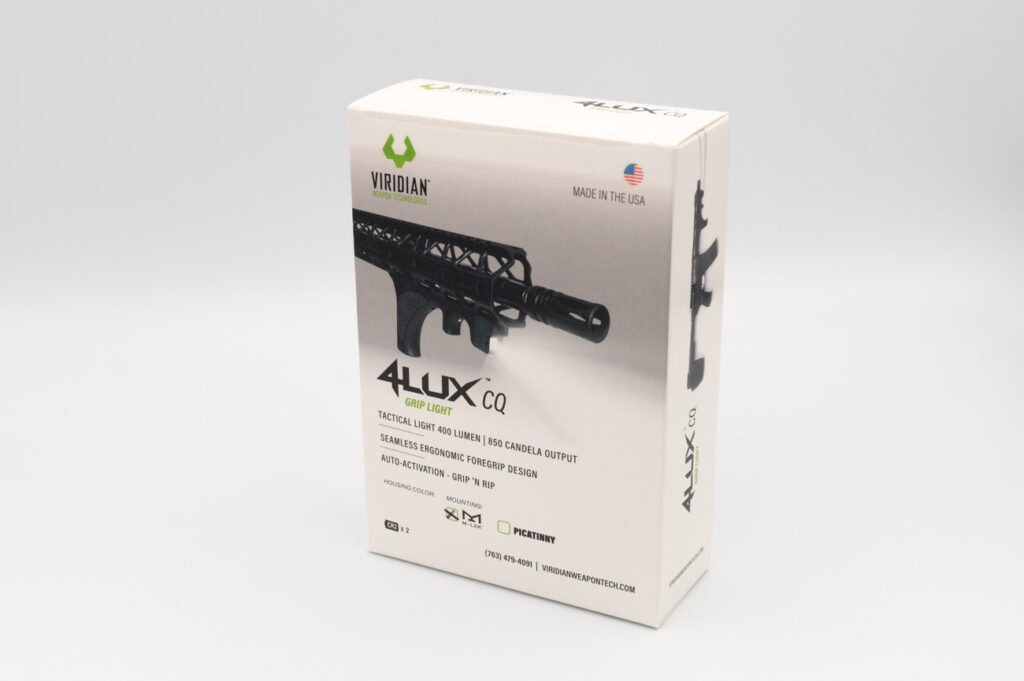 Mounting
Any tools needed were included –it's the little things that matter right? The unit easily lined up with my rail, and metal screws made a tight fit that inspired trust. It needs 3.5 M-Lok slots to mount, and with an overall length of 6" it nearly covers up 4 whole slots. The battery cover is also metal, so warping and stripping like the plastic ones do won't be an issue after repeated battery changes. On that note, several spare CR2 batteries fit easily into a Magpul MOE pistol grip storage compartment. Pro-tip: if you don't overtighten the battery casing, you can use the head of a fired .223 casing to open it and field-swap the batteries in a pinch.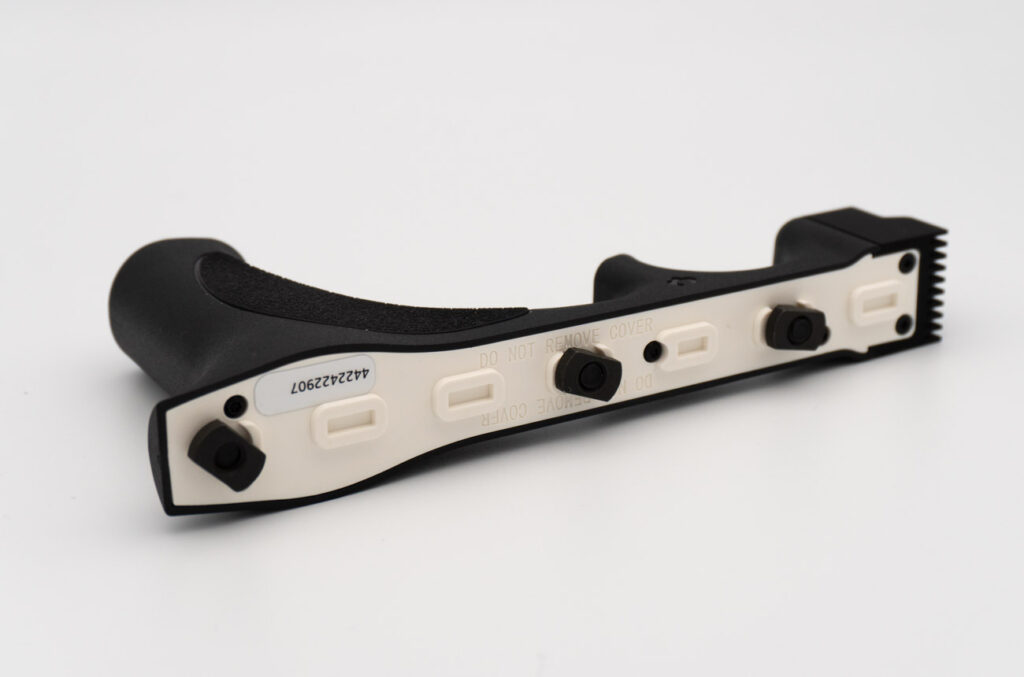 Ergonomics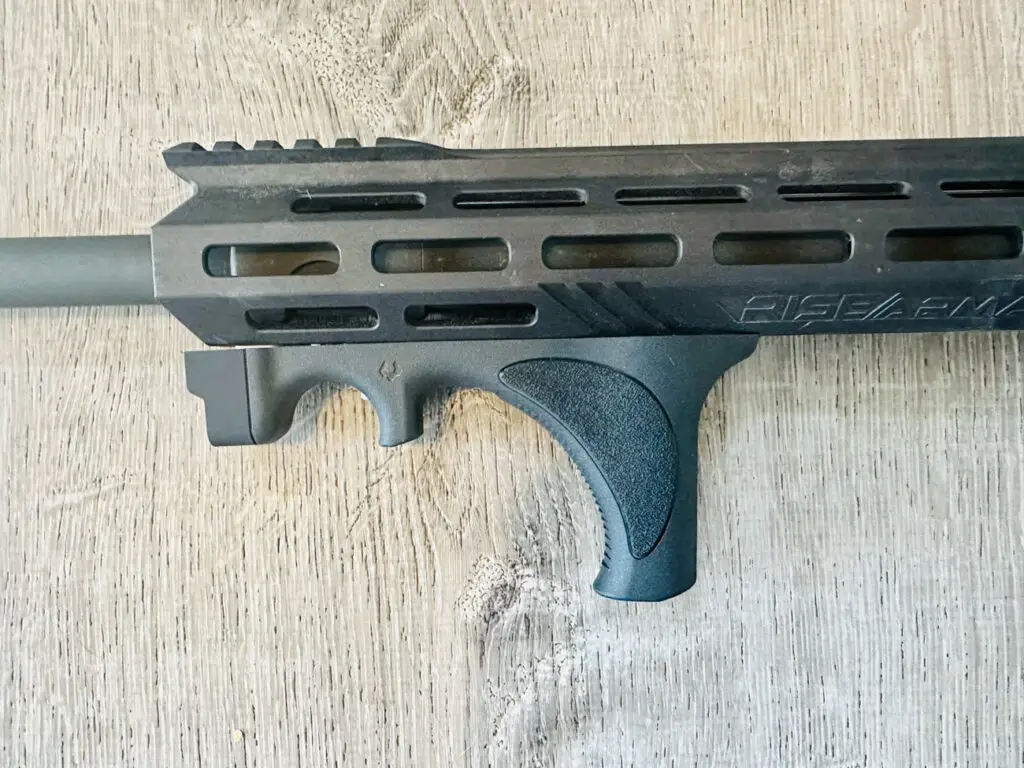 The 4Lux CQ provides plenty of grip to hold onto, yet is lightweight and compact. After installing the grip light, I quickly fell in love with how well it feels when holding the rifle. Viridian did an excellent job designing this grip to enhance the ergonomics of shooting an AR platform firearm. A few shots downrange and I'm quickly sold on the 4Lux CQ. The amount of barrel control gained is far superior to standard fore grips (or no grip). Recoil management is also improved. Rapid fire in .223 saw shots placed consistently on target. There is definitely a noticeable difference in recoil reduction and barrel control with this grip installed, plus it melts into your hand in a way that makes shooting comfortable and enjoyable. I liked the way the light doubled as a handstop, a welcome safety measure for those wanting to mount this on a PDW to prevent fingers slipping into the line of fire. Lefties will also find this 100% compatible with left-handed shooting. 
Durability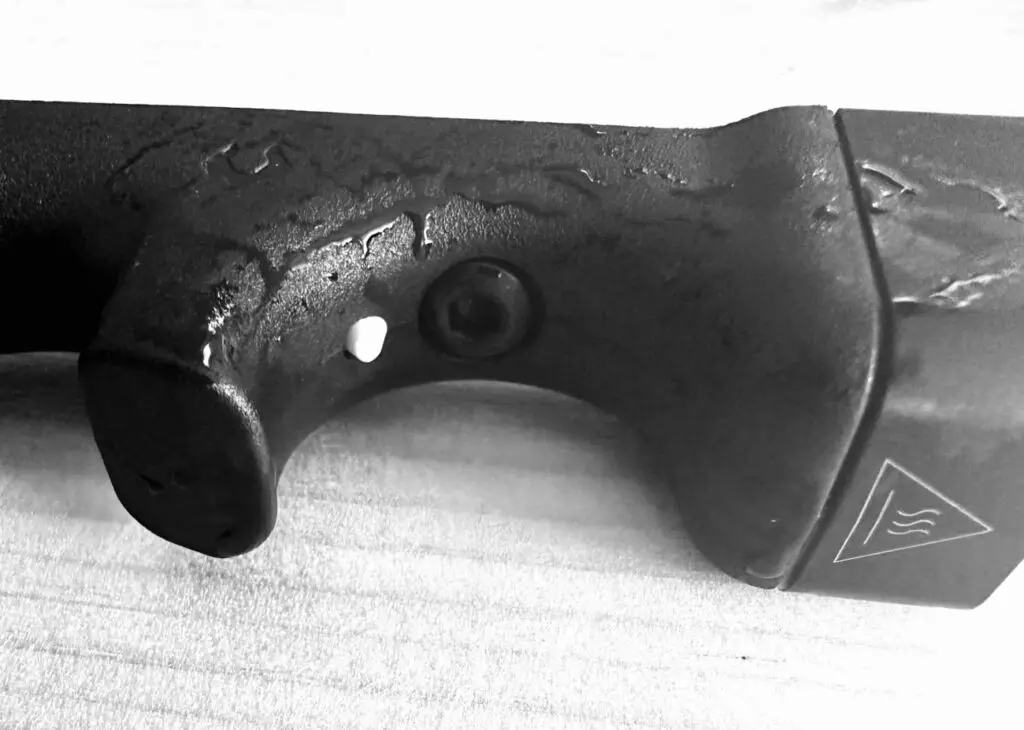 My initial reaction to the claim of "weather resistant" was negative, and I was skeptical that Viridian had used this term to imply something it wasn't, or cover up for a failed water resistance test. After all, there isn't an IP rating established, which came as a surprise. Since this is a light marketed to tactical shooters, it should stand up to the rigors of combat when necessary. Most people will put this light on their home defense carbine, shove it under the bed and never use it, but if you anticipate wet environments while on duty, I wanted to show the 4Lux CQ outperforms expectations and overcame my skepticism.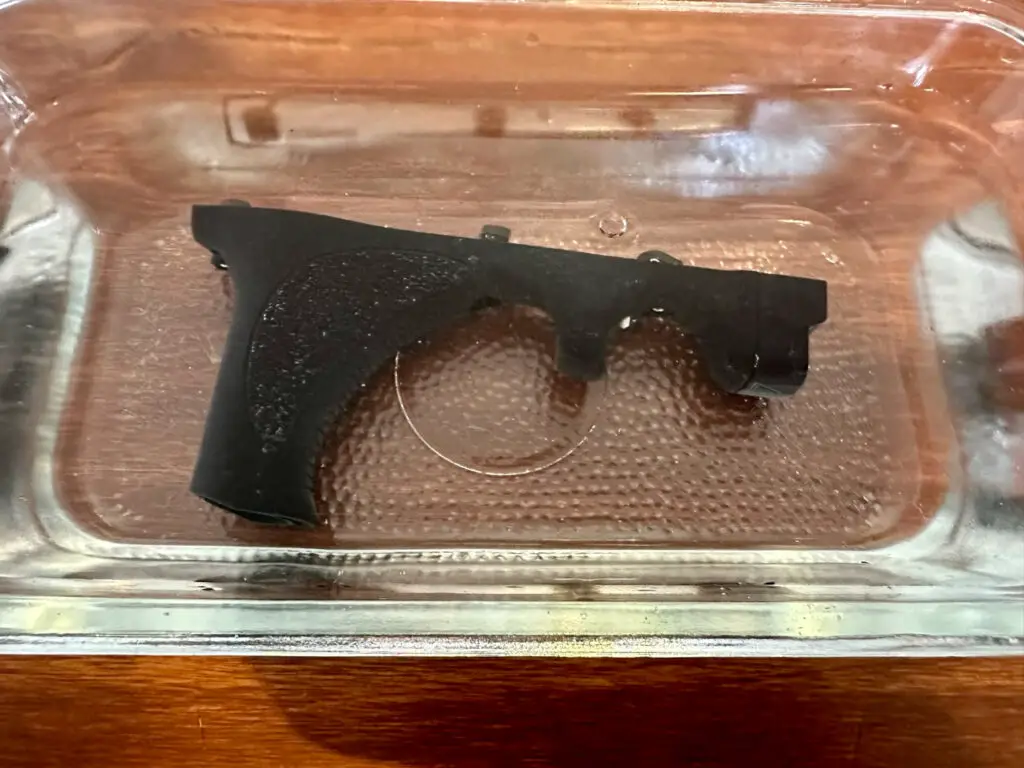 Not one to be complacent, I skipped right passed sprinkling a little water on the light for an experiment, and dived right in to let's see if I can drown this sucker!". To my surprise and delight, the light worked after being submerged for around 3 minutes. It even ran under water, which surprised me again because a common point of failure with lights is water getting behind the gasket in the switch when activated and shorting the unit out. Submersion was done prior to the remainder of the field test in order to thoroughly ensure the electronics were not damaged.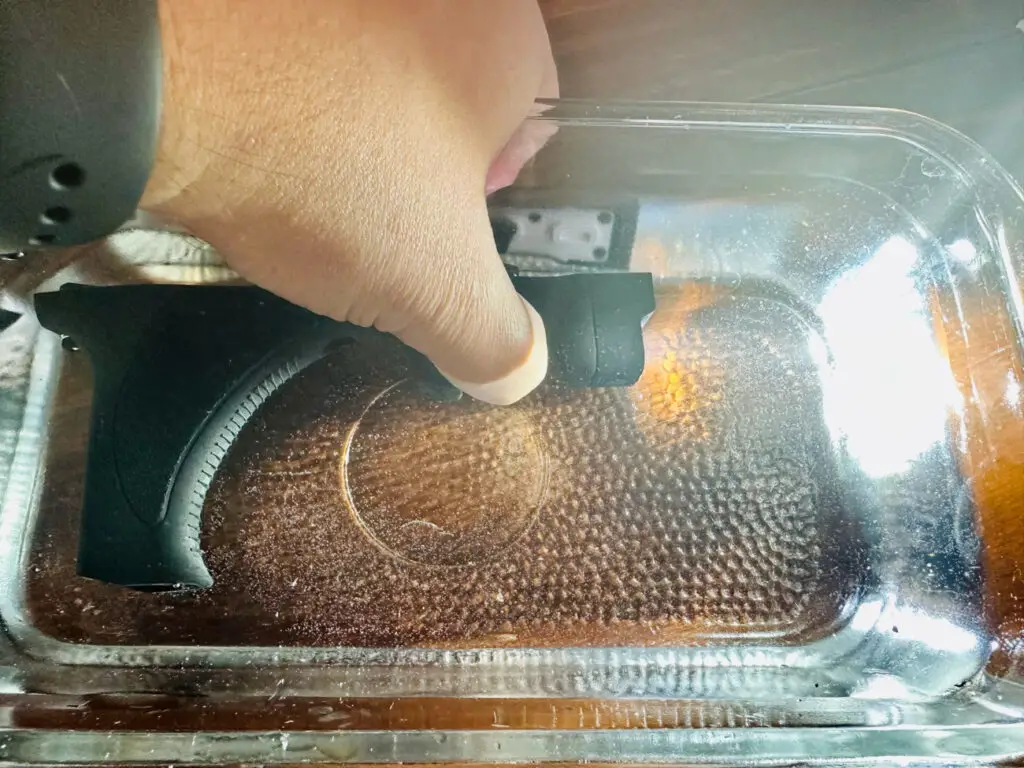 Features
The first thing I want to address is the apparent internal confusion Viridian has about how this light is activated. Between the unit packaging and the website, there are three – yes three – terms describing how to use the light, and Viridian is making it overly complicated. Grip 'N Rip, "pressure activated", and "auto-activation" are all used to describe just a simple button. Trust me, there is nothing fancy going on here regarding the light activation. You just press upward with your index finger, triggering a little grey button, and that's it. It doesn't respond to grip pressure and it's just on when you press it and off when you let it go.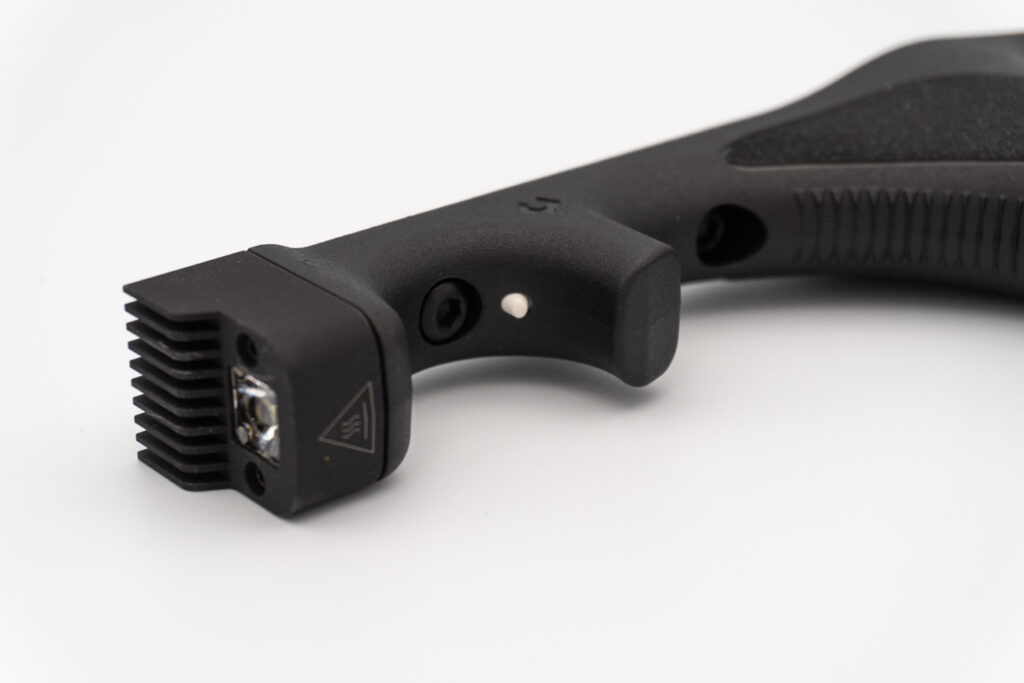 That said, I did find the light easy to control and the setup is much cleaner than running wires and pressure pads all over your gun. The 400 Lumen "Close Quarters Beam" was more than adequate for illuminating a room. What's just as important is that it isn't so bright you blind yourself. It's a well-tuned light. To me, 400 Lumens is the "sweet spot" between having enough light and not losing too much vision when transitioning lighting environments. The light is angled to cast horizontally ever so slightly. Aside from being reliable and having just the right amount of light, there isn't anything life changing about the "Close Quarters Beam".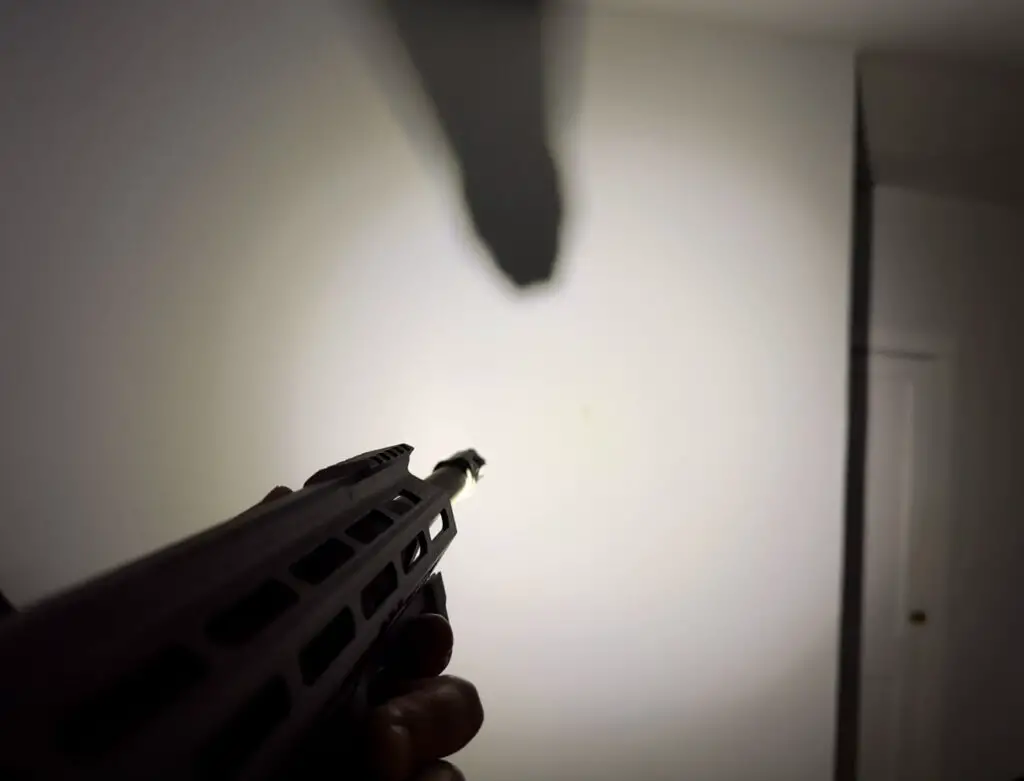 I appreciated being able to change batteries in the field without needing to remove the grip from the gun – simply unscrew the bottom compartment. The heatsink dissipated heat adequately, after 10 minutes of constant on the light was hot to the touch but not scorching. The claim of 60 meters is a little bit of a stretch and I found the illumination diminished past 25 meters. The purpose of this light is to clear rooms and not shoot across fields, so fair enough. I stand by my claim that 400 lumens is perfect for this type of light. Adding enough light to actually see at 60 meters would be blinding at 5. The light survived the entire field test despite being submerged and activated underwater – a huge plus for this device in my books. The included new batteries lasted past 90 minutes of activity in 70 degree weather.
Drawbacks
I have zero qualms about the "grip" part of this device. The solid construction and superior ergonomics have made me a fan. The light part, specifically the activation button, still has me on the fence about whether there isn't some room for improvement. Being that the button is directly above your index finger, it's a chore to not activate it while shooting. This can be an issue if you need to conceal your position. Daytime shooting wastes battery as your gripping for control and hitting the button unnecessarily. Gloved operation makes controlling the light more complicated.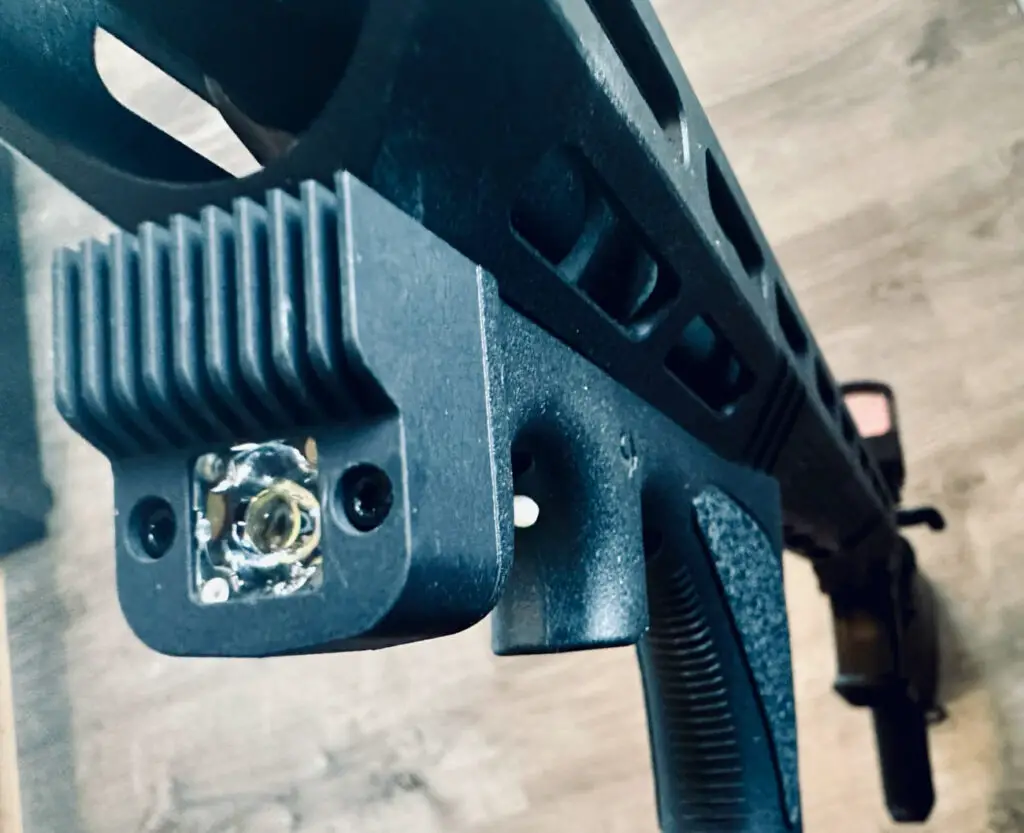 I do like the fact that the light is always in "ready mode" and if you grab your AR in the middle of the night there are no activation procedure so memorize, but I think having a manual cutoff somewhere could be beneficial for some shooters. I personally would not install this my daytime patrol gun. If you need a defense gun and the intended use is mostly going to be low-light environments, then the 4Lux CQ becomes a clear winner. I'm not personally a fan of lasers on rifles, but if you're looking for laser/light combo, that is not currently an available option. Last gripe – advertised weight is 1.76 ounces, but we're closer to 4 ounces with batteries installed. 
Quick Summary
You scrolled past all the technical jargon and gun-puns, and just want to know "is this legit or not!" – I get it, we don't have all day – so here it is. 
Viridian 4Lux CQ Grip Light: 4/5 STARS.
Price Value: 4/5
Durability: 5/5
Design and Features: 4/5
Warranty: 5/5
Would buy again: Yes – for a dedicated low-light environment weapon.
Conclusion
The 4Lux CQ definitely exceeds expectations for a fore grip. It's an intuitive, ergonomic grip that effectively enhances control of the weapon by making it more maneuverable and providing more accuracy and less barrel rise in follow up shots. It's everything you want in a grip. If you purchase this device as a grip first and light second, you won't be disappointed. 
The LED tactical light itself is great. The spread-out illumination provides visibility just where you need it, and 400 lumens is just the right amount of light for CQB shooting. It's reliable, impact resistant, well built, and exceeded my expectations for water resistance. If you're used to traditional weapon lights however, there is a learning curve. I'm not 100% sold on the method chosen for activating the light. It works, but at the same time leaves you wanting for more. Having more options like an additional switch featuring constant on, or disabled/off would be welcome by most users. Viridian puts out a lot of unnecessary marketing regarding the button, and it would be more honest to just call it what it is. There isn't anything fancy about it, so the "Grip 'N Rip" marketing ends up being pretentious.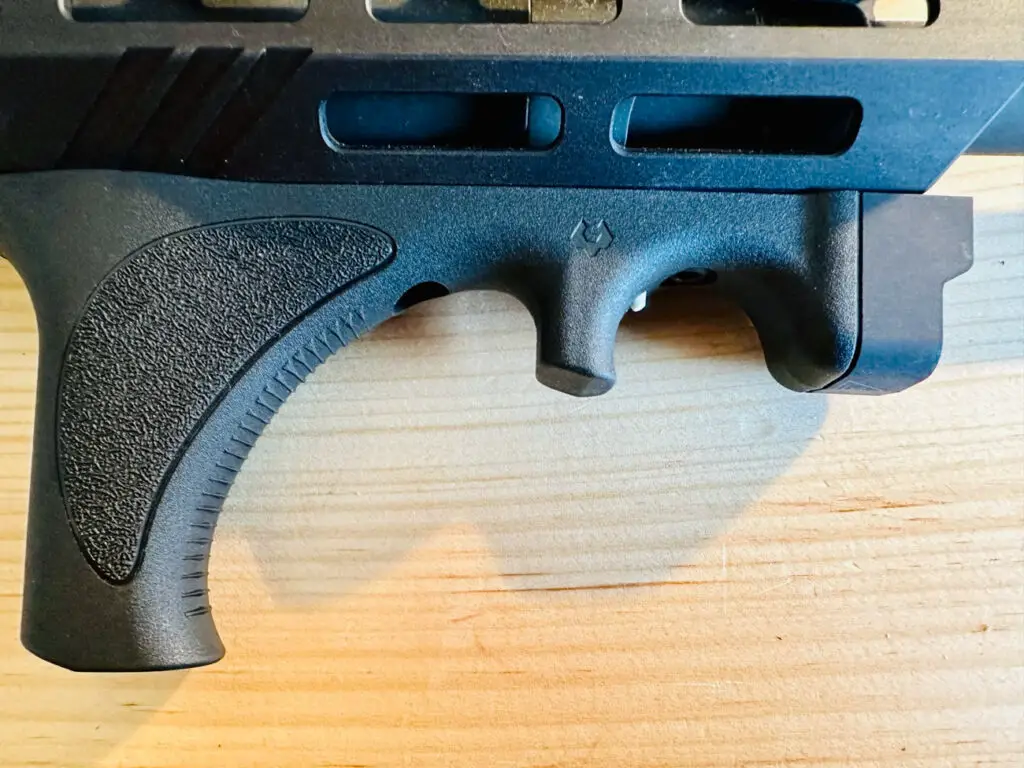 All things considered, the 4Lux CQ is certainly an enhancement to your firearm in terms of both aesthetics and function. I'll be confidently keeping this as my home defense grip light of choice with zero regrets. If you plan on mostly daytime operation, or need to operate in an environment where secrecy and not giving away your position by accidently flashing the light is of utmost importance, you might prefer more traditional options. The natural instinct to have a firm grip on the firearm, especially after shots have been fired, is going to cause the light to activate whether intended or not. At the end of the day though, Viridian provides a generous 30 day money back guarantee, and your purchase supports US based manufacturing. It's definitely worth giving it a shot – I'm stopping short of saying there are design flaws and rather my opinion is this is one of those devices that really comes down to personal preference, intended purpose, and individual shooting style. For most of us regular guys and gals who desire a reliable weapon light for the bedside carbine, the Viridian 4Lux CQ is an excellent choice.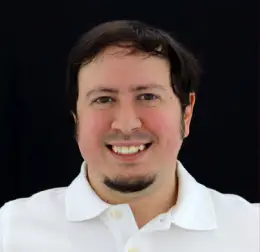 Jordan is an avid hunter and gun enthusiast. His fondest memory of shooting was when his Grandpa took him squirrel hunting for the first time. Jordan has been in the sporting goods industry since 2011 when he opened his gun shop in Georgia.