Today, we're doing a review of True Shot Gun Club, an ammo retailer located in Arizona who offers a wide variety of ammunition on their website which is available for purchase anywhere in the continental United States.
They generously sent us a couple boxes of .380 auto ammo and some 12 gauge shotgun shells free of charge to test out for this review. Though they are not the manufacturer of the ammo, we want to be upfront with you, the reader, about any financial or other relationships involved in a review.
True Shot Gun Club Review
The Company
Founded around 2015 / 2016, True Shot Gun Club is Arizona's largest ammo retailer. While they have a brick and mortar store in Tempe, they also sell & ship ammo nationwide on their website.
The customer reviews for the shop are overall very positive, garnering a 4.6 star rating on Google, a 4.5 on Yelp, and 4.7 on Facebook. Most people praise their excellent customer service, very fast shipping, and cheap prices which echo our experience as well.
There are no minimum order quantities, so feel free to just get one box if you'd like to test out the experience and ammo.
Their return policy is pretty standard – you can get a refund within 30 days of purchase as long as you return the product in the original packaging and unused.
What Do They Sell?
True Shot offers a wide variety of caliber ammunitions for pistols, rifles, and shotguns as well as some apparel and accessories. They also have flash sales from time to time which are great to find even cheaper deals on the bullets you need.
Pistol Ammo
Rifle Ammo
Shotgun Ammo
Rimfire Ammo
Accessories

T-Shirts, Hats, Water Bottles, Ammo Bags & Backpacks, gun Tool kits, & firearm magazines
Since they are a retailer and not a manufacturer, the ammo True Shot sells is not made by them. They have a wide number of brands they carry so you can be sure to get a brand you know and trust.
From our experience, their stock tends to fluctuate based on demand. So if a box you want is out of stock right now, check back in a few days.
Just a few of the brands they sell:
Ammo Inc.
Armscor
Barnaul
CCI
Magtech Ammunition
Nobel Sport
PMC Ammunition
Sellier & Bellot
TulAmmo
A-Zone Rewards Membership Program
True Shot Gun Club has a special rewards program that you can sign up for to get FREE ground shipping on all orders as well as access to exclusive members-only deals sold on their site.
The program costs $99.99 per year currently.
If you signup using our code "AmericanGunFacts" you get $20 OFF, bringing the total to just $79.99!
Due to the heavy weight of ammo (especially in very large quantities), shipping can be very expensive. For instance, a single order of 500 rounds will run you around $25. So if you order that 3 times this year, the membership will pay for itself.
How to signup:
Go to the Membership Page
Click the "Sign Up Now" button
The page won't change, but the membership is now added to your cart
You can now checkout by clicking the cart icon in the top left or bottom left
Click "Checkout"
Click where it says "Have a Coupon? Click Here to Enter Your Code", and enter "AmericanGunFacts", then click "Apply Coupon"
Finish Checkout
Shipping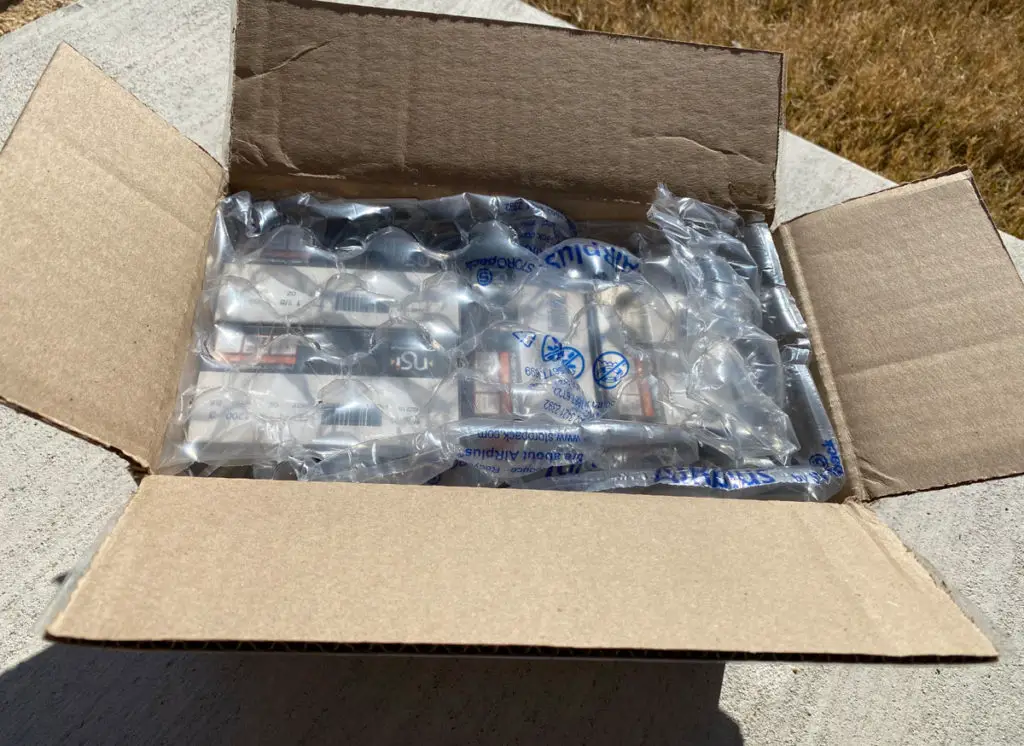 Getting the ammunition could not have been easier, and their shipping was fast and intelligent, with the box being effectively unmarked to deter thieves.
True Shot Gun Club was super easy to work with. For retail clients, they also include ammo boxes with some orders, so it seems like, depending on current market prices, they'll be an awesome source for ammo. They also included a silhouette target in our box, which we appreciated! 
True Shot ships to customers anywhere within mainland U.S. Once sent, it typically takes between 1-5 days to arrive depending on how close to Arizona you are. It is important to note that some states such as California, Connecticut, Illinois, New Jersey, and Massachusetts have extra requirements for purchasing ammo online. Click below to see what you need to do if you are shipping to one of these states.
What We Tested
We requested to test .380 Auto and 12 gauge shotgun ammo for this review. These are the two products True Shot sent us.
Sellier & Bellot
380 Auto (92 Grain) FMJ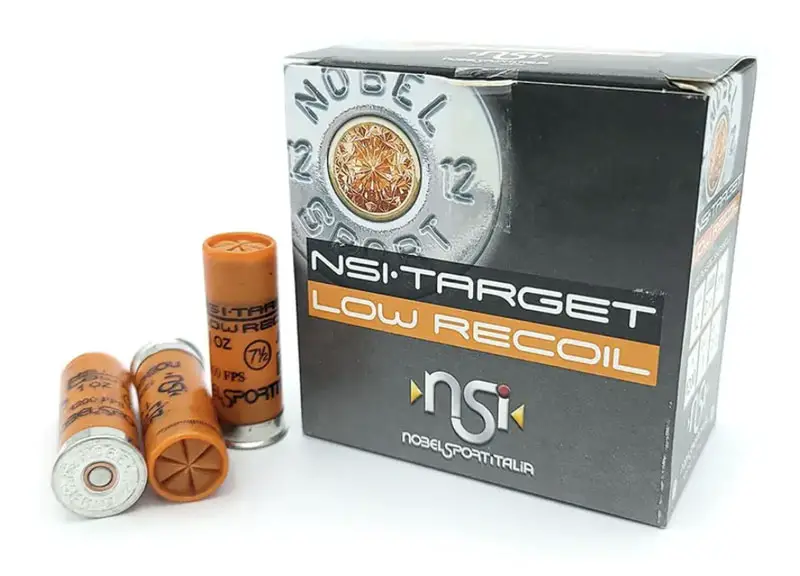 Nobel Sport
Target Trap 12 Gauge #7.5 Shot
For this review, we're going to walk you through the process we used to determine whether or not this is good ammunition, or if we'd recommend buying it. For the 380 ammo, we shot a total of 100 rounds: half was shot rapidly to test reliability, the other half was shot for grouping. With the shotgun shells, we shot a couple of boxes at a skeet range.
380 Auto Test
To test the ammunition, we used a Sig P238 SAS model. For some context in terms of groups, the barrel length was 2.7": this should temper your expectations about super tight groups, especially considering the short sight radius. Much of the grouping, I expect, is shooter related and I had not practiced with this firearm in some time before shooting. A shooting vice would be ideal for this, but we're more concerned about reliability and practical accuracy than bench shooting when it comes to handgun ammunition. 
In addition to the barrel length, the P238 has about 3000 rounds on it: still well within its normal barrel life, and the gun shoots well with one small caveat: due to the feed ramp design, some hollow-point rounds fail to feed. Luckily, we've tested ball ammunition, which feeds just fine most of the time.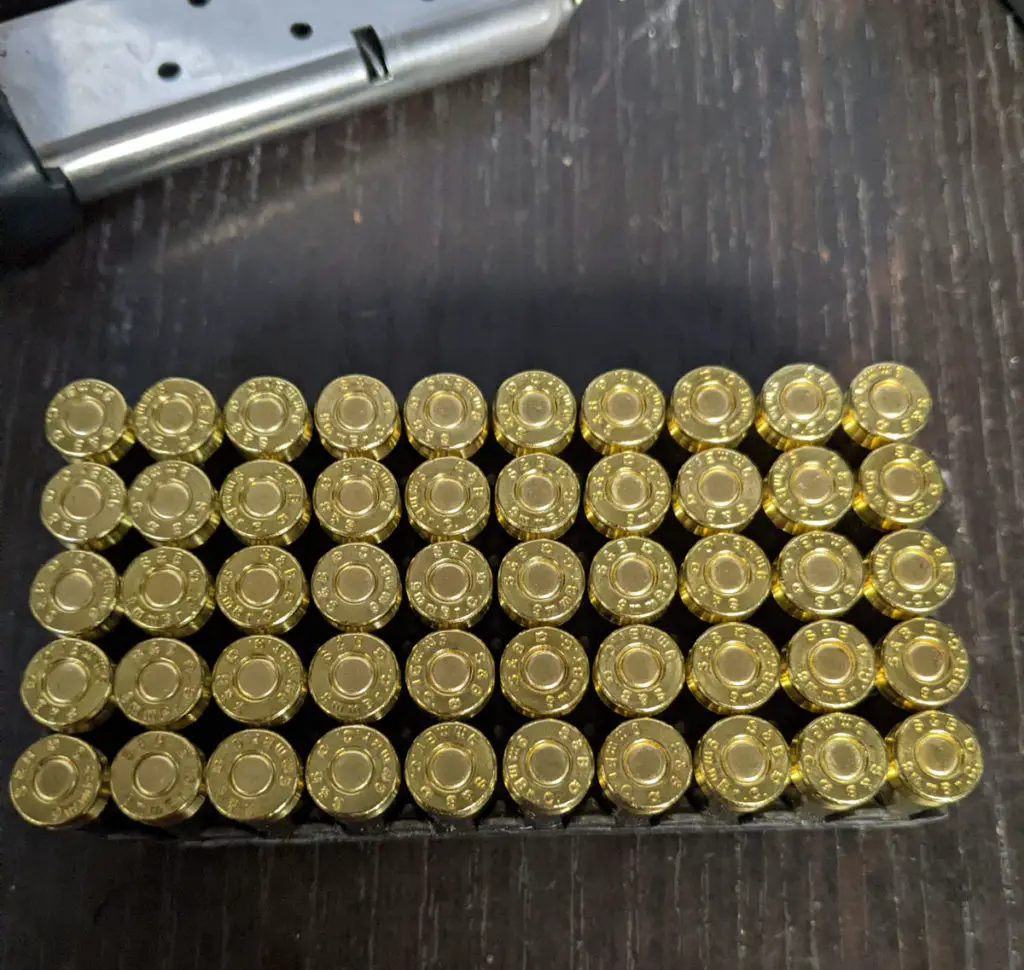 We fired the first 50 rounds nearly as quickly as we could to test reliability. From there, the last 50 were shot in groups of five to see how well the ammunition groups were. Of course, this is a limited set of data, but it's reflective of what we would do if we were testing the ammo to see if we were comfortable with using it for concealed carry or defensive purposes. 
Results 
The first fifty rounds worked flawlessly, feeding, cycling, and shooting well. Marketed as training ammunition, the recoil was relatively light even out of this micro-compact firearm. The ammo appears to cycle well, and, as is characteristic with this particular P238, the ejection pattern was consistently up and back, keeping everything well out of the way of the action. Even though we weren't shooting for accuracy, each and every one of the 50 shots were within the center mass hit zone of a standard silhouette target placed at five yards at our local indoor range.
From the first 50 rounds, we were impressed with the reliability: there was not one single failure to feed or failure to extract, nor were any of the rounds underpowered to the point that they did not cycle the action. Even though this is marketed as budget or training ammunition, it does also appear to be remarkably consistent in terms of its ability to function, as well as its general accuracy over 50 rounds of relatively rapid-fire. So far, so good for Sellier and Bellot! 
The next fifty rounds were for accuracy. Here, we loaded our magazines with 5 rounds each, and shot all 50 rounds. Since the groups were relatively consistent, we've only included two sample images here so that you can get the idea. On a target at 5 yards which, in our defense, was also swaying slightly thanks to the range's stout ventilation system, we managed to get every single round out of 50 within groups about 4" across. For a pistol with under a 3" barrel shot by an average shooter, we think this is more than passable.
There was one small reliability hiccup in the last 10 rounds, which was a failure to go into battery completely. This has happened before with this gun, but with different ammunition. We suspect one of two causes: either some fouling on the feed ramp causes the round to kick slightly nose up and jam not quite all the way into the breech or the previous round may not have ejected quite properly, again getting the gun out of its proper timing.  We stopped, shook the cartridge out, and then fired it without flaw after reloading. All in all, not a bad track record at all for this ammunition! 
12 Gauge Test
To test the 12 gauge shells, we used a Browning Gold Superlite semi-automatic shotgun that I had received from my grandfather while in high school. We went to a nearby clay pigeon range and ran it through several rounds of skeet shooting.
Growing up, my friends and our fathers loved to go to the local range and shoot clay pigeons – often playing shooting games like Annie Oakley which are both super fun and a challenge. Due to focusing more on pistols lately instead of shotguns, I hadn't actually shot my 12 ga. for probably close to 10 years. So it was a blast getting back out and trying to pick up the skill again.
The shells from Nobel Sport Italia (NSI) were 12 gauge, 7 ½ Shot, 1 ⅛ oz, 1200 FPS, 3 D.E., and 2 ¾" length.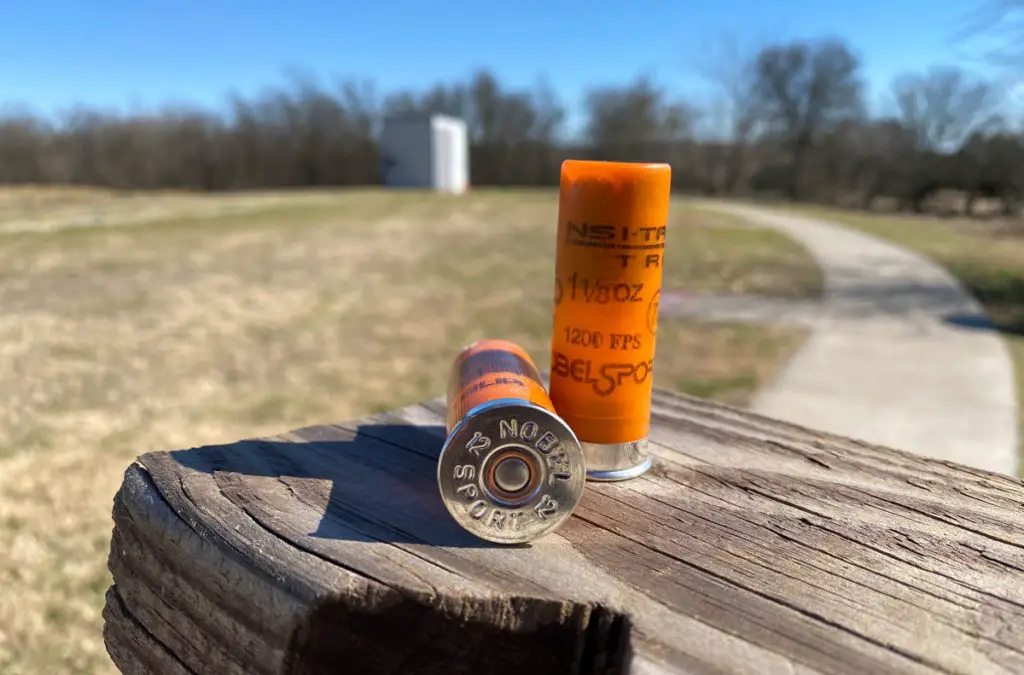 Results
The NSI shells performed perfectly in terms of reliability and consistency. There were no duds or misfires and the shells destroyed the clays when shot.
For this first trip out, we shot 3 rounds of 8 stations of skeet each – going through several boxes of the shells. The bright orange color of the casings definitely stands out and fits in perfectly with the clays. The color also helps identify them in the grass for picking up later for reloading or recycling, which is nice.
The shells are decently well priced, though you can find slightly cheaper options online. As to my own performance on the range, I was satisfied with how I did after such a long break from clay pigeons. I forgot how much fun the sport is and I'll definitely be going back soon.
Final Thoughts
Overall, we've been exceptionally pleased with the experience with Sellier and Bellot, NSI, as well as the True Shot Gun Club. They were really easy to work with and their shipping to Texas was very speedy.
The 12 gauge and 380 ammunition itself was also excellent: out of 100 .380 rounds, 50 of them shot for groups, we had one minor failure to go into battery that was resolved in a matter of seconds and was likely the fault of the pistol. While it's training ammunition, we could easily see the use of this as defensive ammunition as well.
In fact, some of the same shipment of ammunition is currently loaded into all three magazines I have for my Sig P238, and I plan to use it as my main carry ammunition in the future.
The 12 gauge shells were a blast to shoot with and we'll looking forward to our next trip out to the clay range soon to finish off the boxes.
Our final verdict is that the reliability and accuracy of both ammo is such that we are happy to carry it. Further, when we're looking for ammo to buy on our own dime, True Shot Gun Club will be one of the first places we check for deals.
---
Disclaimer: True Shot Gun Club gave us the ammo so that we could test them out and write this review. As in all areas, we try to provide objective and honest information. Purchases made through links on this article may earn us a commission.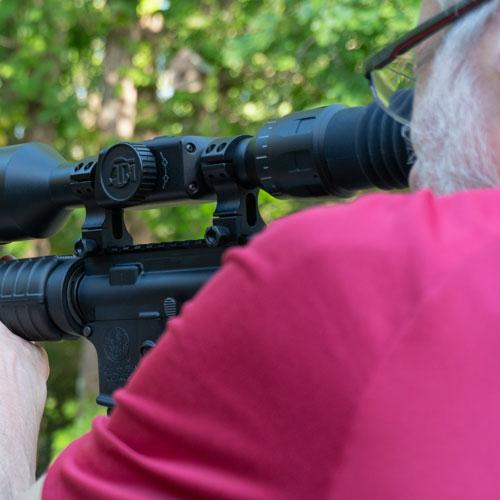 George has been an avid shooter for twenty years. He began shooting when he was gifted a Browning SA-22 for target practice. Now, as an academic, he combines his love of firearms and knowledge of history to write for firearms blogs and is still a frequent sight at the local range.