When you're out hunting in a blind, a swivel chair can be one of your most important accessories. You'll need to be able to turn quickly in every direction to get maximum coverage of the area and a good quality hunting chair can help you achieve this. 
To choose the perfect swivel hunting chair for different hunting styles, there are several factors to consider. There are numerous blind chairs in the market and all of them are of different quality. You want a blind chair that gives you the best range of movement possible without compromising your position by squeaking or being too loud.
At the same time, the blind chair should be as comfortable as possible since you'll be sitting for a long time. There are several good quality chairs that don't cost a lot of money. We have curated a list of some of the best swivel hunting chairs in the market that the majority of hunters will find suit their needs.  
Best Quiet Swivel Hunting Chair Review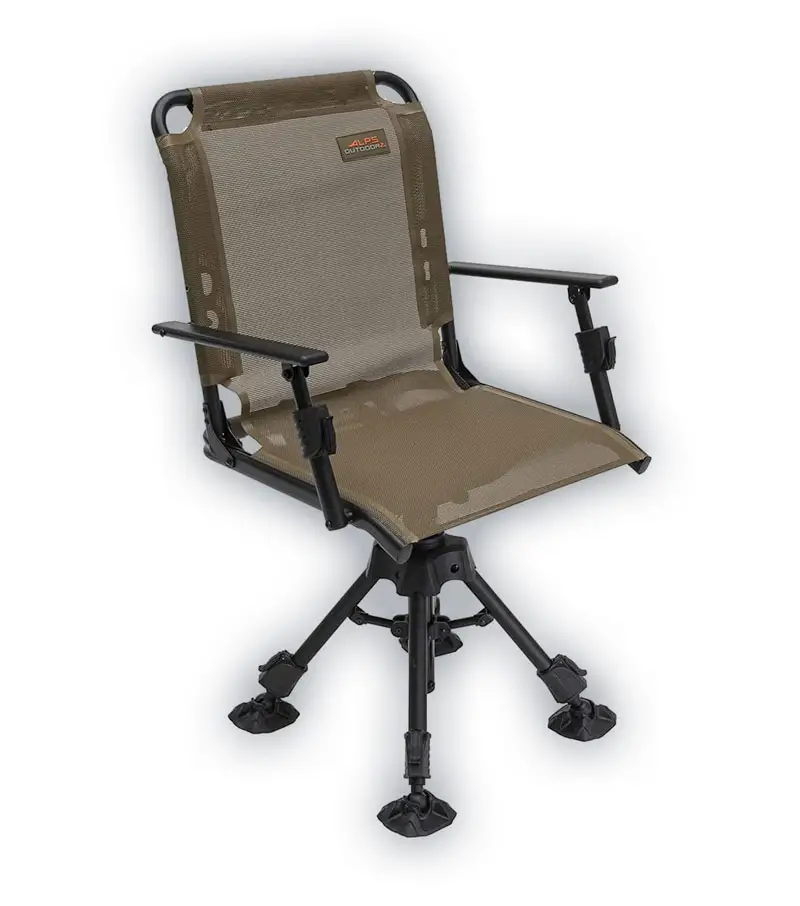 ALPS OutdoorZ Stealth Blind Chair
If you're looking for a sturdy and stable swivel hunting chair that works great under different hunting conditions and styles, look no further than the ALPS OutdoorZ stealth deluxe. This top-selling swivel chair has a four-leg design which is quite stable compared to the 3-legs you have in other swivel chairs. Each of the legs also comes with wide foot pads that keep them from sinking into the ground when you sit. 
ALPS OutdoorZ Stealth has an adjustable height. Each of the legs can be adjusted independently. This makes it possible to set up the chair in a level position even when the ground is sloping. This chair is also quite comfortable and can turn a full 360-degrees without noise. The seat is made with TechMesh material in a comfortable and firm sling-seat design. The chair also has a mesh backrest and arm rests that are quite comfortable as well when sitting for long periods of time. 
Why You'll Like It 
Perhaps the most impressive quality of this chair is its quality build. It comes with a rugged powder-coated steel frame which makes it quite durable. The steel frame can support loads of up to 300 pounds no problem. 
We also love how easily the chair folds up. This packability makes it easy to carry along with you on your hunt and fit into your trunk without trouble. The product also comes with a shoulder strap which makes it quite easy to carry with you anywhere. This is very important considering the fact that this chair is on the heavy side with a weight of over 16.6lbs. 
---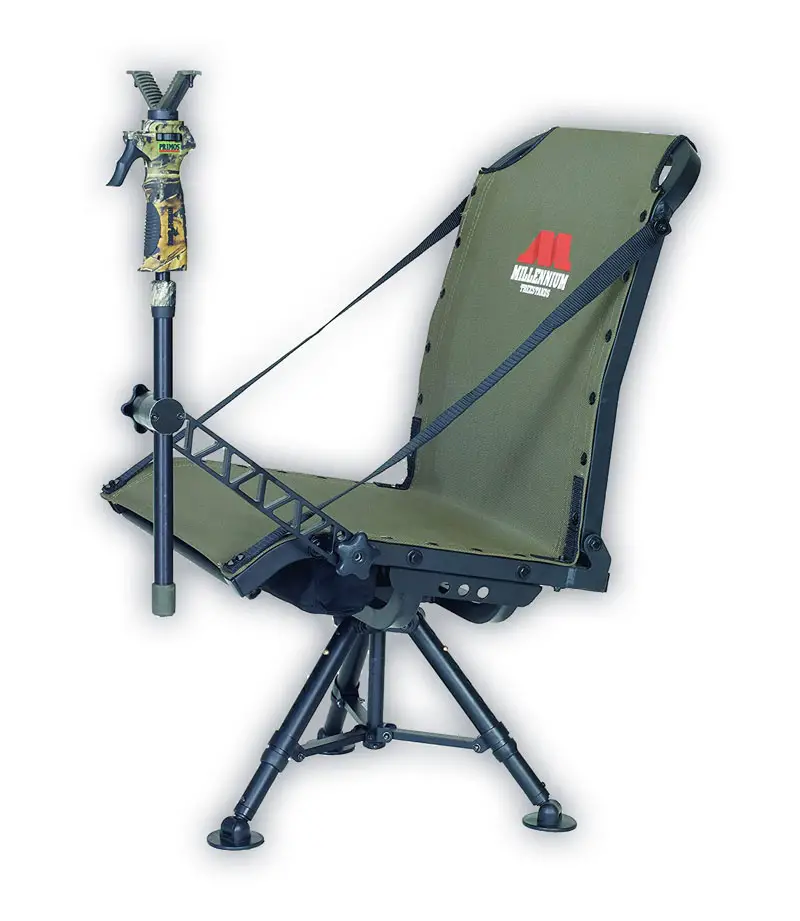 Millennium G100 Shooting Chair
The Millennium G100 Shooting Chair has an aluminum construction which makes it quite strong and durable. This chair is particularly built for the comfort of the hunter even when hunting blind for long hours at a time.
It features Treestand's proprietary ComfortMax material which is used on several other shooting chair models and is known to be quite ergonomic. 
The blind chair has a tripod-build, with adjustable legs. The height of the legs can be adjusted individually. This helps to compensate for sloping grounds when hunting deer in a blind on the ground or an uneven surface in a tree stand. The swivel design allows it to turn the full 360-degrees without making noise. Despite the portable size of this chair, the weight capacity is quite impressive. It can take a person that weighs 400 lbs comfortably. 
Why You'll Like It 
The G100 is premium quality and that is evident with every detail of its build. The entire chair is well put together with a quality swivel base that works. The full-back ComfortMAX seat is quite comfortable for your hunting blind in different terrains.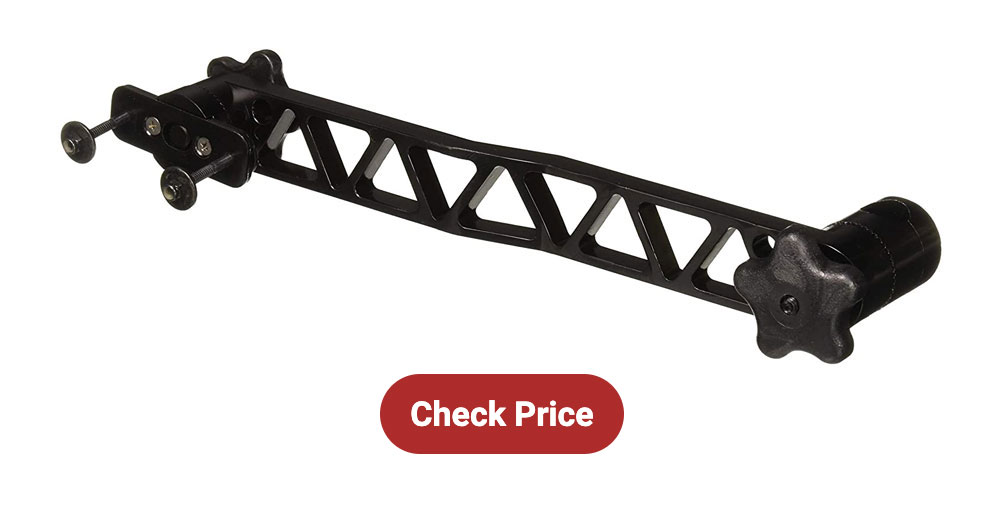 It features pre-drilled holes where you can mount a shooting stick or a bow holder if you need it for your hunting.  Unfortunately, this add-on doesn't come with the chair (despite being pictured above), but you can purchase the arm here which can hold any firearm rest you own so you don't tire out your arms.
The G100 has a sturdy aluminum frame with a powder-coated finish that helps to protect the chair and extend its life. The chair weighs about 10lbs which is still quite lightweight for a hunting chair of its size. You will also find the swivel movement quite silent and smooth. 
---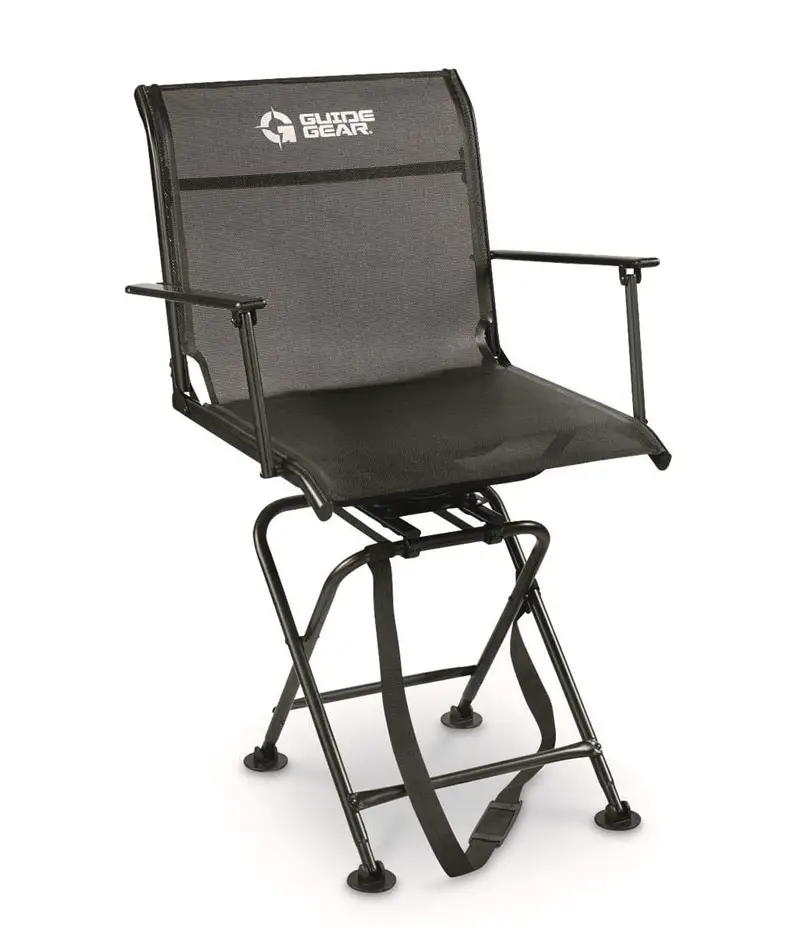 Guide Gear Big Boy Blind Chair
The Guide Gear Big Boy Swivel chair is a heavy-duty blind chair with a sturdy build. This hunting chair features a durable steel frame with a capacity of up to 500lbs. If you're a large hunter and you have been having trouble finding the perfectly sized chair for you, the Guide Gear Big Boy is the perfect Swivel chair to buy. 
This hunting chair is built for the comfort of the bigger guys. The seat is extra-wide for your sitting comfort. It also features wide armrests that are large enough to boost the chair's comfort but without getting in the way.
The chair's comfortable mesh fabric aids air circulation to keep the chair comfortable in all weather conditions. The smooth 360-degree swivel gives you access in all directions without squeaking or noise. This helps to maintain stealth when hunting deer or any other animal. 
Why You'll Like It 
If you'd love to have a big-sized hunting chair, the Guide Gear Big Boy Chair is your ideal choice. With a capacity of 500lbs, you probably can't find a stronger chair for hunting while sitting anywhere else. The seat cover is also quite wide with a breathable fabric that adjusts to your shape. 
We also love the chair's duck feet design. This ensures improved stability compared to chairs with tripod feet. The duck feet design also gives the chair extra-traction and keeps it from sinking even on muddy grounds. The whole chair weighs about 20lbs which is a bit on the heavy side but expected for a chair of that size. It is super portable and can fold up for easy transportation to and from the hunting blind.
---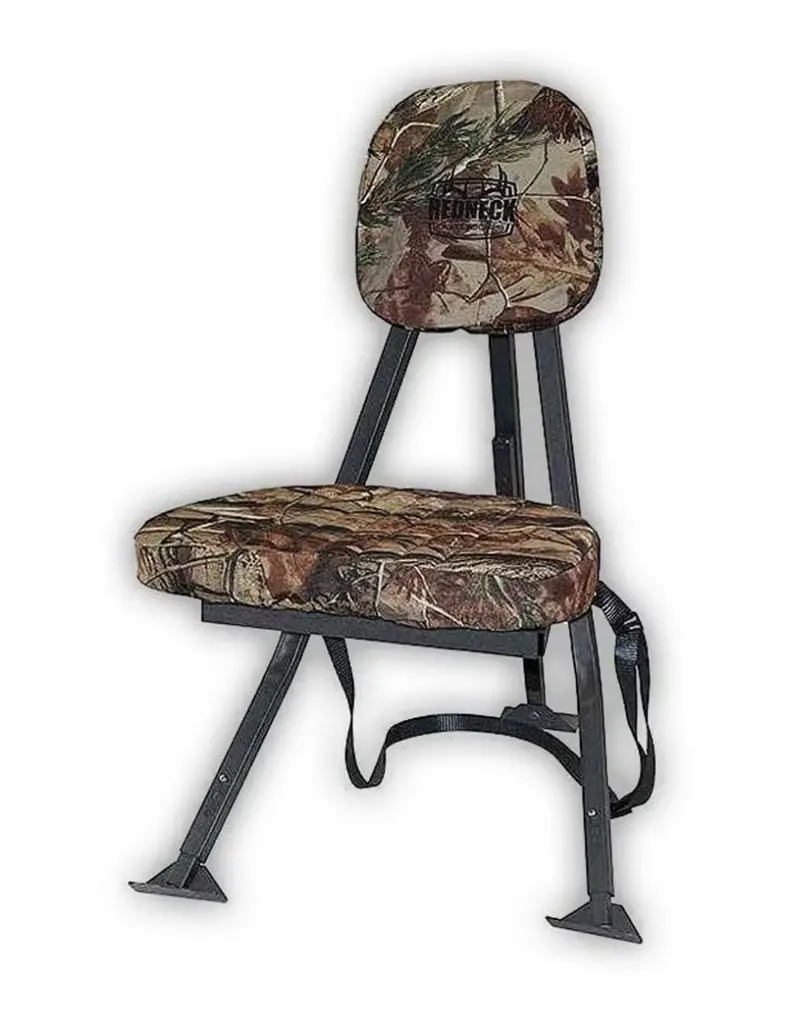 Redneck Folding Swivel Hunting Chair
This swivel chair can rotate through 180-degrees instead of the regular 360 degrees for most blind chairs. However, if you're able to look beyond this limitation, this blind chair is a quality chair. The adjustable height of this blind chair makes it possible to vary the seat height from a height of 17 inches to 18.5 inches to the ground. 
The chair has three legs whose height can be adjusted independently. The chair feet also have a flat base which makes them quite stable. Despite weighing up to 16lbs this chair is actually quite portable. It can be collapsed within seconds and carried quite conveniently. It also comes with a heavy-duty nylon carry strap which makes it even more portable and convenient to carry. 
What you'll love 
One of the most impressive things about this chair is the design. The fabric has a Mossy Oak Pattern which helps to camouflage the chair for stealthy deer hunting. Although the swivel rotation does not go all the way around, it is still smooth and efficient. 
We love how the chair swivels as well. The seat itself can swivel independently of the back rest and is very quiet. This reduces the possibility of bumping into nearby objects when swiveling the chair. You'll also love how easily collapsible this chair is. 
---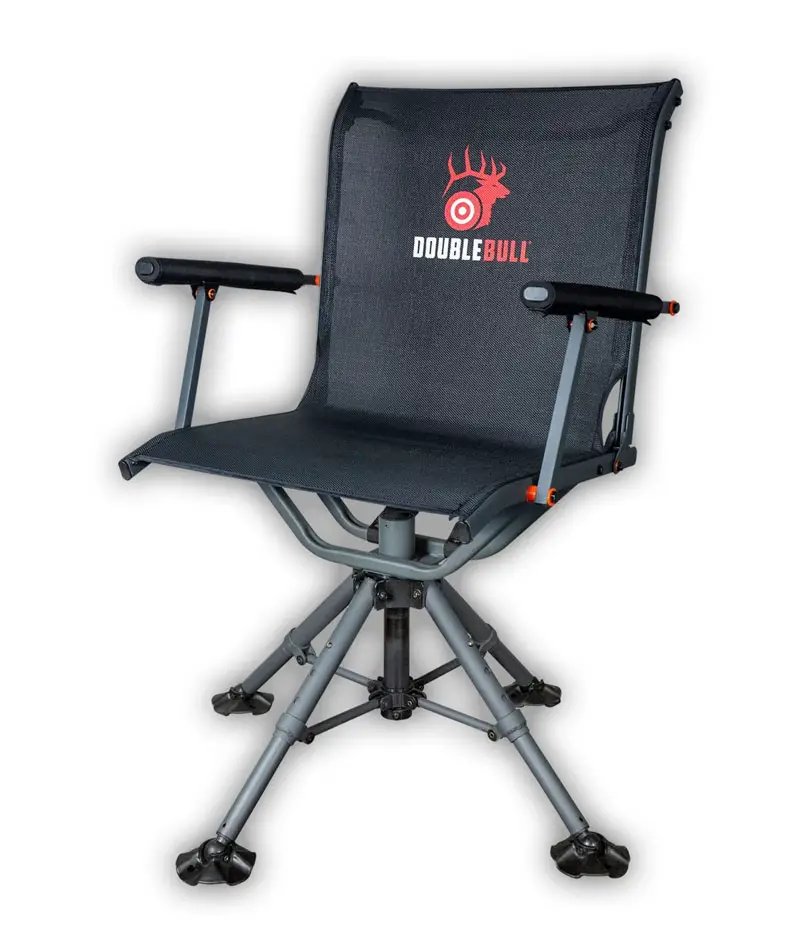 Primos Double Bull Swivel Hunting Chair
The Primos Double Bull Swivel Hunting chair is a well-built hunting chair with a solid 2-piece design that makes it quite sturdy. The chair features 4 adjustable legs with oversized feet at the end which supports the chair across various terrains. The height of the chair can be adjusted between 18 to 21 inches. 
The Primos Double Bull weighs 16.5lbs and can support weights of up to 300lbs. The seat is also sufficiently wide and high, which makes it suitable for a good number of hunters. The backrest is collapsible which makes it easy to carry the chair with you using the shoulder strap that comes with it. 
What you'll like 
The chair can swivel over a motion range of 360-degrees. This gives you maximum mobility and allows you to cover different areas when hunting. We love the standard 2-piece design of this chair. With fewer sections, there's a reduced chance of damaged parts over time. 
You'll love how easy it is to adjust the height of the chair as well. There are buttons on the rear and front legs of the chair which you can push to adjust the height of the chair. Since the height of each of the legs is adjustable, the chair works great even when you want to use it on uneven ground. 
---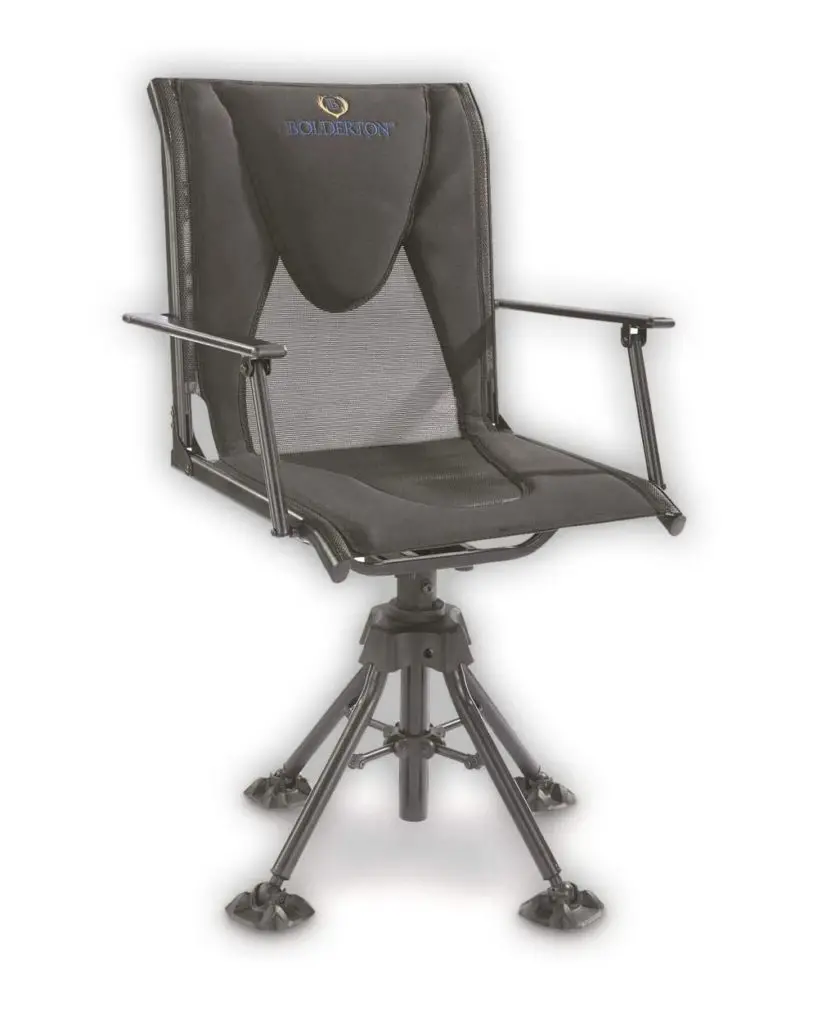 Bolderton 360º Swivel Hunting Blind Chair
The 300 lbs Capacity Bolderton Swivel hunting chair comes with an armrest and a padded cushion seat for added comfort. The extra padding helps to relieve pressure on your back, shoulders, and thigh areas which are the major areas you're likely to feel pain when you sit for too long.
This is a heavy-duty, ergonomic chair with a sturdy frame and oversized feet which keeps it stable on the ground and prevents the chair from sinking especially when you're hunting on soft ground. The fully silent Swivel action of this chair makes it possible to turn quickly in any direction without making loud noises which could scare off wild game. 
What you'll like
Despite having a weight capacity of 300lbs, the chair itself is quite lightweight. It weighs only 14lbs. The entire chair can be folded flat and packed which makes it easy to transport to your hunting site without stress. You'll find the extra padding on this chair very helpful to keep you comfortable especially when you need to hunt for a long time regardless of the weather. 
---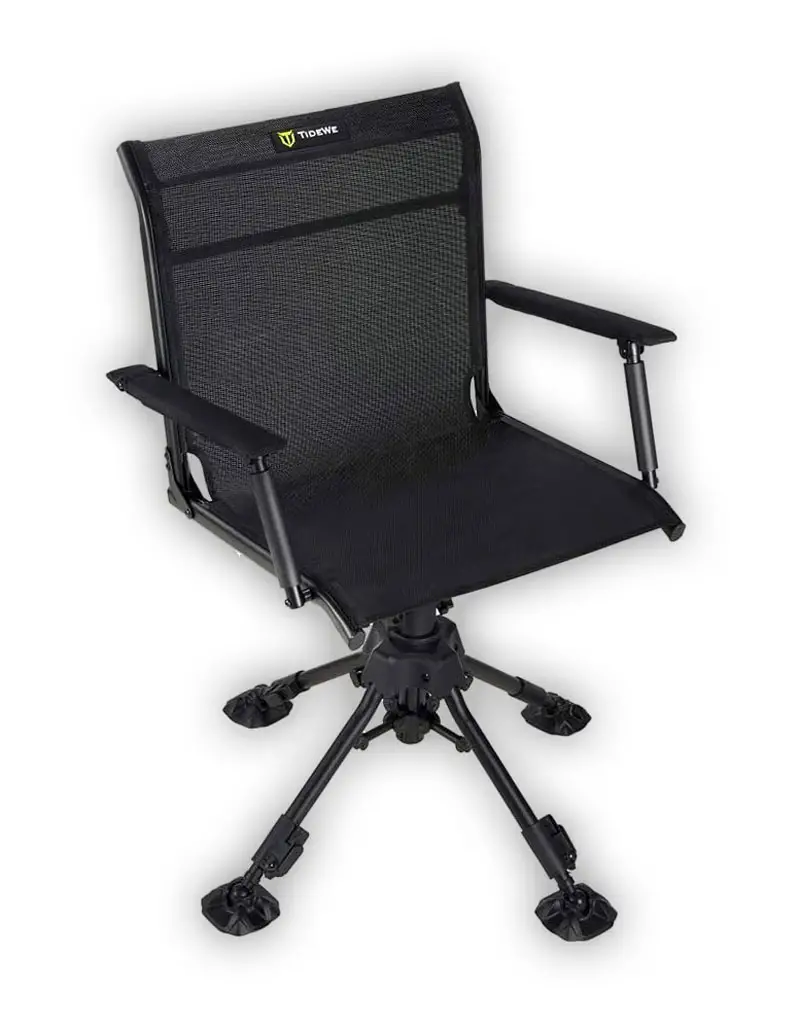 TIDEWE Hunting Chair with Seat Cover
The TIDEWE Hunting Chair offers a mix of durability, comfort, and practicality in its design. This sturdy hunting chair has a solid metal frame and is covered with TechMesh fabric material designed to be comfortable and durable. The seat height is adjustable between 17.5 to 22.2 inches depending on your preference. The legs of the chair can also be adjusted individually, keeping your chair stable regardless of the hunting condition. The base of the chair legs are wide you won't have to worry about falls or sinking in. 
One novelty in the Tidewe hunting chair's design is the special silent swivel design. The frame under the armrest is coated with a quiet sponge, designed to reduce unwanted noises. Also, instead of the traditional bolt, the chair has a screw-in-knob design. This helps to keep the chair silent when you spin in it in any direction. 
What you'll love 
We found the spinning design of this chair quite efficient and comfortable. In all, the design is quite impressive and also very comfortable. The chair has a widened backrest covered with breathable fabric designed to keep you cool and comfortable when you sit in it. 
Conclusion
This review should answer many of the questions you might have about choosing the best blind hunting chair. We hope you find this it helpful in helping you choose the best swivel chairs for you. Let us know if you have bought any of these chairs or suggest your favorite blind hunting or camping chair for other customers who might be interested in the comment section below.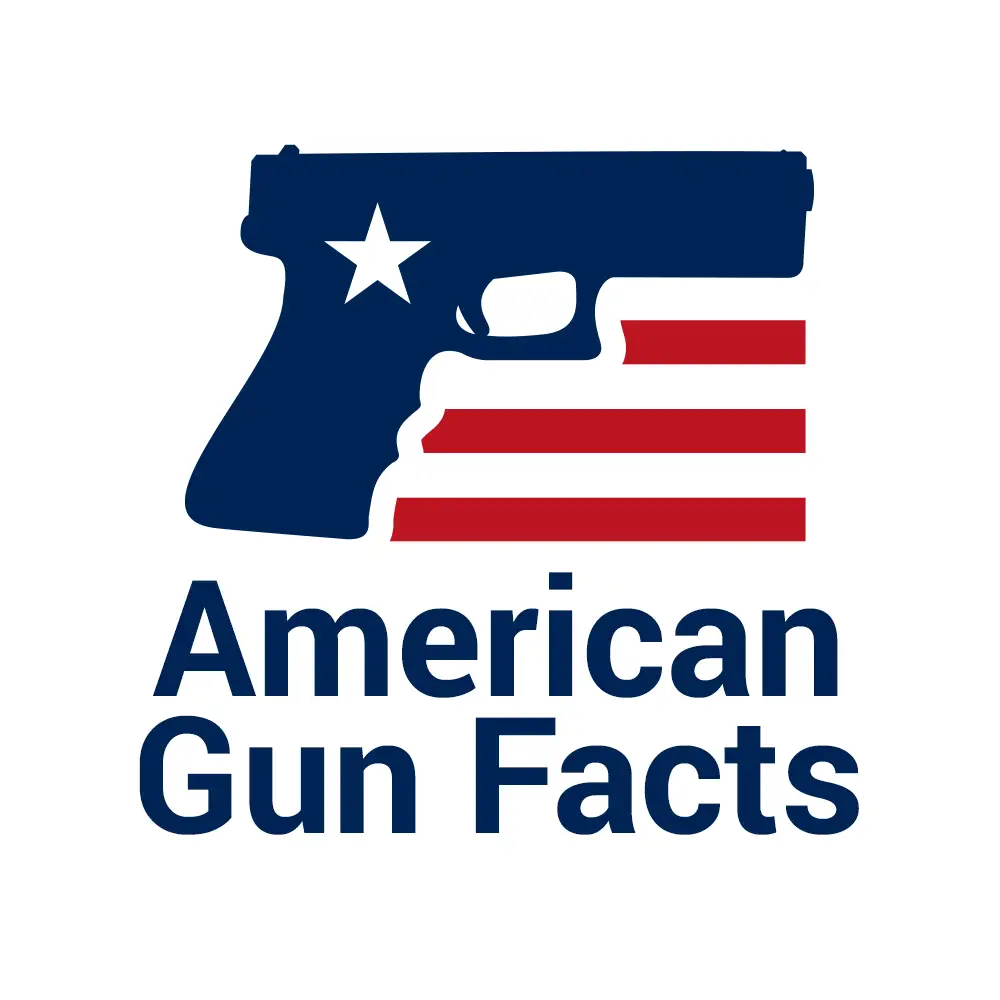 Researched and written by the American Gun Facts team. We are a group of Americans dedicated to providing factual information on firearms and fighting back against attempts to weaken or discard the Second Amendment. We write on topics ranging from firearm statistics, news, reviews, and more! AGF has been featured in the New York Times, NBC, MSN, Time, & many other publications.