The LPVO (low power variable optic) market has exploded in the last few years. One of the relative new comers to the market is SwampFox Optics.  Today we're reviewing the Swampfox Arrowhead LPVO 1-6x.
The company was founded on the 4th of July 2018 in Colorado. Their name was derived from a Revolutionary War hero, Francis Marion. His nick name was the Swamp Fox. Marion outwitted British troops in a 1891 Revolutionary war campaign. He was also one of the fathers of modern guerrilla warfare. Swampfox has honored Marion by naming their company after him.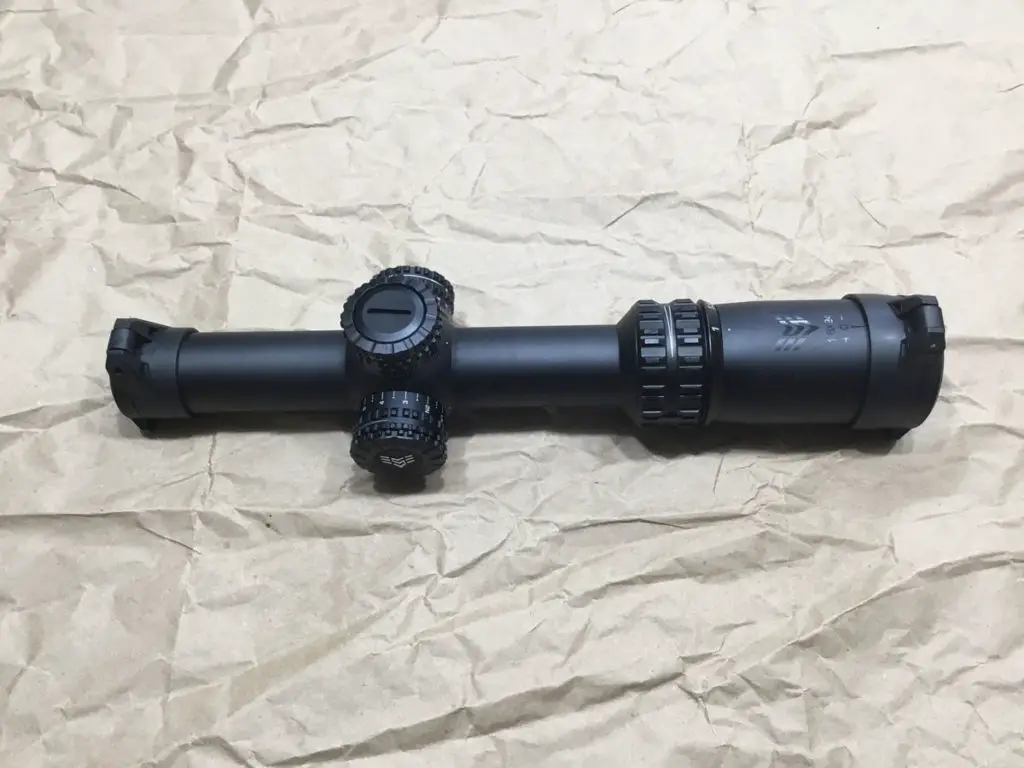 Check Price at:
Aesthetics and Ergonomics
One of the first things you notice about the Swampfox is the fit and finish. The unit looks to be very well designed and put together. It appears to be a much nicer unit than its mid budget price point of $439.00 retail. The scope has a 30mm tube with a 24mm objective. Swampfox includes a set of scope caps as an added bonus. The glass is clear and undistorted for an optic in this class range.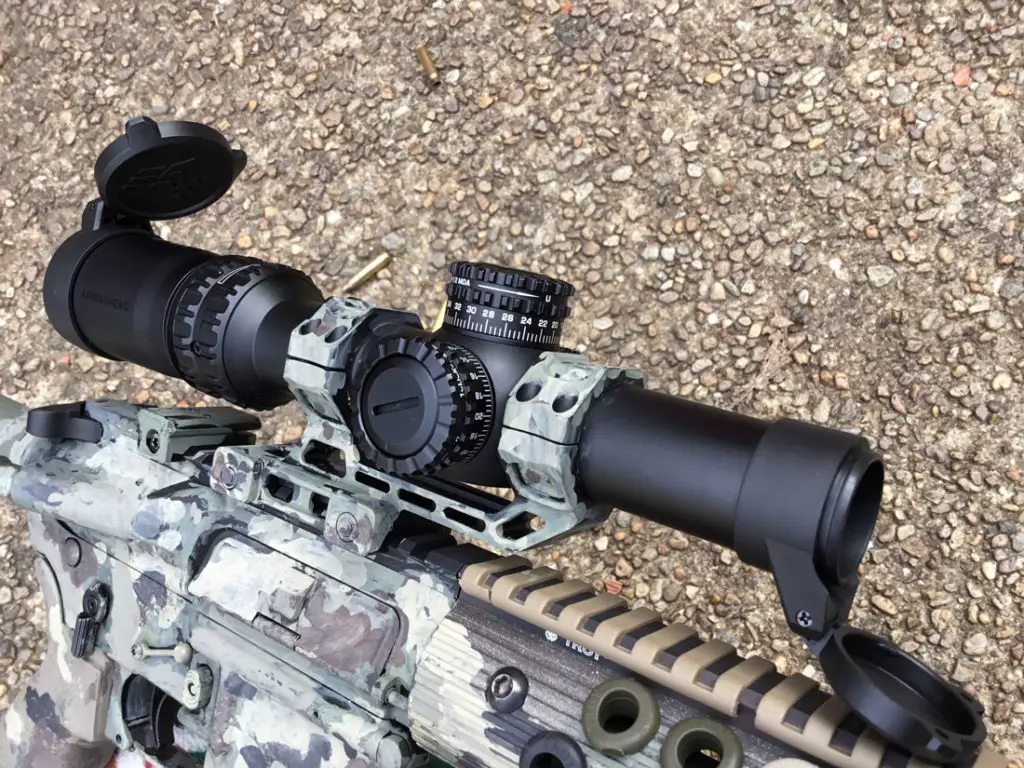 Eye relief is 3.39- 3.54 (1x-6x). Field of view is an impressive 119.9-19.27′ (1x-6x). The scope boasts a true 1x magnification, 1,100 G force shock resistance and waterproof to 1 meter submerged. Like all Swampfox products, the Arrowhead 1-6x is covered by Swampfox's 50,000 round guarantee.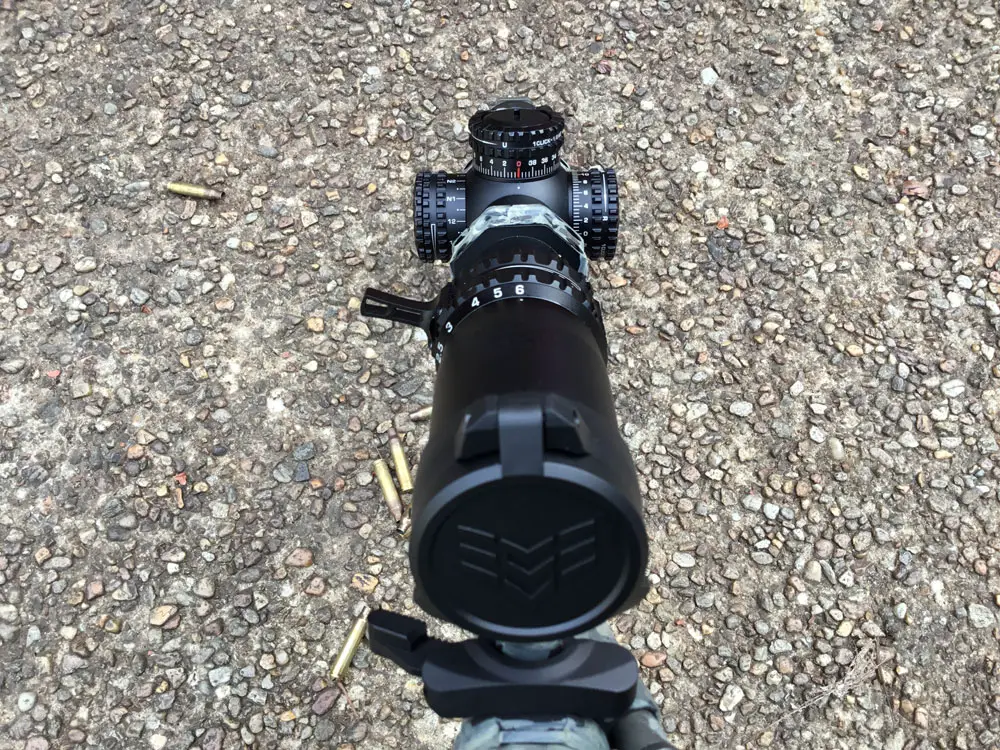 The power adjustment ring comes with an included "throw lever". This is usually only offered separately on most scopes. It can be attached with four small bolts in a number of positions around the ring to suit your shooting style. The throw lever is high enough for positive engagement but does not protrude to the point where it will hang up on things as you are maneuvering the rifle or using the scope.
Rotating through the magnification is smooth. There is just enough resistance to keep you from inadvertently changing magnification by mistake. Power changes were easy and only required a little force to move smoothly from 1-6x power.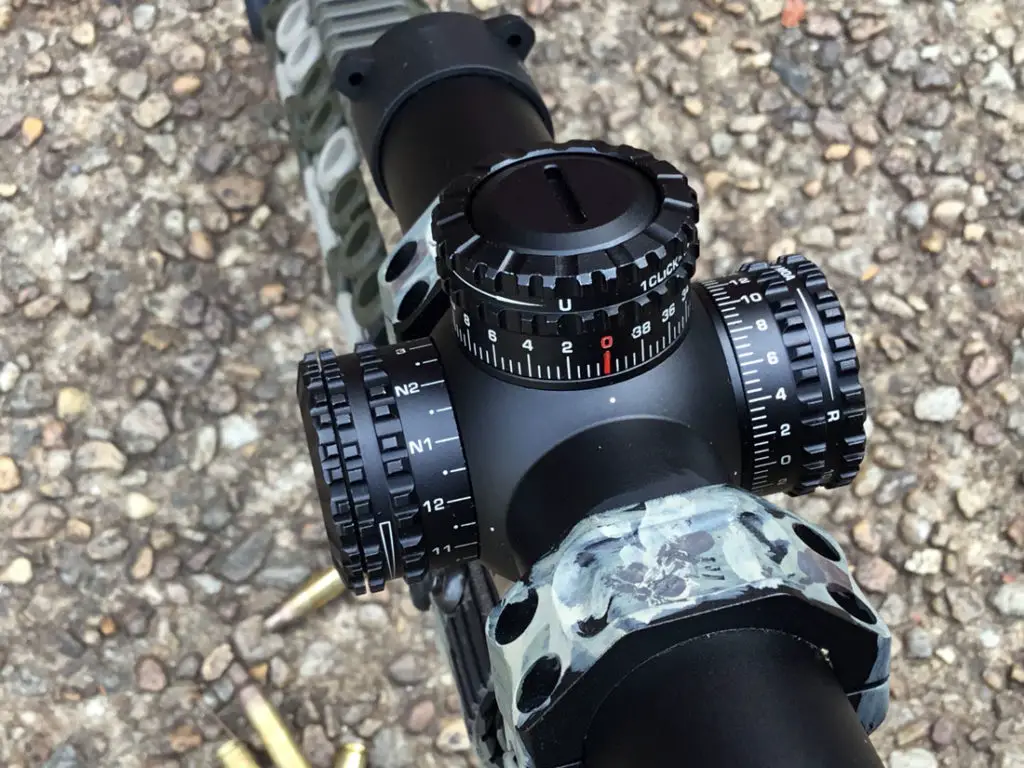 The turret knobs are of a locking variety. You pull them up to unlock, make your adjustments and then push them back down to lock them into place. This prevents unintentional adjustments that could cause you to miss a shot. The knobs have positive detent clicks that provide excellent feedback when adjusting.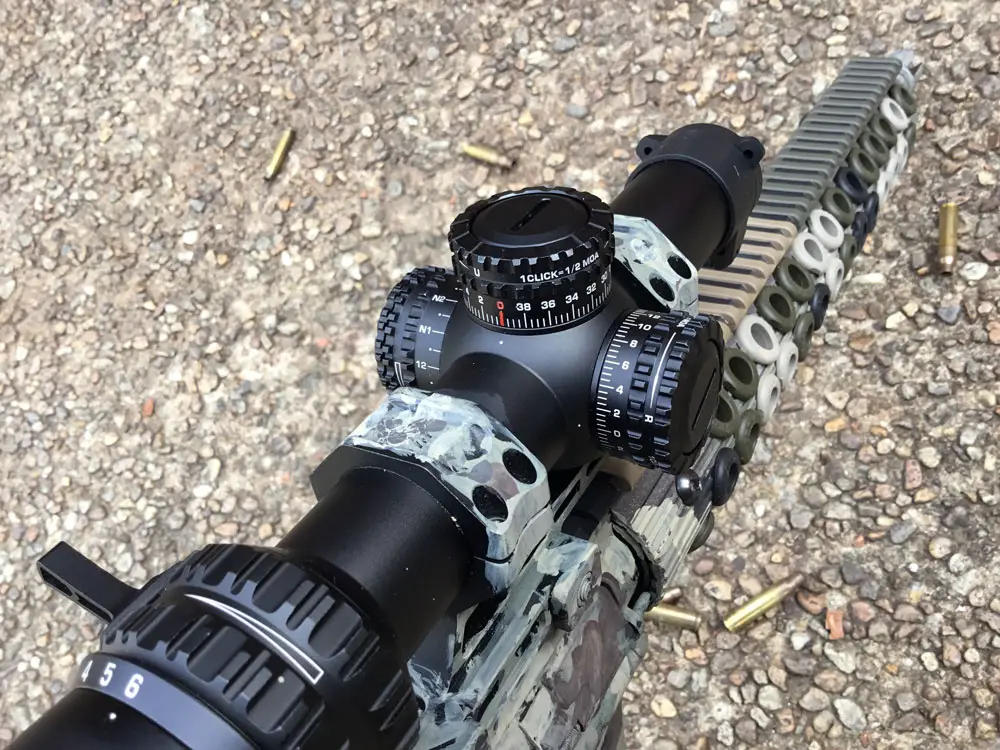 No tools are needed for adjustment once zeroed. Adjustments are in .5 moa clicks or approximately 1/2″(actually .5235″) at one hundred yards.
Illumination and Reticle
On the left side of the scope is the illumination knob. It has a total of 12 setting – 10 daytime settings and 2 NVG (night vision) settings. One of the most convenient features includes and off position between each setting. This enables you to return to your preferred brightness with out having to rotate through the full range of settings. In full sun the unit is bright enough to engage targets with out the crosshairs getting washed out. However, I would prefer it to be just a little brighter on the highest setting. Illumination runs off of a standard CR2032 battery that is located under the illumination turret cap.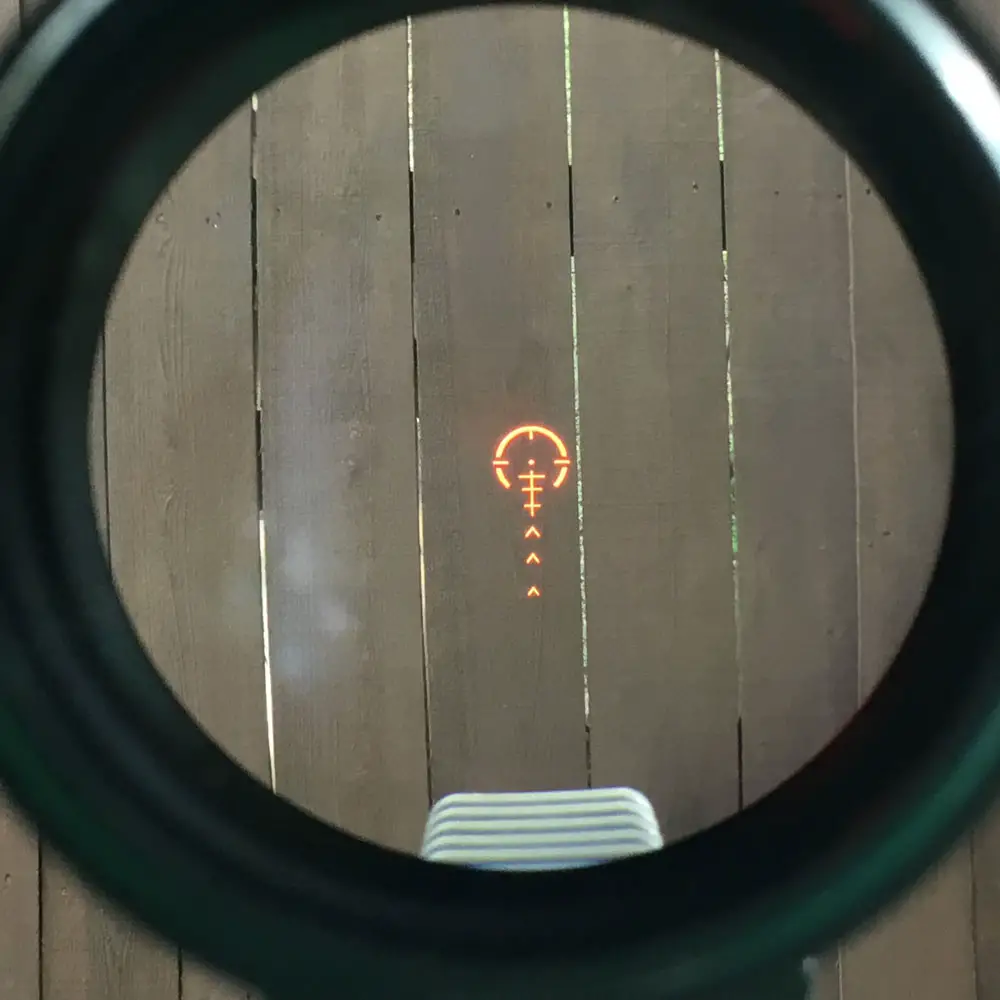 The Arrowhead's reticles are calibrated for .233 (5.56) and .308 (7.62×51). They are available in three styles and two colors. The reticle is a second focal plane. Meaning the cross hairs stay the same size as you increase magnification. The reticle is a glass etched illuminated version. If your illumination ever stops working or your battery dies you still can use the black etched (un-illuminated) reticle to continue shooting.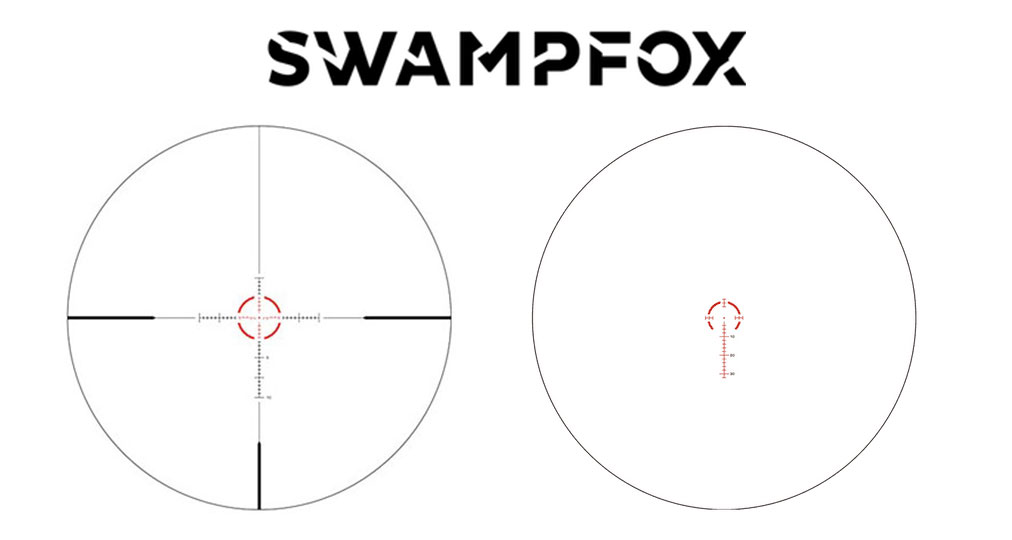 You can chose a BDC , MOA or MIL Dot in red or green. The Guerrilla dot BDC long has hash marks for specific ranges (i.e. 50, 100, 200, 300 etc) allowing you to "Hold over" with the reticle and not have to make turret adjustments. This allows for quick on target shots out to 800 yards without adjustments. The same can be said with the MOA and the MIL but you have to know your bullet drop for each specific one and it is not as intuitive. 
In the Box
The scope comes in a nice sturdy foam filled box to prevent any shipping damage. When you open the box you will find a layer of protective foam on top.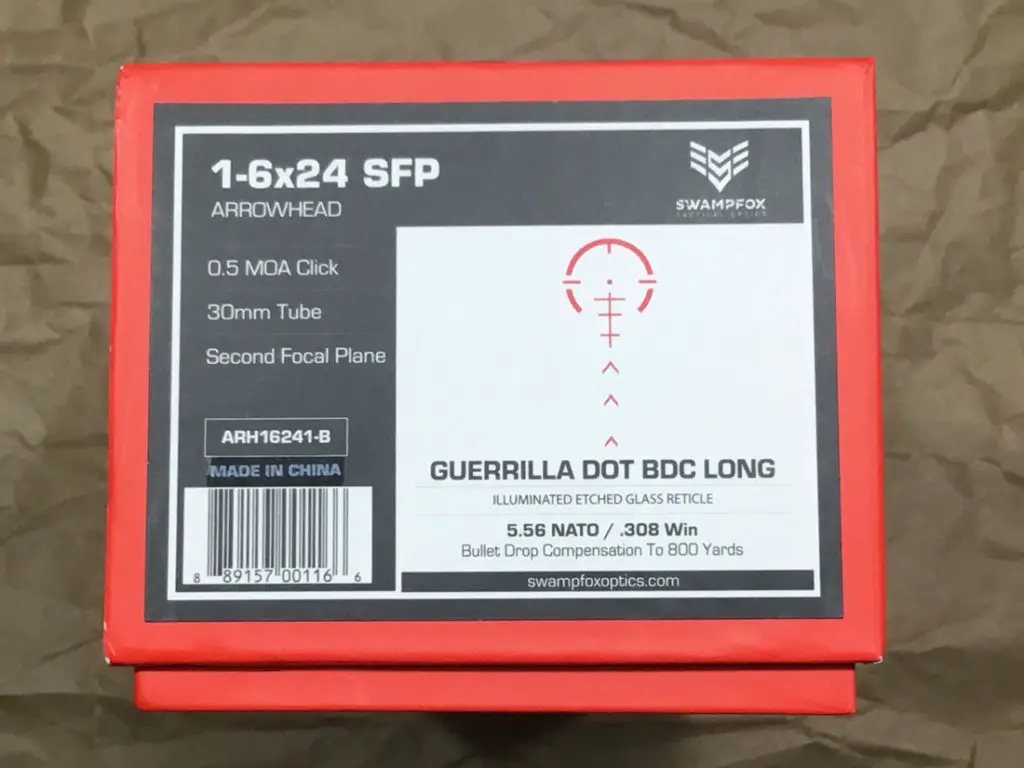 Under the foam is a large lens cloth, an instruction manual for the scope and a separate manual for the Guerrilla Dot long range reticle, a CR2032 battery, a throw lever and mounting bolts, a couple of Swampfox decals, a multi tool with Torx ends for bolt heads and a protruding flat on the sides to act as a wide screwdriver for removing scope turret caps and of course the scope itself with front and rear lens caps.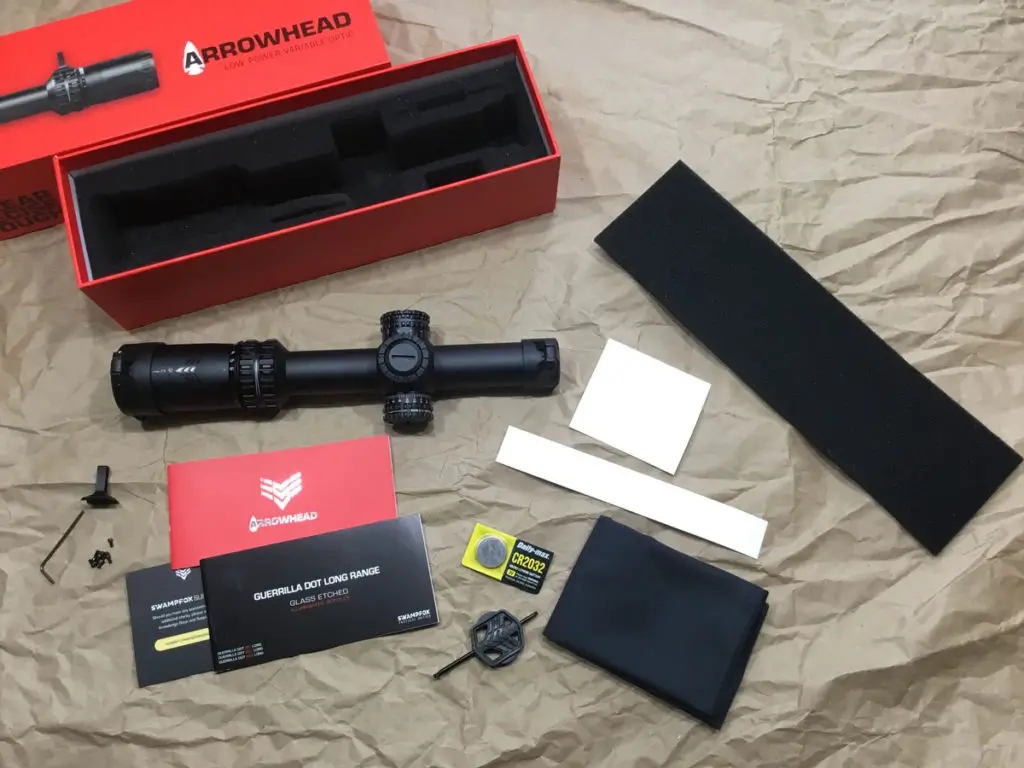 Range Results
The scope was tested on an ar-15 style firearm capable of sub moa groups. The rifle was equipped with a 14.5″ FN 1 in 7 twist barrel with a permanently attached flash hider. A Swampfox 30mm Freedom mount was also used in the testing. Groups fired with the scope were constant with the accuracy of the gun. The scope never lost zero or wandered.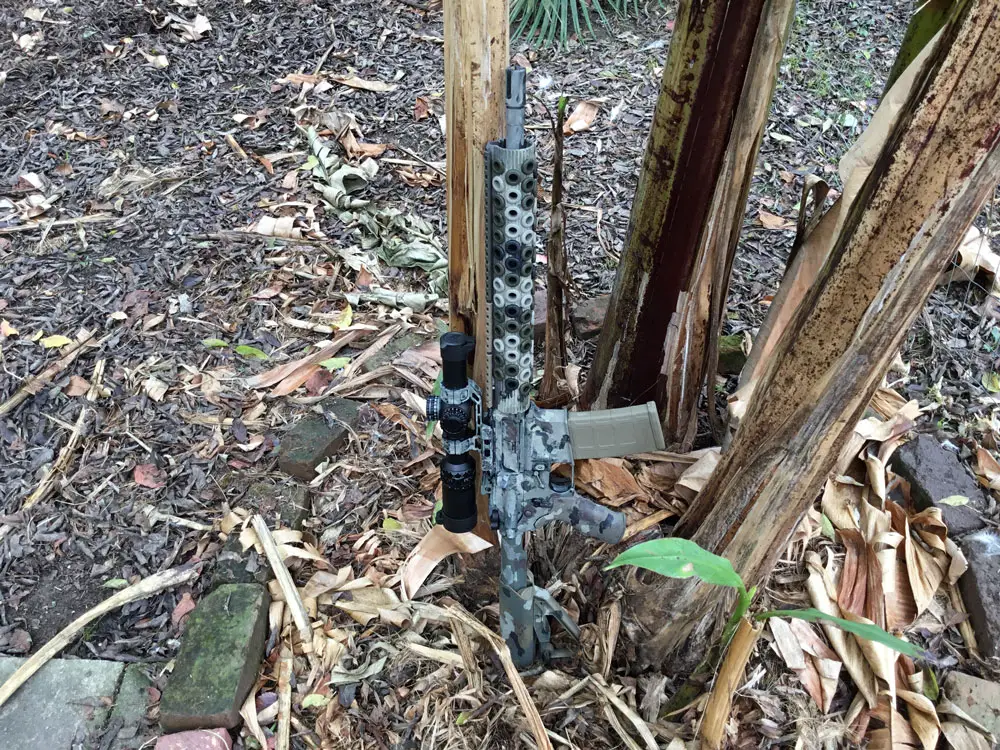 When shooting a box drills the last group was consistently printing on top of the first. Turret adjustments were also consistent when returning to zero after manually dialing in for long ranges. No loss of zero or wandering occurred.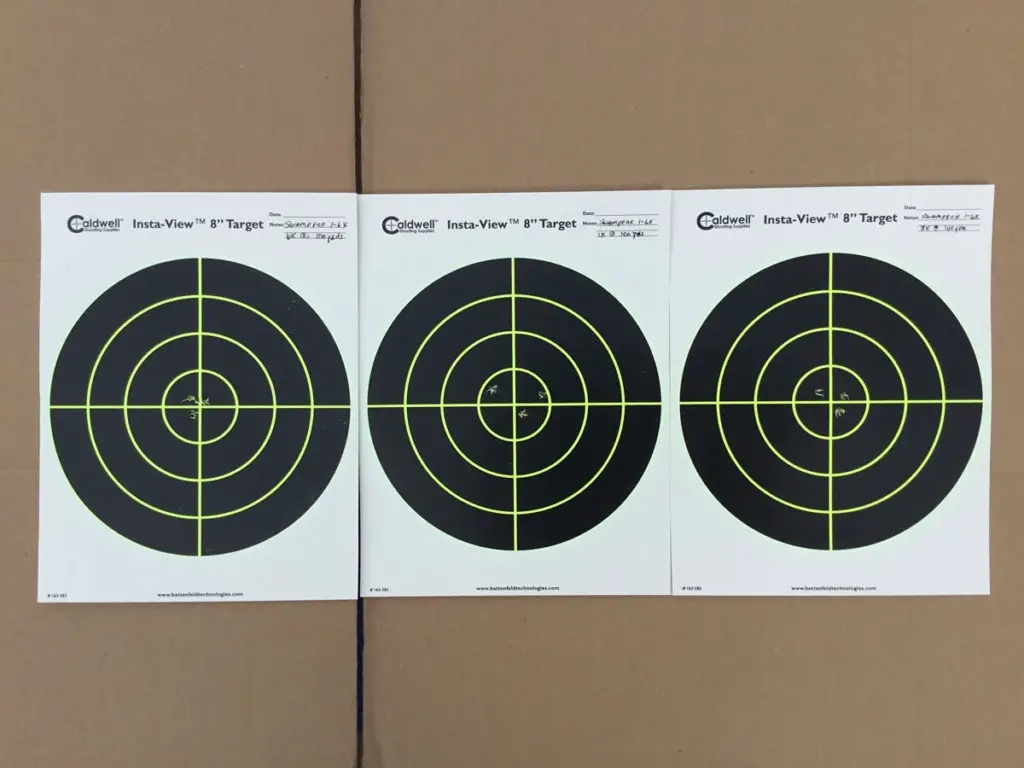 The particular model tested was a 1-6X Arrowhead with a red Guerrilla dot BDC long reticle (ARH16241-B). I was able to make consistent hits with the hash marks at 50, 100, 200 and 300 yards with no problems. Unfortunately range limitations precluded longer shots. The BDC makes long range quick shooting fast and effortless. The circle and dot illuminated reticle on 1x makes for very quick shots at close quarter distances. It reminds me very much of the Eotech.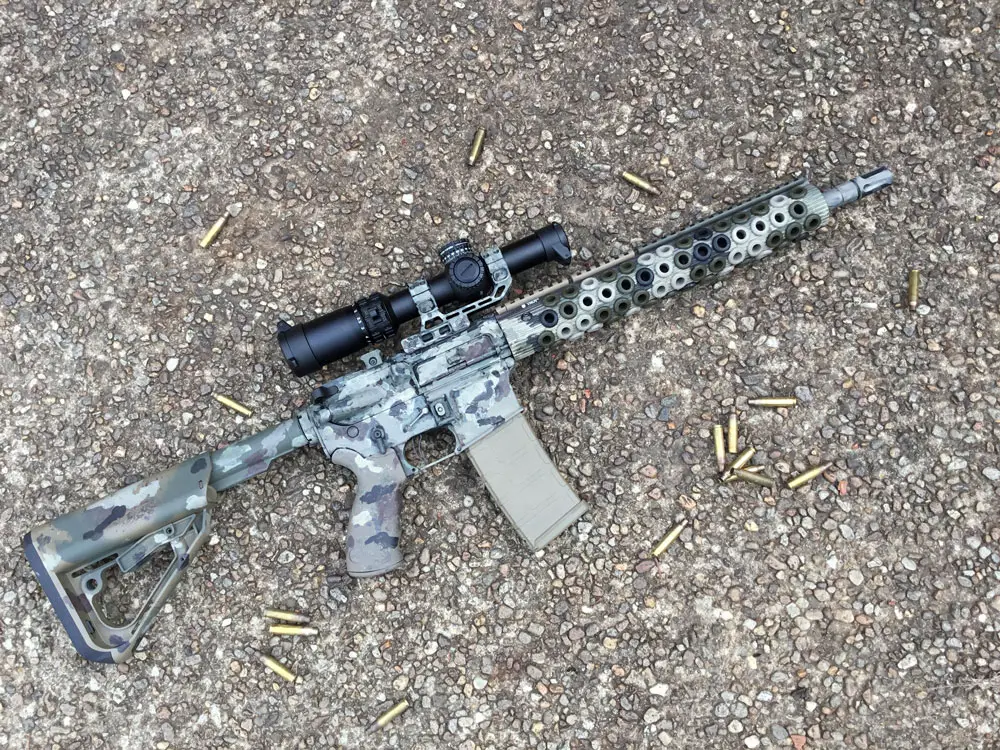 Follow up shots were quick and easy. As a side note, the eyebox appears to be slightly better than most LPVO's on the market. While the 6x coupled with the BDC hash marks make for easy engagements at long distances. At long range the illumination was not needed as much. Your target color, surroundings and lighting will ultimately dictate whether you will want to use the illumination or not. Personal preference will also come into play. 
Pros 
Budget priced
Magnification perfect for close quarters to longer distances
Etched reticle
Night vision settings
"Off" position between illumination settings
Included throw lever, scope caps, and battery
USA located company and USA designed
Impressive, almost 120 ft field of view at 100yds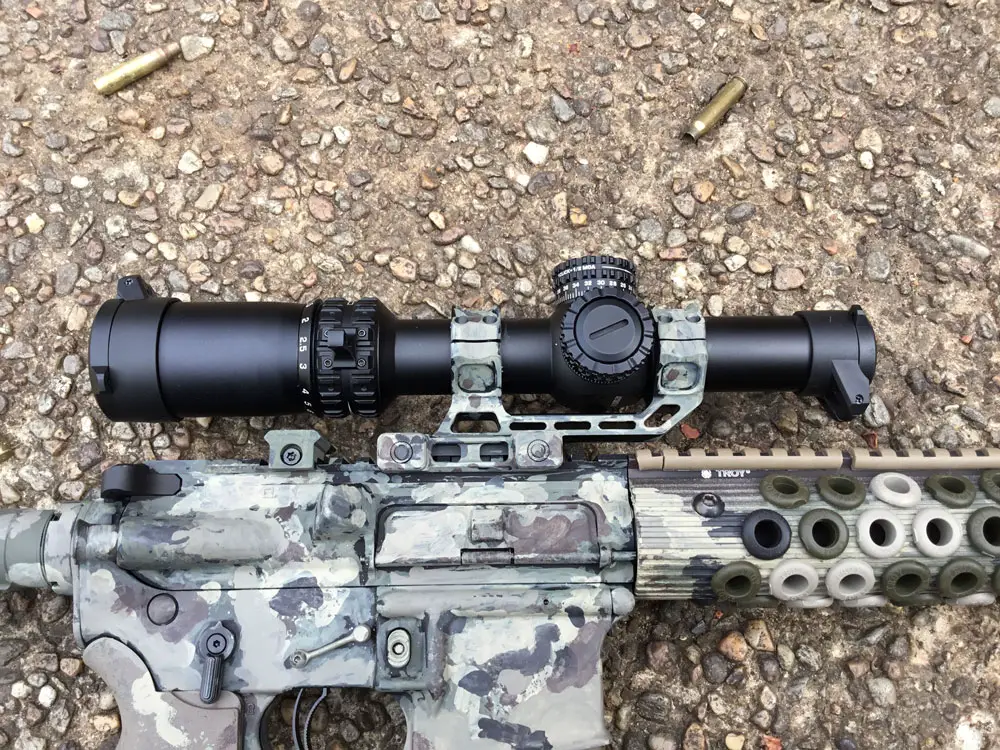 Cons
Eyebox limitations
Needs slightly brighter "full sun" setting
Limited battery life compared to a red dot (mid setting 380 hrs, Max setting 80 hrs) 
Small eye relief window
Heavy at slightly over 20 oz
Actual scope is made in China
Bottom Line
Would I recommend this scope? Short answer. Yes.
I would like to see a slightly brighter reticle for daytime use but the reticle was bright enough to not wash out in direct sun. The eyebox could also be a little bigger, but this is something you always deal with when using a "scope" instead of a "red dot".  The fit and finish are excellent.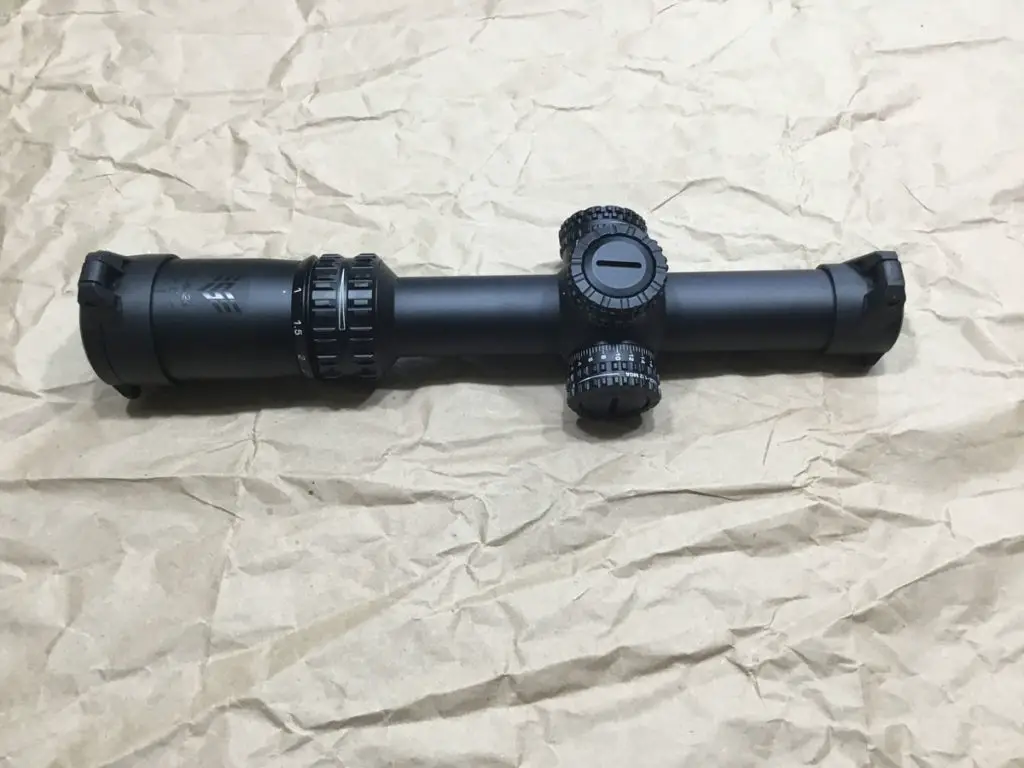 Optics are bright and crisp. No obvious distortion on the edges. The 1-6x power is perfect for close quarters to out to long distances. The included objective caps and throw lever are nice bonuses. The off positions between the illumination settings are a must have. I feel more optics companies should take note and make this a standard feature.
No matter which magnification or reticle you choose you cannot go wrong with this scope for the money.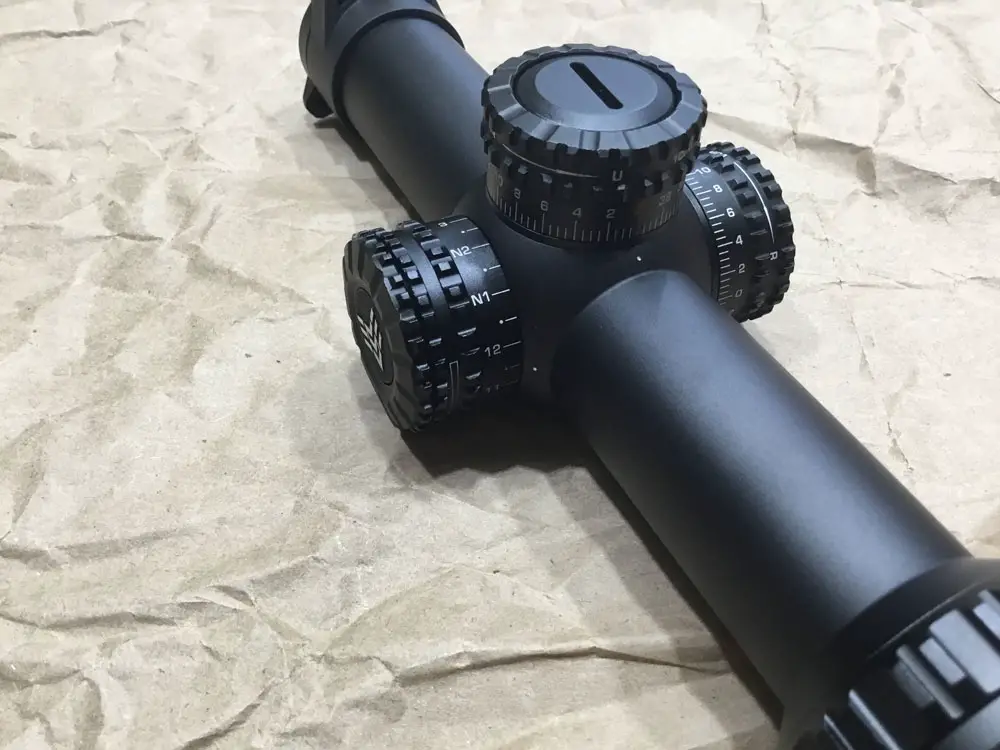 Check Price at: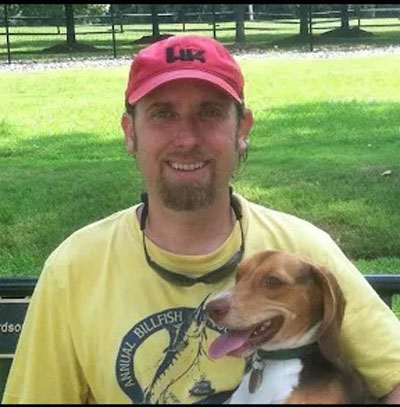 Kenneth Williams has been involved with firearms and firearms related industry for over 35 years. For the past decade he has owned and operated a firearms related small business. He is also an avid shooter and family man.