If you haven't noticed already, the Holosun 510c is everywhere! Its a super popular reflex sight that straddles the line of price and quality.
A number of our writers own either the HS510C (red dot) or HE510C-GR (green dot) models and so we asked each of them to test it out and write their thoughts. So, this review is going to be a little different than our normal articles as this is going to be 3 reviews in one!
We wanted to give you the most accurate and complete picture of what to expect when you buy a Holosun 510c Red Dot Sight.
Check Price at:
---
HE510c Review by Donovan Mullen
Holosun provides budget optics that have started to challenge some of the established brands of optics in their durability, usability, and clarity. The HE510c-GR is one of their many options. I have used mine on my T/CR22, my AR15 and an AR9. I picked it because of the green reticle, and having that option over red plus the price is really what drew me in. Mine has survived falls from bench height, being stepped on, and an incident involving melted wax where it was covered in pine smelling wax.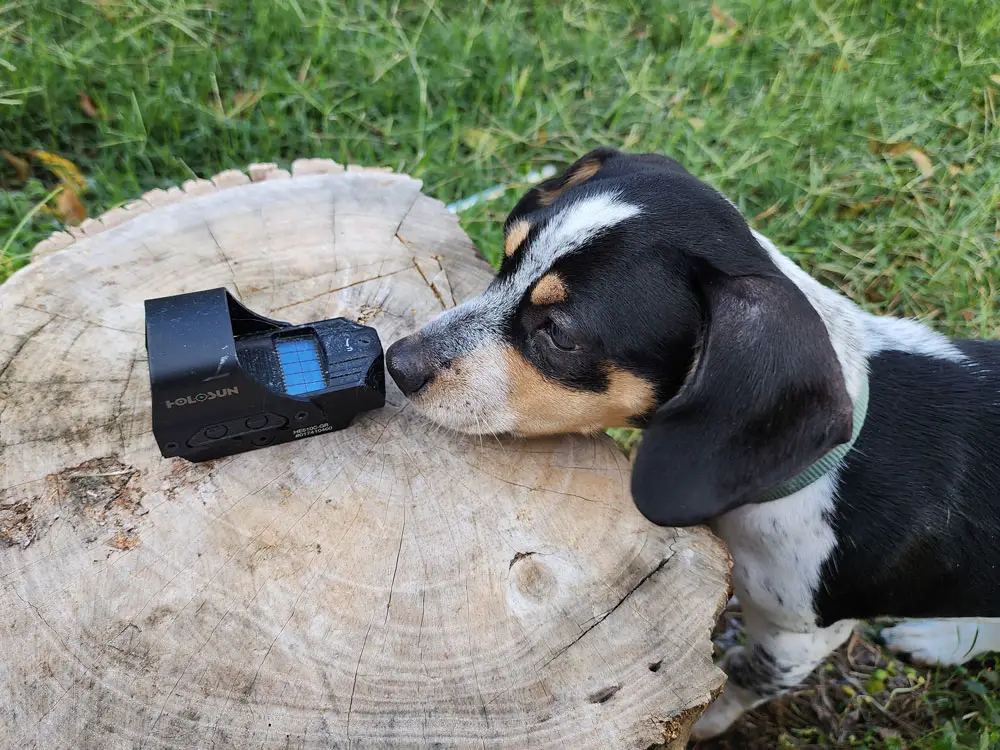 Technical Specifications
The Holosun HE510c-GR comes with quite a few features packed into a small optic. One of the big ones being the shake awake feature. After a few minutes the optic will shut off if stationary maintaining the longevity of the battery. But if you are moving with it, it will remain on.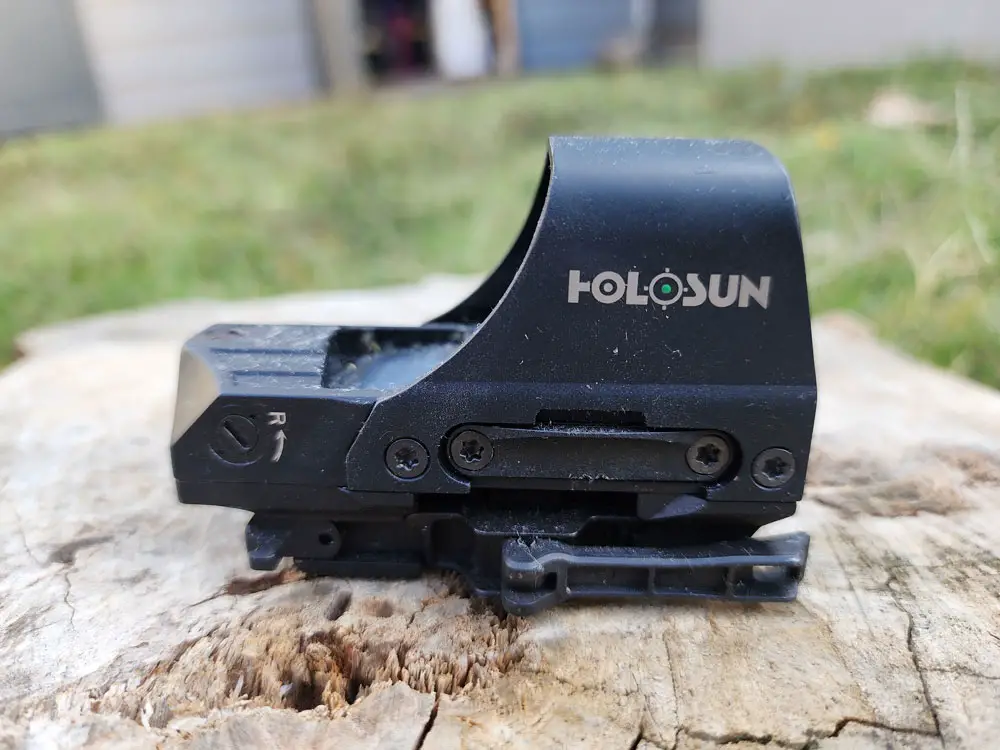 Coming in at a length of 1.3 inches, a width of 2.4 inches, a height of 1.63 inches and a net weight of 8.3oz. The HE510c-GR is light weight and relatively low profiled for a full-sized reflex sight. 
Product Material
The HE510c-GR's hood is made from 6061 Aluminum and titanium, making it significantly more durable and light weight than many of the other optics in the same price range. The hood is the primary place that the optic will take damage, if dropped leaving the main components safe from direct impacts.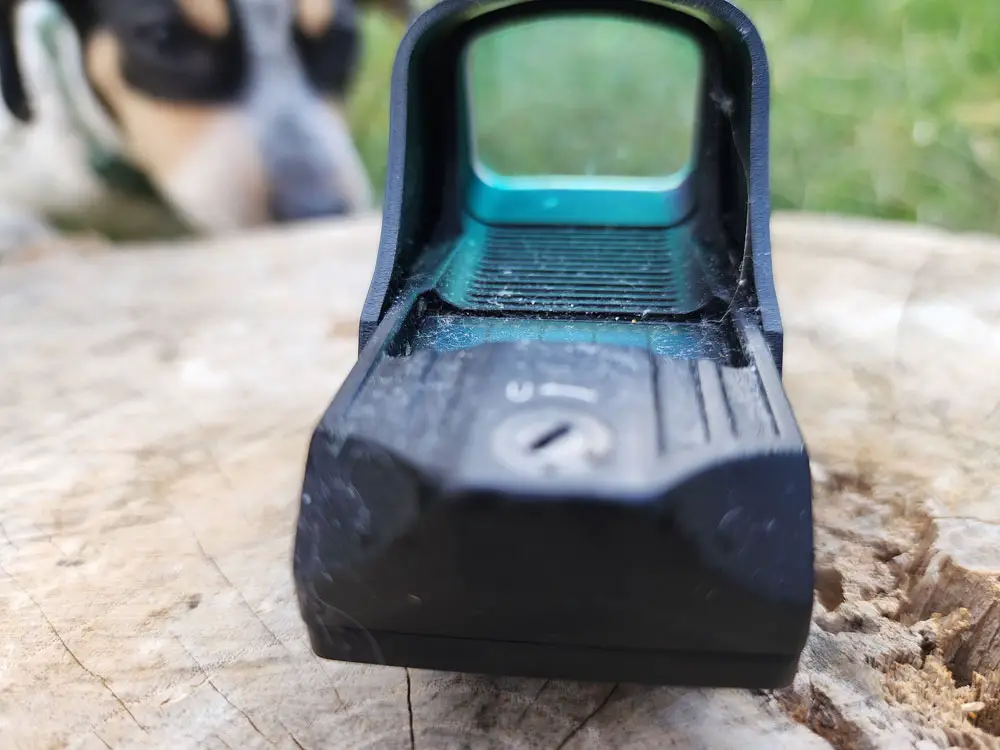 Optical Data
HE510c-GR reticle that has a 2 MOA dot with a 65 MOA circle around it. This is a major positive for me as it helps me find and use the dot quickly. The light wavelength is 520nm. This is one of the shortest wave lengths available giving the user a clearer reticle even through filters. The GR in the HE510c-GR, stands for a green reticle. Holosun does offer a red reticle version, but I was drawn to the green as I have struggled in the past to catch a red dot as easily as I have green.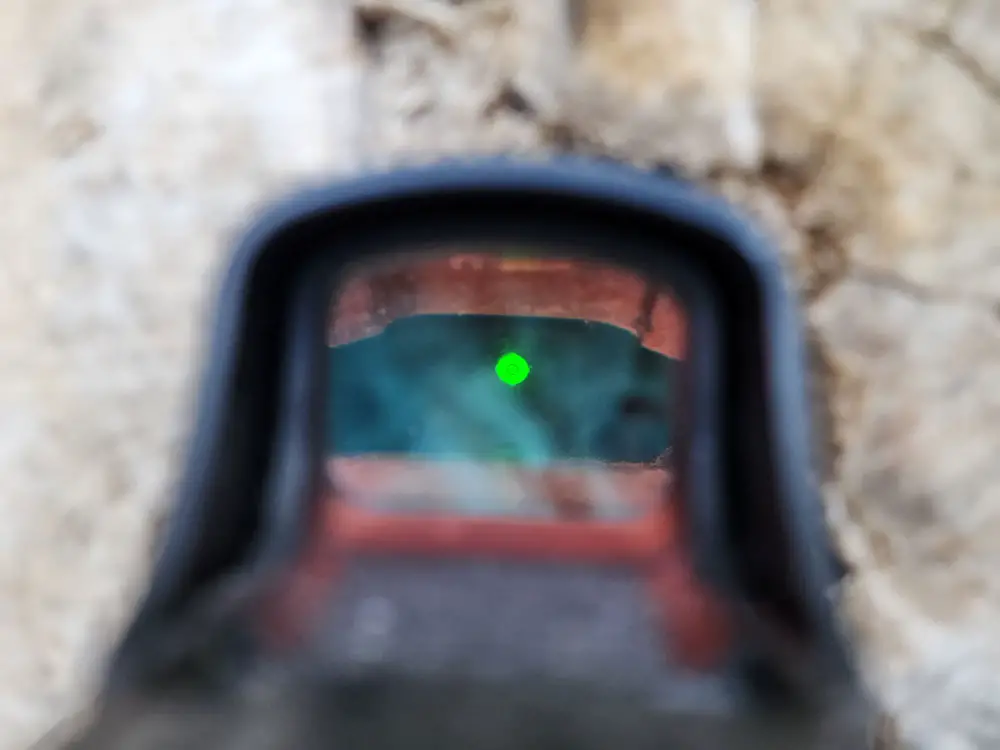 The optic is parallax free, allowing for the shooter to use the optic at just about any angle while the dot maintains its relation to the bore. Because this is a reflex sight and it does not have magnification, the eye relief is unlimited. Which makes this optic perfect for a collapsed AR-15 allowing you to get up close or even pull yourself away depending on the situation you are in. The glass is coated to keep it scratch resistant and minimize the amount of reflected sunlight coming through the window. 
Electronic Data
The HE510c-GR uses a CR2032 battery which are readily available pretty much anywhere. The battery life comes in at a massive 50,000 hours. Which comes into 2083.3 days or 5.7 years. I have had mine for around three years and I have only had the provided battery in it. So, while I cannot confirm the 5.7 years, I can confirm that it turns on when I grab it.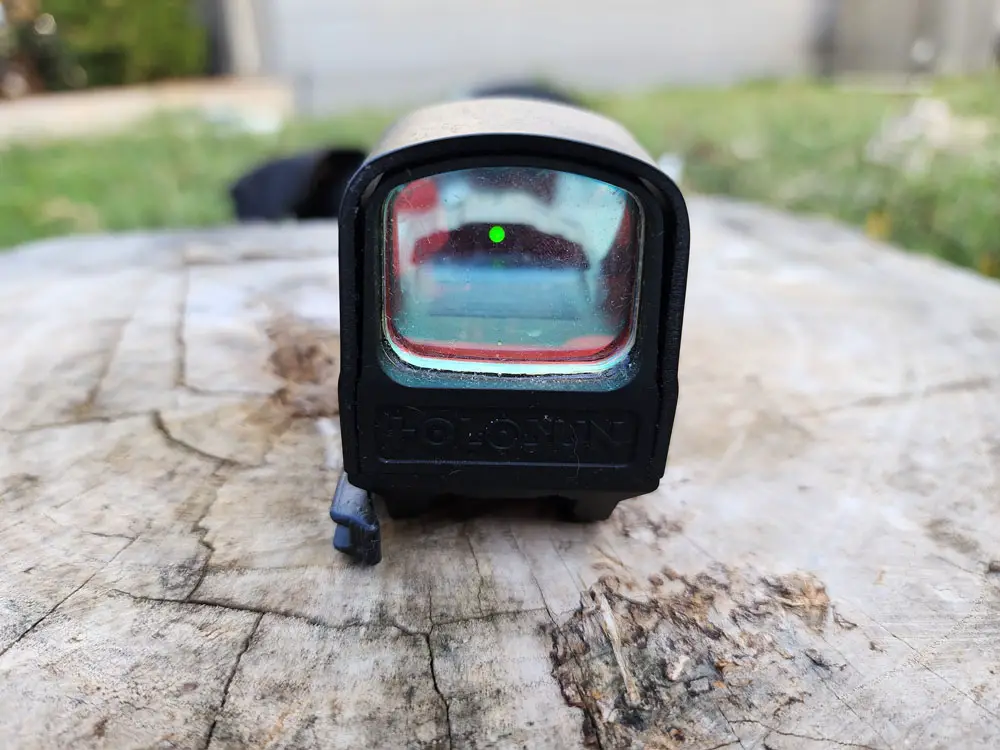 Adjustment Information
The dials have a 0.5 MOA adjustment per each click of the dial or roughly .5 inches at 100 meters. The clicks are audible, but the transition from one position to the next feels soft. The Windage and elevation maximum is 50 MOA plus and minus from zero. Adjusting the optic is easy as it only requires a small screw driver like most optics to adjust. 
Brightness Adjustment
The Holosun HE510c-GR has some unique advantages. You can set your brightness to manual or automatic. On manual you can adjust the brightness to your liking and it will stay that way. Or you can use the automatic adjustment. This uses the solar panel on the optic to adjust your optic according to the level of light. If it is bright while you are shooting the optic will brighten up. If you are shooting in low light then it will dim. I prefer this as it can adjust on the fly if you are moving from outside to inside or vice versa.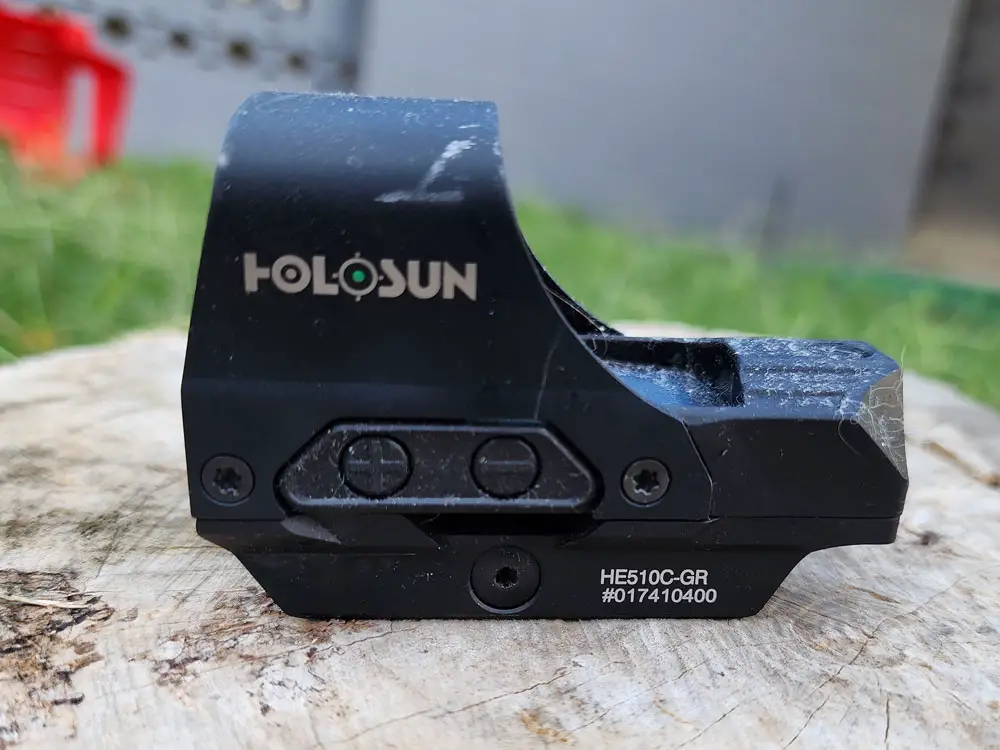 Initial Impressions
When I decided on this optic, I knew I was taking a chance as it is from a Chinese company and for most optics from China, they have a very poor reputation. But a friend of mine had one and recommended them highly so, I took the leap. The packaging is among the best I have seen. It comes in a hard plastic box with cut foam so that all the pieces fit into the box snuggly. It comes with a spare battery tray, a star head torx wrench to replace the battery. The optic itself comes mounted on a quick detach plate, but this can be replaced for a different plate if that is what you prefer. 
Testing
When it comes to any optic, you want to know if you can trust it beyond holding zero. Mine has maintained its zero for years with no adjustments needed. But when it comes to testing, mine has only suffered minor drops and a wax incident that had it covered in a pine smelling wax. My methods will be simple. I will test to see if it is IP67, if it will still turn on after being in my deep freezer, and how it will do being covered in mud and dirt. Finally, I will toss it from variable heights ranging between 1 foot and as high as I can toss it. It will land either on dirt, wood, or concrete. 
Mud & Dirt Test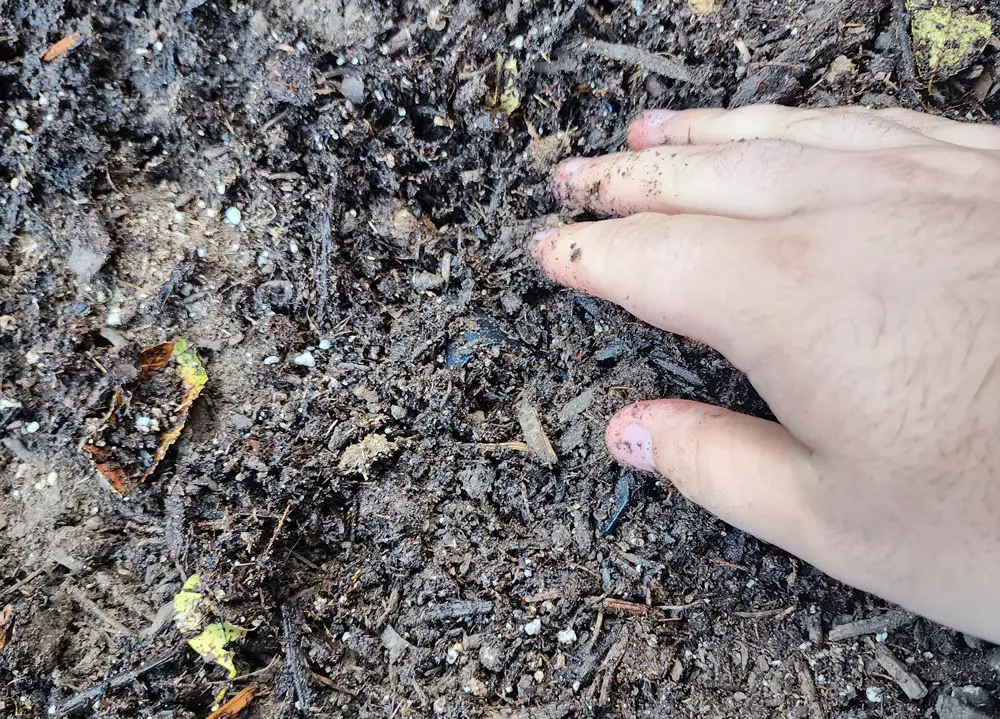 I buried the Holosun in the dirt and then I soaked the water. I let the optic sit in the mud for thirty minutes. While dirty, it came out working just fine.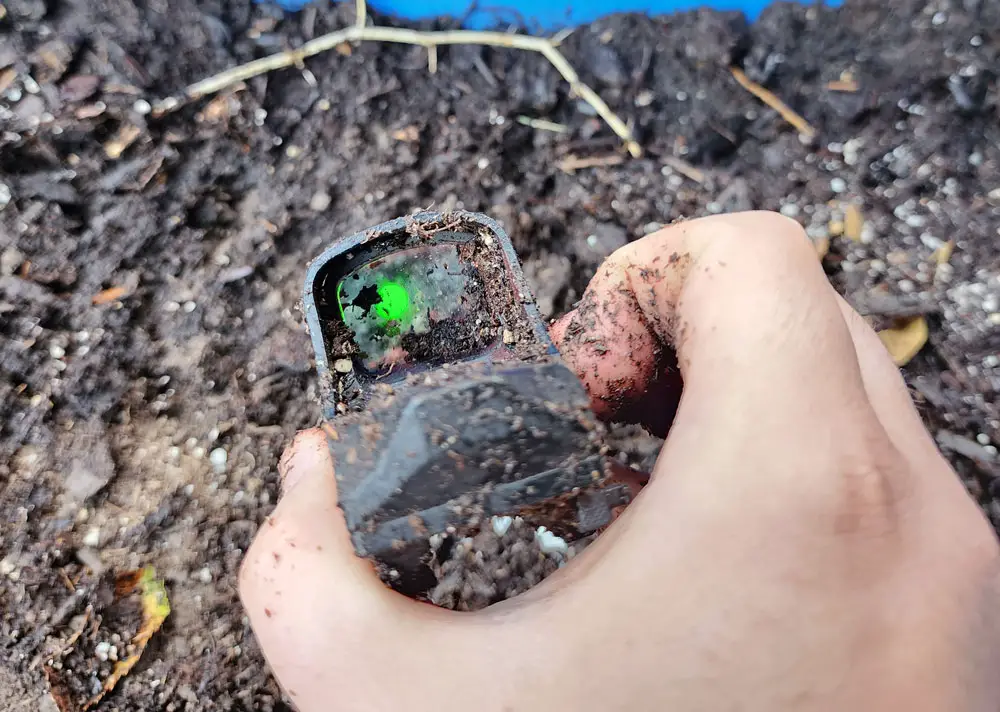 Waterproof Test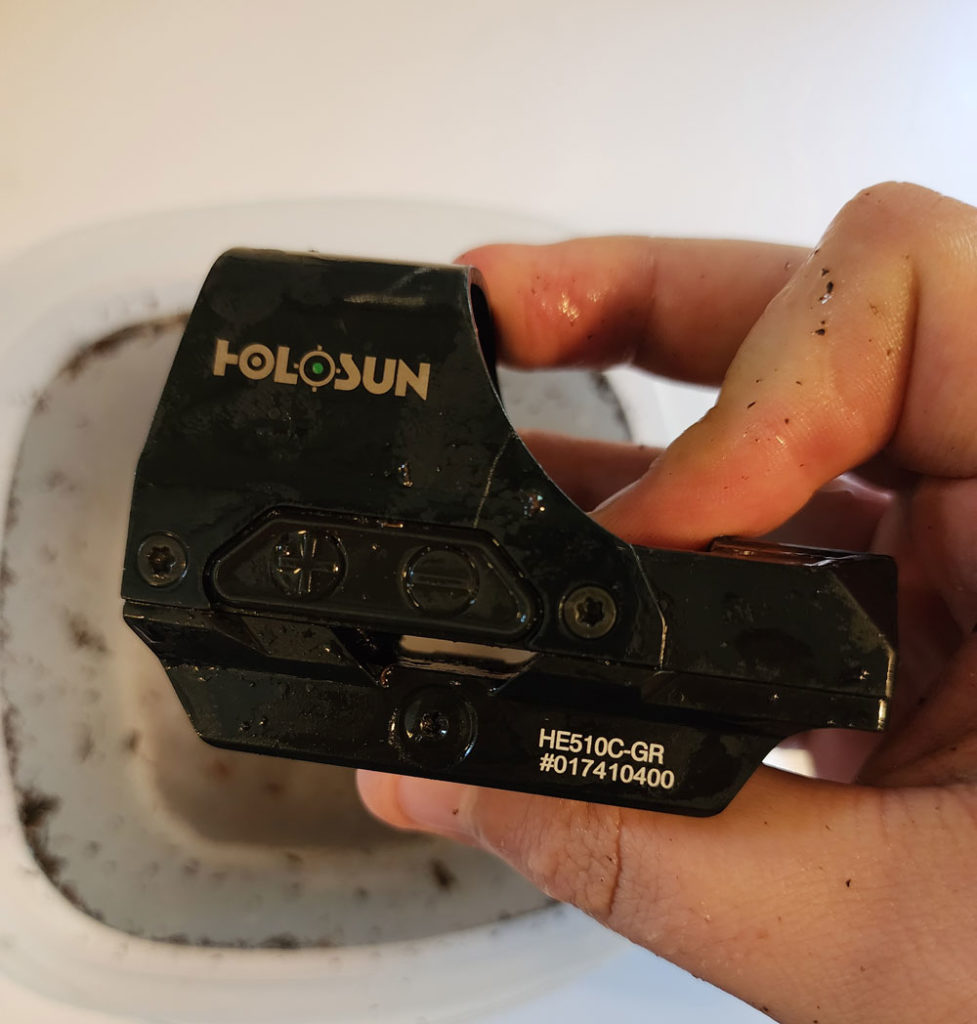 IP67 requires that when tested the item is tested in 15 centimeters to 1 meter of water for 30 minutes. I tested the HE510c-GR in 15cm of water and let it sit for 30min. Initially after pulling the optic out, the dot had disappeared but shaking it got it up and running again.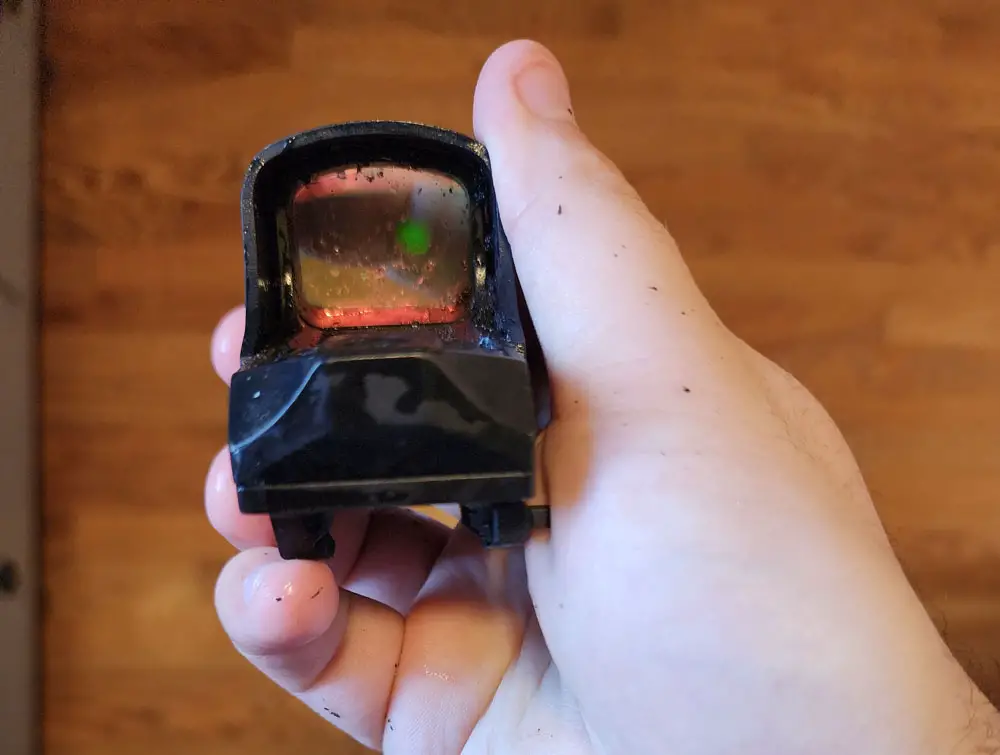 Freezer Test
Immediately after pulling the HE510c-GR from the water, I put it into my freezer. It sat in my freezer which is at negative twenty degrees Fahrenheit for thirty minutes. Pulling it out, I noticed immediately that it was still on, but that the glass had frosted over and it took ten minutes for it to defog. This could be an issue, but the optic was still functional at this point.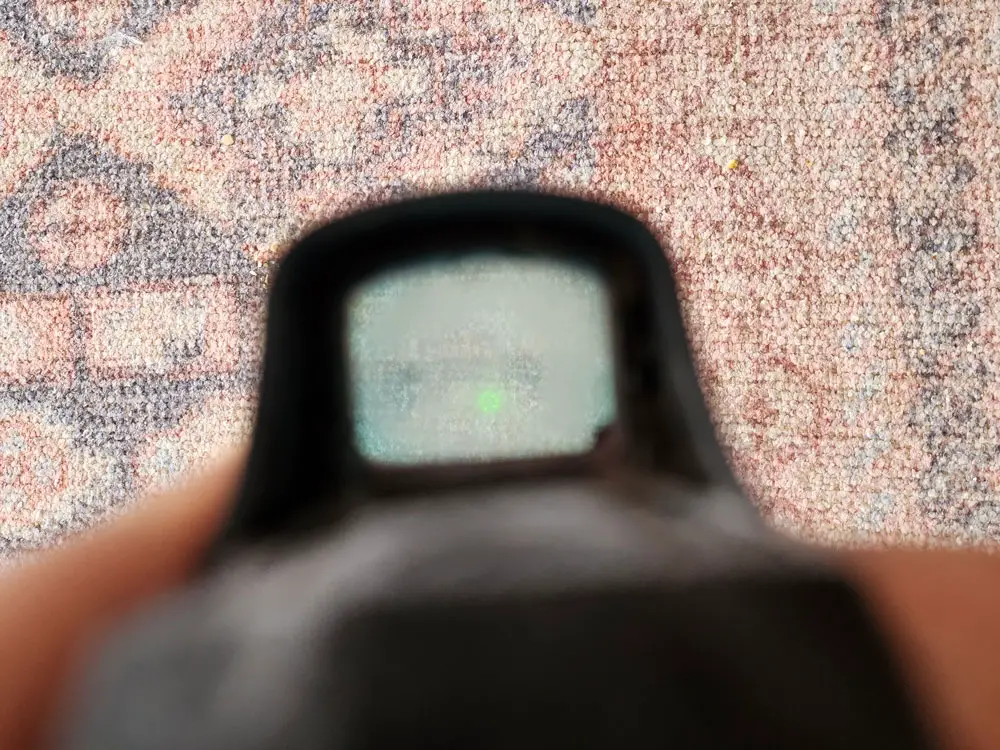 Drop Test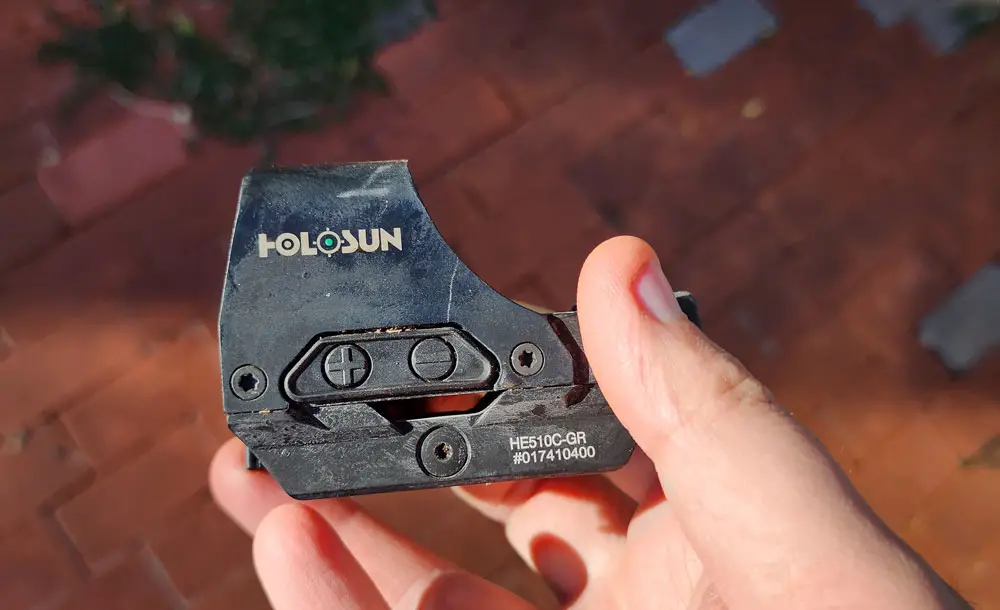 After taking it out of the freezer, I took it outside to my patio and started testing. At 1 foot it took no damage. But as I went higher the hood took minor damage.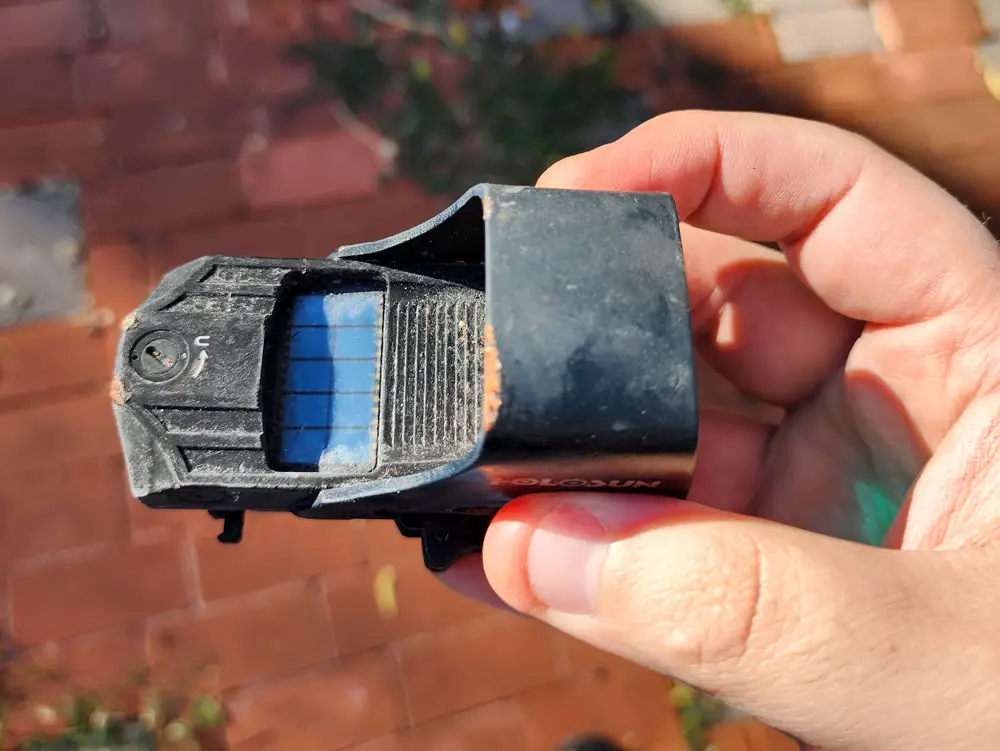 At one point the hood took a deep gouge out one of my bricks. I tossed the HE510c-GR as high as I safely could which was around 25 feet and if fell bounced twice and left minor damage on the hood and my bricks.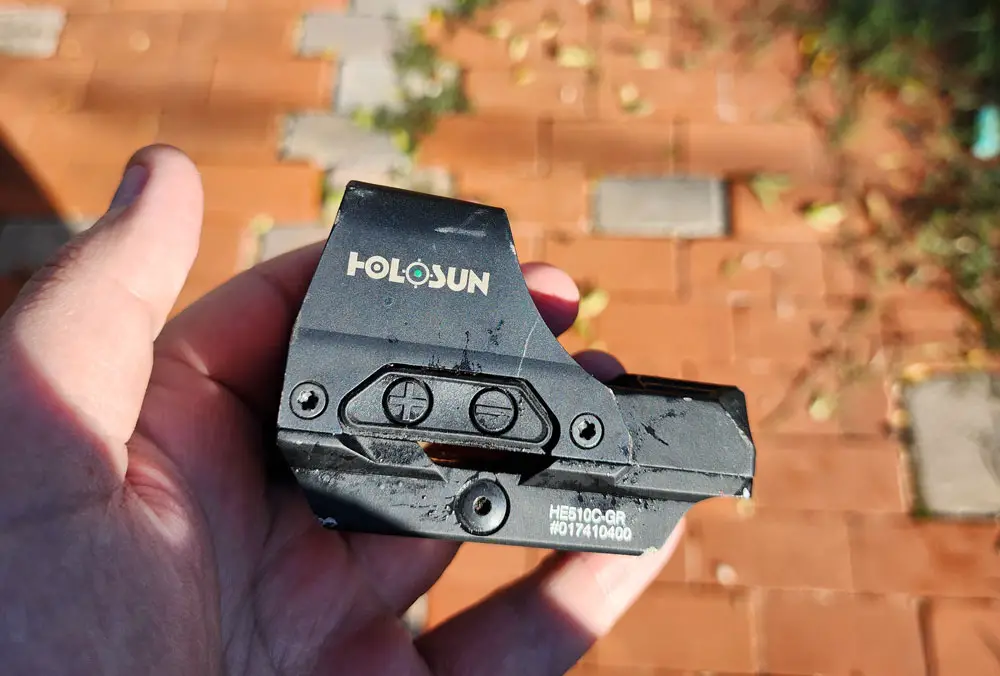 Final Thoughts
The Holosun 510c out performed all my expectations!
It survived being submerged in water, it survived being frozen and tossed around my yard like a baseball. I still feel that I need to remove the quick detachment base as it is the only part that kept opening after being thrown around. Holosun really hit it out of the park with this optic. Coming in at $400 I feel it is a sight that will hold up to normal and even excessive abuse while shooting.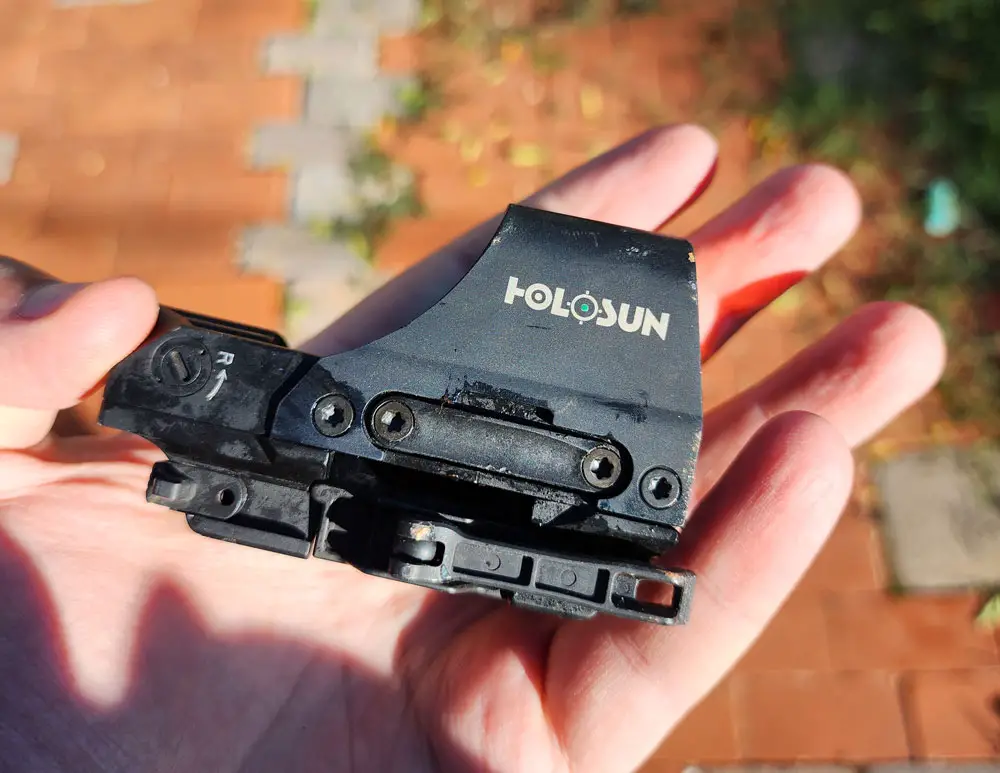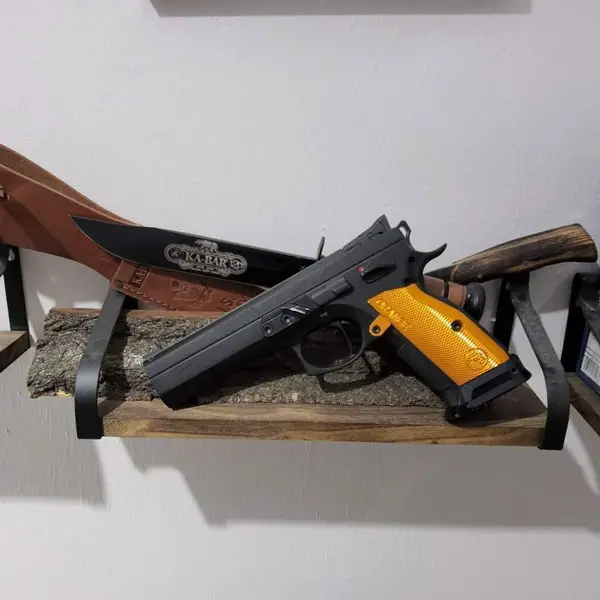 Donovan has been shooting since he was ten years old. He has shot precision air rifle competitions and went hunting with his dad. After graduating high school he joined the US Army where he was trained on rifle, handgun and machine gun usage. After completing a tour of service in Afghanistan, he came home and started buying guns learning what he liked and didn't like with each gun he bought.
---
HS510c Review by Ryan Ray LaRowe
On the market today, the consumer is flooded with a plethora of optic options for their firearms. Gone are the days of iron sights on your handgun, shotgun, and lever-action brush gun with just a run of the mill 3-9×40 scope for your hunting rifle.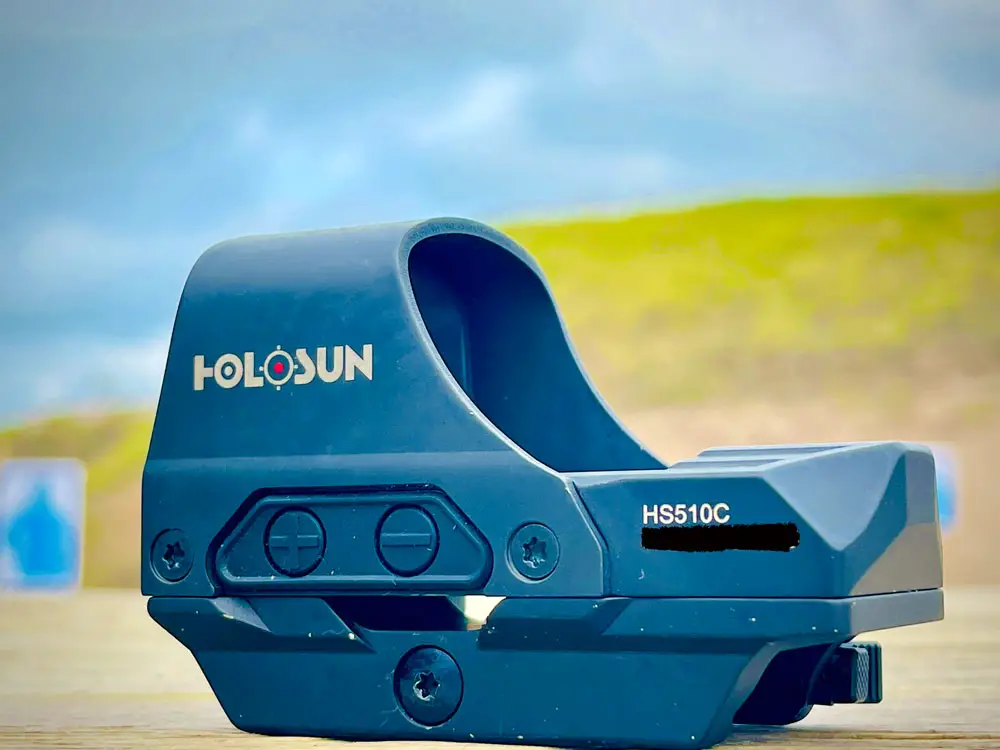 The growing popularity and versatility of red/green dot sights (reflex, prismatic, holographic, etc.) in recent years provides you with an optic option for every firearm in your collection from your .22 caliber plinker to your Modern Sporting Rifle (MSR). In addition to all of that, you throw on a 3x, 4x or 5x magnifier behind your red dot, on your MSR, brush gun or scout rifle, and now the novice shooter is completely capable of taking a 200-yard shot at that hog, buck, or static target.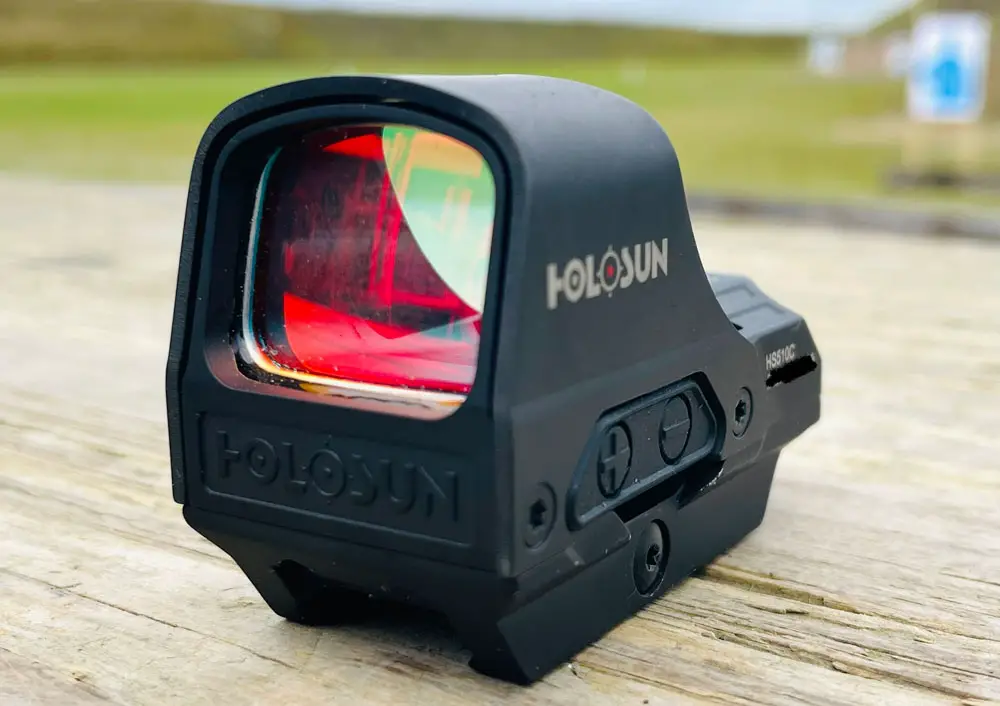 There is a wide of a range of price points for these sights too, meaning that there is an optic to fit every budget; more on that later. For now, I will digress and get on track to the reason you chose to read this… the Holosun 510C.  
Features and Specs
The Holosun 510C is a reflex sight meaning that the sight reflects the image of a laser (dot, circle, crosshair, etc…) and superimposes it on the glass window that the shooter is looking through at their target. This means that the glass window is partially reflective, which, on some other sights, results in you sometimes catching a glare in bright sunlight but the multi-layer reflective coating that Holosun uses on the 510C prevents that.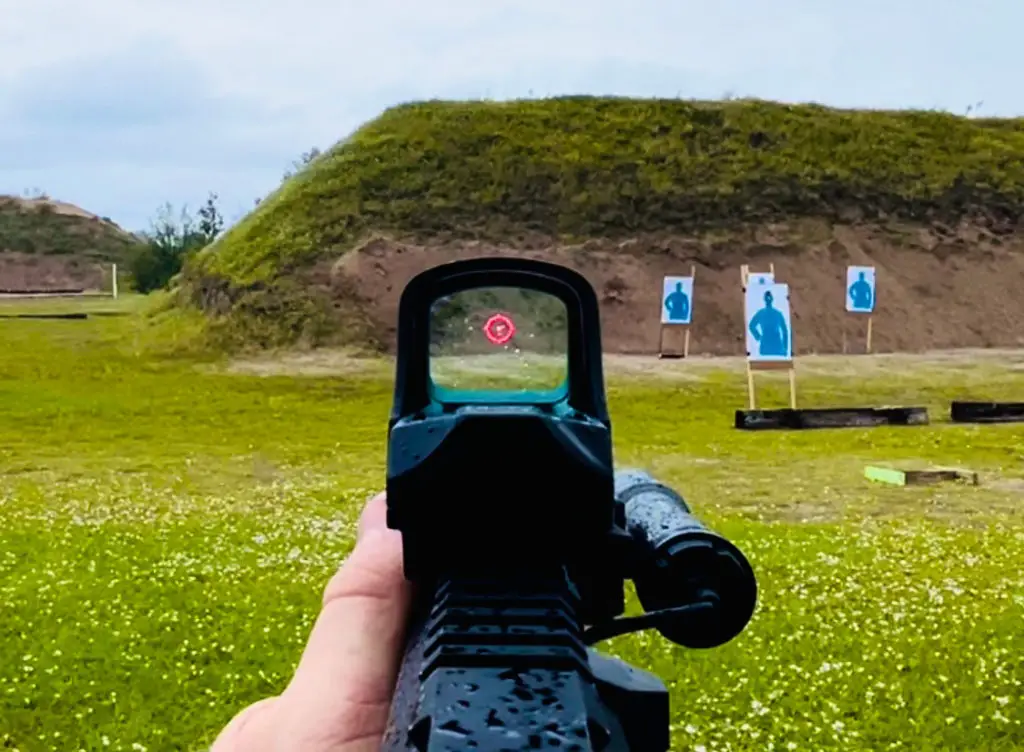 Reflex sights are generally parallax free by design, but again, depending on the make/model/design, can vary depending on the type of red dot sight that you purchase. Once again, Holosun is not having any of that. The wide viewing window on the 510C keeps you parallax free. Hey, that rhymed.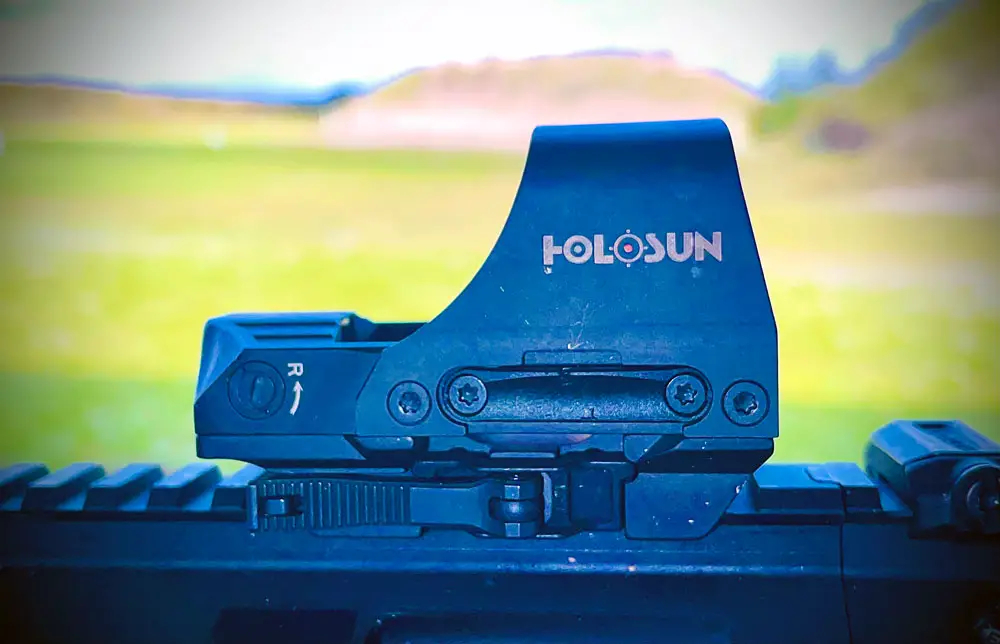 The 510C has a quick-release picatinny mount that is designed to absolute co-witness with standard iron sights on the average MSR. This feature gives reassurance that even if the 510C malfunctions, you can easily view your iron sights through the window without removing the sight.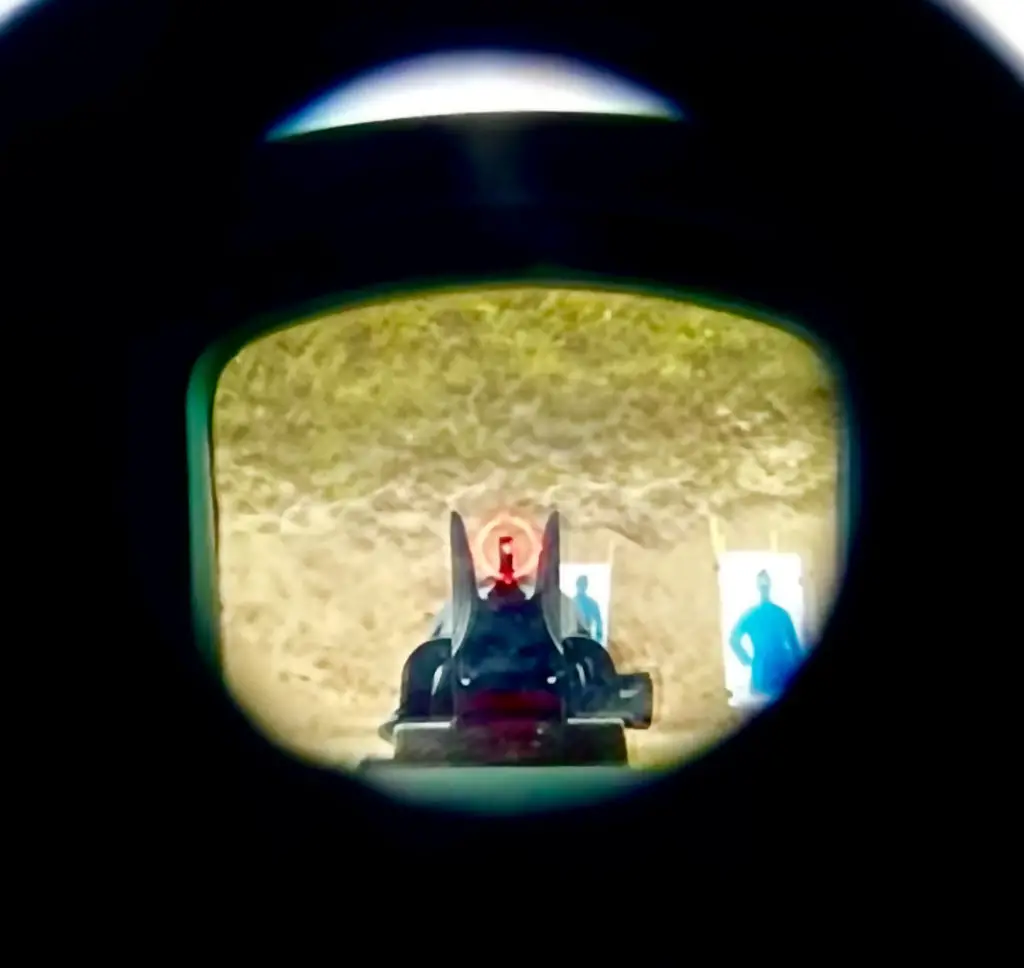 The 510C is battery powered by a single CR2032 battery, but also features a Solar Failsafe™ feature. No joke, it can run on solar without a battery in the bay. When in the sunlight, the sight utilizes power generated by the Solar Failsafe™, saving your battery. This is a huge selling point, the battery compartment for the 510C is side mounted, meaning you don't have to remove the sight to change the battery. Even if you did, the quick-detach mounting system is so snug and locks so tight with the latch lock, that it goes right back to zero.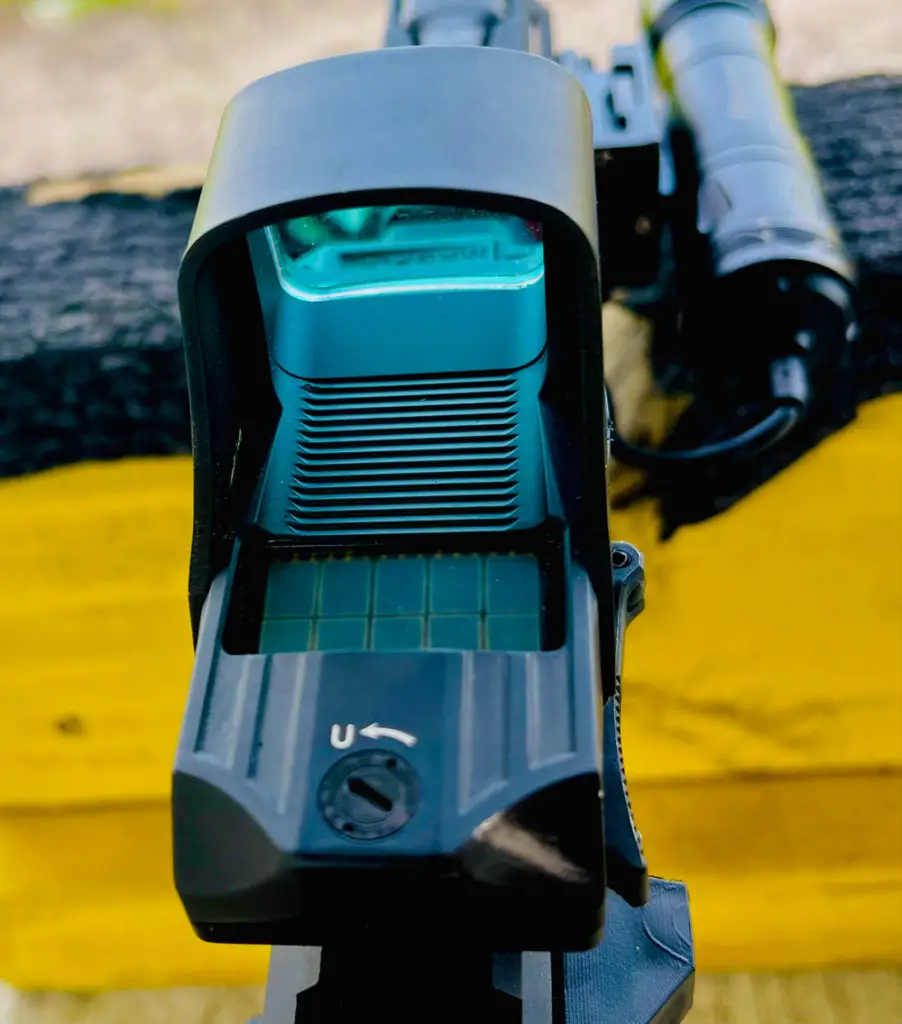 The 510C has an aluminum housing with a titanium hood which makes it almost as tough as Captain America's vibranium shield (nerd-alert). It is 3.3" long, 2.3" tall, 1.8" wide, and weighs in at just under 5 ounces. It has a 1x magnification and three different reticle options that the shooter can choose from: a 2-moa dot, a 65-moa circle, or a 2-moa dot inside a 65-moa circle.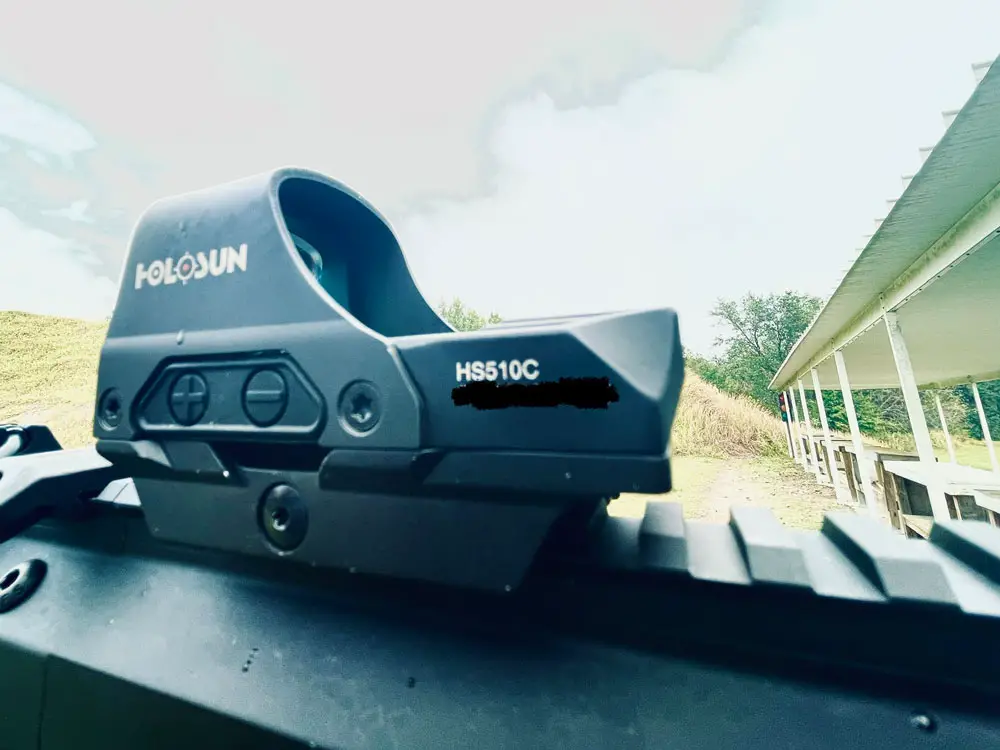 There are 12 brightness settings, including two night-vision compatible settings making this sight versatile for any mission/activity. The 510C is IP67 rated waterproof. That means it is dust and watertight, able to be submerged in water at a depth of one meter (3'3'') for 30 minutes. As my buddy Mike says, "If you and your weapon are under water for more than 30 minutes, you've got bigger problems."  
The 510C is available in both a red dot version (510C) and a green dot version (510C-GR). It is black in color, but there are also FDE (Field Dark Earth) models out there, but they are not as easy to find. From what I have seen, the FDE version doesn't cost any more than the original black one. The sight has the Shake-Awake™ setting that automatically turns the sight on with movement. This is a great feature for recreational shooters or for a weapon that sits static for home defense. There is a downside to this feature which I will explain later. 

How much is it?
The MSRP is around $364 but at the time this article was written, I found the Holosun 510C and/or 510C-GR available for $291 – $390 from a few different reputable online establishments. The "GR" (green dot version) is normally more expensive than the red dot. You will find this common across the board.  Like I mentioned before, when looking at red dot sights in general, there are options to fit every budget. There's a catch. I regret to inform you that the old saying, "You get what you pay for" holds true with optics. Albeit there are some brands and models that give you great performance and reliability for the price.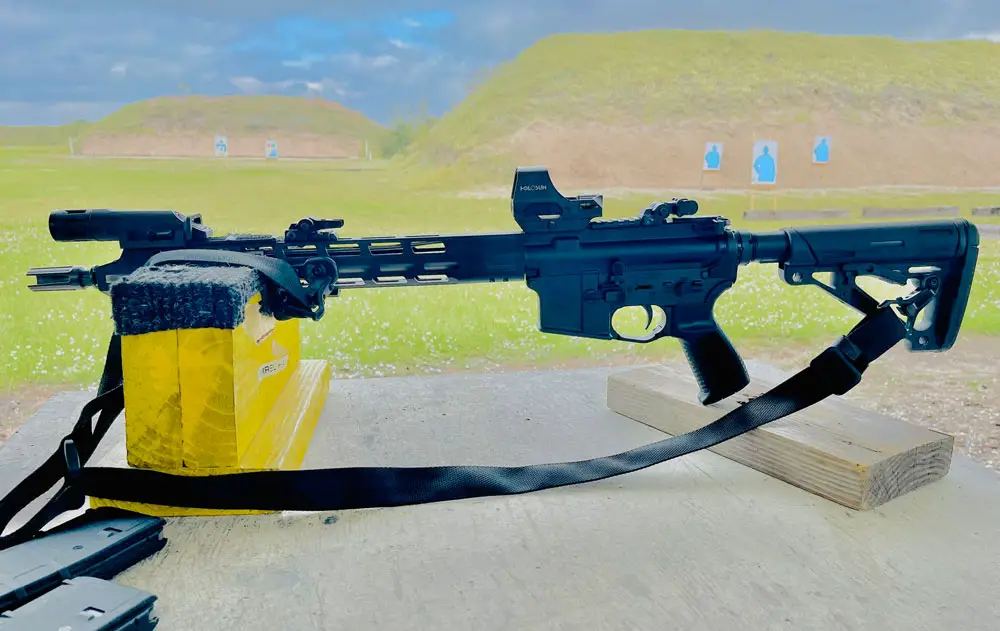 Why Did I Choose the Holosun 510c?
The first 510C I bought about two years ago after doing quite a bit of research and owning a few other brands/styles of red dots for long guns and MSR's. One video review I watched was a torture test where the 510C was soaked in water for over two hours, frozen, dropped several times from over 25 feet and even shot by a shotgun. Yes, that is correct, the reviewer shot the actual sight WITH a shotgun, not on a shotgun. He used what appeared to be bird shot at 10 yards away. For those of you that aren't familiar with bird shot at close distances such as 10 yards, it is just as effective as 00 buckshot or a slug in self-defense situations. Bird shot on a small object like the 510C wouldn't carry as much kinetic energy as a direct hit from a slug. But the impressive part is this, it still held together and kept its zero. Not even the quick detach lever was damaged.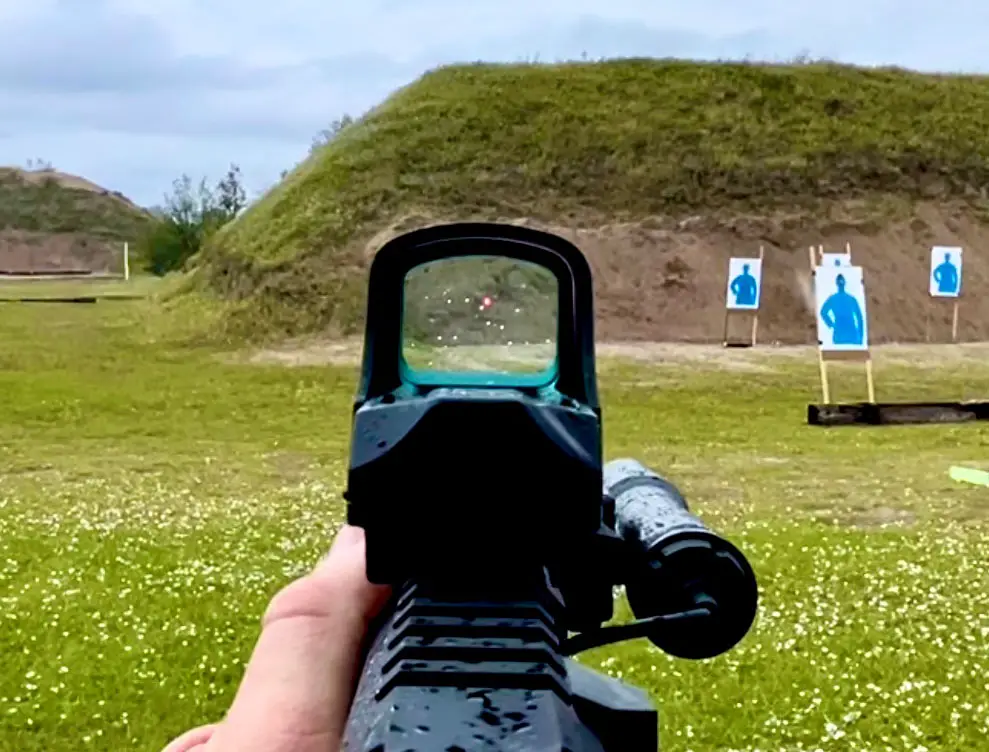 In fact, after each one of these torture tests, the 510C kept its zero. I didn't stop there. I watched more and more reviews including unboxing and first shots, more torture tests and 1000+ round reviews. In every single one, the 510C held up, kept its zero, the glass stayed fog-free, the waterproof rating held true, and the battery life was on-point with manufacturer claims. 
Now let me explain why all these extreme tests were important to me, including how the 510C held together and performed after taking a close-range shotgun blast to the face. It wasn't because I am tough on my equipment and let it bounce around in the bed of my truck while I am driving down dirt roads. I am a full-time law enforcement officer in an urban area of Southwest Florida, and I was purchasing a sight to carry on my patrol rifle on-duty. I didn't want something rugged and reliable; I needed something rugged and reliable. I took an oath to uphold the Constitutions of both The United States of America and The State of Florida and to protect the citizens of my community. I chose the Holosun 510C as a tool to uphold that oath.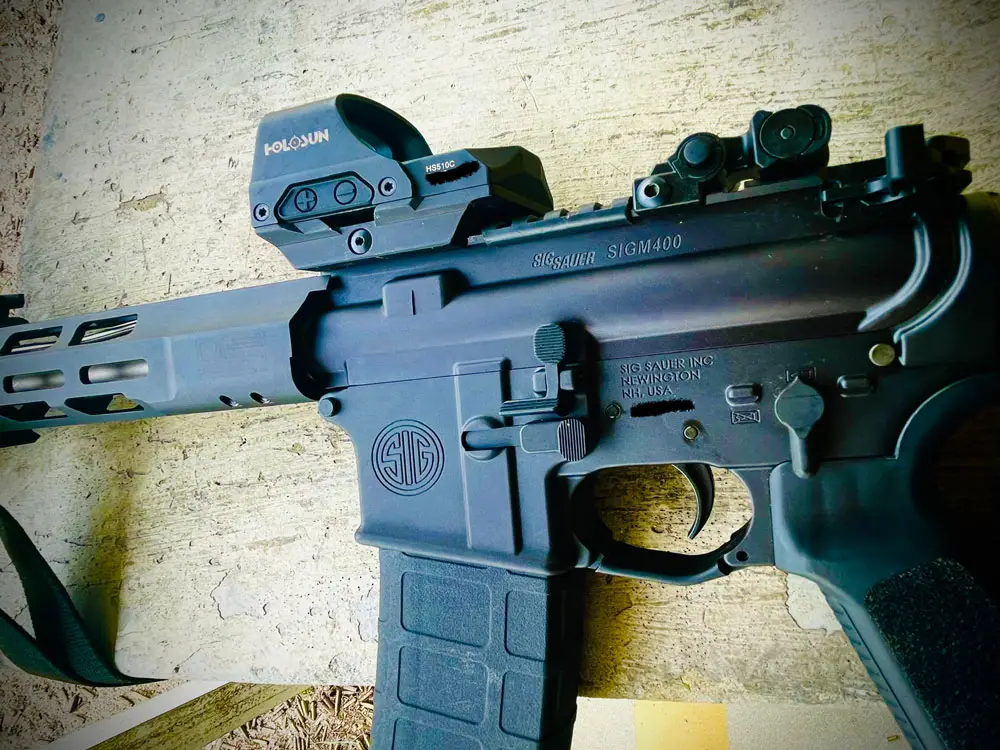 I work in a hot and humid environment, am exposed to saltwater and daily thunderstorms during a portion of the year. Because of that, waterproof rating and housing material were important features for me. I drive a police package vehicle where my rifle is mounted in a vertical gun rack in the passenger compartment of a vehicle, not in a padded, TSA approved hard case. I have been in high-speed pursuits, driven over curbs and medians, gone off-road and even been in a minor vehicle crash all with my rifle and the 510C being subjected to every bump along the way. That was my own torture test and the reason I bought a second one.
Downsides
To be completely transparent and provide you with a completely honest review, and to not sound like a Holosun fan-boy, there are some cons to some of the features.
I found that the Shake-Awake™ system has a draw-back. In my situation, where my patrol rifle with the 510C is mounted in a vehicle gun rack, I found that the sight was constantly on and burning through batteries. That was my mistake for not thinking about that possibility. Luckily, I discovered this when shooting my rifle at the range and not when deploying it on duty. Even with the Shake-Awake™ feature disabled, a simple tap of a button, the sight comes on.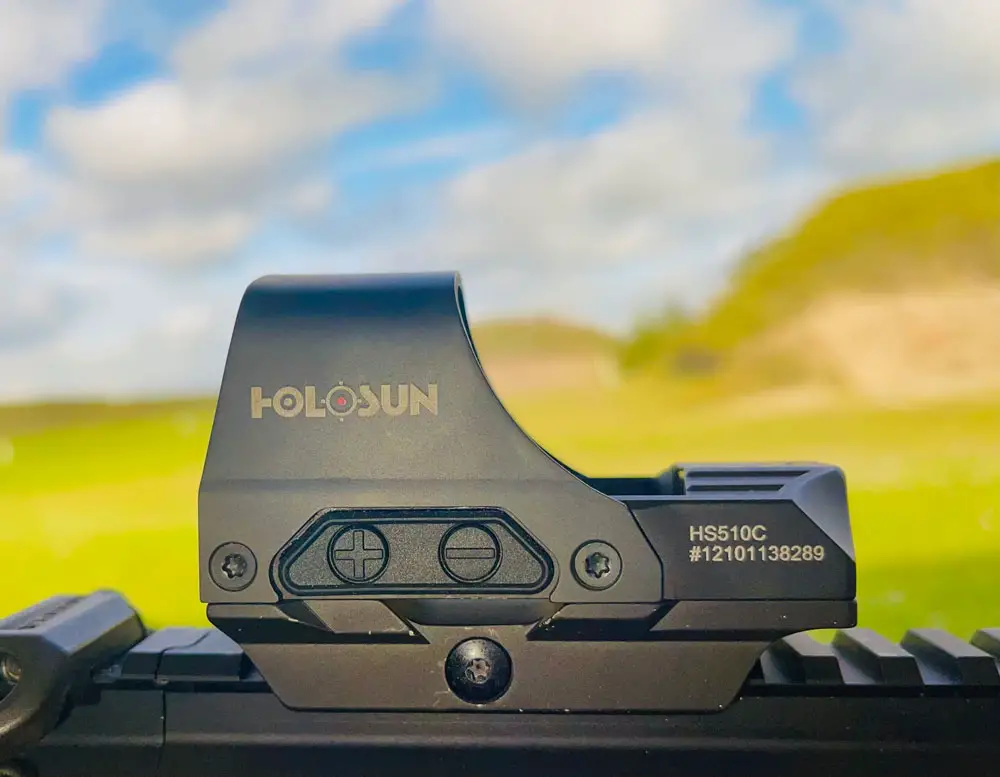 Personally, I recommend that if you have any optic on a firearm that you plan to use for duty purposes or self-defense, you should always have back-up iron sights. Even if your back-up sights do not co-witness with the 510C and something goes wrong with the 510C, the quick release lever allows you to quickly remove the sight so you can utilize your back-up sights. 
Should you buy it?
I am not going to tell you that you should buy it because I don't know your needs, financial situation or what you intend to use it for. As I have articulated, from both research and personal experience, this sight is extremely versatile and a great choice for the recreational shooter, hunter, competition shooter. Furthermore, it is weatherproof, rugged and reliable making it suitable for tactical and combat situations. I chose this sight for duty use which was not a light decision.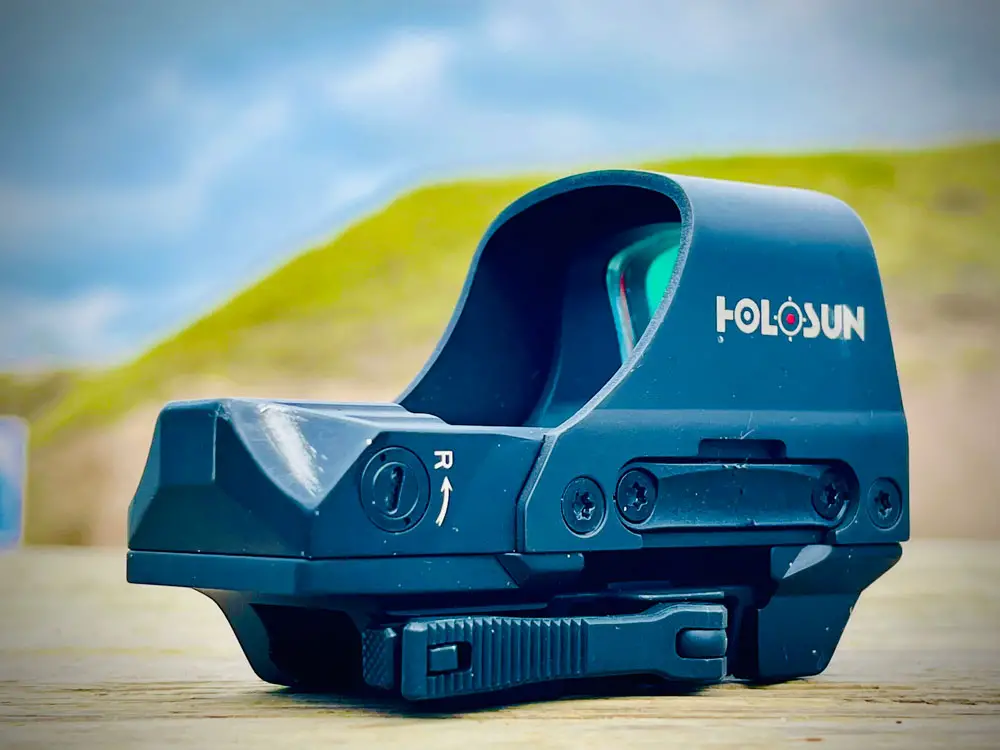 Final Thoughts
My final thought on choosing an optic is that you should base your decision to purchase on three things: your budget, what features do you want/need for your intended use, and once you narrow that down, research reviews produced by reputable sources. That should assure that you get the right optic for you.
For me, the Holosun 510C seemed like a good choice and I have been nothing but impressed. The features, durability and reliability of this sight are comparable to sights, from other manufacturers, that cost two to three times as much. In my opinion, the 510C is a great choice for any situation and one of the best values when comparing the features, reliability, and price in comparison to other brands of sights. 
All of this makes the Holosun 510C one of the best choices in its category, hands down.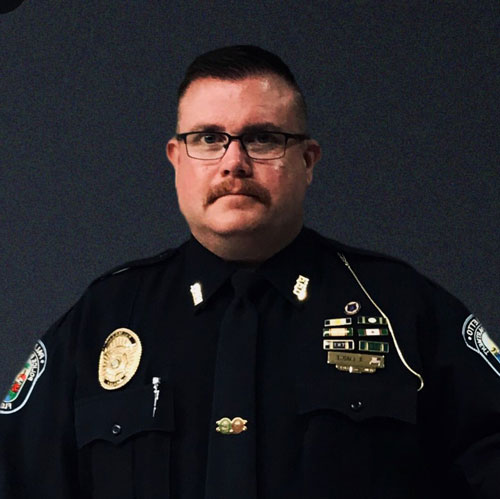 Ryan LaRowe is an avid outdoorsman, firearms enthusiast, firearms instructor, armorer and veteran law enforcement officer.
---
HS510C Review by Jordan Gast
The 510 Series is one of three Holosun "reflex" type of optics designed specifically for tactical rifle use. The intended use of the 510C is for combat situations such as home defense, while less so for hunting and plinking. While Holosun is widely known for their array of compact pistol sights, the 510C certainly deserves a close look if you're in the market for a tactical style optic. We'll examine the features, price-to-value comparison, and thorough field test results.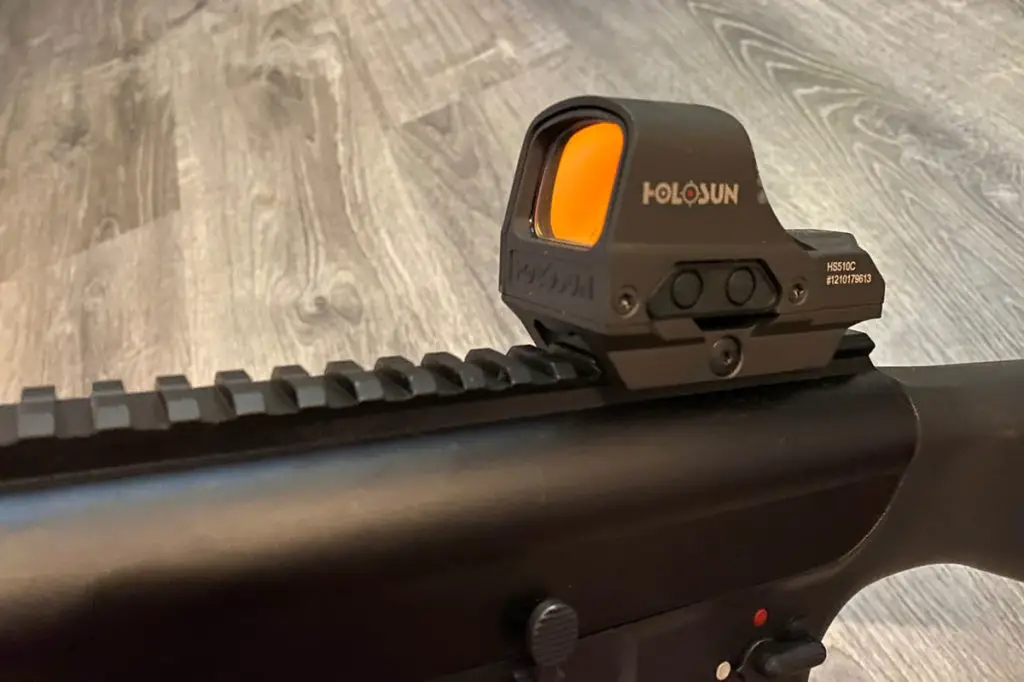 Features
It's immediately apparent that Holosun has entered the tactical optic market with the intent of shaking things up. When you compare the 510C with comparable offerings from competitors, it's obvious they want to run with the big dogs, showcasing features such as a QD mount, titanium housings, and boasting an industry best 50,000 hour battery life. Holosun didn't stop there though – the 510C sports their revolutionary "shake-awake" design, IP67 Water/Dustproofing, and a futuristic solar array.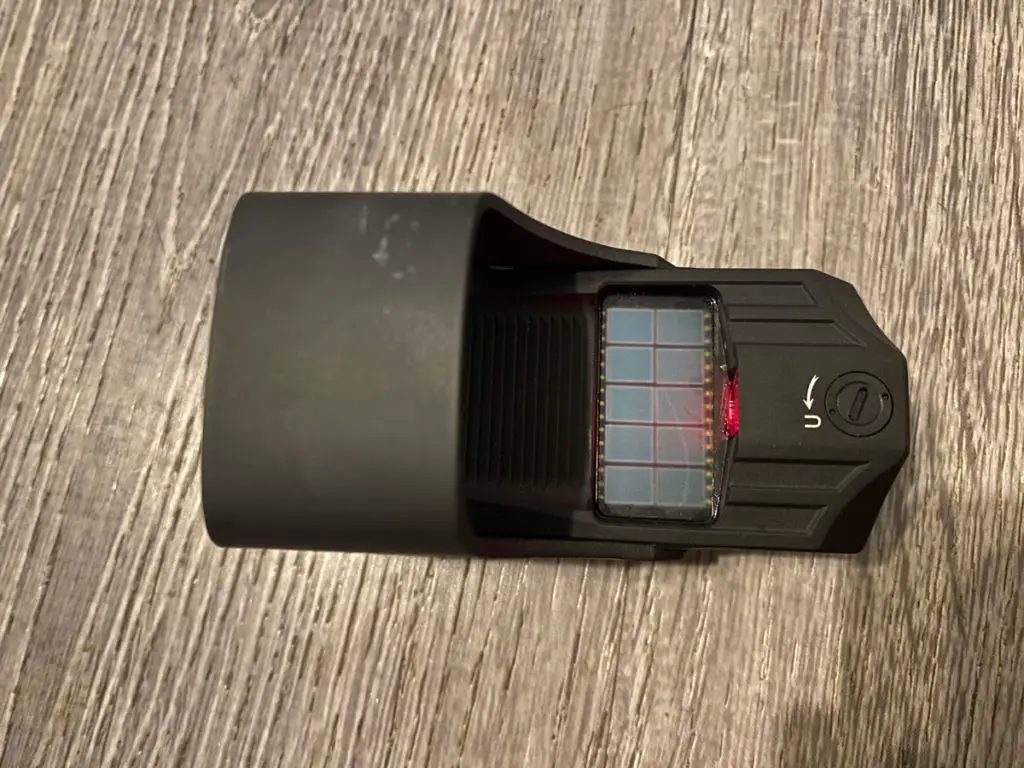 Holosun continues to do an outstanding job providing their customers with cutting edge technology with the 510C optic. Let's take a closer look at the features and tech specs:
Solar Failsafe
As of the time of this publication, you can hear it straight from the horse's mouth – Holosun claims on their website (www.holosun.com) that the 510C is designed to run with a dead battery. If this claim piques your interest, you are not alone – this claim is tested thoroughly in our field test, which you can read about below. A secondary feature of the solar array is that it helps the optic "sense" how much brightness to project onto the lens, similarly to how a smartphone automatically dims the screen when you move from a bright room to a poorly lit one.
Shake Awake
Holosun has invested years of R&D into perfecting this feature. The Shake Awake feature causes the optic to automatically power on the instant the 510C is jostled by the operator shouldering the firearm. Inversely the gun is laid to rest, the optic turns itself off to save battery power. The user can also disable this feature, instead choosing to control the power state with side buttons. 
I'll admit, I was kept up at night by nervous thoughts of intruders having the upper hand when I first bought this to be my home-defense optic of choice. "What if it doesn't work – what if I pickup my rifle and the optic doesn't power on?" I thought to myself. Months of solid reliability have quashed those fears – Holosun spent nearly a decade perfecting this feature, staking their brand name reputation on it, and it shows. The slightest movement causes the optic to power on instantly, and hours spent attempting to defeat the Shake Awake have yielded ultimate peace of mind.
Multilayer Lens Coatings
Like any intelligent optic manufacturer, Holosun has designed the lens to allow as much ambient light pass-through as possible. That said, things usually get a little messy in the engineering room when designers are additionally tasked with supplying lens features such as glare, water, scratch, and fog resistance. Holosun again comes through with an impressive optic having all of these features, promising users guaranteed Ingress Protection 6/7 (IP67). This means the optic is completely protected against dust, as well as pressurized water sprays and complete submersion to roughly 10 feet.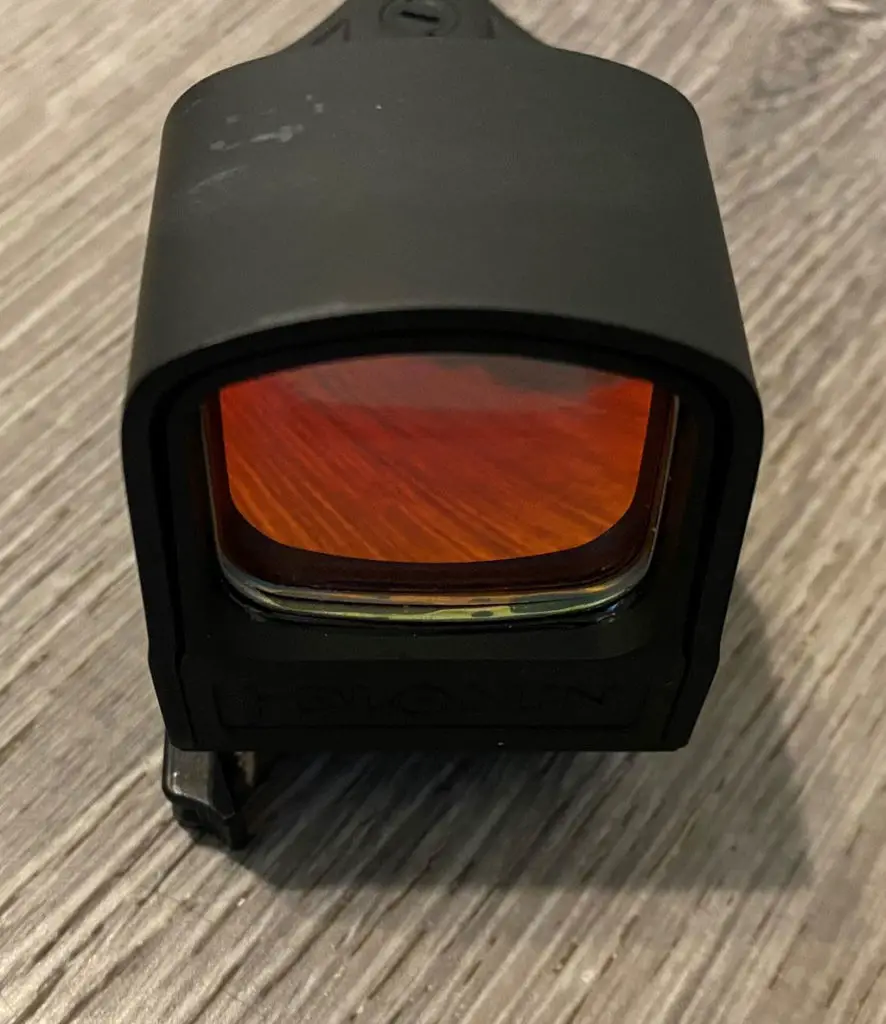 Durability
Rather than cheap plastics or even industry standard aluminum, the 510C is housed by an impressive Grade 5 Titanium shield. Holosun claims their housing is 5 times stronger than 7075 Aluminum, lighter weight, and isn't affected by seawater.
On a scale of 1-10, Holosun produced an 11 on the durability scale. I've dropped the optic. I've dropped the gun. This thing is built like a tank. Did I mention my clumsy hands dropped it 3' onto a concrete floor while mounting it (clumsy me)? That's right, and not a single hair off zero when I slapped it back on with the QD lever. It works in the rain, under water, and without a battery. A finer reflex sight can't be produced. It's literally titanium.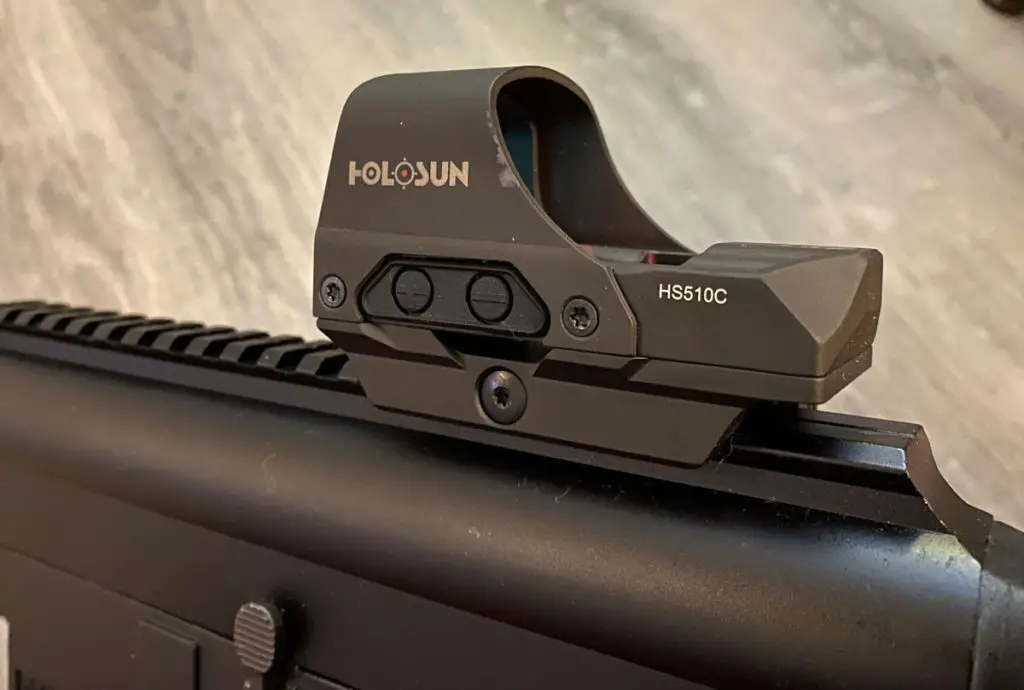 Mounting
The Holosun 510C comes with an integrated QD (quick-detach) lever. Simply open the arm, attach to a MIL-1913 Pic rail, and close the lever. Tighten with a torx-head wrench and you're all set. If the optic needs to be removed in the field, this happens quickly and easily by simply opening the lever. A small push-button is required to release the arm, so no chance of this happening accidentally. I was impressed with the quality of this feature, especially since the optic stayed zeroed to a test of 25m when it was removed and re-attached.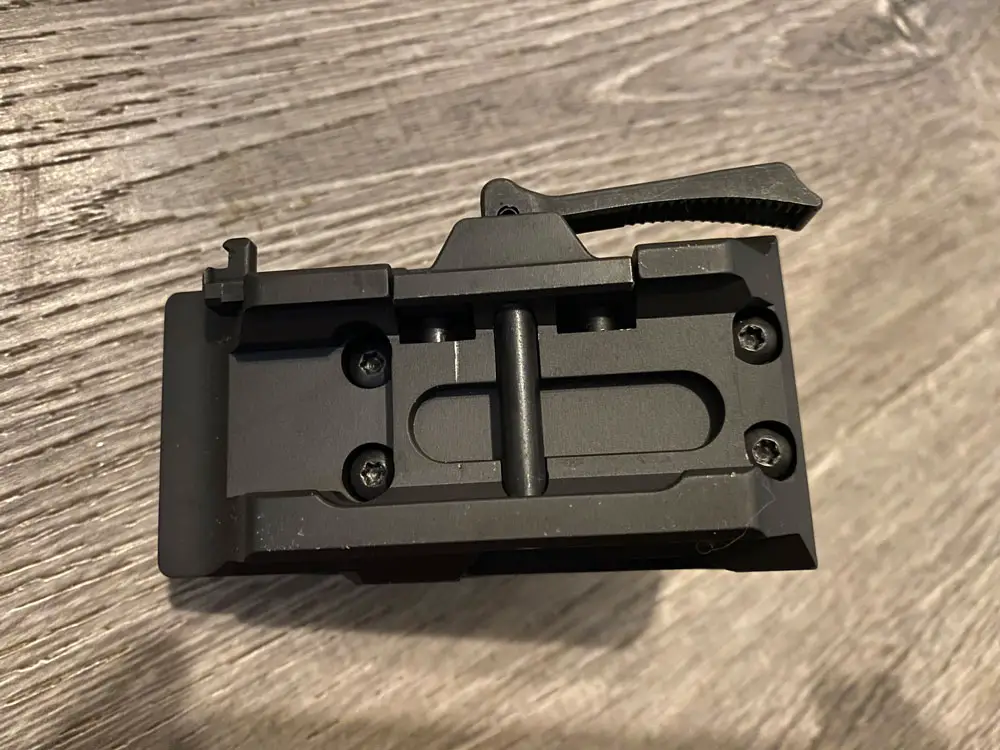 Reputation
Holosun recognizes the importance of great customer service, and offers a good-old-fashioned phone number to contact them should you need assistance or have a problem with their products. The warranty reads a bit mealy-mouthed as if from a well-paid lawyer, but boiled-down it appears to be 10 years to the original owner – barring any intentional damage (which they apparently are the judge and jury). If you buy directly from the manufacturer, a generous 30 day return/refund window is provided.
Price and Value Comparison
A quick-reference chart is provided to compare the 510C with it's top same-class competitors, the Eotech XPS2 and the Sightmark Ultra Shot M-Spec.

OK, but how did it shoot?
The 510C performed flawlessly at CQC distances, out to around 100 meters. The solar array adjusted properly when moving from sunlight to dimmer indoor spaces. The holographic reticle reminded me of a much-higher priced Eotech in that it was clear and 100% parallax free. Let's take a moment and unpack exactly what that phrase means. "Parallax" is the natural movement of the reticle of an optic when you move your eye out of the natural shooting position, and this occurs even if the optic is stationary. Try it out – grab a poorly made scope, set it down on a table, and move your head around as you peer through it – you'll notice the reticle bouncing with your head, causing it to be off target. Not the case with the 510C – your head moves, the reticle doesn't. This is especially important for on-the-go tactical shooting styles, where we don't have all morning in a deer stand lining up the perfect shot. Bullet impact was dead on target as expected.
Drawbacks
Up until now, my loyalty to this optic has been corporate-shill level. Let's have a heart-to-heart about what went wrong with Holosun's 510C. First, let's talk about the lens and housing. My biggest gripe is that the design feels like a slight step-down from an Eotech. But you just spent 15 minutes discussing Grade 5 Titanium and IP67, I thought? Correct, my beef isn't with the material though – it's the design. The lens is only recessed 1/8" at the highest protruding point from the housing. My concern is that if the optic was dropped on any surface that wasn't flat, it would be easily damaged. I happen to like my hard-earned money it took to purchase the 510C, so I didn't mess around with it enough to find out what the outcome would be if a rock or doorknob struck the lens – it's a huge concern for someone wanting a "battle ready" reflex. When compared to an Eotech, there is a substantial difference in how deeply the glass is recessed within the housing.
Another issue is that while the lens is coated to be glare resistant, you can see the light protruding through the business end. The whole point of anti-glare is to not be seen by enemy combatants in a fight, and the 510C shines like a laser in darker environments – potentially giving away your position to an enemy in front of you. The housing also lights up at maximum brightness, giving it a "cheaper" feel.
My final gripe – and this is a small one – is that the battery isn't field serviceable. The high level of waterproofing implemented to the 510C's design is an apparent double-edged sword. While I have no doubt it's 100% good to go after a splash, you need to remove two torx-head screws to get into the battery compartment. No bueno if you somehow managed to run the battery 50,000 hours and needed a fast swap. On the bright side, the solar panel array does provide a decent enough reticle on its own – provided you aren't fighting in a dark environment. Then again, you can quickly remove the optic via the QD lever and rely on your backup irons, which any true gun-nut has tipped with Tritium for such an occasion.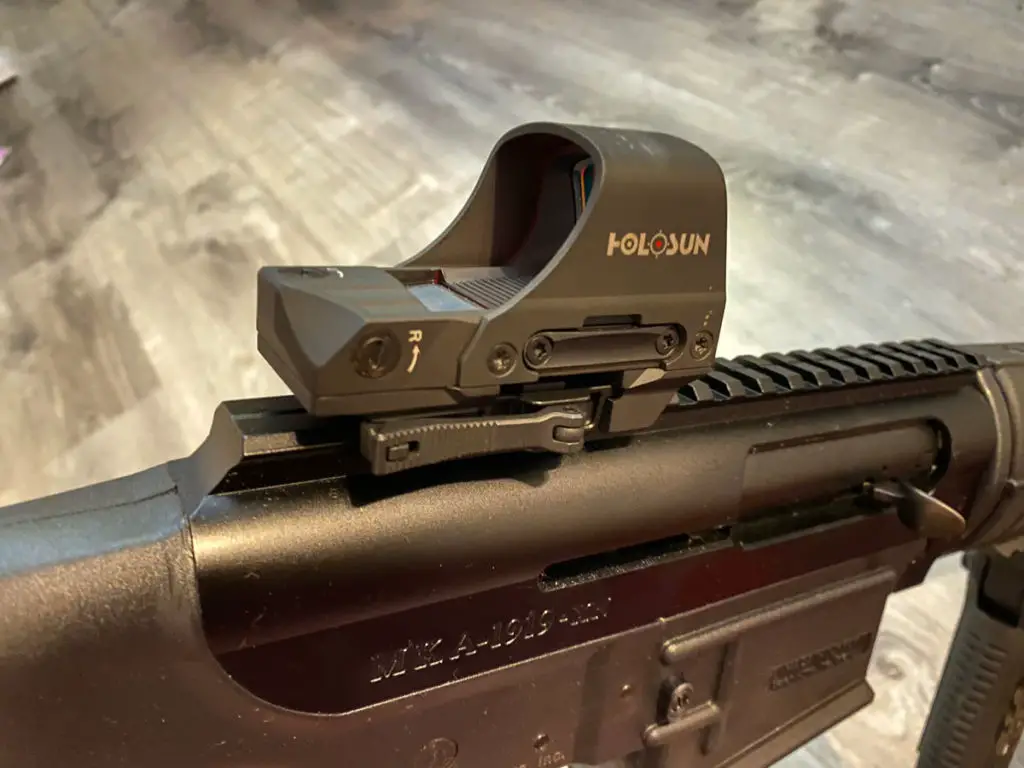 You scrolled past all the technical jargon and gun-puns, and just want to know "is this legit or not!" – I get it, we don't have all day – so here it is. 
If you aren't a run-and-gun shooter who overdosed on Monster Energy an hour ago, enjoy the finer points of the review summary.
---
Check Price at: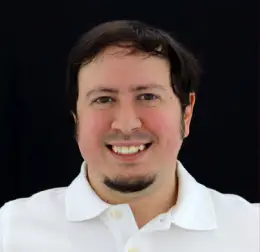 Jordan is an avid hunter and gun enthusiast. His fondest memory of shooting was when his Grandpa took him squirrel hunting for the first time. Jordan has been in the sporting goods industry since 2011 when he opened his gun shop in Georgia.