Everyone needs a solid red dot in their gun safe, whether it's on a gun or not. You never know when circumstances might arrive that require a handy red dot. These little sights are also very cost-effective, and depending on what you get, you can run a very strong and usable optic that will last a lifetime. We're looking at another Primary Arms optic today, and what can I say? I've been on a Primary Arms kick since they make value-packed options that fit into a lot of budgets with great innovative features on what they produce. This is a review of their new Classic Series RD-25 Red Dot Sight.
Overview
Red dots are amongst some of my least-used sights. With all the longer-range shooting I do, it makes more sense that I have more high-magnification optics over red dots. However, that doesn't stop me from keeping a few 1x sights around the house for a rainy day. Red dots are great for practicing target acquisition, transition, and engagement if you're confined to an indoor space. They're also the baseline when it comes to practicing close-quarter engagements, room clearing, and shorter-range engagements.
The faster side of the shooting world is very heavily involved with using red dots, so it's important to know that you have a durable and reliable optic on your gun. The RD-25 is a new entry into Primary Arms' classic series of optics, which I think is a fantastic option that has modern technology combined with a more retro design. Here were my first impressions of the Classic RD-25.
First Impressions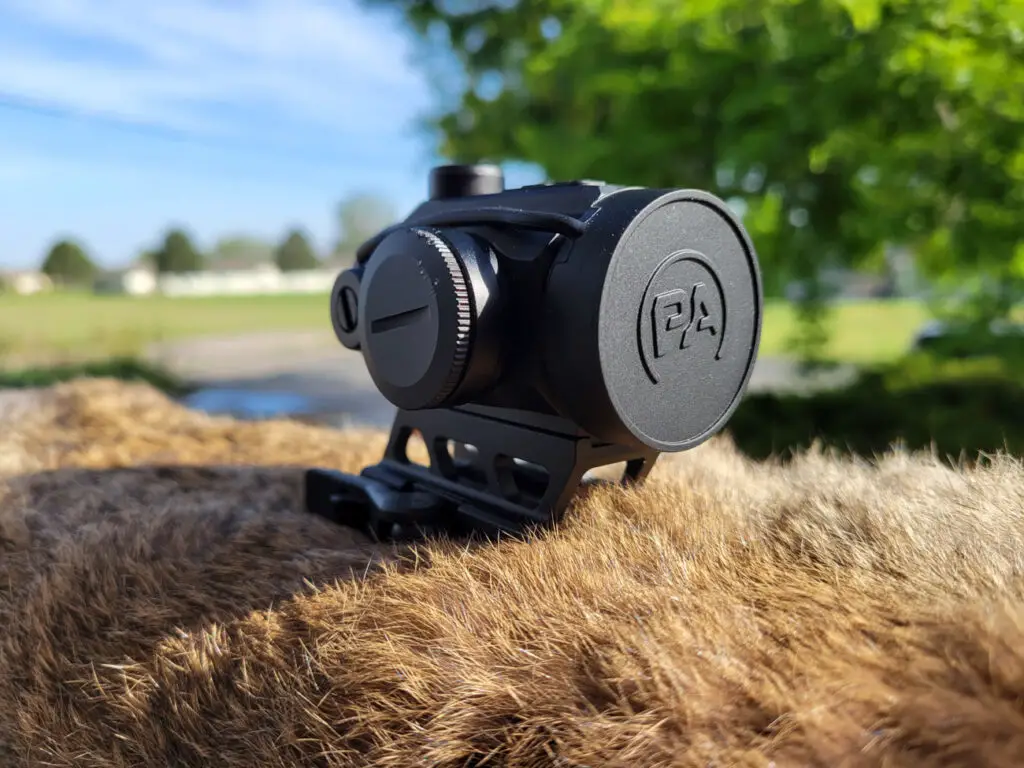 Red dots should be simple and easy to use, so I was very curious to see how Primary Arms would put its spin on it. In total, there are two buttons to control how bright your dot is, very small adjustment turrets for windage and elevation, and housing for your battery. There's really not much to the red dot, and I like that. The quick-attach system that's on the mount is a clever way to provide convenience to the customer, and not needing a torque wrench for once is pretty nice. For a $130 price point, I thought it was a very fairly-priced system that would fit any AR platform. It does come with an Allan wrench to take the mount off the red dot, but you should seldom use that unless you're checking the security of the dot in the mount. 
The only other thing that really stuck out to me was the clarity in the eye-facing glass. I smudged the glass for the first time only because the glass was so clear, it didn't look like anything was there. I was going for the inside of the tube and didn't realize that there was, in fact, glass keeping me from getting inside the tube. Good job on Primary Arms for fooling this reviewer on the glass clarity. The front glass is anti-reflective and does a great job of preventing glare. As far as first impressions go, it's easy to say that this appeared to be a quality dot. 
Mounting
Primary Arms made this red dot system extremely easy to adjust and install. There's no inch-pound designation or any tools needed to adjust the clamping force of the mount. The fact that they include the mount for the red dot is something that should be a standard for these types of optics in the first place.
The opposing side to the mounting lever is spring-loaded. In order to adjust the mounting tension, you push down on the bar that compresses the springs. When pushed down, the center bolt will stay uncompressed. With the bolt exposed, you can adjust the tension by turning the bolt by hand. My suggestion is to find the point where you cannot completely close the tension lever to mount the red dot, and then back the bolt off by half a turn. This will allow you to have as much tension as possible holding your red dot to your gun.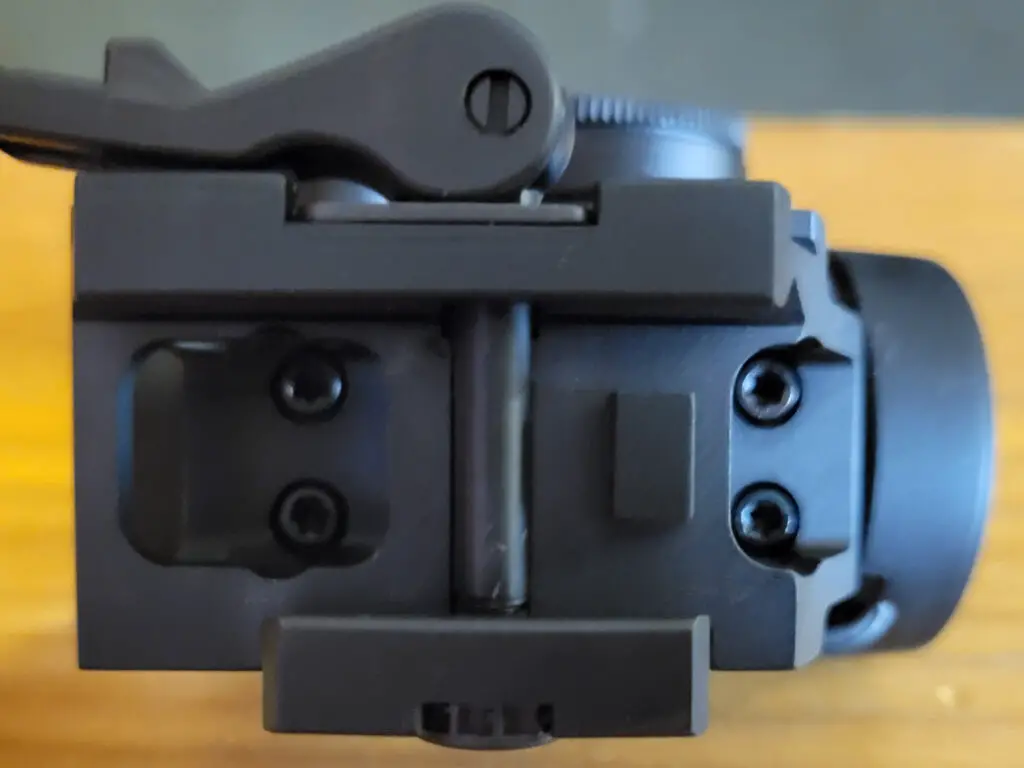 Being a toolless installation makes it really easy to love this little sight. You can switch between guns within seconds and have your optic on the rifle you need it on. The simplicity of not needing a screwdriver and not needing to set a torque wrench to meet a required inch-pound target is a new benchmark for red dot sights.
Features
As mentioned above, red dot sights are simple. That being said, it's pretty difficult to rack up a features list that's as long as a complex long-distance scope. Nonetheless, I think there's a lot of quality in the features on the list.
Quick Detach Lever
50,000-hour battery life
Exposed Reticle Adjustment
Automatic Turn Off
Like many people who shoot red dots, I forget to turn them off all the time. I was hoping to test out the lifetime of the battery, but the automatic turnoff made it to where I couldn't test it the way that was originally planned. This feature alone will save me from my own forgetfulness and save me the money of having to buy CR2032 batteries. Even if it didn't have an automatic shut-off though, 50,000 hours is a long time for a red dot to be on if that battery life is accurate. 
It was already mentioned, but the quick detach lever makes it so much easier to test on multiple guns, and the tension system for the mount itself is very easy to adjust. Finally, having exposed adjustment turrets was interesting for me to see in this kind of optic. While most of these types of sights have capped turrets, I think Primary Arms found a good compromise to allow exposed adjustment turrets on the RD-25.
You will need a screwdriver to adjust this sight, but once you're sighted in, I'm sure there wouldn't be any reason for you to change your zero, so I'd say it's not something that would warrant you carrying a screwdriver around to every range day for. Now that we've covered the features, let's get into some test results.
Durability
For a durability test, I didn't take it easy on this little sight. Not only did I drop it onto concrete like I do the others, but it was placed on an LR-308 which put a large amount of stress and recoil on the system. AR platforms have more moving parts that can cause more force to go into the mounting system of any optic, so that, combined with the recoil of a 308 and you get a great way to test the durability of whatever you're testing.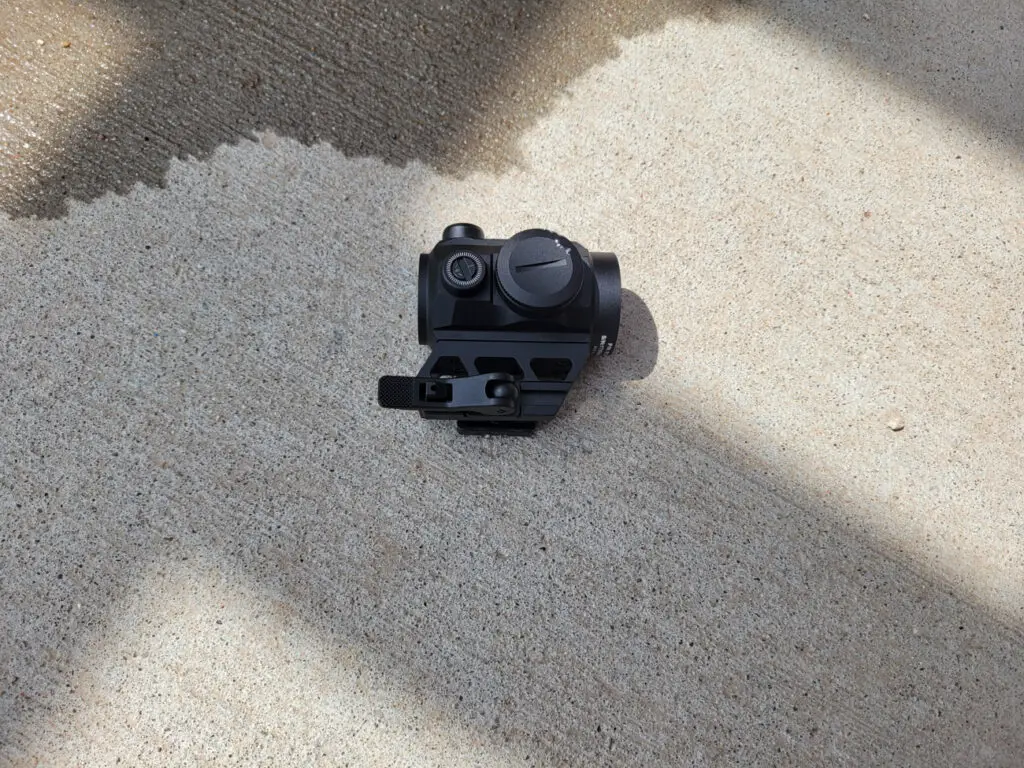 Like all my other sights, I also dropped the RD-25 right onto the concrete. I even forgot to put the lens cover on when it was dropped… oops. The red dot was placed back onto the gun, and the POI came back to the exact same zero after 3 shots.It's impressive enough for an economically priced red dot like this to survive both recoil and blunt trauma from the drop, but to not even show a shift in zero after all that AND being taken off the rifle? That's impressive.
I will clarify, however, that I was shooting at a whopping 25 yards. This optic's external adjustments were half MOA per click and a 3 MOA dot, so 25 yards was completely appropriate for a red dot like the RD-25.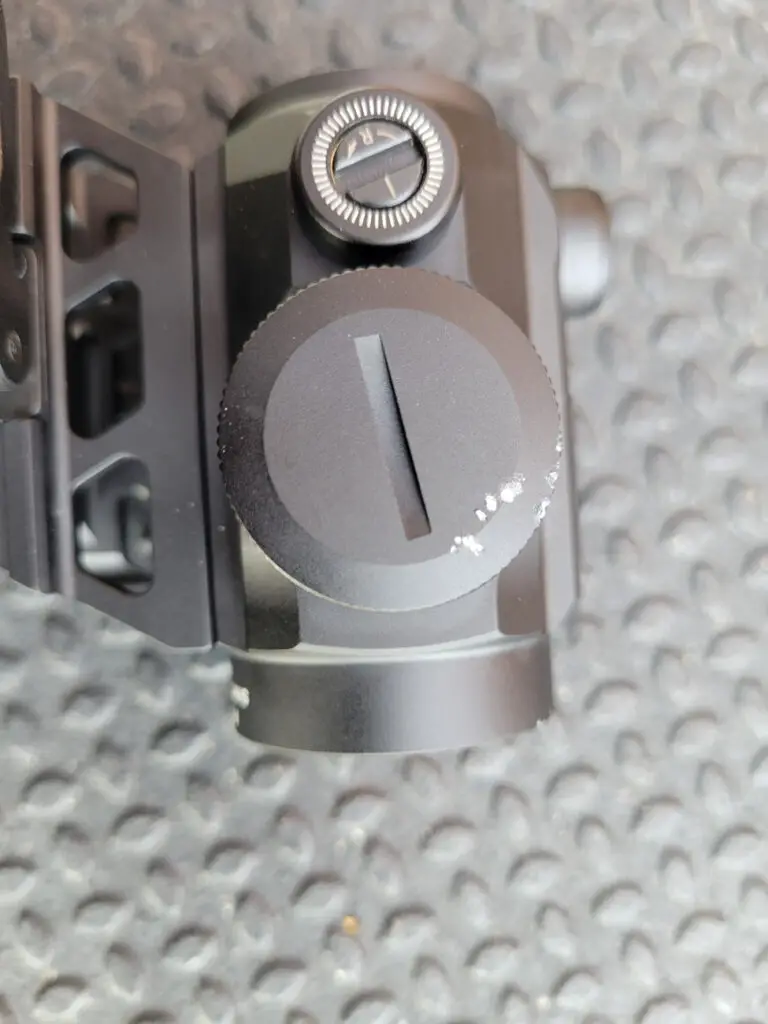 Overall, I have confidence in this optic's ability to take an absolute beating. If I ever run AR drills that require a 1x optic, this will be my first choice to run with. The turrets are exposed, but there's no way it can land on something that would turn the turrets. The force required to make the turrets click along with how the actual adjustment turrets are recessed in a sort of housing that protects them, means that you won't accidentally change your zero just by dropping this red dot. 
Glass Clarity & Dot Size
I might be one of the best types of people to test out red dot sights. With astigmatism in my right eye, red dots look like little squigglies to me. That being said, this wasn't noticeable on the RD-25 unless I was working with the brighter half of the brightness settings. With 10 different brightness settings and the first 2 or 3 being impossible to use in broad daylight, I was content with the sweet spot of the 4th and 5th brightness levels.
At that brightness, the dot was actually a dot, and I could test it feeling precise. Being a 3 MOA dot, I felt that was a great size while shooting at 25 yards, and it would definitely be more than accurate and usable at 50 or beyond depending on your application. 
In terms of glass clarity, the best job a red dot sight can do is make it seem like there's no difference between the glass image and what's outside the optic. It's tougher to find red dots that have bad images than it is to find red dots with clear images because all the glass in a red dot is clear. However, the coating on the outward-facing glass on this red dot prevents any glaring or spotting issues from any angled sunlight. I'm not preaching anything that's otherworldly, but it's good to know the Classic RD-25 is up to the industry standard with this entry.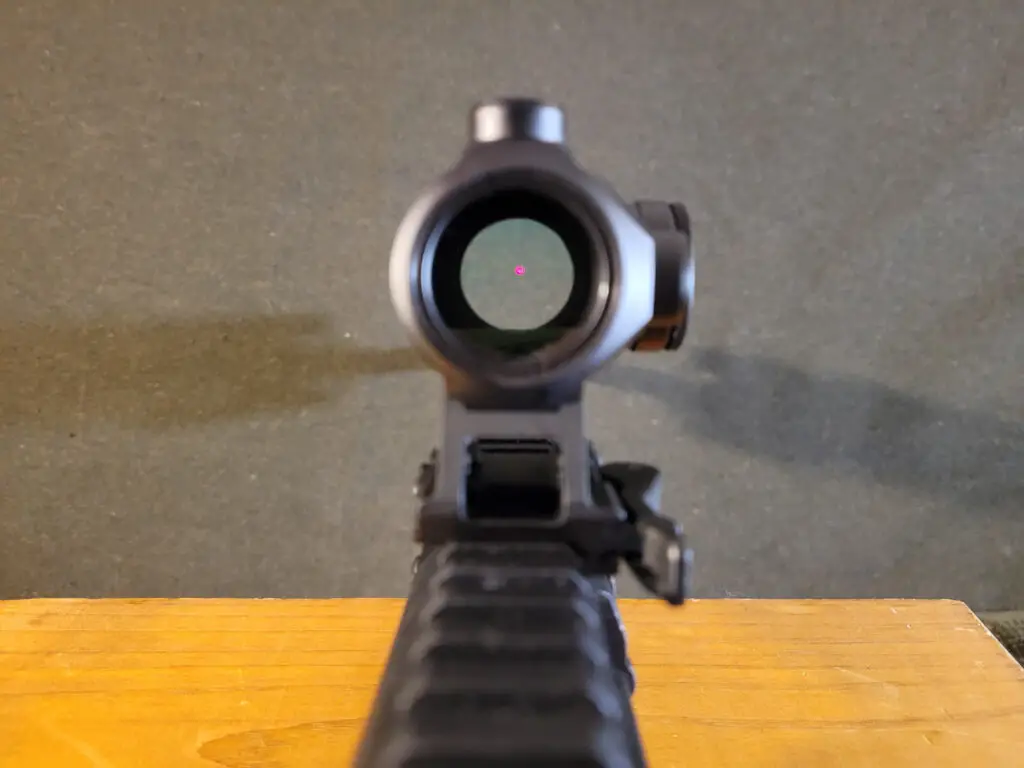 Pros & Cons
When we went over the features, I said these sights should be simple. Regardless, let's take a look at some of the pros and cons that come with this sight, starting with the pros.
Low-profile exterior
Plenty of brightness settings
Antiglare lens coating
Tough as nails
Easy to change guns
Simplicity and convenience are keys when talking about this red dot. It's simple to look through and change it from firearm to firearm. It's also robust enough to take a beating and come out working on the other side. The simplicities of the RD-25 make it impossible not to love using something like this.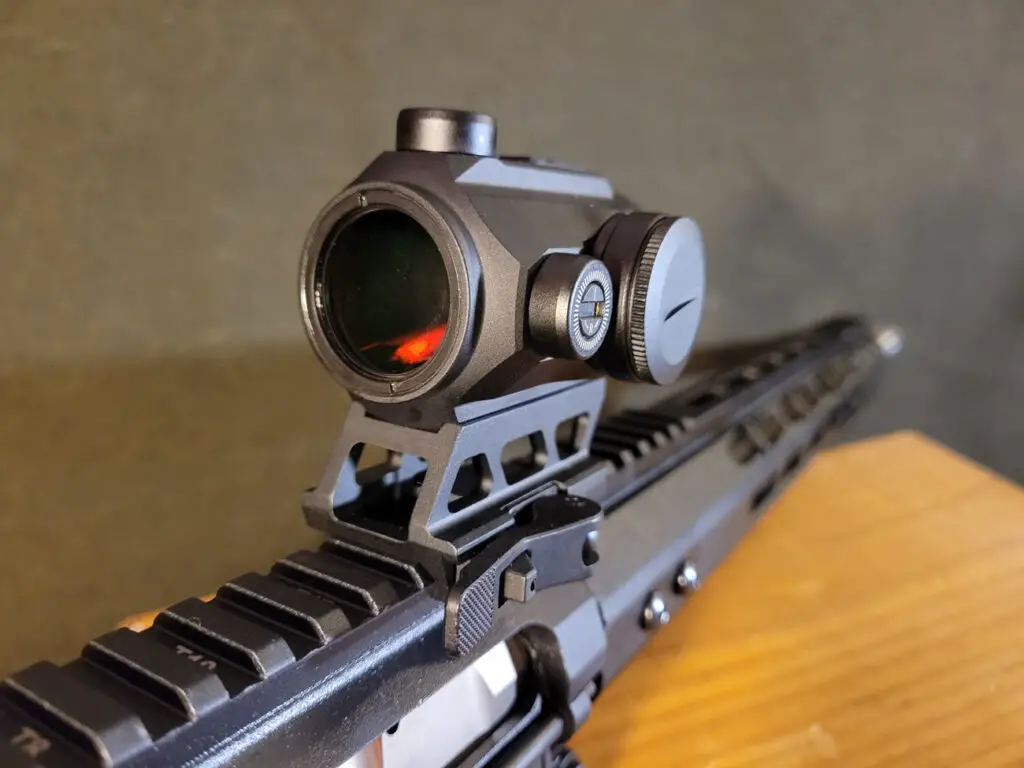 With 10 levels of brightness, you can use this in all kinds of low-light or bright situations. I was sitting comfortably on 5 brightness while testing, but I honestly don't think I could see anyone ever absolutely needing the top two or three brightness levels. It is important to note, however, that in low-light situations, the first few brightness levels are crisp and very usable.
Finally, the gap between the optic's image and your outside image is relatively thin. I always mount my red dots as far out on the rail as I can so I can make that gap as thin as possible. The outer shell of the red dot does not block any of my vision, which is definitely preferred if you're clearing rooms and engaging in close quarters.
It was really tough to think of any cons that might come with an optic like this. Simplicity sometimes means that there's not as much to put on a list compared to more sophisticated sighting systems. Either way, here's what was found to be the con list for the RD-25:
Need a screwdriver to adjust turrets
Not a great optic for astigmatisms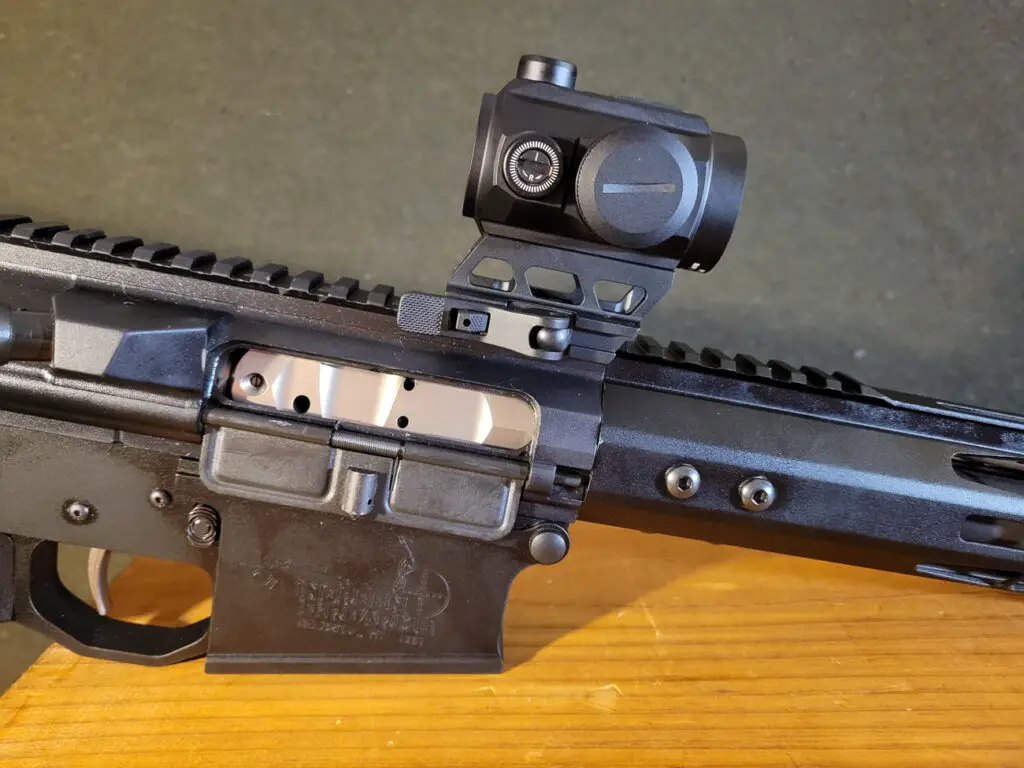 Yes, you need a screwdriver to adjust your zero. You might be able to get away with a coin, but you shouldn't be cranking on these turrets after you get your zero. If you have a screwdriver in your shooting pack like I do, this shouldn't be an issue at all, but I will list it as a con because you'll need a tool to adjust it. 
Aside from that, it's good to know that this would be a challenging optic for someone with astigmatism. This can change the shape of the dot which could lead to accuracy issues depending on the distance you're shooting at. This isn't the fault of Primary Arms at all because you would have the same problem regardless of the brand of red dot. If you do have astigmatism, take a look at some 1x prism scopes that have actual reticles. This would mitigate your eye troubles and give you a consistent aiming method. 
Application
If you're practicing building clearing, close-quarter battle, or any type of shooting discipline that requires a 1x sight, I would be taking a look at this red dot. For shotgun hunters, this would be a great option knowing that it will stand up to the recoil of any shotgun shell you want to put through your gun. For tactical shooters who are looking for an entry-level red dot, this is it.
Anyone at any experience level will be able to get the most out of this optic, so don't look away just because you think you're too experienced for a classic red dot. In the near future, my plan is to put this on my 9mm carbine that I use for clearing the house. The low-profile frame and mount allow me to use all my peripheral vision and capture everything that's in front of me.
The applications of this red dot are limited by the distance to your target and the overall size of your target, so keep that in mind when you're looking at this sight. Everyone's skills with a 1x sight are different, so I'm not going to put any distance limitation on any optic I review. 
Final Thoughts
For such a crowded market full of red dots and 1x sights, this stands out amongst the pile. At $130 for an optic that is well-built, durable, and accurate, this little sight has plenty of value that comes with the sales price. Knowing your optic is durable enough to withstand concrete, recoil, and a lot of stress, in general, is worth $130 at LEAST.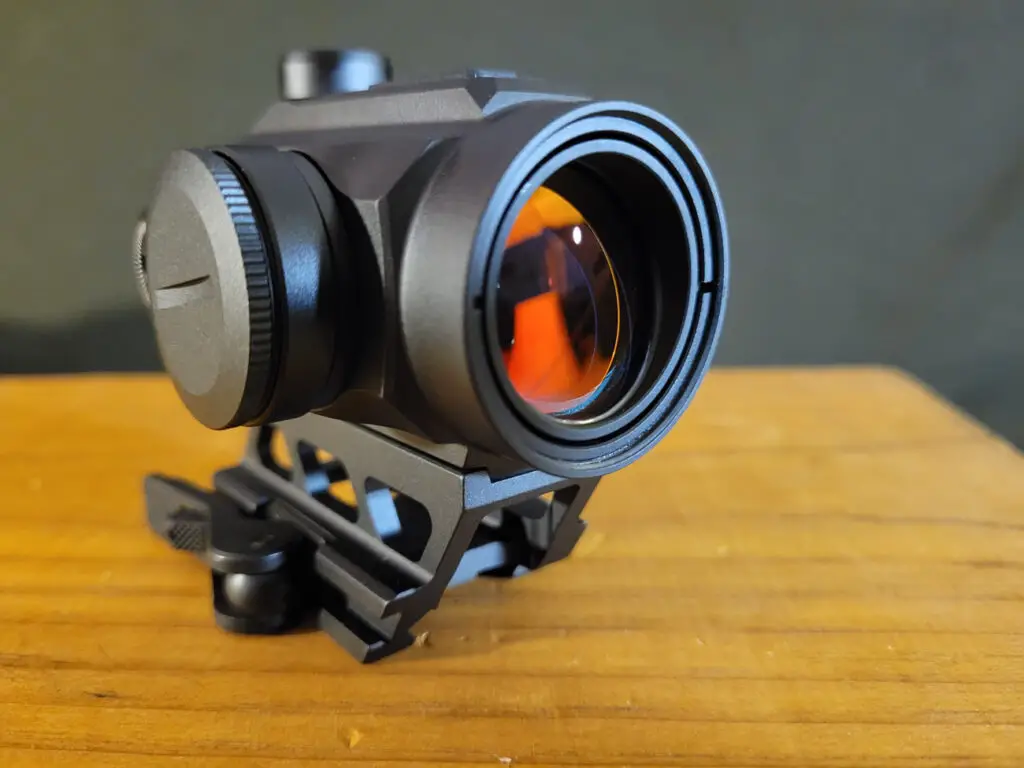 The quick detach system is easy to use and you can put this on as many guns as you want in the same range trip and not need a single tool to change guns. The less work I have to do in mounting is the best for me. If you find yourself in the market for a good red dot to put on one of your guns, or if you're just looking for a good dot to keep in the safe for a rainy day, take a serious look and consideration towards the Primary Arms Classic RD-25.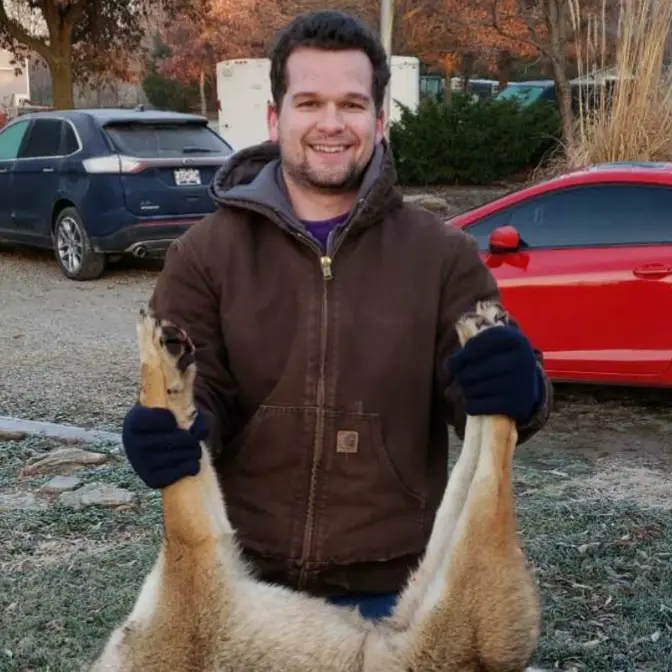 Growing up, Buck was taught about firearm history and appraisal. Getting to know so many different firearm platforms eventually lead to his long-distance shooting exploration. While his main hunting past time is coyotes, he still find just as much satisfaction punching steel at distance. Every shot taken is with the purpose to become a better shooter.