Gun security doesn't always have to look like a gun safe. Some products have come out lately with creative solutions to gun security that have ever-changing standards depending on where you live. If you live in a state that requires some sort of lock on a firearm for "storage" you're gonna want to stay tuned for this review. IC13 is one of those companies that has kicked out some innovative and borderline custom options for total firearm security, so we were excited when they sent us this one to try out. 
Overview
IC13 has some very creative products available on their website. It's always good to be able to support smaller businesses especially made-in-America products. A part of the products that IC13 produces are gun mounts that go onto the wall and hold AR-style firearms. You can get mounts as simple as holding one AR-style firearm vertically or something as complicated as a bracket to hold 3 different AR-style firearms. There is some cost that goes with it, but being able to reliably hold AR-15s to the wall by the buffer tube isn't easy, and these things are built to last forever. Let's take a look at my first impression of the Mount Up! Vertical Mounting System, and the IC-Lock Ejection Port Lock as a companion review.
First Impressions
I could see these being for sale at your local gun shop. The package is small, but it's a very solid product when you open it up. Both the mount and the ejection port lock come with two keys, and I was impressed enough to tip my hat to IC13 that the relationship between the keys and the products is very well thought out. You can unlock the mount and the ejection port lock with the keys to the mount, but you cannot open the mount with the keys for the ejection port lock. This way, if I lose a key to my ejection port lock, someone who picks it up will not have access to the mount on my wall. That's a very well-thought-out key system. 
Aside from that, everything seems very well put together. The bolt that completes the hinge on the mount feels like butter when being removed, and everything just fits together really nicely. The colored aluminum is a nice touch, and I could tell that this would be a hefty mount once mounted on my wall. With that, let's see how the installation went. 
Vertical Mount Installation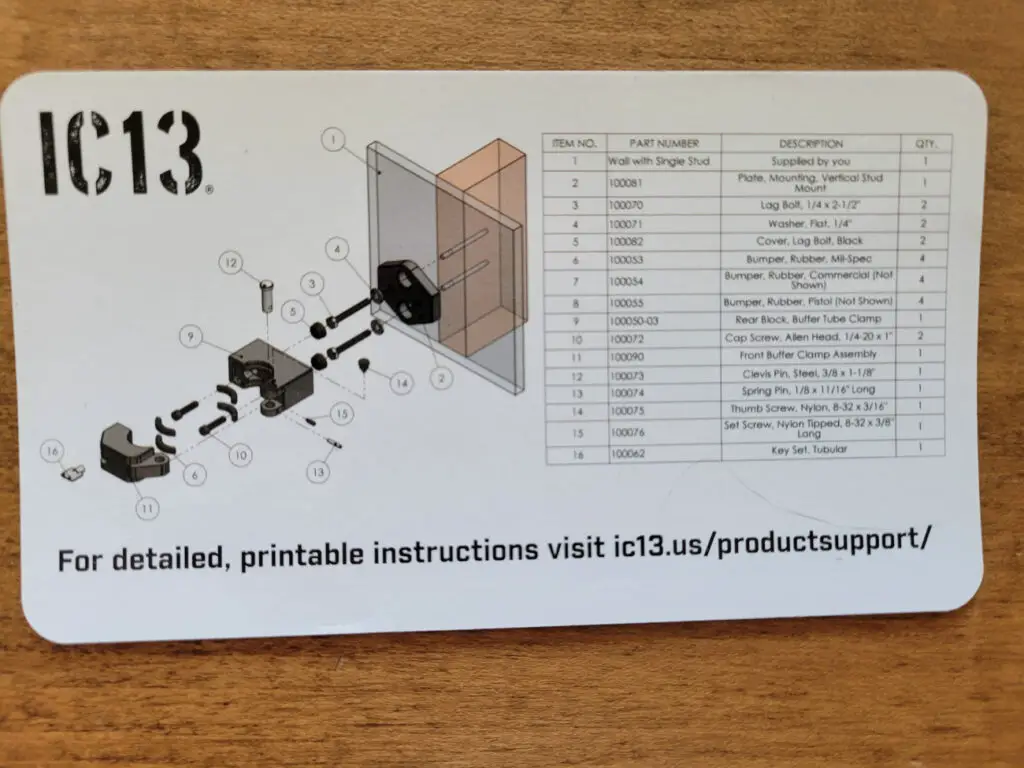 All of IC13's products have user instructions through their website. If you end up getting a wall mount from them, I strongly suggest you watch that video multiple times before starting the installation process. I didn't watch the instructional video all the way through before starting and ended up using the wrong tool for the job. This resulted in a sheared lag bolt in my apartment drywall. I want to be clear that this was a user error, and by no means was it the fault of the product or the company. 
After a quick trip to Home Depot for another lag bolt, I was able to install the mount where I wanted it. The most difficult part was getting your holes drilled for the lag bolts and installing the main aluminum plate. Everything else after that was a piece of cake. I was glad to see that this is an all-aluminum mount with the exception of a small set screw that only affects how the rifle is held in the mount.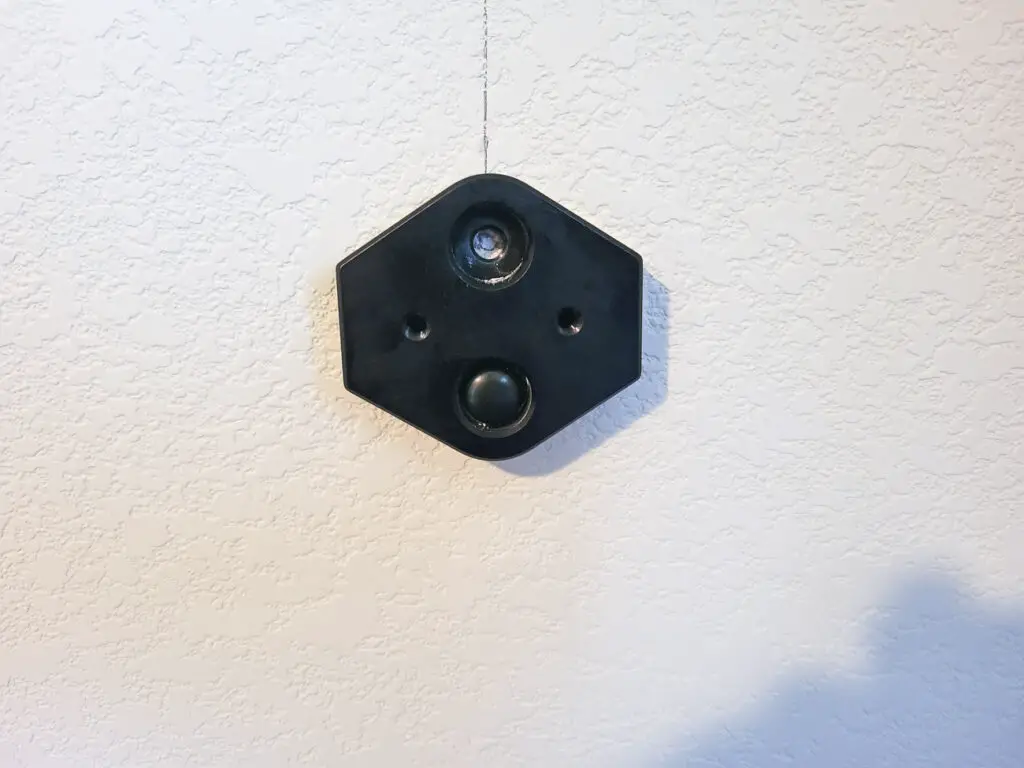 The aluminum base plate and the clamp itself are very beefy and sturdy. Installation was simple, but to do it the right way, you'll need a drill, hammer, roll pin punch (might not need it), and a socket wrench. Pretty basic stuff for any household. Aside from my blunder in shearing the one lag bolt, the installation was painless and quick. Since it was installed, I was very eager to test what it could hold.
Durability and Operation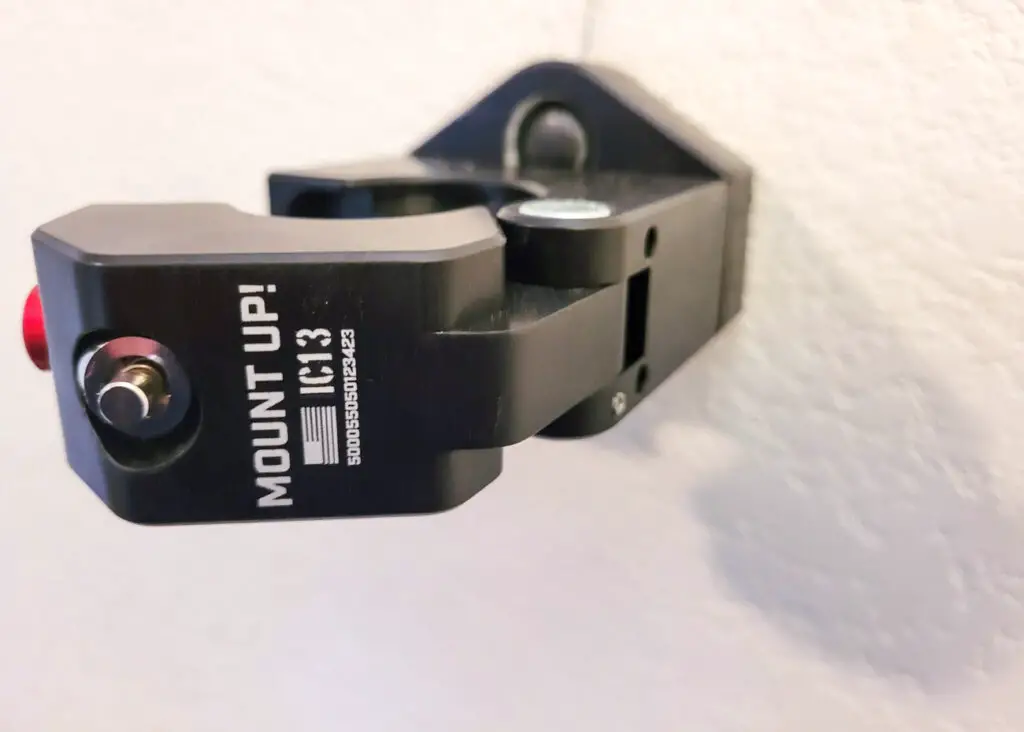 I have no concerns about the structural integrity of this mount, and I even placed my Savage 110 BA Stealth in 338 Lapua Magnum (this is the biggest gun I own that has a buffer tube) in this mount for 24 hours to see how it would affect the clamp and the drywall it's attached to. After 24 hours, there was no deformation in the drywall behind the mount, and my 338 Lapua looked as cool as the day I bought it.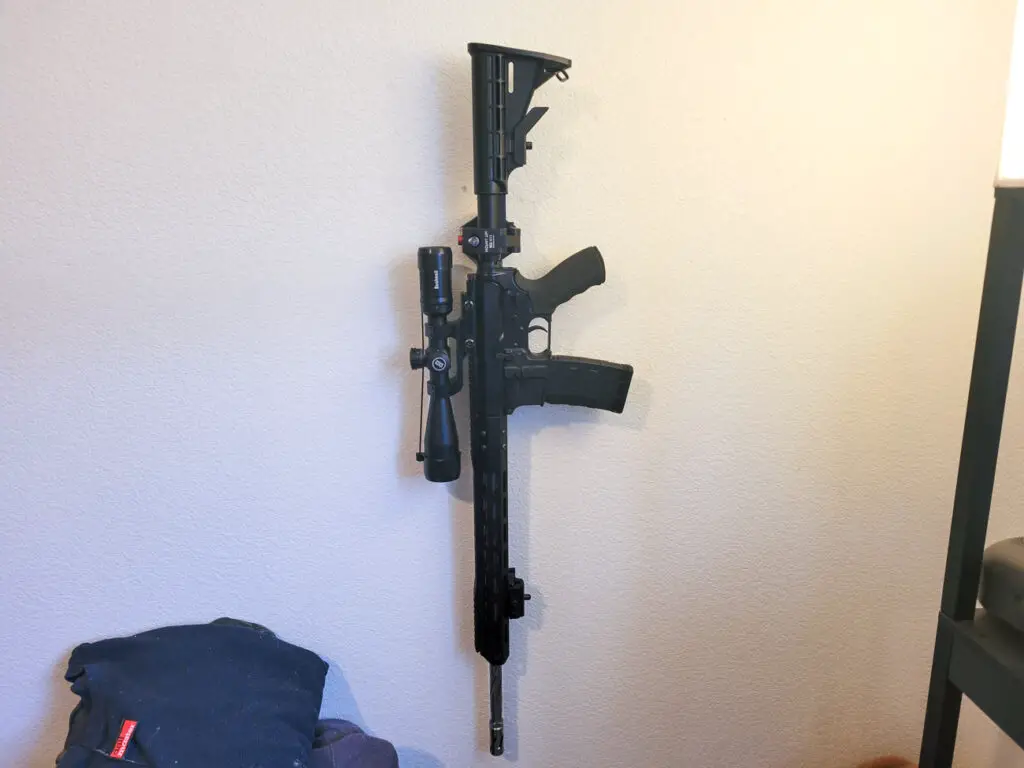 A 15-pound rifle is more than enough to test the durability of the mount. Most people buying this want to have access to a CQB AR-15 style rifle that weighs under 10 pounds, so I feel pretty confident after keeping the 338 mounted up for 24 hours. The lag bolts used for installation were 2.5 inches long, so you can feel reassured regardless of what you place in the mount. And since this is all made from aluminum, you don't have to worry about anything rusting. Like many gun safes, this vertical mounting system is a long-term installment, and it shows.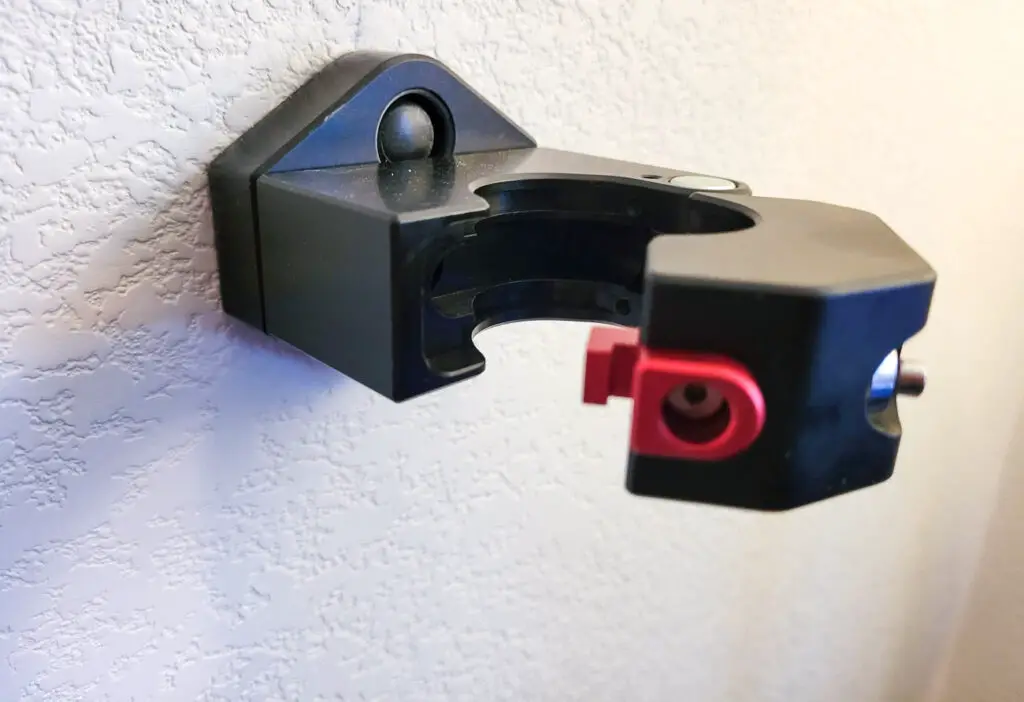 As for the operation of the mount, the method of unlocking is very neat. The key unlocks a release that allows the red button to be pressed. This way, you're not trying to catch a gun flying out of a mount while unlocking the latch. You can unlock the mount, set the keys down, then press the button and release the firearm. This also means you can store the firearm unlocked if you please, and all it would take to lock it is to depress the button release that then locks the whole mount.
The IC13 Ejection Port Lock
Something that would pair great with the vertical gun mount is IC13's AR-15 Ejection Port Lock. They also have an option for AR-10s if you're wondering about one of those. The ejection port lock, or the IC-Lock as it's named, is a milled block of aluminum that fits in the ejection port of your AR-15, keeping the bolt from moving forward, and thus, keeping the firearm from being able to be fired.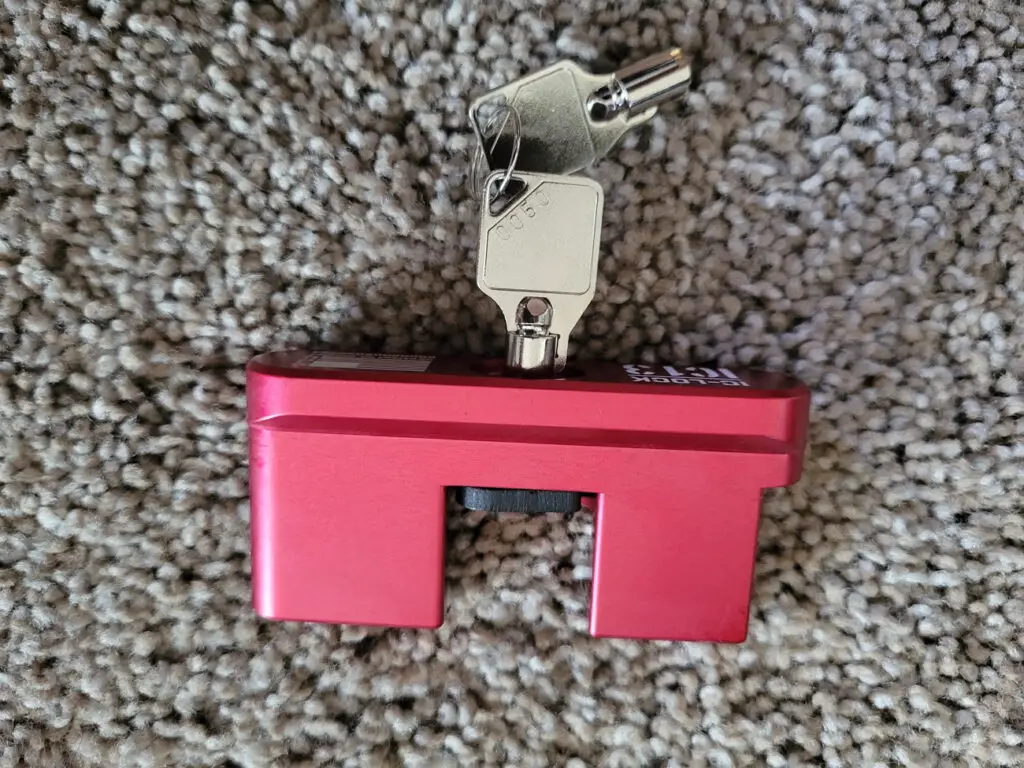 The vertical gun mount is fantastic for anti-theft, but this adds another layer of protection if someone gets their hands on a gun they shouldn't have. You can access the lock through the mag well, but you wouldn't be able to get any tools, maybe aside from a chisel, in to break the lock off. And even then, I think you're in for a difficult job. 
For a $35 add-on, I think it would be silly to buy just an AR wall mount and not add a lock similar to this. Like everything else made by IC13, this is an American product, and it does a better job locking up your AR than most conventional action locks. I'll most likely be ordering one for my AR-10 just for transport. With state regulation on firearm storage changing in many states, it may be a really good idea to keep one or a few of these handy just in case the law demands action locks in the near future.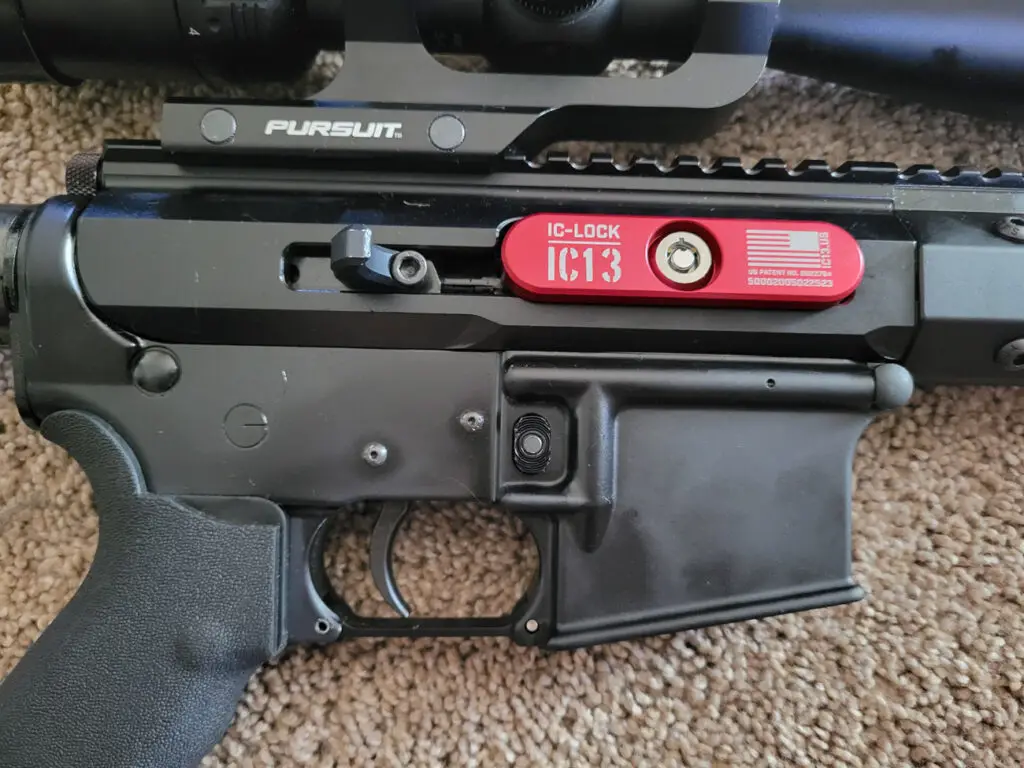 Cost vs. Value
With cost, we'll talk mostly about the wall mount. At $35 the IC-Lock is a no-brainer for value and cost. The vertical wall mount, however, is $140 so it's important to know what kind of value comes with that kind of cost. This product is milled aluminum and is essentially a very thick clamp. Everything comes in a relatively small box, but gun safety is a necessary investment when you own firearms. Some owners may want their firearms close to their bedside in the case of a home intruder, but do you want to just leave a fully kitted out multi-thousand dollar AR-15 lying right next to your bed? This mount is the classiest way I've seen for someone to be able to safely secure a firearm in a place that also leaves it accessible in case you need to use it.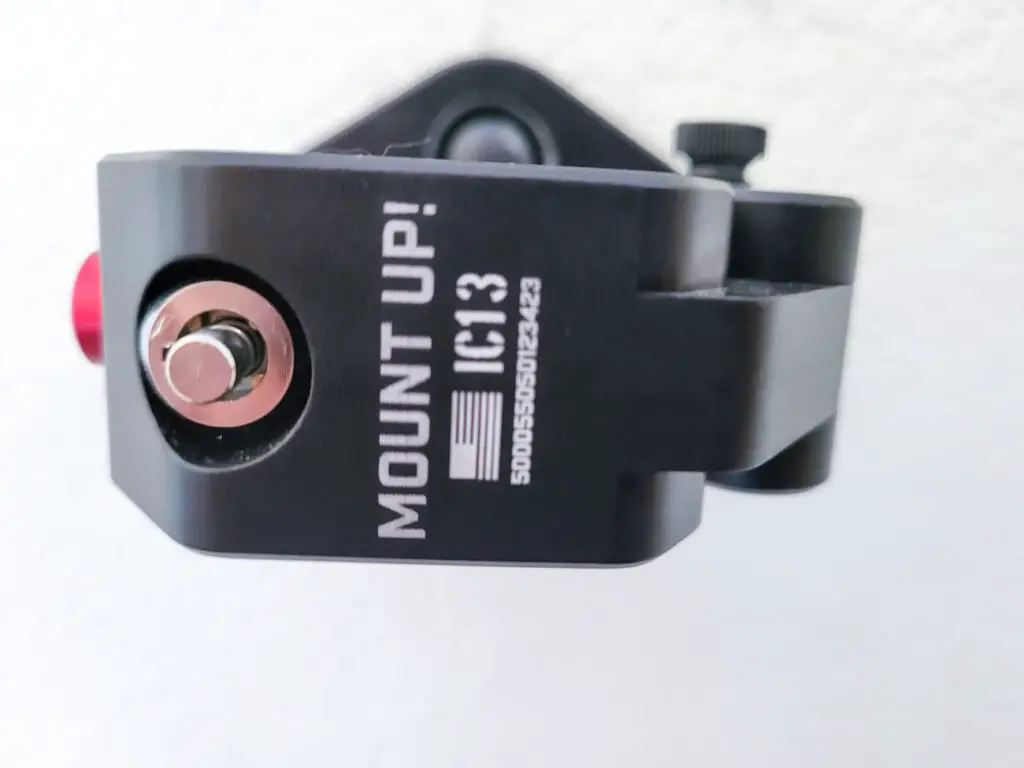 As an investment in safety, the Mount Up system is a product that provides just about everything you need to secure one firearm. At $140 it might not look like much, but you're paying for more than a product. The peace of mind you'll get knowing that this is a safe way of storing a firearm while also having it more readily available than if it were in a gun safe more than justifies the price to me.
Pros
Gun security is very important. So whenever there's a product that has a solution to a gun security problem, we must take a look at both the pros and the cons that come with it. As for the AR vertical mount, here's what was noticed for positives during installation and testing: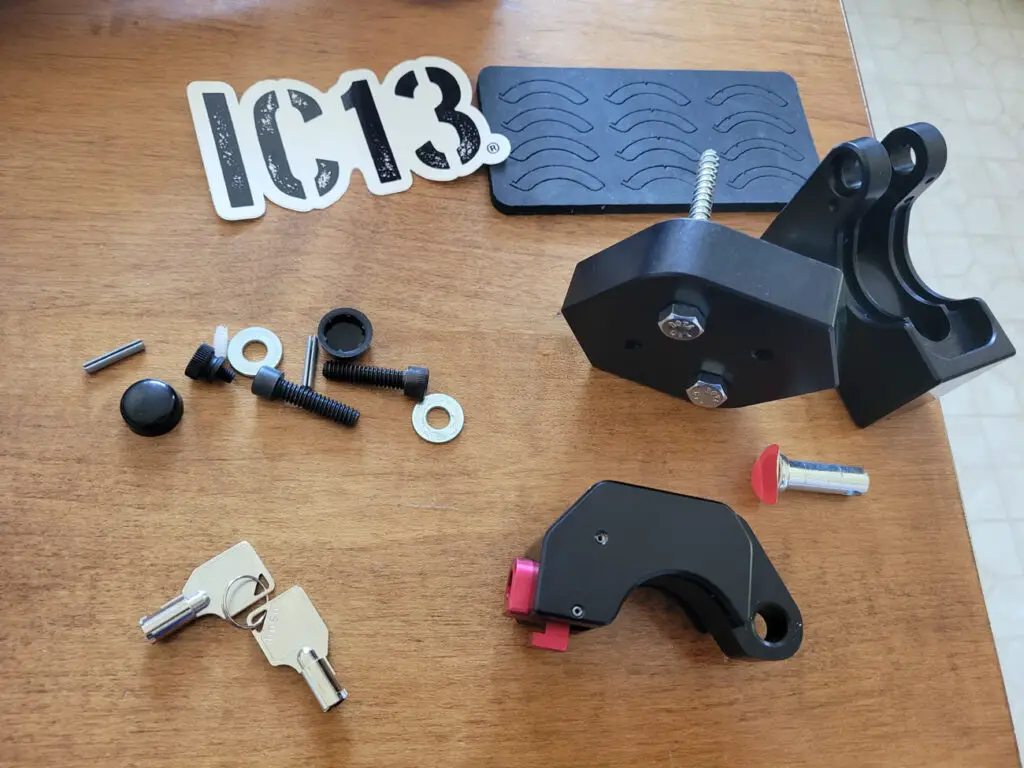 Beefy aluminum
Extremely secure
Works with any type of buffer tube
Can hold very heavy firearms
It doesn't mark up the buffer tube
99% of all parts are metal
Using aluminum over steel most likely saves a lot of drywall from being turned into dust. It also allows less weight and more surface area to be utilized when mounting it to the wall. That said, you would have serious problems trying to uproot it from the drywall, as I can attest to from trying. Also being able to hold my 15-pound 338 Lapua, wipes any concerns for being able to hold weight for any amount of time. The replaceable rubber bumpers on the inside of the clamp are an awesome addition and allow you to customize your mount to what size buffer tube is on your firearm. Keeping your firearm free of scratches where you can avoid them is preferable, so the rubber jaw inserts are a plus.
Overall, there's a lot to like about this mounting system. Out of the whole system, there's only one part in the kit that's plastic (not counting the bolt head covers), and that's simply an adjustment to keep the rifle from tilting in the mount. I love that it's a mostly metal design, and it's one of the most secure wall-mounting systems I've ever seen.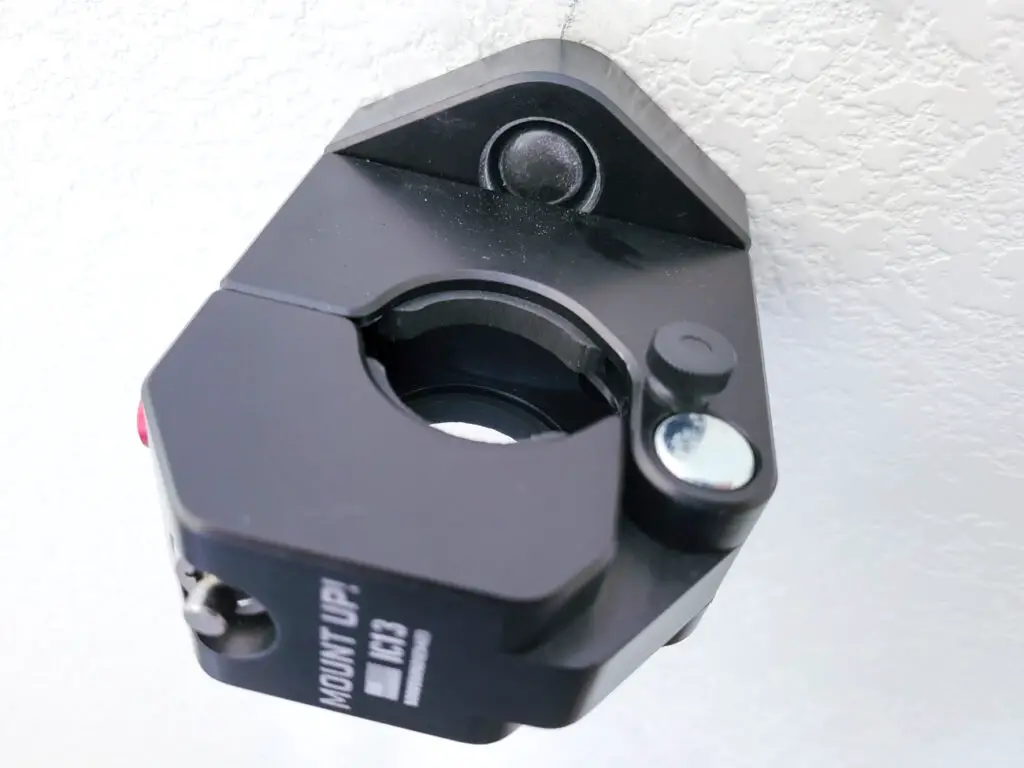 While we're also talking about the ejection port lock, here are some of the pros that come with the IC-Lock:
Sturdy milled aluminum
Simple installation 
Keeps the firearm from being operated.
Very cost-effective
IC13's theme of milled aluminum is one I can get behind. Even if this was made from steel, there would not be any notable areas of improvement for a design so simple. Speaking of simplicity, the use of this lock is as easy as it gets with a literal turn-key operation. It also keeps the firearm from operating better than other locking systems, like those wimpy bike locks that are sometimes included in your new gun purchases. No need to worry; the IC-Lock is not removable by a pair of bolt-cutters. I mentioned it earlier, but all of this at $35 is one hell of an insurance policy to make sure your firearm isn't used unless you want it to be used. 
Cons
There's always a negative side of things. The main thing to keep in mind is that these aren't negative things to some people. However, here are some potential cons depending on your situation:
The Vertical Mount is somewhat permanent 
Initial Cost
No fire protection
It's going to suck having to take this mount with me whenever I move out of my apartment. That is the point of a secured firearm-locking mount though, so this should be a surprise to no one. And yes, it may be a headache to remove, but with the right tools I'm sure we'll be able to remove it. The point of a mount like this is to be hard to remove, so I'd say this is barely a negative.
The only other glaring con is that if you keep your gun in a safe, you usually gain some level of fire protection from the safe. With this mount, your firearm is completely exposed, and will surely be compromised in the event of a fire. This may not be the biggest deal to some people, but you should seriously consider this if you're away from home a lot, or just in general.
At $140 this could seem like a lot of money to some enthusiasts. If you have multiple firearms or even guns that aren't AR's then this single gun mount wouldn't be very much use to you. If you're a customer who's interested in this mount, you should be interested in the convenience of having your firearm closer to you and more available. Or, if you don't care too much about money, this is a secure and safe way to show off your cool AR-15s to whoever decides to visit. I see where the value is in investing in making your guns and home secure, but I could also see some people throwing a fit over the price. At the end of the day, support an American-made product by a small business and try to keep your jaw from hitting the ground when you learn how good of quality this product is. 
Just like the pros, we'll also go into the cons of the IC-Lock since we're talking about two different products in this review.
Accessible from the mag well
Don't lose the key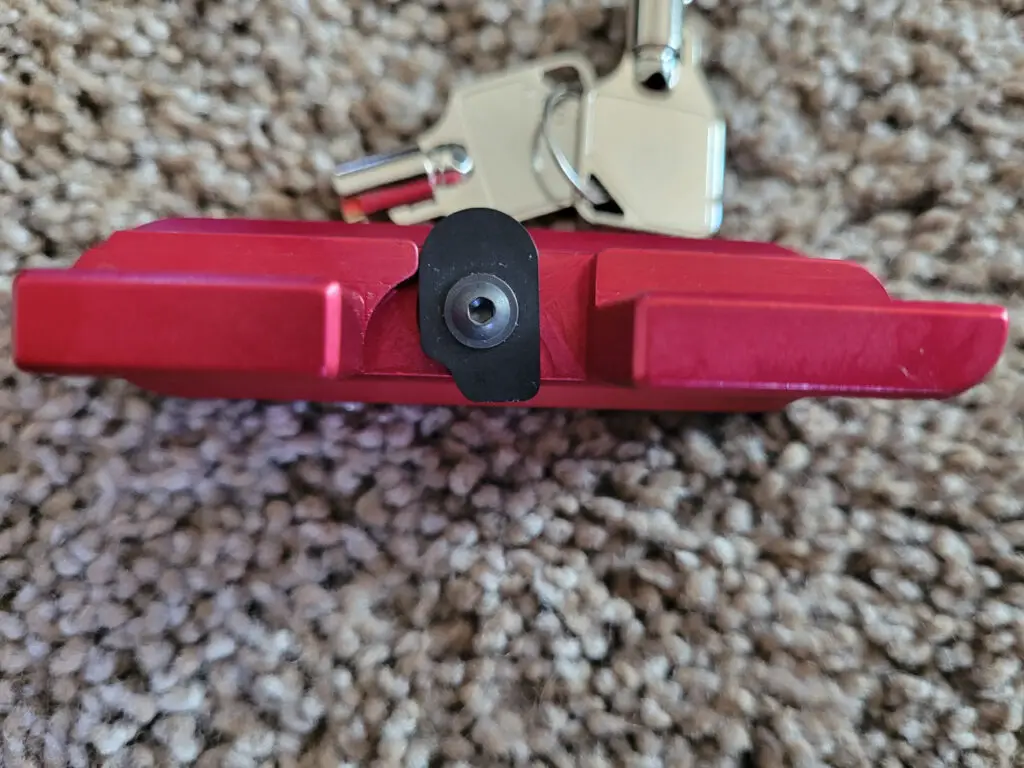 Two keys come with the mount and two keys come with the ejection port lock. As mentioned in the first impression section, they are not the same sets of keys. If you lose both keys, then you're going to have to order more from IC13. This isn't a big deal, and it's not even anything that affects the product, but it's something you need to keep in mind if you buy either of these products. 
The lock is accessible from the mag well of the AR. I couldn't get any of my tools in the mag well to attempt to break it open, but that doesn't mean there aren't any tools out there that could do the job. The only thing that comes to mind is if someone has a metal-rated chisel, but that would take some time and create a lot of noise. If you pair the ejection port lock with another safety mechanism like the Mount Up mount or a gun safe, I think you've very appropriately mitigated that risk. 
Application
We'll start with the IC-Lock on this one. An application that the ejection port lock will be used extensively is transport. I don't have a gun case for my AR-10 yet, so whenever I take it to the range, it has to go in the trunk with no covering. It can't fit into a gun sock, so having an ejection port lock will be perfect for when I need to take it to the range. 
The IC-Lock will also be used at home whenever my rifles are in the safe. I keep the keys on my car key ring, so they're always accessible. There's nothing wrong with having a second security measure on some of your rifles, and in some states, it could be required.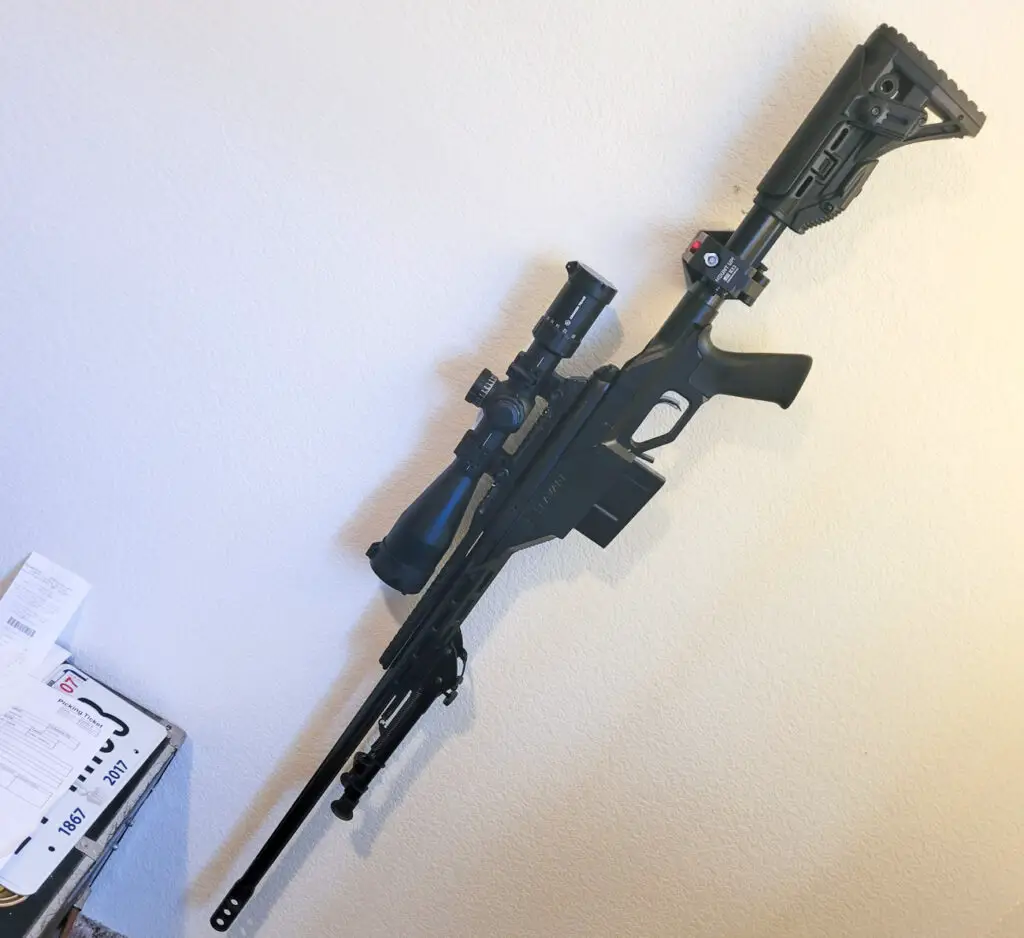 As for the Mount-Up! Vertical wall mount, this will be a permanent fixture of our apartment until we end up moving out. Taking it with us is going to be a big challenge since the lag bolts are in recessed aluminum and have plastic bolt caps on them, but we'll make it work. If you have cool AR-15s that you would like to display out in the open, this is the best way to do it. You have the security that I would put on par with a gun locker, but you can proudly display your firearm for guests or have it more available at your bedside if you end up needing to use it. It's more accessible than a gun safe, but secure enough to ease your concern about someone getting their hands on it that shouldn't.
Final Thoughts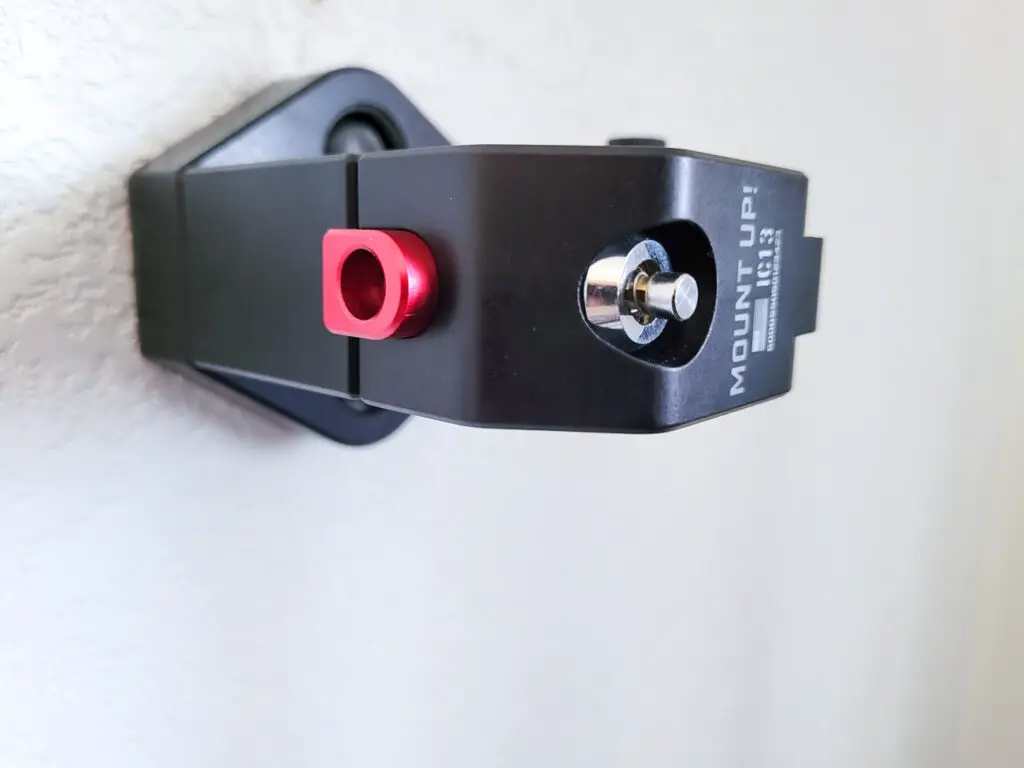 Initially, there was some skepticism on my part on the cost and overall value of these security items. I'm also the kind of person who without seeing and manipulating the product, I don't get the full picture of what value it provides. Now that I have seen and worked the Mount Up Vertical Gun Mount, I can see why it justifies the price. American-made products are getting harder to find every year, and with this being so well-made, I hope this review can convince some people that this is a completely valid method for AR-15 storage. If you're looking for a better way to store a firearm in a place where you may need more access to a firearm in the case of a home intruder or even a bug out scenario, then the IC13 Mount Up! Vertical Gun Mount is a great way to go.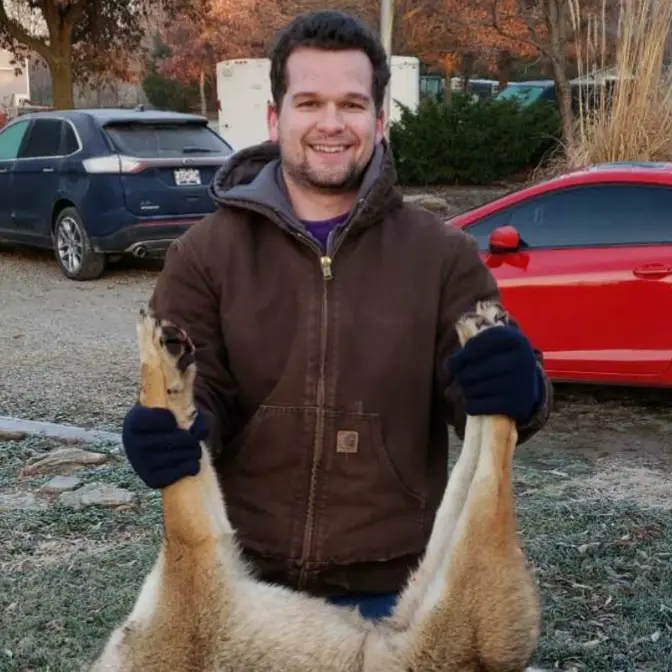 Growing up, Buck was taught about firearm history and appraisal. Getting to know so many different firearm platforms eventually lead to his long-distance shooting exploration. While his main hunting past time is coyotes, he still find just as much satisfaction punching steel at distance. Every shot taken is with the purpose to become a better shooter.