Today, we're taking a look at the Olight Baldr S weapon light. We'll start things off with the features and specifications of the Baldr S, before offering our thoughts on the light as we've had some time to use it. To wrap things up, we'll compare it to another, similar model, the Baldr Mini.
Before we say anything else, we did want to mention that Olight did provide us the light to test for this review. However, as with all of our reviews, we try to be objective and point out the pros & cons of each product. We aren't afraid to call it like we see it!

Olight has been making lights since 2007, and in that time they've become a global presence, offering handlamps, weapon lights, and weapon lights that do the job well, come with a five-year warranty, and are offered at a competitive price. All things considered, we're big fans of what Olight has been putting out.
Baldr S Specs
Check Price at:
| | |
| --- | --- |
| Format | White Light with Green Laser |
| Light Level | 800 or 100 Lumens |
| Intensity | 4,400 Candela |
| Battery Life (High Settings + laser) | 1+2+30 minutes |
| Battery Life (High Settings no Laser) | 1+2+37 minutes |
| Battery Life (low settings) | 90-140 minutes |
| Weight | 3.35 oz |
| Length | 2.48 in |
| Diameter | 1.42 in |
The Olight Baldr S is a small form-factor weapon light that attaches to either Glock or Picatinny rails and includes the hardware to attach to either. This is a lightweight package, only weighing 3.35oz, and it can be taken on and off easily with a quick detach lever.
The Baldr S features a light and green laser. The maximum output of the light is 800 lumens: with that and the green laser on, you can expect about half an hour of runtime. On the lower 100 lumen setting, with no laser, you can expect about 2 hours of runtime.
To thoroughly test out the Olight Baldr S, we've been using it for a few weeks now on our Glock 17 and we really like it! We went to the shooting range during the day to see how well the laser would perform and to test out the accuracy.
At night, we tested it out in our backyard and in our house to see how well the light would perform in a home defense scenario. We even caught an armadillo rummaging around and tearing up our grass!
What We Love
Compact & Lightweight
The Baldr S is flush with the bottom of the trigger guard and is short enough that it doesn't extend past the barrel. This makes it feel one with the gun. Also due to its light-weight nature, it doesn't add any noticeable weight to the front of the weapon when shooting.
Unlike some competitors, the Olight Baldr S has the laser built into the same casing as the flashlight. This makes for a more streamlined package and doesn't require an extra jut out beneath the light to house the laser. We appreciate the small form factor.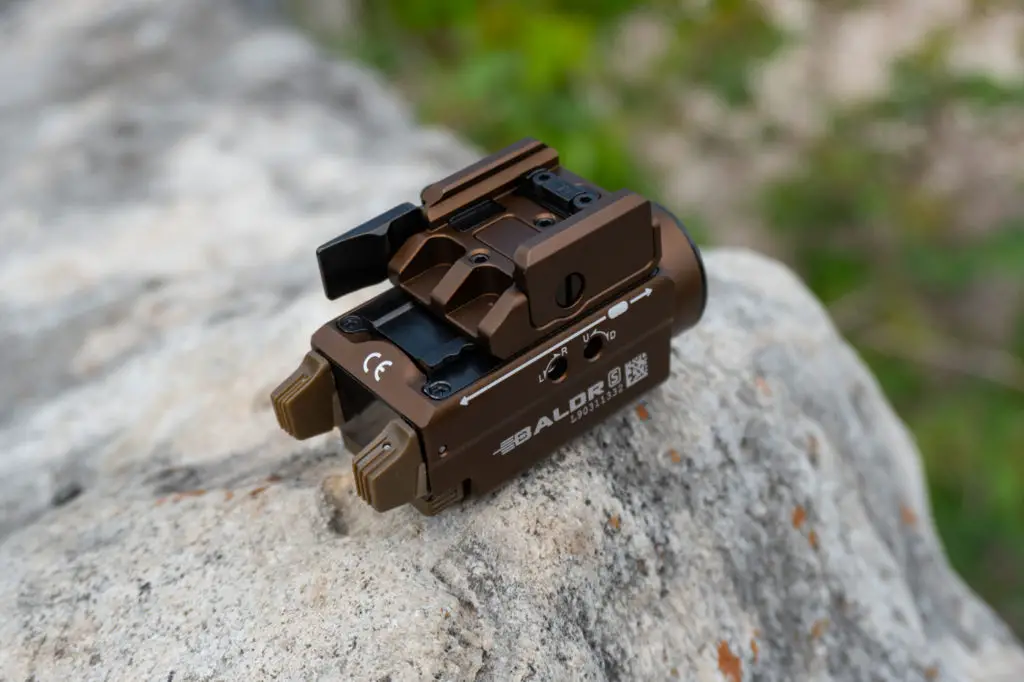 Easy Operation & Quick Release
Unlike one of our other weapon lights by a competitor, the Olight Baldr S has a quick release switch which makes it a breeze to take on and off the gun. Once it is on, the Baldr S sits against the front of the trigger guard. The two switches for the light wrap around the guard making it easy to activate the light, laser, and settings from a normal shooting position. The laser is bright enough to be seen well even in direct sunlight, but we think this really shines as a nighttime home defense setup.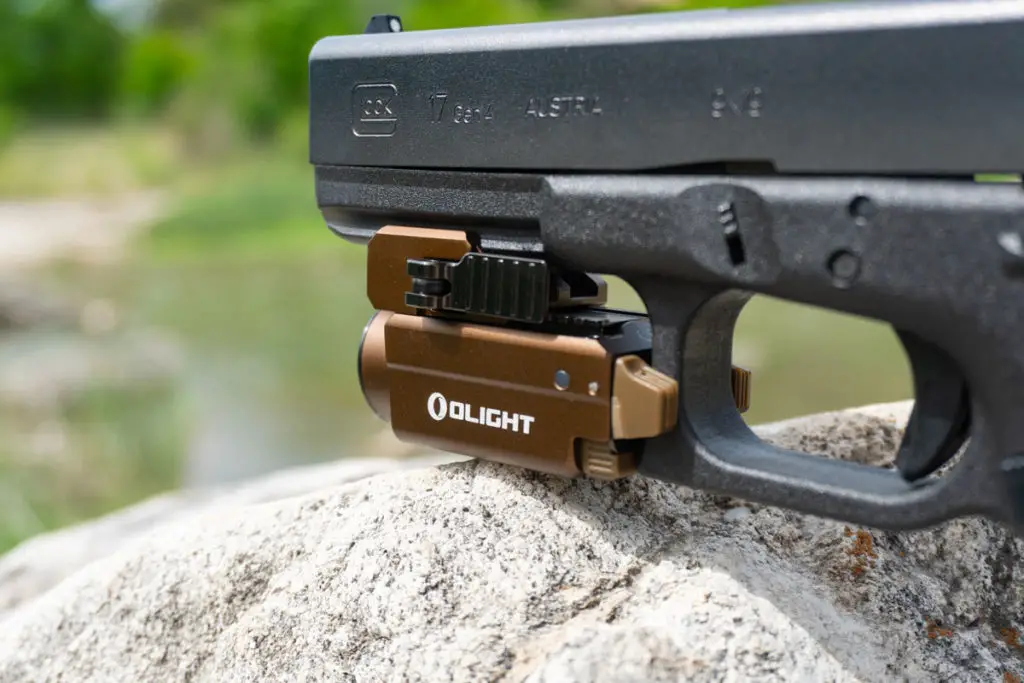 Magnetic Charging
While some weapon lights require removing the entire device to replace a battery, the Olight wins in that regard as well. For charging, there is a magnetic connector on the bottom of the light. And it comes with a USB cord with a magnetic end to connect to it for quick and easy charging. It's super easy and works great.
We were skeptical of this at first, but after trying it out, its a really nice feature. The great thing here is that if you have a plug near where you keep your gun, you can just easily have it charging any time your gun is sitting there. And even in an emergency, you can just grab it and it will be ready to go without having to worry about changing out a battery or even pulling out a charging cord.
Accuracy
With our installation on the Glock 17, the laser was already accurate enough for defensive shooting, so we didn't need to adjust it at all. But, if you do find that you need to zero your laser or light, you can do so easily with an Allen key. Doing so is simple, as the controls are extremely clearly labeled on the side of the light.
Ideally, we'd recommend putting your gun in a vice to zero the sight. But, for a quick and easy solution, you can also just use a table or flat surface to brace your shot to be as steady as possible. Then after each shot, make tiny tweaks to the controls. Remember that a small change goes a long way.
---
All in all, we've been impressed with how lightweight and simple to operate the Bauldr S is, and we think it would be a great light and laser combination for guns that you plan to use in self-defense inside the home or at close to medium ranges. 
A Few Drawbacks
Generally, we really like the Baldr S, as you can tell. Of course, no product is perfect and we have a few small issues with this one.
First, we'd have liked a strobe feature for the light. Since we think this is a good home defense light, the option to disorient a potential threat would have made this light a little better in our minds.
Second, the battery life is a bit short for our tastes. This is highlighted by the fact that we perceive this light to be a little less bright than a comparable Streamlight, which might be due to a slightly less focused beam on the Baldr S. The laser is also a little smaller on the Baldr, but this isn't a huge deal.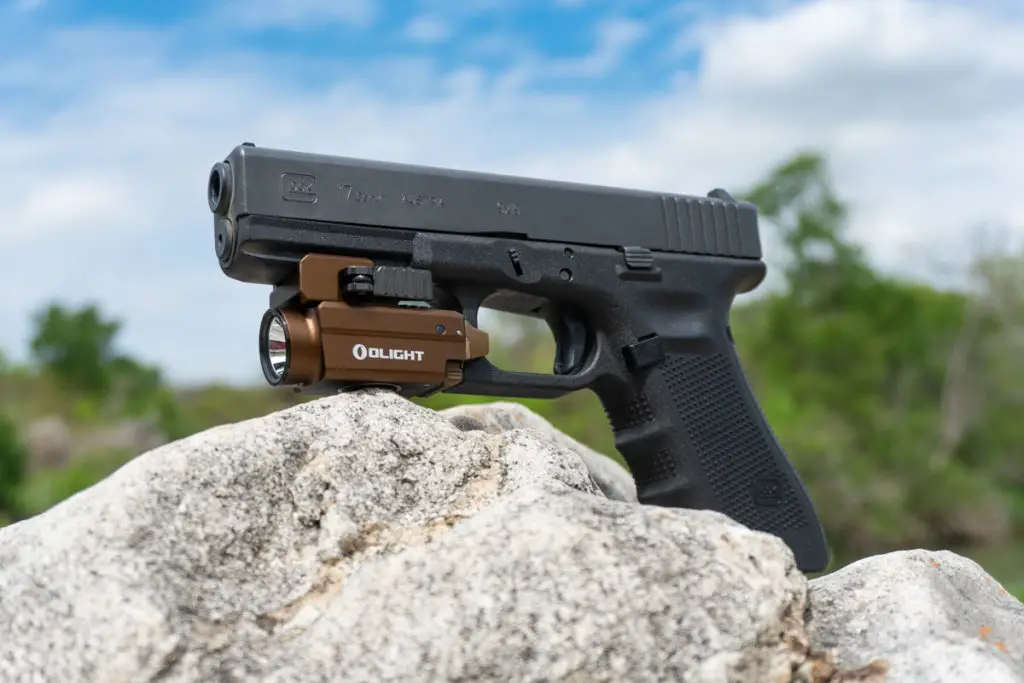 For the price point at which you can find the Baldr S, we think it's a deeply compelling option for folks who want a more than decent light and laser combination for their self-defense firearms. The critiques we have of the Baldr S are usually in comparison to much more expensive lights from competing brands, which says a fair bit about the overall quality and value provided here. 
Comparison to the Baldr Mini
If you're looking at Olights, chances are you've also seen the Mini. The Mini and the S models are fairly similar, but the Mini does have a few minor differences.
The Baldr S has a brighter light (800 lumens) vs. the Baldr Mini's (600 lumens)
The Mini also has a slightly shorter runtime in all settings, usually a few minutes less than the Baldr S.
The Mini weighs .3oz less than the Baldr S, which we suspect is from the battery.
The Mini does not have the 2 light levels (bright/dim) that the Baldr S has.
Both are rugged, well-made lights that will do the job at hand well.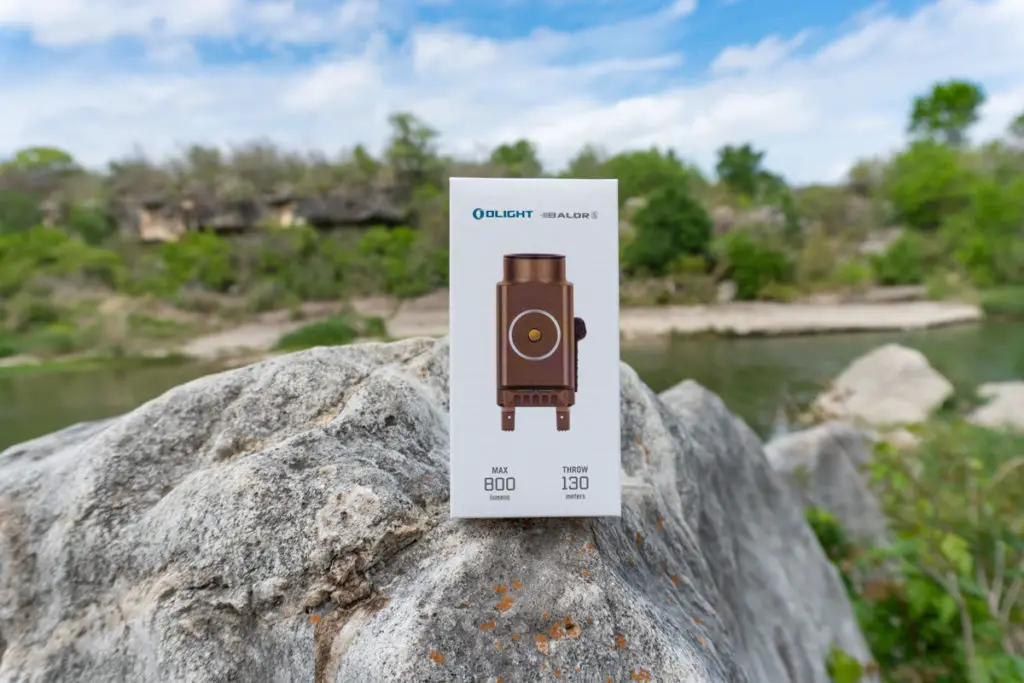 Conclusion
In this piece, we've discussed the Olight Baldr S. Overall, it's sturdy, easy to use, and simple to live with a light and laser combo that makes an excellent small weapon light for something like our Glock 17.

We do sort of wish it had a strobe feature, but the super-easy setup and charging features make this a super compelling option for people who want something that's not overly complicated. Even if Olight had not been kind enough to provide us with one for the sake of doing this review, we'd look at them to purchase ourselves, so we can also recommend them to you.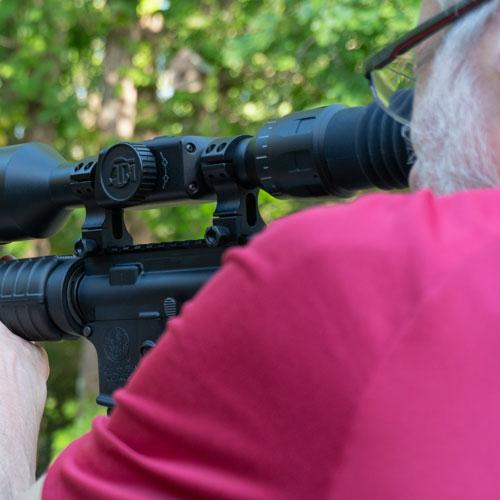 George has been an avid shooter for twenty years. He began shooting when he was gifted a Browning SA-22 for target practice. Now, as an academic, he combines his love of firearms and knowledge of history to write for firearms blogs and is still a frequent sight at the local range.