CYA Supply Co. was kind enough to send us their Ridge Deep Concealment inside waistband holster (IWB) for us to review. As with all our reviews, we try to be objective and give you our honest opinions. So, let's get started!
Holsters, we have seen them all. Countless brands from the reviled Uncle Mikes to the sometimes out of reach Tier 1. I have reviewed dozens of holsters. Mostly from smaller companies, but my guns have been used to test a holster if it is worth having and using regularly. To provide some background, I have been carrying firearms on my person for around ten years now. I started with a CZ52, in a non-matching holster I purchased for twenty-five dollars at a Cabela's. This gun I would stick in a pocket inside my jacket and then move on with my day. After making anew friend who just so happened to teach gun classes, I was taught the error of my ways. 
I moved into carrying a Glock 22, with an alien gear. Which is substantially better than what I wore before. But this holster did not last long, and I moved on to more form fit holsters, coming from smaller companies. While I do not remember them all, each one was similar and helped me refine my holster testing criteria. 
CYA Holsters Review
CYA holsters is a company that I have heard of, but never purchased a holster from. I was asked to review a holster, and since I was in the market for a new holster for my Glock 48, I decided to take a look at their website.
There are two types of holsters they offer. The Base IWB which comes in at $39.74 and their Ridge IWB comes in at $59.74.  I ended up going with the Ridge because it is able to fit my Glock 48 as it is designed for use with compensators. 
Testing Criteria
First, is retention. Here I unload the gun that is being carried, put it into the holster and start shaking it until it falls out. This gives me an area of knowledge for how much I can do while wearing this holster.
Second is retention after 100+ draws. While this doesn't seem like much, sometimes, less quality holsters will lose their retention after 100+ draws. Now I use to do 1000+ draws but that becomes time consuming and if it fails, I will fail before 1000.
The third criteria is comfortability. There is some classic fuddlore that a gun should never be comfortable as it makes you forget the power you wield. But I believe differently. I have made it a mission to find the most comfortable holster that also meets my criteria. 
Features of CYA Ridge IWB Holster:
Check Price at:
REMOVABLE SNAGLESS CONCEALMENT CLAW: Reduced printing with a claw device that torques the grip into your body or carry without it. We mount the claw on the inside of the holster to prevent snagging.
MONOBLOCK GEAR CLIP: This metal clip has two independent legs to maximize contact and an extremely high clamping force that ensures your holster will not slip off the belt. Fits belts up to 1.5".
OPTICS CUT: Cut to accommodate optics but fully compatible without optics.
OPEN FRONT: Open muzzle design accommodates compensators and threaded barrels.
RAISED SIGHT CHANNEL: Extended sight channel to accommodate look through/suppressor sights for those who prefer the peace-of-mind of redundancy.
FULLY ADJUSTABLE: The Ridge can be adjusted to your preference with adjustable retention and cant. The cant can be set to 0° or 15°.
DESIGNED AND MANUFACTURED IN THE USA: Veteran and Family-owned and operated small business in San Antonio, TX.
Packaging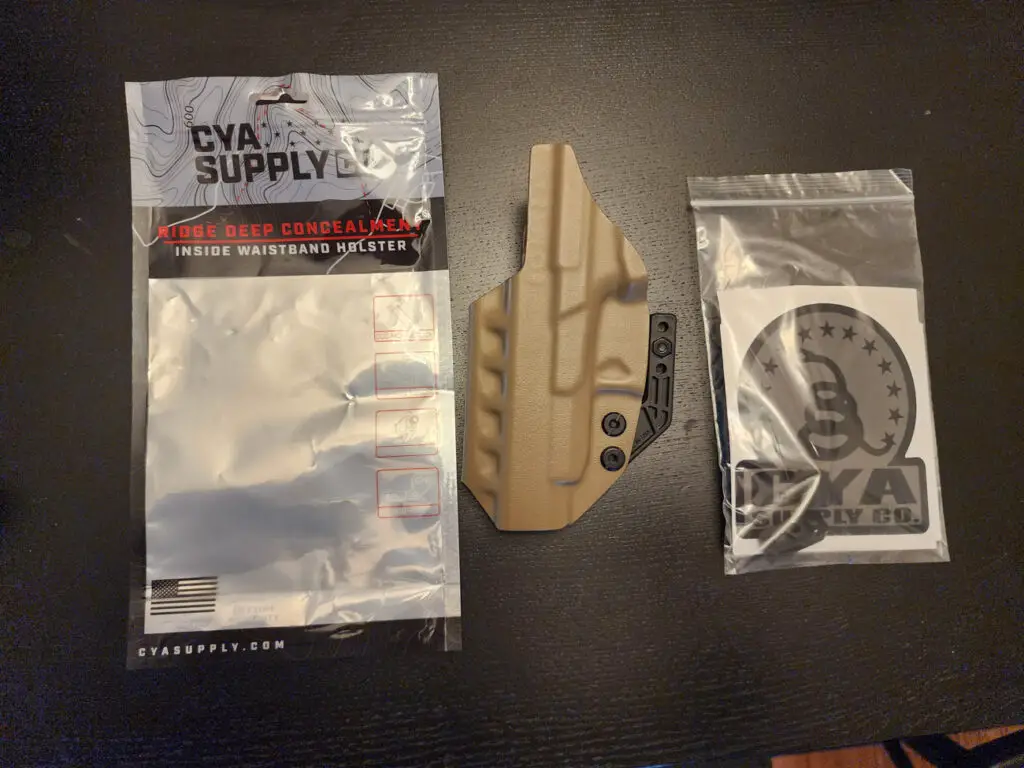 The CYA Supply Co. holster was shipped via USPS and arrived in a USPS bag, inside the USPS bag was the CYA bag. This is a much more durable feeling plastic that did not appear to be damaged at all during the shipping process.
The outside of the packaging has two methods of recommended carry and other information regarding the product. Inside the bag there were stickers and the holster. A simple but effective packaging that doesn't stand on grandeur but also isn't a holder shoved into a plain clear bag. 
Testing
After getting the CYA holster from the bag, I moved right into test. The first thing I did was put the unchambered, but rounds in the magazine, Glock 48 into the holster, and over my bed, I swung the holster over my head like a hammer and stopped my arm suddenly. The gun remained firmly in the holster until I used most of my strength to gain as much momentum as possible out of swing. With his I know what I can do while wearing the holster. Which in this case, is just about anything. I cannot foresee a circumstance that would unholster this firearm without my explicit action resulting in it being unholstered.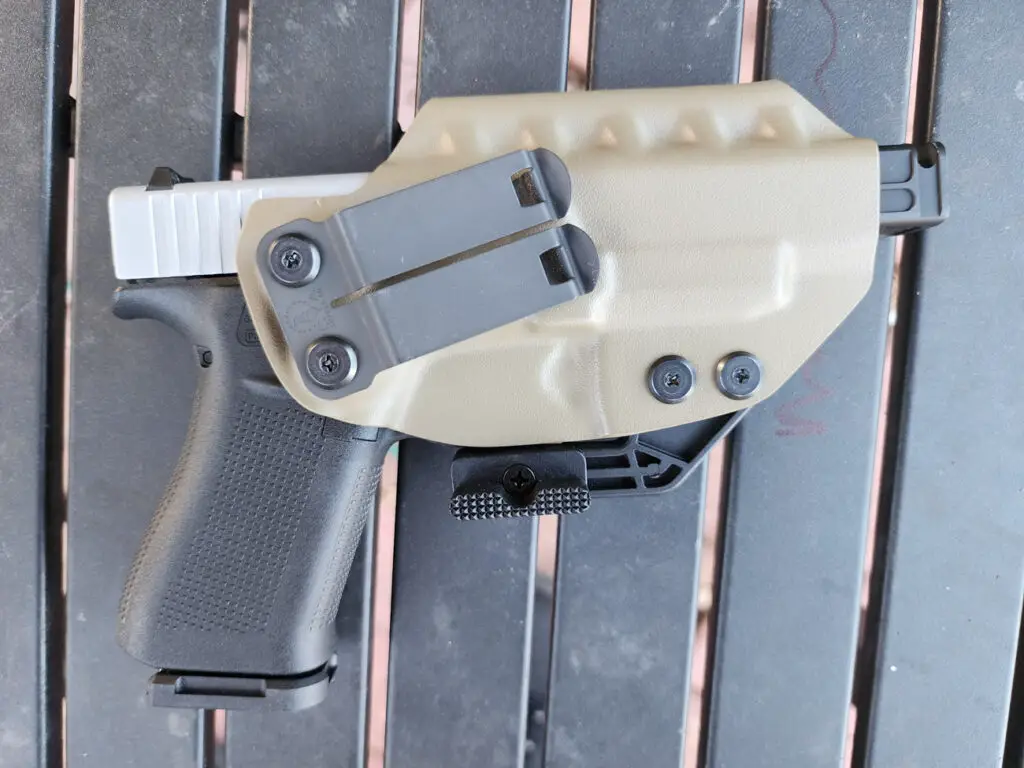 Drawing a handgun 100 times from the hip, waist or appendix can get really tiring. So what I do is I ensure my firearm is unloaded and I sit down to my nightly routine. Where this is watching TV with my wife or working at my computer. I will idly sit there, put the gun in the holster and pull it out of the holster. I will mark it down in a notebook and once I hit around 100 I will then repeat the initial test. I completed this for the holster and my results were the same. This holster has held up through the initial test for retention. It is not so tight that you would struggle to get the gun out, but it also isn't so loose that if you trip it will fall out. 
Comfort
As I said before, there is some fudd-lore that I have read and heard from my first concealed carry instructor that an IWB holster should not be comfortable as it will make you complacent, I disagree. A holster should be comfortable especially if you are going to be carrying all day while working, traveling or seeing a movie. 
For the last few weeks, I have been wearing this almost every day. I work from home, so carrying at work has not been a priority as I have a gun near my desk. But to test this holster I wore it all day while working and found it to be extremely comfortable sitting in my chair. I have barely had to adjust the gun or holster and following the guide listed on the packaging I picked the right kidney carrying position. 
In the car driving to and from the stores I have visited, I have had no issues sitting comfortably, and I am confident I would be able to safely draw the firearm if needed while seated in the car or in my home office. 
The final test was a movie night with my wife. We arrived at the theater just before 1900 and left around 2140. We then went to dinner. In the theater we had the large lounging seats which provided plenty of room to sit comfortably and the holster was not interfering with my time at the theater. Dinner was a simple and quick affair, but a booth at a steakhouse again did not interfere with the holster. 
Verdict
I have been through many holsters in my life and I have rarely settled on one that I love as much as the CYA holster as quickly as I have. It took over a dozen holsters to find one I liked for my CZ SP01. It took me five or six to find one for my old Glock 22. While I was in the market for a new holster for my Glock 48, I had not found one that I wanted.
I am more than pleased to have the CYA Supply Co. holster as it is comfortable and has the retention I was looking for in a holster.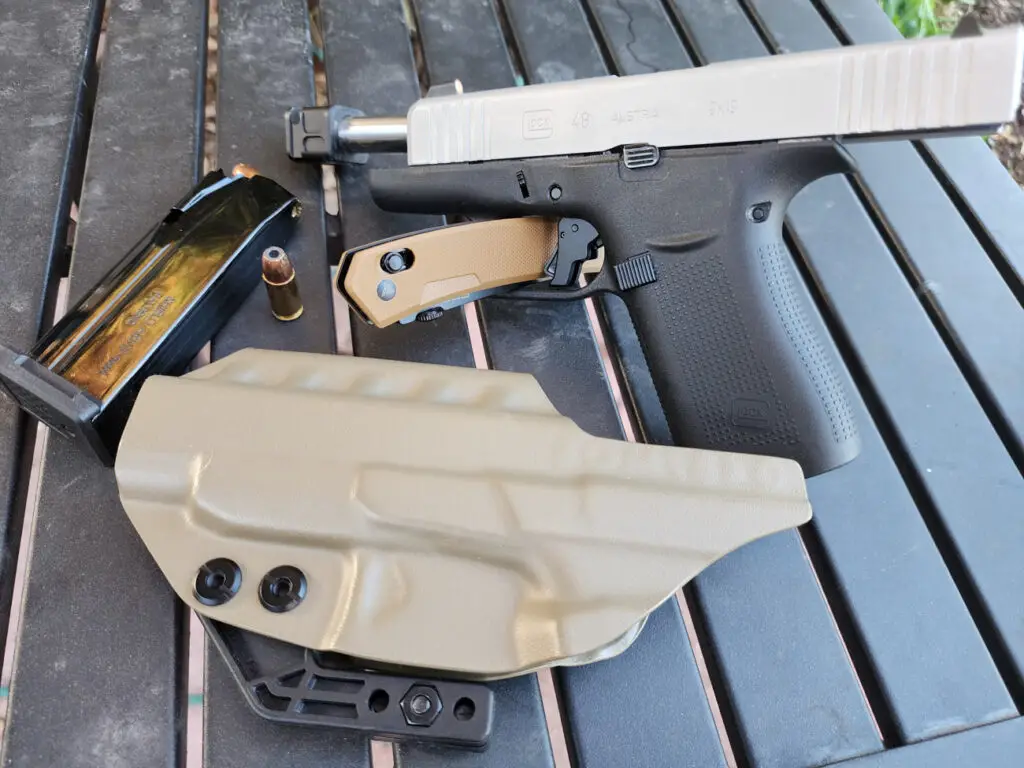 Check Price at: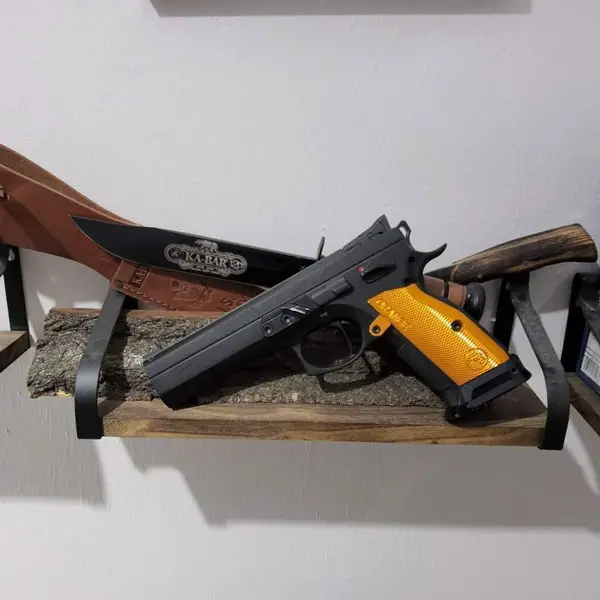 Donovan has been shooting since he was ten years old. He has shot precision air rifle competitions and went hunting with his dad. After graduating high school he joined the US Army where he was trained on rifle, handgun and machine gun usage. After completing a tour of service in Afghanistan, he came home and started buying guns learning what he liked and didn't like with each gun he bought.