It's important to note up front that Arken Optics USA was super gracious and did provide the SH4 Gen II 4-16×50 riflescope for this review. While this will in no way sway or otherwise influence the review, transparency is nonetheless important, and the reader should be aware of this fact.
Now, let's get on with it!
Check Price at:
About Arken Optics
Arken Optics is a relatively new company that burst onto the precision riflescope scene in a big way by producing feature rich optics that don't break the bank when compared to their competitors. Founded in 2019, the Arken Optics "Team" is based in the United States, naturally, and is led by Michael Reilly – retired Navy SEAL sniper.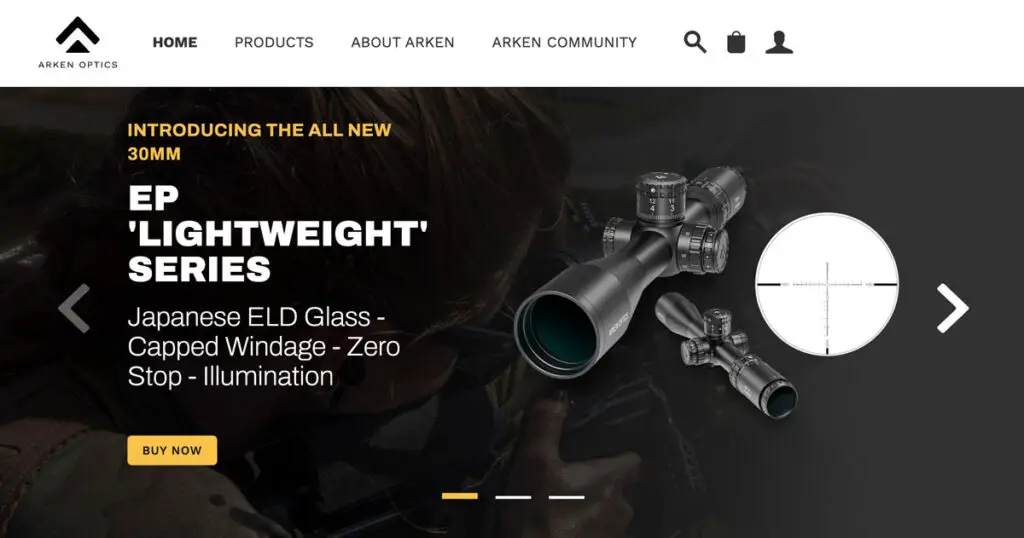 The Team also consists of the customer service team lead Josh Greer – former Navy submariner and avid hunter and outdoorsman, as well as sales and marketing lead Michael Benedict. These men are familiar with what should be expected of a quality optic and took it upon themselves to deliver what they thought the market, and the users, needed. 
Product Offerings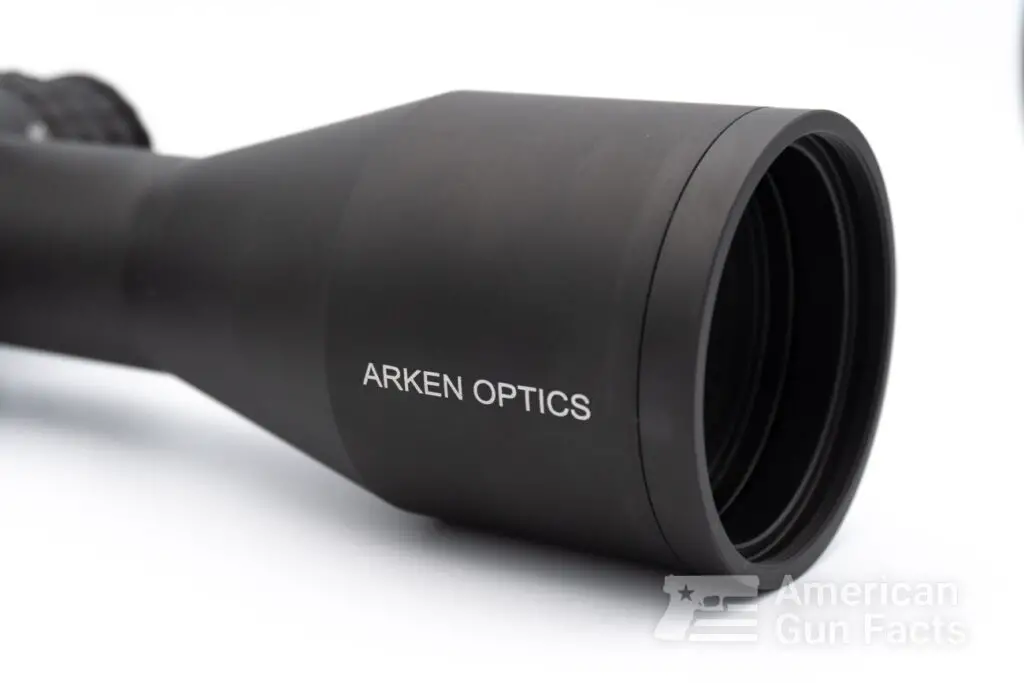 Arken Optics currently offers ten different riflescopes across three different lines – the SH4 Gen II, the EPL4, and the EP5. The SH4 Gen II line is their lowest cost selection and consists of four scope offerings across two magnification levels, a 4-16×50 and a 6-24×50, each with a MIL and MOA option.
The EPL4 line, Arken's middle tier, similarly consists of four scopes with two magnification offerings, this time a 4-16×44 and a 6-24×50, again with the option of either MIL or MOA. Finally, their EP5 line, the pièce de resistance of the Arken Optics lineup, offers two scopes in a single magnification range, a whopping 5-25×56, with those tried and trued MIL and MOA choices.
All of their scopes are manufactured in China, which is not surprising and should not damper any expectations going into an evaluation of Arken products. In fact, this is precisely the case for some Vortex models. Although they're all manufactured in China, only Arken's SH4 Gen II line of riflescopes uses Chinese glass, while the EPL4 and EP5 scopes utilize Japanese glass.
Product Quality & Warranty
When it comes to these scopes, the customer is supposed to expect to get more than their money is worth. All their products are rigorously tested to ensure that they meet the highest standards of quality and performance. Like many others, Arken Optic's scopes are expected to be shockproof and waterproof to maintain reliability in all situations and provide the shooter with confidence in their optic.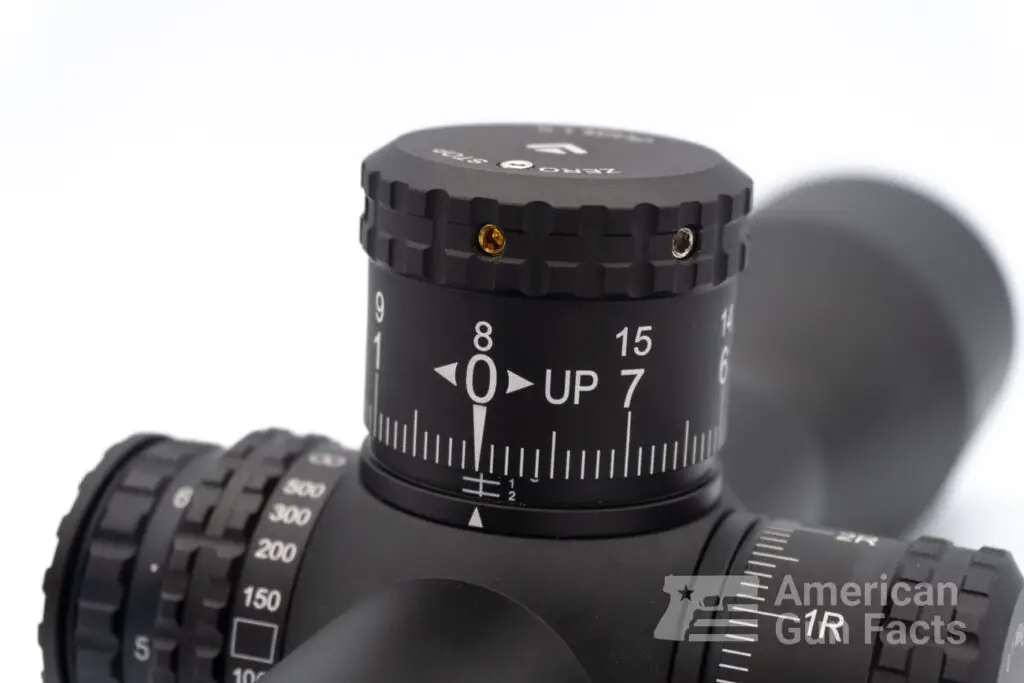 Where Arken really sticks their neck out is for their tracking. They allege "unrivaled and unmatched" precision tracking, which is undoubtedly something that a former Navy SEAL should appreciate. Another aspect of the company that sets them apart is their adoption of a fully transferrable lifetime warranty model. Although they don't necessarily openly state a "no questions asked" lifetime warranty like that of Vortex, a lifetime warranty at the least should be standard so it's nice to see a younger company such as Arken leaning into the concept. 
Arken Optics brings one goal to the table – "To create a scope that is designed to perform with rugged precision at a price everyone could afford." This means providing the highest quality riflescopes possible to precision shooters, hunters, and tactical professionals alike that can offer the clarity, utility, durability, and dependability needed for the job. All this at a price well below the "elites" that have cornered the precision riflescope market. How successful have they been at accomplishing this goal? The SH4 Gen II series are some of Arken Optics' most popular products, so we're going to take an in-depth look at one and put that goal to the test.

Overview of the Arken Optics SH4 Gen II
As previously mentioned, the SH4 Gen II is a very popular choice among the current Arken Optics roster given its combination of a very attractive price point and appearance of being absolutely loaded with features. The SH4 is designed to combine quality, performance, and precision with tremendous value. The SH4 is one of Arken's original offerings and is now kind of a "gap bridger" between their EPL4 line and their relatively newly released EP5 line.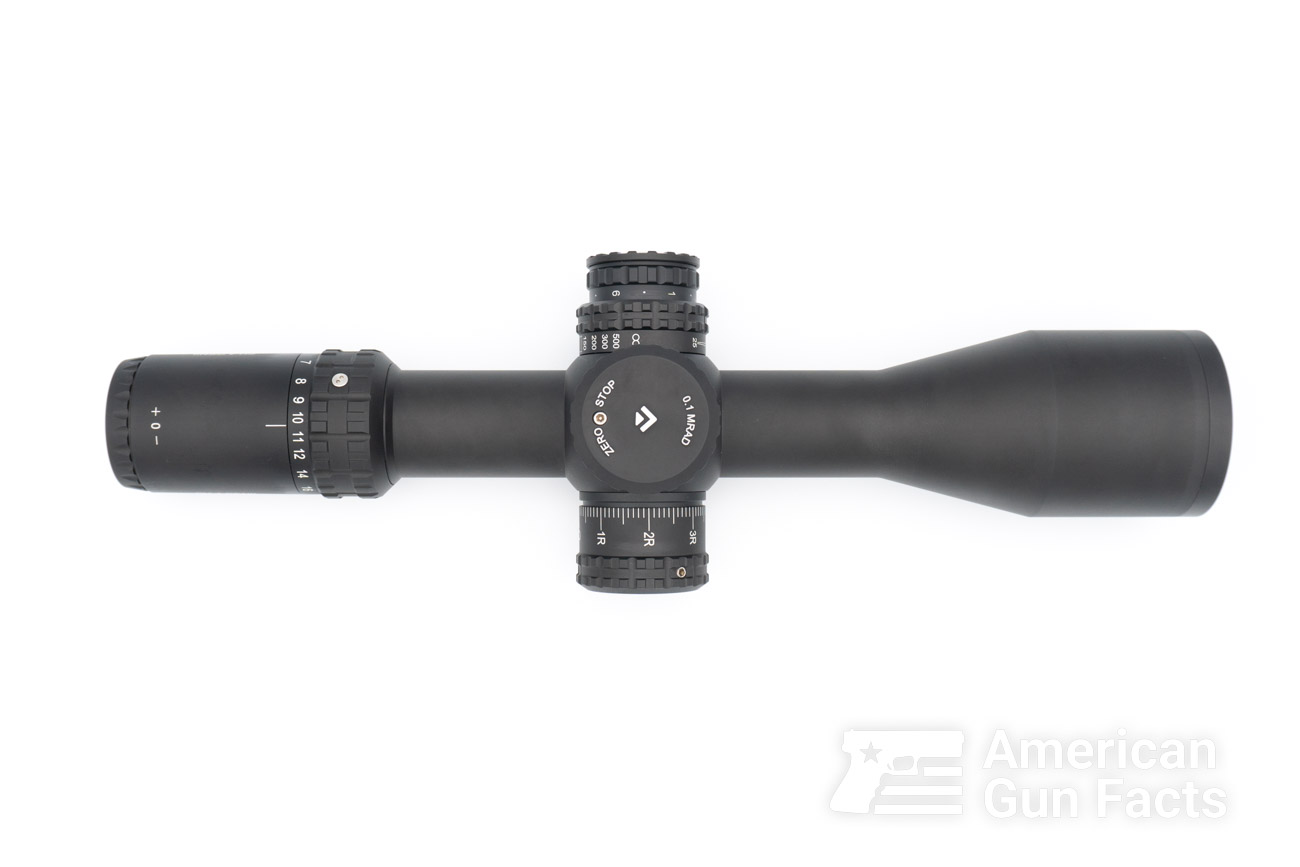 On the surface, the build and features of the EPL4 line of Arken scopes lends them to more of a hunting variety optic while the build and features of the EP5 riflescopes speak to more of a stereotypical benchrest or long range precision use optic. The feature set and dimensions of the Arken SH4 lineup of scopes are more reminiscent to that of the EP5, yet offers two different magnification ranges like the EPL4 line and comes in at a price point below both. 
Features and Specs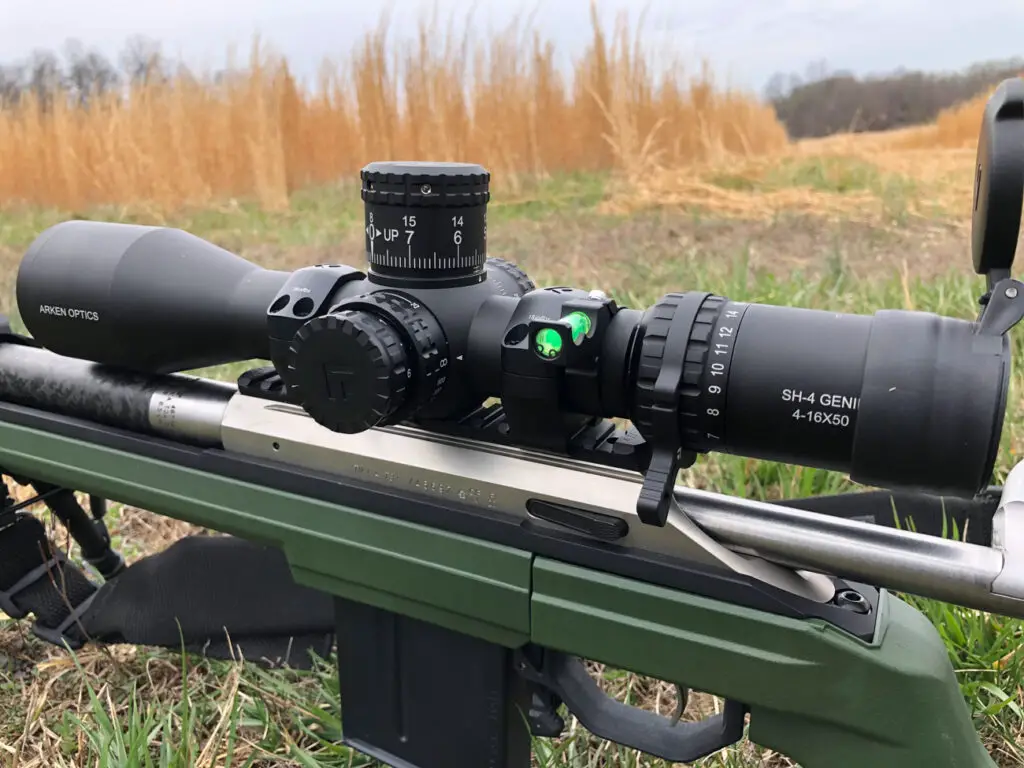 Speaking of feature set, I used the term "feature rich" already. Feature rich is clearly a subjective term that can mean more or less depending on the price of the optic that you're committing to. If you're in the market for a $3,000.00 Nightforce, Schmidt & Bender, or Zeiss then "feature rich" is essentially meaningless because you're already expecting all of the bells and whistles. That's hardly the case when discussing even a sub-$1,000.00 optic, let alone a sub-$500.00 one.
As previously mentioned, the Arken SH4 Gen II (I'm not really sure what happened with Gen I) comes in both a 4-16×50 and a 6-24×50 offering, each with a MIL and MOA option. The SH4 Gen II is a first focal plane (FFP) scope that incorporates elevation and windage adjustment turrets, naturally, which offer 8 mils/20 moa of adjustment per revolution. This is all pretty elementary stuff, but now comes some of things that I believe earns that SH4 Gen II the badge of "feature rich"…The SH4 Gen II comes equipped with a Zero Stop capability, which is rapidly becoming more and more common but is still not necessarily a guarantee in the budget friendly tier of scopes.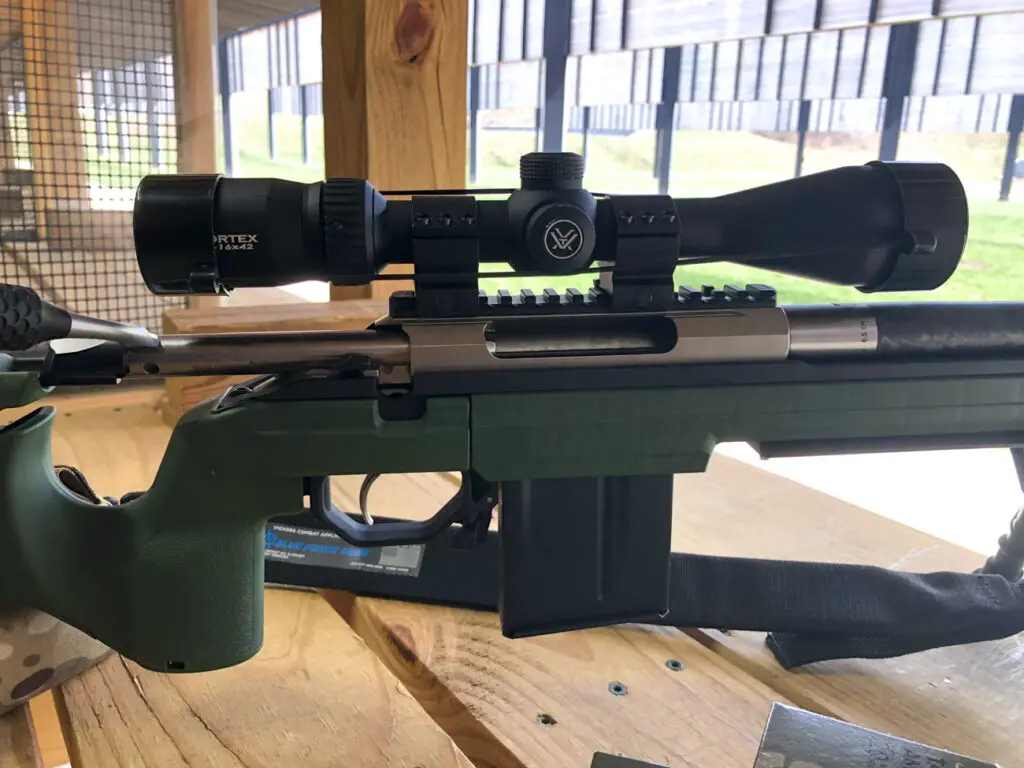 Along with this Zero Stop feature you also get an illuminated reticle with the SH4 Gen II. Sometimes an illuminated reticle comes at the cost of a side parallax adjustment, but not with the Arken SH4 Gen II. On the left side of the scope you'll find a large side parallax adjustment knob with an embedded illuminated reticle knob. Furthermore, the SH4 Gen II allows for reticle/ocular lens focus (diopter) at the eyepiece. While the diopter adjustment does not lock, it is plenty stiff enough to prevent it from moving inadvertently if bumped while still maintaining the ability to be adjusted with ease. And for the icing on top, the SH4 Gen II also comes along with a sunshade, lens cloth, and CR2032 battery included.
Size and Weight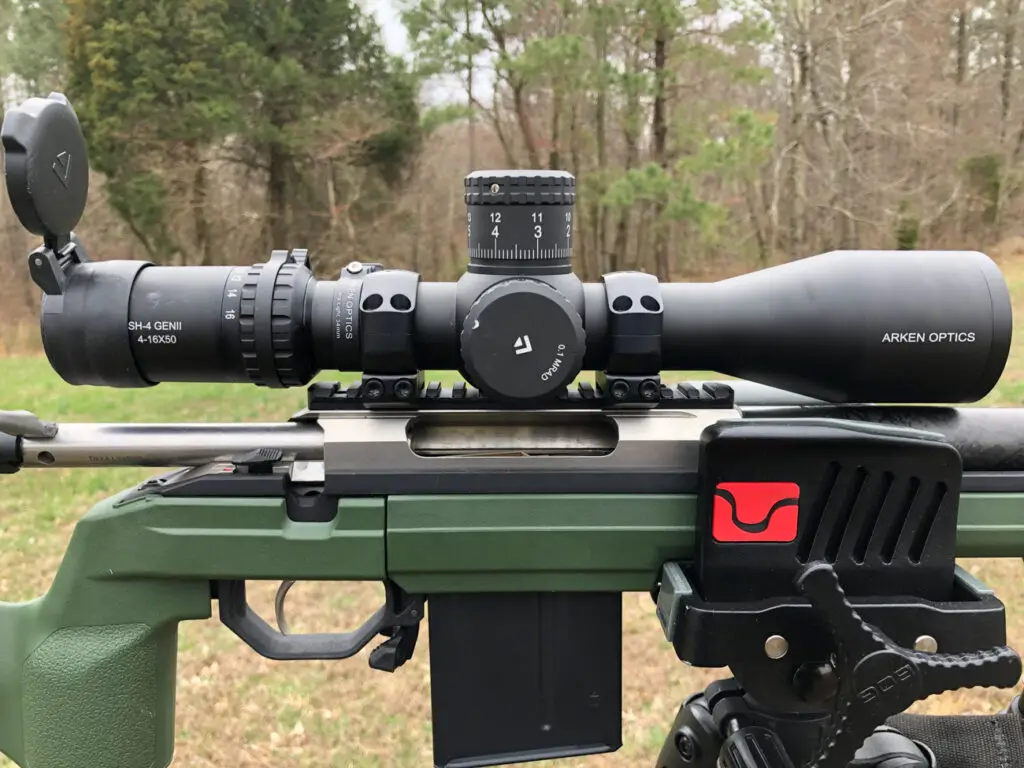 Out of the box this scope certainly feels like quality. It's just one of those pieces of kit that just feels robust when you pick it up. A lot of that is certainly due to the sheer size and mass of the SH4 Gen II. It is definitely a tank compared to many other scopes that you would encounter in the Arken SH4 Gen II's bracket. The SH4 Gen II 4-16×50 has an all aluminum construction, but boasts a hefty, and sturdy, 35.6 ounce weight. For anyone not willing, or able, to do the math that is every bit of 2.23 pounds. The 6-24×50 adds an extra ounce to that and weighs in at 36.6 ounces.
Now, of course, that's not ungodly heavy given the size and magnification range of the scope, but that Nightforce territory and Nightforce are notorious for being very heavy scopes. And heavy isn't always a downside. If the intent is more benchrest or long range precision focused then that extra weight comes in handy to help reduce recoil considering the need to carry long distances isn't going to really be an issue. The heft and sturdiness of the SH4 Gen II undoubtedly lends itself well to its ability to take a beating and hold zero. If you want something to be utterly shockproof and ensure that it will keep working reliably, it doesn't hurt to throw a little extra material on it.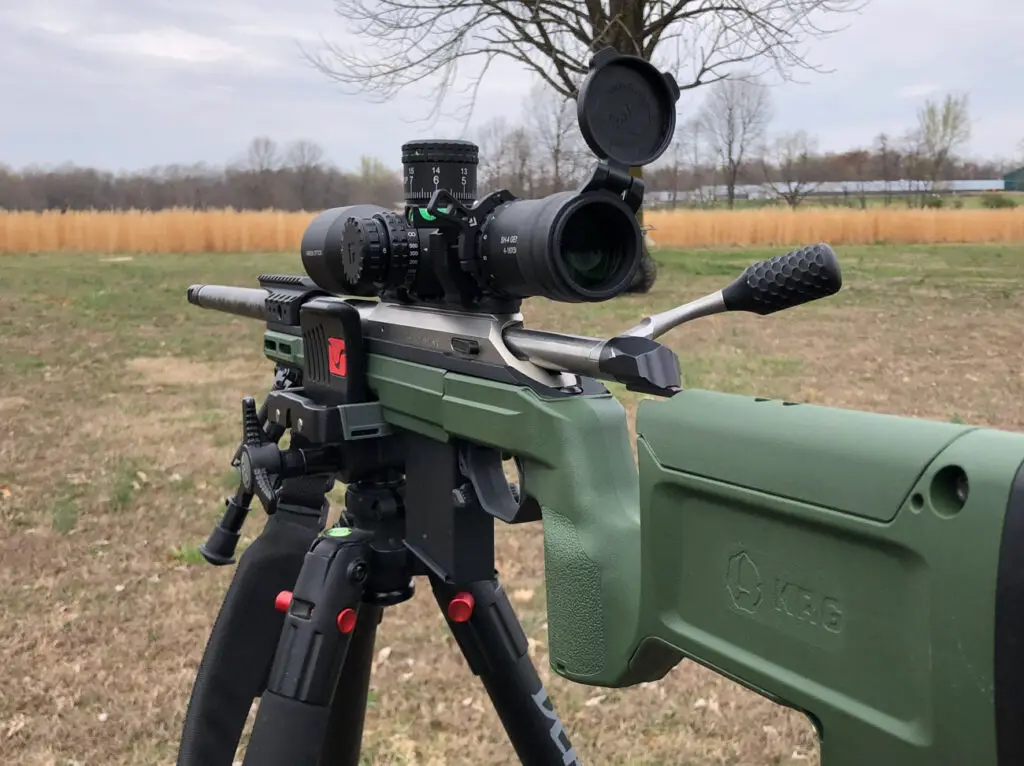 It's also worth noting that although the SH4 Gen II series is stout, this is partially due to the fact that it offers large 34mm tube diameter. This is a great thing, and really isn't offered in a ton of different scopes out there. It was believed for a long time that this larger tube diameter aided in additional light transmission, but now that hypothesis is widely accepted to be false.
What this larger tube diameter really buys you is more elevation and windage adjustment. Having the bigger tube means that you can get more revolutions, thus more mils, in adjustment before the erector runs out of room inside the scope body. This allows for a massive 36 mil adjustment range in elevation. That is a very impressive range of elevation adjustment, and certainly opens the capabilities of this scope up to extended ranges. The windage adjustment range isn't quite as impressive at 14 mils, but that's bad by any stretch, and let's be real, you're probably going to be holding over for windage more than you will be dialing. And if you are dialing for windage, you almost certainly aren't going to need to dial up 14 mils.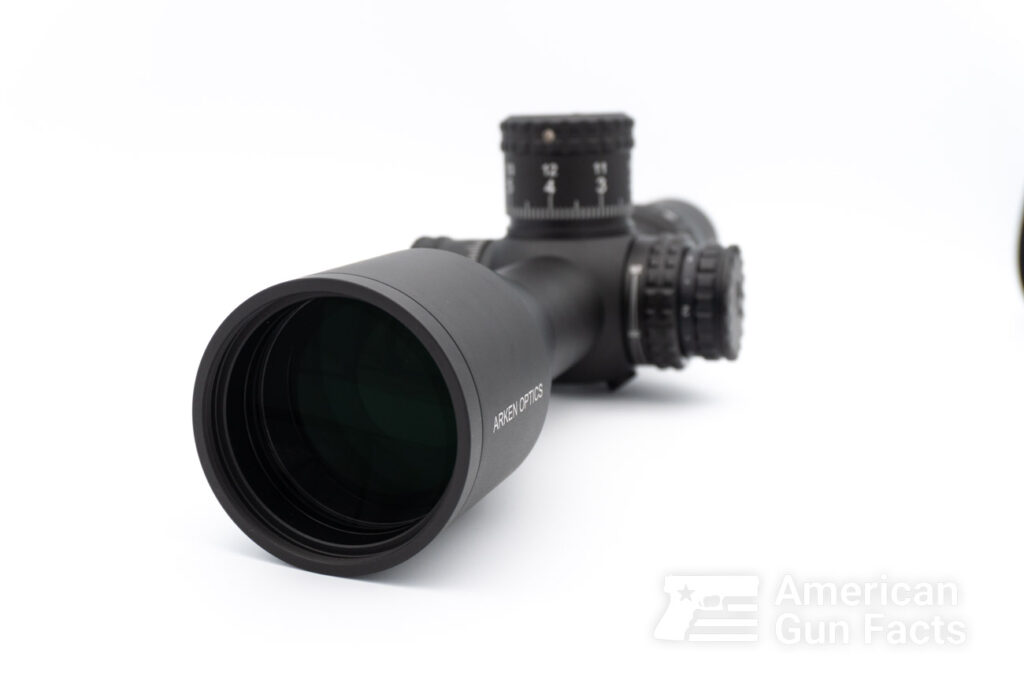 The only real downside to a 34mm tube diameter, outside of a bit of added weight, is the availability and cost of quality rings and mounts. Luckily, you don't have to fork up SPUHR money to mount the Arken SH4 Gen II. Arken does offer 34mm rings on their website, the "Halo Scope Rings", and they do seem to be quality. They are easy to mount, appear to have flawless concentricity, and show no signs of loosening after a pretty considerable amount of shooting with no Loctite applied. Best part, they have their suggested torque values printed right there on the rings themselves which certainly came in handy when it came to mounting…but back to the scope!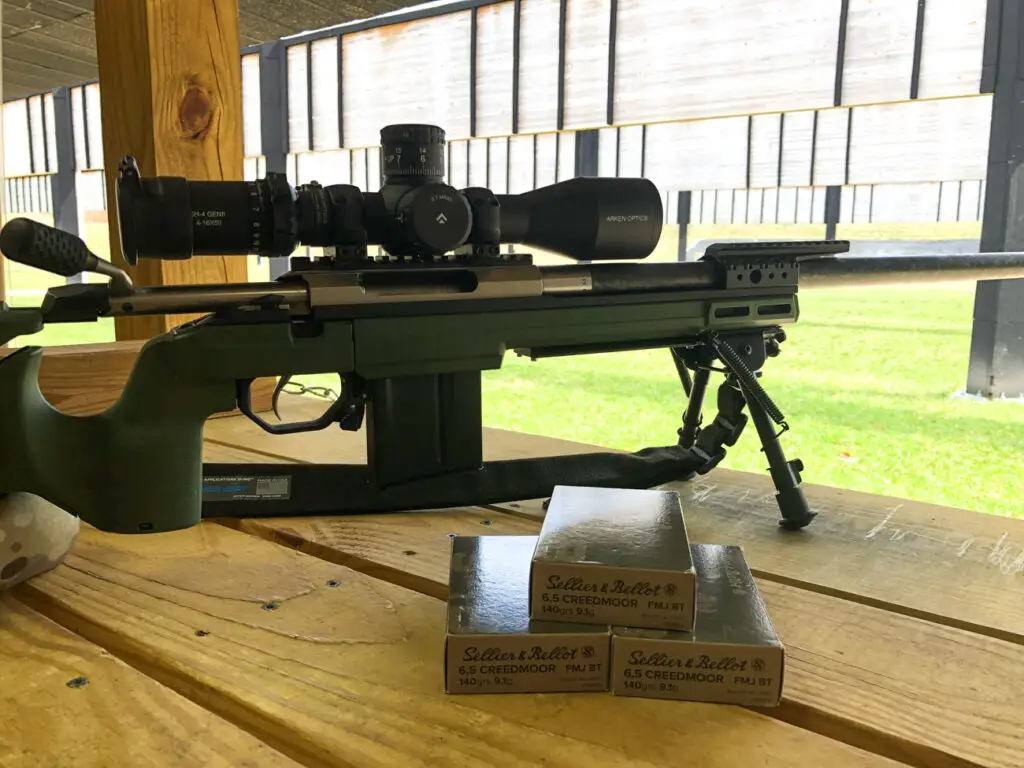 Overall size wise, the Arken SH4 Gen II is right on par with most of the optics that offer similar features and would be used with similar purposes in mind. It's even more compact than some of its competitors that come in at 2-3x the price. The length and height of the scope are very proportional to what comes to mind when you picture your typical benchrest rifle or long range precision rifle. It is definitely a very attractive piece of kit. This may sound hyperbolic, because, hey, it's just a scope, but there are definitely some scopes out there that just don't look quite right or at least look disproportionate in either length or height when mounted up on a rifle.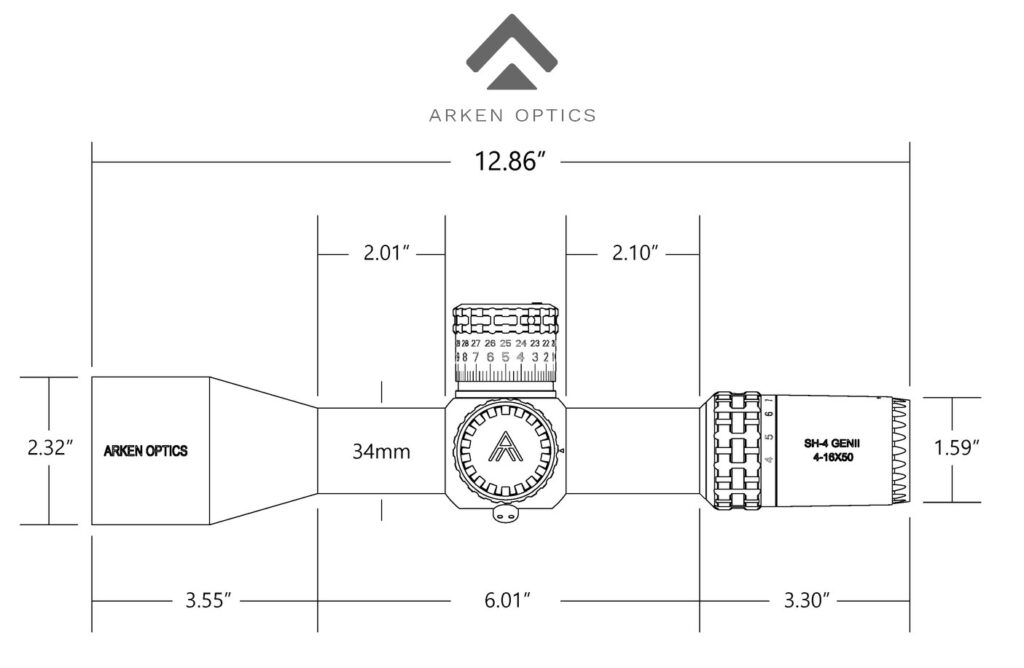 Glass Clarity
Now this is what really determines the viability of a riflescope and just how useful it will be. You can deliver a scope at any price point you want, but if the glass clarity isn't up to snuff then the scope is really no more useful than that of the infamous Amazon Chinesium optic with the side mounted laser side/top mounted red dot that we all love to hate. You know the one.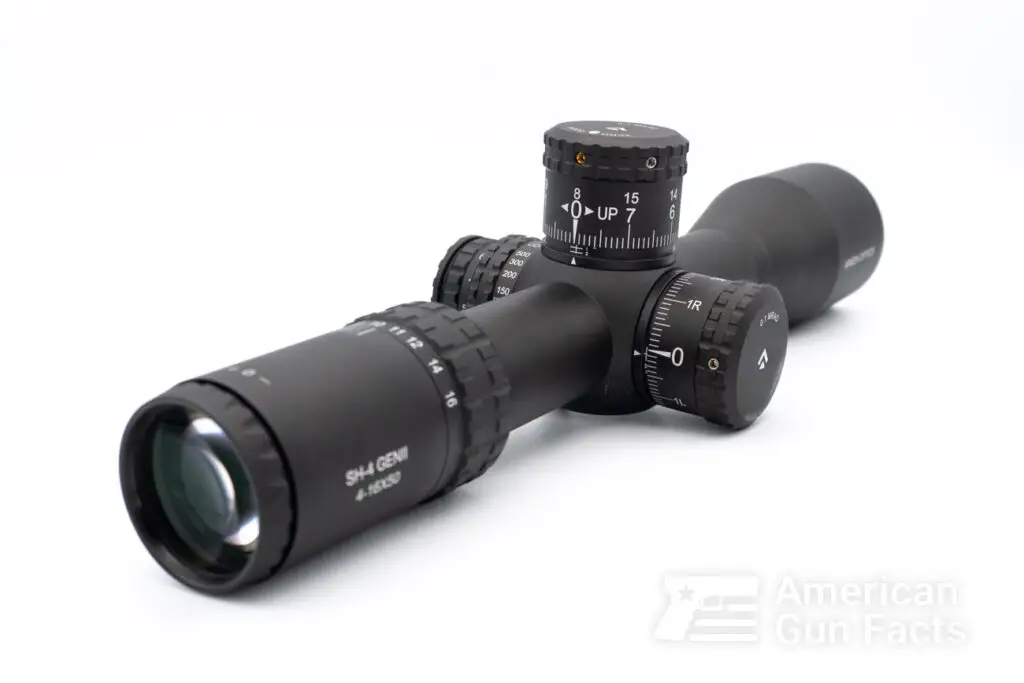 The glass in this one might be Chinese, but it could have fooled me. I was pleasantly surprised by the clarity of the glass of the SH4 Gen II 4-16. It is a robust feeling optic, it looks great on top of the rifle, and it comes in at a great price point, so you figure something eventually has to give. Luckily, that something isn't glass quality. Is it Nightforce ATACR or Vortex Razor HD clear? No, it's not, and don't let anyone tell you that it is. Anyone saying you're getting that kind of clarity from the SH4 Gen II is either shilling, or it's the "just as good" crowd and they're really just trying to convince themselves.  But the Arken SH4 Gen II isn't trying to be a Nightforce ATACR or a Vortex Razor HD, and Arken doesn't pretend that it is, either.
That being said, it is pretty remarkable the clarity you get in the SH4 Gen II's glass when considering how little you have to pay for it. Colors are bright, vibrant, and pop, making it easy to obtain a very crisp sight picture. It's easy to make out distinct shapes and definition at distance. A standard torso sized steel plate at 400 yards can be picked up handily even at just the 4x magnification setting, and hits can be made time after time with a nice, stable shooting position.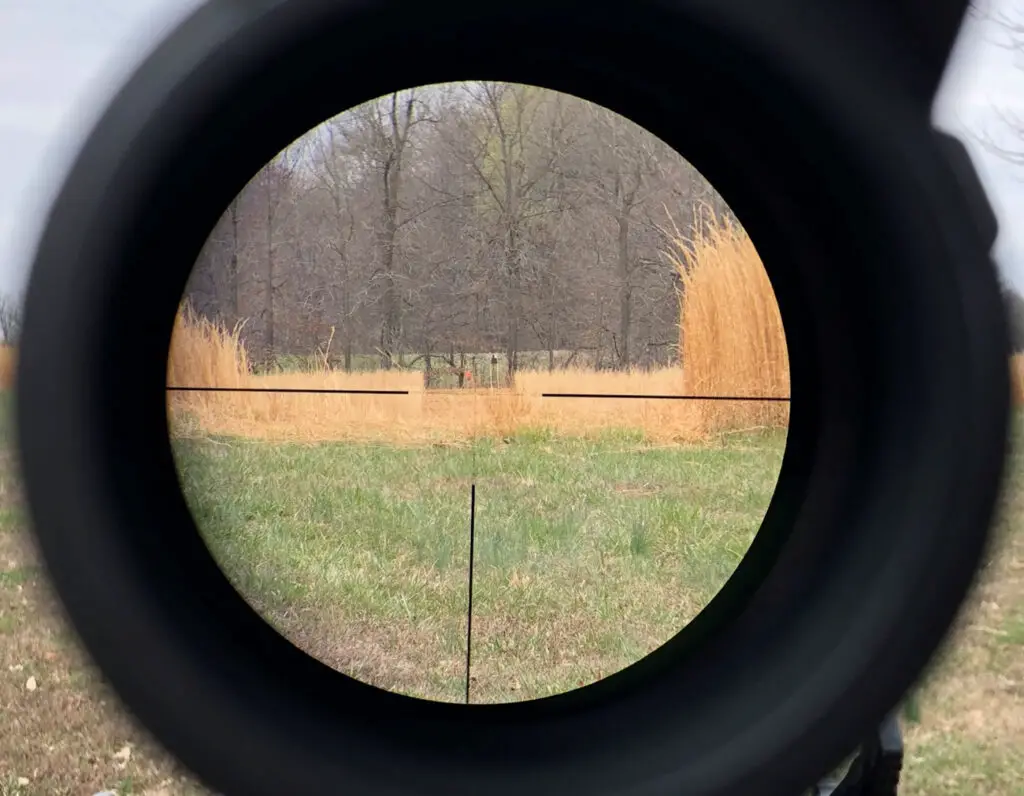 Now, I know, 400 yards isn't some other worldly impressive distance, but it's a distance that would be common in a precision rifle shooting competition and likely at the edge at what most hunters would consider an ethical shot. Bringing the magnification up to the full power 16x setting does cause you to lose a little bit of that clarity, but it's still plenty usable.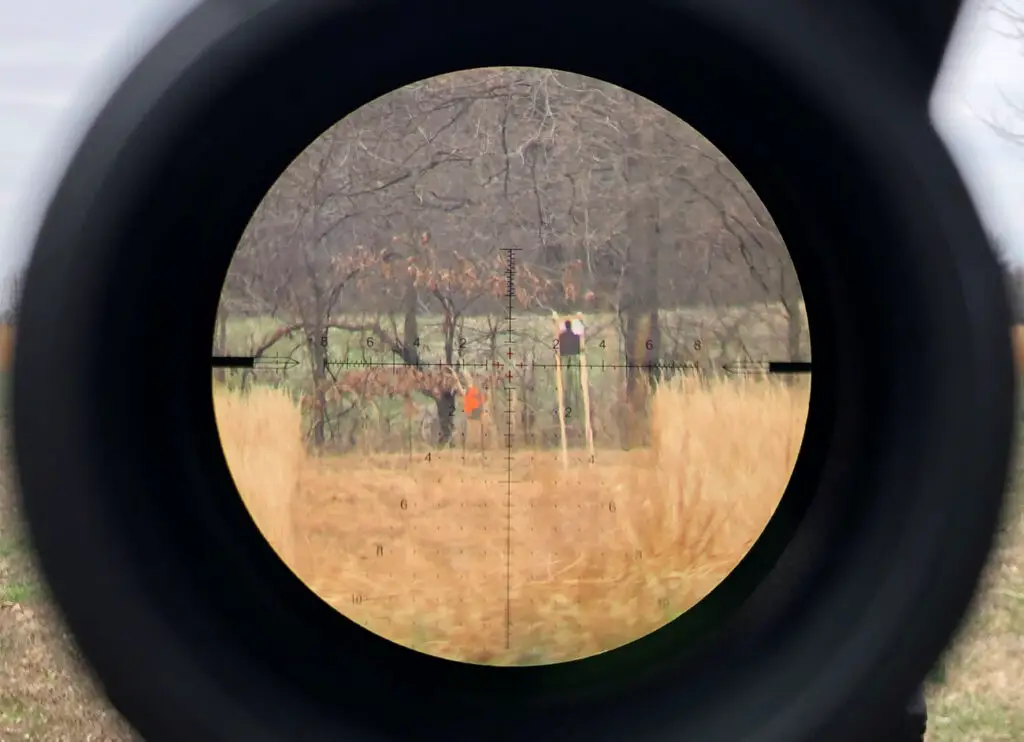 Lines aren't a crisp, definition fades into a bit more of blend when looking at a group of smaller things likes leaves, and there is a fair amount of distortion around the edges. The image clarity starts to fade noticeably around the 300 yard mark when dialed up to the full 16x magnification. However, even with the degradation in clarity, wind and mirage could clearly be seen at 400 yards. So while not perfect, your eye still receives the inputs necessary to make the proper adjustments and hold overs.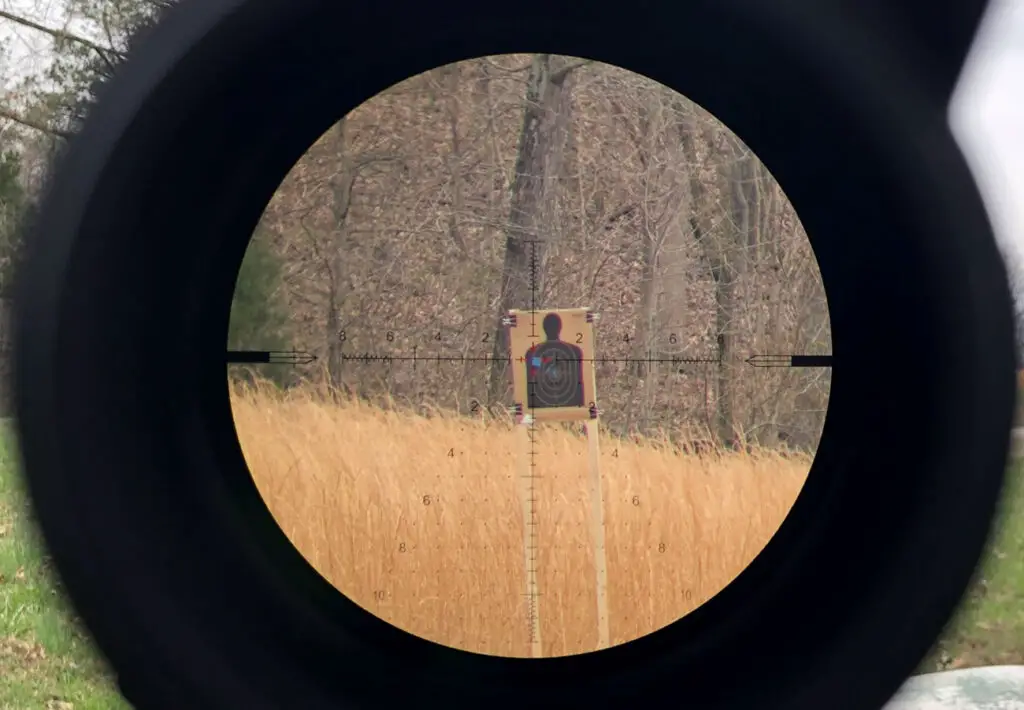 Bringing targets into closer ranges, like 200 or 100 yards, and those deficiencies generally clear right up. Any edge distortion that may exist is not noticeable. No straight line blur, and all shapes are very defined (as they should be). When looking at object clusters like a field of tall grass or a forest of leafless trees it is effortless to make out individual pieces of grass or sticks and limbs.
The brightness that objects have almost works against the SH4 Gen II on a very sunny day. The reticle itself is a bit less crisp and harder to pick up depending on the color of the target and the backdrop. That's not to say that it's difficult to pick up the target or that you'll struggle to establish the crosshair, but it's not quite as effortless as it is on an overcast or cloudy day. 
Field of View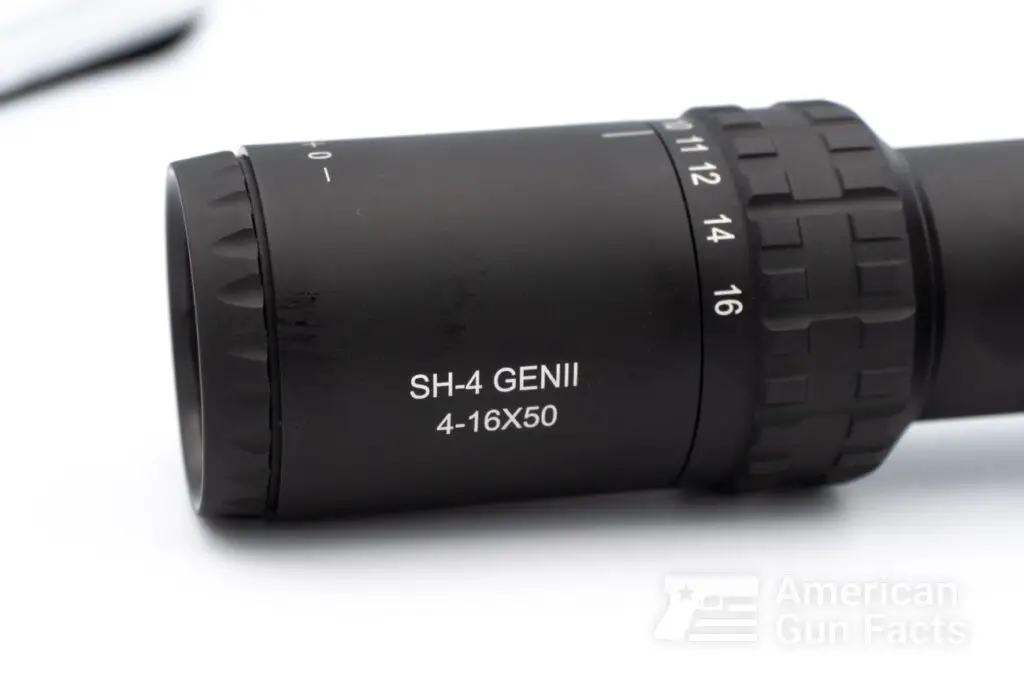 The Arken SH4 Gen II's field of view is one of the better performers in it's peer group, as well, and even better than some of the "elites". At 30 feet and 7.5 feet (at 100 yards) at 4x and 16x magnification, respectively, it comes in above the average for its competition that are generally found to be around 27 feet at 16x and 6.5 – 7 feet at 4x magnification. 
Eye Relief/Eye Box
Eye relief on the Arken SH4 Gen II is, yet again, right on par with the competitors that way out price it. At 3.6 inches you are right at the sweet spot with regards to distance from the scope. You're not right up on the optic and at risk of getting scope bit, and you're unnaturally far back. In short, the eye relief is comfortable.
What is not comfortable, however, is the scope's eye box. It is a pretty unforgivingly tight eye box. The slightest bit of movement up, down, left, or right and you are instantly getting enough shadow to distract you from the target. This would result is quite a bit of chin weld adjustment in between shots. While not a deal breaker, this could certainly lend itself to some challenges if being utilized for precision rifle shooting competitions and hunting, in particular, where you might be needing to take a shot from odd angles or suboptimal shooting positions.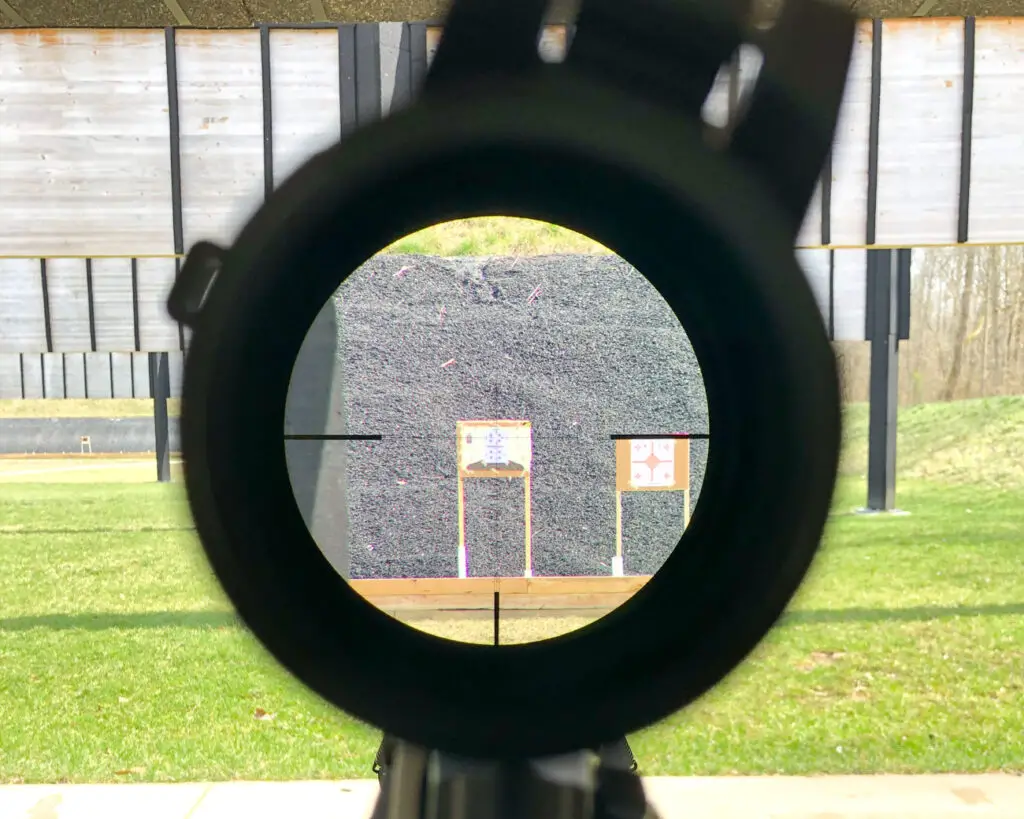 Another thing that kind of bugged me about the SH4 Gen II was shear amount of "meat" and material you see around the glass when you've established a sight picture. There is a THICK black ring around the circumference of the scope, much thicker than many other scopes I've used. 
Reticle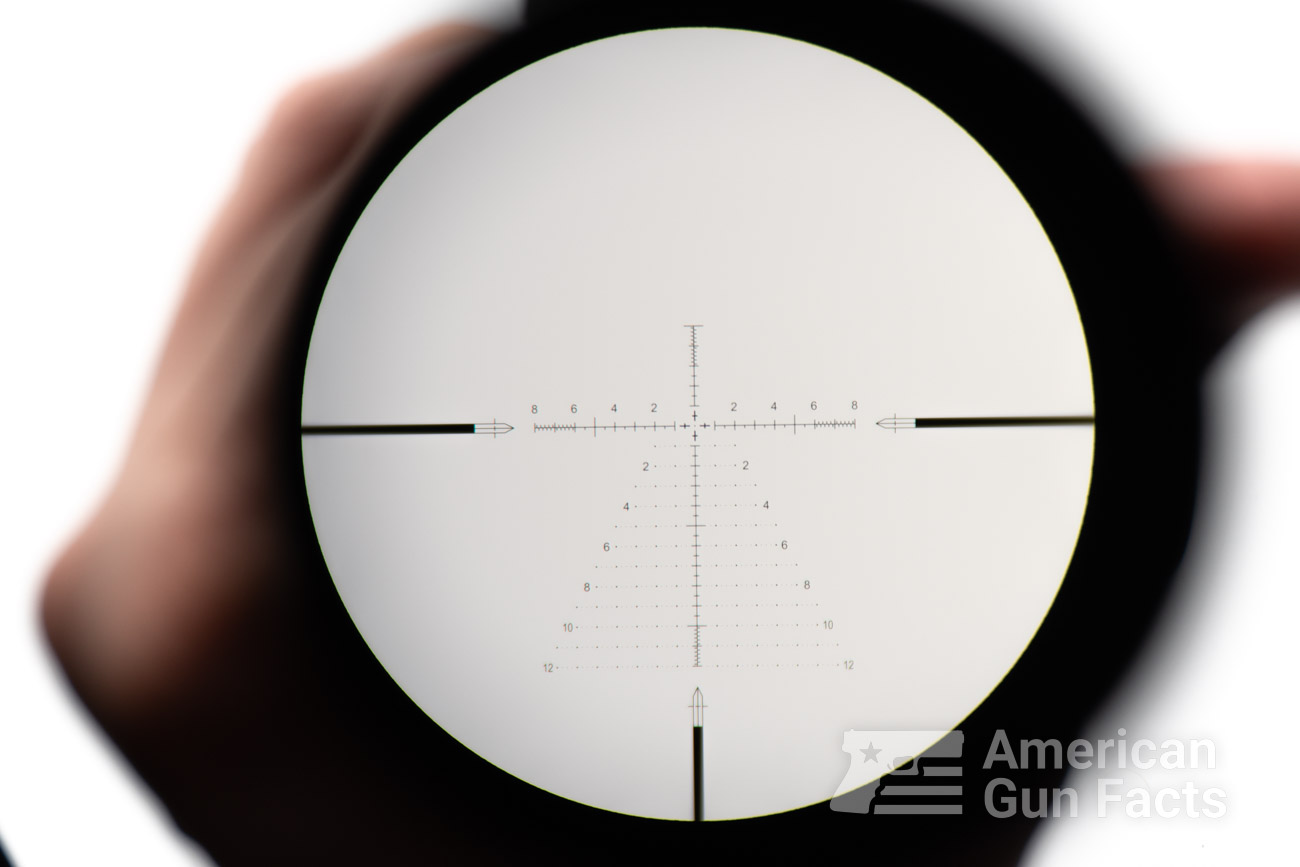 Arken Optic's SH4 and EP5 lines of scopes come equipped with their VPR reticle, while the EPL4's come with the VHR reticle. I can only assume that the "P" is for precision and the "H" is for hunting. I like the SH4 Gen II's VPR reticle, a lot. It's very utilitarian and provides you with all of the information you need right there in the reticle to make an informed, precise shot without the need for spinning turrets. The best part is that it does all of this without being too bulky and obscuring the target.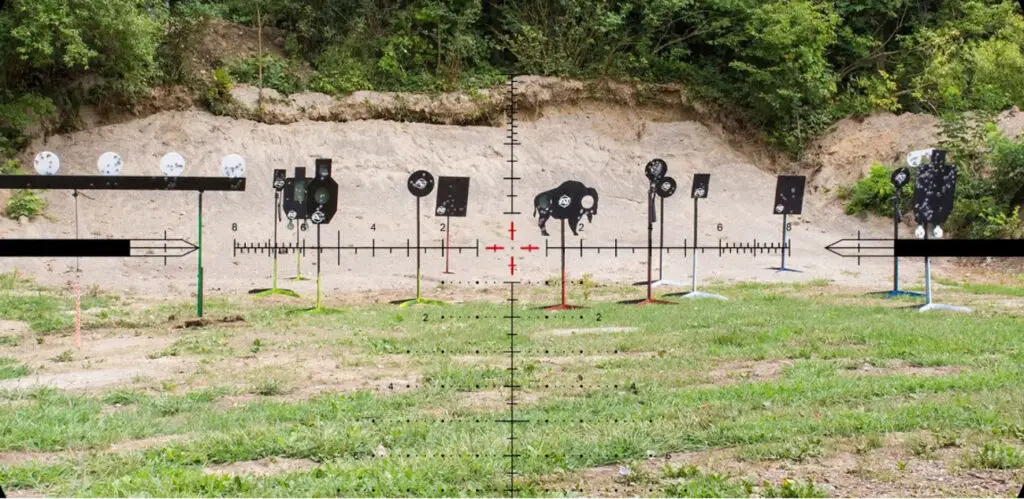 The SH4 Gen II is a first focal plane (FFP) scope as opposed to second focal plane (SFP). If you're reading this far into it, you probably know the difference between first and second focal planes. In short, FFP means that the reticle grows with increase in magnification, and thus the holdovers are accurate throughout the entire range of magnification settings. SFP means that the reticle is always the same size, no matter the magnification setting, and that the holdovers will only be accurate at maximum magnification.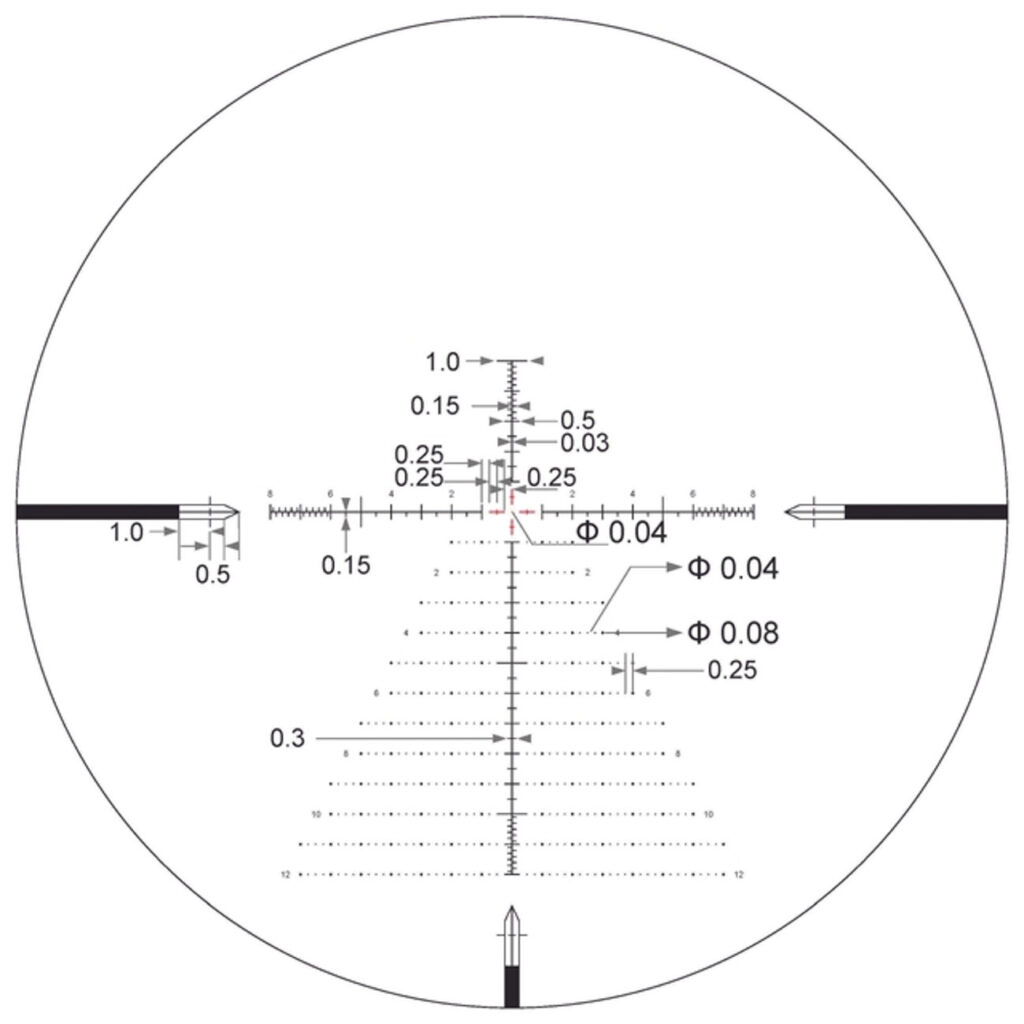 At 4x magnification, the reticle is very small and essentially only good to be used as a crosshair which is kind of expected considering you're likely not looking to hold up 3 mils on a target while only dialed to 4x magnification. The utility of the reticle really starts to come into play around the 10x magnification point.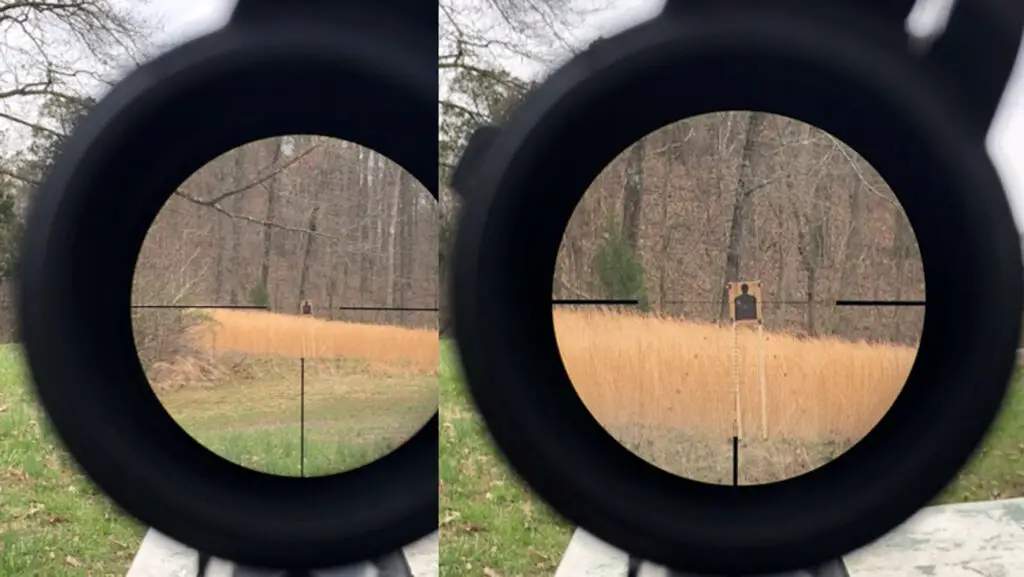 Reticle Focus & Parallax Adjustment
The SH4 Gen II also comes equipped with two methods of reticle and sight picture focus adjustment. The reticle focus ring is located right at the back of the scope exactly where you're looking into it. To adjust the reticle focus you simply rotate the ring while looking at an unobstructed background. You'll have to look away and look back through the scope several times because the eye will continually adjust. Once set, however, the reticle will be sharp and your eye won't have to work to refocus the reticle.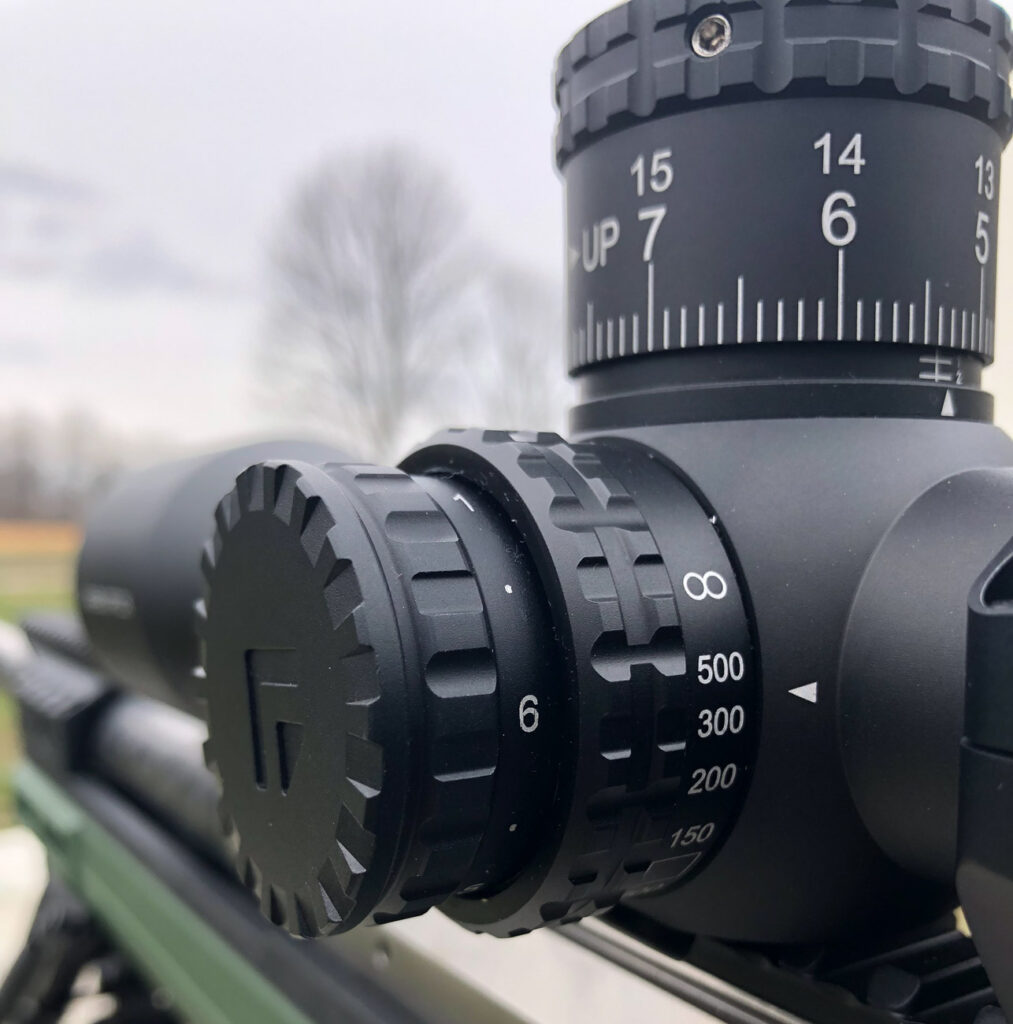 This is a pretty standard feature and works well on the SH4 Gen II. The parallax adjustment turret is on the left side of the scope and is there to eliminate, you guessed it, parallax. The range of parallax adjustment is wider than most and goes as low as 25 yards. From there it increases incrementally to 500 yards and then infinity.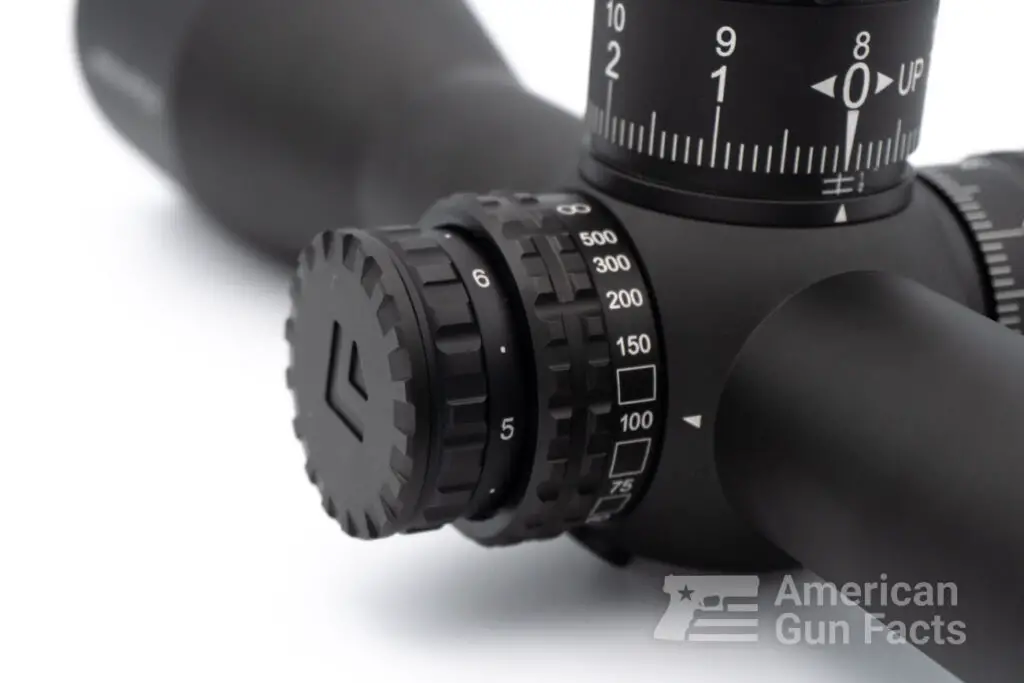 While the range of parallax adjustment is impressive, herein lies one of the issues I found with the SH4 Gen II. The yardage setting on the parallax adjustment just wasn't accurate on the scope for me. For the parallax to be properly adjusted for 100 yards I had to set it for around 300 yards. For proper parallax adjustment at 300 and 400 yards the scope had to be at the infinity parallax setting. It's not like this deems the scope unusable by any means, but it is an annoyance and not something that I would have expected to be an issue. 
Illumination
The illumination knob sits concentrically within the parallax adjustment turret, for which there are 6 illumination settings on the SH4 Gen II. Conveniently, there are also off stops in between each illumination setting which is really nice.
This is really nice because you essentially need have to be set to the maximum illumination setting of 6 for the illumination to be useable. There are definitely worse scopes out there when it comes to illumination, but there are significantly better ones, too.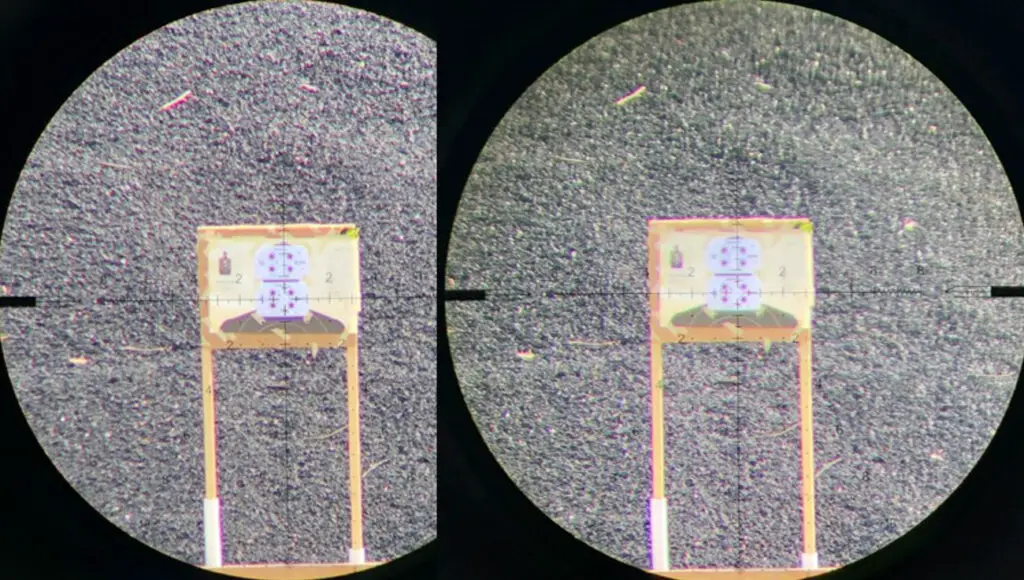 While it technically meets the strictest definition of daylight bright, depending on the color of the target you likely won't even recognize that the illumination is on when you're shooting on a sunny day. However, the illumination is quite good and really does help on a cloudy and overcast day.
Turrets & Tracking
Sticking with the theme of general thickness when it comes to the size of the scope, the turrets on the SH-4 Gen II are BEEFY. And that is definitely not a bad thing. With such large knobs and great texturing, you get a great purchase on the turrets easily. As expected with this style of scope, the SH4 Gen II comes with zero stop and zero reset capabilities. After zeroing the scope, simply loose the set screws on the turrets, spin the freely moving turrets back to zero, retighten the set screws, and tighten the zero stop screw on the top of the elevation turret.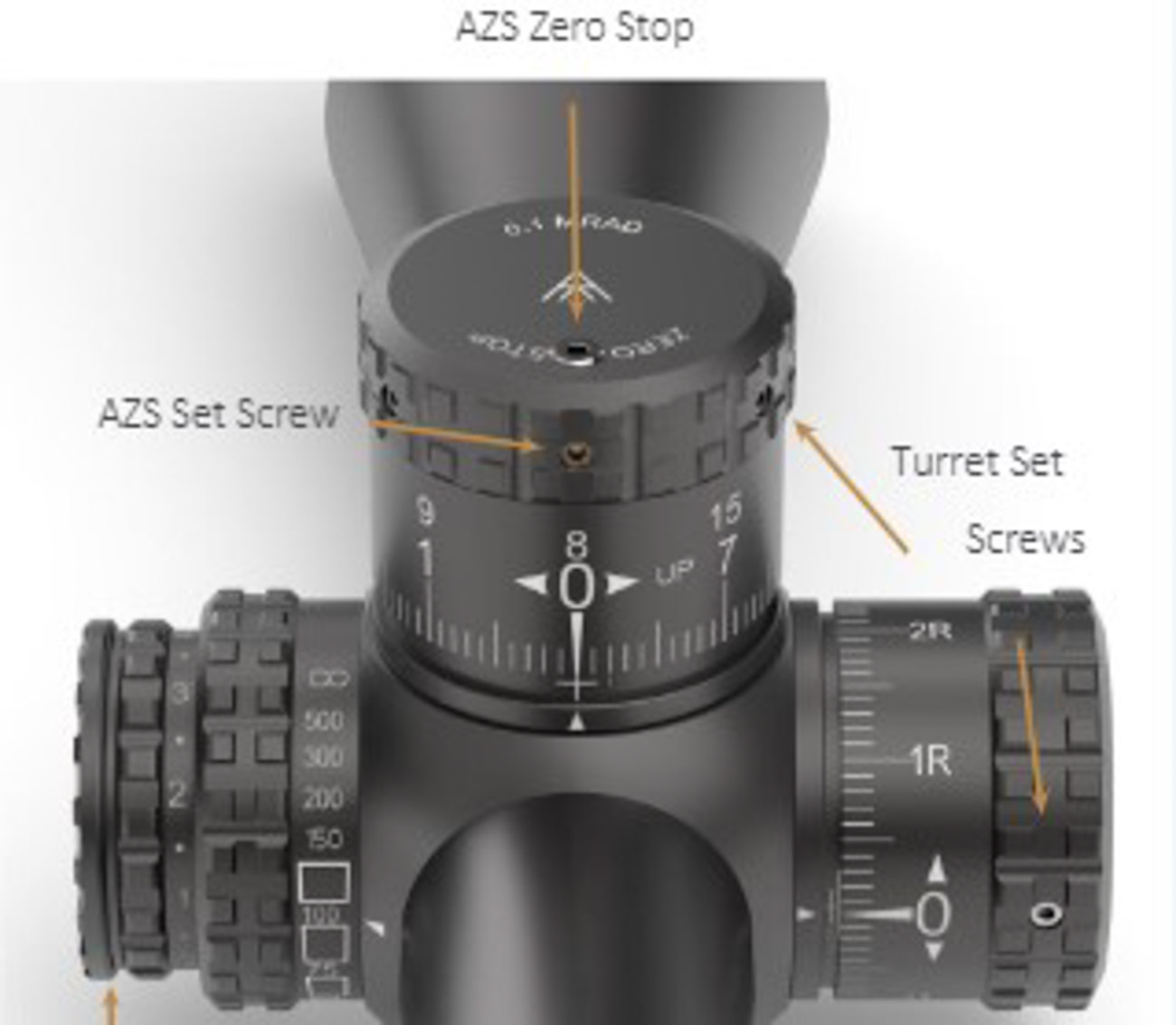 The size also lends well to the readability of the turrets. With 32 mils of adjustment range, and 8 mils of adjustment per rotation, the SH4 elevation turret allows for 4 full rotations. The large numbering and linage make it easy to glance up from your sight picture and see exactly how many mils and full rotations of adjustment that you're making.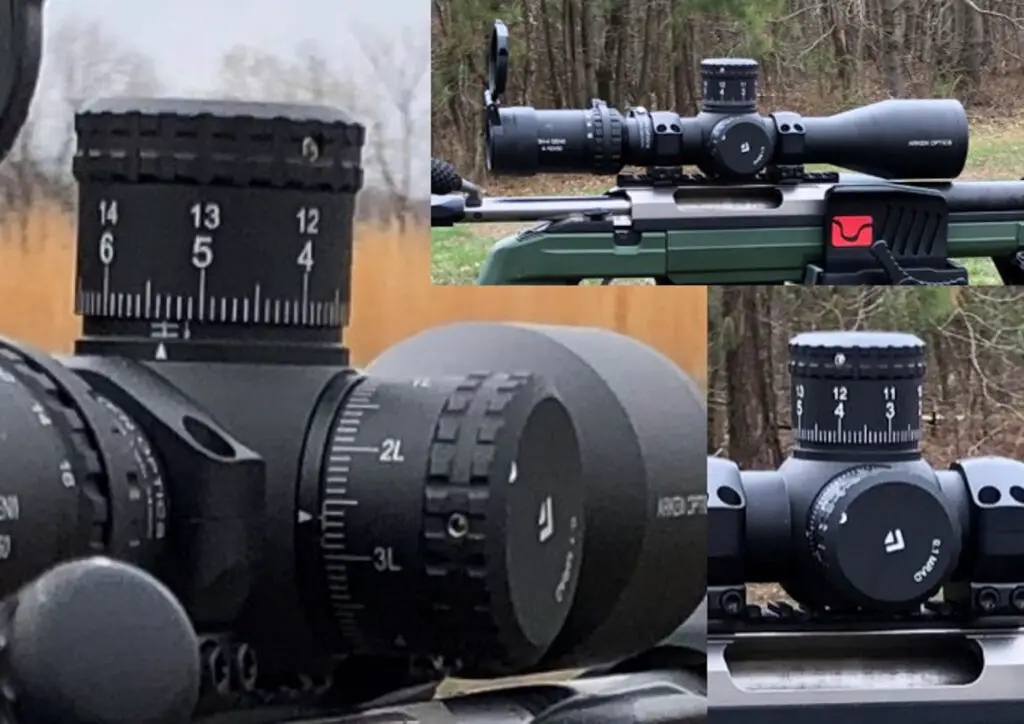 Arken advertises the precision tracking capabilities of their scopes, and for good reason, since reliable tracking is of the utmost importance for precision rifle and long range shooting. This promise stands true on the SH4 Gen II. I conducted a simple tracking test by drawing 3 crosses on a target. The top 2 crosses are spaced 5 inches apart horizontally, with a third cross drawn between those two but 3 inches down. The target was placed 100 yards out, the rifle mounted up, and the crosshair adjusted to sit precisely on the top left cross.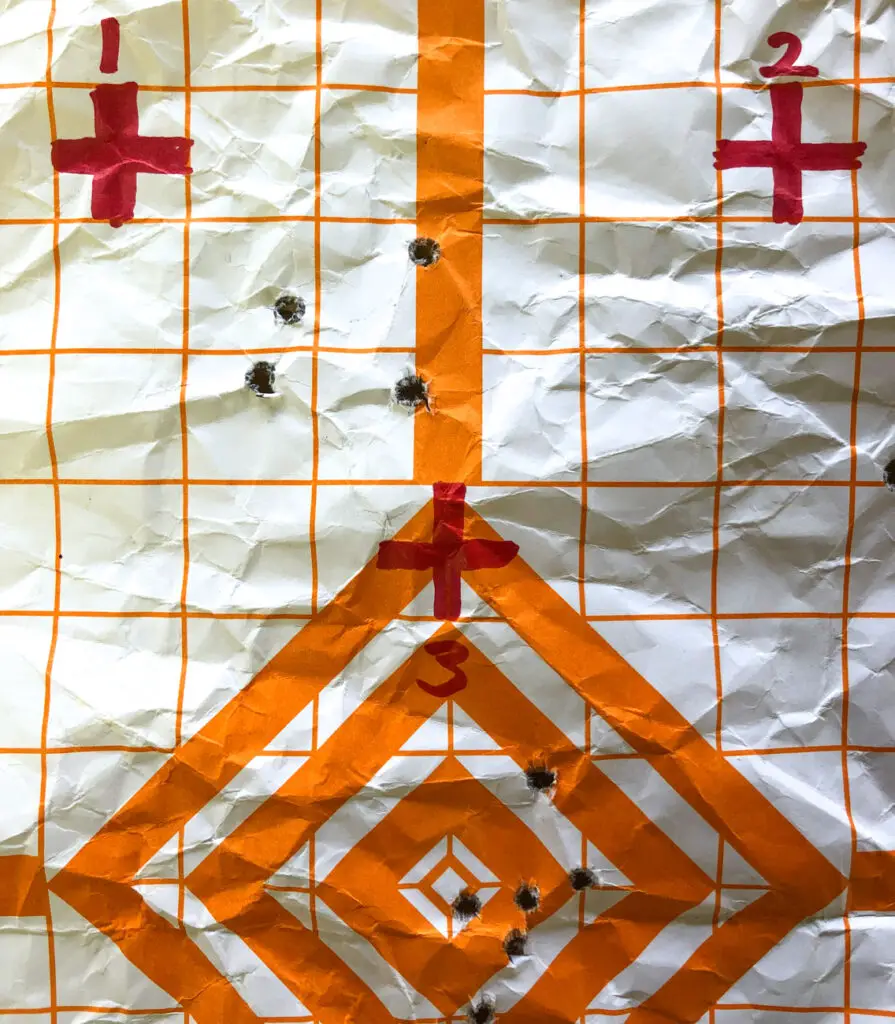 Considering the 1/10 mil (0.36 inch) per click adjustments it should take 14 clicks to adjust the 5 inches horizontally, and 8 clicks to go roughly 3 inches in the vertical. After 10 successful back-to-back tests with the reticle traversing the course and returning to zero reliably, I'm confident that you will not have to worry about the SH4 Gen II's tracking capabilities.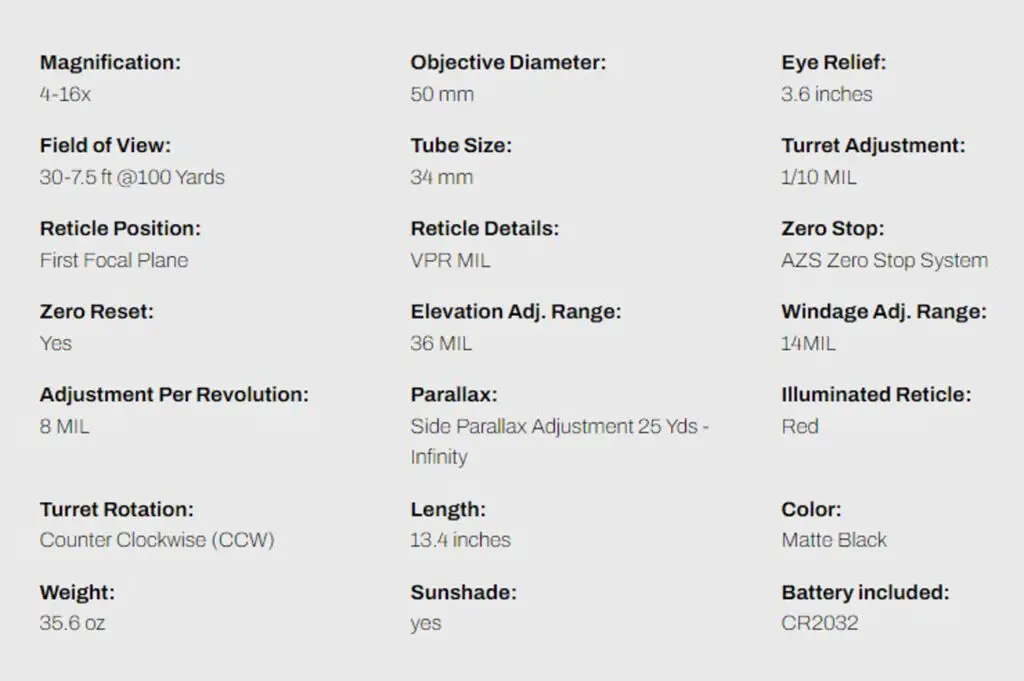 The Bottom Line
Arken Optics has quickly garnered a reputation for producing high-quality optics at a price point that is far more affordable than many other premium brands. They have a range of riflescopes that are suitable for a variety of applications, including long-range shooting, hunting, and tactical operations.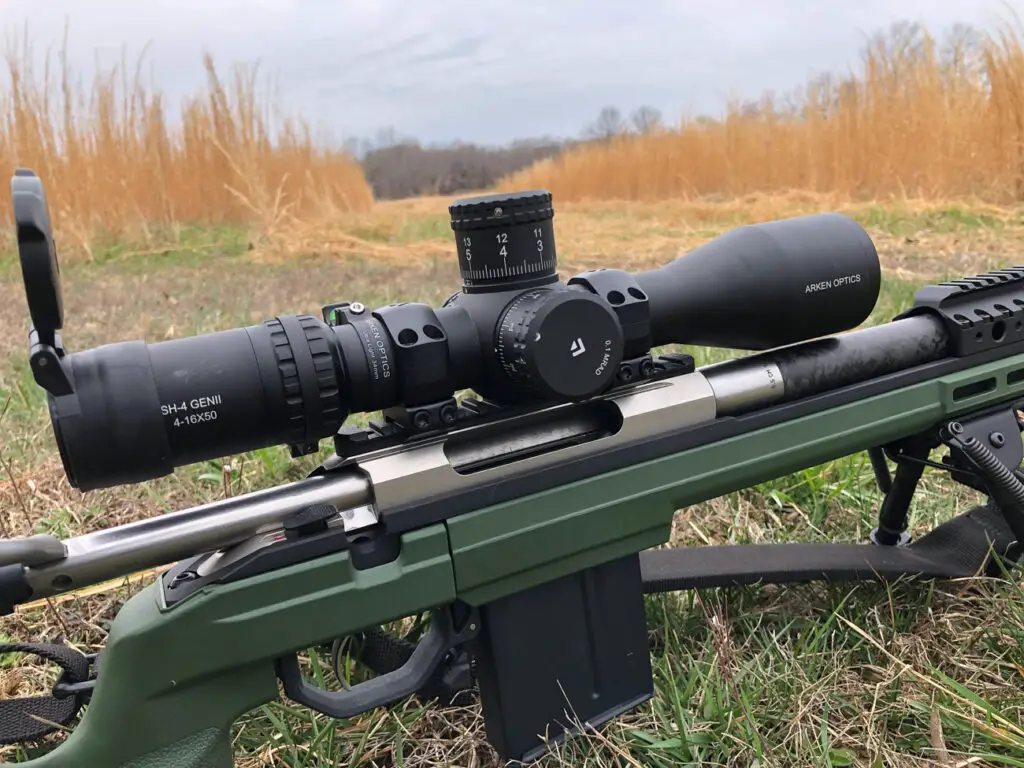 Per Mike Reilly, for Navy SEAL sniper and founder of Arken Optics: 
"The primary function of a scope is to aid the shooter in hitting a designated target. This instrument must be rugged and precise, the most crucial aspects of any high-end optic. Creating a rugged, precision optic with extreme clarity, brightness, and dependable repeatability at an affordable price for the everyday shooter used to be a challenge. Arken Optics USA has overcome these challenges and reset the bar by producing optics that provide these high-end features and precise tracking without requiring a second mortgage. We stand behind our products 100% with our Precision Tracking Guarantee and Lifetime Warranty."
So, should you buy the Arken Optics SH4 Gen II 4-16×50?
Price
Price point, price point, price point. Price has been mentioned about 10 times now, and I still haven't said what it is. Well, as of today on Arken's website, the SH4 Gen II 4-16×50 FFP scope retails for $299.99. Now that is a far cry from what the more notable brands are charging for a scope that is packed with as many features as this one.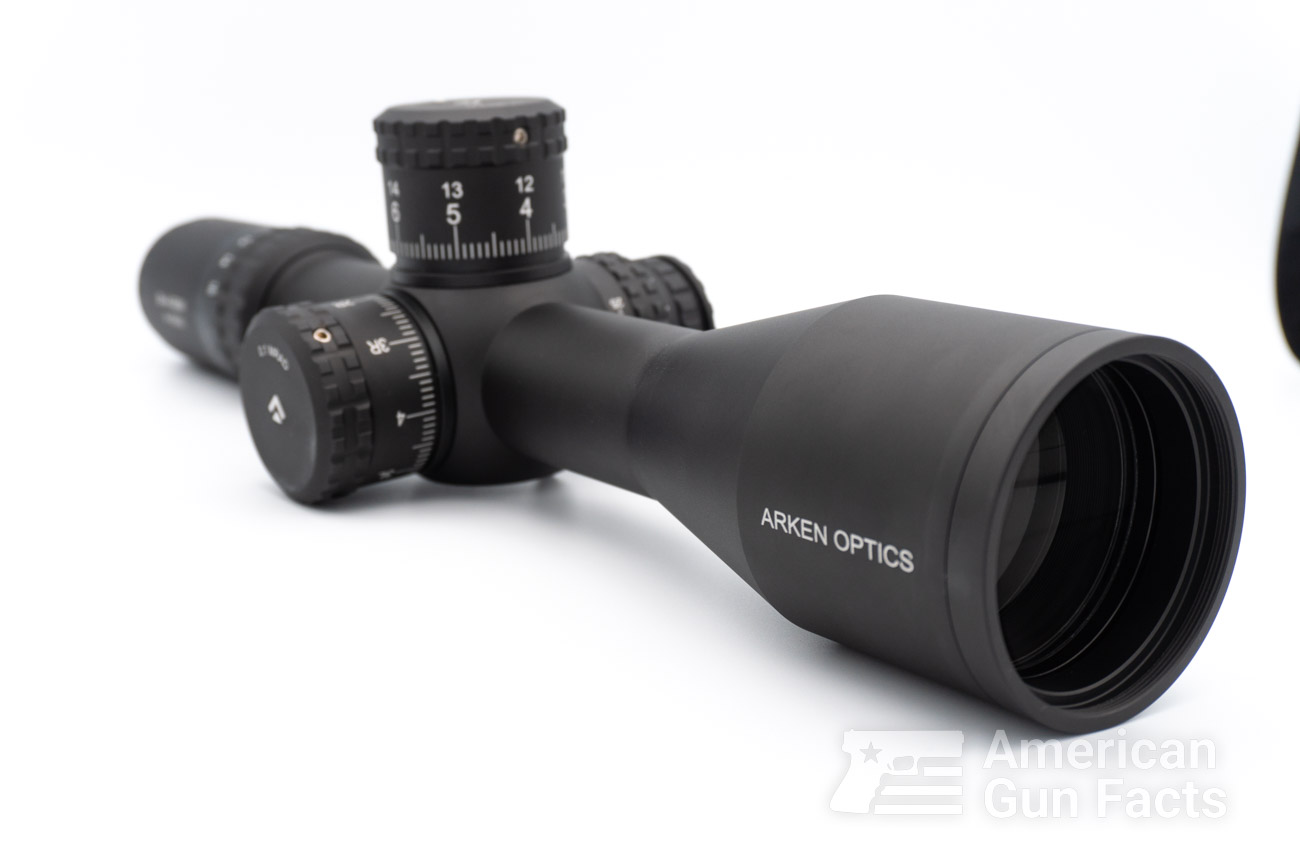 Check Price at:
Pros
A very attractive price point
Huge adjustment range
Intuitive and unobtrusive reticle
Top of class field of view
Decent illumination
Precise and repeatable tracking
Robust zero stop feature
Tactile and audible turrets
Highly durable
Aesthetically pleasing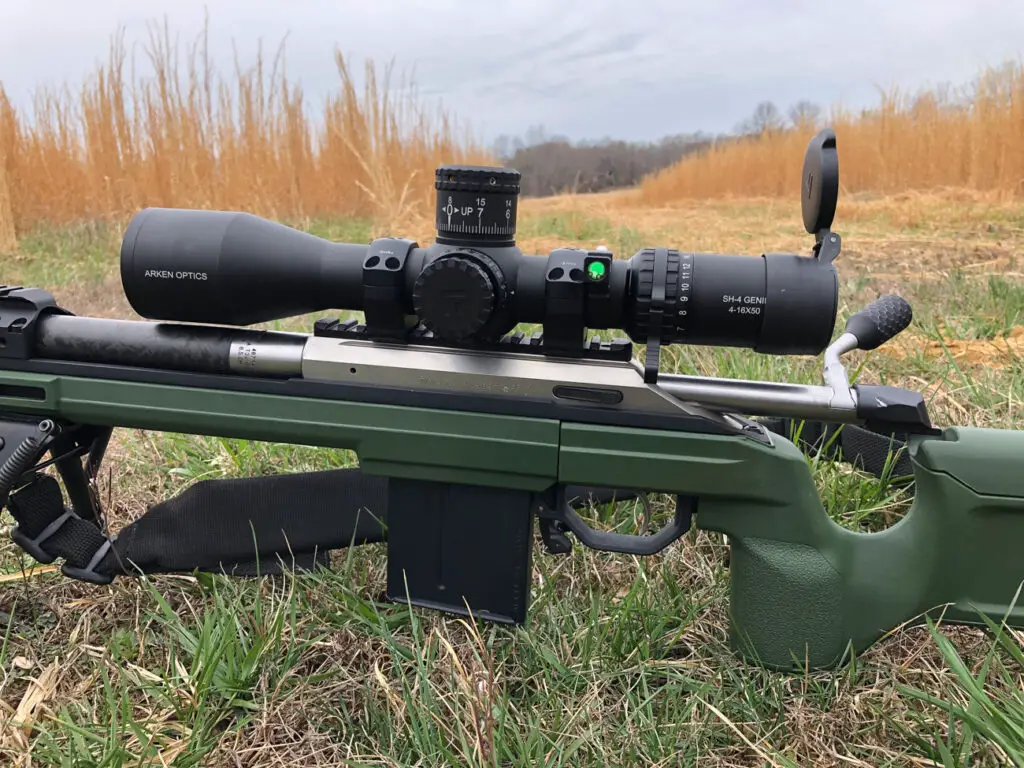 Cons
Heavy
Inaccurate parallax adjustment
Tight and unforgiving eyebox
Fuzzy image at distances beyond 200 yards
8 mils of adjustment per turret rotation instead of 10…it's just not intuitive
34mm tube can be difficult to find quality rings for
The Verdict
With such a feature rich optic at a $300.00 price point, the choice is obvious, right? It depends.
I do actually think that the SH4 Gen II is well worth the money at its price point. However, I think Arken has priced it into a corner and has it competing with themselves. It's a bit of a conundrum, but instead of being a "gap bridger" or "best of both worlds" style of optic I think it sits more in a "no man's land".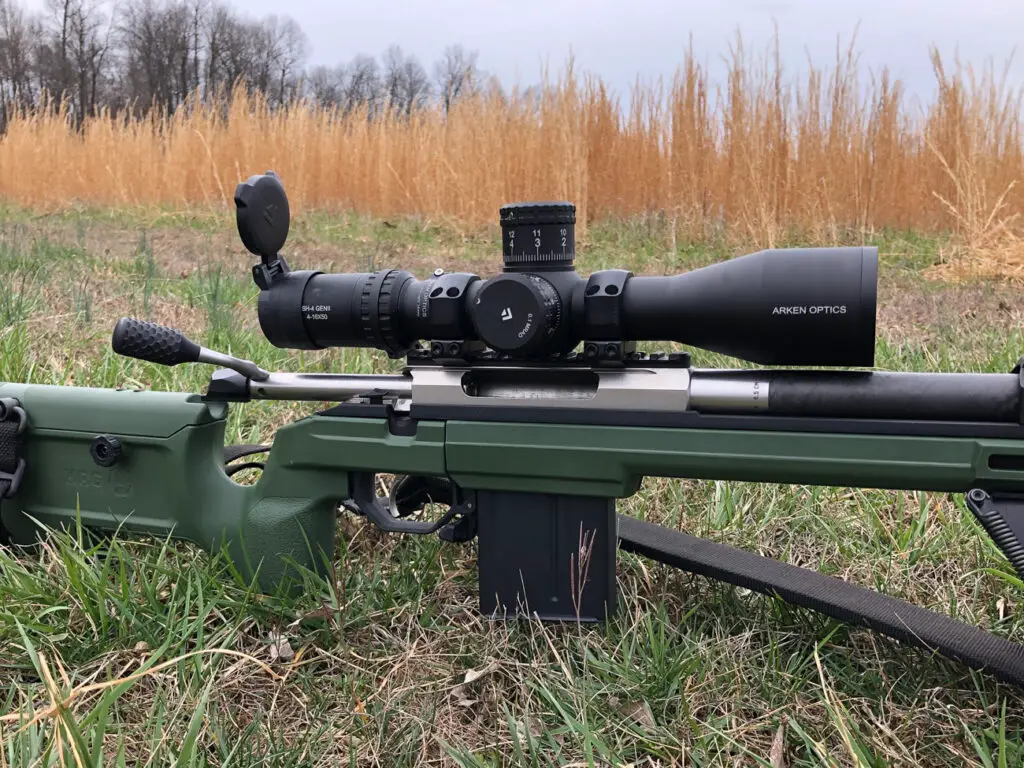 Instead, I think I would spend the extra $100 and grab the $399.99 EPL4 4-16×44 if I was looking for a hunting optic, or spend even a little more and spring for the EP5 5-25×56 if I was wanting a true dedicated precision rifle optic and the added weight didn't matter. Both of these scopes use Japanese glass and presumably offer better clarity and image at range. 
Arken has a lot to offer, as does the SH4 Gen II 4-16×50, but I think you would be better suited reaching a little higher and going for one of their higher end options.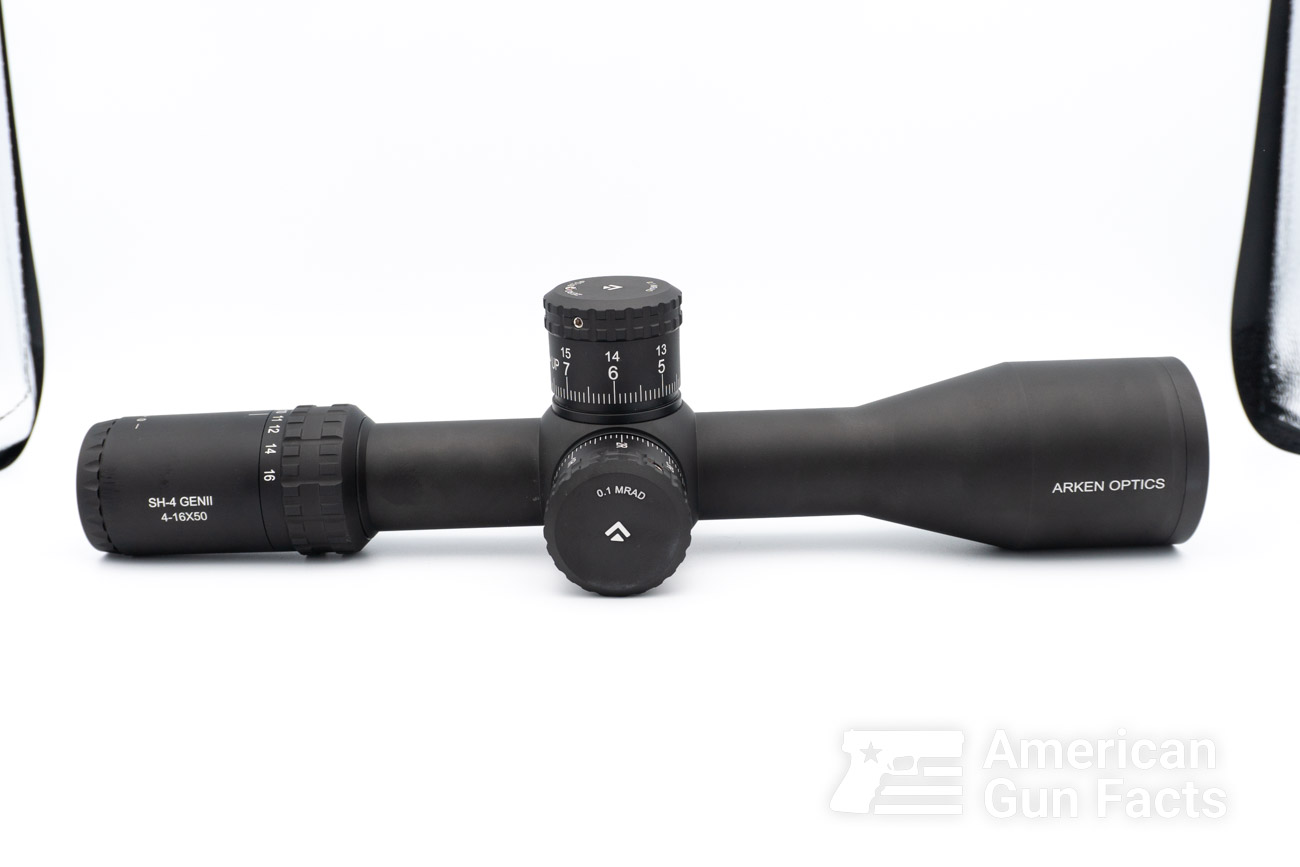 Check Price at: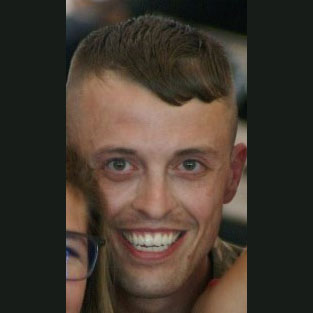 Jacob Clinard is an aerospace engineer and a USAF officer. He's been hunting and shooting since he was about 10 years old and has experience with numerous weapon platforms. He shot competitive trap and skeet in college, and now shoots local IDPA matches whenever he can.