Slide mounted optics for handguns have become all-the-rage these days for recreational shooters, hunters, competition shooters and even law enforcement and military. If properly utilized and trained with, slide mounted RMR sights offer quicker sight acquisition and accuracy, especially on follow-up shots. On a smaller scale, Every-Day-Carry (EDC) handguns are going through the evolution that cell phones did in the early 2000's, they keep getting smaller, and as improvements are made, their round capacity keeps getting higher making them even more appealing to the concealed carrier. I know that pocket pistols like the Beretta Tomcat, Ruger LCP, Sig Sauer P938 and various derringers have been around for quite a long time, but those are in a category of their own. They are heavier (all-metal construction), have a smaller round capacity and many are in a caliber that doesn't offer much kinetic energy (stopping power). 
Don't get me wrong about that last statement, I have been in law enforcement at an urban agency for 21 years, most of which has been in the detective division, specifically special victims, and homicide, I have investigated countless homicides and shootings. I have seen first-hand what any caliber can do, and I have worked plenty of homicides where a .22 LR did someone in, albeit it was the result of internal damage and, unless it was a perfectly placed shot, didn't drop the person in their tracks. Might sound morbid, but as a concealed carrier, law enforcement officer, or armed security officer, you want to stop the threat immediately. 
I am sure my next statement will cause as much debate as the "1911 vs plastic gun" debate, but these aforementioned pocket pistols, and older, heavy, metal-framed concealable guns, don't compare with the modern 9mm/.40/.45 EDC pistols from Glock, Sig Sauer, Springfield and Smith and Wesson, et al, which are like Wayne Szalinski hit full-sized combat handguns with his shrinking ray gun (shameless '80's movie plug showing my age). They are miniature versions of their bigger, combat handgun siblings. Shortly after these micro handguns began gaining popularity, they began offering MOS or Optic Ready versions of the same guns. Which leads us to today's topic, the down and dirty of the Swampfox Sentinel Ultra-Compact Micro Red Dot Sight. One more thing before we get into it, I would like to make it clear that I have no affiliation with Swampfox or any firearm manufacturer. The Sentinel and any firearm I mention are ones that I personal own and this review was written based on my own research and personal experience.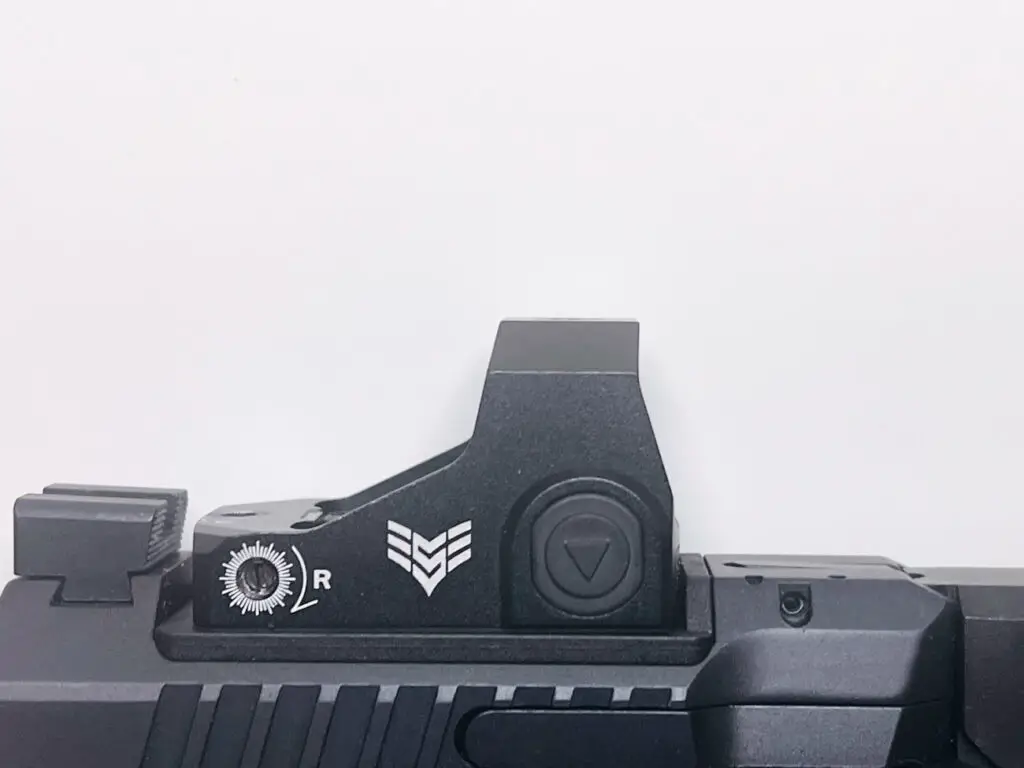 Check Price at
Swampfox Sentinel Features
The Swampfox Sentinel is a Micro RMR (Ruggedized Mini Reflex) sight meaning that the sight reflects the image of a laser dot and superimposes it on the glass window that the shooter is looking through at their target. This means that the glass window is partially reflective, but the multi-coated glass lens that Swampfox uses on the Sentinel keeps that in check.
Durability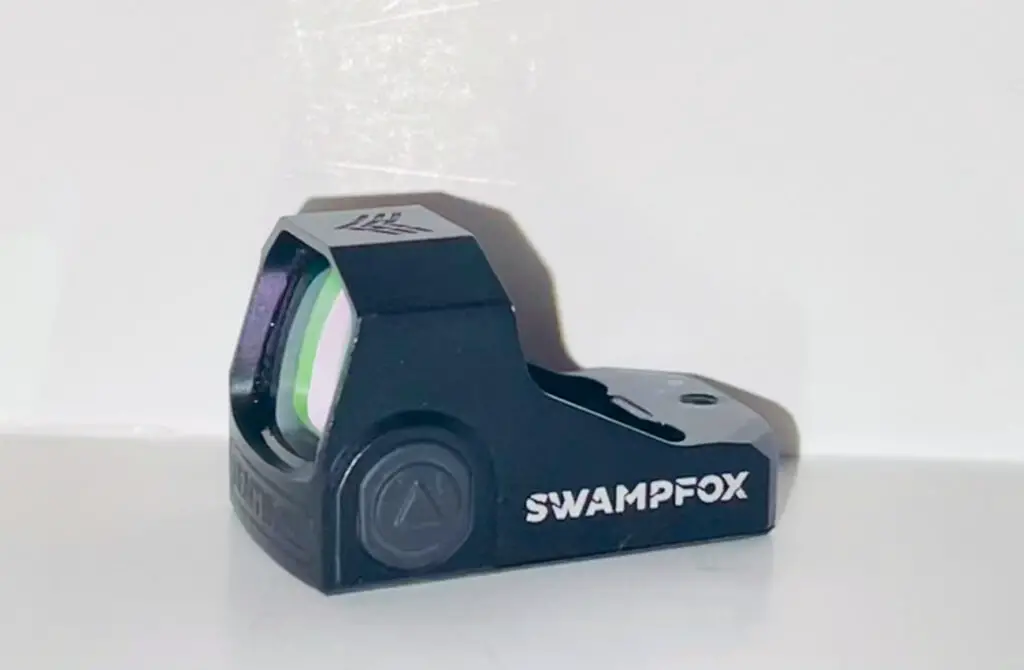 The body of the Sentinel is a CNC machined, hard-coated 7075-T6 aluminum, which is shock rated to an incredible 1500 G, is IPx7 rated waterproof (submersible in water at a depth of one meter for 30 minutes), and weighs in at .62 ounces, making it perfect for EDC. It would also function great as a back-up or close quarters sight for a rifle or MSR with a scope, whether mounted on top of the scope or on a 45-degree offset.
Size & Window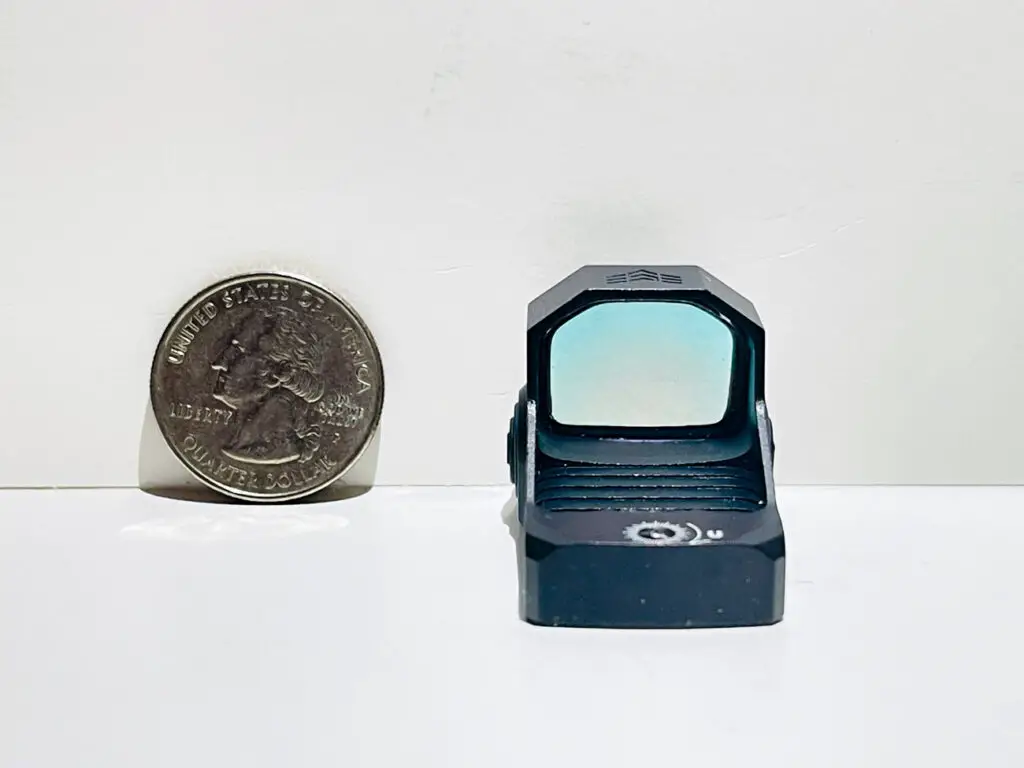 The Swampfox Sentinel weighs measures .91" wide, .94" tall and is 1.61" long. The viewing window of the Sentinel measures at 16mm or .63". For a sight that is less than .91" wide, having a viewing window that was .63" wide called for thin walls which combined, measured less than 1/3 of an inch. This is the reason Swampfox opted for the aircraft-grade 7075 T6 aluminum for constructing the Sentinel's housing. The Sentinel's windage and elevation adjustments are one click per one MOA and go +/- 35 MOA (70 MOA total) making it versatile for a plethora of mounting options.
The design of the Swampfox Sentinel is cut low enough that you can co-witness your iron sights without having to install tall or suppressor-height sights, which can snag on clothing when drawing from a concealed holster. Although, there are some models of firearms, like the Sig Sauer P365, which doesn't allow this to happen because the rear sight is part of the slide plate that you have to remove to mount your micro RMR. Not sure why Sig made that decision, but they did.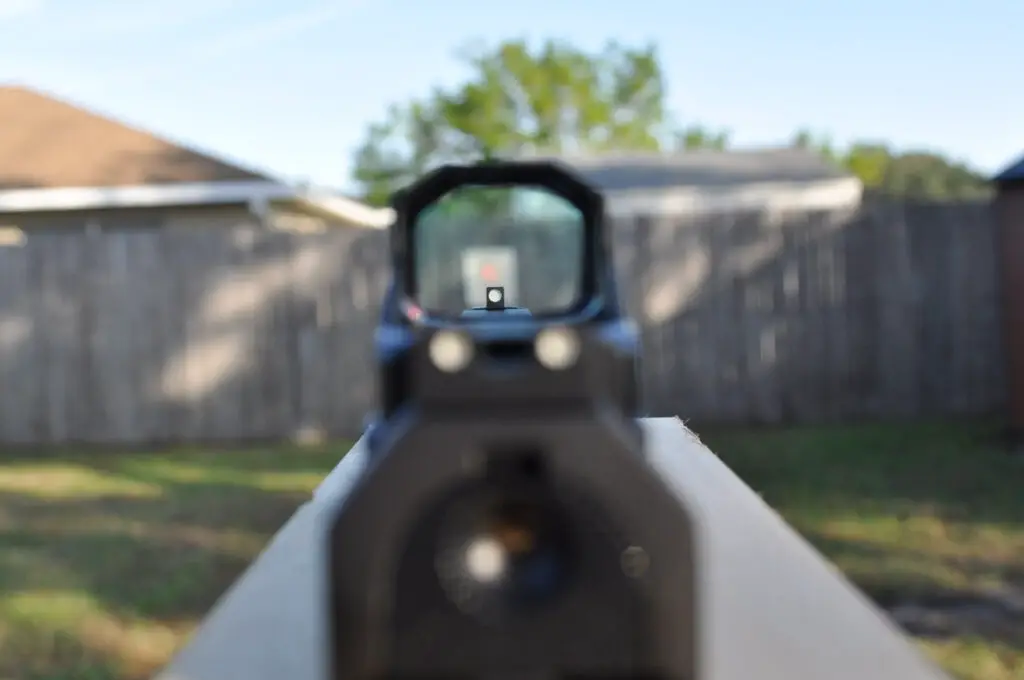 Reticle & Brightness
The Swampfox sentinel has a 1x magnification, which means it does not magnify, like most red dot sights and uses a high-efficiency emitter to project a three MOA dot, red or green, depending on your version. At the time of production, the highest brightness setting on the Sentinel was brighter than any other optic that Swampfox had previously produced.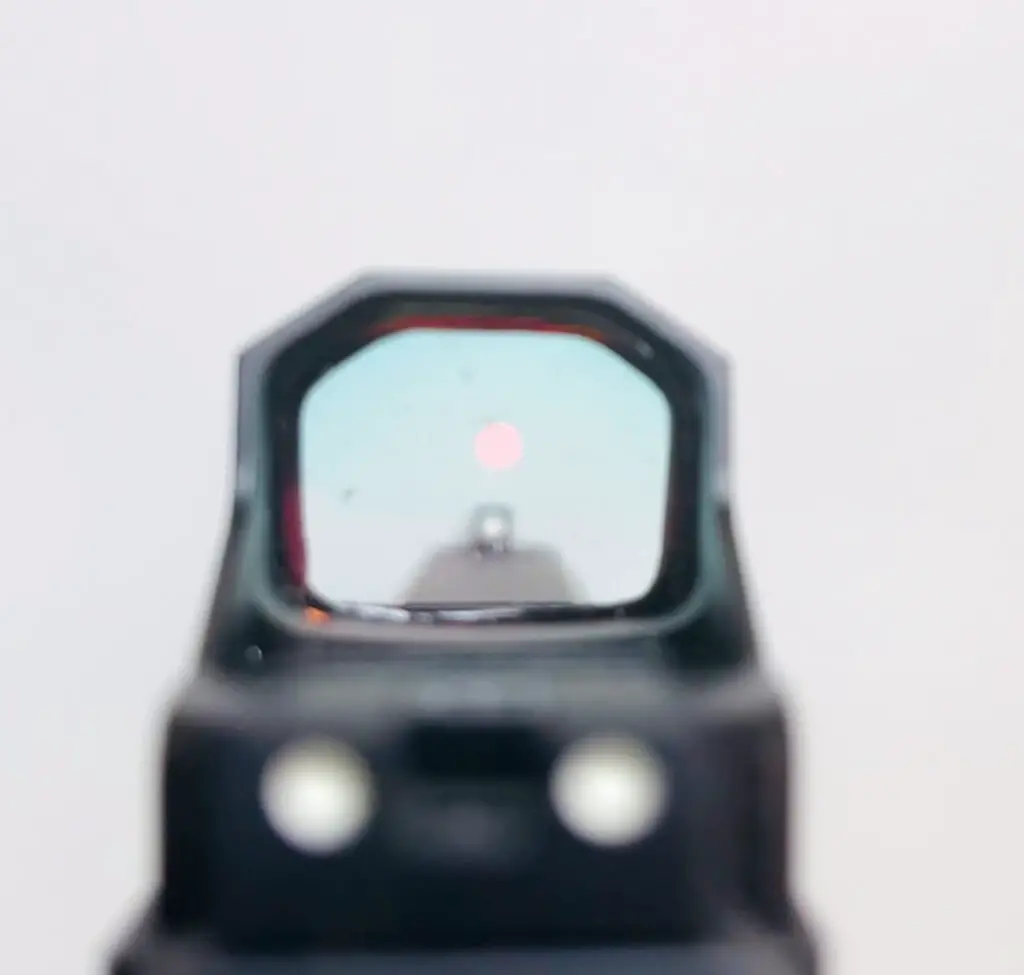 The lens on the Sentinel is a multi-coated ruby red on the red dot version and a multi-coated silver on the green dot version. The lens coatings on both versions are anti-fog, hydrophobic, and anti-scratch. I have astigmatism in both eyes and have never had an issue with using the Sentinel, regardless of whether or not I was wearing prescription glasses or contacts with clear shooting glasses.  
The Swampfox Sentinel-M (M=manual) has ten brightness settings which are manually adjusted by hitting the up or down button on either side of the sight. The Sentinel-M will automatically turn off after approximately four minutes of sitting completely still. To manually turn off the sight, simply hold the down button and the sight turns off, maintaining the brightness setting you last used it on. The Swampfox Shake 'N Wake system is only available on the Sentinel-M. The Shake 'N Wake system senses the slightest movement and turns the sight back on, again, back to the last brightness setting you used. Should you choose to disable the Shak 'N Wake system, on the Sentinel-M, a simple push of the brightness adjustment button turns the sight on. 
The Sentinel-A (A=automatic) never truly turns off. It stays on and constantly adjusts to the ambient lighting thanks to the built-in photosensor on the left side of the sight. There is no disabling this as there are no manual adjustment or power buttons on the Sentinel-A. If the battery is in, it is on. End of story. 
Battery & Power
The Swampfox Sentinel is battery powered by a single CR2032 battery which it claims will last approximately two years on the Sentinel-M and on the Sentinel-A. One would think that the fact that the Sentinel-A never turning off would shorten the battery life, but Swampfox disagrees. This feature is comforting for someone who would be using the sight for EDC or some sort of duty purpose as you never have to worry about too much motion keeping the sight on at a bright setting. This feature also takes away the thought of having to manually turn on the sight if you had the Sentinel-M and decided to disable the Shake 'N Wake system.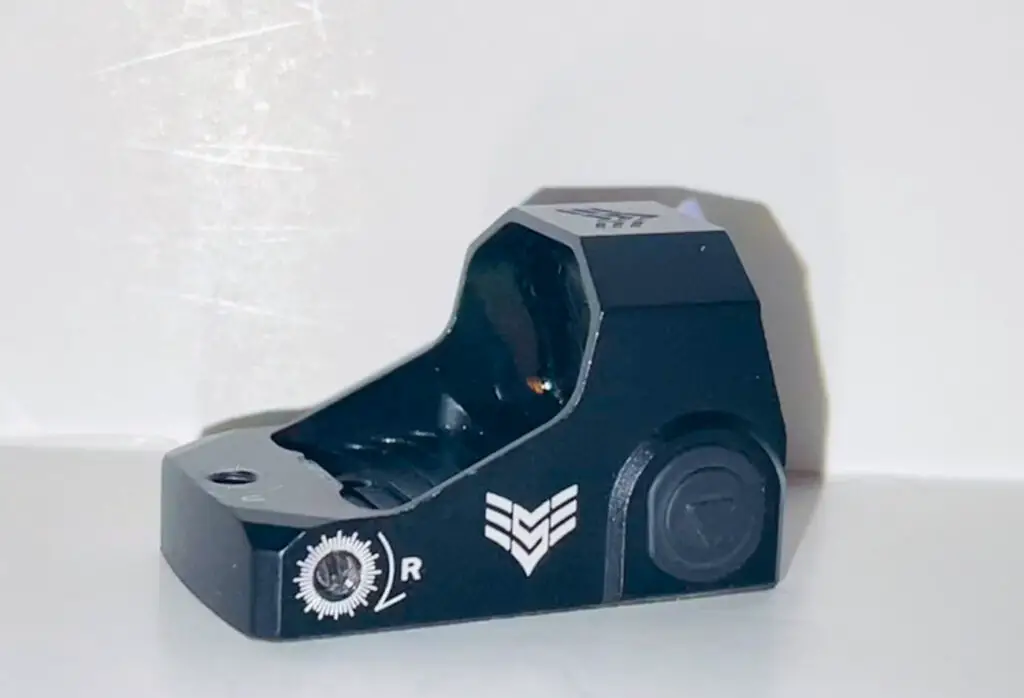 Should you choose this sight and carry often, the Sentinel-A might be the better choice for you. After all, only having to change the 2032 battery once every two years is not hard on the wallet as a good quality 2032 lithium battery only costs around $5 – $7 dollars for a two-pack. For those that are not interested in doing the math, that's approximately $1.50 per year. 
What's In the Box
In the box from Swampfox, comes the Sentinel optic with protective sheath, a screwdriver for mounting and windage/elevation adjustments, lens cloth, a CR2032 battery, three screw sets for various mounting options (M4 x 0.7 x 10.1mm, M4 x 0.7 x 8.6mm, and M3 x 0.5 x 12.0mm), and a waterproof gasket to mount between your slide and the optic, protecting the battery tray (on the bottom of the sight) from water being able to penetrate.
Variant Options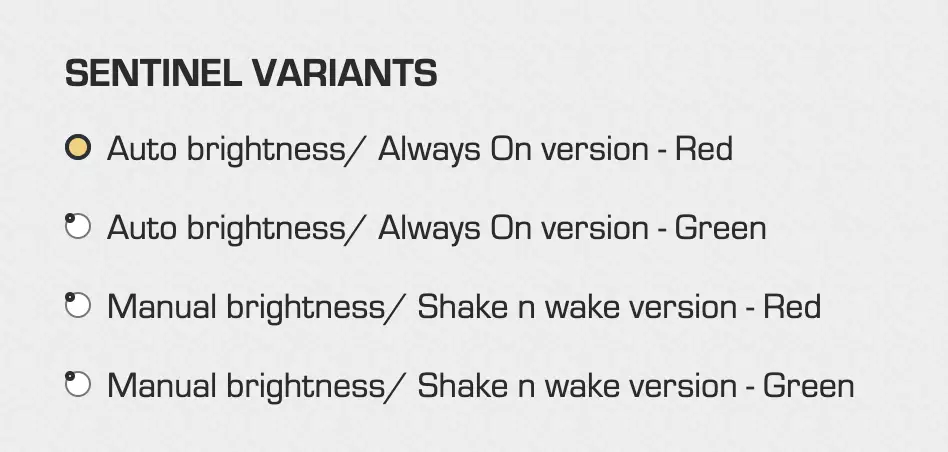 The Swampfox Sentinel comes in a total of four different versions. You have a choice between the Sentinel-M, with a manual brightness adjustment or the Sentinel-A with auto brightness adjustment. The other options are whether or not you want a red dot or a green dot. Green dots are newer on the scene when it comes to optics, especially RMR's. The footprint on the Sentinel is the RMSC or Reflex Mini Sight Compact, meaning it will only fit handguns with the RMSC slide cut, unless you use an adapter plate or mount it on a rail adapter.
Most micro-compact handguns like the Sig P365 series, Smith and Wesson Shield series, Springfield Hellcat series, and Glock 43/48, among others, are designed to accept the RMSC footprint, but you can get any uncut slide milled to accept a smaller RMSC red dot should you choose. Some may do this to cut down on the size of the sight on their EDC of they carry a mid to full-sized frame handgun concealed. To boot, there are actually some full-sized handguns that are designed to take a micro reflex sight like the Canik Mete. This happens to be the handgun that I purchased the Sentinel for and used to conduct this review with. 
Swampfox also offers an Ironsides Shield shroud that you slide your Sentinel-M or Sentinel-A into for added protection from bumps and bruises. The Ironsides Shield has an MSRP of $39 on Swampfox's website and the cheapest I found it for was $36.95, so if I were to purchase the Ironsides, I would just throw Swampfox the bone and pay the extra $2.05 to get it directly from them.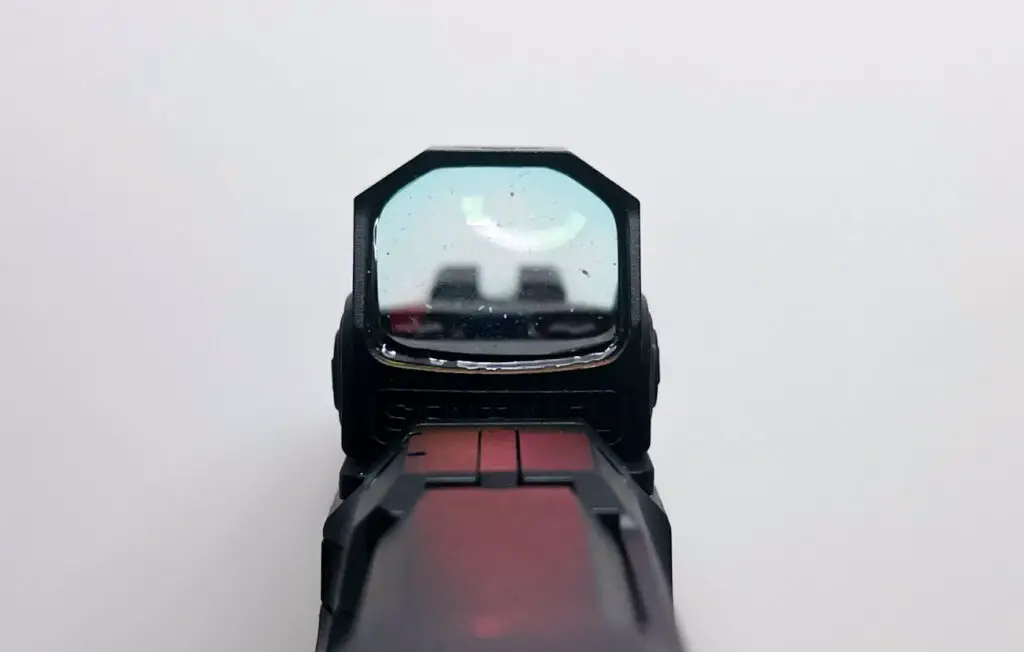 Cost
The MSRP is around $299 for all four versions but at the time this article was written, I found the Swampfox Sentinel-M available for $195 and the Sentinel-A for around $210. The green dot version is normally more expensive than the red dot in most cases, but they are the same price or no more than $5 more with the Swampfox Sentinel.
The average price I found for the green dot option was around $205 for the Sentinel-A.  When looking at red dot sights in general, there are options to fit every budget, but there's a catch. The saying, "You get what you pay for" holds true with optics. Albeit there are some brands and models that give you great performance and reliability for the price. The market is slim with options for the micro red dot category, unlike the full size RMR category.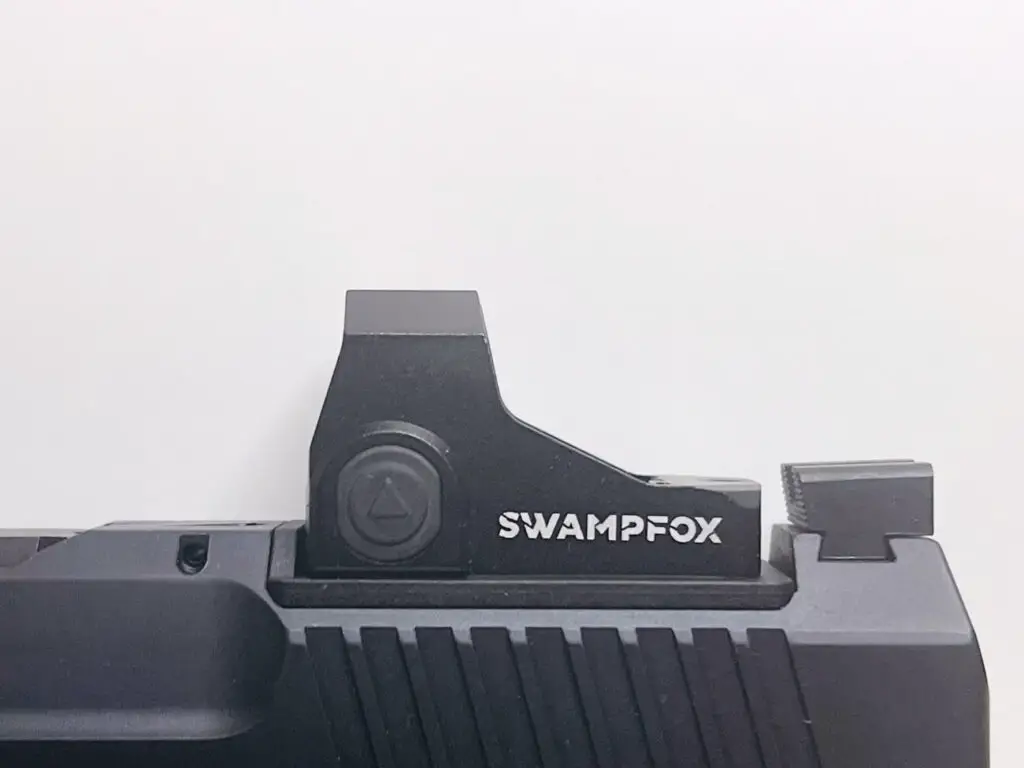 Check Price at
Why Choose the Sentinel?
As I mentioned before, I purchased this sight to go onto a full-size handgun, the Canik Mete SFT. This is only the second pistol mounted RMR that I have ever owned as I grew up and have only ever trained with iron sights on handguns. I am still curious as to why Canik produced a full-size handgun with a slide milled with the RMSC footprint to accept a micro RMR. But it works.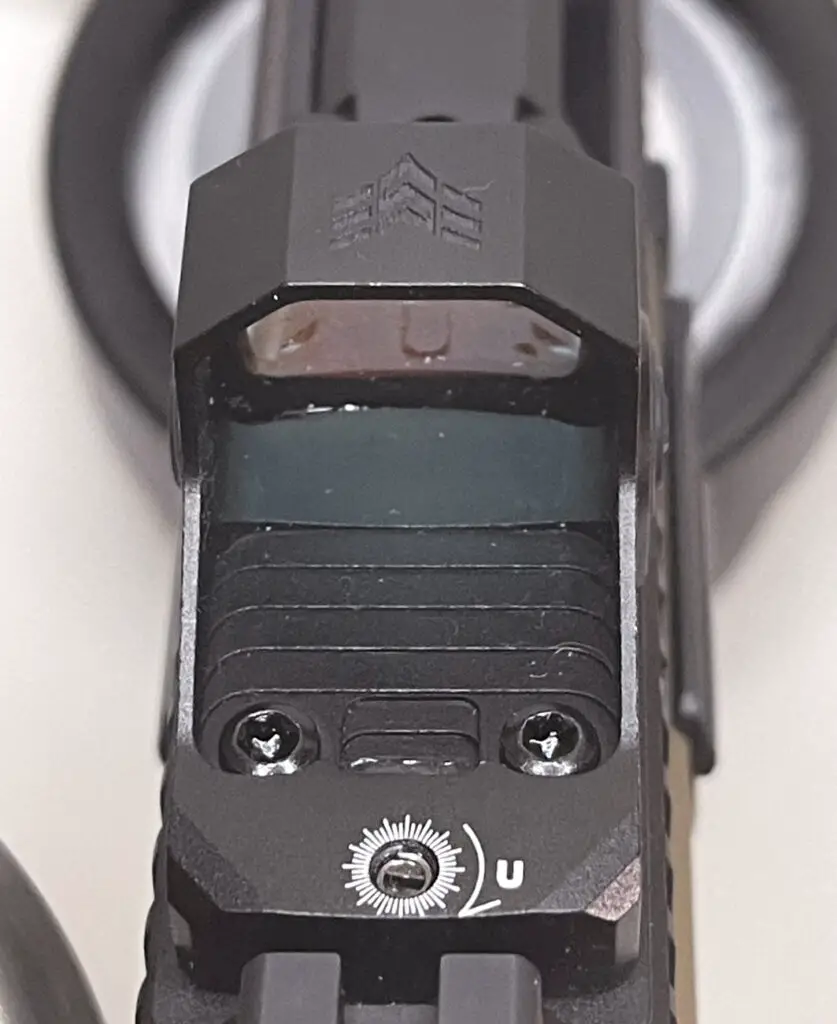 The Mete is also the first Canik I have ever owned. Other than my Walther PDP (the Mete's twin-brother-from-another-mother), the Canik Mete has the best stock trigger on any handgun that I have ever owned or shot. But you don't want to know why I bought the Mete, you want to know why I bought the Sentinel. If you haven't caught on y now, I tend to get a little off track when talking guns and gear. The durability, battery life, excellent reviews and the cost all played pivotal roles in selecting this sight. But to be completely honest, it had great reviews, was more affordable than the other option I was weighing (HOLOSUN 507K), but the biggest reason was that I wanted to try out a Swampfox product. 
Drawbacks
Being that there is no room for a durable, side-mounted battery tray system, replacing Swampfox Sentinel's battery means removing the optic and potentially re-zeroing. However, having no tray on such a small sight created more room for a larger battery, CR2032, unlike many full-sized RMR's which often use the smaller CR1632 battery. I still find the battery life to be short in comparison to comparable sights like the HOLOSUN 407K which uses the CR1632 battery but squeezes out an alleged 50,000 hours, or approximately 5.7 years of use (on brightness setting six). That is three years longer than the projected battery life of a sight with a smaller battery than the Swampfox Sentinel. For the person using the manual or automatic version for EDC or duty purposes, the shorter battery life could be concerning. There is a way around this.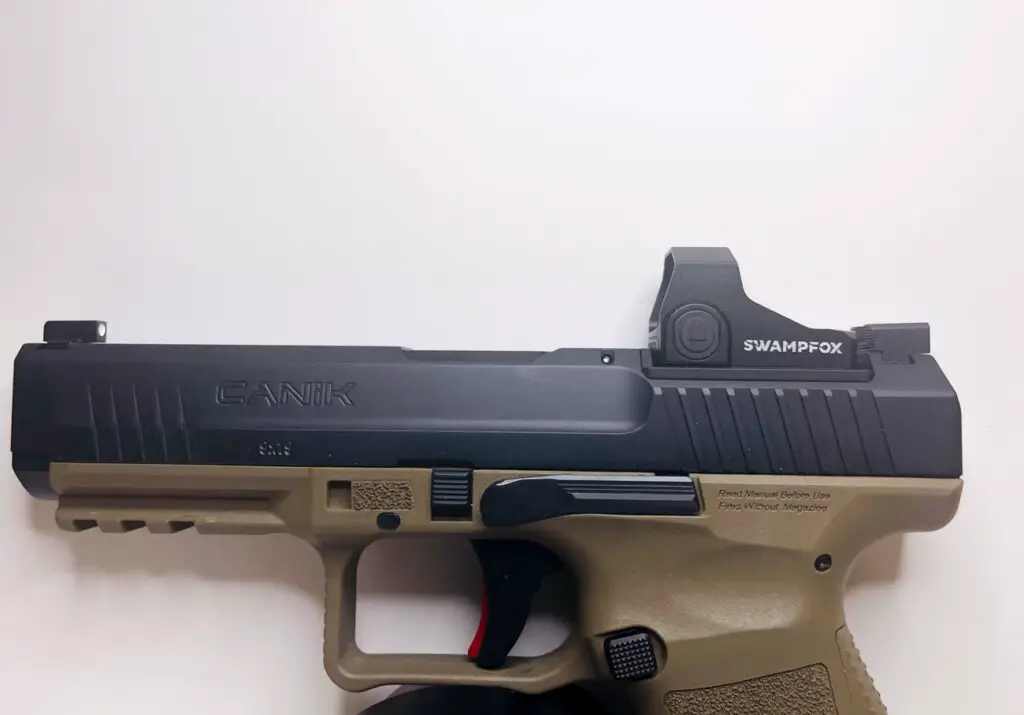 I overheard someone saying one day how they replace their flashlight and weapon light batteries every year on their birthday. Regardless of how the light was functioning or how long the batteries had been in. He explained that it was better for his own peace of mind to know that he had fresh batteries and wasn't testing the limits of the battery life claims made by manufacturers. I thought this was simply genius. It is not too costly to, once a year, buy a few packs of various batteries and replace the power sources for your lights for that same peace of mind. I took this idea even further and change the batteries in my optics at the same time. So, instead of keeping a spreadsheet of when batteries were replaced and not having to be concerned with the batteries in my sights lasting anywhere from two – five years, they all get replaced at the same time.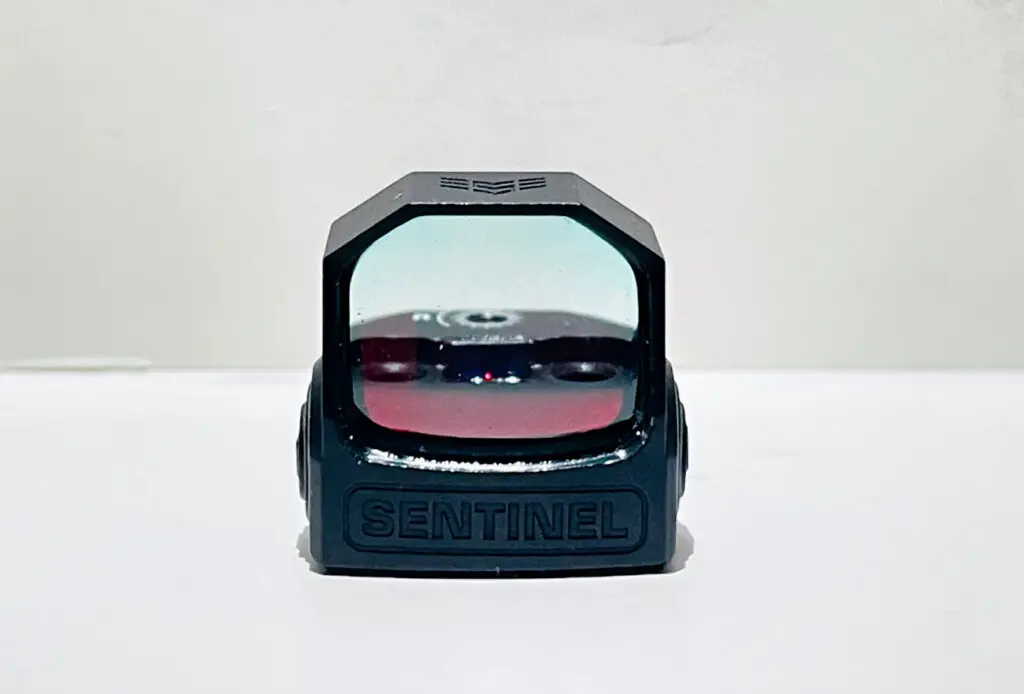 The only other drawback to the Swampfox Sentinel I have is the size of the sight window because it is sometimes difficult to quickly acquire the dot when practicing drawing from a holster or concealment, albeit this is a micro RMR sight. I don't find this as a flaw for the Sentinel, it is more of an issue with me being so used to punching out and lining up iron sights instead of looking for the dot. This is totally a familiarity issue on my part and not any fault of Swampfox or the Sentinel. If I were to decide to add a micro RMR to one of my off-duty, EDC guns, I would have zero hesitation on utilizing the Sentinel. 
Should You Buy it?
Depending on your needs, I highly recommend it. As I have articulated, from both research and personal experience, this sight is extremely versatile and a great choice for the recreational shooter, hunter, competition shooter. Furthermore, it is weatherproof, rugged, and reliable making it suitable for tactical and combat situations. I chose this sight for duty use which was not a light decision. 
Verdict
My final thought on choosing an optic is that you should base your decision to purchase on three things: 1. Your budget; 2. What features do you want/need for your intended use; and 3. The reliability, durability, and performance that you discover from researching reviews produced by reputable sources. That should assure that you get the right optic for you.
For me, the Swampfox Sentinel seemed like a good choice, and I don't regret it. The features, durability and reliability of this sight are comparable to sights, from other manufacturers, that cost twice as much.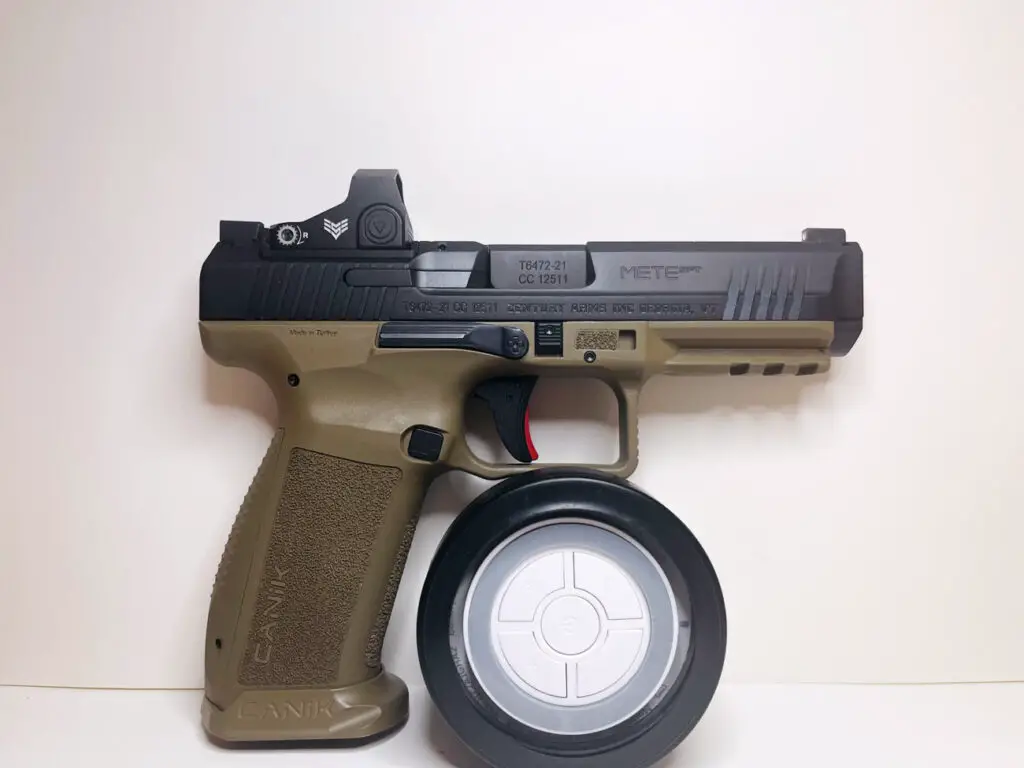 Check Price at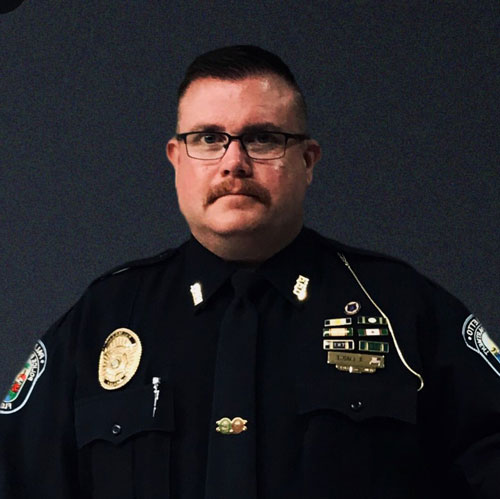 Ryan LaRowe is an avid outdoorsman, firearms enthusiast, firearms instructor, armorer and veteran law enforcement officer.