Aside from the crazy politics and constant attacks on the 2nd Amendment that we all hold near and dear, we live in what I believe to be the golden era of firearms technology! Who would have thought we would have so many quality optics to choose from, whether for hunting, practical shooting, or self-defense. Many are very affordable and in many ways, just as reliable as the top-dollar products! Would you believe me if I told you that you could get a 1-10X Low Power Variable Optic (LPVO) for only around $600? Did I mention it comes with flip-up scope caps, a built-in removable throw lever, and a sturdy scope mount? Yeah, I didn't believe it either. Insert the Sig Sauer Tango MSR 1-10X LPVO.
Sig Sauer has been a hot topic recently, winning various military contracts, releasing new firearms multiple times per year, and catering to their healthy lineup of budget-friendly optics. The MSR line is no exception. Sig has released 3 versions of their LPVO:

While the 1-6x and 1-8x optics have been known to trot around the budget optic category for quite some time now, the fact that one could buy a 1-10x LPVO with an included mount in a budget format for less than $1000, is unheard of! Prior to this, the big dog on the block was the Vortex Razor HD Gen III 1-10x, but at a costly MSRP of $3599. While the quality of that optic is unparalleled, very few people can afford to toss over 3k for an optic. So Sig came to the rescue and delivered a high-quality and budget-friendly scope to help more people experience the versatility of having a 1-10x LPVO. Let's get into the features:
Check Price at:
Features
1-10x magnification with 28mm objective lens
Capped windage and elevation turrets
11 Illumination settings
Etched 2nd focal plane reticle
Removable throw lever
Scope mount with torque specs
Flip-up scope caps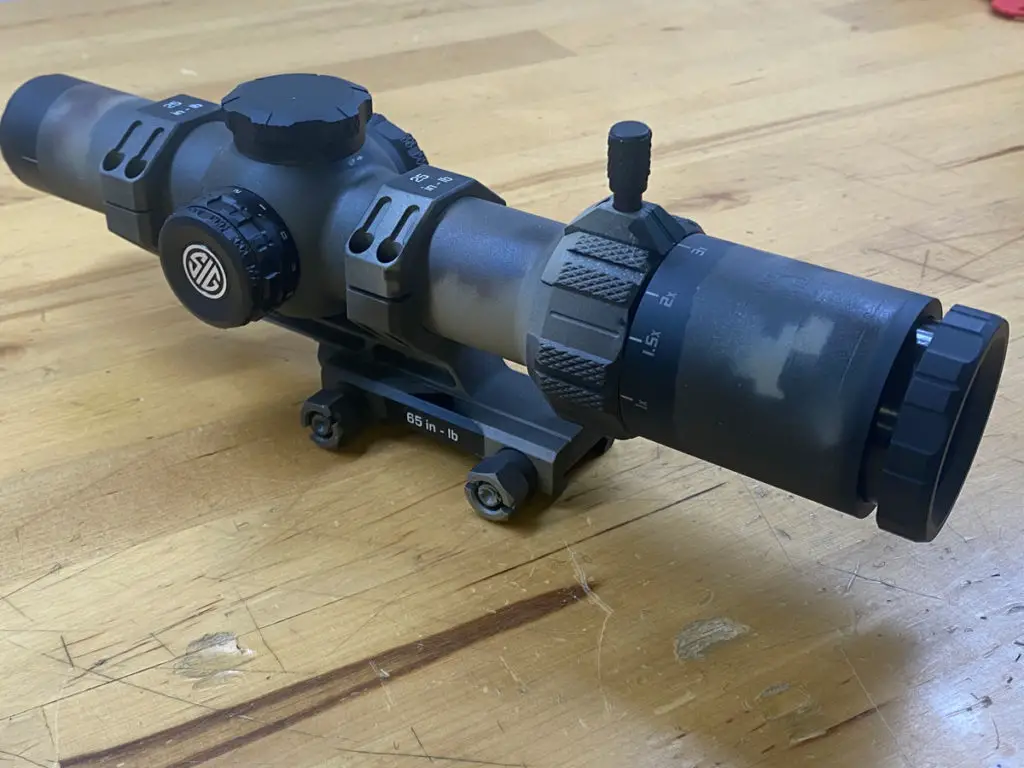 While the MSR 1-10x LPVO is a more affordable optic, Sig did not skimp on the quality of this build. This scope is built with an aluminum housing with a hard coat anodizing to protect the optic from all of the bumps and tumbles against trees and rocks for the hunters out there, and the cars and concrete walls for the tactically minded or professional end user. For those not in the LPVO loop yet, the LPVO has the power to go from a 1x magnification, similar to looking through a red dot sight, to dialing up to 10x magnification to take a more precise or long-range shot.
No matter what you choose to do with the scope or how you intend to use it, the versatility of an LPVO is undisputed. The scope includes a removable (unscrewable) throw lever, to give you more leverage in quickly increasing or decreasing magnification. Adjusting magnification isn't as smooth as other optics, seemingly requiring more than basic thumb pressure to adjust. While it's still smooth, it requires a bit more force to do so.
Glass Quality
The MSR 1-10x has very clear glass, and while it doesn't compare to the glass of the Vortex 1-10x, the image doesn't suffer from any blurry edges or color distortion at a distance like many budget LPVOs from other brands. In the hundreds of rounds I've fired through my LR308 pattern rifle, I have never had to worry about or deal with a blurry sight picture or strange tint color, whether I was taking long-range pokes at 500 yards, or burning it down with fast follow up shots within 20 yards.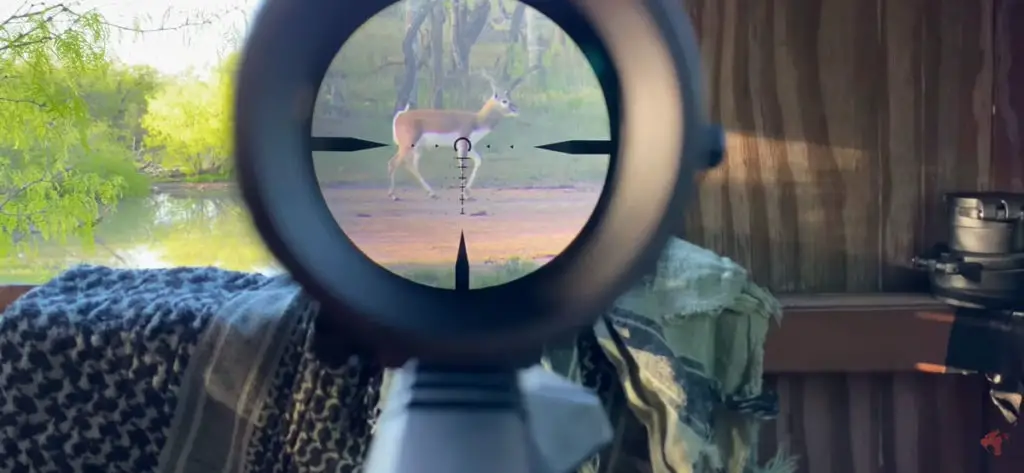 The glass is protected with sturdy plastic flip-up scope caps that can also be removed from each end of the scope when not in use. The parallax is fixed in this optic, so there is no way to adjust it. The scope does however have an adjustable rear diopter to truly focus in on what you're aiming at, to get the clearest sight picture possible.
Illumination
The MSR 1-10x has 11 levels of illumination that can be adjusted with a sturdy dial on the side of the scope, that is easy enough to adjust on the fly, but sturdy enough to not be accidentally bumped and changed. The maximum brightness setting only illuminates the center reticle and none of the holdovers. While the maximum brightness is nice to have, it would not be considered "daylight bright" like the brightness levels demonstrated by the Vortex Viper or Razor series LPVOs.
The illumination is powered by a CR2032 battery, so it won't be hard to find batteries for this optic. That being said, one of the beauties of having an LPVO is that batteries are not required to use the sight. The reticle is etched into the internal lenses, so you will always have a way to aim this optic, even in the worst of conditions.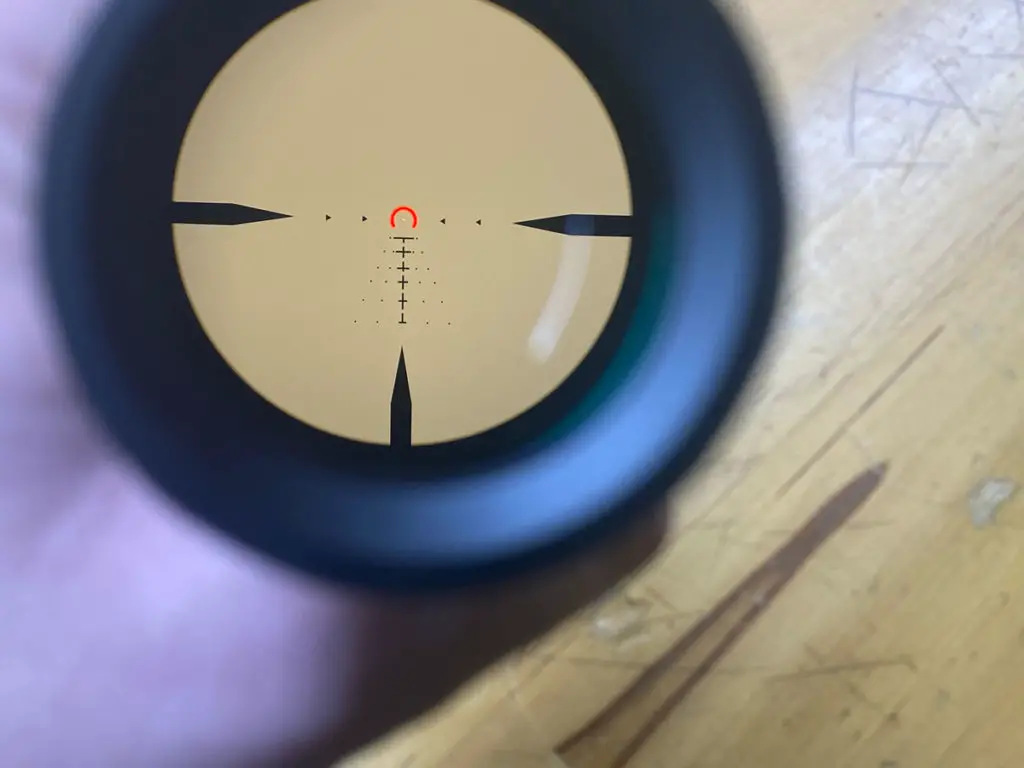 Reticle
Sig has included the BDC10 Reticle, including a precise center dot with a generously sized ring around it, for the close-range target acquisition needed when time is of the essence to get rounds on target. Various holdover lines are underneath the center dot, for when a longer-range shot is necessary.
Reticle information and MOA values are contained within the provided owner's manual. I've found this reticle to be both highly effective at close-range and long-range targets. I've used this reticle at 1x to successfully harvest a Texas Wild Boar running at full speed 20 yards in front of me. And just so you know… I only needed one shot. 
Zero Adjustment
One of the things that budget-tier LPVOs suffer from is having mediocre windage and elevation adjustment knobs. Crunchy, mushy, and no audible clicks can make zeroing a rifle optic extremely difficult, and frustrating to say the least. The adjustment knobs on this scope are very easy to adjust, with very tactile, clear, and audible clicks. You can adjust these knobs while on the range with hearing protection on, and still, have the ability to hear the adjustment clicks.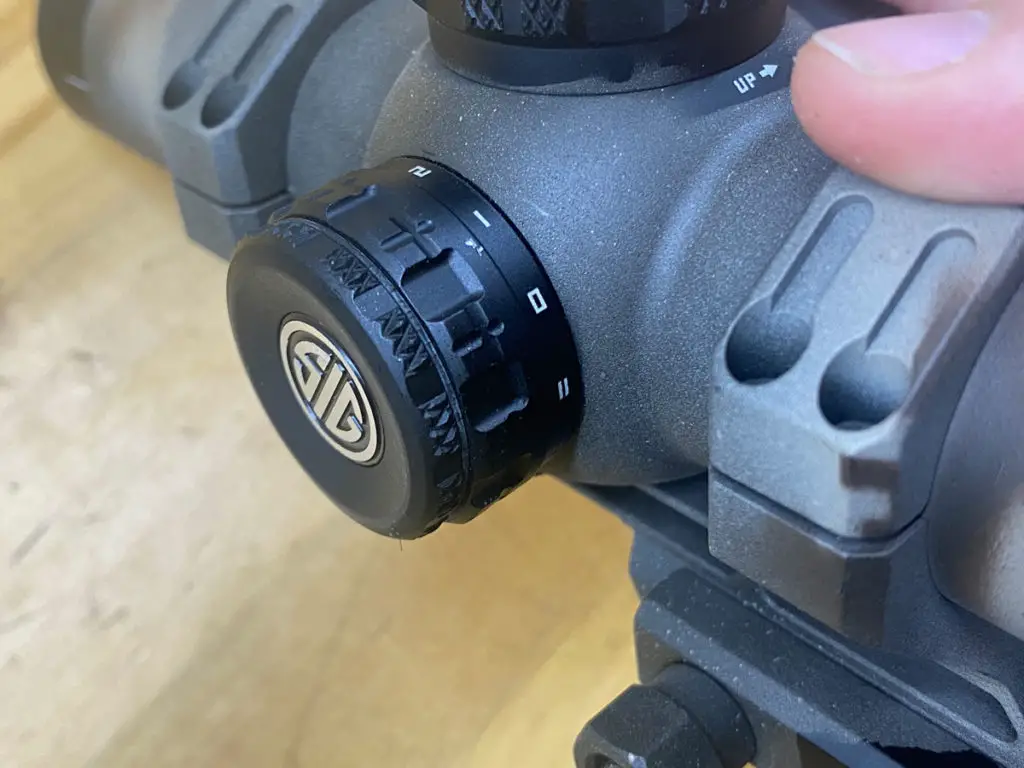 No more wasting countless rounds just because you couldn't hear or feel the adjustments in the dials. The dials adjust at a rate of .5 MOA per click. Personally, I would like to see more precise adjustment increments such as .25 MOA per click, but I recognize that in order to get this optic down the right price point, compromises need to be made.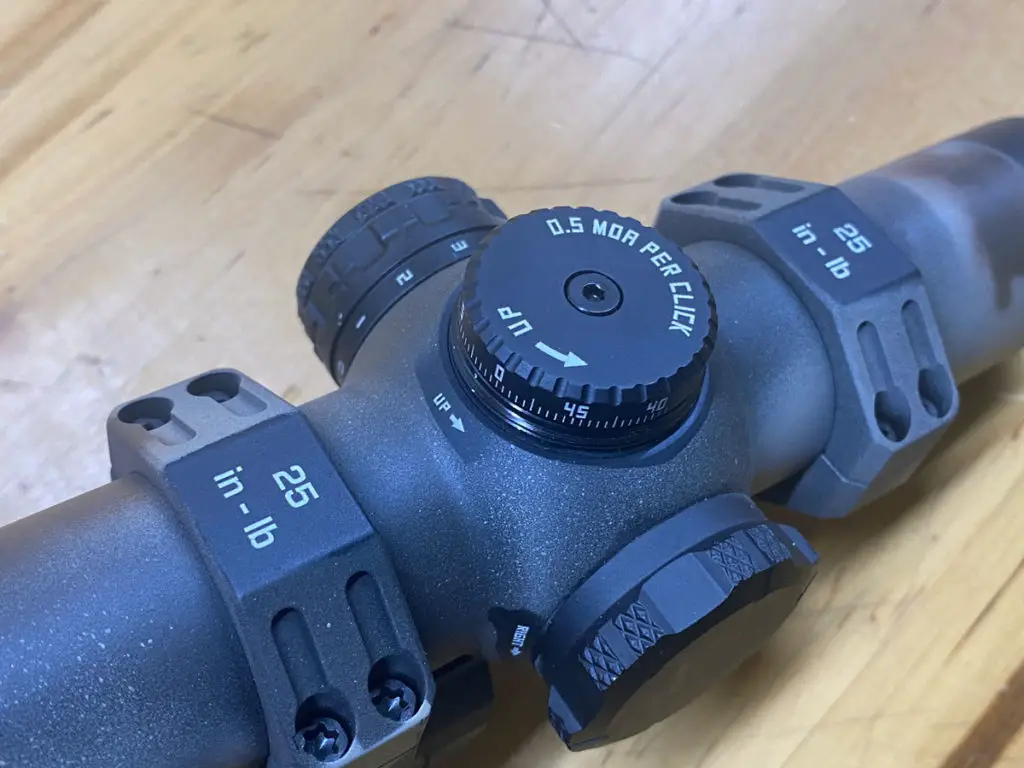 Weight
With great power, comes great… size. Thought I was gonna say something else, huh? Jokes aside, this is a big beast… and that part isn't a joke. This is a heavy optic. Sig didn't include the weight anywhere on their website and I haven't found it posted anywhere else. So I went ahead and weighed it myself. This optic (with mount attached) comes out to around 27-28oz, which is about 1.7-1.8lbs. It's heavy, but there's no way around that with a 1-10x.
By comparison, the Vortex Razor Gen III 1-10x comes in around 21.5oz without a mount. Add a Scalarworks LEAP09 lightweight mount of 5.4oz and you get a setup of 26.9oz, almost the same weight. But remember, while MSRP on the Vortex is over $3k, you'd still have to fork out another $439 for the Scalarworks mount. While top quality, you're dropping a considerable amount of cash that most of us can't afford to launch out of our wallets at Mach 10. The length of this scope with scope caps removed comes to around 10.5 Inches with the diopter fully extended.
Mount
As mentioned at the beginning of the article, this scope comes with a sturdy mount in the box. This is one of the greatest selling points of this optic. You can purchase this optic without having the thought of having to purchase a $150-200 mount afterward. It truly is a plug-and-play system. The mount has torque specs listed on the scope rings and mounting nuts. While some might not see the value in this, it's nice to know how much you can crank these down so that you don't strip or break screws, and so you know for a surety that this mount won't come loose while you shoot.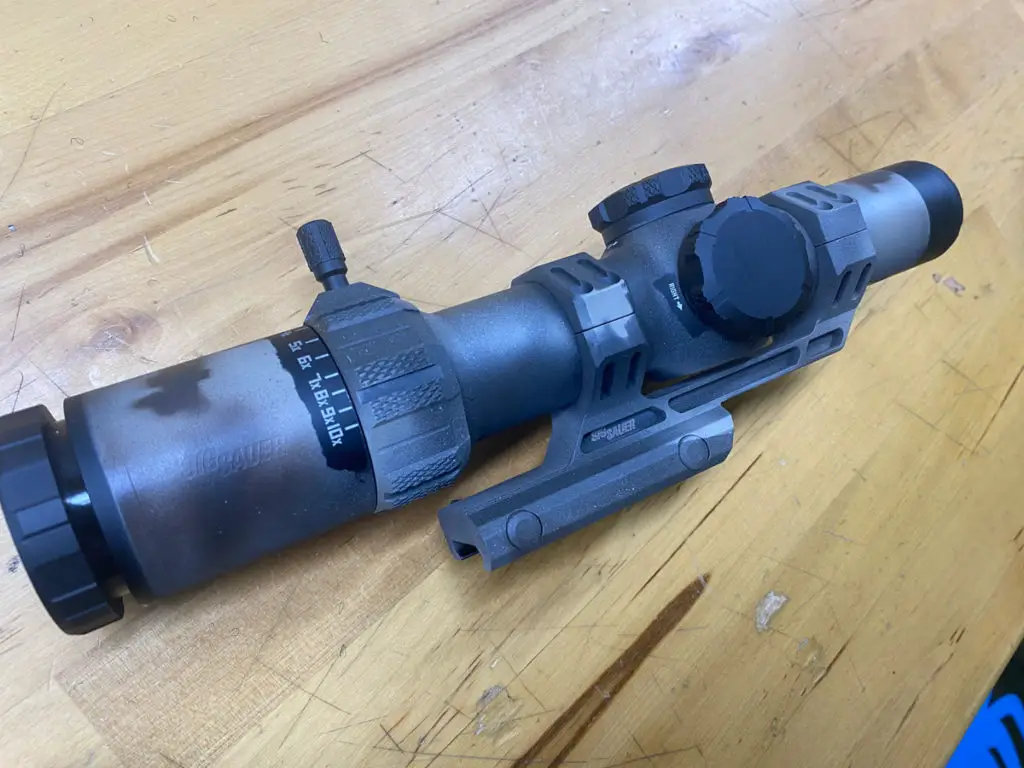 How sturdy is it? I've had this scope attached to a Palmetto State Armory PA10- Gen 3 LR308-style rifle chambered in .308 Win. since its purchase. I torqued the screws down to spec and have performed various magazine dumps with the rifle and not once has the scope come loose. In turn, my zero has never been affected. I wish more companies would include a mount for your LPVO, considering you are already forking out a decent amount of dough.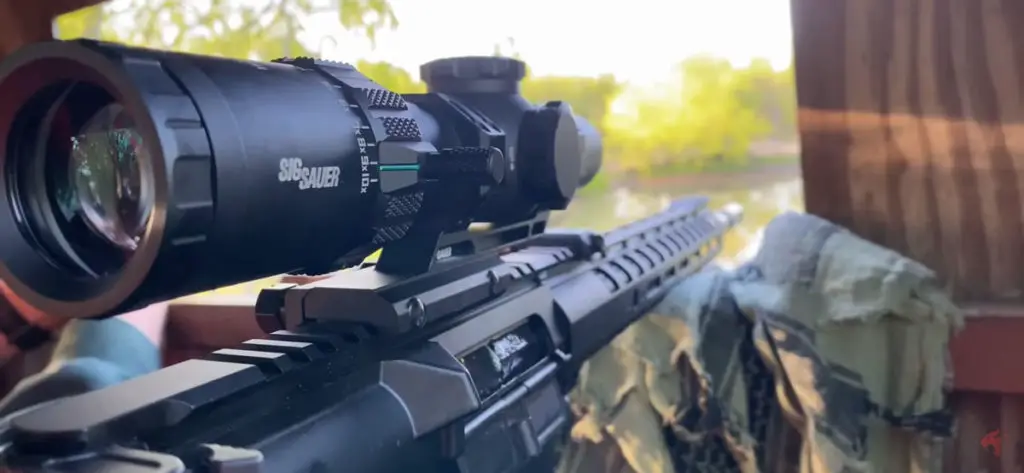 Eye Relief
LPVOs are known for being very versatile in using them for close-range and long-range shooting applications. Eye relief is something that isn't really considered a factor when shooting with a red dot sight due to there being no magnification. With an LPVO, you're still looking through a toilet paper roll and eye relief is a factor, even at 1x. At 1x, I find the eye relief to be fairly generous at around 5-6 inches. As you increase the magnification up to 7x I find you can still get an effective sight picture at around 4-5inches from the objective lens.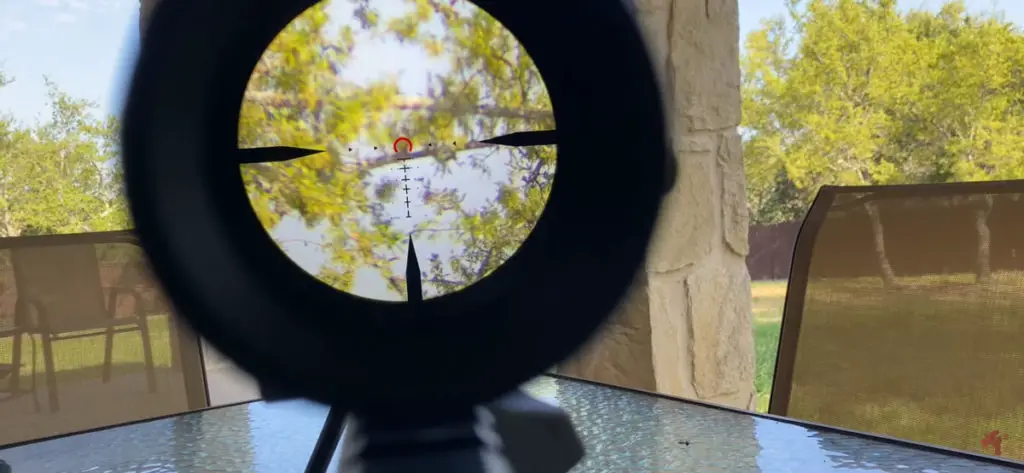 Where we start running into problems is around 8-10x. The eye relief in my testing has been around 3 inches, which is similar to putting your eye up to an ACOG objective lens. While the sight picture is still clear, be prepared to train a lot to find the sweet spot. Because the eye box is very tight from 8-10x. A minor adjustment in your positioning behind the optic will affect your sight picture. This is an issue that is well known with 1-10x optics, and due to this being a budget option, the eye box is noticeably tighter than say a Vortex 1-10x. As long as you train with it, you will be so accustomed to the tightness of the eye box that you will cease to be bothered by it. Nonetheless, it is a weak point of the optic.
Accuracy
All of my testing with this optic was performed on a Palmetto State Armory PA-10 LR308 style rifle, chambered in the venerable .308 Win. I purchased this rifle to be a semi-automatic hunting rifle that I could use to take medium-sized wild game. I had zero experience with Palmetto State Armory and I figured it would be a good rifle to test at the same time. I've listed my setup below in order to demonstrate the accuracy I achieved:
PSA 20" Factory Nitrided Barrel with Surefire Pro-Comp muzzle brake
Federal Premium Gold Medal Match 168gr SMK .308 Win – 20rds
SIG TANGO MSR 1-10x LPVO – Magnification set at 10x – Sighted in at 100 Yds
Temperature 95'F 15% Humidity, No Wind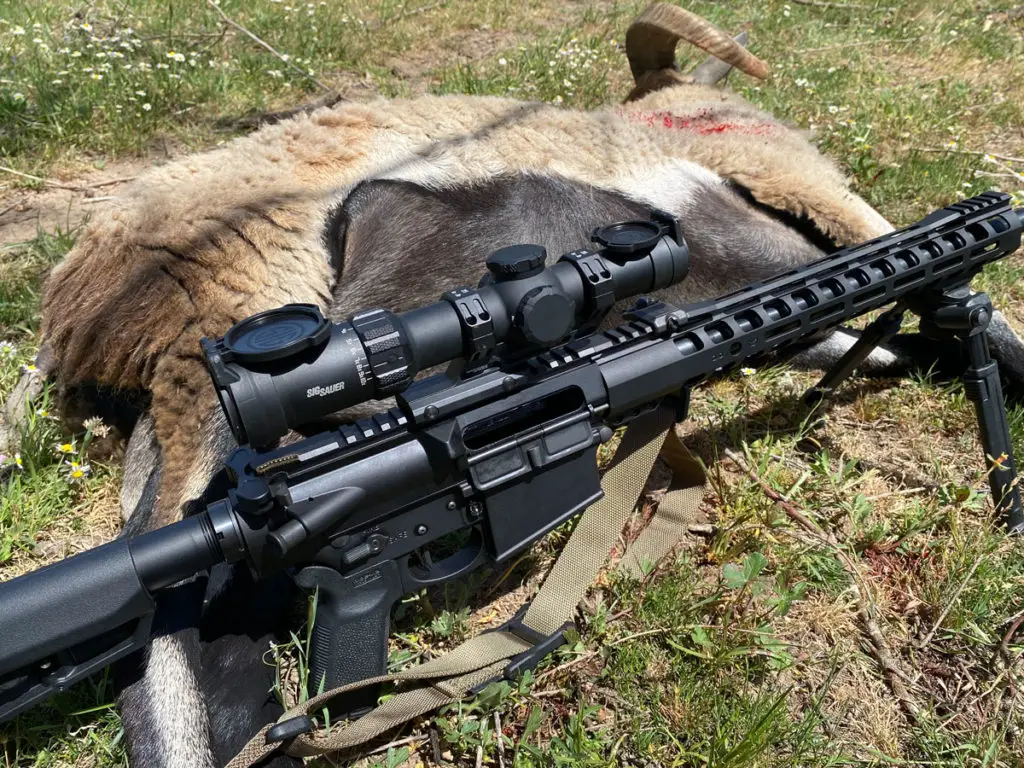 Using this setup, I was able to achieve an average of 1.1MOA using Federal Gold Medal Match Ammunition. This was an average of 4 groups shot with this particular ammunition. This would be more of a testament to the accuracy of the rifle combined with the ammunition, but some credit needs to go to the MSR 1-10x. I was able to adjust the diopter to give me a crystal clear image of the man-sized target set at 100 yards and had no issues with the scope losing zero and maintaining zero throughout the Range Day, as I shot an additional 150 rounds afterward at a higher rate of fire to heat up the gun to see if the optic would lose zero. I am happy to report that it did not.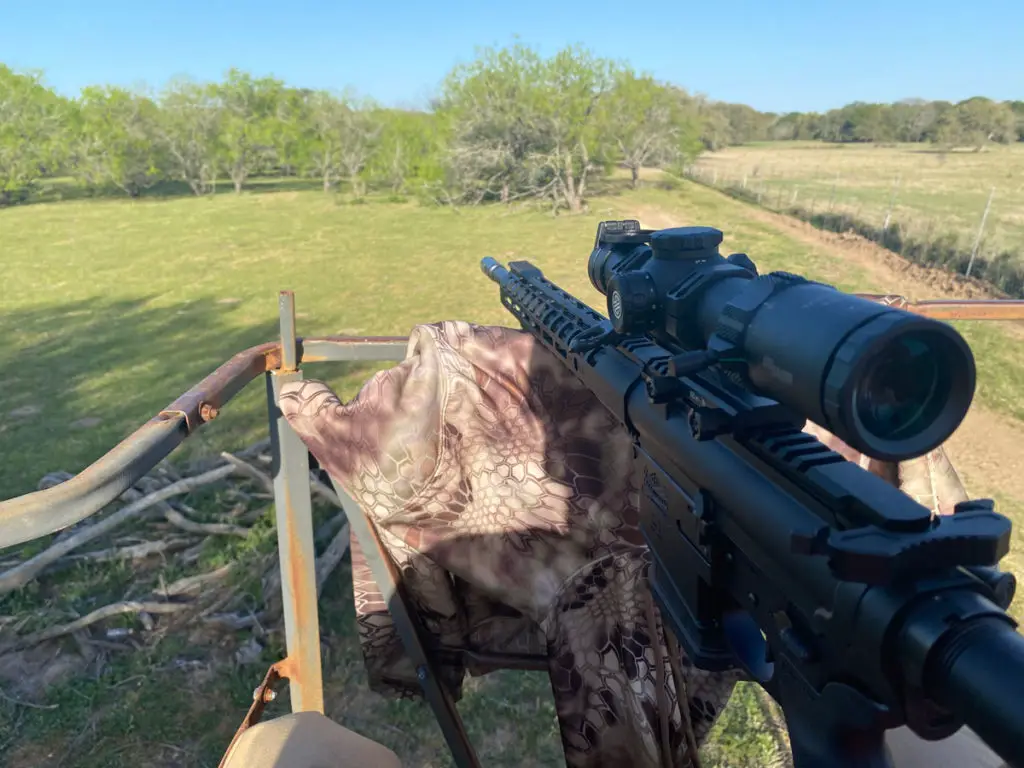 The only gripe I have with this scope is that I wish the MOA adjustments were .25MOA per click rather than the .5 MOA. Due to this factor, my group was either .5 MOA above or below the center of my reticle. If I had changed to a different ammo or barrel combination, I might have found a good combination that could have lined it up 100% with the center of my reticle. But Federal Gold Medal Match is the Gold Standard as its name implies, so I don't anticipate getting much better than that. Nonetheless, the accuracy is more than acceptable considering the scope never lost zero and is built like a tank.
Texas Hog Hunting with the MSR 1-10x
Seeing that the MSR 1-10x was an excellent optic on the range, whether I was dumping a 25rd magazine full of 7.62×51 at 20yds, or shooting a steel target at 500yards, I decided to put this scope to the test in a real-world scenario. Hunting for food. Specifically Texas hog hunting. For those that don't know, Texas has an infestation of Feral Hogs, which are known to rip up properties and leave a mess wherever they go. It's such a problem that many ranches have opened up businesses in which hunters can come and hunt an unlimited amount of hogs, harvest the meat, and pay them for the opportunity. If there's one thing I learned, it's that Hogs can be fast.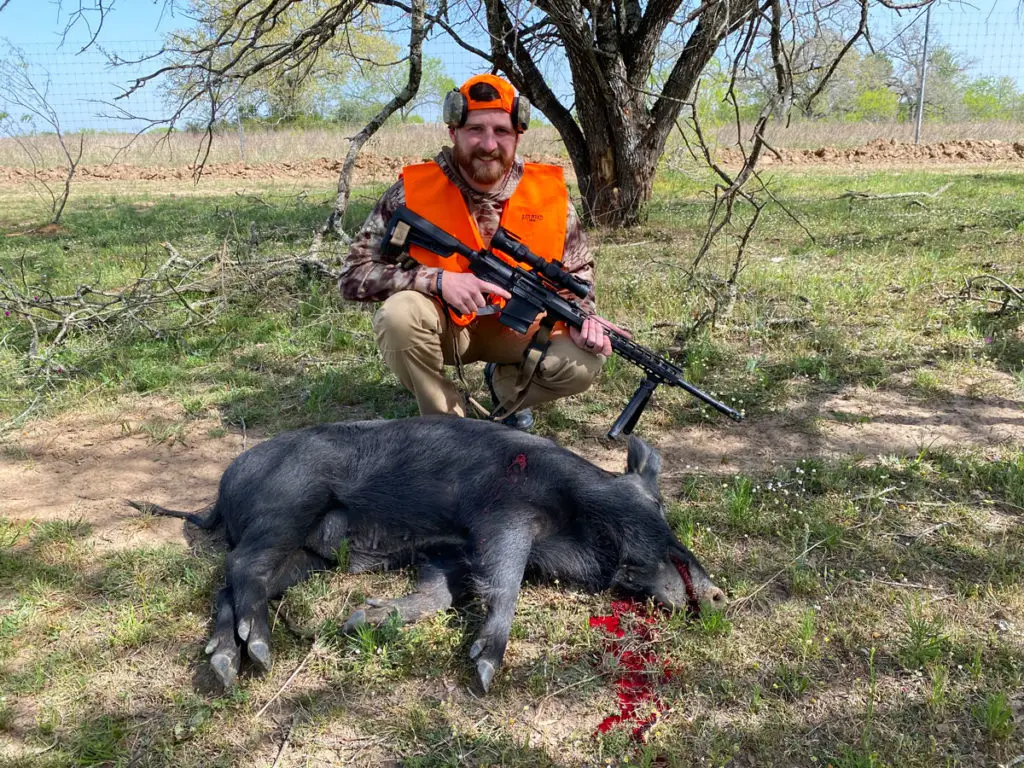 I visited Independence Ranch located in Gonzales, TX, where I participated in a 3-day Hog Hunt. Throughout my time there, I was able to harvest 8 hogs.. and boy were they tasty. There's still meat in my freezer to tell the tale. The first hog I took was a 150lb Sow that I shot in the dark at 75 yards. With the little moonlight we had, I saw something move around and told my father to grab our red-tinted spotlight. Prior to him engaging the light, I turned on the illumination to my MSR 1-10x to setting 10, which was plenty bright considering it was almost pitch black out. I cranked the magnification to 5x, aimed at where the Hog's outline was, and told my dad to shine the spotlight. The light illuminated the pig, which froze in its track and looked up. That 1-second delay was enough for me to put the illuminated reticle behind the pig's ear and squeezed the trigger. Boom. The pig dropped and didn't move once. Upon collecting the hog, I observed a perfect 30-caliber hole behind the pig's ear. Right where I aimed. Even in the dark, I had a clear sight picture at 5x and the illuminated reticle was perfectly bright so that a white light didn't need to be engaged that would possibly scare off the pig.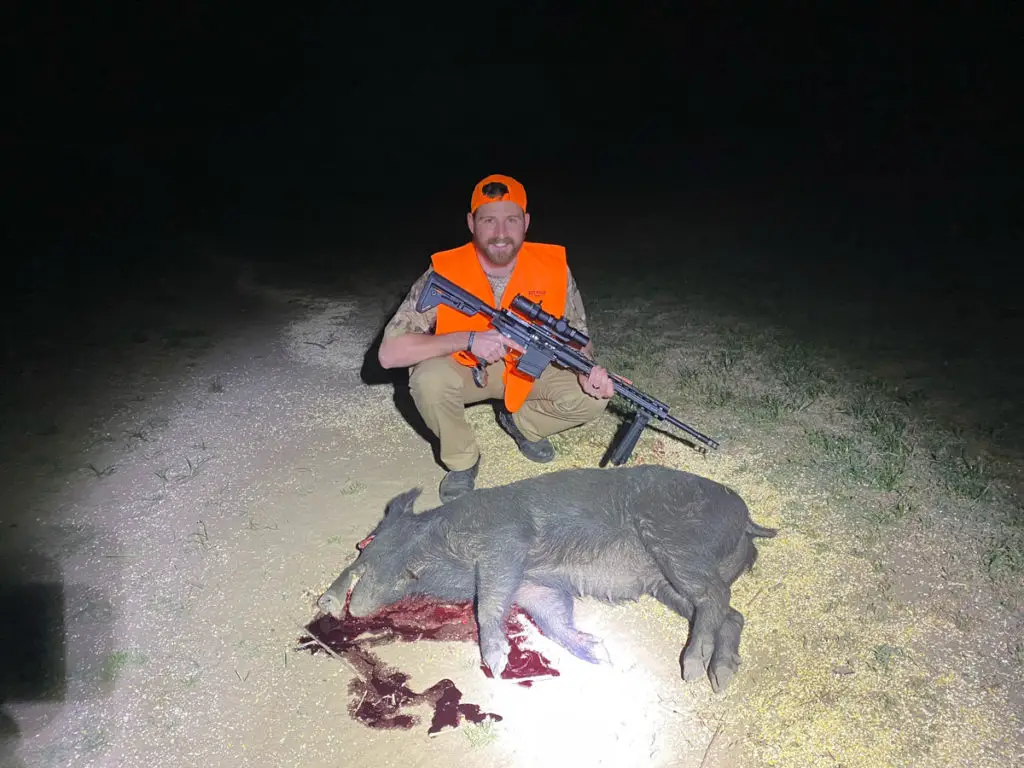 During the next two days, I had many close encounters with Hogs running around. One of which ran laterally about 20 yards in front of me. I dialed down the magnification to 1x and flipped the illuminated reticle on and was able to get a headshot while the boar was running, causing it to come to a skidding halt in the dirt. While sitting in blinds, the 10x magnification came in handy as it helped me to see into the distant brush and identify if the rustling in the bushes was a wild hog or some other wild game that we were not permitted to shoot.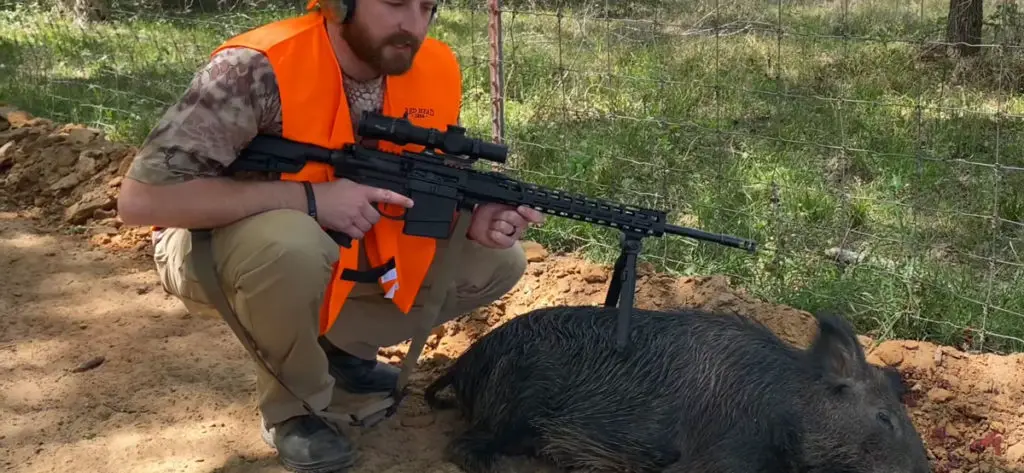 The rifle was dropped many times, mostly on accident on dry Texas mud and rocks, and after verifying zero, I found that the scope continued to hold up as I thought it would. The hunting trip solidified my opinion of this scope.
Pros:
1-10x magnification is highly versatile.
Clear glass without any image or color distortion.
Mount and throw lever included reducing the overall price of purchasing an LPVO.
Tactile and Audible sight adjustment knobs, capped for protection.
Removable flip-up scope caps.
Easily acquirable reticle with adjustable brightness.
Easy to sight in and mount optic
Cons:
The magnification dial requires more pressure to adjust than other LPVOs.
.5 MOA windage and elevation adjustment aren't as precise.
HEAVY – Weighing in at around 27-28oz.
Tight eye box at 10x requiring more training to achieve adequate sight picture.
Final Verdict
I've had over a year's worth of use with this optic. Using it for both hunting and practical shooting. For the amount of money you pay for this optic, I would say it's feature-rich and durable enough to last through hard and long-term use.
While this is an excellent optic for the money, there's a reason that the Vortex Razor Gen III 1-10x reigns supreme. It's a phenomenal optic that addresses many of the negative aspects of this optic. That being said, you're paying 4x the price, and not everybody needs the highest quality optic for every scenario. 
If you're looking for a quality optic that you can hunt with and make longer shots with, all while having the capability to use it at closer ranges, this is a great optic to consider. Not to mention when purchasing one of these, you get Sig's Infinite Guarantee. This includes a lifetime, fully transferable warranty in which they will repair or replace your optic if there's any problem at all. So give this a try the next time you are in the market for an LPVO. You might find you like it as much as I do.
Check Price at: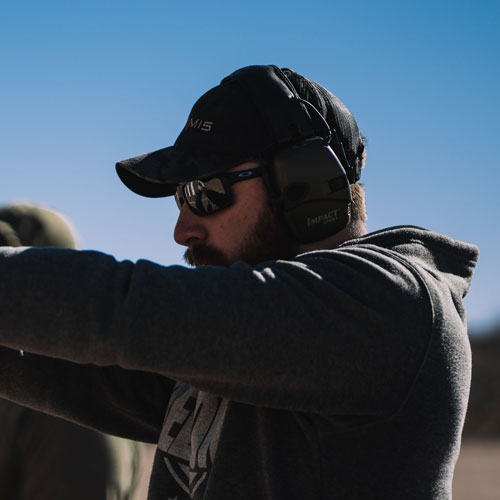 Bryton has a never-ending passion for firearms and has a great love for the 2nd amendment. He is frequently found in the AZ desert, training with his firearms and teaching his friends about them. Bryton has worked as a manufacturing technician for two firearms manufacturers, and is currently serving in a Law Enforcement role for a local Police Department.