Intro and History

Ever since the United States reintroduced laws for concealed carry, a lot of firearms manufacturers began to build pistols that are lightweight, compact, and easy to carry and use. Sturm, Ruger & Company made a line of semi-auto pistols and released the SR line- where the SR9 came from. It was produced in 2007 first and was quickly used by law enforcement as a firearm for back-up. It is a great gun for new gun owners and people looking to add a great gun to their collection.
Is Ruger SR9 discontinued?
Yes. The Ruger SR9 was discontinued for a period of time before it then became a Distributor Exclusive of Sports South, who is no longer selling it. You might be able to find used SR9s on various sites and auctions. Ruger has a history of creating Distributor Exclusive guns.
Specs
| | |
| --- | --- |
| Produced | 2007–2019 |
| Caliber | 9mm Luger |
| Ammo Capacity | 17+1 Rounds |
| Barrel Length | 4.14″ |
| Length | 7.55″ |
| Height | 5.52″ |
| Width | 1.27″ |
| Weight | 26.5 oz |
With a weight of just 26.5 oz, the SR9 is one of the thinnest double stacked pistols available. Even with the light weight, it can still carry a large 17+1 capacity for rounds.
It is made of black, glass-filled nylon that is very high-quality. It has a slide that is a brushed stainless steel slide. These make it look super slick and aesthetically pleasing. There is an adjustable sight that has three dots that lets you be incredibly accurate, but you can still add on sights if you want something that is a little more high-tech. It works well with any brand of ammo.
Check the Ruger manual for more information.
Reliability
This is a very reliable gun. The Ruger company is well known for creating consistent guns that are high-quality, which makes the Ruger SR 9 a really good choice if you're looking for a gun that you can depend on.
Trigger Recall
Due to a potential issue if the gun is dropped while the safety is turned off, Ruger has decided to recall older models that don't have the new inner blade trigger. If yours looks like the model on the left, email Ruger at [email protected] or call them to get a free retrofit trigger.

Notable Features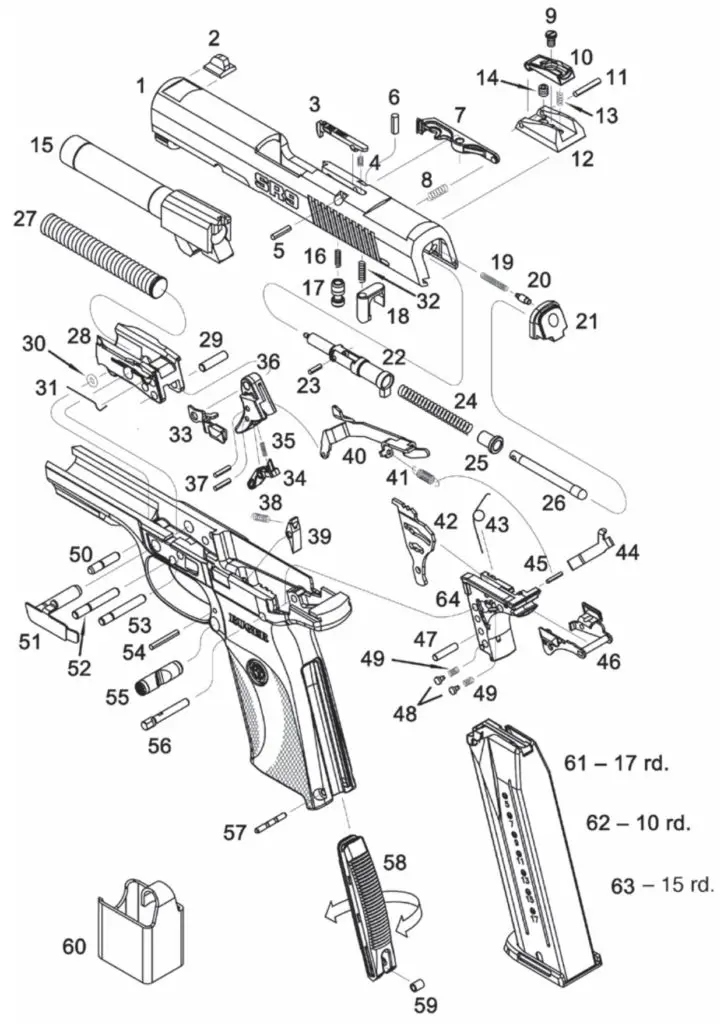 There are a lot of notable features to the SR9 that contribute to it being the great gun that it is.
It has a low slide profile: The barrel is meant to be close to your hand because of the low side profile which reduces a rise in muzzle. This makes for a more comfortable grip as well as a quicker recovery time for aiming.
There is a preset trigger that is similar to a safe action: When you cycle the slide it will partially cock the trigger, and will fully cock and release when you pull the trigger.
It has a decently long as well as heavy trigger pull: For some people, this is a very good safety feature. This feature is especially good for law enforcement and self defense. This is a very important feature.
It comes in different versions, both large capacity and small capacity: The capacity is a double stacked 17, but there is also a version with 10 rounds if you live somewhere that restricts the capacity of magazines.
There is a reversible backstrap: so you can choose if you want arched grip housing or flat grip housing.
There are many great safety features: The gun comes with an indicator for the loaded chamber that tells you if you have a round-in. Also, the cocked-striker that is tactile provides a very fast reference. There is also a firing pin block safety that keeps the gun from firing if you drop it accidentally. It also gives safety to the thumb and great release of magazines.
Pros
One pro to this gun is that it is compact and slim. This makes it very good if you want to do a concealed carry. The reversible backstrap lets you choose your preference which provides a lot of comfort. Ruger & Company have a reputation for being reliable and having great customer service. It has great safety gestures for visual and tactile experiences. There is also a reduced aim recovery time because of its low profile slide.
Cons
If you are a professional sharpshooter, the long and heavy trigger pull might get in your way, although it is a great safety feature for law enforcement and civilians. Some serial numbers were recalled because they would accidentally fire when dropped, so you have to check your gun to make sure it wasn't part of the recall.
Best Ruger SR9 Magazine Options
Customers will find that there are different options when it comes to their Ruger SR9 Magazine. Each one will provide a different option based on what you are hoping to get out of the magazine for your gun. Some of the options available include:
Ruger Factory Magazine
Some gun owners choose to go with the magazine that came with their gun. This can be an easy option and Ruger does provide some high-quality that you will love. The smooth-sliding polymer follower makes it a smooth option to choose and the two-piece base pad will help as well. These are reliable, but may miss out on some of the features that you want. 
Ruger 25-round 2-pack
This is a good option to use to keep things moving without having to stop all the time. They can hold up to 25-rounds each and are easy to switch in and out as needed during use. 
Ruger SR9 Trigger Connector
This connector is a great option to add to your gun. It will improve your accuracy, which can be useful any time you would like to pull the gun out. You can choose between two models that include:
Ultimate: This will offer a drop-in no-gunsmithing installation so you can put it into your gun whenever you want.
Rocket: This is a great trigger that will eliminate the over-travel that others have to provide the best in accuracy. 
These are just a few of the items that you can choose to use in the Ruger SR9. This can make utilizing the gun a little bit easier and most of them will be simple to install on your own. Add in some of the improvement in accuracy and you will see that these are great add-ons to consider. 
FAQ
Is Ruger SR9 a good gun?
The Ruger SR9 is an incredible gun. It is a top choice for concealed carry. It is customizable with its sights and backstrap. The company is well known. It has great safety features. It is also a really good bang for your buck. This gun is often used as a back-up firearm by law enforcement or as a pistol for home defense if you are a civilian. It is nearly a household name. It is easy to use, small, and lightweight as well as having great grip. It is one of the most popular choices of pistols.
Is Ruger better than Glock? 
No one gun is necessarily better than another, but there are differences between the brands. The Glocks have existed for a longer time than the Rugers. They are often used by law enforcement. The SR series from Ruger hasn't been on the market for as long. The Glock is more compact so it is better for concealed carry, except Ruger has the SR9c which is the SR9 but smaller, with the same grip as the SR9.
Conclusion
Everything considered, it is fair to say that the Ruger SR9 is one of your best choices for everyday use. It is affordable, compact, and light. It is a top choice for a lot of civilians as well as military personnel. For most people, the pros greatly outweigh the cons of the gun. It is absolutely perfect to be a concealed carry weapon. Ruger & Company is incredibly well known and reliable. You can add on sights if you're not happy with the three-dot system, and the reversible backstrap makes this gun customizable. The only thing you may not like about the gun is the heavy trigger pull, but for most it is an excellent safety feature. All in all, this is a great choice for nearly anyone. This gun is sure to please.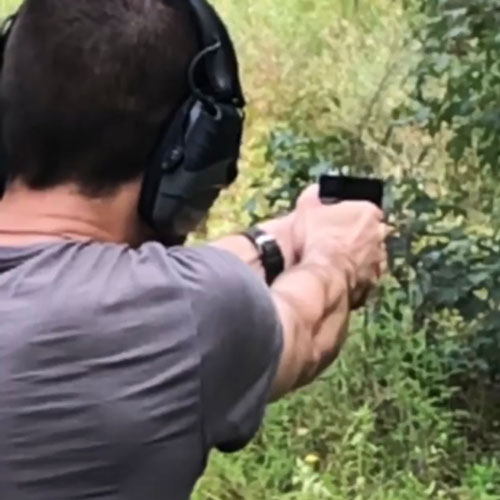 Growing up, John loved learning about the components of firearms and what makes them work, which still intrigues him to this day. He's a very outdoorsy person, and he loves fishing, hunting, and skeet shooting. He is a firm believer in the Second Amendment and the right to bear arms.