With an optics market that has as many big-ticket players as there are, it's tough to sometimes see the smaller companies that are making great entries that are competitive both in price and features. One of my favorite companies that does this is Riton Optics.Not only do they provide value in their features that are tuned to meet the needs of specific branches of the firearms community, but they also have a wide variety of sighting systems that would fit any budget.
Today, we're digging into one of their more mid-tier optics in the "3 Primal". Riton Optics was gracious enough to send us this optic to do a thorough field test and review writeup. I won't give away too much, so keep on reading and let's get into it!
Check Price at:
Riton 3 Scope Overview
The 3 Primal is Riton's entry into the hybrid scope market, claiming to have designed this scope for long-range hunters and steel shooters alike. Riton also throws a ton of features like illumination, zero-stop, and stainless steel internals. While some companies offer scopes with one or two prominent features, Riton combines everything in one package for a price that beats out the competition. From what the 3 Primal offers and how it went through testing, it's easy to say that this is going to be a review worth reading through.
First Impressions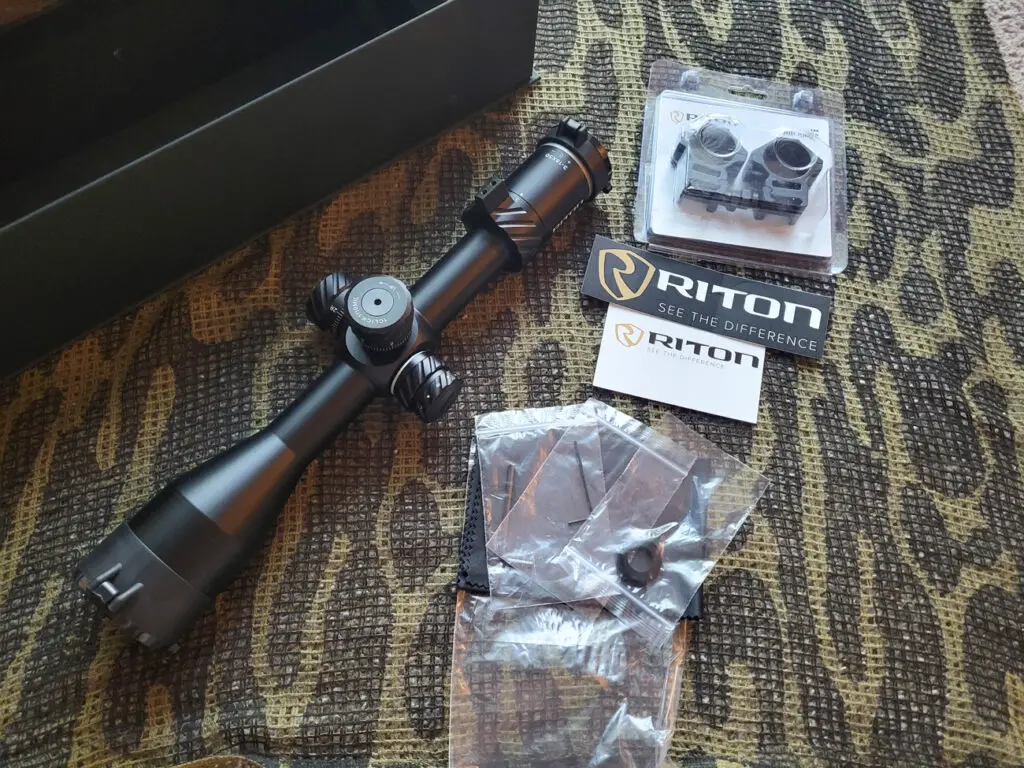 This scope is well-built and feels sturdy. After opening the box, the only thing I noticed was that there wasn't a product manual for this scope. There was, however, a Riton sticker, which I think is a very nice touch when manufacturers include those. The 3 Primal comes with an illumination battery installed and scope caps in place. The zero stop does come in a separate baggy, but that's ok seeing how some enthusiasts want to keep it uninstalled. 
After looking through the scope, I was curious as to the hold values that were in the reticle. It's easy to tell by just counting the hold marks, and after counting, there are 10 MILs worth of elevation holds in the reticle and 6 MILs of windage holds (either way). The holds are in half-MILs and create a very simplistic and usable reticle. This is also a first focal plane (FFP) scope, which means the reticle grows and shrinks as you modify the magnification, meaning that these MIL holds in the reticle are accurate no matter what magnification you're on. First focal plane has been a feature that used to be limited to very expensive scopes. More recently, it's become a feature that costs less and less, though it's still something that upgrades an optics quality and price.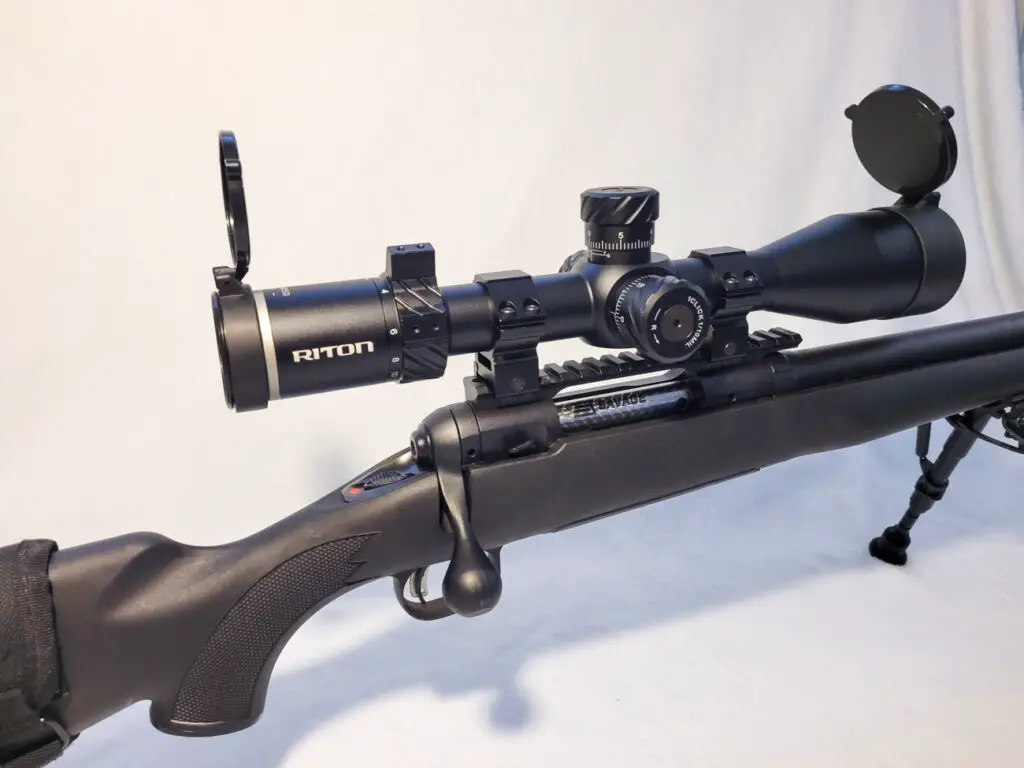 This scope made me excited for the tests it was going to be put through. Riton nailed the reticle for a hybrid scope by making it simple, but versatile. The clarity looking out my back window seemed a bit off, but nothing that was out of the ordinary. Overall, it seemed like a well-built, usable rifle scope. With that in mind, let's look at some applications for this optic before seeing how it went through testing.
Application
Riton's claim is that this is their entry into the hybrid scope market, meaning both target shooting and hunting applications. The issue people have hunting with exposed turret scopes is that those exposed turrets can snag and turn without the person knowing they've turned. This can lead to a change in point-of-impact (POI) that can cause unethical shots on game, or complete misses altogether.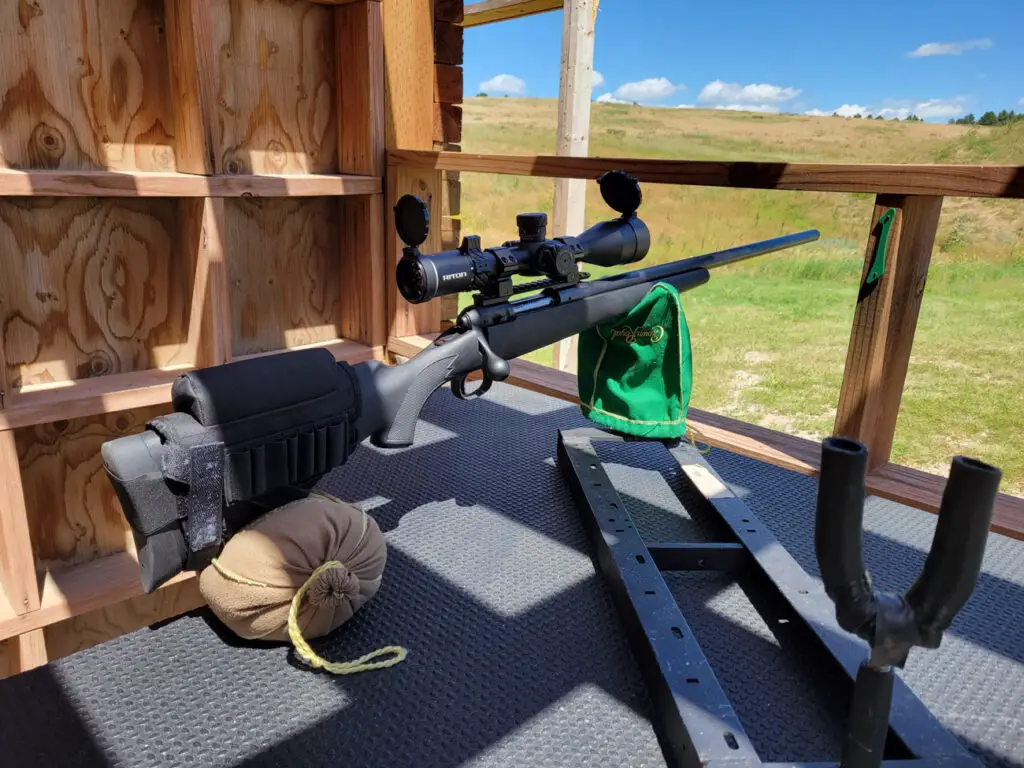 Riton's solution to this problem is an installable zero-stop that would allow you to return to zero at any point. Whether you drop your scope and the elevation turret moves half a MIL or 10 MILs, the zero stop allows you to go back to zero on the elevation turret without second-guessing your rotations and clicks.
While it's a clever solution, there are some variables that need to be considered if the 3 Primal is on your list of potential optics. For instance, this zero-stop does not keep the windage adjustment knob from being snagged and turned. This means your POI can still shift unknowingly, even if you have Riton's zero-stop installed.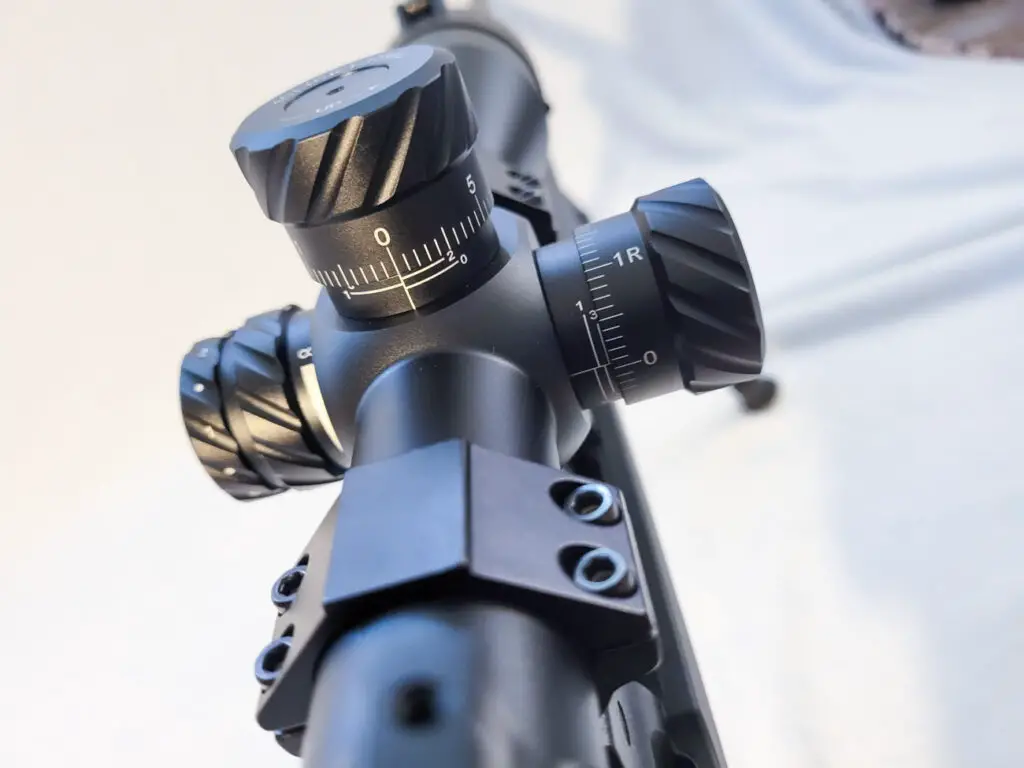 Other solutions utilized by other manufacturers include locking exposed turrets. In fact, if you paired a locking windage turret with the zero-stop that would prevent losing your zero on the elevation turret, you would have a much more reliable sighting system on your rifle for hunting. However, it's worth noting that if you're a prairie dog or coyote hunter like I am, you're usually either prone or in a static position long enough to where this would still be an extremely viable option for a hybrid scope. On a similar note, if you're the type of hunter that goes to sit in a blind for 8 hours in your special spot, this scope would be a great option for you.
Mounting
I was pleasantly surprised to see that Riton threw a set of their Riton-Brand scope rings in the box with the 3 Primal. The rings provided in the box were their $40 rings, and they're the first thing I'll be upgrading down the road. Riton threw these in free of charge to me, and it is not common practice with all their orders. Props to them for having the confidence in their products to send me the $40 rings with the $660 scope.
Rings are not something to go cheap on, so I was eager to test how these were going to hold this scope onto my rifle. Installing the rings, I had to make sure they were mounted straight and pushed forward in their respective slot so that the scope could sit unstressed in the set. There was more slack in the rings when they were mounted to the base than I would've expected, but this didn't encumber the mounting process. 
Since this optic was put through a drop test onto concrete and a check for proper zero after all the testing was done, I would say these rings impressed me. There was no movement whatsoever looking at the tube of the scope, and even after being taken off the rifle and put back on numerous times, the scope's zero only changed by an inch or two at 100 yards. When I first saw the rings, I honestly didn't have much hope. They have an interesting cloth-like part attached to the interior of the ring that I wasn't excited about.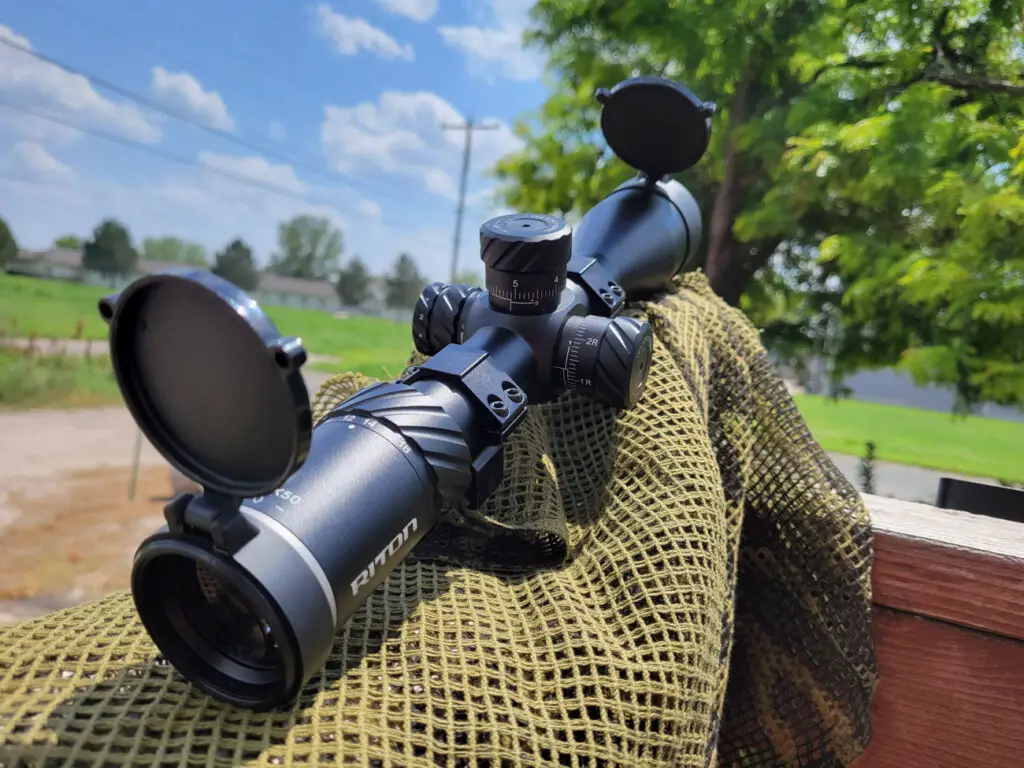 Regardless of how they looked, it turns out that these rings performed as well as the optic did. It made me happy to be wrong about these scope rings. If you want to buy everything from one website, don't be afraid to get the matching Riton-brand rings with your scope.
Features
As mentioned in the overview, Riton packs features from 3 different scopes into one usable package. For a price point near $660 here's what all you get in the box:
First Focal Plane
Illuminated Reticle
Side Parallax Adjustment
Magnification Throw Lever (Multiple Facings)
3x-18x Magnification Range
Reticle Holdovers
Stainless Steel Internals
Zero-Stop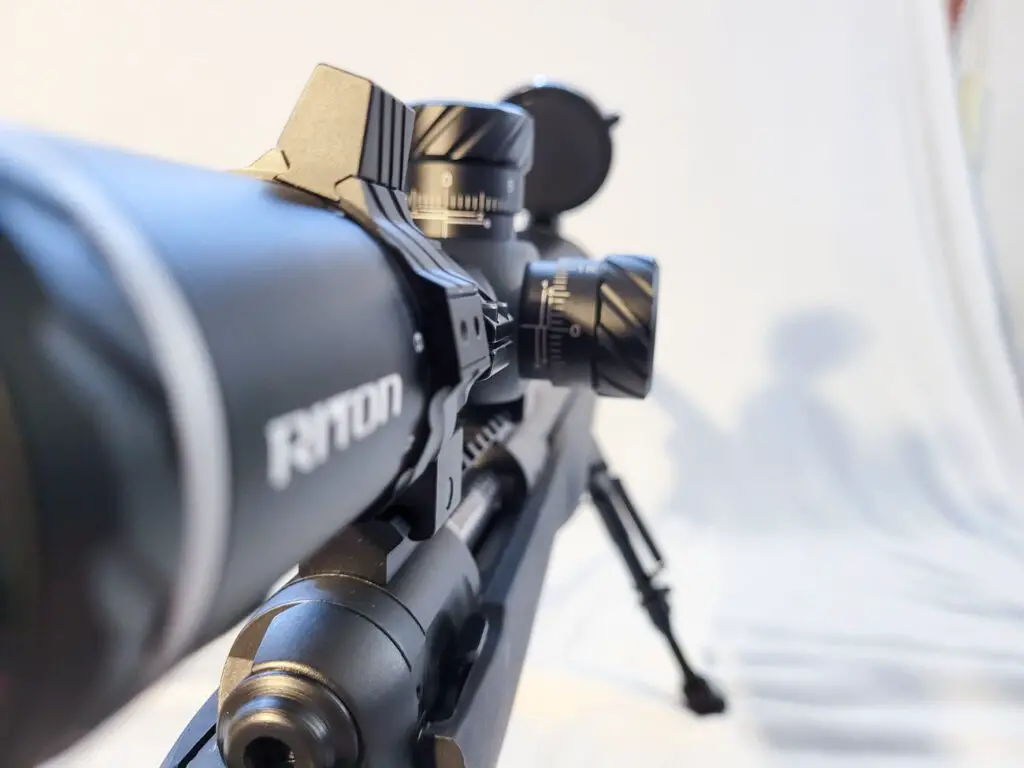 Most scopes you purchase may have a handful of these features while missing out on everything else for the sake of keeping the price competitive. For example, you could have a first focal plane optic that doesn't have a magnification throw lever or a 3-18x magnification range. My point is that if you're only looking to spend $700 or less on a scope, you will have to leave something off the table if you want to fit it into your budget.
The 3 Primal is an exception to this by placing all of these features into a scope for less than $700 and still maintaining decent glass clarity. While it's still a lot of money to dish out for one scope, you're getting a versatile sighting system that has all of the boxes checked in terms of what you want. With that in mind, let's see how the 3 Primal performed in our tests. 
Tracking & Accuracy
The best way to describe the results of the tracking and accuracy test is to say that I was satisfied with the results. Halfway through the test, I ran out of ammo in the box I was using, so I had to switch to the same ammo, but a different lot number. Some people may know, but you can sometimes experience very slight point of impact (POI) changes with the same ammo if you're using a box from a different lot number. Let's take a look at the target.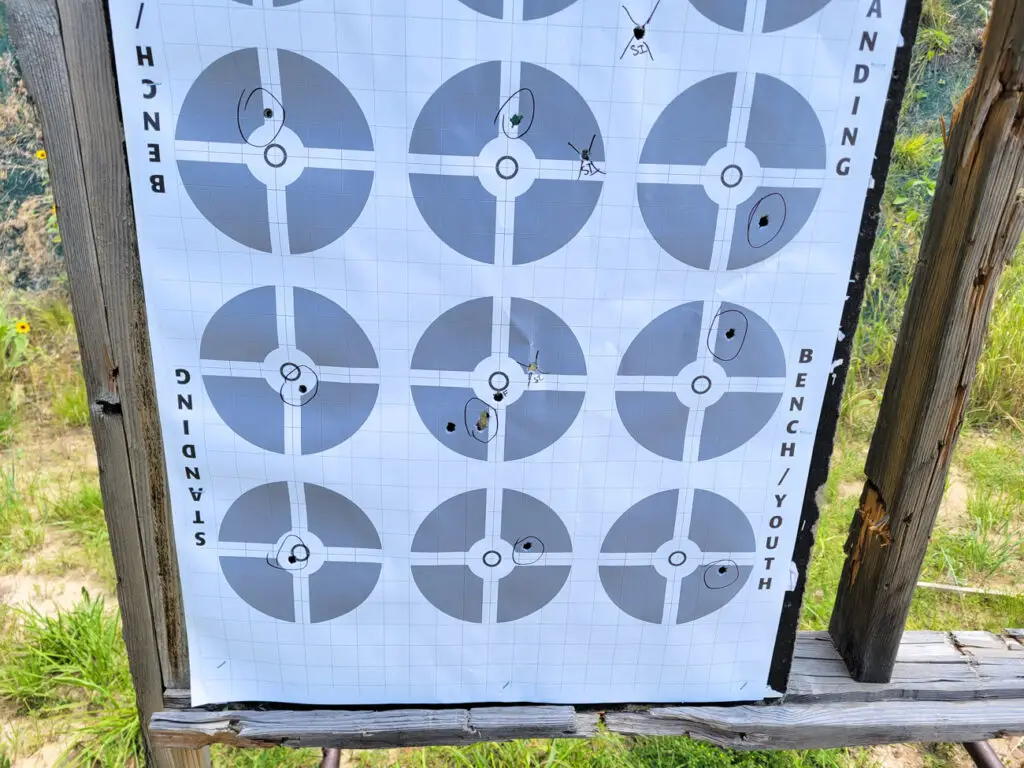 From the target above, you can see the holes with the X's on them which show the trail from my zeroing process. Normally, I get around 1 MOA to 1.25 MOA grouping out of the ammo I used for this test. If you're using box ammo, 1 to 1.25 MOA is an average group. Starting in the center, I went shot for shot going up first, then to the left, all the way down, all the way to the right, all the way up, and then a full return to center. Each target was exactly 2 MILs apart from each other. I then fired a 4-round group that had one shot that I admittably yanked. The other three shots measured at .409 for a group. The day I chose for shooting was with 15-25 mile per hour winds that is also a factor in this testing. I switched boxes of ammo for the center-right and upper-right target, which you can see have some difference between the other shots. 
Take the tracking test as you will, but I was very happy with how the scope performed. This scope was mounted on my Savage 12 in .308 which has been taken out to 600 yards so far. Not only am I very familiar with the setup being used in this review, but I'm very comfortable with knowing what to expect in terms of results. Also keep in mind that I don't take breaks during the box test, so by the time I got to my last 4 targets, the barrel of my gun was extremely hot.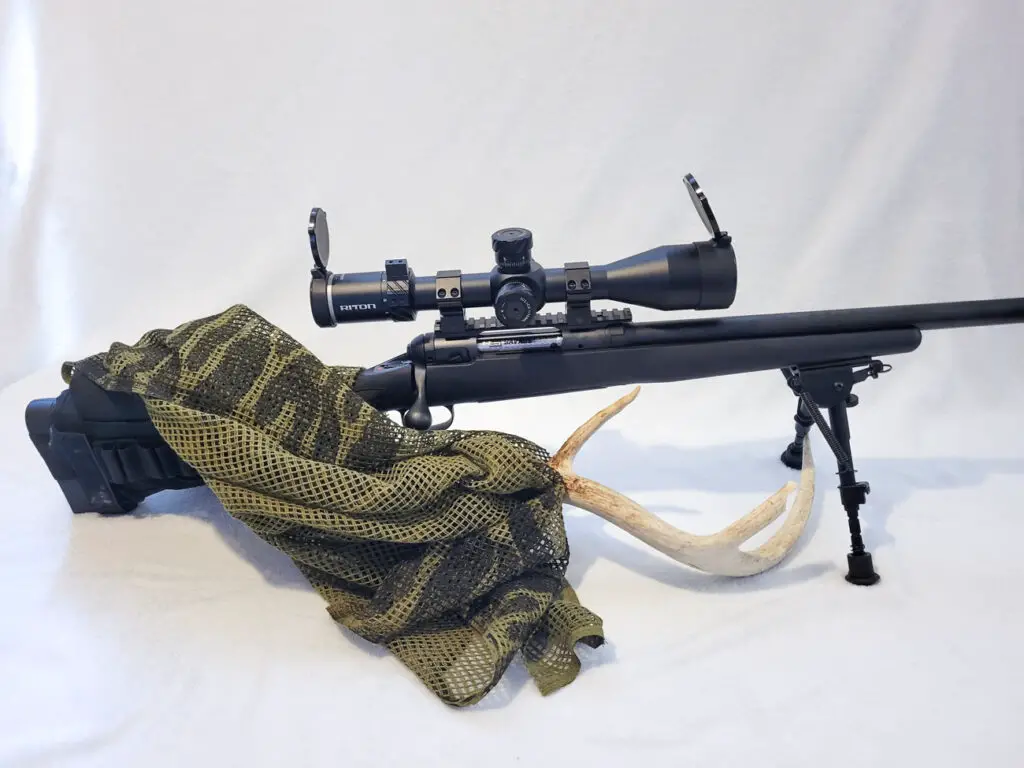 However, I have all the confidence in the world with this optic that the tracking is accurate and works. The minor errors you can see in the tracking test can be attributed to 15 mph winds, the change in ammo that occurred, and some of those shots could have been me as well. Even after the scope was dropped, the groups held firm and the scope was found to track accurately. Since it was mentioned, let's see how this optic took being dropped onto concrete. 
Durability
As a bench shooter, the scopes on my guns for daily use don't see much that will test durability. However, I do make sure to test durability in the form of a shoulder-height drop because these reviews are supposed to help people make decisions on what kind of rifle scope they want. I don't know about you, but knowing a scope will drop onto concrete and track like a charm right after is something I would love to have confidence in during the shopping stage. 
The 3 Primal is equipped with stainless steel internals, which is a first for this reviewer. Usually, stainless steel internals are reserved for optics that are over $1,000 so it's great to see that Riton is competing quite well with the materials they're using and the price they're advertising. The body is still aluminum, however, so it's still important that we drop this thing.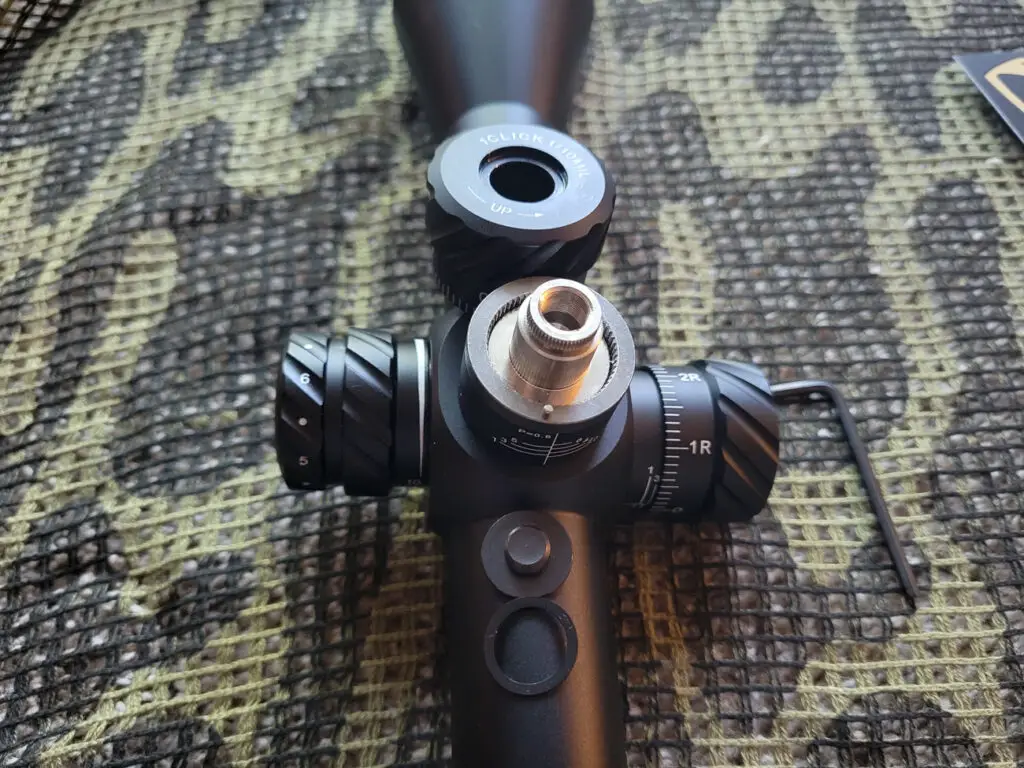 Thank goodness for scope caps. When I dropped the 3 Primal onto concrete, the elevation turret took most of the brunt, but the rebound was mostly caught by the scope caps. Just for clarification, I drop the optic as it comes in the box (with the exception that the scope rings are on them). There were only two minor scrapes with one being on the elevation turret and the other being on the illumination dial. After the drop, I tested the scope by cranking the turrets and returning to true zero. The rifle then proceeded to shoot another sub-MOA group exactly where the zero was before the drop.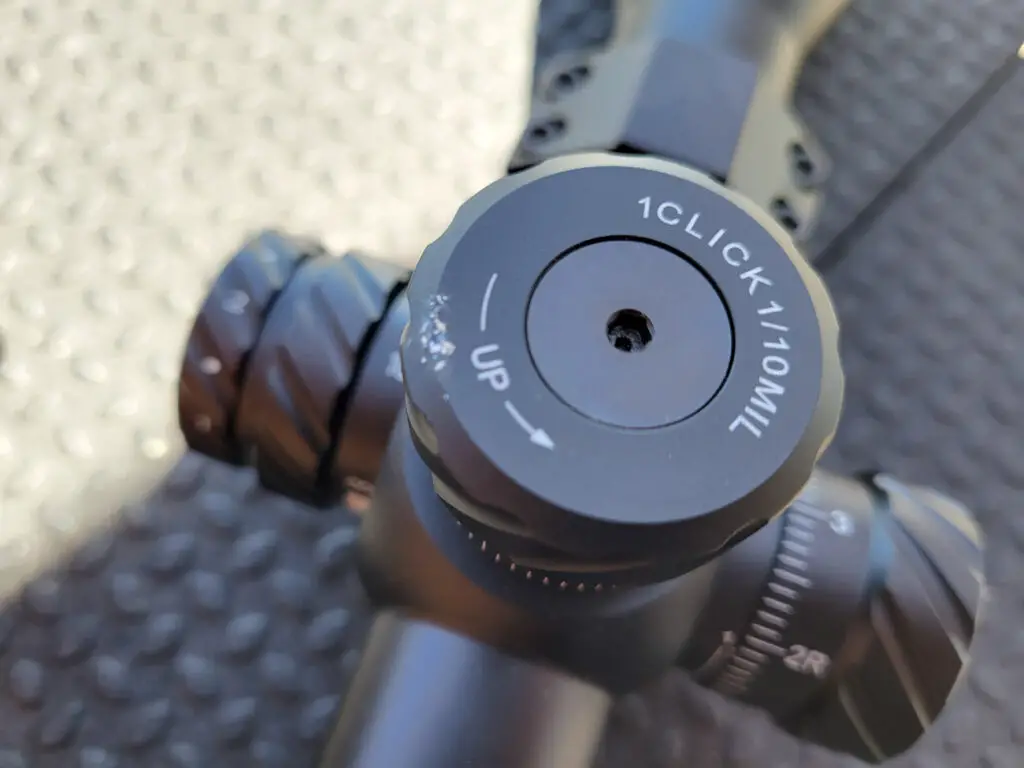 Between the stainless steel internals and the weight of the scope, I would have been very surprised if the concrete drop actually affected any of the optic's functions. In fact, part of the reason the 3 Primal's price is justified is because you can expect it to last a long time through rough ownership. If the 3 Primal is in your cart, you can have the confidence that this optic is as tough as nails. And even if you do get that 1 in a million scope that happens to be a lemon, Riton has a substantial warranty that covers a wide variety of situations where your scope might be damaged. For more information on that, feel free to check out Riton's website. Now that we've covered durability, let's go on to talk about glass clarity.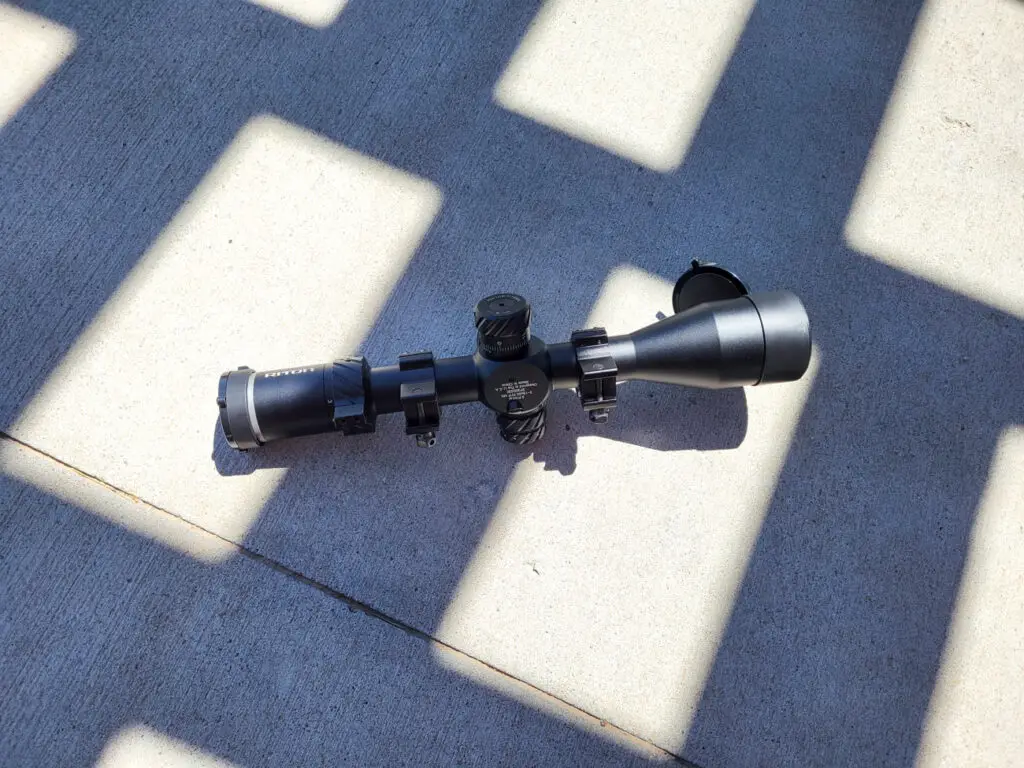 Glass Clarity
Clarity is one of the most important aspects of rifle scopes for many enthusiasts. In fact, I myself have chosen scopes with fewer creature features only because the glass clarity was the emphasized part of that optic. Many times, glass quality and scope features are a give-and-take relationship. Scopes that pack a lot of features often lack in glass clarity, while really clear scopes can often be missing a ton of features. This is less of an issue for scopes over $1,000, but in the case of the 3 Primal, I can start to see how that relationship affects this scope.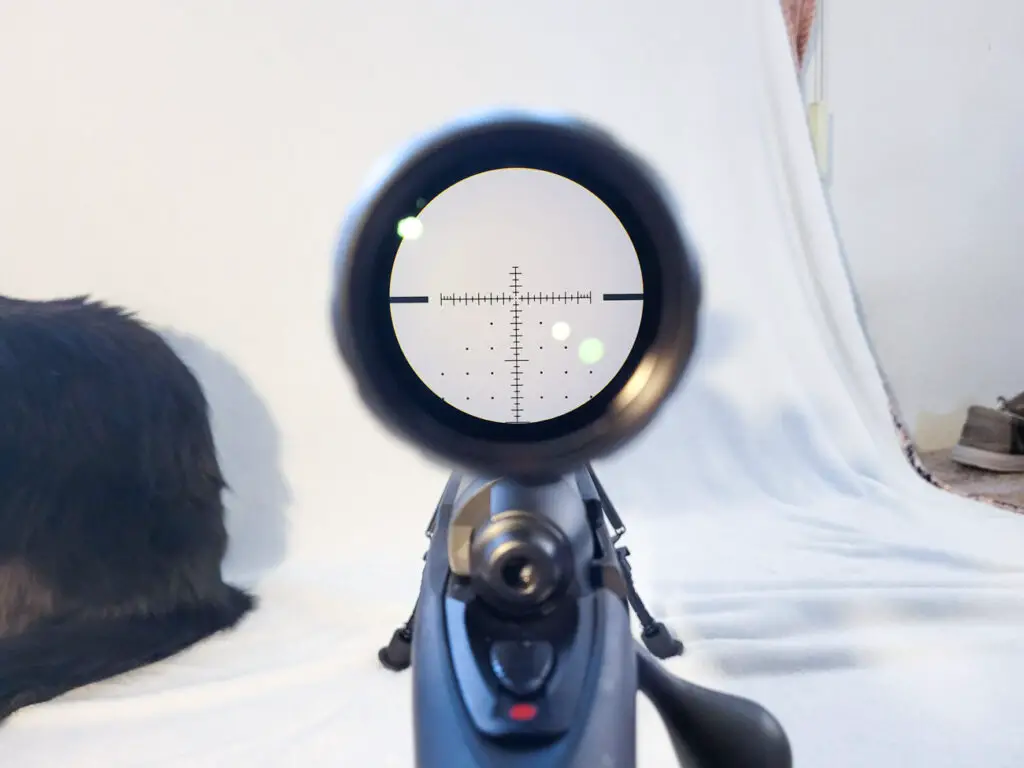 If you're inside while using this scope, you'll notice that the image is a little darker than you would expect. This fixes itself when you go outside and allow the optic to take in more light. There was also some noticeable chromatic aberration that came through during the range day. For those that don't know, chromatic aberration is a blue haze that outlines the images you're looking at through the scope. If you're not sure what that is, you would not even notice it when you're looking at your target. It's a very common effect that occurs within glass of this price range.
As mentioned above, scopes are a really big give-and-take product. In the case of the 3 Primal, the glass has some features like chromatic aberration as a result of having so many features included. In my opinion, this is a great tradeoff. The image itself is very clear and bright, there are just some visual effects that you may not even notice if you're not looking for it. The glass quality you end up giving up is marginal compared to the features and overall pros of the optic.
Pros
This scope is more than what you see on the outside. The 3 Primal offers some premium features that made me raise my eyebrow when comparing it to the price it's offered at. Those premium features are usually reserved for a higher-cost rifle scope, so to see it on a "hybrid" high-magnification range optic is impressive to say the least. Some of these are included in the features list, but there are also a few that were run into during testing.
First Focal Place
Illuminated Reticle
Very Audible Turret Clicks
Zero-Stop
Adjustable Throw Lever
Stainless Steel Internals
Riton has multiple places for you to place your magnification throw lever. They also offer different heights of throw levers that you can purchase from Riton if you want something low-profile. That being said, this scope comes with the biggest throw lever, and it forms very nicely to the magnification ring. You can purchase the smaller throw levers from Riton, but I honestly like having as big of a throw lever on my scopes as possible (within reason).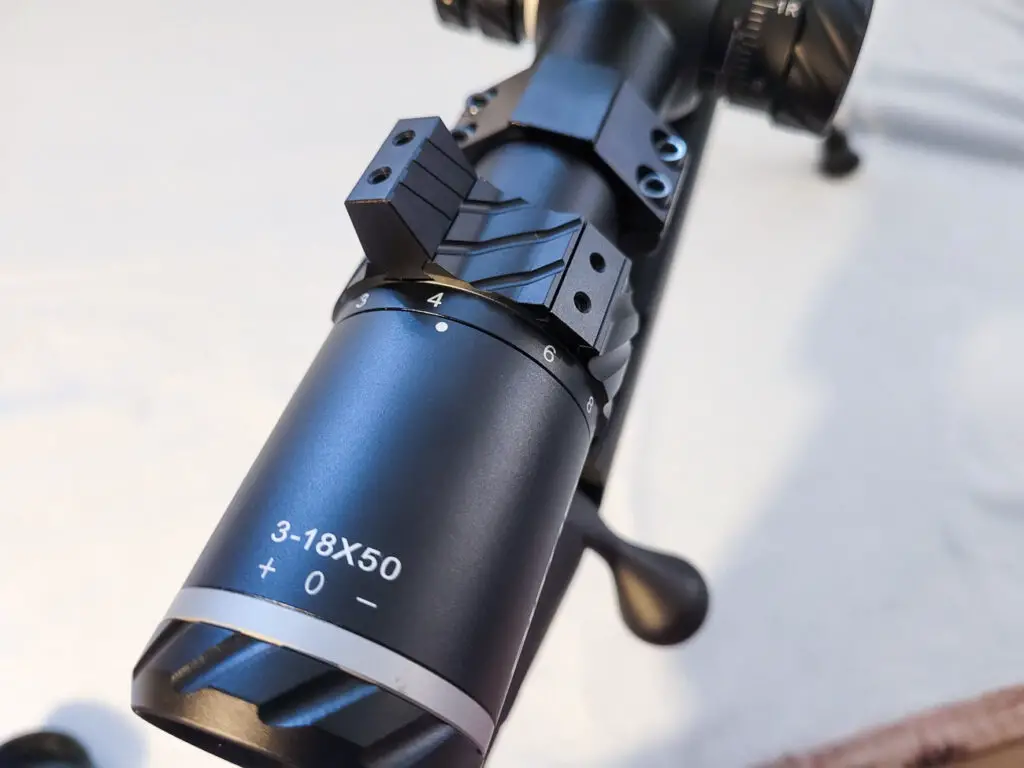 The turrets have a very nice, crisp, and audible clicking to them, which is always satisfying. I did see that the turret lines don't always line up the best, but I count clicks more than I look at lines. Under the turrets, you can install the included zero-stop that will save your zero no matter how much you turn and twist that elevation turret. This is a smaller feature that's starting to find its way into more and more optics, so it's good to see that this is what Riton included in the box to make this a hybrid scope.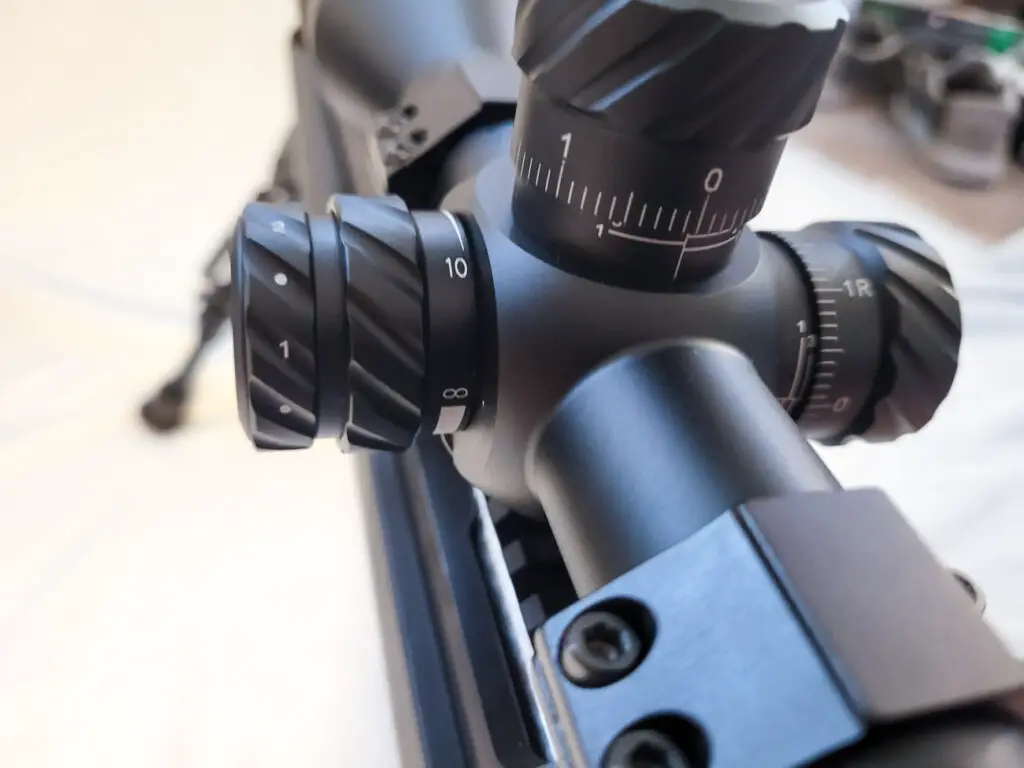 The main three pros that make this optic impressive are the idea that they place stainless steel internals and an illuminated reticle into a first focal plane scope for under $1,000. For this price range, you can usually count on one or two of those big features, and you're most likely missing out on stainless steel internals. This pros list is packed with both quantity and quality which I commend Riton for being able to do. But let's get to my favorite part of the review, which is going over the negative side of this scope.
Cons
It was really difficult to put together a con list for this scope. When you start increasing the price of your sighting system, you can usually count on your negative list to shrink. Here's what was found to be the con list after all the testing was done and over with:
Some Chromatic Aberration
Small Reticle At Low Power
Half-MIL Holds
The chromatic aberration was already discussed early in the review, but it's a con that can easily be overlooked if you're using this scope as it was meant to be applied. You may not even notice the visual effects until you get past 600-700 yards, and there's a lot of hunting/shooting you can do within that distance. Just know that if you're an experienced shooter and optic buyer, your unit could have chromatic aberration like mine did.
Without a product manual, this scope's holdovers were easy enough to figure out. However, the tickmarks in the reticle are every half-MIL which surprised me. Usually, MILs are measured in fifths, or if you're familiar with the MIL-Dot reticle, it utilizes different reticle dimensions you can use for different MIL measurements. A half-MIL reticle was great at 7-13 power, but it got a little thick when you were at 18 power. Most hunters won't even use that magnification, and since it's a first-focal-plane optic, your holds are accurate no matter what power you're on. It is a con that the holds are thick lines by the time you get to 18 power, but it's very appropriate for what this scope is.
Lastly, being a First Focal Plane (FFP) optic can be held as both a pro and a con in the case of the 3 Primal. As with most FFP scopes, you're usually not using the lowest power simply because the reticle grows and shrinks with the magnification to ensure your holdovers are accurate no matter what power you're on. Having experience with other FFP scopes, the 3 Primal's reticle is actually very useable to me at 3 power. However, it does prevent you from reliably using your reticle holdovers, and I could see how some people would deem it too small. Even though it's still useable I'm still throwing the small reticle onto the con list.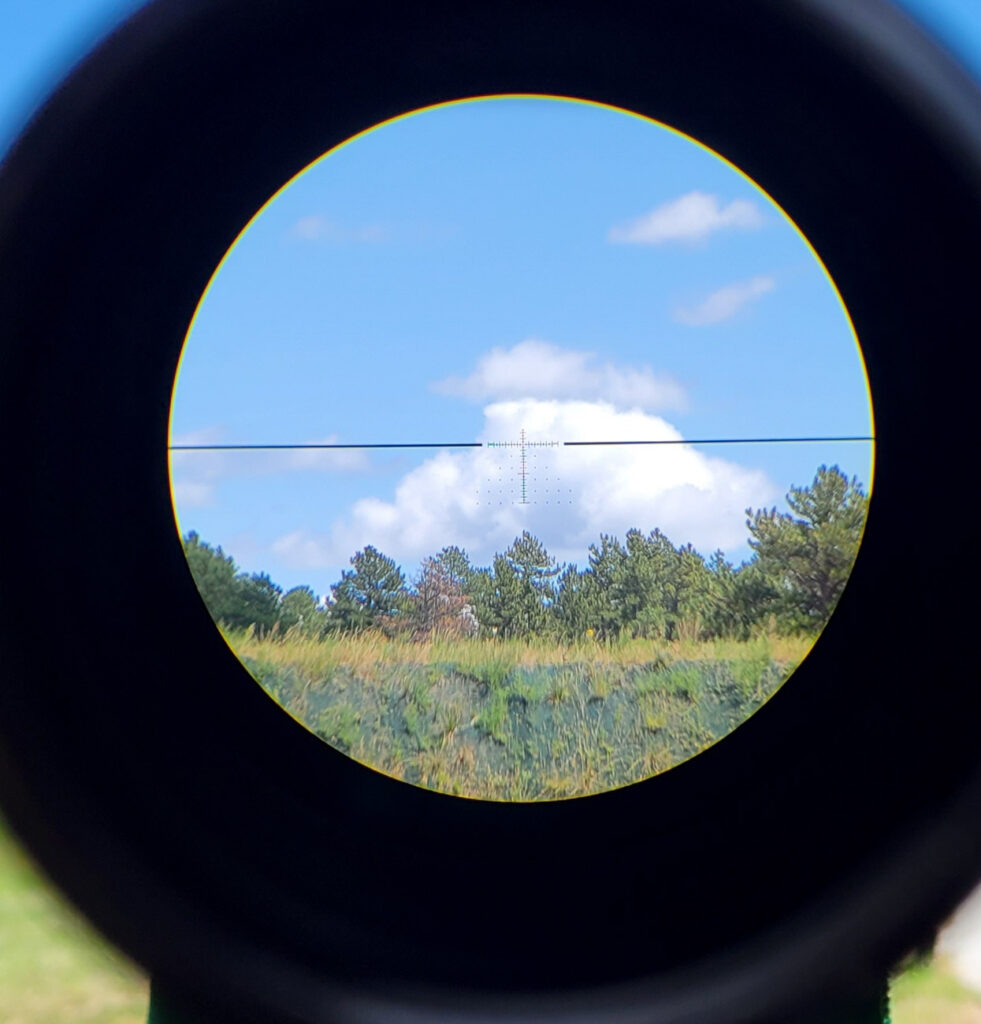 Price
Before concluding this review, it's worth asking the big question. Is this scope really worth $660? If you buy the same rings that are on my 3 Primal, you're looking at a total bill of around $700. My answer to the question is that the Riton 3 Primal is completely worth the money.
Riton built this optic to be a durable entry into the hybrid market, and with how this scope took the beating I gave it, I would love to use this on a hybrid rig. The focus they put on making it a sturdy and durable scope is a refreshing priority that is often overlooked by other manufacturers.
With the 3 Primal, you get a First Focal Plane optic with illumination capabilities and a simple reticle that makes the scope versatile, but not busy. The audible clicks on the turrets are also crisp and firm. From the testing done and the list of what this scope comes with, it is beyond doubt a good deal for the money. 
Final Thoughts
At $660 I would only recommend this scope for non-beginners. There are a lot of bells and whistles for the price, but it could be a lot of scope for someone who is still learning. It's not so much that they wouldn't know how to use it, but if someone is still learning and not shooting in low-light environments, they'll never use the illumination.
Similarly, if they only use this scope at 18 power, did they really need to buy an FFP optic? For an experienced shooter who is looking for glass to put on something that will be used for just about everything, the 3 Primal is a great choice that also remains upgradable.
There's no doubt that this would be as durable an optic as you could get for under $1,000. Riton did a great job in providing a solid optic to the marketplace, and while it's a great value as it sits, I could see future generations of this scope that stir the pot even more.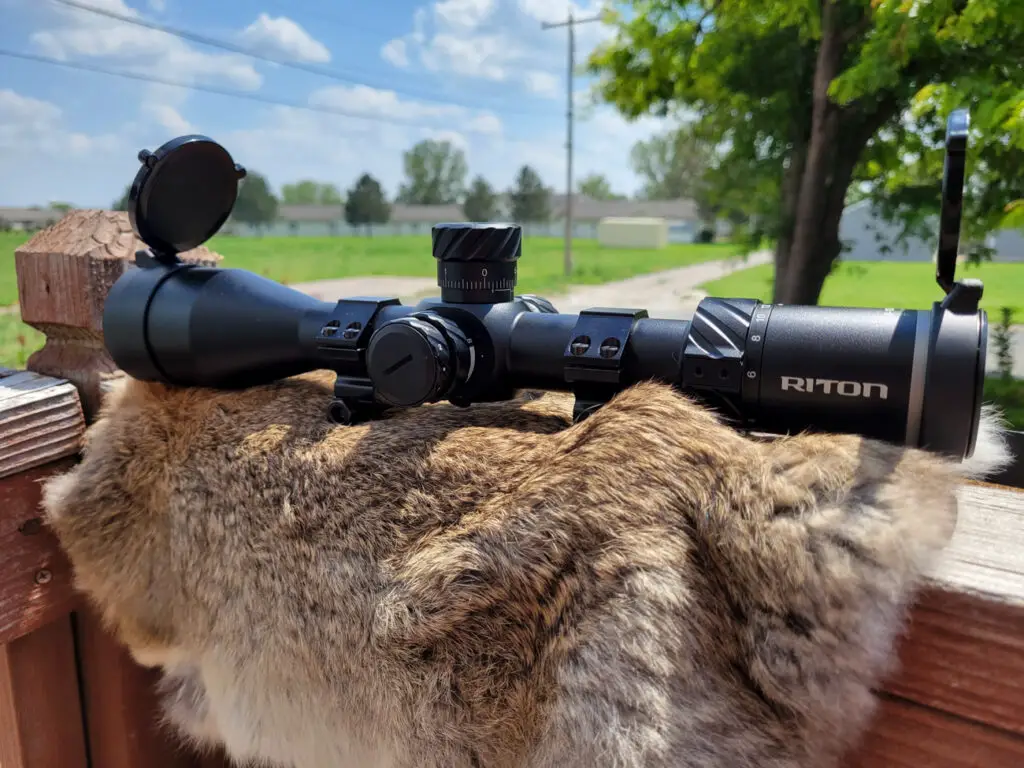 Check Price at:
---
I encourage everyone to take a look at Riton Optics' website. I mentioned it at the start of this review, but they offer everything that can fit under any budget. The scope companies that offer that kind of product span with a good warranty that you very well might not even end up needing are the companies I enjoy buying from. 
Link to Riton Warranty: https://ritonoptics.com/warranty-info/
Link to the Scope: https://ritonoptics.com/product/3-primal-3-18×50-v2/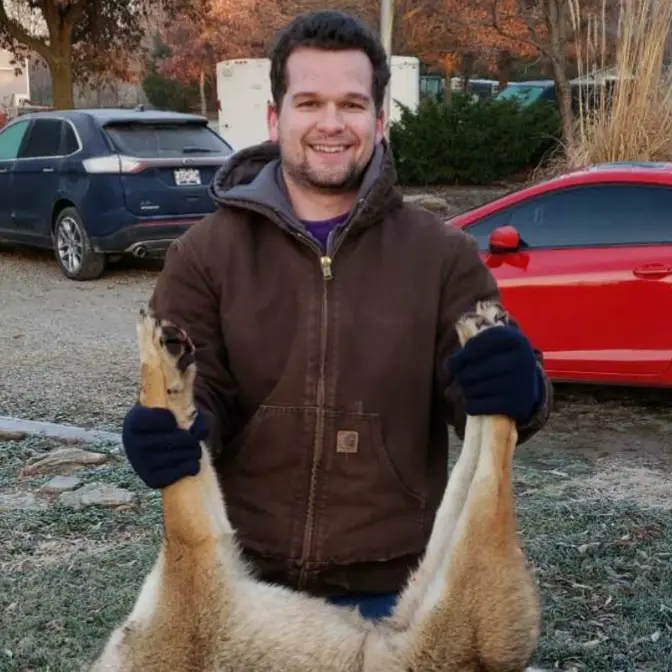 Growing up, Buck was taught about firearm history and appraisal. Getting to know so many different firearm platforms eventually lead to his long-distance shooting exploration. While his main hunting past time is coyotes, he still find just as much satisfaction punching steel at distance. Every shot taken is with the purpose to become a better shooter.