Today, we're excited to talk about a training tool that we have found to be both interesting and useful, the Mantis Blackbeard X. Before we mention anything else, you deserve to know that Mantis provided us with a Blackbeard X for testing and review purposes. Don't worry though – we always explain the pros and cons of any products we review.
We'll start things off here with a short history about Mantis as a company so that you can get some idea of what they intend their products to be used for. From there, we'll spend most of this piece talking about our hands-on time with the Blackbeard X.
If you decide that you do want to purchase a Blackbeard X, it's important to be able to distinguish it from its predecessor, the Blackbeard, so we'll talk about those differences too.
We'll end things out by giving you our final take on whether or not we think the Blackbeard X is worth the money. To give a bit of a preview: despite some shortcomings, we think that this is an excellent firearms training tool if used properly, and we think a lot of kinds of shooters will find value here. 
About Mantis
Mantis Tech LLC, Mantis' business name, has been around since 2014 as a firearms training and technology company. In a lot of ways, they're the polar opposite of what you see in the contemporary firearms industry.  They do not do tons of in-your-face advertising, no commercials that we know of, and few sponsorships with influencers.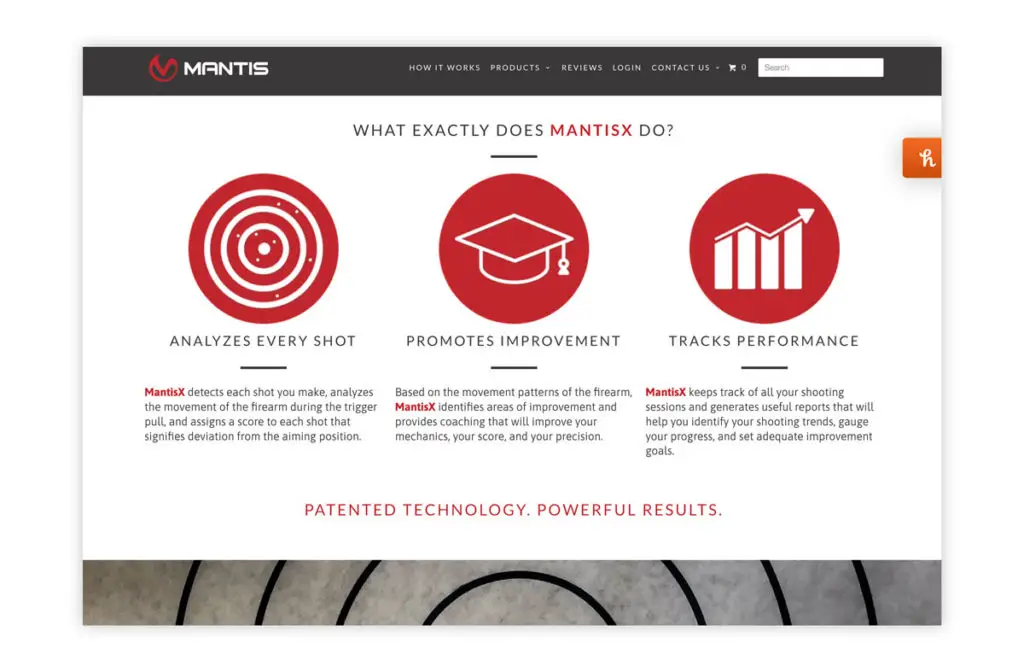 Instead, Mantis' business model is a simple one that they pursue doggedly. Mantis wants to help shooters of all kinds train to be better, and do so in a way that is driven both by data and best practices for teaching.
The best way to learn something is to practice it over and over and over until doing it well is second nature. Any musician or sports player can tell you that practicing the fundamentals is key. The bad thing for shooters is that ammo is expensive and it's not usually safe to fire several thousand rounds wherever you live.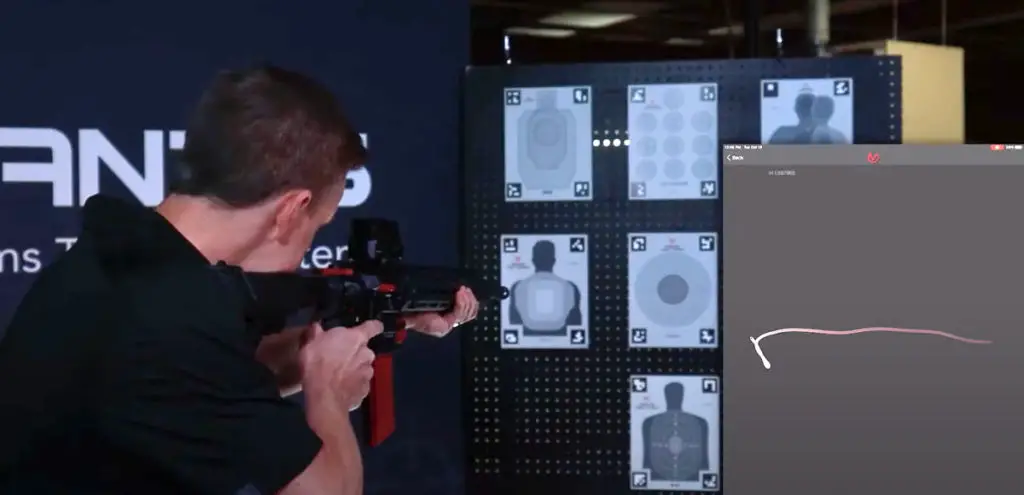 So unless you have the budget of a large military, you might want to consider something like digital training tools to practice shooting fundamentals. And that's what Mantis does: make firearms practice tools that take advantage of the latest advances in digital technologies. 
Hands-on With The Blackbeard X 
What You Get in the Box
Everything comes contained inside a nice carrying case. In the case, you'll see what appears to be a bright red bolt carrier group with attached charging handle, and a chunky, matching magazine.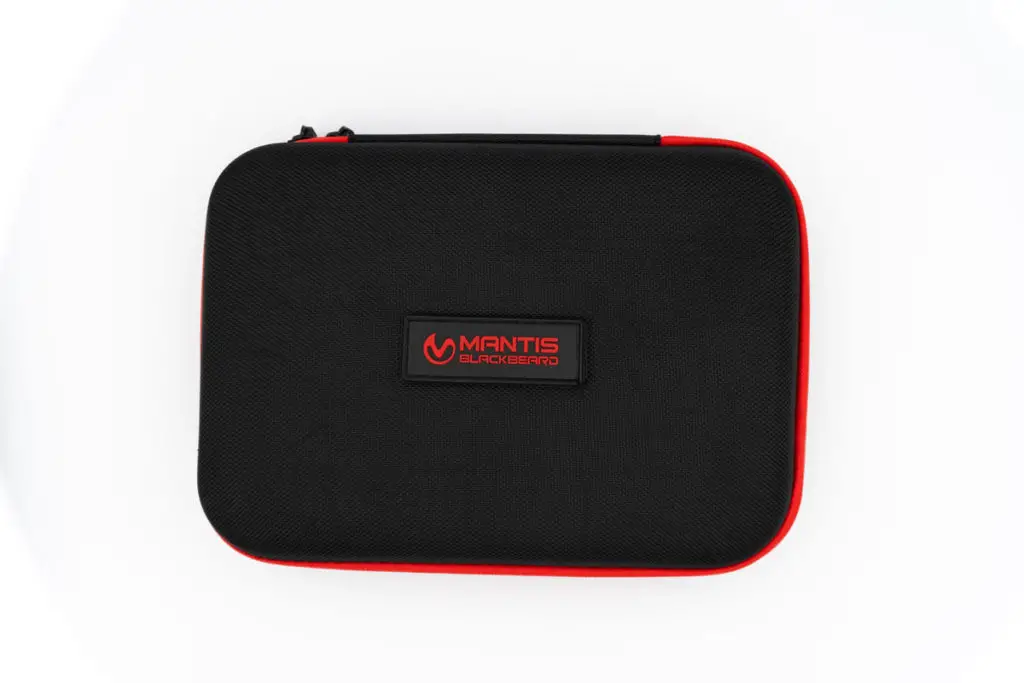 Right off the bat, the decision to make the system bright red is a good one: there is no visually mistaking a rifle with the Blackbeard X in it for a loaded rifle, unless you do something like painting your magazines bright red. This increases the safety of the system, which we very much like.
This allows for no qualms about using it inside the house with people around. By replacing the bolt carrier group, the charging handle and the magazine, there is literally no way to fire a live round in your gun.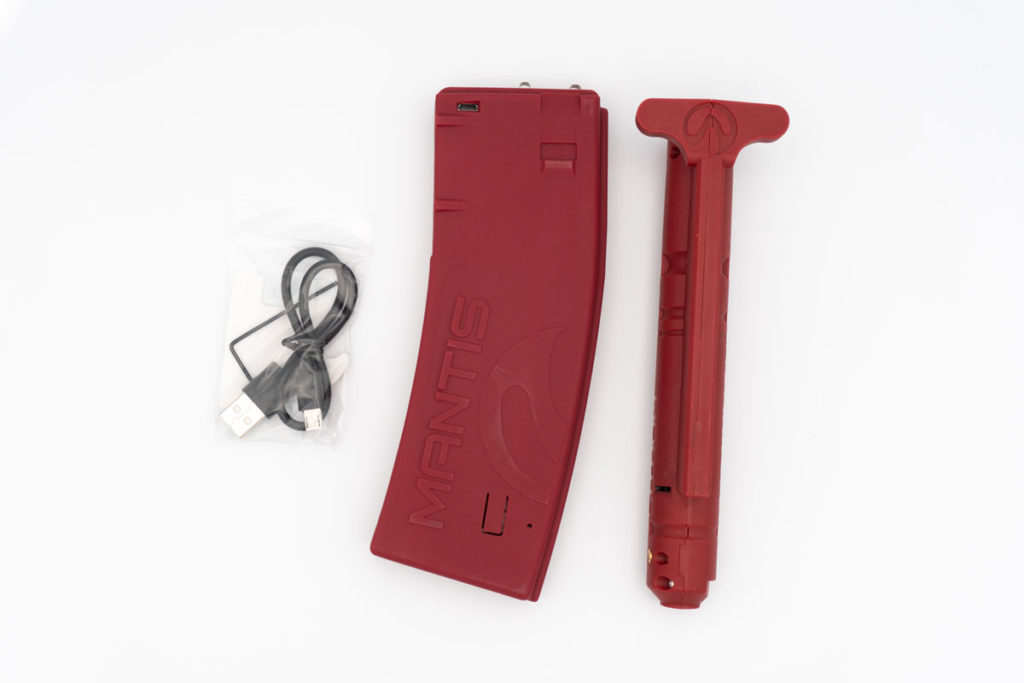 The instructions to install and set up both parts of the system are included with it in the package and are easy to follow. We've also laid out the step by step process further down in case you need it. There's also a smartphone app that Mantis is continually improving that not only tracks shooting data across their various products, but also has built-in drills that are great for training in new and interesting ways to keep your skills sharp.
How it Works
At its most basic, the Blackbeard X is a dry-fire training system that automatically resets the trigger, making it a great way to practice your trigger press without having to rack the bolt back each time, which is a major impediment to anyone who has tried to dry-fire train with an unmodified AR platform weapon.
But this is much, much more than a basic dry-firing tool. The magazine portion, and this what makes this the X model, has a gyroscope and accelerometer built right in. Thanks to the fact that most AR-15s are within very tight specifications of one another, this allows the system to track muzzle movement, record times on drills, and much more through the app.
While the BlackbeardX can't "see" what you're shooting, it can tell how precisely you shoot at it. If you are interested in also measuring accuracy, take a look at the laser academy section further down. 
Essentially, all you have to do to start training is install the device, turn it on, connect it to your phone and pick a drill. The great thing with the Blackbeard X is that you don't have to use any special targets (unless you want to). This means that literally anything in your house, backyard, or range can be a target. The flexibility and convenience here is super nice and prevents a more formal setup and location required of live fire systems.
Frankly, the app-enabled system gives you so many options to use that writing them all down here with a description would be overly-long, so we've included them further down below.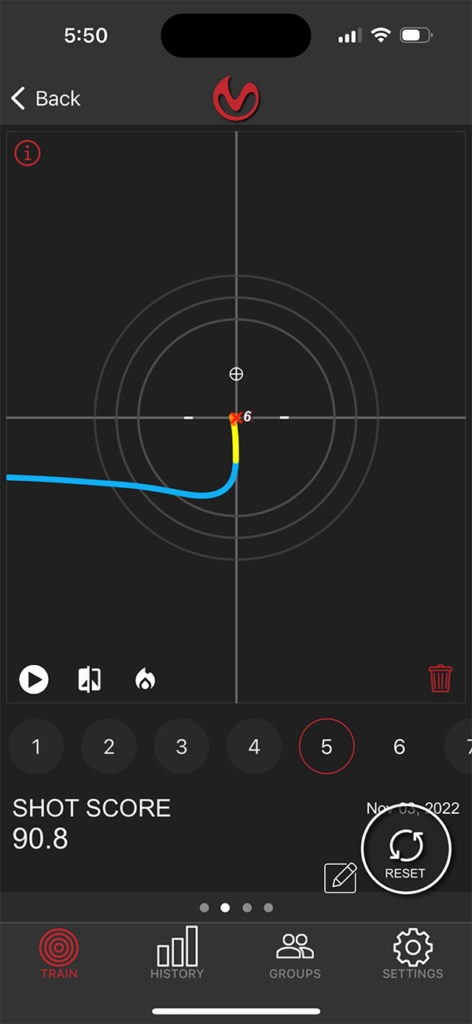 We went through the entire list of drills Mantis offers and tested each one. To give you an idea of how they work, here are a few examples of ones we liked:
A pyramid drill has the shooter put rounds on a series of targets ranging from large to small, in a set period of time. The Blackbeard X tracks not only your overall time, which is great, but also how long the shooter dwells on each target and the accuracy of each individual shot. Thus, you can aim to improve your overall shooting as well as aspects of your shooting individually. This level of data is awesome at tracking progress and getting better with a plan in mind.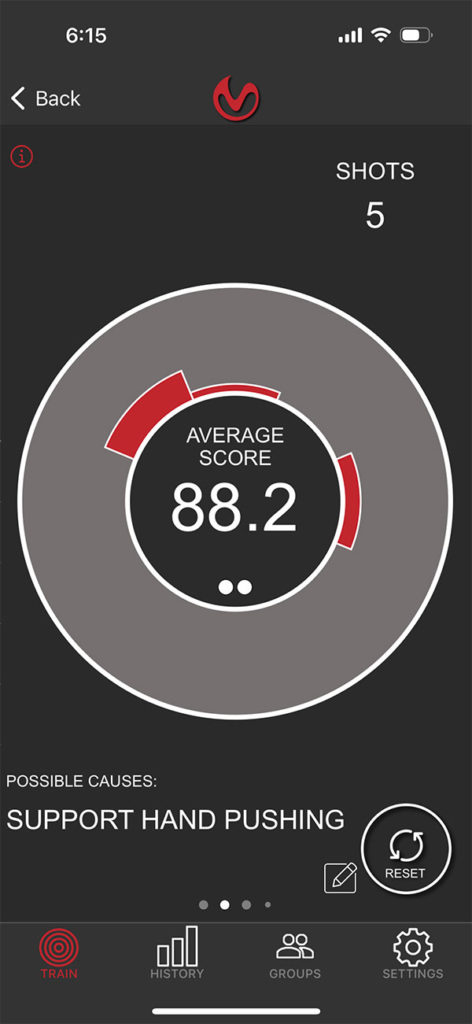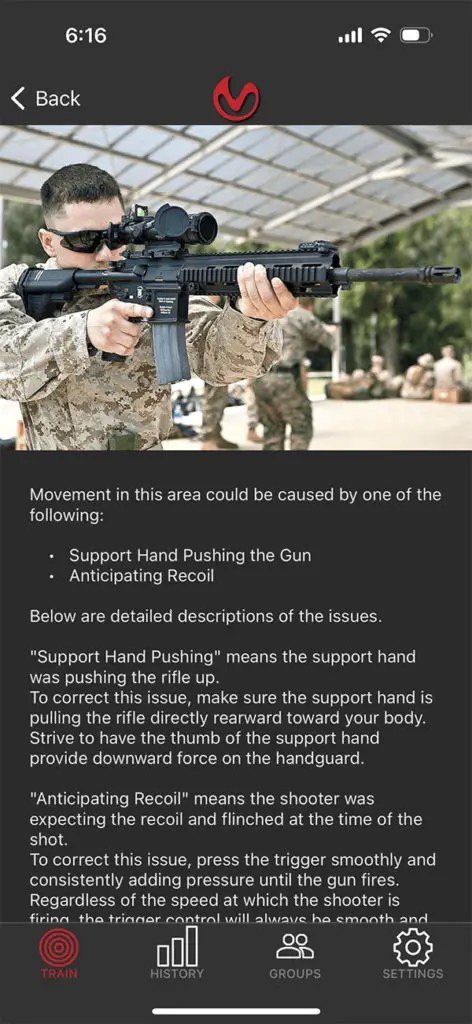 On many drills that measure accuracy, the Blackbeard X also measures over-travel, which is the distance from the target that the shooter swings the muzzle after crossing over the target from the opposite direction. Cutting down on this through the use of data-tracking can make remarkably leaps in the efficiency of your shooting over time and on the clock.
Integration with Laser Academy
While the BlackbeardX by default measure precision (grouping, reaction times, etc.), Mantis also has a product called the Laser Academy which measures accuracy (how close to intended target).
The great thing is that the Blackbeard X integrates natively with the Laser Academy app, which is free (with some paid add-ons). All you need to do is purchase some of their special "smart targets" so the app can detect your intended goal.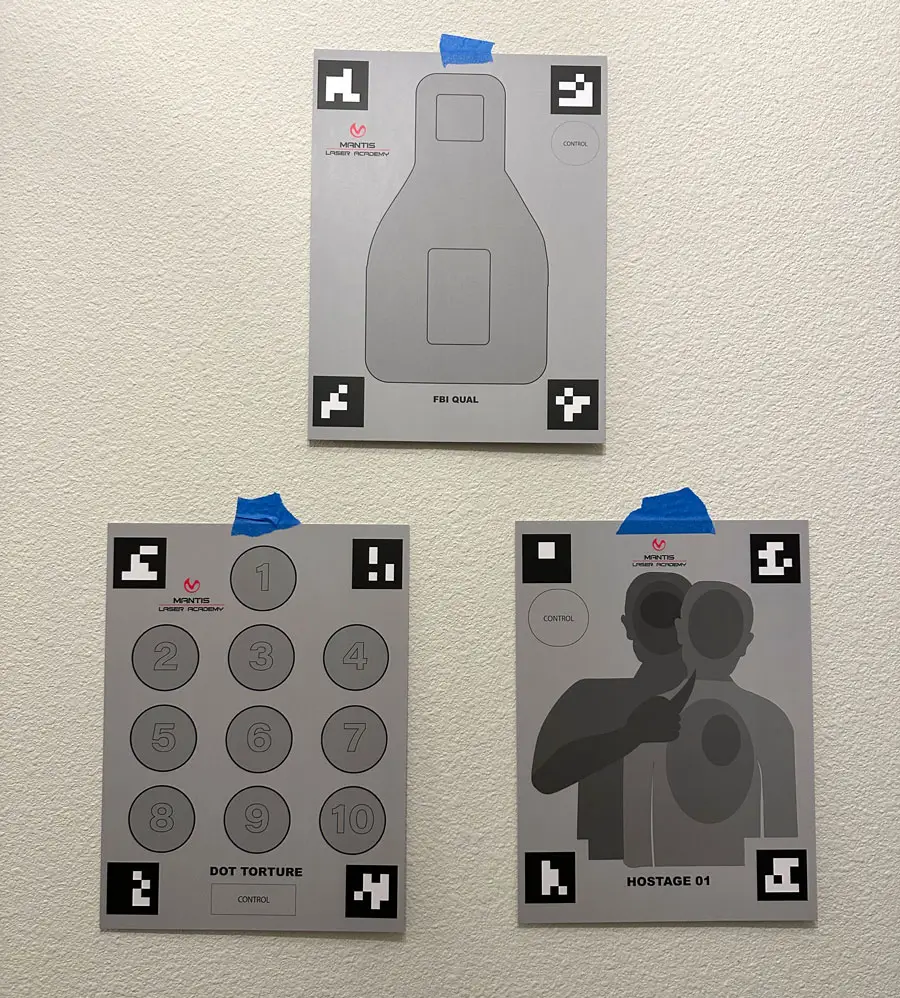 While this makes it slightly less convenient as you can't use anything in your house as a target, the measurement of shooting accuracy is just as vital of a skill to practice as precision.
Together with the MantisX app, the laser academy app gives you tons of drills and courses to run through with your rifle.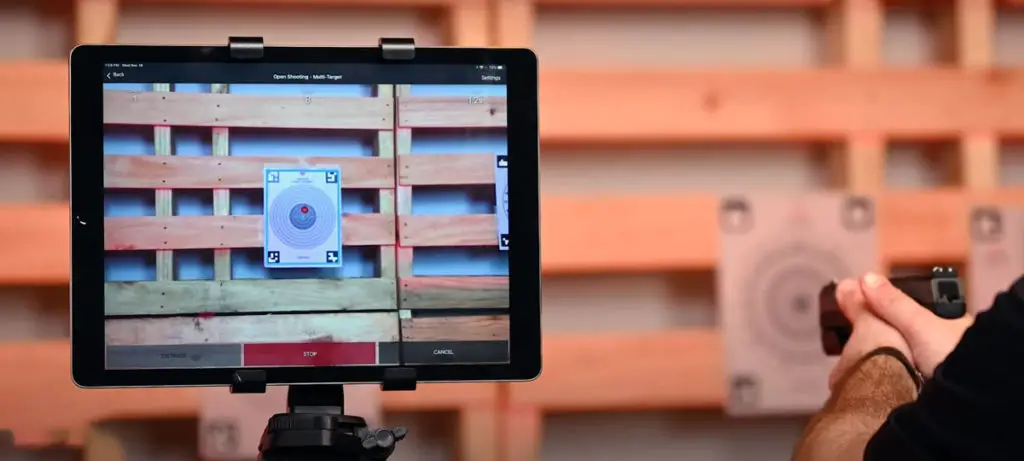 Pros
Easy to install in an AR-15 Rifle
Huge library of training drills that you can continue to use over and over to hone skills
Convenient as it can be used from home and no special targets required
Cost effective long-term as you don't need to purchase or fire ammo
Recognizes mistakes you're making and suggests possible causes and how to fix
App is currently free / no subscriptions
Cons
A little on the pricier side and more expensive than their other products
No simulation of recoil for overcoming flinching
We think there are two downsides worth mentioning here. First is that there is no recoil simulated in this system. On this one, we are of two minds. Not having any recoil is great for training in such a way that you do not develop a flinch. But, at the same time, recoil mitigation is a big part of shooting both quickly and accurately. The nice thing is that if you do want to practice with live fire, Mantis makes a product called the MantisX, which can be used on pistols, rifles, shotguns, and bows with live fire.
All of this data is wonderful if you make good use of it. If you have specific goals in mind and want to improve your reaction time and overdrift, this is a well-made and data-rich training tool that can take your shooting to another level.
So far, we've really enjoyed our time with the Blackbeard Mantis X, and it's possible to spend hours digging into the data and features that this system provides. 
Drills Available on MantisX App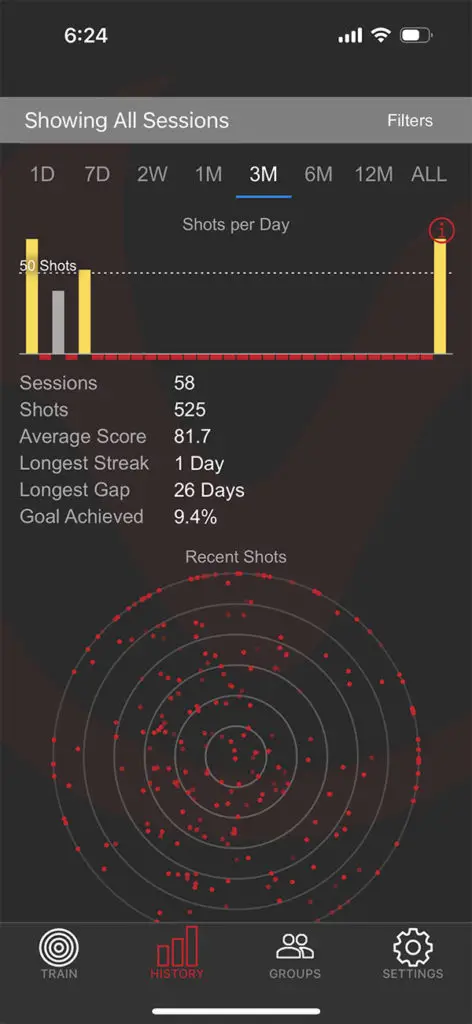 The MantisX App is equipped (currently) with 35 drills:
BBX Dynamics
Transitions

Box Drill
V Drill
Pyramid Drill
1-5 Drill
Triple Threat

Plates

Six Plate
Three Plate
Plate Alternating
Plate Transition
Plate Transition Variation

Open Training
Shot Timer
Par Timer
MantisX Benchmark
20 Second Benchmark
Timed Benchmark
Compressed Surprise Break
Secondary as Primary
Kneeling
Reload Drills

Reload, In Battery
Reload, Tactical

Cadence Drills
Hostage Rescue

Beginner
Intermediate
Advanced

USMC Qualification

Slow fire, sitting, 200 yards
Slow fire, kneeling 200 yards
Slow fire standing 200 yards
Rapid fire sitting 200 yards
Slow fire sitting 300 yards
Rapid fire prone 300 yards
Slow fire prone 500 yards
And also 3 Courses:
MantisX Introduction
Basic Rifleman
Advanced Rifleman
Blackbeard Vs. Blackbeard X
The standard Blackbeard system, which costs about $219.00, gives you the functionality of an auto-resetting trigger and a laser dot in your choice of red, green, or IR on the target every time you pull the trigger. It's a great dry-fire tool that makes up for its cost quickly considering that, at least as of this writing, fairly standard .223 ammunition can be fifty cents per round.
The Blackbeard X, which is $319.00,  has those same dry-fire capabilities but adds the accelerometer and gyroscope that links to the app, giving you a much fuller range of training capabilities. Both of them are great tools, but the X model has a far greater set of features than the non-X model and is definitely what we would recommend going with. 
Should You Buy a Blackbeard X? 
Yes, we think that the Blackbeard X is a great little training tool and when coupled with live fire, will help improve our shooting over time.
The price of a Blackbeard X is not a small one. Depending on when you got your AR, it might well be a share of the cost of the gun itself. Thus, the question as to whether or not this is a good use of money is a more than valid one.
We think that the Blackbeard X would be a great purchase for a few kinds of shooters in particular. First, its great for anyone with a little bit of experience who want to improve their shooting with the convenience of doing it from indoors at their home.
It would also be great if you're training for a competition that's coming up, or you work in a law enforcement or security role that does not give you much of a shooting budget to work with, then this is a great purchase as it allows you to get in a lot of training for a fixed cost. Once you buy the device itself, you're done buying things. No ammo needed.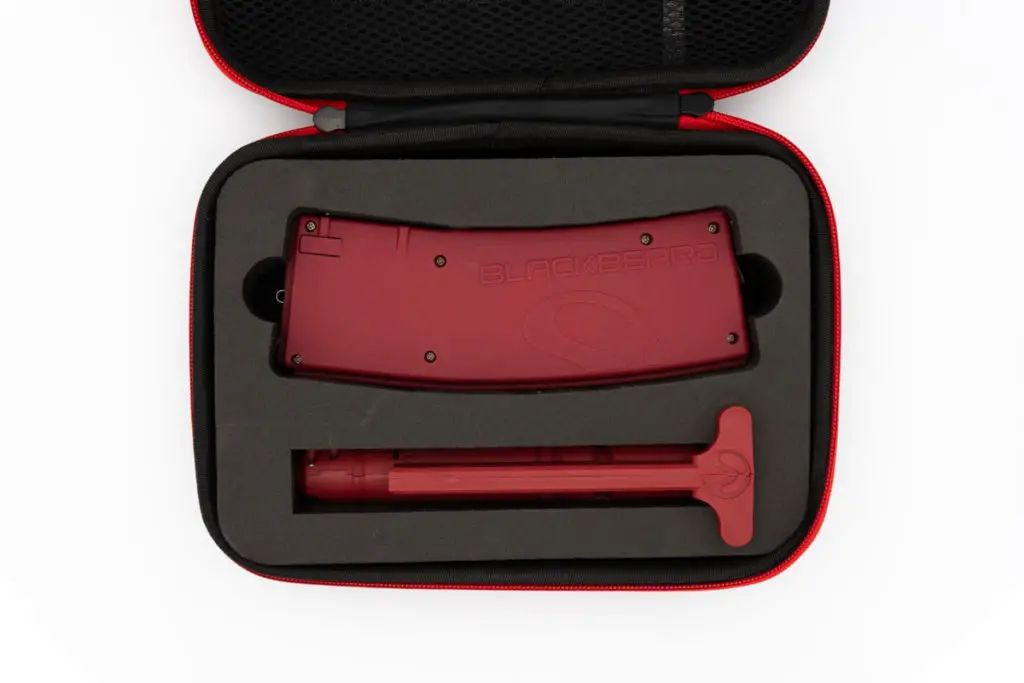 Second, we think this could be a great tool for newer shooters or anyone who has limited access to a range, or find that, over time, they're spending money on ammo but not getting any better. If this is a tool that allows you to practice at home without spending the time and money of going to the range, then we think this is a good tool for you, too.
This should not be your only training tool, though: the lack of recoil is still something that limits its uses, and we think that any training plan that does not have at least some live-fire training is a deeply flawed one. But, if you use this well, the Blackbeard X can be an awesome tool.
Personally, I live in a neighborhood so I can't exactly take my gun in my backyard and practice. While I have a range within 15 minutes of my house, its not super convenient (or cheap) to just pop over anytime I want to shoot. The Blackbeard X is super convenient because it means I can practice anytime I want – even just pick it up for a quick couple minutes and go back to doing something else.
How to Install the Blackbeard X
To install, first pull out your takedown pin so that the upper receiver can open. You don't need to remove your pivot pin (I removed mine here just to make it easy to photograph).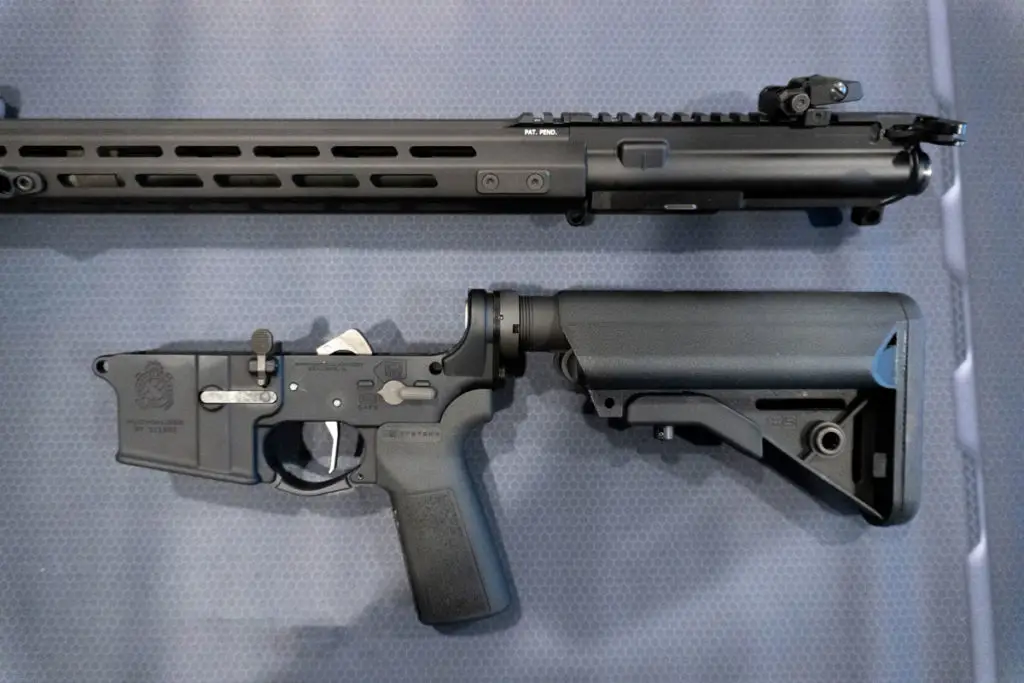 Then, remove your bolt carrier group and charging rod and set them aside or in the Mantis carrying case.
Insert the Mantis BlackbeardX bolt carrier group in its place.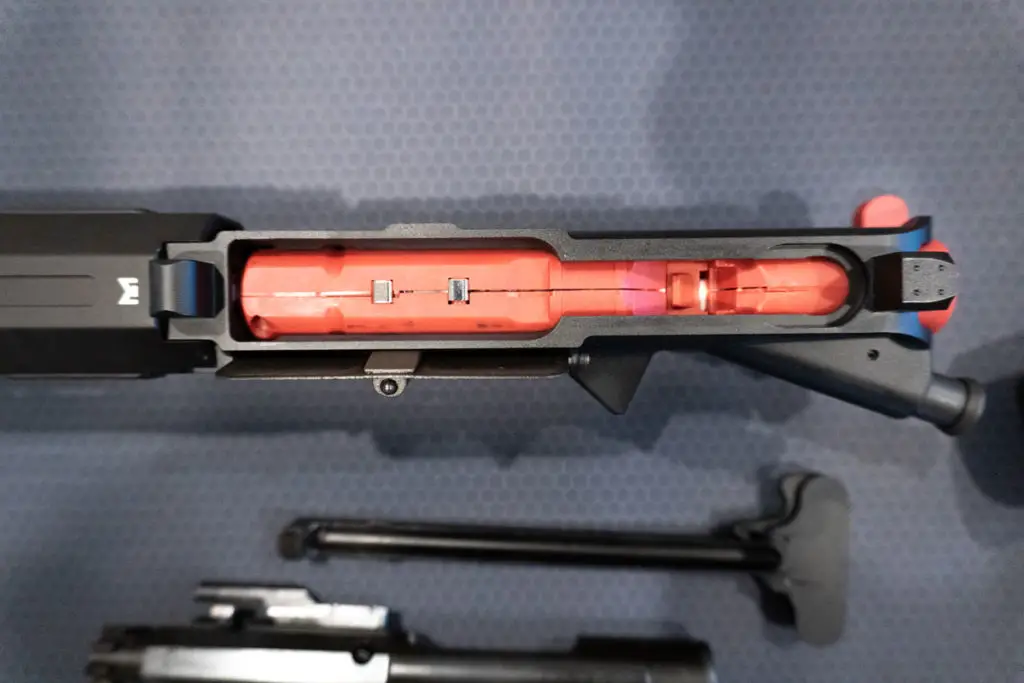 Put your upper receiver back on your lower receiver (or simply pivot it closed if you didn't remove the pivot pin) and reinsert pins.
Insert the BlackbeardX magazine and you're good to go!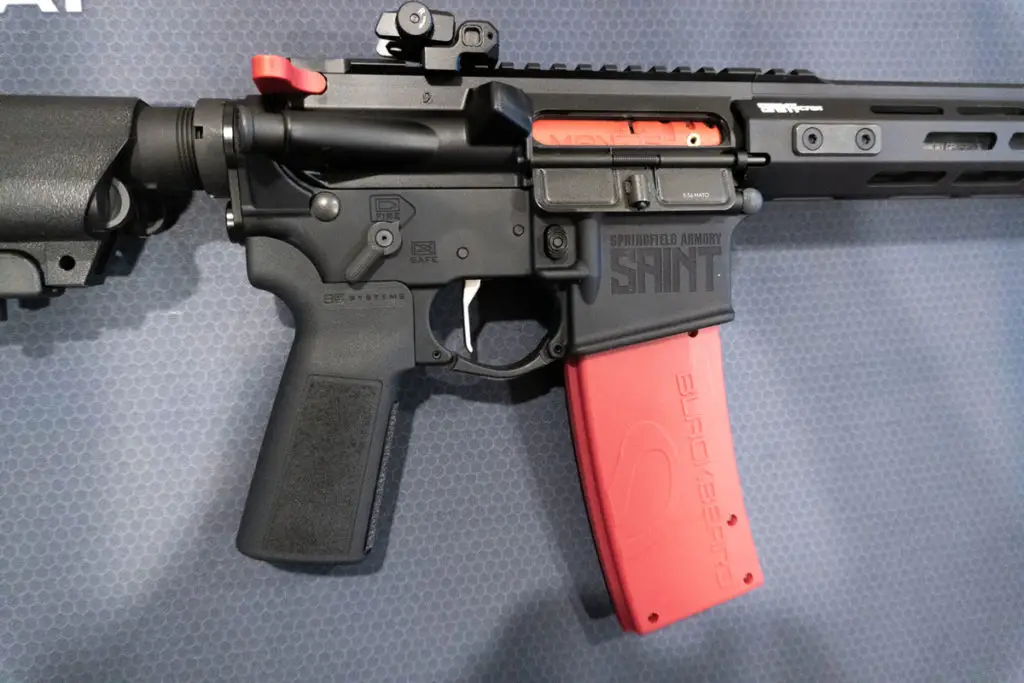 Finally, just turn on the magazine by holding the button near the bottom and have your phone nearby with the MantisX app installed and bluetooth turned on.
Conclusion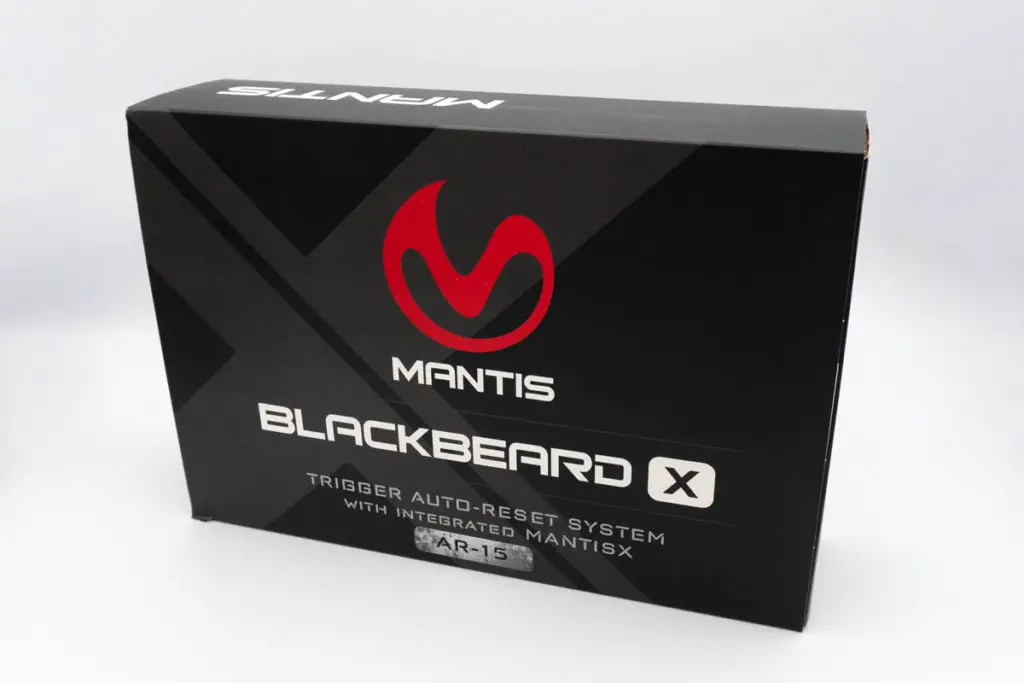 Overall, we've been pleased with the Matis Blackbeard X. It might be a little bit on the expensive side, and not simulating recoil is a downside, but we think that the sheer amount of data and drills that this device can open up for shooters is impressive.
If you're the kind of shooter who is craving a more effective means of dry-fire practice that can give you the information that you can use to become a more efficient shooter, then we'd recommend following the lead of several national militaries and picking up a Blackbeard X from Mantis.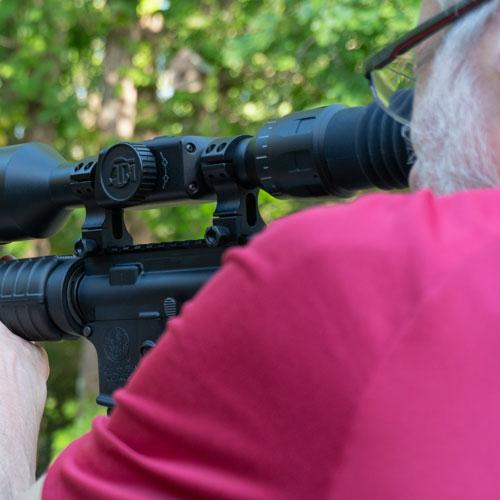 George has been an avid shooter for twenty years. He began shooting when he was gifted a Browning SA-22 for target practice. Now, as an academic, he combines his love of firearms and knowledge of history to write for firearms blogs and is still a frequent sight at the local range.