In the sea of combat equipment, it seems there's no shortage of the "next big thing" that will take your gear setup to the next level. Between chest rigs, plate carriers, and everything in between, it's an overwhelming market to buy what you need. My plan with getting into reviewing this equipment is to help recommend some fantastic long-term solutions to peoples' gear problems. My first stop was IC13 who, paired with Lunar Concepts, has pioneered the INVRT bandoleer system. Made in America and a small business, IC13 was a no-brainer to reach out to for a discussion about getting a review on their equipment which they sent us to try out. 
Overview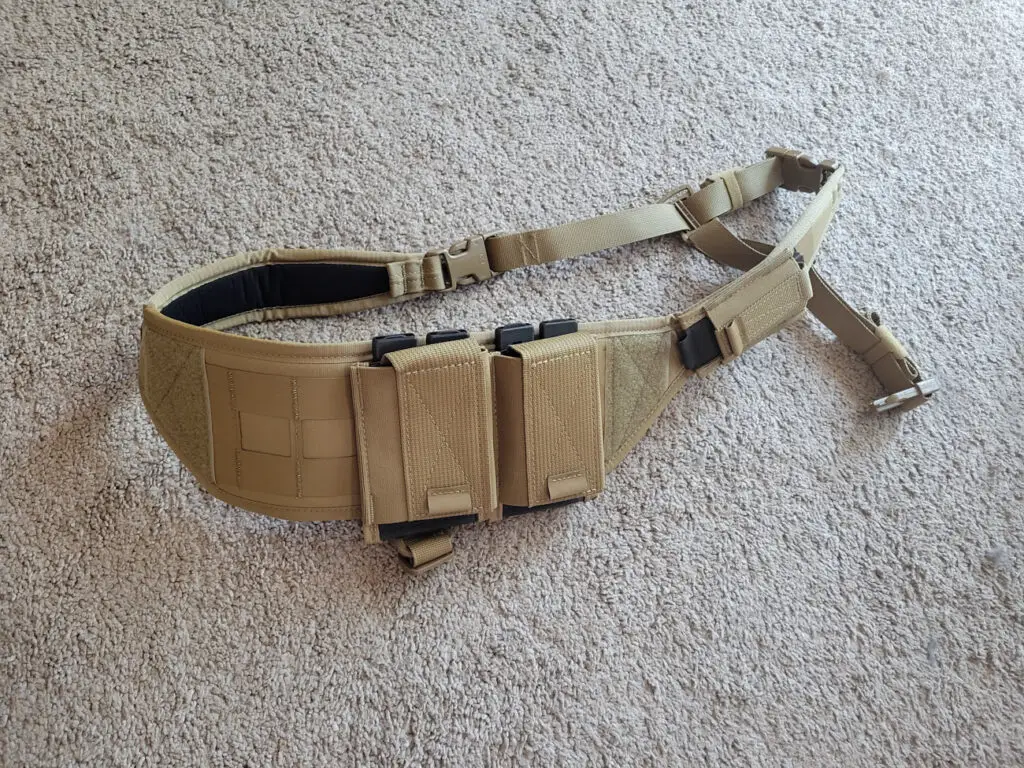 Chest rigs are pieces of gear that are starting to gain a lot of popularity within the gun community. Enthusiasts are starting to move away from full vests with heavy plates into more comfortable and efficient gear-retaining options. The INVRT bandoleer is a clever design for a chest rig, bringing new life to an older more retro design.
Today we're specifically talking about the IC13 INVRT Bandoleer AR15 Kit that includes the INVRT Bandoleer, two individual AR15 mag pouches, and a single pistol magazine pouch. IC13 was also generous enough to send me a double AR10 magazine pouch for my retention testing, and some magazine retention straps that I didn't end up using. The platform itself is versatile and extremely well made while the attachments are of equal quality. IC13 offers attachment pieces such as medical kits, admin pouches, and mag pouches of EVERY variety, making this platform expandable to what you need to use it for. Let's talk about the first impressions this package left.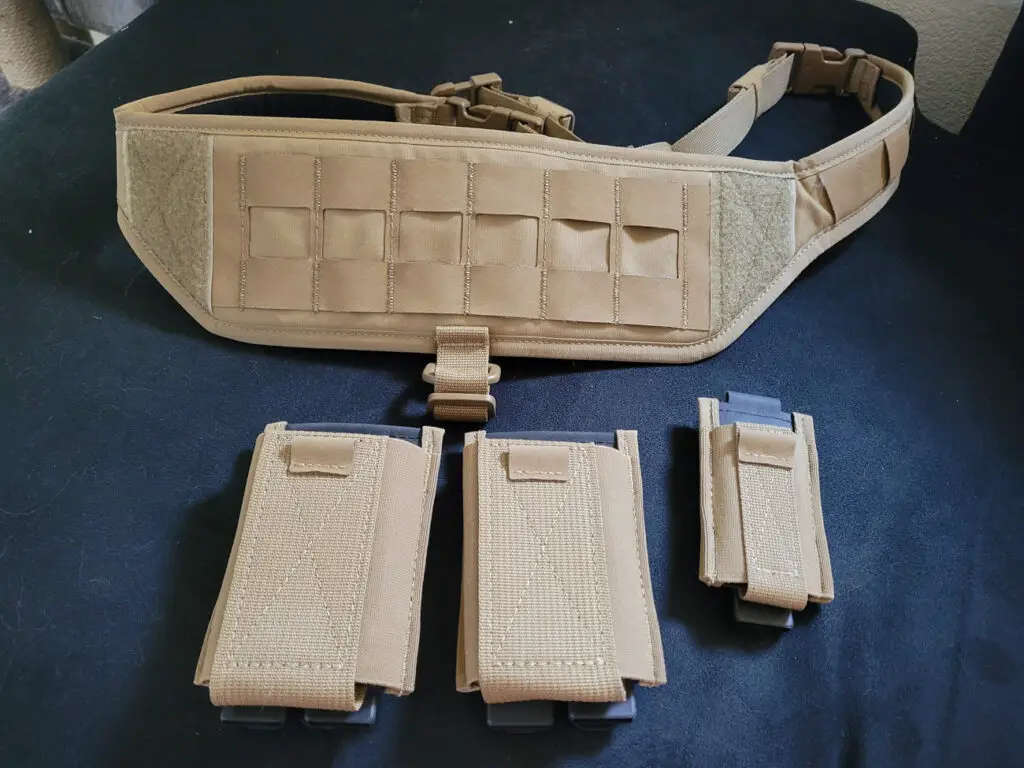 First Impressions
This was an exciting product to open. That being said, it may be a really good idea to have a second person to help you adjust the straps on the INVRT while you're wearing it. The excess strap I had after getting the bandoleer to fit correctly was excessive. As the old saying goes though, I would rather have too much than too little. I cut the excess to a manageable length and burned the ends to prevent fraying. After the initial adjustment and having nylon straps everywhere, I could fit the bandoleer to my body with an amazing fit. The excess straps folded up nicely and were restrained with some impressive hook and loop strap retainers. After everything was set, the fit of the INVRT was pretty crazy.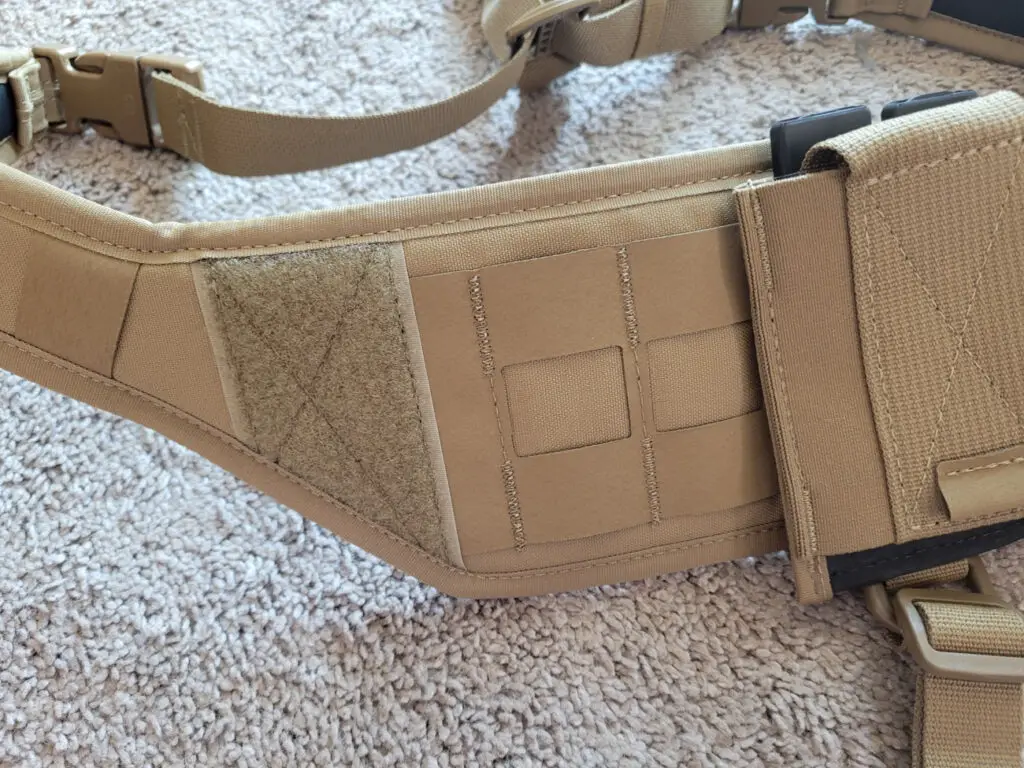 The pouches felt good in the hand, but after inserting all the magazines needed, it almost felt like the pouches were better designed for steel magazines rather than the polymer mags I used. This helped the magazine retention, as the polymer mags were a little thicker than steel mags, allowing the pouches to have a better grip from being stretched a little more. All the webbing for mounting is laser cut, giving everything a very attractive and low-profile look. Overall, it took about 10 minutes to get my final adjustment and it left a fantastic first impression. With all the pouches out and ready, let's get everything mounted. 
Mounting
The pouches that come with the AR-15 kit are attached through "MALICE" clips. Attaching the pouches to the bandoleer itself was much easier than the traditional MOLLE straps I'm used to. I could still feel my thumbs after getting everything on. There was an instance where I needed to take off one of the pouches, and the MALICE clip was a tough nut to get open. The assistance of a pocket knife was needed to save my nails from bending the wrong way. I'll take this over traditional MOLLE, however, because the MALICE clips were easily maneuvered and weaved through the webbing. If you're looking at this system, you might keep a small screwdriver, key, or pick on hand to get under those MALICE tabs.
Everything took me less than 20 minutes to place on the bandoleer, and it only took so long because I put one pouch on incorrectly. The kit includes 1 pistol pouch and 2 AR-15 pouches, which is the perfect starter setup for someone looking to dip their toe into this type of equipment. The mounting was easy and resulted in a solid relationship between pouches and bandoleer. If you have traditional MOLLE pouches, they will be just fine being mounted to the INVRT, but I will say you might not have as secure of a connection if you're using MOLLE straps that are longer than needed for the platform.
In the future, I plan on expanding this bandoleer to incorporate a mission pouch and a tourniquet to fill up the rest of the exposed webbing (all from IC13). I wish there was more to say about how the INVRT and its pouches mount to each other, but as easy and simple as it was, there wasn't much to go over. So what does this chest rig offer for features? That's our next stop.
Features
Gotta love American-made products. The features that make up the INVRT bandoleer allow for a list based on quality more than just quantity. IC13 also did a great job in making this platform usable and adjustable for everyone. This list might be short, but here are some of the more important and useful features that I found on the INVRT Bandoleer system.
Made in the USA
Completely Adjustable
Expandable/Multifunctional Depending on Need
Laser-Cut Webbing
Completely Ambidextrous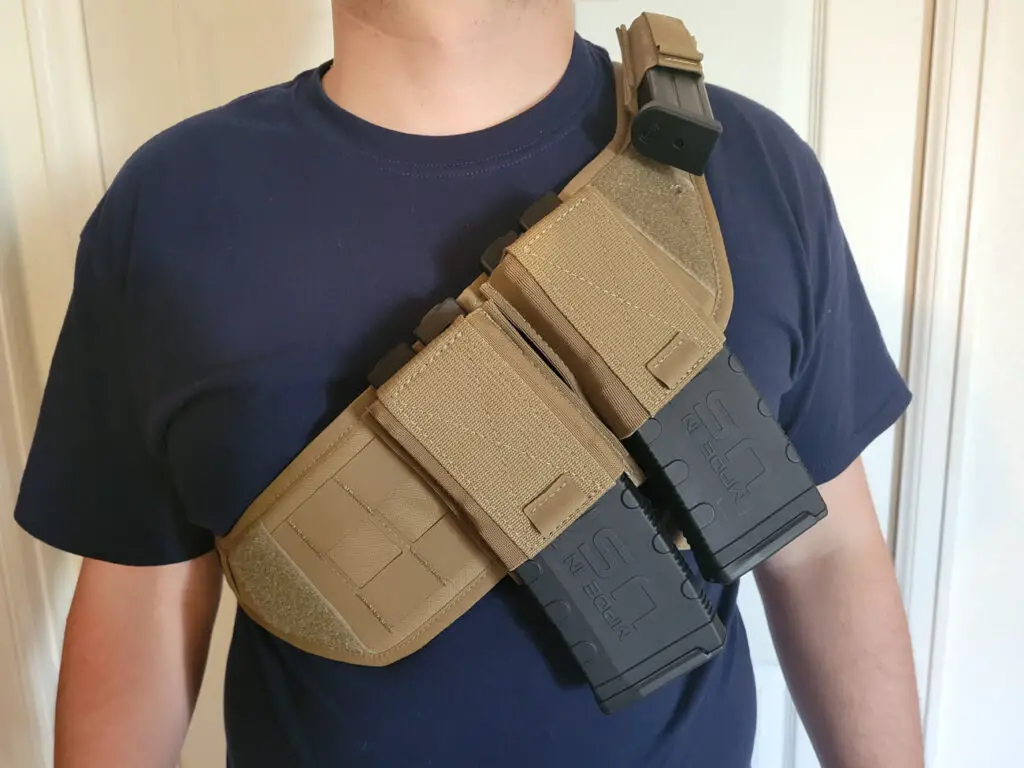 Rightly or lefty, large or small, the IC13 INVRT Bandoleer is sold as a one-size-fits-all. As a 5'9" 200-pound guy, all I had to do was cut a little extra strap and seal the edges with a lighter, and I was good to go. Though it might've been easier with a second person helping me adjust it, it was easy enough to get it fit to my needs. The extra strap was plenty for any larger people who might want this platform. The laser-cut webbing also saves on things like weight and bulk. The strap retention system prevents any loose straps from coming undone. The whole platform is easy and light for when you're not wearing it and need to pack it away. Overall, the INVRT is well-built, sturdy, and ready for any action you're getting ready for.
The last thing that's worth noting is the utility of the Bandoleer with the products that IC13 provides. If you want to run medical, they have a specific med pouch you can make work with this platform. If you just want to train reloading your AR you can stick with the kit that only includes mag pouches and be happy while training reloads. Admin pouches are also available for holding your more miscellaneous things. You can expand this bandoleer to whatever you need it to be, or keep it as compact as you need for training and mobility. You can also pair this with a good combat belt to get every slot you can for your equipment. The features are there, but let's see how the INVRT Bandoleer takes the stress I put it through.
Durability
I've had many bad experiences with other brands of combat gear. From the products I've handled from other companies, some seams tear way too easily and cannot be relied on under stress. It's because of this that I prefer American-made equipment because you can often assume that the manufacturers have the same reliability and durability in mind when manufacturing the product.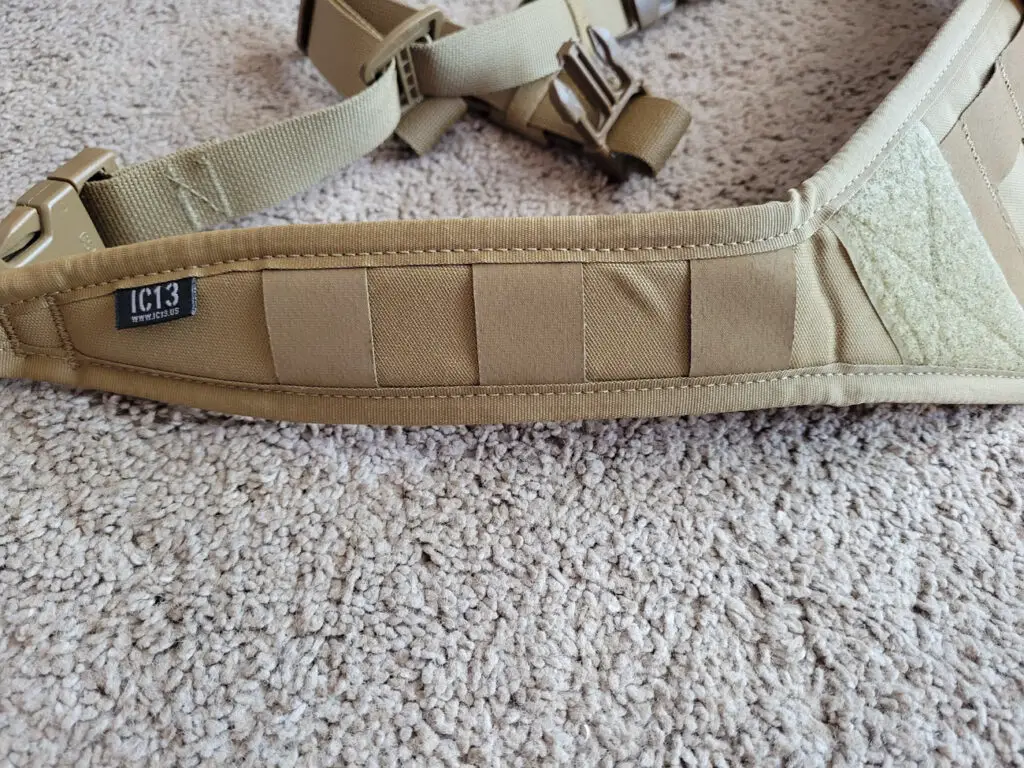 There was only one test I could think of that would appropriately test how tough the stitching was. I stood on the main bandoleer platform and grabbed the other end. I had to bend over to do this, so to test how tough this was, I just grabbed the strap and stood up a bit. Since I was stepping on the main bandoleer, this stretched the INVRT past what it would have been stressed to while on my person. Though I can't quantify the force I put on the platform, I can say that the bandoleer was placed under more stress than it would be exposed to in a combat or high-speed environment. I could hear the threads starting to strain, but there were no pops. I held the stress for around 15 to 20 seconds and the INVRT passed the test. 
If I think correctly, the only way this bandoleer could be stretched and put under a lot of stress is if it snags on something in the field or if it's dragged enough to create tension in the strapping system. Aside from that, the only other thing I would watch out for is just sharp things that would slice open your kit no matter who it's made by. The durability test I conducted makes me more than comfortable with how much the INVRT can take and with how well it was made. With the durability taken care of, let's test the comfort and equipment retention that is very important when talking about this kind of gear.
Comfort
Equipment can only be relied on for as long as you're comfortable leaving it on your body. If you start developing a rash or blisters due to your equipment, your focus can be taken off whatever mission is at hand, or even simply distract you from training. None of that's ideal, so I wanted to see how long I could keep the INVRT comfortable.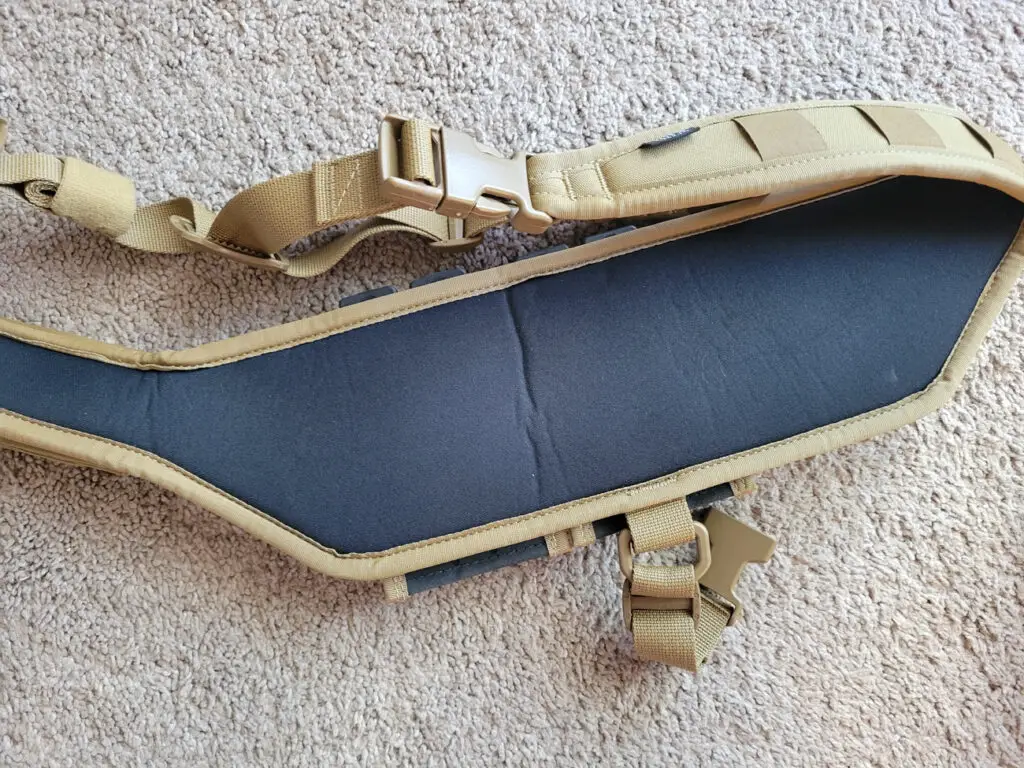 At 5.2 pounds with 2 full 20-round AR10 mags, 1 full 30-round AR-15 mag, and 1 full 19-round 9mm pistol mag, I wore this kitted-out rig around my place for an entire Saturday. The AR10 mag pouches weren't the best placed, so the corner of that pouch sometimes rubbed up against my stomach. I wasn't too worried about this, since the mobility of the pouches is one of the best parts about this platform. If I decided to set up my bandoleer differently, I would have easily mitigated this discomfort. 
Not quite getting into the equipment retention, I went for a jog to see if anything decided to rub in the wrong place or put any blisters in places it shouldn't. With sweat involved, I knew it wouldn't take long for something to develop. I was surprised, however, when no such blisters or raw spots were found. I did notice that the material of the bandoleer didn't breathe as well and I was sweating more in areas that the bandoleer covered. If I don't have to worry about blisters and raw spots, I think I'll live with a little more sweat than normal. All-in-all the comfort of the INVRT system was surprising, but I think the materials used helped make it comfortable and usable. That jog I took was also important to test the equipment retention, which we'll not get into a little bit more. 
Equipment Retention
That little jog I took wasn't just to test comfort, but to also test equipment retention. Since I only had magazine pouches, I loaded them up as heavy as they could be and started running. I only took it for about half a mile, but I was testing to see just how the bandoleer moved while being strapped to my chest. Since the INVRTs design calls for magazines that are upside down compared to traditional magazine pouches, I was very curious to see if gravity and momentum could dislodge them. I was pleasantly surprised, however, that the INVRT moved with my body as I was running. I made sure to run with a lot of bounce in order to exaggerate the downforce, but the magazines didn't slip at all. They were just as firm as when I first placed them in the bandoleer.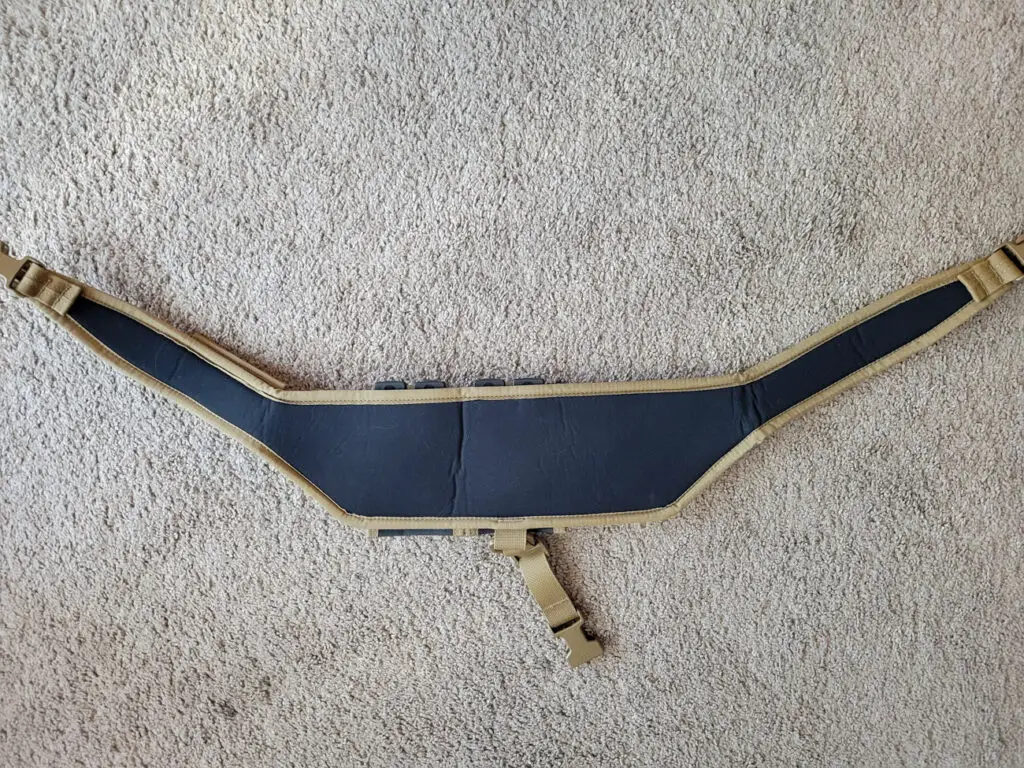 After my little jog, I decided to go prone and see if the magazines would come out if I crawled through the gravel. There may have been a few strange looks from my neighbors, but all of my magazines were retained and unmoved by the end of the test. The magazine retention worked as it should and there was no slippage after being prone and moving around a bit. One of the biggest benefits of a rig like this is being able to go prone and keep a low profile, so it's good to see that the magazine retention works.
Pros
This is a high-speed, low-drag product. The INVRT allows you to pack light and take your equipment where it needs to go. It's also something that you know can be ready at a moment's notice, and can be put on or taken off in a matter of a couple of seconds. It's this quickness that places it on the same or higher level as traditional split chest rigs that are also light and packable. There's a lot to like about this platform, so here's what I ended up finding for the list of positives:
Quick and ready-to-go
Compatible with any kind of AR magazine
Extremely comfortable to wear
Freedom of shooting position
No room for unnecessary equipment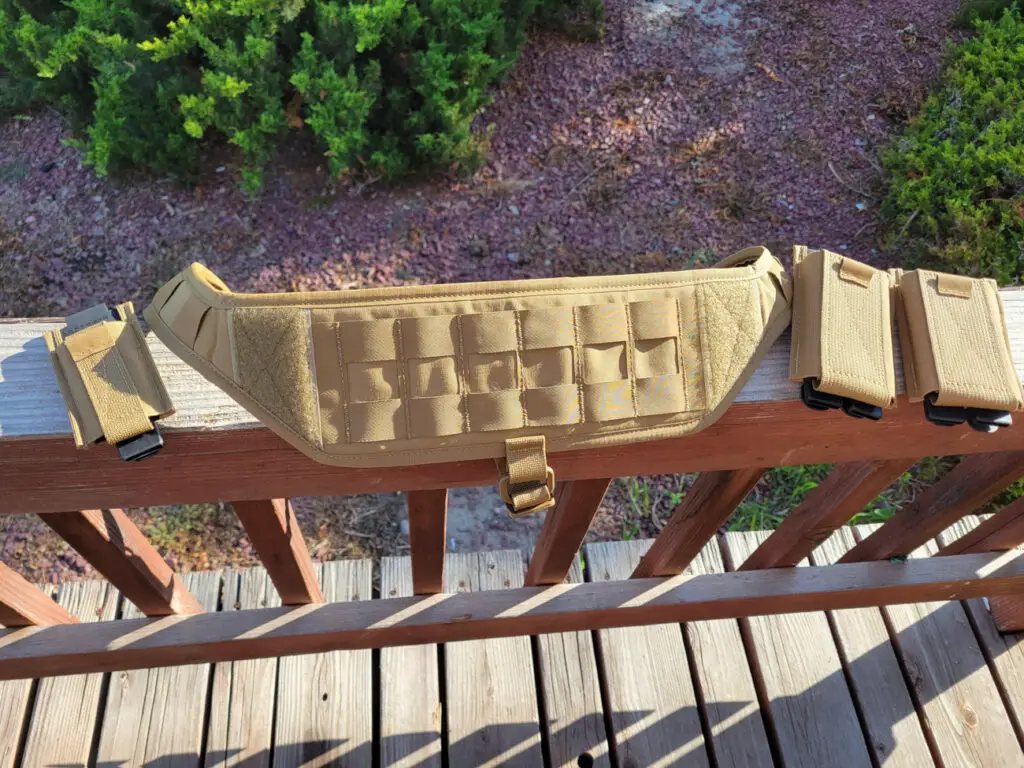 Comfort and durability are a must for rigs you might end up wearing for hours at a time. Finding it so comfortable was a big thing to cross off my list. Along with that comfort, you also free up your abdomen and shoulder for doing things like shouldering a weapon or going prone. You don't have the thickness of a vest or the straps of a chest rig to consider when shouldering your weapon. Instead, you can shoulder your rifle as you normally do, making it a more comfortable rig to practice on the range with. You can also practice with no bandoleer at home and still have mostly the same mechanics when you're wearing the bandoleer at the range. Similarly, there are no magazine pouches on your bellow to make going prone so uncomfortable. As someone who shoots in the prone position a lot, this was a huge plus for me. In fact, the magazines give you a nice platform for your chest to lay on, and it's honestly more comfortable and just shooting prone.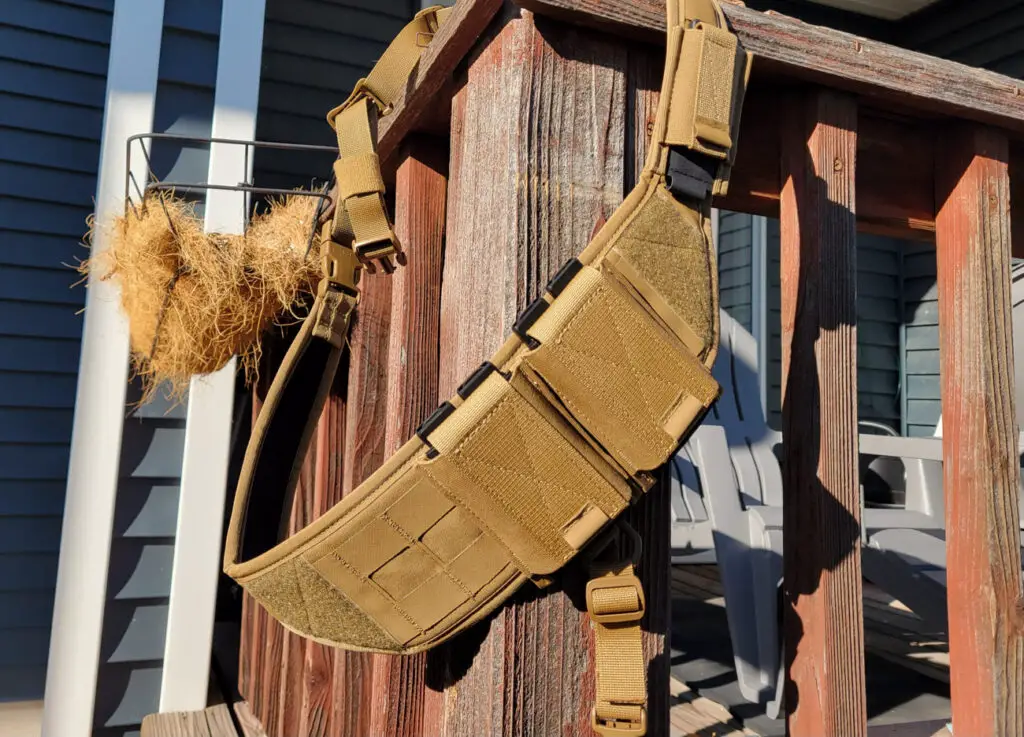 We'll talk about it in the con section too, but there isn't any room for you to put all your unnecessary gear on this rig. You get what you need, and that's all you get. This makes room sparse, but you have to be very proficient and selective with the gear you decide to put on it. If you run a belt with this setup, you could fit more equipment, but only the necessities for this kind of bandoleer. With the mission pouch and tourniquet, I plan on putting on this system, I'll be out of room without putting a larger pouch in the back. Whichever way you want to take it, this is still a great expandable rig for your training or preparedness needs. Some enthusiasts get what I like to call "MOLLE Fever" where they want to put anything and everything on their MOLLE with no open webbing on the system. The INVRT allows those feverish people to fill up all the webbing, but still keep your equipment efficient.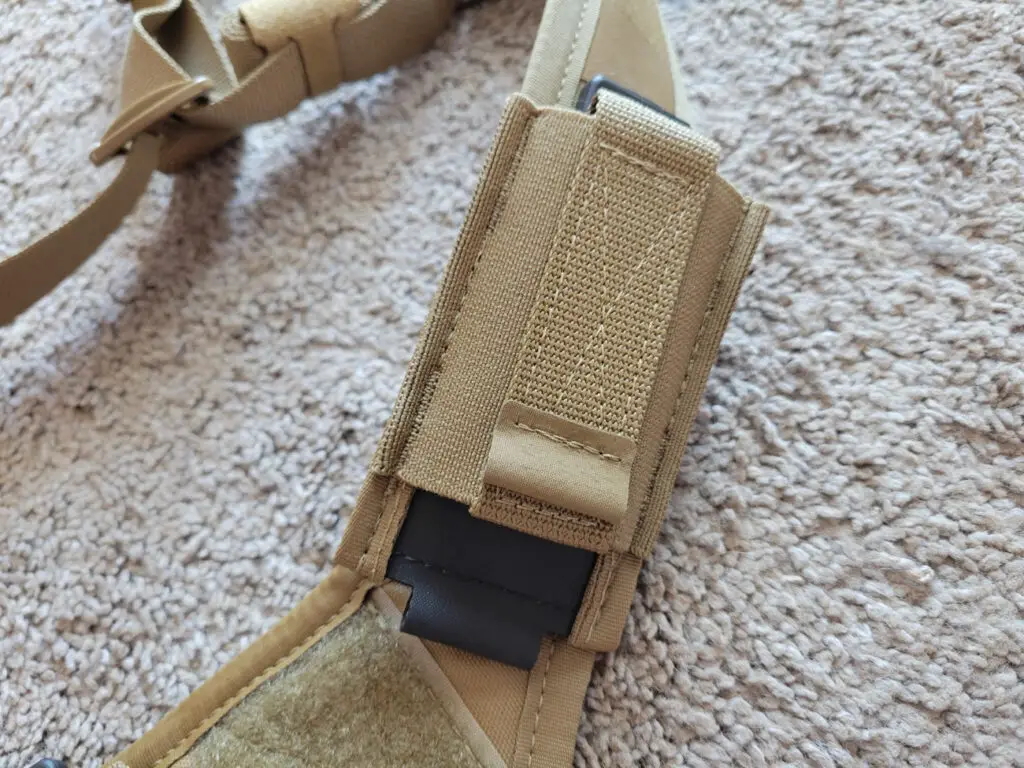 Cons
No platform is without its negatives. Before investing in quality gear, you need to consider everything. It might be a short list, but I'll always fill out a con section no matter what I'm reviewing. After the dust settled on all the tests and wearing this thing for a solid week, here's what I found for the negatives on the INVRT Bandoleer.
Initial cost
Initial adjustment
Not much room for necessary equipment
The best combination of equipment you can use with the INVRT is a good belt setup. That's because the INVRT has limited space compared to other rigs and vest setups. If you didn't want anything but magazines, you have space for 3 AR15 mags or 2 AR10 mags with two empty slots. This doesn't count the single slots that are on either arm of the bandoleer, and those are best for either pistol mags, a med pouch, sub-gun mags, or tourniquets. This might be a huge consideration for some people, but it's honestly allowed me to look at my kit and specialize in what I need on my setup. This is why the room is on both my pros and my cons. It's nice to have a rig that's specific to your purpose, but you lose out on the advantages of something that has more webbing for more equipment like radio pouches, dump pouches, knives, and other necessary equipment.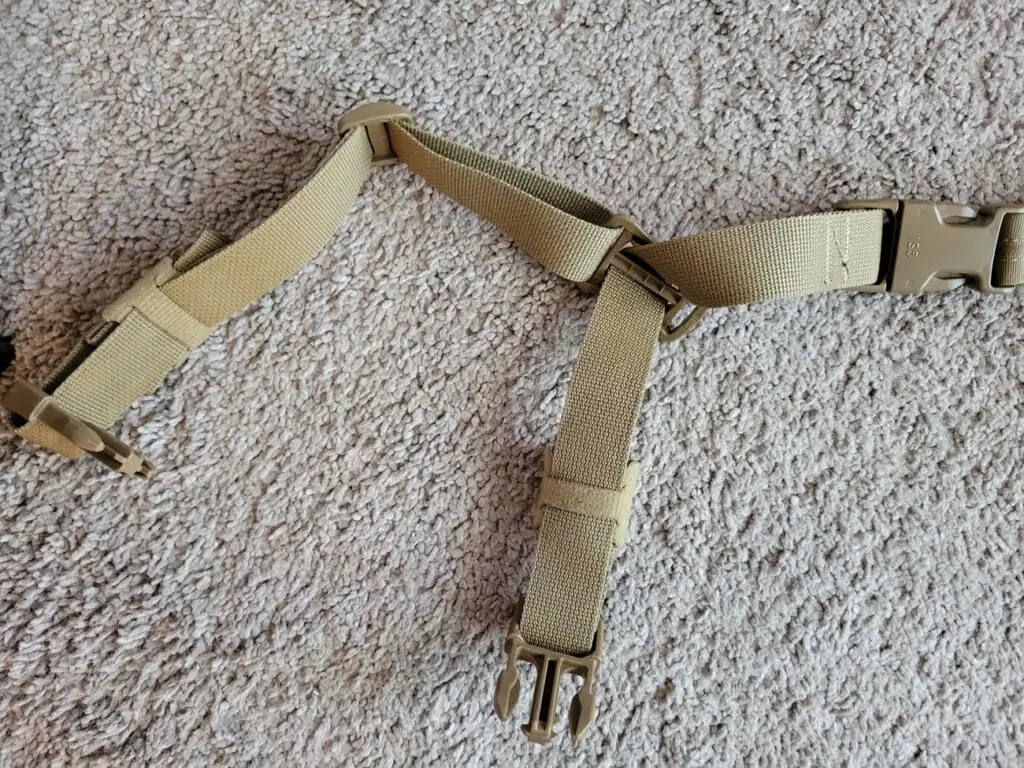 Another thing I put on my con list that may not even be considered a con is the initial adjustment to one's body. There are a lot of excess straps that get all over the place, and unless you have someone to help you out, the process of adjustment is a lot of taking the bandoleer off and putting it back on. This isn't a big deal after you get it adjusted, but I would strongly suggest leaving it where it's comfortable and never adjusting it unless necessary. Hitting the sweet spot with gear comfort is a precious thing, so don't be the guy who is constantly adjusting your straps. 
Finally, an elephant in the room for many interested people who may not be able to afford the INVRT system. The initial cost of a kit with AR mag pouches and a pistol pouch is $170. That may be something that some people have to save up for, and that's okay. This is a big cost for something that's physically small. However, you're buying American-made products that will last longer than most of that Chinese stuff. The quality of this gear and the fact that it's a one-time purchase for gear that lasts a lifetime speaks volumes. While we're on the topic of cost, let's review what you're looking at when comparing the overall cost vs. the value of the product you receive in turn.
Value vs. Cost
The initial cost for this kit is $170 is something to consider when looking at tactical gear like the INVRT. There are tons of chest rigs out there for all kinds of prices, but after handling this bandoleer, it would be a fantastic starting point or even a great addition to someone with more experience. Reliable and durable gear is an investment and should be treated as such. For the price tag, you're getting a kit that will allow you to train better and should last you the rest of your life. I would rather pay $170 for an innovative and reliable rig that will last my whole life than pay half of that for something I'll have to replace within two years of ownership and heavy use.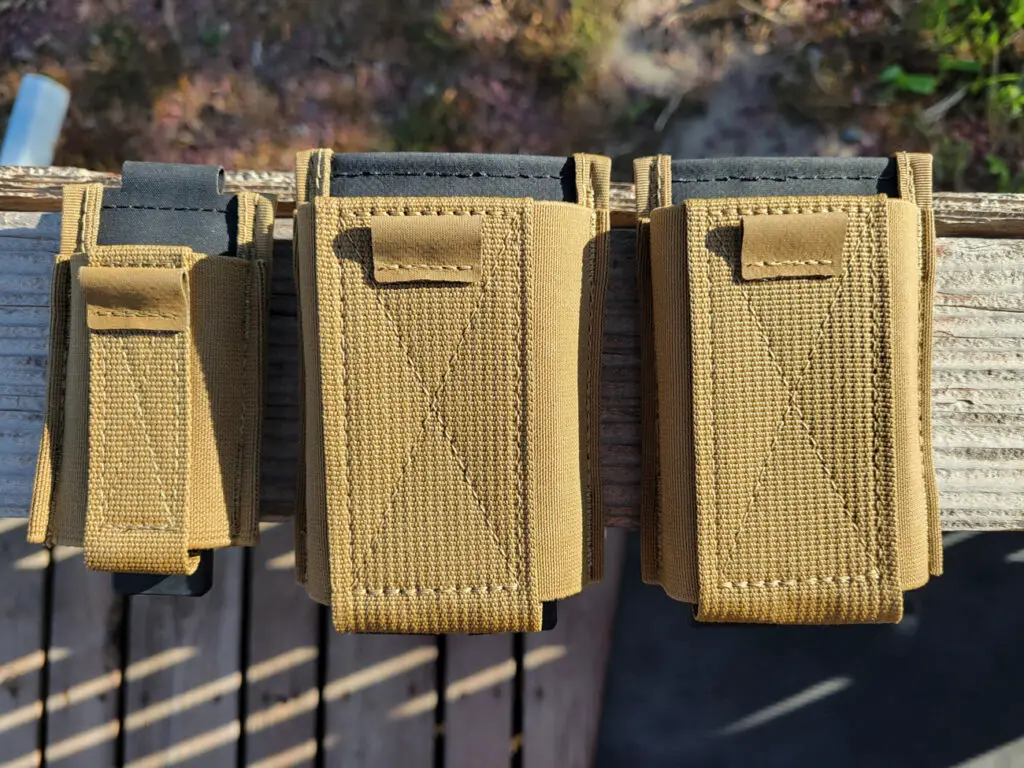 I've run chest rigs, vests, and plenty of pouches that wouldn't stand up after a few uses. Hearing the splitting of seams and the instant feeling of disappointment is all too common to enthusiasts like I used to be who preferred a better cost than assurance of quality. The saying, "buy once, cry once" HAS to apply to your chest rigs and similar training equipment. Now that I know this bandoleer can handle my testing and training, I'm pretty much done crying and ready to get on with more shooting. The INVRT has earned the value it commands for the price which lets me recommend it to the reader with all the confidence in the world.
Final Thoughts
This platform is going to be used for a long time after this review is published. With the INVRT, I can practice fast reloads without having to master the beer can flip or any other traditional magazine placements. I also plan on running a tactical belt with some more equipment on it, just so there's enough room for everything I need.
If you're looking for good and reliable gear, you should take a serious look at the INVRT Bandoleer. You don't have the serious cost of a full plate carrier, but you can do some serious training and application with what this bandoleer offers. This American-made product has the quality to back it up, and I applaud IC13 for putting a piece of gear such as the INVRT Bandoleer out into the market. Not only is this a quick-reaction type system, but your mags stay right where they need to without moving, and there's no awkward flipping when you're running your AR reloads.
Not only will the platform be expanded on, but it'll be used much more thoroughly while it's with me.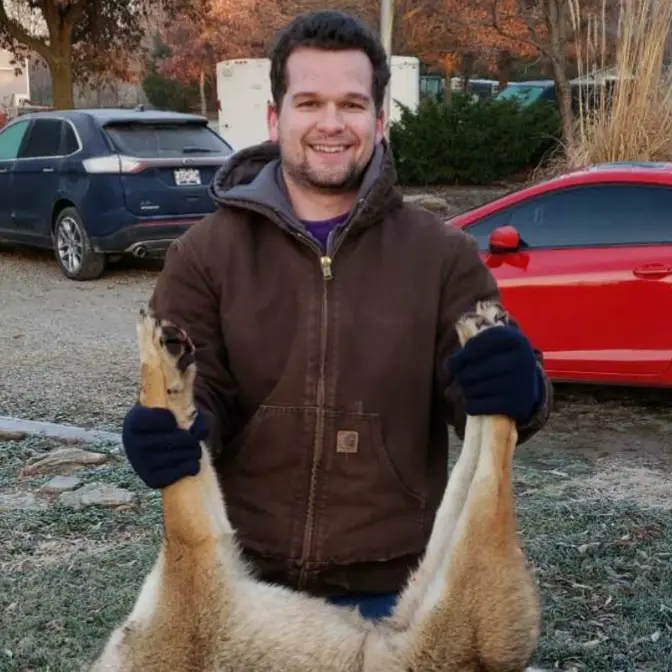 Growing up, Buck was taught about firearm history and appraisal. Getting to know so many different firearm platforms eventually lead to his long-distance shooting exploration. While his main hunting past time is coyotes, he still find just as much satisfaction punching steel at distance. Every shot taken is with the purpose to become a better shooter.