The Glock 19 and its little brother, the Glock 43 are two of the iconic brand's most popular conceal carry pistols. Both weapons are chambered in 9mm and that certainly doesn't hurt their popularity here. If you are a Glock fan, you probably didn't choose between the two. You probably have them both. I am not a Glock "fan" and I have both, so it is easy to see why people across the country have one of each. If you are forced to choose one, and only one, you can't really make a bad choice, but they are very different in many ways, and it will really come down to what the intended purpose of it will be. 
Those that know me, know that I am far from a Glock "fan." Those same people would also tell you though that it is a matter of preference, and not that Glock makes a poor weapon by any means. I have also said repeatedly (for years) that if you only can have one handgun at all, to do anything and everything you need it to do, and not have to worry about failure, it should be a Glock 19. The 19 is small enough to conceal in most situations (even if not ideal) and large enough to be a solid shooter in the accuracy department. The G19 is a great home defense weapon too. 
What makes the Glock 19 the one gun everyone should at least seriously consider? The Glock 17, the full size "brother" to the G19 is the most widely used handgun worldwide. That is a fairly easy feat when you realize how many military units and police departments worldwide have adopted it. Here in the states, however, (and accurate figures are hard to obtain) it is widely believed that the Glock 19 is more popular in terms of sales. While some police and military units do use them, they are a hit in the civilian world. Similar to the 17 in every aspect except barrel and grip length (which also reduces round count) the G19 too is a soft shooter, natural pointer, and dependable beyond what most handguns should be expected to be. When we compare the G19 to the more concealable Glock 43 it sounds like an easy choice to pick from of the two- right? Not so fast. Again, it will come down to the intended use. Let's take a look at each a little more closely and make the comparison easier. 
Capacity & Size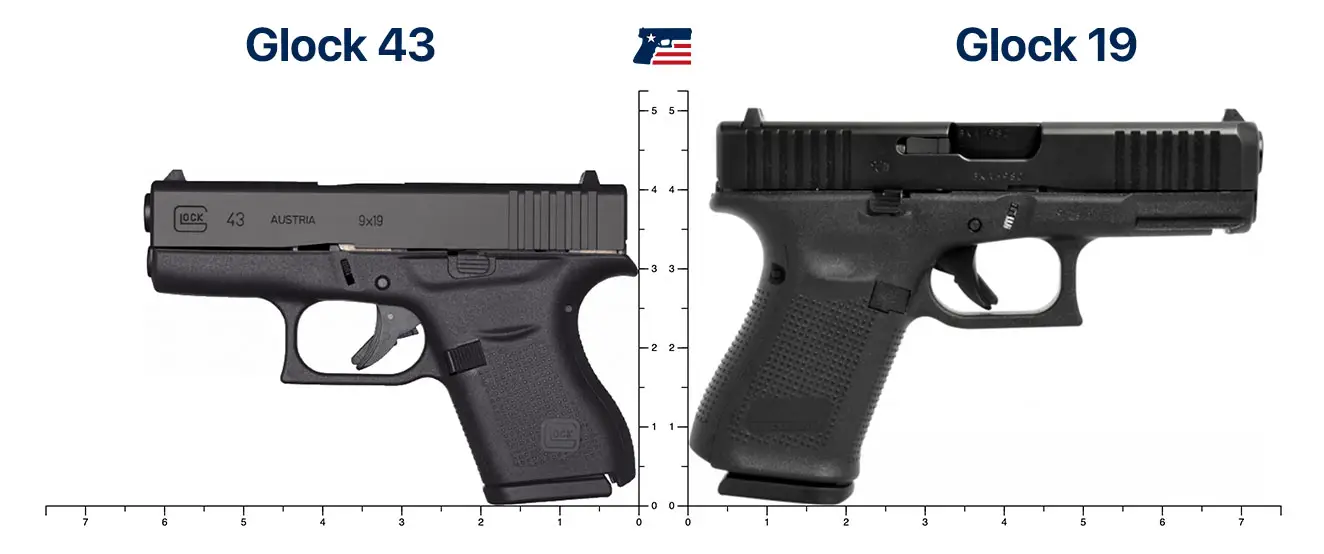 | | | |
| --- | --- | --- |
| | Glock 43 | Glock 19 |
| Caliber | 9mm | 9mm |
| Capacity | 6 | 15 (optional up to 33) |
| Length | 6.26 inch | 7.36 inch |
| Width | 1.06 inch | 1.26 inch |
| Height | 4.25 inch | 5.04 inch |
| Weight (empty mag) | 17.99 oz | 23.63 oz |
| Weight (full mag) | 20.64 oz | 30.16 oz |
Glock 19
Now 5 generations in the making, the Glock 19, like all of the Glock line has seen very little in terms of change. While some prefer and appreciate that, other buyers don't see the point in getting the new line or generation with so little change.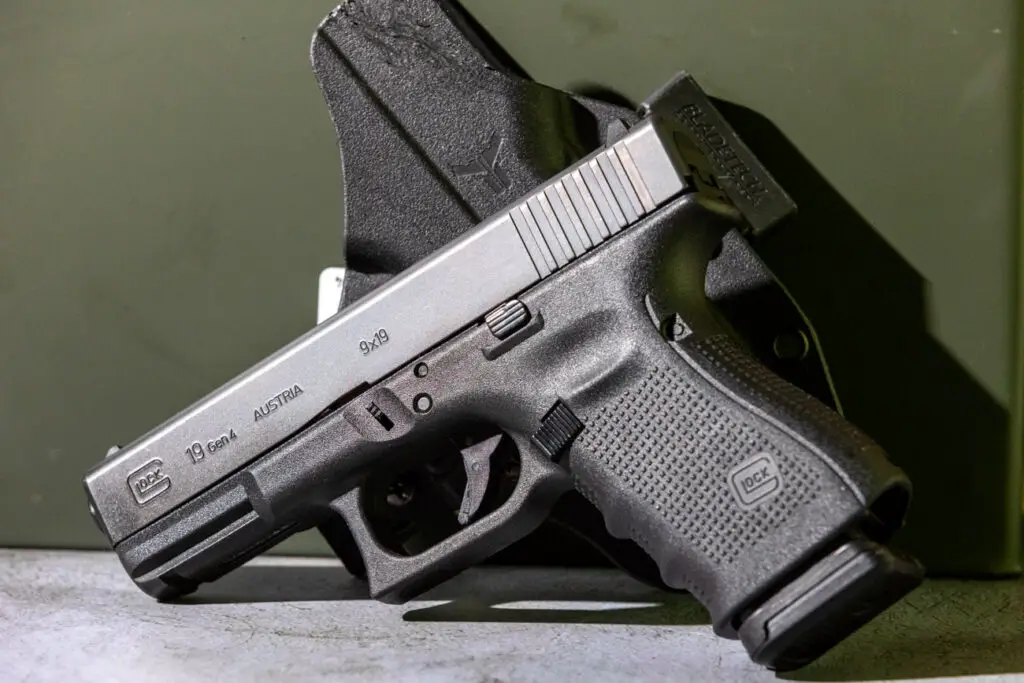 With a standard capacity of 15 rounds and a 4.02-inch barrel, the Glock 19 is comfortable, but not perfect in terms of civilian carry and a home defense pistol. Weight without a magazine comes in at 21.52 ounces, and with the overall length of 7.28 inches (measured horizontally from the barrel tip to the bottom of grip) making it concealable, but, heavy enough and large enough that a person would have to at least consider the clothing for the day and would certainly be more comfortable with a heavier, steel core belt. 
Glock 43
In 2015 Glock introduced the singles stack, Glock 43 handgun. This was a stark departure from the "norm" with the iconic pistol manufacturer. Widely known for high-capacity double stacks at that time, the Glock 43 was obviously a niche to fill.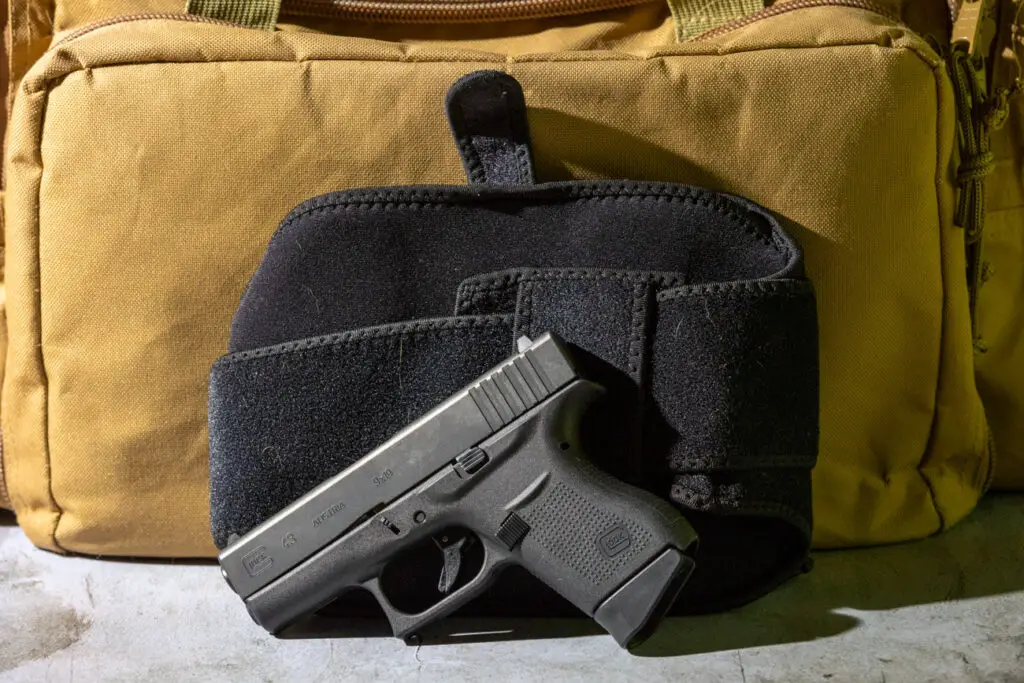 Glock was obviously appealing to the needs of consumers and the rise of civilian carry across the country. Civilian carriers looking for a better option for concealment but still wanting that reliability and familiarity that they had come to know with other Glock models welcomed the more thin, compact single stack, even if it did have some very limited capacity. With any model firearm you choose for personal or home protection there is give and take, pro and con. The G43 gave up a lot in terms of capacity, but seemingly made up for it in the ability to conceal it. 
When the Glock 43 came out it was so much smaller in design it simply had the appearance not of a 9mm, but of a .380. For the record, Glock does now make a twin to the G43, the G42 in the smaller .380 caliber.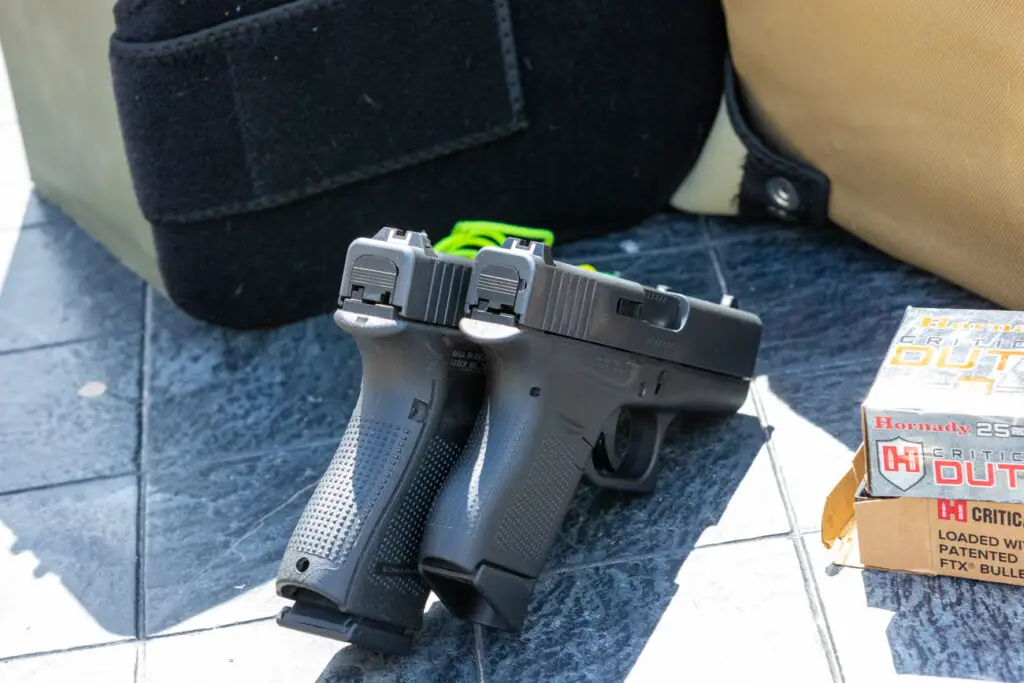 Many Glock customers had previously ran with the larger, double stacked G26 that had been around since 1995. It was short and "chubby" and many thought that it would fill the bill for concealed carry, but the width of the G26 may have helped with comfort in shooting but it just did not fit the bill in terms of comfort and concealability and hence the Glock 43 was born.
The overall length of the Glock 43 is 6.26 inches measured from the barrel tip to the bottom of the polymer grip horizontally. This measurement makes the pistol sound much larger than it really is. With a height of 4.25 inches and a barrel length of just 3.41 inches and a loaded weight of 20.64 ounces, it is obvious that this pistol was purpose built for one thing only- concealment. A side note on the weight, it is subjective to bullet grain weight of course and with a capacity of only 6 in the magazine, you would not expect a lot of heft. Easily concealed in virtually any holster including both inside and outside the waistband, belly bands or the increasingly popular appendix carry the G43 found the niche it was built for. 
How They Shoot (Trigger, Grip, etc.)
Glock 19
Shooting the Glock 19 is familiar to shooting any other Glock really. The feel is the same, and the easily identifiable square notch rear sight with a front center dot is a Glock hallmark and they work well together. Recoil is mild even with heavier loads despite the relatively light frame and shorter barrel.
The grips of course are somewhat customizable by simply adding including backstraps to slightly alter length of pull and grip thickness. The magazine catch is reversible, and the slide stop lever is ambidextrous to make it usable with little if any modification for right or left-handed shooters. The Gen 5 models had rifling and crown modified slightly for increased precision, but it is a combat handgun and users are not likely to truly notice a difference. There are a couple of model variations as well, including the "19X" which is simply a Glock 17 frame married to the shorter G19 barrel and slide and then shown off in the "coyote" color. This "upgrade" gives users slightly larger capacity and keeps the overall length shorter for those who want or need it.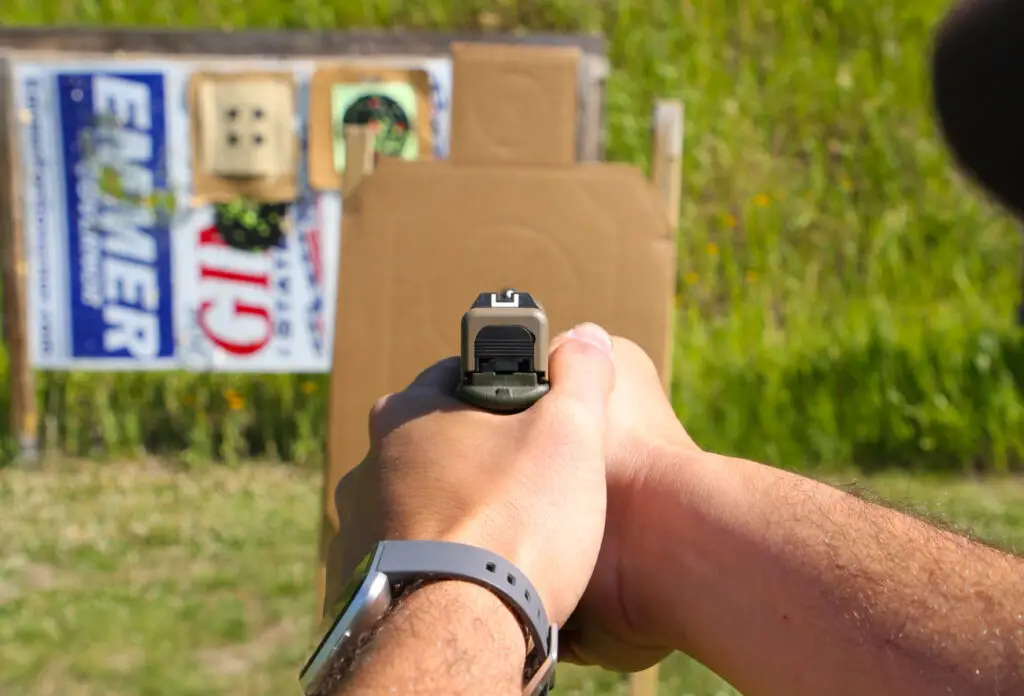 There is also the Glock 19 MOS version as well. The MOS or Modular Optic System has the slide precision milled for use with optic sights. With more and more optics becoming available and the cost at least somewhat reasonable, more and more shooters are looking for the edge in both speed and accuracy that these small, lightweight sights offer. If you think one of these sights could be in your future, it is certainly worth looking into the MOS the start with.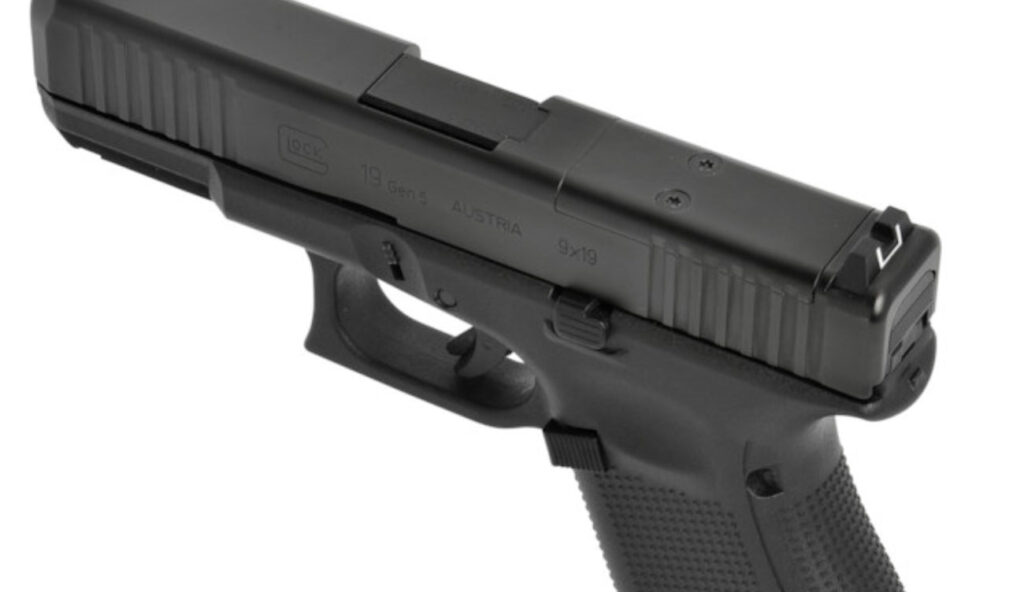 The trigger in a Glock is another feature that is easily recognized. The feel, the pull and the break are all recognized by anyone who has ever shot a Glock with any regularity at all. This is the part of the Glock that I have always disliked. There is a a considerable amount of take-up and then the trigger stiffens before breaking into a mediocre break at best. I get it. It is a combat styled weapon, and not a single action 1911.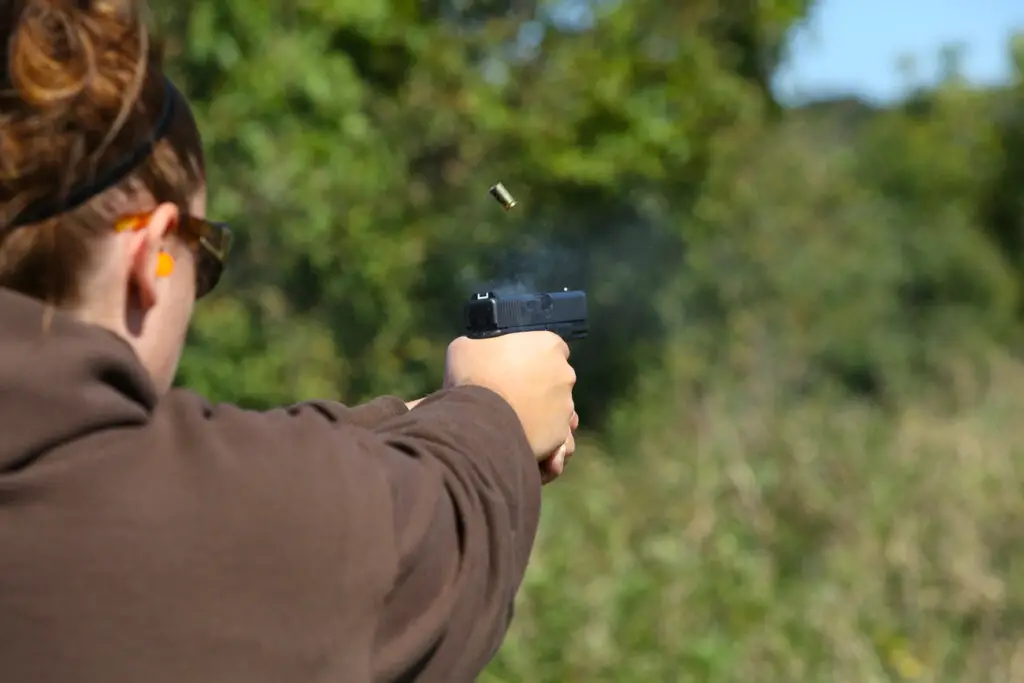 Still, other striker fired platforms (even the ones with similar tabbed triggers) seem to break a bit cleaner, and there is not much comparison to the G19's rival, the Sig P320. Yes, the Glock trigger works. It does what it is intended to do, and it doesn't make accuracy worse, but I have long wondered how much better and faster I could shoot with a trigger more like the Sig. With the "Safe-Action" a trademarked system of Glock, the trigger won't be changing anytime soon.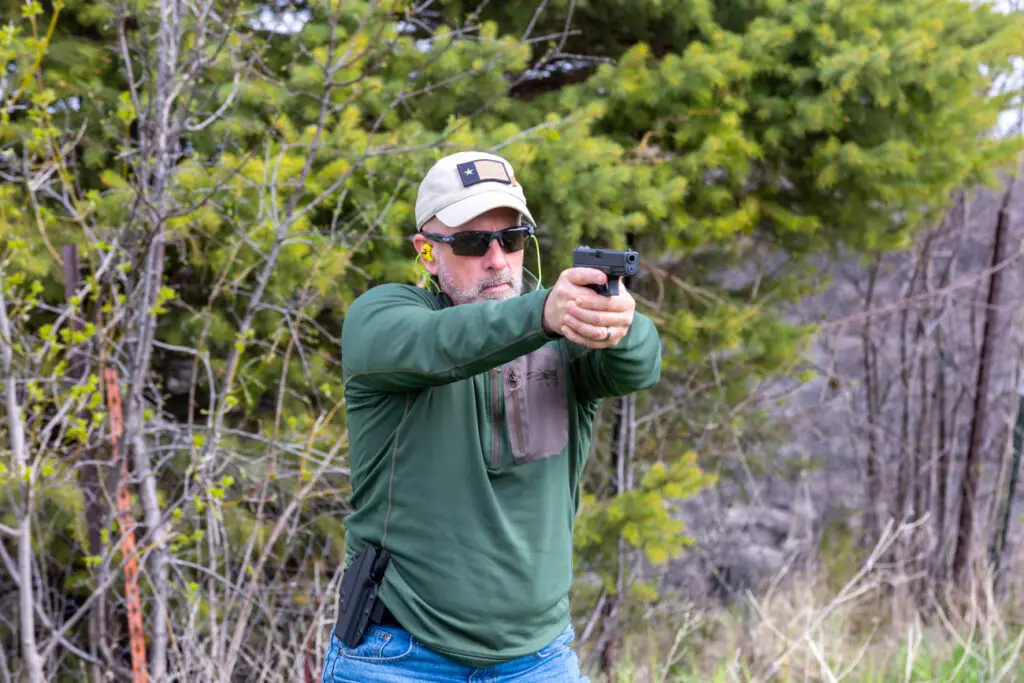 Again, it is understandable, with no mechanical safety for the user to manually disengage, the trigger pull is long, heavy, and deliberate. The over travel and subsequent reset is not bad, and many shooters will ride that reset to alleviate the longer trigger travel on follow up shots. In general, for a compact pistol the accuracy is more than sufficient to downright great. I personally shoot the G17 a bit better, and although they are very similar to the G17, and the slightly longer slide is likely the only thing that causes that. 
Glock 43
The trigger is of course a key component of the overall accuracy of the pistol. The Glock 43 shares the same tabbed trigger of the entire Glock line. The trigger on the Glock 43's I have shot has had the same feel, the same heavier, gritty pull, but has just felt much heavier than any other Glock I have ever owned or shot. A few hundred rounds into shooting and training, the trigger in mine has smoothed out a bit just as any trigger will.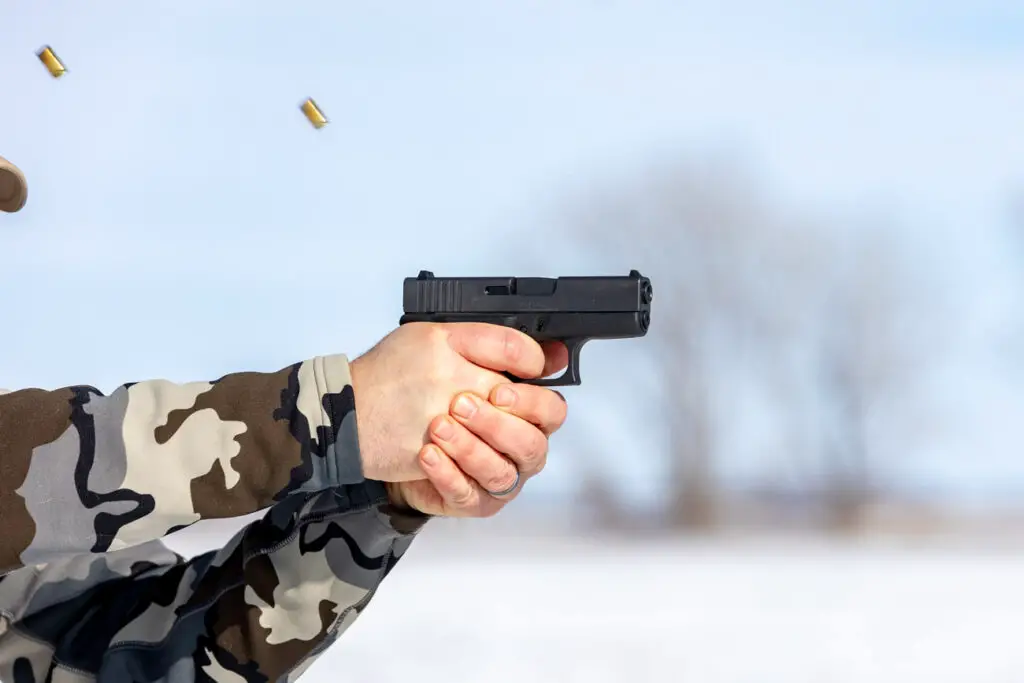 But as I have said before, if there is one thing and only one thing, I could change in any of the Glock line, it would be the trigger. Striker fired weapons are notorious for average at best triggers, and of the striker fired platforms the Glock is my least favorite, and the G43 with a heavier feel doesn't earn any favors with me in that respect. Combine it with snappy (but controllable) recoil and follow up shots are probably not as quick as they could be.
If I didn't have other options to have compared it against maybe I wouldn't harp so heavily on the Glock triggers, but to be fair, I do, and there are a lot of triggers on the market, both striker and hammer fired that are just simply better. 
Like the other Glock models, there is a little bit of customization that can be done to the grip with the addition of backstraps that add or subtract to the beavertail grip. This of course helps with control of the pistol under fire and follow-up shots can be under more control.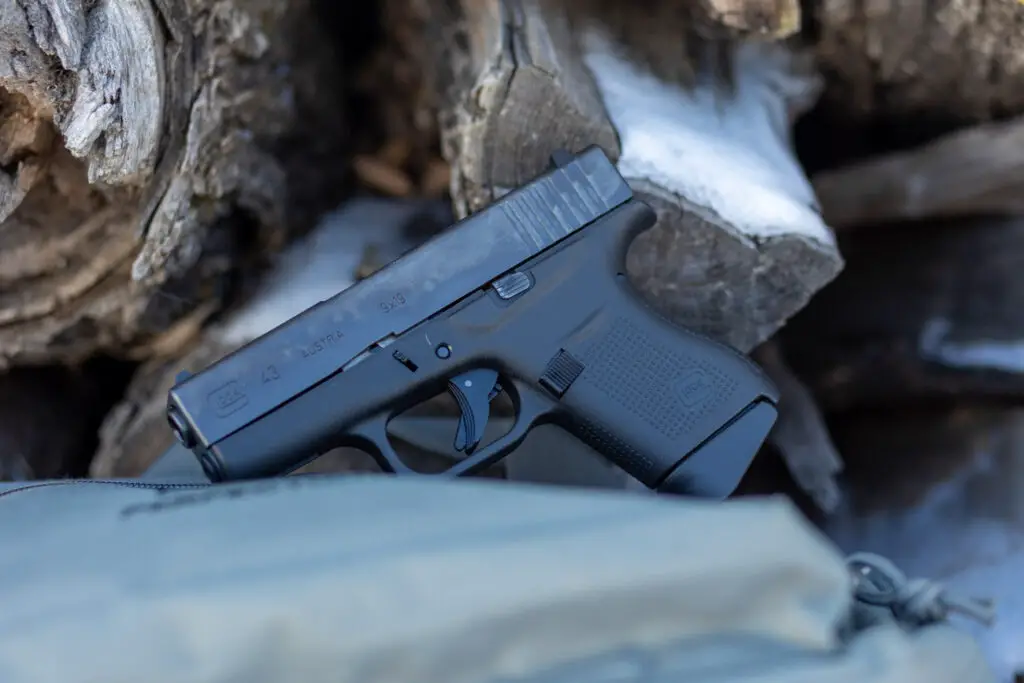 The grip has light stippling and while it is aggressive enough texture to help or enhance the grip, it isn't so brutal that it is hard on clothing or abrasive when shooting. The grip length is short- it is after all a pistol built for concealment. I have average sized hands and getting a proper purchase straight from the holster is tough. I really need to mash fingers together in an attempt to get them all on the narrow, short grip. With that smaller grip, your shooting hand takes up most of the real estate and your support hand isn't likely to properly make it to the frame and help with the control and accuracy like you would have in a larger pistol.
As I said before, there is give and take in any platform and this is the give. Smaller pistols by their nature are just that way. This is really a petty factor though. This is a defensive pistol, not a competition or duty platform and it does just fine in the context that it is built for close quarter defense.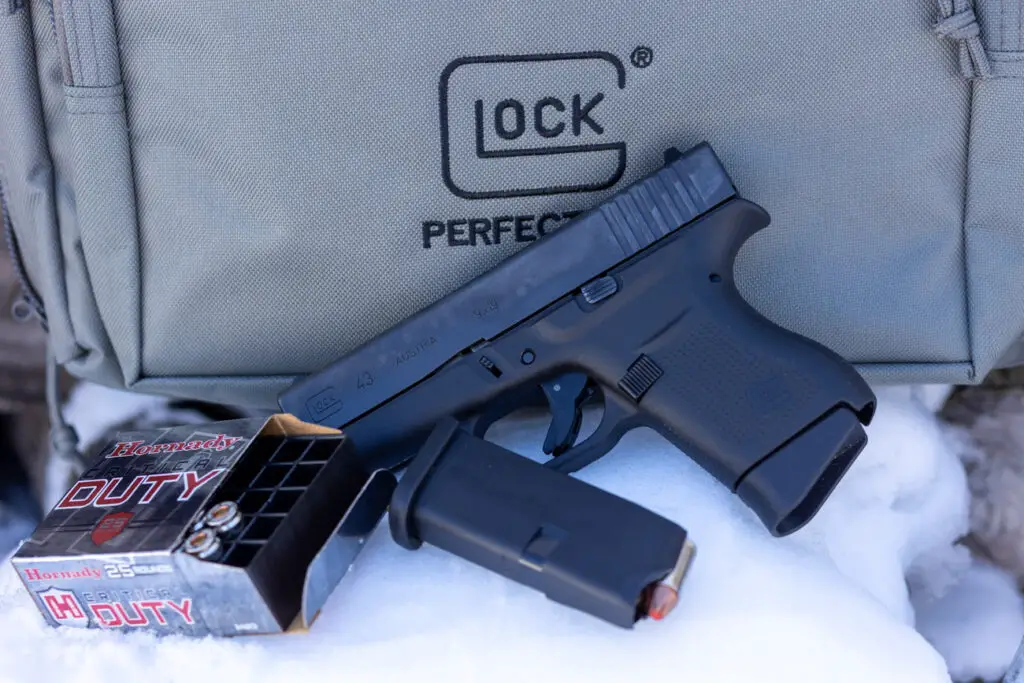 The magazines for the Glock 43 are a bit different in configuration than most of the line up. Being a weapon utilized primarily for concealment, there are two variations, one being a flush fit, and one being a slight pinky extension. I would dare to say that most of the shooters are likely going to go for that extension. It doesn't add so much length that concealing becomes an issue, and it does make things a bit more comfortable to shoot and manage recoil. Like most of the Glock line up, magazines (and virtually any other accessory) are pretty easy to find in virtually any gun store. 
Reliability & Maintenance
Glock 19
I have had several Glock 19's in different generations over the years and all of them have been accurate shooters and I literally cannot recall a failure. My first Glock 19, years ago went through my own "torture test" where I was intending to not clean it until it failed. While I can't remember how many rounds I put through it, I do remember that I couldn't take the idea of not cleaning it any longer, and I gave in before the pistol did.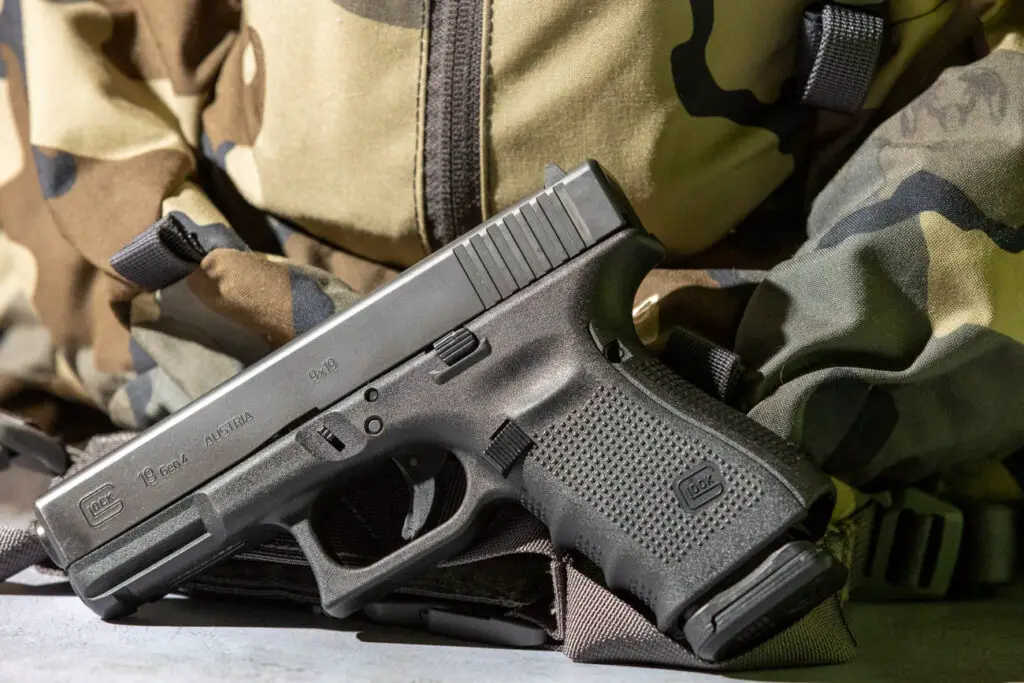 Like any Glock, cleaning and maintenance is easy. The finish is hard and difficult to scratch let alone rust. While most of my other handguns tend to run better with a fair amount of oil in the right places, every Glock I have owned has seemed to prefer to be "dry." Either way, it is nice to know that the finish and internals are not easily affected by the brutal Minnesota humidity in the summer and the bone chilling winters where a concealed carrier can be in temperatures of -30 or more outside to walking inside to 70 or more above. This can wreak havoc on gun finishes, but, with little to almost no effort, the Glocks remain rust free. 
Glock 43
Built similar to the rest of the Glock line, save for the magazine capacity, the Glock 43 is built for reliability and concealability. Nothing fancy, nothing flashy. It just runs despite the user's best efforts to let it fail.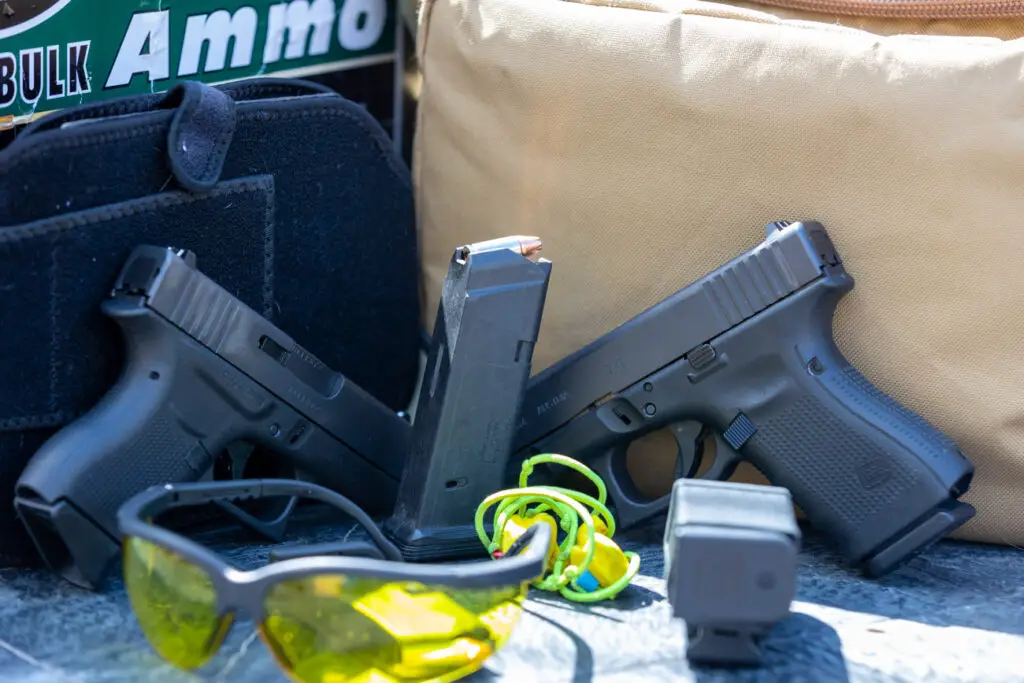 Best Uses
Glock 19
While both pistols can be used for conceal carry and as a home defense weapon, the size and magazine capacity of the Glock 19, at least in my mind, make it more versatile. I can still conceal a Glock 19 even with light, modest fitting clothing in almost any circumstance with a decent holster, and for a nightstand weapon, I just prefer something with a larger frame, larger capacity, and something I can comfortably shoot the length of any hallway or room in the house. That is just basic common sense to have that ability.
Can I do that with both? Absolutely, but I think if you polled 100 people in this situation, the overwhelming majority would opt for the Glock 19 for home use.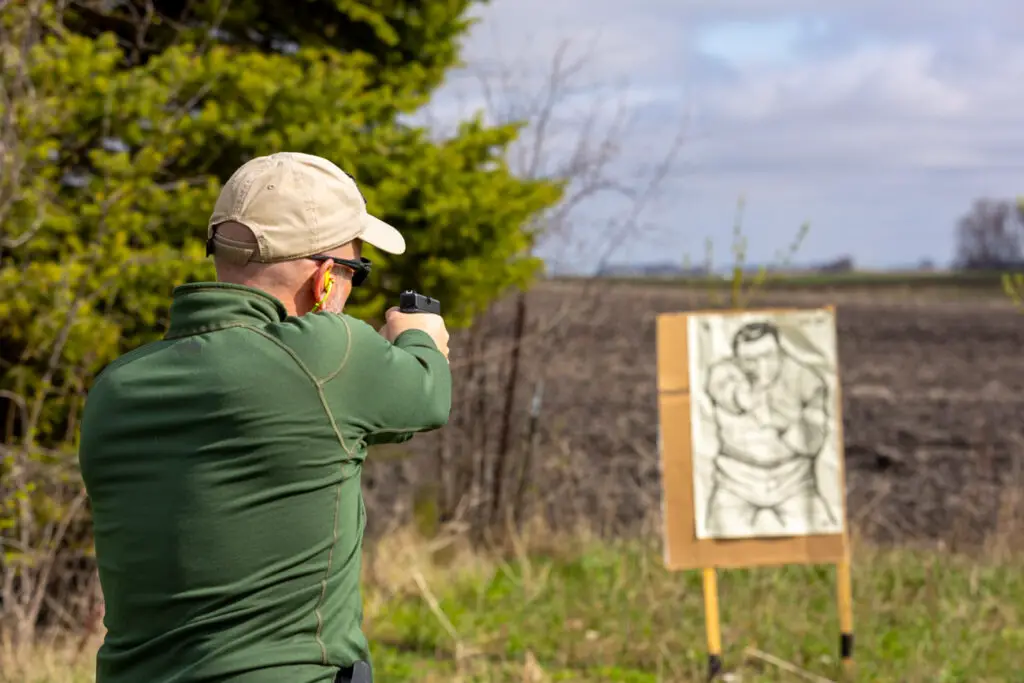 Glock 43
Conversely, for strictly a carry gun, especially when concealment if mandatory, I would likely opt for the Glock 43 of the two. It is thinner and shorter in length and height, and side by side it may not look like a massive difference, but, on the hip or appendix carry you immediately notice the weight difference and how much better the G43 hides.
Is it worth the hit on the capacity? Probably. Both pistols, as I have stated, are great defensive weapons.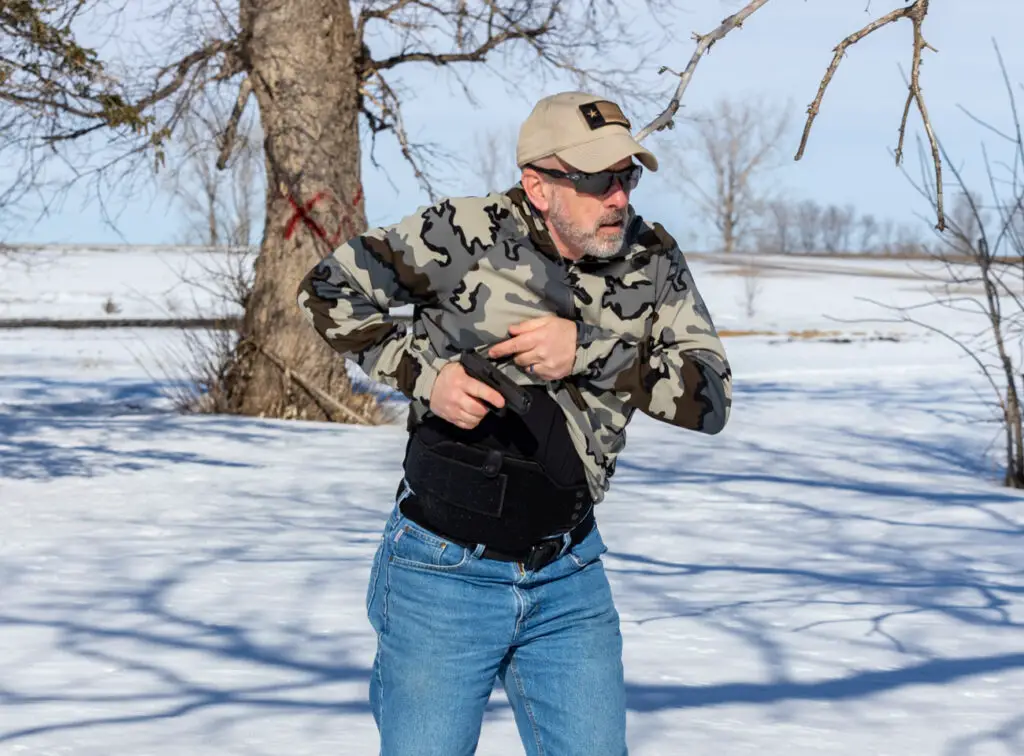 Cost
Glock 19
When you look at the cost of each, there isn't a huge difference, though the larger Glock 19 is expectantly a little more, and runs around the $575 mark.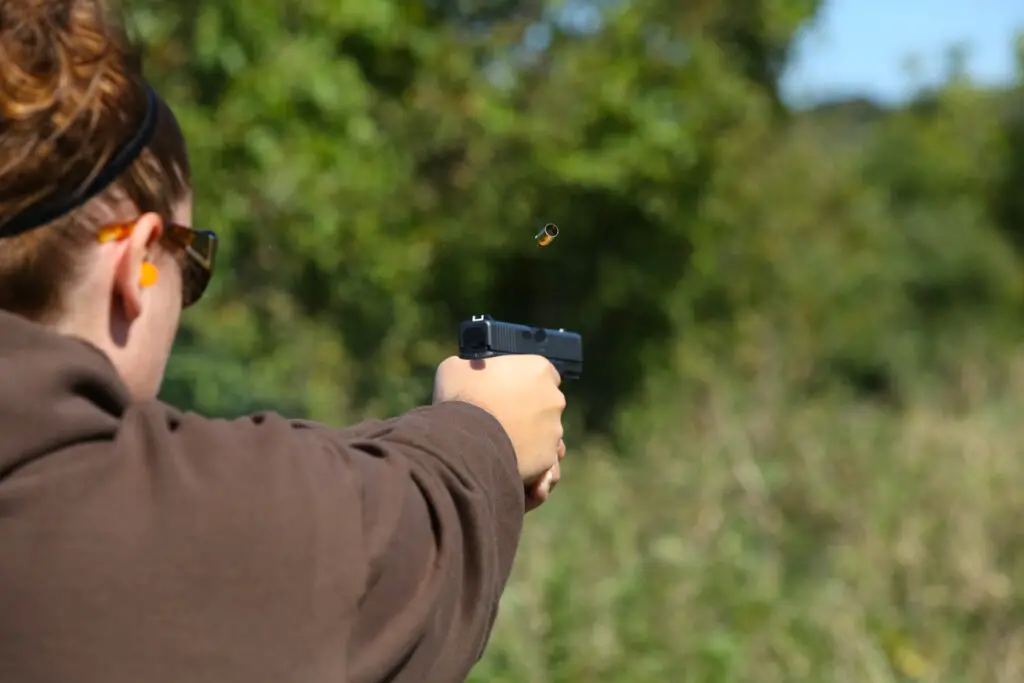 Glock 43
The Glock 43 is a little cheaper than the Glock 19 and comes in closer to $475.
Both of these costs can vary depending on the "generation" of the model, as a few generations are available in each.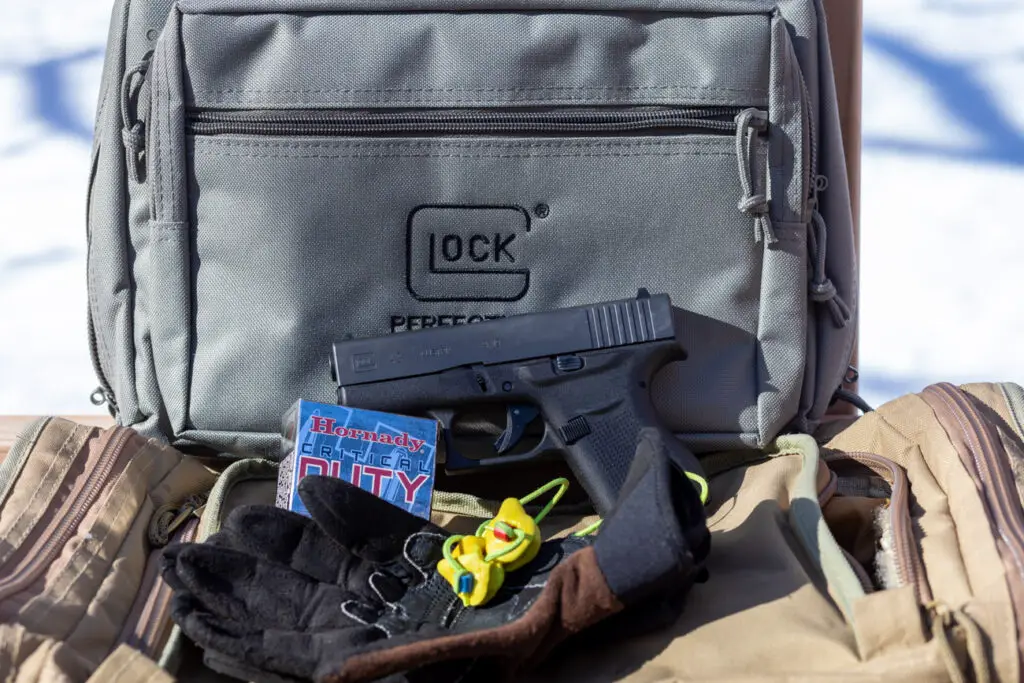 Glock 19 vs 43 Comparison
There are many similarities between the Glock 19 and the Glock 43 as I have already pointed out. They both share the same reliable, durable functioning, and both within their perspective class shoot as well as their competitors or very close. The bottom line is, if you like one model, you very likely will like the other.
While of course the G19 is going to be a better shooter in terms of accuracy and speed, is the average shooter in a defensive situation ever going to see or notice that difference? Not likely. Both are more than acceptable for defensive purposes in the accuracy department and both of them are likely to never see a failure even with minimum care and maintenance.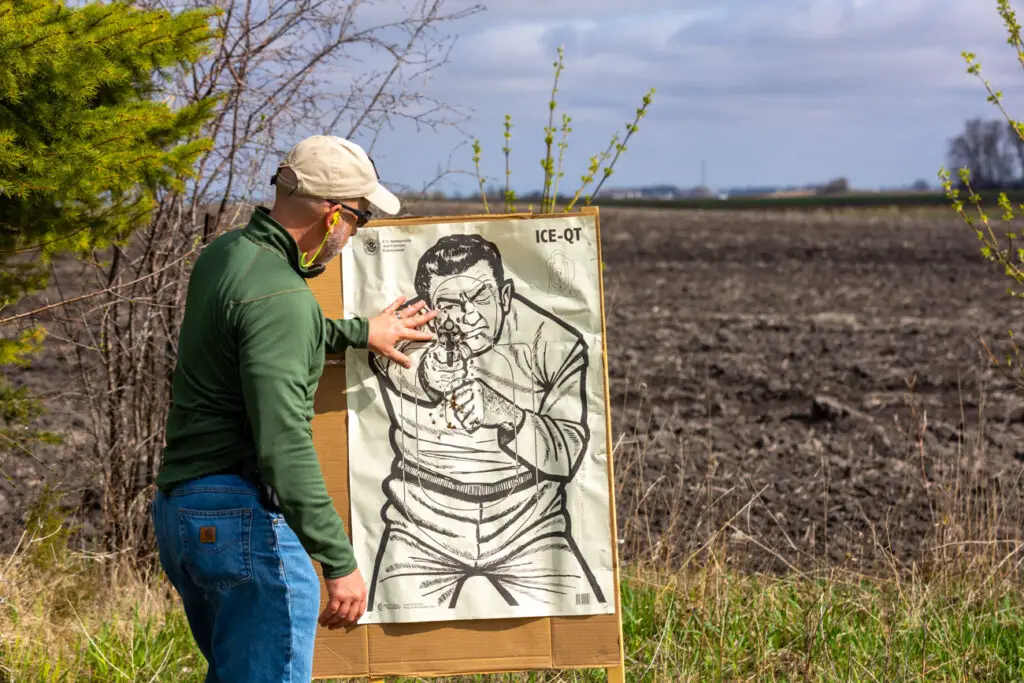 Here in Minnesota, we can have high heat and humidity in the summers and the winter can be downright brutal with temperatures often hitting -30 below zero. Going from a warm house or truck to extended periods outside in temperatures variations like this is not easy on the finish or even the function of firearms, and many of us from the North Country are even picky about the lubricants we use, being careful to ensure they that do not gel and freeze up in these conditions.
Both of these pistols I have tested in some pretty extreme temperatures, and both have performed without a hitch. That said, when it is insanely cold out, the G19 is much more comfortable to shoot if for no other reason, just the grip size making it easier to control and take away a bit of the recoil. 
Conclusion – Which one wins?
The bottom line, if I had to choose one, and only one, and I did not own any other pistols, for me, the Glock 19 is a better fit. It is just a more fun, more capable shooting pistol.
So why do I say everyone should have a G19 when there are "better" options out there? Simply put, it is a do all type of a pistol. Parts, magazines, lights, electronic sights, accessories, and holsters are readily available, affordable, and effective, just like the pistol itself. Walk into virtually any gun store in America and you are likely to find what you are looking for in terms of accessories. Add to that, a weapon that rarely malfunctions despite your best efforts to make it fail and you are left with a fantastic weapon by virtually any standard. It may not be perfect in every category, but it can and will get the job done in any category. 
The only edge the Glock 43 truly has is exactly what it was made for – concealment. All other determining factors aside, the Glock 19 is just a bit better. A comparison between the G48 and the G19 would probably narrow that gap a little bit, as the G48 is a bit of a between pistol. But, with the G19 and the G43 being two of the more popular pistols in the Glock line up, it is a fair comparison.
Either way, whether it is your first and only handgun, or adding to the collection, both are likely to find a forever home with you. I have had a lot of firearms that I haven't kept for one reason or the other, but both of these fit a real-world niche and cover the bases in the function department well enough that they will never be traded. Reliability is worth its weight in gold when it comes to something you are depending your life on and both fit the bill there without question.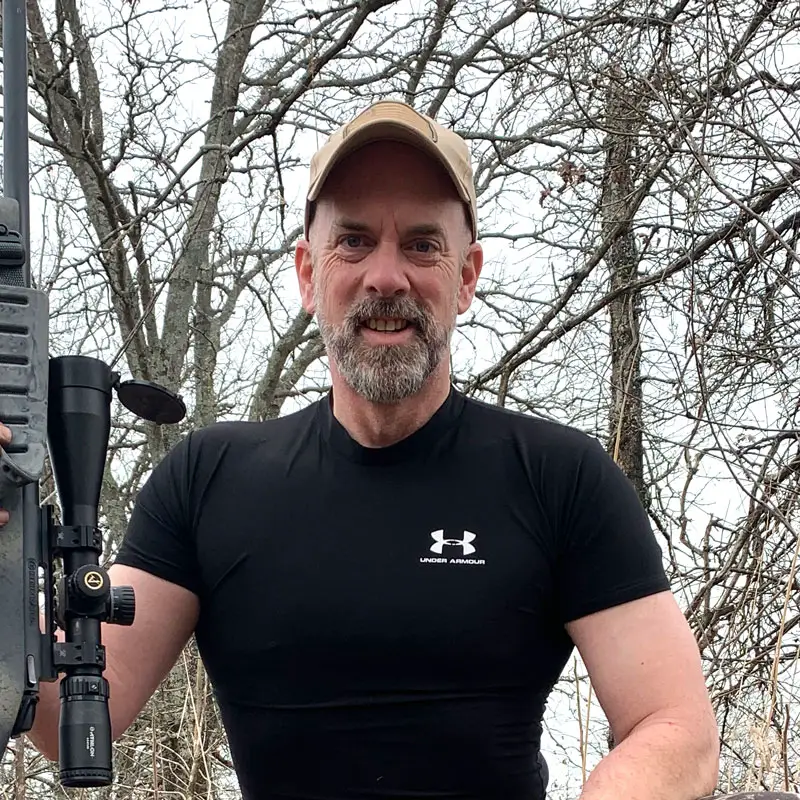 Mark Brendemuehl is a lifelong hunter and shooter of rifles, shotguns and handguns. He competes in defensive pistol leagues and regularly shoots rifle at long range. As a professional photographer, if he isn't looking through a rifle scope, he is probably looking through a camera lens.