It's fair to say that the Dan Wesson .357 magnum revolver is one of the most well-built guns on the market. It's been praised by gun experts and firearms aficionados alike. In fact, it's been touted by many as being the single best revolver ever made.
Is that an overstatement, or is there truth in that opinion? To find out, let's begin with a simple Dan Wesson history lesson.
History & Description
When it comes to Dan Wesson firearms, the first word that often comes to mind is "quality." These American-made guns are packed with character and appeal, boasting the finest in craftsmanship from top to bottom.
This world-renowned quality dates all the way back to 1852 with D.B. Wesson, Dan Wesson's great-grandfather. He co-founded Smith & Wesson, and from his creation eventually stemmed the Wesson Firearms Company in 1968.
The Dan Wesson arms company came from the man himself, Dan Wesson. He set out with one goal in mind, and that was to manufacture the single-best revolver on the planet. So maybe those aforementioned accolades aren't too far off base.
Dan Wesson has a reputation for being a perfectionist, which served him well in the gun trade. Today, owning a Dan Wesson revolver usually shows that you're an educated gun owner who understands the finer aspects of firearms.
Model 12
There have been more than one Dan Wesson 357 Mag, starting with the Model 12.
Model 15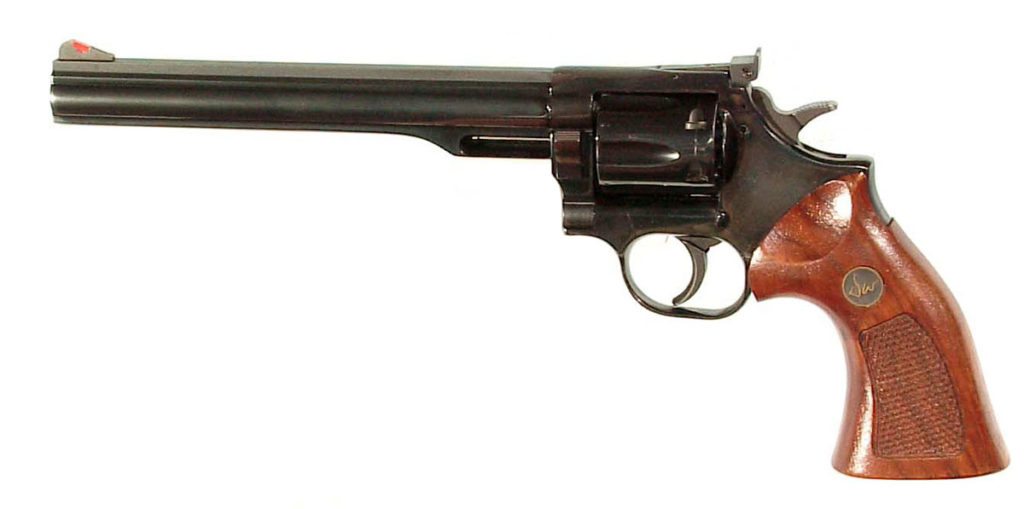 After then followed the Dan Wesson Model 15.
Model 715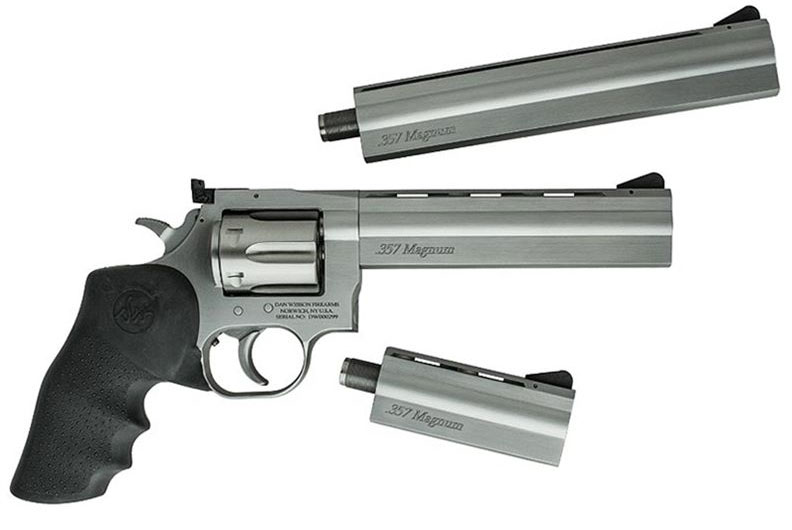 | | |
| --- | --- |
| Caliber | .357 Magnum / .38 Special |
| Capacity | 6 Rounds |
| Barrel Length | 4″ or 6″ or 8″ |
| Weight | 47 oz. |
The Dan Wesson Model 715 features an interchangeable barrel system. Thanks to it, gun owners can alter their Dan Wesson revolver barrel length at home with a barrel-changing tool. It's this ingenuity that helped propel Dan Wesson Firearms to elite status.
But it wasn't just Dan's interchangeable barrels that ensured his legacy. Rather, it was his honesty and continuing desire to produce high-quality firearms. Because of this, other gun companies had no choice but to produce equally high-quality guns, lest they lose sales to Dan Wesson and fall behind in the firearms race.
Today, CZ-USA owns Dan Wesson Firearms. Having acquired the company in 2005, CZ has since gone on to produce Dan Wesson 1911s, among others.
In 2015, an all-new model of the Dan Wesson 15 was released, maintaining everything that made the revolver popular in the first place, but with a modern feel.
You can find different finishes, as well. the stainless steel version is a fan favorite, but you might have to settle for a different finish due to demand (more on that later).
Pros / Cons
There's a lot to like about Dan Wesson revolvers, with far more pros than cons. And chief among the pros is the firearm's incredible accuracy. Let's explore the most notable points that make Dan Wesson arms so beloved by the gun community. We'll also discuss some of the points that might turn away gun owners.
Pros
Accuracy: As stated, the accuracy of Dan Wesson arms is legendary. So much so that they are often praised for being the most accurate production gun in all of history. That's a pretty big statement, but one that's easy to back up. The unique heavy barrel is said to play a key role in the 357's accuracy. The barrel features tensioning due to the shroud. As a result, the nut is torqued down and the barrel is pulled forward. Thus, the mechanics are solid and crisp.
Craftsmanship: Every component fits perfectly together in the large frame, providing you with a rock-solid feel in your hands — precisely what you want from a firearm. And because of the tight tolerances and excellent machining, every Dan Wesson revolver that comes off the line is in excellent condition.
Shooting: As a double-action revolver, shooting is much more comfortable than you might expect. The recoil is surprisingly soft compared to other barrels this size, and it feels good as both a single-action and a double-action revolver.
Adjustable Sights: The front sight sports a wide design that you can swap for something else. The rear sight is a black rectangle slab. Not the best for setting up, but at least they're adjustable.
Trigger: But the pros don't stop there. Complementing the shooting experience is a comfortable trigger with excellent response. It's evident that there is strictly controlled production quality in every component, and it pays off well. It's worth noting that not everyone agrees with the new 357's trigger quality. Some find it clunky compared to, say, the Dan Wesson 15. And that brings us to the cons.
Cons
Trigger: Some will argue that the tolerances of the trigger pulls aren't that great. Anyone who's fired any of the classic Dan Wesson revolvers will tell you that they are excellent guns to shoot. But the modern Dan Wesson 15 models (15-2) have mixed opinions when it comes to trigger quality.
Rear Sight: Admittedly, the rear sight leaves a bit to be desired when setting up your shots. If you're looking for speed, the sights won't accommodate you much.
Uses
Factory Dan Wesson revolvers are ideal for competition use. Given their historic accuracy, this is to be expected. Out of the box, you might not think the 357 mag would be a good choice for concealed carry. But this is where the barrel changing comes into play.
You can simply add a fat stock in place of the factory stock and the 357 is more akin to other revolvers designed for concealed carrying.
Where to Buy
Dan Wesson Firearms can be purchased directly from the Dan Wesson website or you have to go through authorized sellers to get your Dan Wesson arms.
These sellers work with CZ-USA to sell their guns. You can use the Dan Wesson website to locate an authorized retail store seller in your area.
FAQ
Is Dan Wesson 357 a good gun?
Absolutely, especially if you're looking for a gun that's accurate and has precision machining. Ever since its inception, Dan Wesson guns have been positively received by the gun community.
Do they still make Dan Wesson 357 Magnum?
Yes, although the Dan Wesson company is now owned by CZ-USA.
Are Dan Wesson revolvers still made?
Yes, the most recent version of the Model 15 pistol came out in 2015 to great acclaim.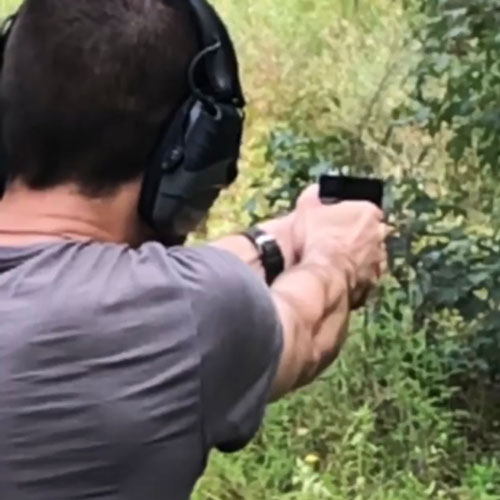 Growing up, John loved learning about the components of firearms and what makes them work, which still intrigues him to this day. He's a very outdoorsy person, and he loves fishing, hunting, and skeet shooting. He is a firm believer in the Second Amendment and the right to bear arms.