Benelli is a name that many firearms enthusiasts hold in high regard. They are also mentioned in frequent conversations about shotguns. This comparison guide we've put together pits two of their best models, the M2 and the M4.
We'll be taking a look at the differences between the two in several categories. We'll also discuss which shotgun will be useful in specific applications. If you have neither of these shotguns and want to choose between one or the other, this guide will be helpful.
Let's dive right in and talk more about these two shotguns and how they came about in the firearms world.
The history of Benelli and their shotguns
Benelli began its foray into firearms in 1967. Prior to that, they were known for manufacturing motorcycles. The first shotgun was designed by Bruno Civolani.
The shotgun itself was a new concept compared to other shotguns. Civolani's design used a bolt where its energy would create inertia compared to gas mechanisms in other shotguns that would propulse a shot.

In turn, this gave the ability for a user to shoot five rounds in less than a second. This would give Benelli its reputation as being one of the best options on the market for firearms. The M2 was made in the early 1980s.
The M4 made its arrival nearly a decade later and started becoming one of the more reliable shotguns by the United States military by 1999.
Benelli M2 vs M4: How are they different?
Now, we'll be doing a side by side comparison of the M2 and M4 in different categories: weight, size, design, use, capacity, price, options, and application. This will give you some data on which shotgun will be your better choice.
With that said, let's begin our tale of the tape comparison.

| | | |
| --- | --- | --- |
| | M2 Tactical | M4 Tactical |
| Power System | Inertia | Gas |
| Gauge | 12 ga. | 12 ga. |
| Barrel Length | 18.5″ | 18.5″ |
| Capacity | 5+1 | 5+1 |
| Action | Semi-Auto | Semi-Auto |
| Overall Length | 39.75″ | 40″ |
| Weight | 6.7 lbs | 7.8 lbs |
| MSRP Price | $1,249 – $1,469 | $2,099 – $2,269 |
Weight
The M2 is lighter than the M4.
The Benelli M2 weighs around 6.7 pounds. The M4 will be close to a pound heavier. Neither shotgun will be much of a heavy load on your back or when you are carrying it.
Weight may be important when you want to navigate around corners (especially in a home defense situation). Yet, both of their stocks are the same in weight.
Not to mention, they also have the same barrel length as well. At the end of the day, the M2 is the lighter of the two and by less than a pound.
Size
The M2 is a hair shorter than the M4
In overall length, the Benelli M2 measures out to 39.75 inches. However, the M4 is a quarter inch longer making it 40 inches even. In terms of length, the M4 will win out by a slight margin.
Not to be outdone, both of their barrels are 18.5 inches. So the length lies in the stock. Even though there is a slight difference in length, they still provide excellent performance and make every shot fast and accurate (since their barrel lengths are the same).
Design
The M4 comes with extra features such as a picatinny rail and collapsible stock and it has less recoil & more durability.
The M2 is inertia driven. Which means that it will have a much cleaner operation compared to semi-automatic shotguns that are gas-powered. Because of this, you'll notice a bit more recoil comparatively.
If you are looking for a shotgun with less recoil, the M4 might be right up your alley since it's gas operated. Yet, if you are looking for something that will give you a bit more ergonomic friendliness, the M2 gets the point here.
About the M4, it has a reputation for being one of the most durable shoguns on the market. After more than 25000 rounds fired, it can still function properly without the need for replacement parts. On top of that, it has a matte black finish so its visibility is reduced at night (thus making it one of the perfect options for home defense and tactical applications).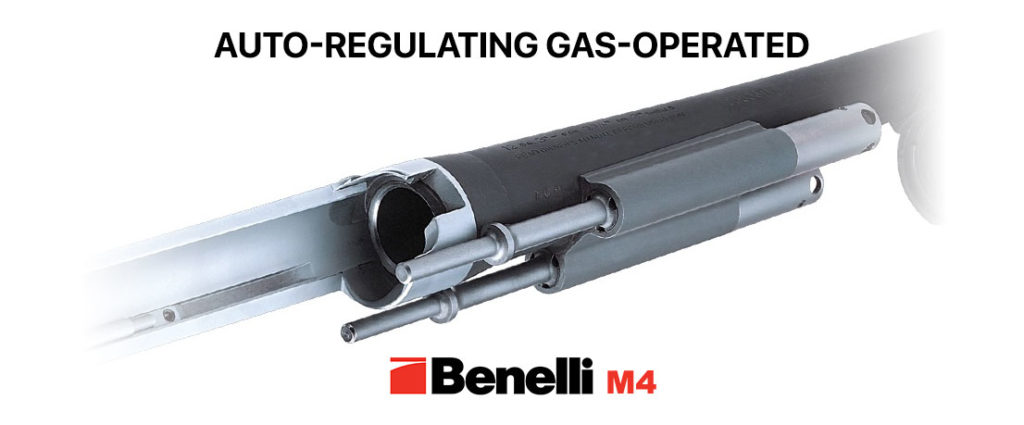 You may also notice other design features to the M4 including the Picatinny rail and the collapsible buttstock. The rail system will be great for anyone that wants to customize it with sights, scopes, flashlights, or illuminators. 
Use
For tactical uses, the M4 is superior. The M2 can be used for more purposes
Both the M2 and M4 have proven its worth in tactical and defense applications. However, the M2 tends to be the better option for those that intend to use a shotgun for outdoor recreation. If you are someone that hunts with a shotgun, the M2 is right up your alley.
Furthermore, the M2 is a great sporting shotgun. Whether you are at the range or in a shooting competition, it's perhaps the best option.
The M4 on the other hand is superior for self defense and tactical situations. It is regularly used by police departments around the country. The M4's gas operated system was designed specifically for the U.S. Marine Corps.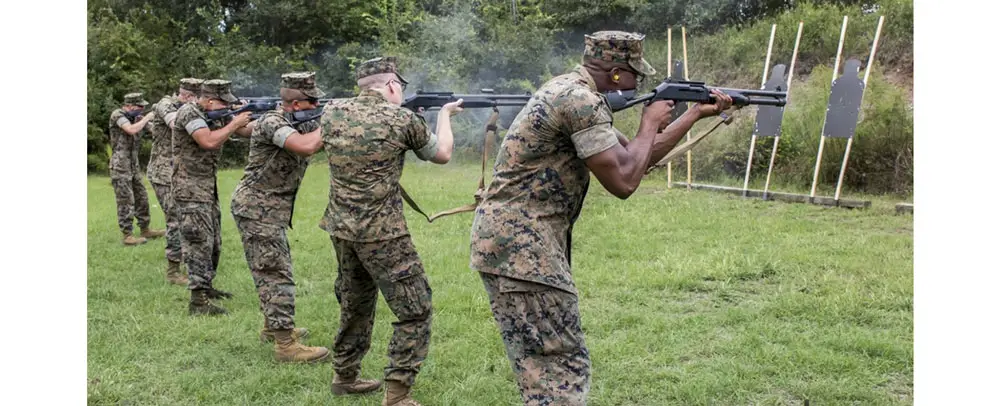 Capacity
Tie: Both shotguns have the same capacity.
Both the M2 and M4 have a capacity of 5+1 rounds. Regardless of what you choose, it gives you enough shots for any application. Again, you can be able to shoot off all five in less than a second since it is a semi-automatic after all.
Price
The M2 is cheaper than the M4.
Affordability is something a gun owner would want to know about. The average price difference between the two is roughly $400. The M2 is the cheaper option compared to the M4.
However, this will depend on the retailer. One place may sell an M2 that is priced at $2500 while another will have an M4 with a price tag of $2100. Regardless, they are not cheap shotguns.
Their quality and performance will prove why they are worth every penny. Choose the shotgun that you can afford and see where you can get the best deal.
Options
The M2 comes in different several builds for various purposes. The M4 only comes in a tactical build. The M4 is better suited for adding sights, lights, etc.
While we've been focusing on the Benelli M2 tactical load out, they also sell a few variations build for different purposes including the field, turkey, waterfowl, etc. Some of these other M2 shotguns will be available in either 12 or 20 gauge. Meanwhile, the M4 is only a 12 gauge. It comes down to personal preference in terms of what kind of shots you want to fire.

The M2 will also have different barrel options as well. Instead of only 18.5", you can have 21, 24, 26, or 28 inches. It will depend on what your intended application is. The longer the barrel, the more accurate your shots might be.
What is each shotgun best for?
The Benelli M2 is perhaps the most versatile in terms of applications. Aside from its history of being a tactical shotgun, it also proves its worth as a home defense shotgun. It's also a great option for those that are looking to hunt for small or even mid-size game. 
Finally, for range and competition shooters, the M2 will also be a popular option. If you are looking for a shotgun that will do it all, you might want to look no further. 
The M4 is used for tactical and home defense. It's reputation of being used as the shotgun of choice by many military Special Forces around the world. Even some of the largest law enforcement agencies in the United States such as the Los Angeles Police Department depend on the M4 for tactical and defense purposes.
On top of that, the M4 gives you an even greater opportunity to customize it. If you need a scope to add on for additional accuracy, you can do that. However, make sure it is Picatinny rail compatible before you install it.
One of the great things about tactical firearms is that it gives you the opportunity to customize it to ensure maximum performance. While there are similar shotguns out there, nothing may ever come close to the M4 when it comes to tactical applications.
The M2 may not have this feature. But it can still give you accurate shots. Don't forget, it also allows you to fire quicker because of its inertia action. 
At this point, you may have an idea of what application you want to use in a shotgun. If you are a hunter, the M2 is your best friend in the field. For home defense, it may come down to either or.
However, if you want to navigate smooth and fast, the M2 could be the best option since it's a bit lighter in weight. Otherwise, you can still make do with the M4 despite the slight weight difference. Either way, the final option comes down to your own considerations.
Frequently Asked Questions
Which is better: inertia or gas?
An inertia shotgun will give you a much slimmer feel in your hands. Because of this, it will be easy to point at. However, they will have a bit more recoil than gas-powered guns, which means your handling can suffer and in turn, cause your accuracy to be less than ideal. As long as you have good control over the shotgun, you should be in good shape.
Are semi-auto shotguns reliable?
Yes. Semi-automatic shotguns are reliable since they are dependable and can fire off rounds much quicker compared to their pump counterparts.
Final Thoughts
The Benelli M2 and M4 are both excellent shotguns. The variety of M2 builds makes it more versatile in terms of applications. But not to be outdone, the M4 can assert its dominance in a tactical application. Plus, it's ability to allow you customization options makes this a great option for law enforcement, military, and home defense.
But nonetheless, either of these shotguns are nice to have despite one being lighter and cheaper than the other. Both are high in quality, reliable, and can get the job done when it counts.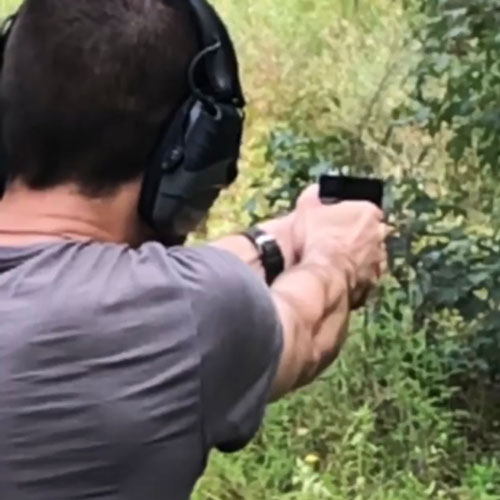 Growing up, John loved learning about the components of firearms and what makes them work, which still intrigues him to this day. He's a very outdoorsy person, and he loves fishing, hunting, and skeet shooting. He is a firm believer in the Second Amendment and the right to bear arms.