As folks who concealed carry handguns on a regular basis, we're always on the lookout for a holster that balances comfort, good retention, and high quality at a price we think is reasonable. As firearms writers, we're fortunate to sometimes get the chance to review holsters so that we can give you our thoughts on them. Thus, in this piece, we're reviewing several Alien Gear holsters.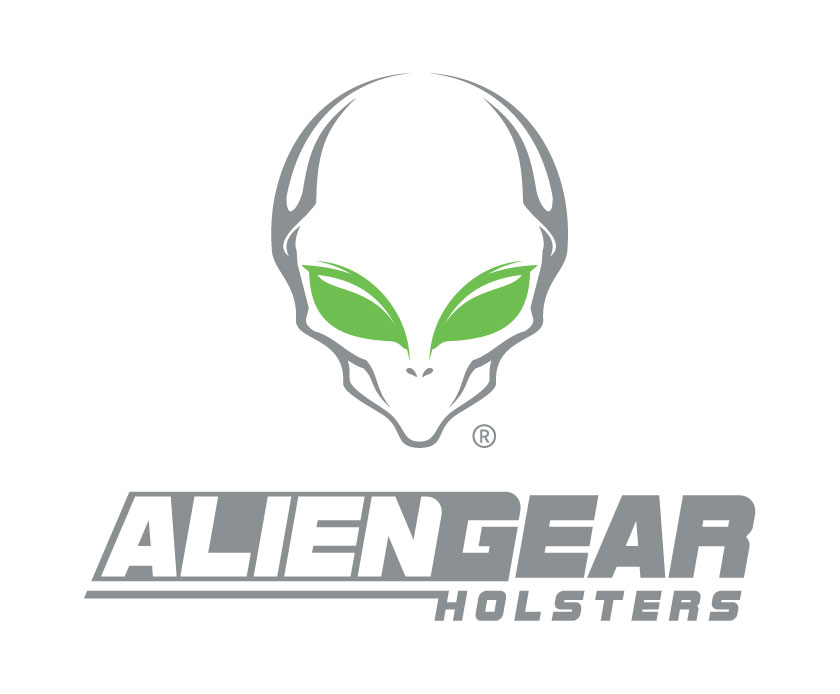 In this piece, we'll start off with a brief introduction of Alien Gear as a company. From there, we'll walk through the several lines of holsters that they currently offer. Once we've done that, we'll get into our more in-depth holster reviews based on our testing. All in all, we've been more than pleasantly surprised by these holsters so far, and at least one of our writers has now put all of his other inside the waistband holsters into storage for the foreseeable future. 
Full disclosure: Alien Gear did provide the holsters for these reviews. But, we went through the normal testing process just as we would with any holster that we bought ourselves. Like with all reviews on our site, we try to be objective and show the good and bad sides of every product.
About Alien Gear Holsters
According to their website, Alien Gear started with the founder accidentally dropping a firearm in the parking lot of a certain pizza establishment run by one Charles Entertainment Cheese (yes, that is his official name). Since that incident in 2010, Alien Gear has dedicated itself to making excellent holsters, with better retention, in the USA.

Two things deeply impress us beyond their holsters. First, they do a lot of charity work, including donations to educational and sports organizations. Second, everything they sell comes with a lifetime warranty, so if you ever have a problem they'll do what they can to make things right.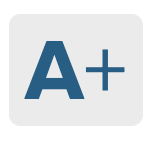 They have an A+ rating with the BBB and thousands of happy customers according to their reviews on their website and on Amazon. They also proudly say that their products are American made. So you can rest assured you are getting quality materials and not something cheap or flimsy.
Product Lines
Alien Gear makes a wide range of holsters and it would take more than the length of this article to go through them all even in passing. Thus, what we'll do here is take a quick look at the holsters as they're organized on Alien Gear's website, to give you an idea of what they have available for you head on over there yourself.
Of course, many of the holsters that Alien Gear sells are oriented at concealed carry. In this realm, they have a bit of everything, from ankle holsters to shoulder holsters, and a wide variety of inside and outside the waistband options: it's almost certain that they have something that will fit your preferred gun and type of carrying, whether it's a modern semi-automatic pistol or a revolver.
Alien Gear's line of open carry holsters is similarly diverse to their concealed carry line, but there are a few new additions worth mentioning here. First is that Alien Gear has a line of rugged drop-leg holsters that are not only secure to your leg, but also do a great job of keeping the firearm safe from dirt and debris. Similarly, we love that they have MOLLE options for folks who want to attach a firearm to a plate carrier or relevant backpack.
Many of Alien Gear's holsters are part of what they call their Shapeshift line, including the ones we reviewed. Basically, the majority of their holsters are made up of modules including shells, retention devices, and attachment points. So it's entirely possible to buy an IWB concealed carrot holster, but with just a few additional parts, turn it into a MOLLE compatible holster, and the reverse is also true. Basically, think of it as Holster LEGO bricks.
To appeal to the Law Enforcement and Military folks, Alien Gear also makes special Duty holsters that are a little heavier and often have retention straps to make sure that firearms stay secured.
In short, if you need any kind of holster, Alien Gear will also almost certainly have something for you.
Hands-On Review of the Alien Gear ShapeShift Appendix Holster
We asked Alien Gear for a Shapeshift appendix holster for two different pistols: a Sig P238 and a Glock 43x. Both are used for IWB concealed carry by our writer and editor.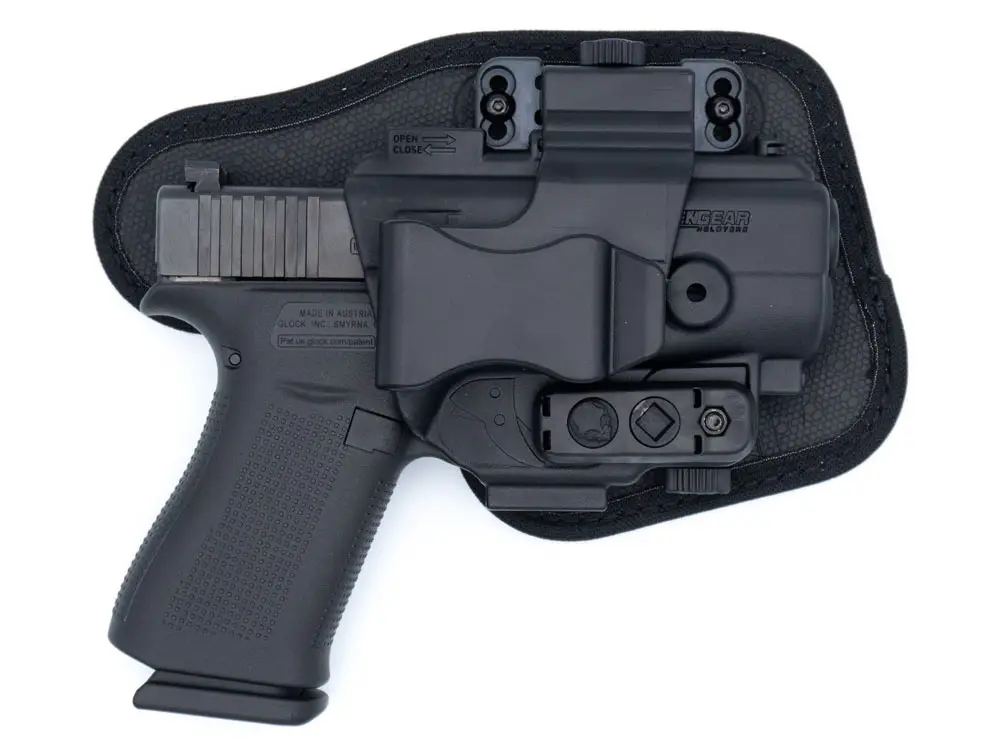 Shapeshift for Glock 43x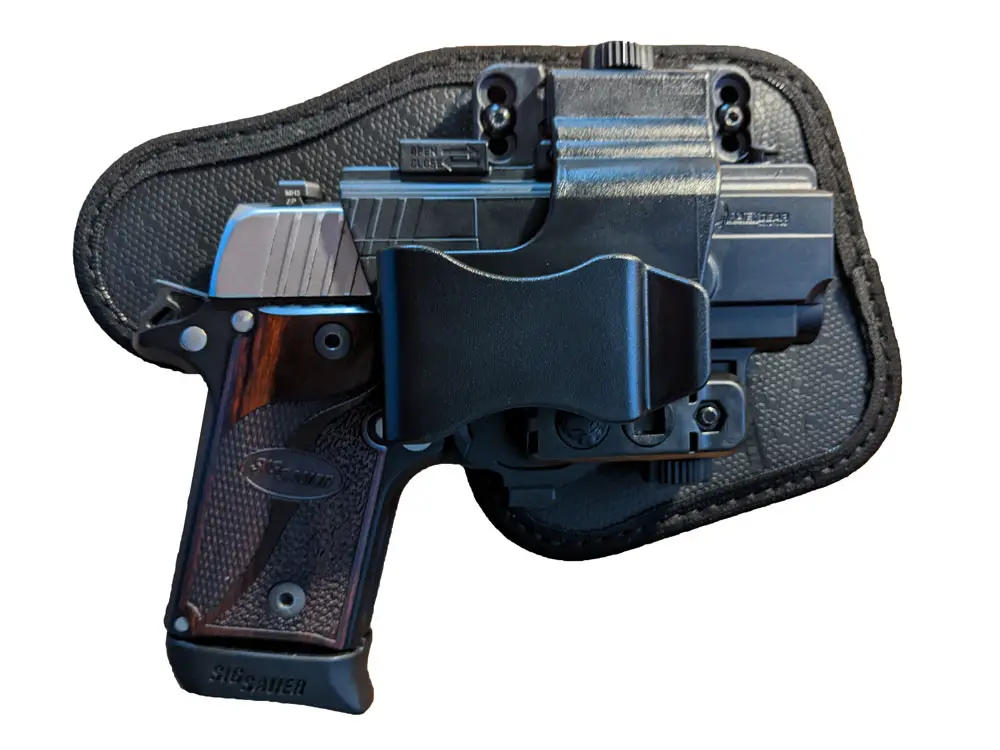 Shapeshift for Sig P238
One of our writers has been carrying a Sig P238 for several years now, usually in an appendix format. Thus, we got the relevant holster from Alien Gear for testing. Both pistols have been tested in multiple in-waistband holsters from various companies so we're well aware of what we like and what we don't.
What's Included
In the bag, the holster came pre-assembled for right-hand carry, and came with everything you need to fully enclose the holster for use as part of Alien Gear's modular holster system, including a thumb-release button for even greater retention if that's an option you want to pursue.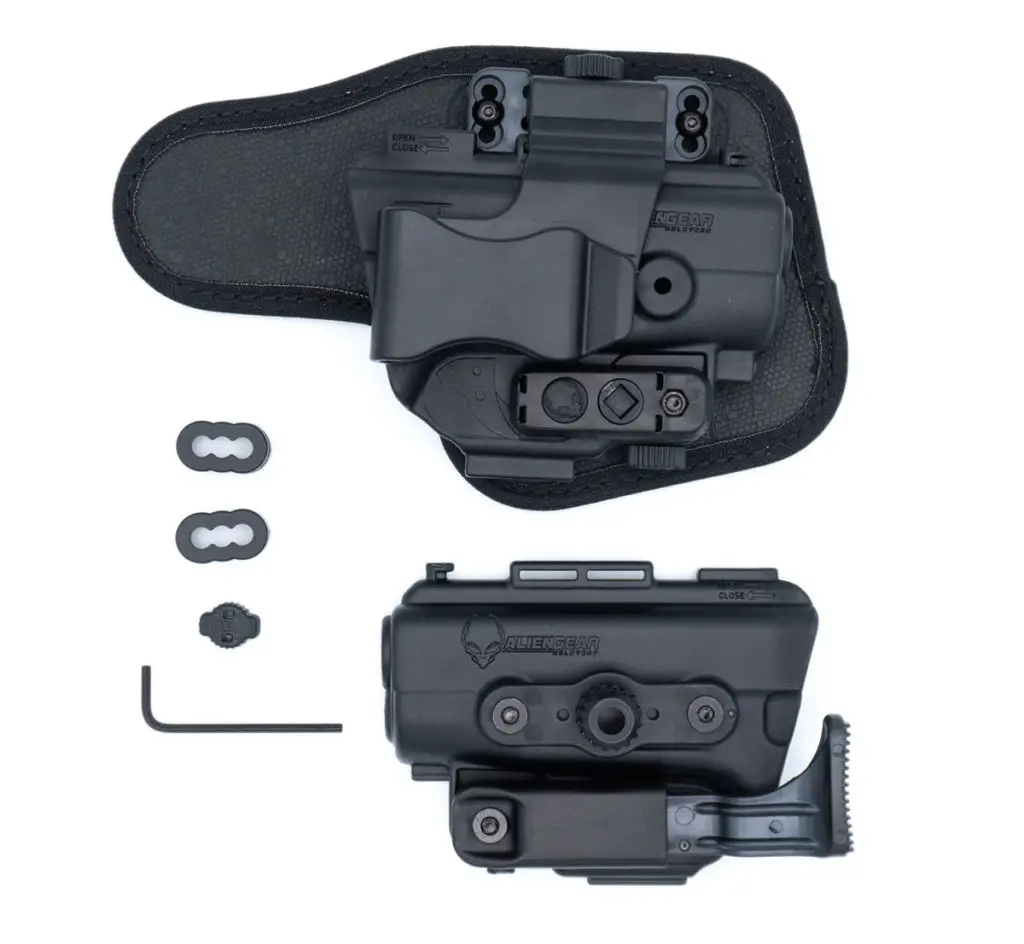 Also included was an Allen key, which is the only tool you need to adjust any of the included hardware. There's also a document for a lifetime warranty and, handily, a reminder not to throw away the extra hardware included with your holster. Basically, your holster will come more or less ready to go, with what you need to integrate it into Alien Gear's larger holster ecosystem.
Holster Setup
The setup of the holster was as easy as it could get. Since it came in the configuration that our writer intended to carry, step one was to test retention. As it came, it had extremely loose retention. Luckily, Alien Gear has the whole holster held together by little locking nuts that have square ends. Those square ends are what you use to tighten the retention screw, and there's a loose one included in the bag. I was able to simply pull up the belt hook slightly and adjust the retention.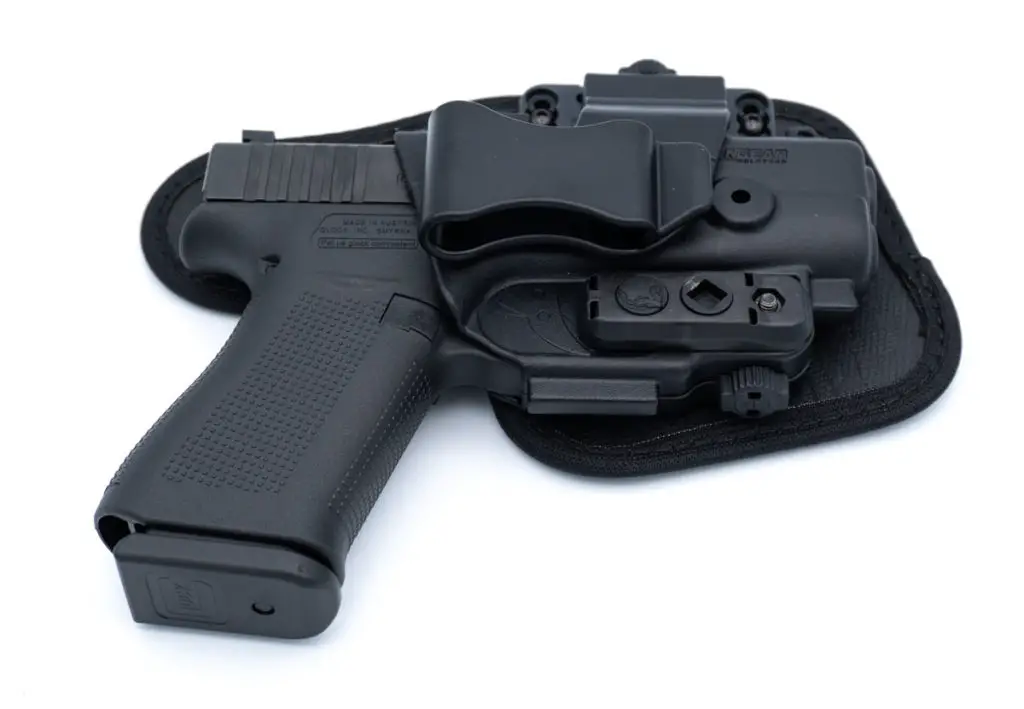 Once the retention was dialed in, I turned the gun upside down and gave it a good few shakes. The gun won't come out even with vigorous shaking, but when holstered I can quickly get it clear of the holster with no trouble. You might experiment with the retention for a few minutes, but it's super simple to do. The gun is held well by its trigger guard and locks in with a satisfying snap. If you decided to snap both halves of the holster clamshell together and use an OWB configuration, you'd need an appropriate piece of mounting hardware, sold separately, but our limited testing makes us think that would be a great option, too, as the thumb lock mechanism works exceptionally well and aids another layer of retention.
Security & Retention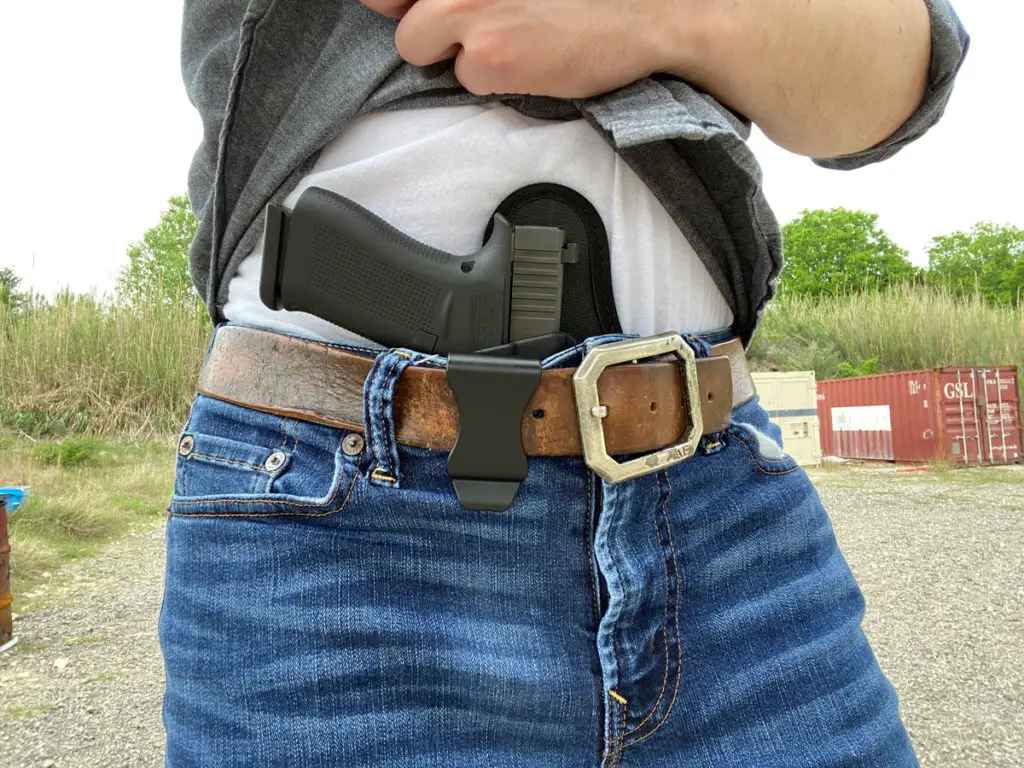 To test the holster, I used it as my primary holster for a period of a week. So far, I've had no issues with retention at all. Luckily I've had no need to draw my gun, and the generous belt clip has a wide enough ledge to stay well secured on my belt. The holster does not move at all during a normal day with a nylon gun belt or a leather belt.
The gun is very secure in the holster and won't come out unless you want it to. After a week of having the gun in the holster, I did another shake test, and it seems like retention is holding firm. In a few months, I may have to tighten in a little bit, but if that happens I'm sure it will be just a matter of a quarter turn with the included locking nuts. So far, so good with this holster. 
Concealment and Printing
So far, I've used the holster for a fair bit of walking around and driving, mostly in warm temperatures that have me in a thin t-shirt or button-down most of the time. While I was a little worried about the bulk of the holster, it doesn't seem to be much of an issue and I see very little to any visible printing when I check in the mirror after getting back from errands and having done a bit of sweating.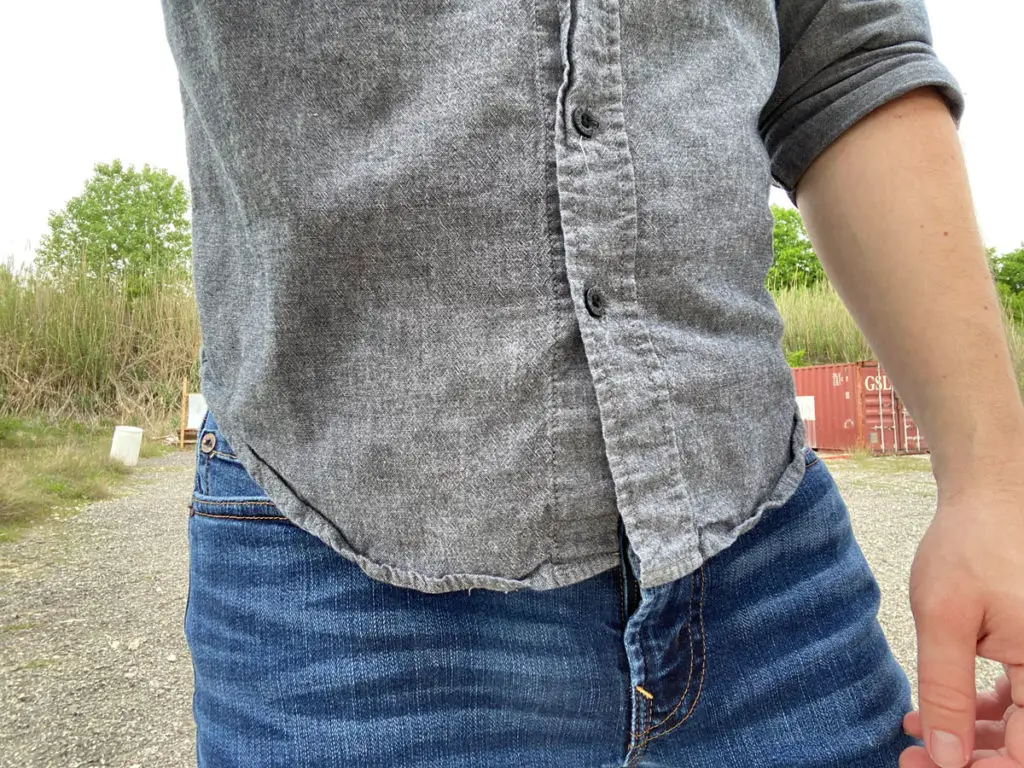 Comfort
Besides safe retention of the firearm, the thing that matters the most to us in a IWB holster is comfort. After all, if you plan to concealed carry on most days, it may as well be in a format that doesn't actively punish you for doing so. A good holster, especially used with a subcompact firearm, should be something that you can forget about most of the time.
Luckily, the Alien Gear appendix holster is exceptionally comfortable. The oversized backing pad that sits against your skin has a neoprene-type soft material over the hard plastic, which both wicks sweat and is easy on the skin. The size of the pad also protects you from the metal edges of the gun, and the gun's metal edges from your corrosive sweat.
In terms of comfort, we've been exceptionally impressed. Most holsters we've tried are made of kydex or some other plastic that tends to dig into your skin a bit after continued use, but this one feels great.
Critiques & Drawbacks
One of the few downsides we experienced when testing out the Alien Gear holster was at the range when taking the gun in and out frequently. Due to its soft cloth backing, the holster doesn't retain the full width of the gun slot when the gun isn't inside it. This can make it a little bit harder to get the pistol back in the holster.
Not a huge issue and not one that affects the ability to draw your firearm should you need it – which is the most important thing.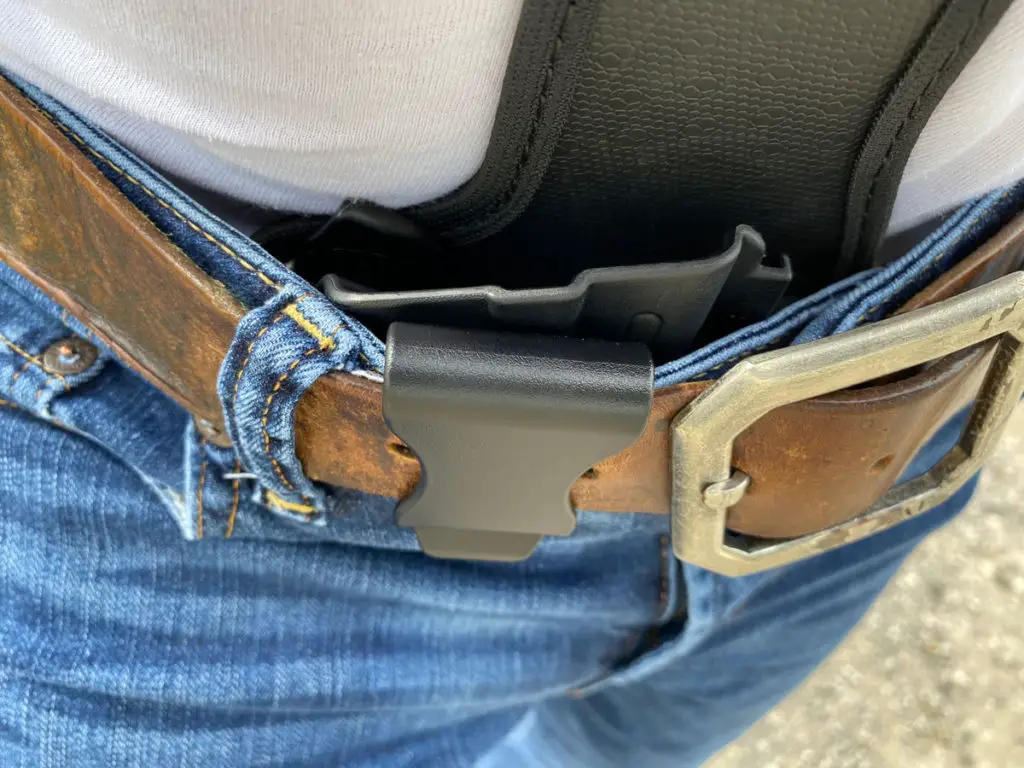 Also, the slide portion of the plastic clamshell is slightly long. A little exploration of it reveals marks for the P938, which has a little bit longer slide on some models. The gun still fits great, but the clamshell could have been about an inch shorter for a tighter fit around the muzzle.
Conclusion & Verdict
Overall, we have been exceptionally impressed with Alien Gear and their Holsters. This is also the most expensive holster our writer has used so far and like in most cases, you get what you pay for. As our handgun collection grows over time (which it tends to do), I fully expect to buy more Alien Gear products to holster them.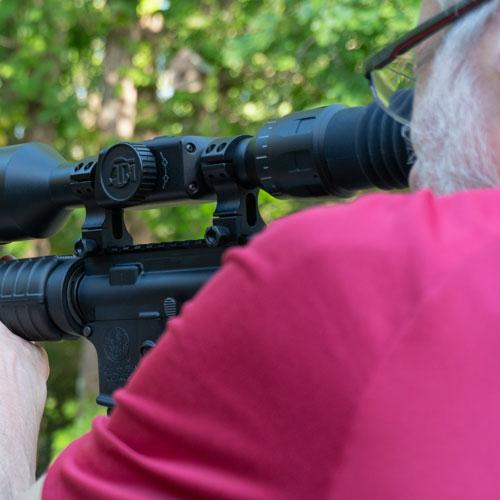 George has been an avid shooter for twenty years. He began shooting when he was gifted a Browning SA-22 for target practice. Now, as an academic, he combines his love of firearms and knowledge of history to write for firearms blogs and is still a frequent sight at the local range.