The world of concealed carry holsters is awash with lots of options, with, it seems like, most companies in a competition to see how much stuff they can get us to hang on our belt before leaving the house. If like us, you also appreciate a well-made and simple holster design that keeps your gun where it's supposed to be, no more and no less, then you might appreciate the Wildcat Tactical holsters that we've been looking at lately.
In this piece, we'll tell you a little bit about Warcat Tactical, before getting into the specifics of buying one of their holsters. To finish things out, we'll review their currently available inside the waistband (IWB) and forthcoming outside the waistband (OWB) models.
Warcat was kind enough to send us 2 of their holsters for us to test out in the field.
About Warcat Tactical
Wildcat tactical is an offshoot of Tedder Industries: you probably know them better by their most popular brand: Alien Gear Holsters. Their thing has been, mostly, high-end tactical holsters that are both modular and comfortable. One of our writers carries an Alien Gear every day, and loves it. Warcat Tactical is Tedder's line of holsters that is aimed at well-done simplicity. If you want a well-made and safe polymer holster for one of the more popular handguns on the market, and you want it for a great price, this is a great brand to check out.

Warranty and Returns
Warcat stands behind their holsters extremely well. In the first 30 days, you can send it back and get a refund, after talking with a person at customer service, with no questions asked and for any reason whatsoever. After that, there's a lifetime warranty on the holsters.
As Warcat puts it on their site, "If anything on your Warcat Tactical Holster ever breaks for any reason, we'll repair or replace it for free." This is one of the best warranties in the industry. If you do find the need to return the holster to Warcat for whatever reason, the form is found directly on their site, and it seems simple enough to us: put in your address and phone number, the reason why you're returning it, then chuck everything in the box and ship it off.
All in all, Warcat seems like they fully plan to stand behind their products for a lifetime. If our experiences with Alien Gear translate here, we believe Warcat will make a good product and stand behind it.
Inside the Waistband (IWB) Warcat Tactical Holster
Customizing your Warcat Tactical holster, currently only available in an inside the waistband configuration, is extremely simple. They come in any color you like, so long as that color is black.
From there, you'll select the gun model first, and, from there, whether or not you have a micro red dot sight on the gun. If you do, or think you might, and click the yes box on this one, your holster will come with a hood over where the red dot sight sits on most handguns, and it's large enough to be compatible with most models on the market today.
Then, pick your belt size. Finally, you'll select whether you want to use the firearm right or left-handed. That's it. Enter in your address and payment, then wait on the shipping deities to bless you with a new holster.In the box, you get the holster itself, as well as both a claw and wedge.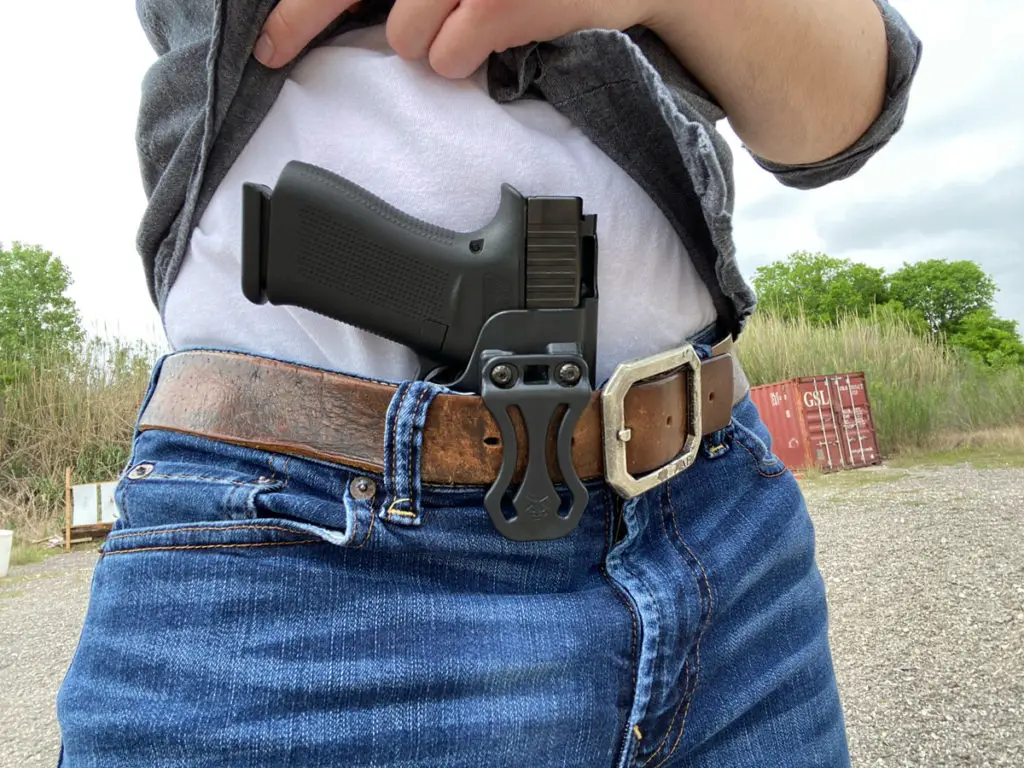 While we just put the holster on our belt, and then ran some errands with no issues, if you want to dial in the fit, you can use the wedge to get the frame positioned well on your body, and the claw to sit the holster against the belt. From our experiences, this is a well-made, no-frills holster. The polymer is strong, and, if the website is correct highly durable and heat resistant. Retention seems good, and the trigger is covered.
The included claw and wedge are easy to install as well. Overall, we expect this holster to last a long time, and it's an awesome option for the price.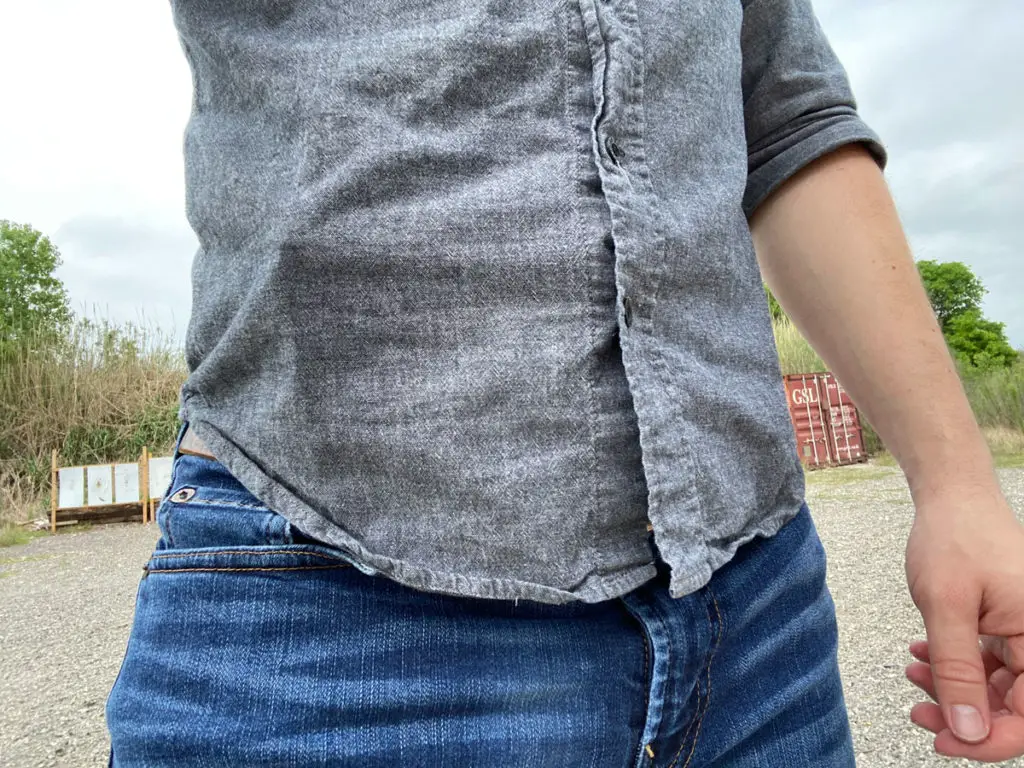 Outside the Waistband Holster
Warcat was also nice enough to let us get our hands on their not-yet-for-sale outside the waistband model, which is much the same story as the IWB model, except that there is a pre-installed panel before the belt clip, which will serve to keep the holster exactly where it should be.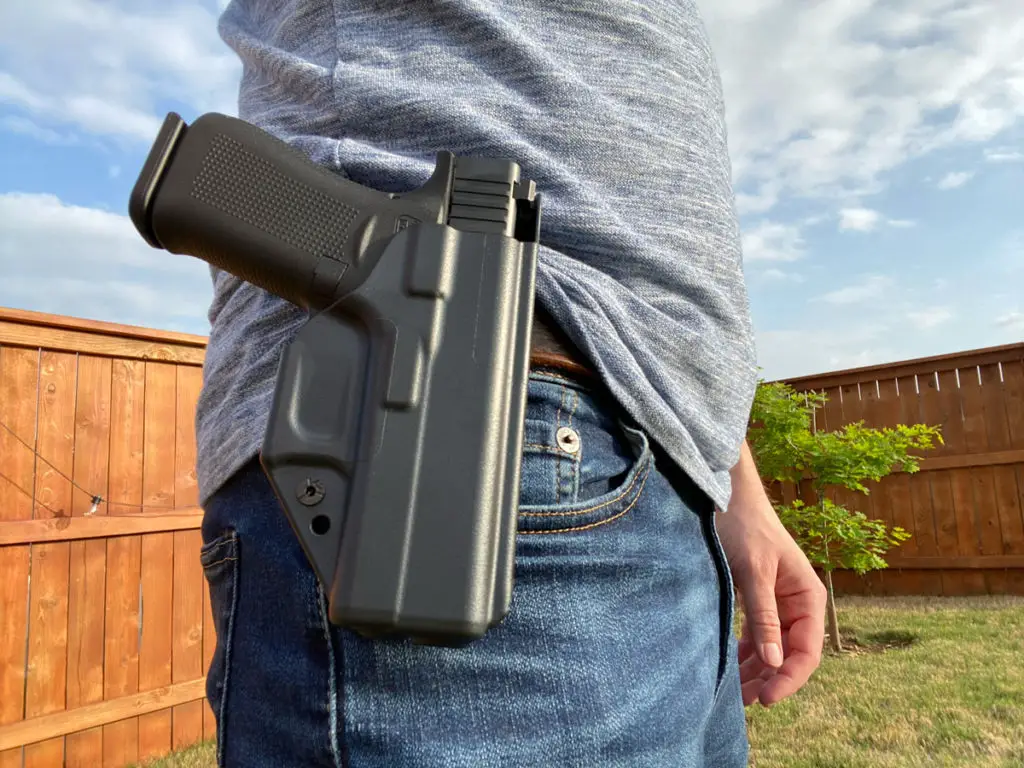 Conclusion
We're impressed with Warcat Tactical so far. Their holsters are priced right, well-made, and full of all of the features we need: it's safe, secure, and have good retention. Between the build quality, price, and warrant, we're going to recommend these to folks who are getting into concealed carry for the first time, as well as for folks just looking for a quality, simple holster.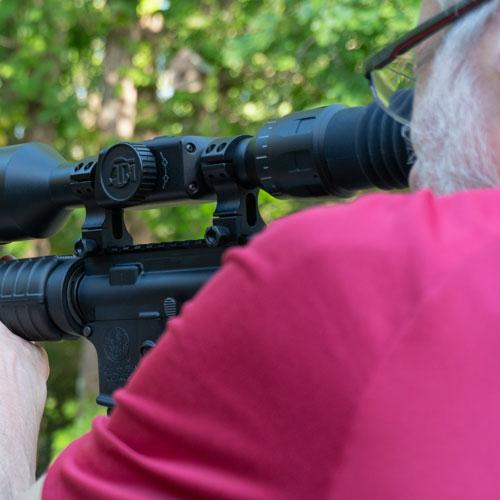 George has been an avid shooter for twenty years. He began shooting when he was gifted a Browning SA-22 for target practice. Now, as an academic, he combines his love of firearms and knowledge of history to write for firearms blogs and is still a frequent sight at the local range.