We like to consider the world of firearms to be a community of sorts. At the very least, we all share a hobby, and a lot of us share a commitment to our Second Amendment rights, even though we likely have other major disagreements.
Sadly, not everyone sees the firearms world as a community, and, with something as potentially lucrative as firearms and ammunition, there are bound to be scammers. Today, we want to warn you about one such alleged scam, Jack's Reloading Store.
First, we'll tell you a bit about them. From there, we'll make the case (with lots of screenshots) for why we think this is a scam, and leave you with some advice to protect yourself from these kinds of things.
This article is simply our opinion based on all pieces of evidence we can see. If you have any evidence to the contrary, please let us know.
What Jack's Reloading Claims to Be:
According to their site (jackreloadingstore.com), Jack's sells firearms, ammunition, and accessories. They supposedly have – in stock – everything from AK 47's to slings, and all of the reloading equipment that you could possibly hope for.
There's the promise of continually in-stock items in a day and age where it seems like it's getting increasingly difficult to get even common reloading components.  The site claims to have stellar reviews, with clients beaming about the free and fast shipping, excellent customer service, and impossibly low prices.
Jack's is also, apparently, an American company based on its contact information: the phone number listed on the site is an Arizona area code, and the address is one listed in Louisiana. 
So, does this all seem too good to be true?
Is Jack's Reloading a Scam? 
Yes, we believe that Jacks Reloading is very clearly a scam and many users have reported paying for products and never receiving them.
Let's walk through this step by step for red flags from a consumer perspective.
Checkout Minimums and Shady Payment Processors
The ordering process is especially shady: there's a minimum that is now set at $200, and the only ways to pay are all irreversible: cryptocurrencies, Zelle, Venmo, and Cashapp. In short, this appears to be an operation to steal consumers' money.
We called the contact number listed with a "question about an order" and did not get a call, but instead they texted us back. They assured us that all was well, and to place an order, all we had to do was text them our credit card number. This is obviously shady, and you should never, ever text a business your credit card information.
The blockchain address they provide never carries a balance: as soon as victim pays, the criminals here appear to bounce the money out to other accounts.
Looking at their bitcoin transactions, it seems that they've received over $9,000 to this address. They may have scammed people out of even more money, but changed the bitcoin address.
Inconsistent Contact Info
The site itself offers us a lot of material for proof that this might be a scam. The top phone number in the site header is disconnected and doesn't work. It has an area code for Flagstaff, Arizona.
The Google Map location listed for the company on its own site is an empty field in Louisiana. That's a little odd considering the Arizona number. There's also no FFL information presented at all, so we're not sure where, or if, any firearms might ship from.
The contact page lists a different phone number that is from 318 area code, which is northern Louisiana. That is a little more believable even though Carencro is in southern Louisiana.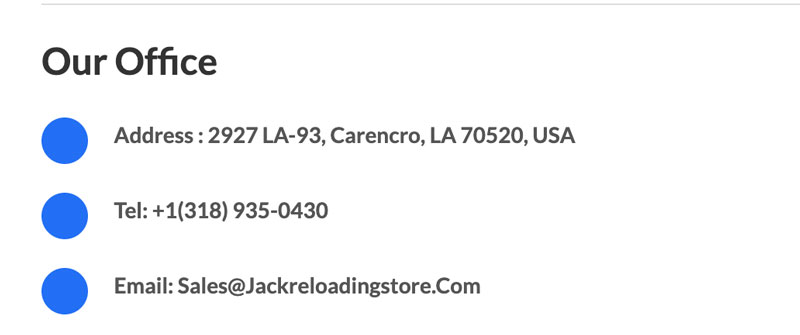 Bad Grammar and Misspellings
There are also numerous misspellings on the site, telling us that whoever runs the site does not speak English terribly well and furthermore has no idea what they're actually trying to 'sell.'
In fact, we found that by googling some of the FAQs and other information on the site, we could often find other scam sites that this same seller might be running as well or used as a template for the jacks website.
Fake Reviews
Oh, and all of those glowing customer reviews are stolen from other websites.
If you google the quotes they put on the site, you will find that they are actually stolen from phillytacticalgunsales.com, which appears to be a very real retailer.
Customers Not Receiving Products
As far as we can tell, no one has ever received a product from Jack's, and all of the mentions of them we've found in firearms forums agree with our conclusion, that Jack's Reloading Store ( or, JACK RELOADING STORE if you believe the site banner) is a scam that is attempting to take advantage of you.
How to Protect Yourself From Scam Stores
Luckily, there are important ways you can protect yourself from scams, both before you buy and after.
Before making a purchase online, do a little research. We look at forums, try to find articles about companies written in well-regarded outlets, and, when in doubt, we go to big-box stores that have been around for decades. The prices might be "higher", but the odds at getting your stuff are a lot higher, too.
From there, take a good look at any website you plan to buy something from. There are only a few ways to make online payments, so if the system of paying seems convoluted or weird, chances are something is amiss, and you should go elsewhere. Also, if there are tons of typos, that's a red flag. While many firearms companies outsource freelancers to write their product descriptions, the legitimate ones use people who know a lot about firearms to make sure that the customer gets accurate information.
Lastly, we recommend using a credit card for all online purchases. Not only can you get sweet cash back or points deals, there's something critical differentiating a credit from a debit card here. A credit card is the bank's money.
That is to say, when someone steals your credit card information or makes a false purchase, they have, in effect, defrauded a bank. Every bank that we know of has an entire fraud department dedicated to getting customers' money back to them. Thus, it makes sense to us, assuming you have a credit card, to run every online purchase through it.
Conclusion
All things considered, we are very certain that Jack's Reloading is a scam, and think that you should steer clear.
Thus, we do not recommend that you attempt to purchase from them under any circumstances. But, we could be wrong: if you've ordered from Jack's and gotten what you ordered at the price agreed upon, we would absolutely love to hear from you.
We would, however, ask for a lot of proof. As of yet, we have no evidence that suggests any legitimate transactions have taken place through this site.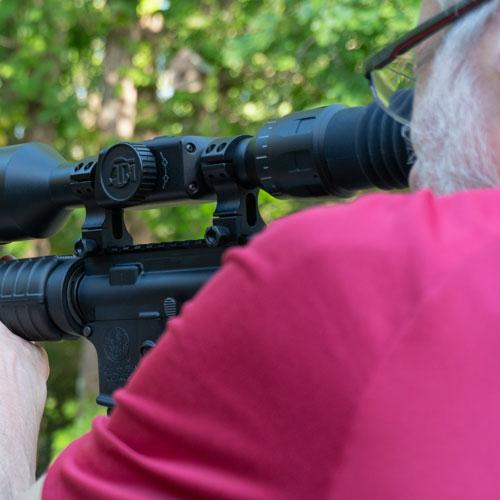 George has been an avid shooter for twenty years. He began shooting when he was gifted a Browning SA-22 for target practice. Now, as an academic, he combines his love of firearms and knowledge of history to write for firearms blogs and is still a frequent sight at the local range.