When it comes to methods of carrying a concealed pistol, there seems to be endless options available.  With holsters alone, choices can include belt loop, clip on, inside the pants, outside the pants, cross draw, small of the back, shoulder rigs, ankle rigs, right-handed, left-handed, high retention, low retention, no retention, kydex, leather, etc.
I remember back in the late 1980's/early 1990's, there seemed to be an explosion of people using fanny packs.  Almost immediately, fanny packs with compartments specifically designed to conceal a pistol became popular with off-duty law enforcement officers and concealed weapon permit holders.  While the general fanny pack fad didn't seem to last long, the use of fanny packs to carry concealed pistols lingered on for a bit longer.  While I can't speak for everyone, I will say that most of the people I knew got to the point where we considered everyone carrying a fanny pack to be carrying a concealed pistol.  
Flashing forward to the present, it seems as though everybody from children to the elderly has (or at least has occasionally used) a backpack.  If a person doesn't want to carry their concealed pistol on their person, a backpack would make a pretty inconspicuous alternative.
Elite Survival Systems was gracious enough to send us one of their concealed carry backpacks for us to try out (well, technically a slingpack), designed with a compartment dedicated to concealing a pistol. They sent us their Smokescreen Gen III Concealment Slingpack.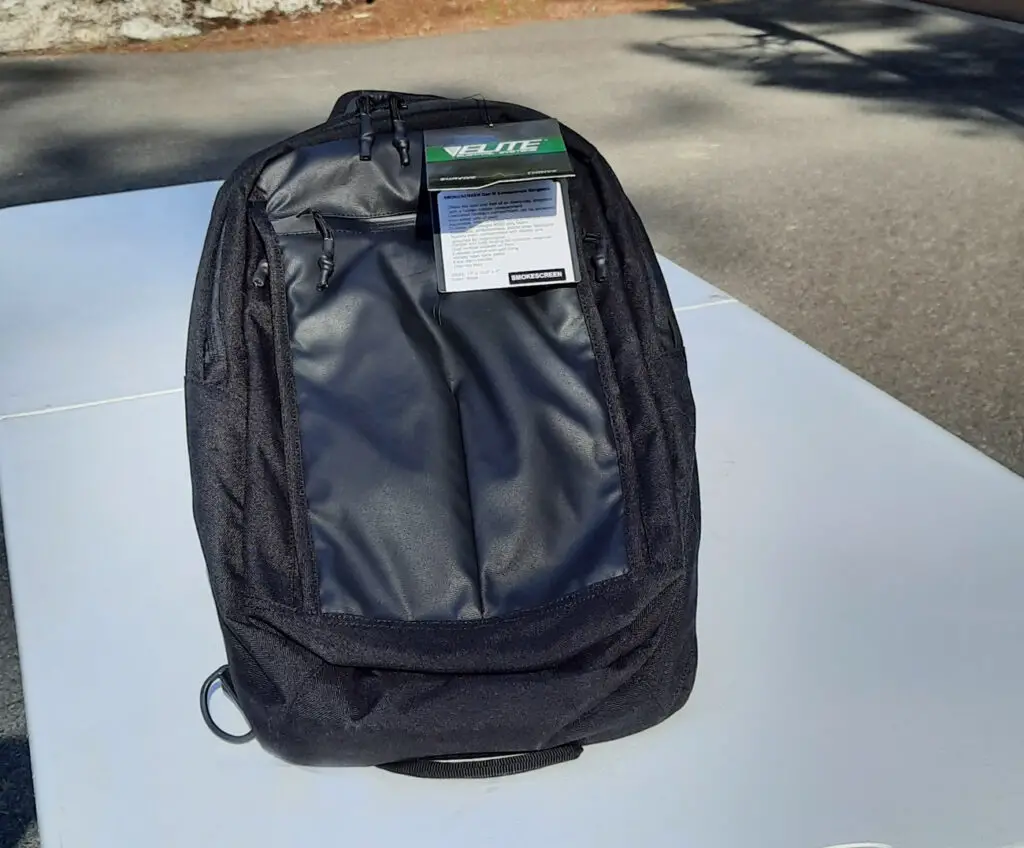 Check Price at
Slingpack Specs
Height:  19"
Width: 10.5"
Depth: 6"
Weight:  1 pound
Compartments: 5 (read on for further details)
Available Colors: Black or Heather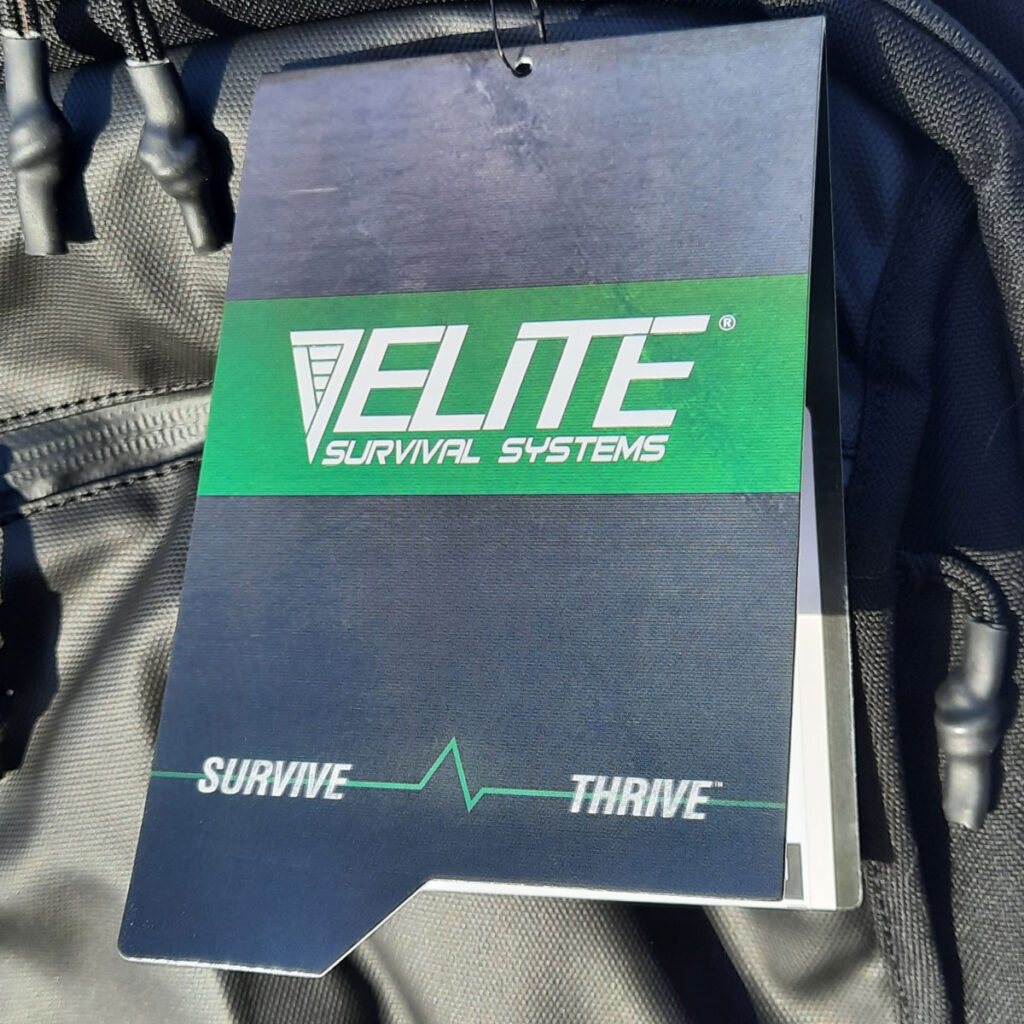 Cost
The Elite Survival Systems Smokescreen Gen III Concealment Slingpack can generally be found between $100-$120.  Earlier generations, if you can find them, will run a bit cheaper.  Compared to earlier generations, the Gen III is constructed with a higher quality material (900D poly fabric as opposed to nylon) and has a somewhat different compartment configuration that seems to make the overall unit a bit more compact.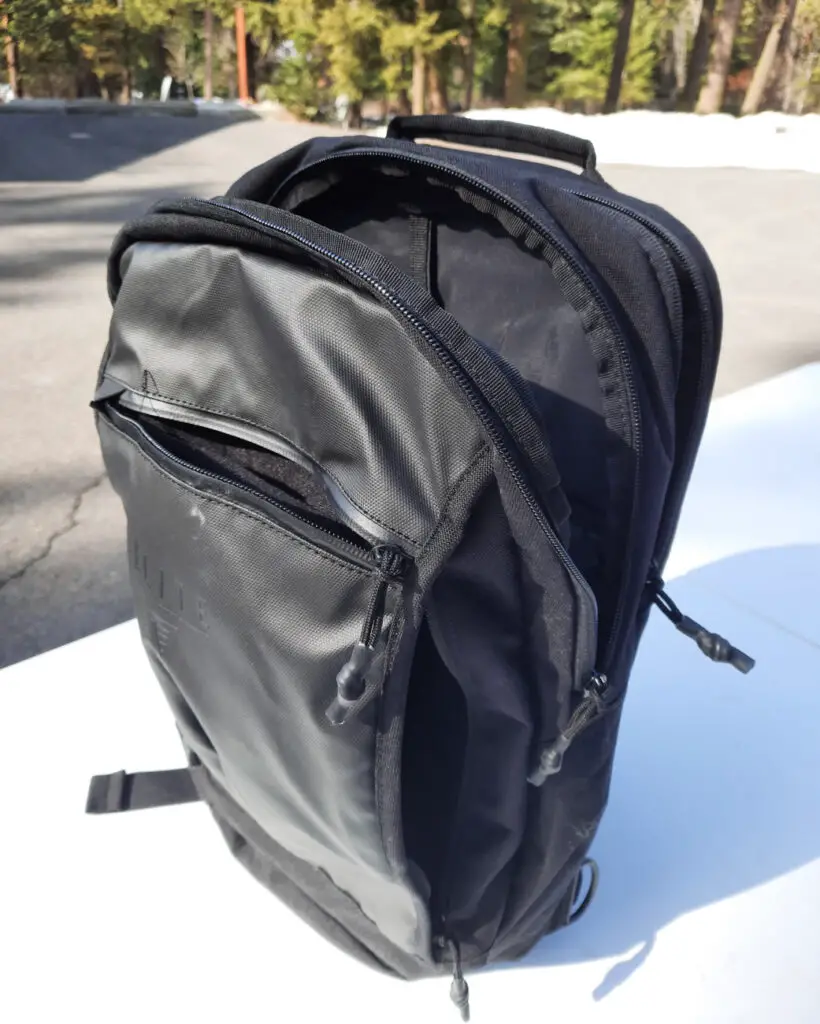 First Impression of Elite Survival Concealed Carry Bag
Overall, I was fairly impressed with the construction of the Smokescreen.  The material seems very durable yet lightweight, the zippers for the compartments were tight and smooth, and the stitching seems to be high quality.  The material (900D poly fabric) feels as if it is water repellant, at least some degree, although I didn't see any such claim on the tag or on the Elite Survival Systems website.  A quick Google search confirmed my suspicion that 900D poly fabric is in fact water repellant.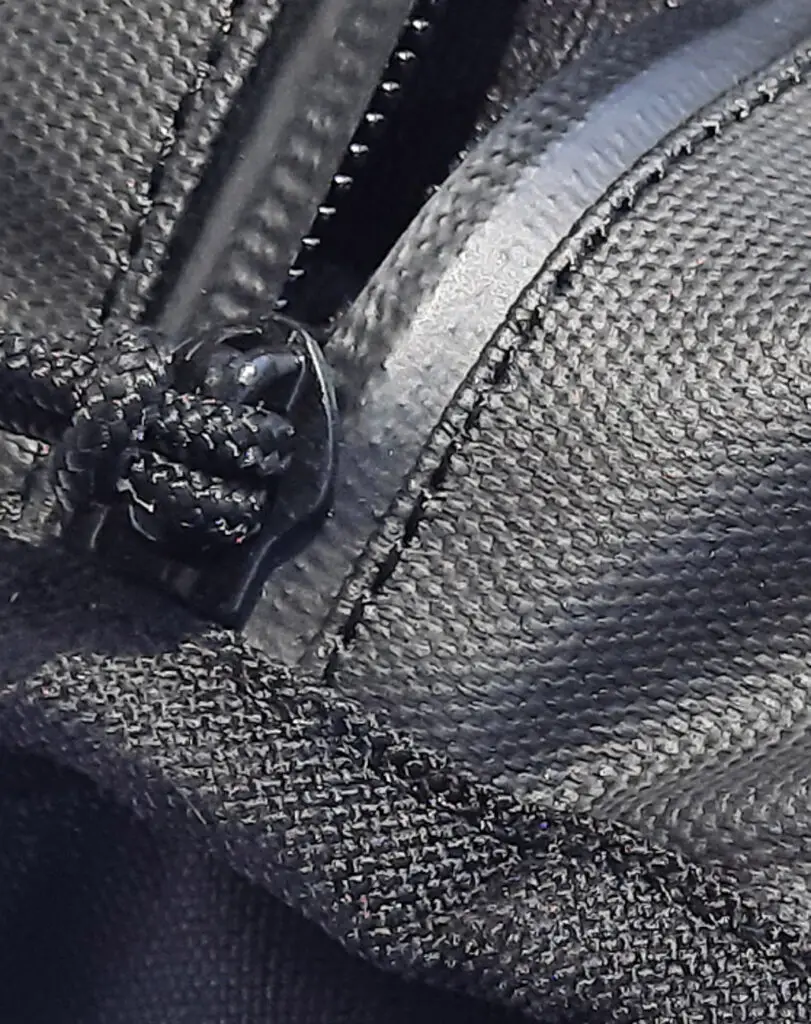 The back side of the pack (meaning the parts that makes contact with the user's back when being carried) has a vented foam back panel.  The "vents" are really just a series of cross-hatched grooves on the surface.  I can't really speak to the effectiveness of the "vents" based on my having tried the pack during the winter months.  Until the warmer weather arrives, I suppose I'll wait in suspense to see if it makes any difference.         
Sling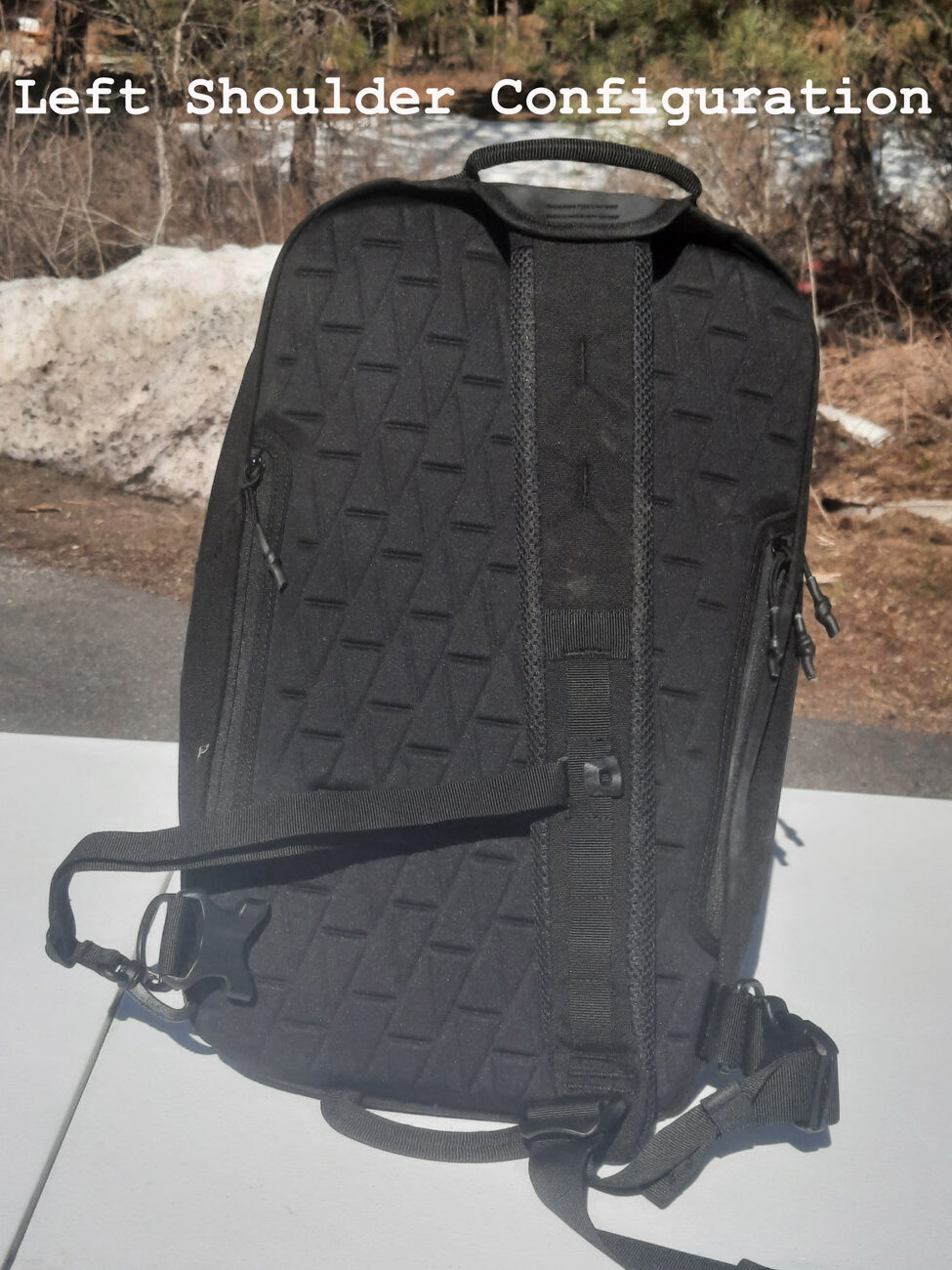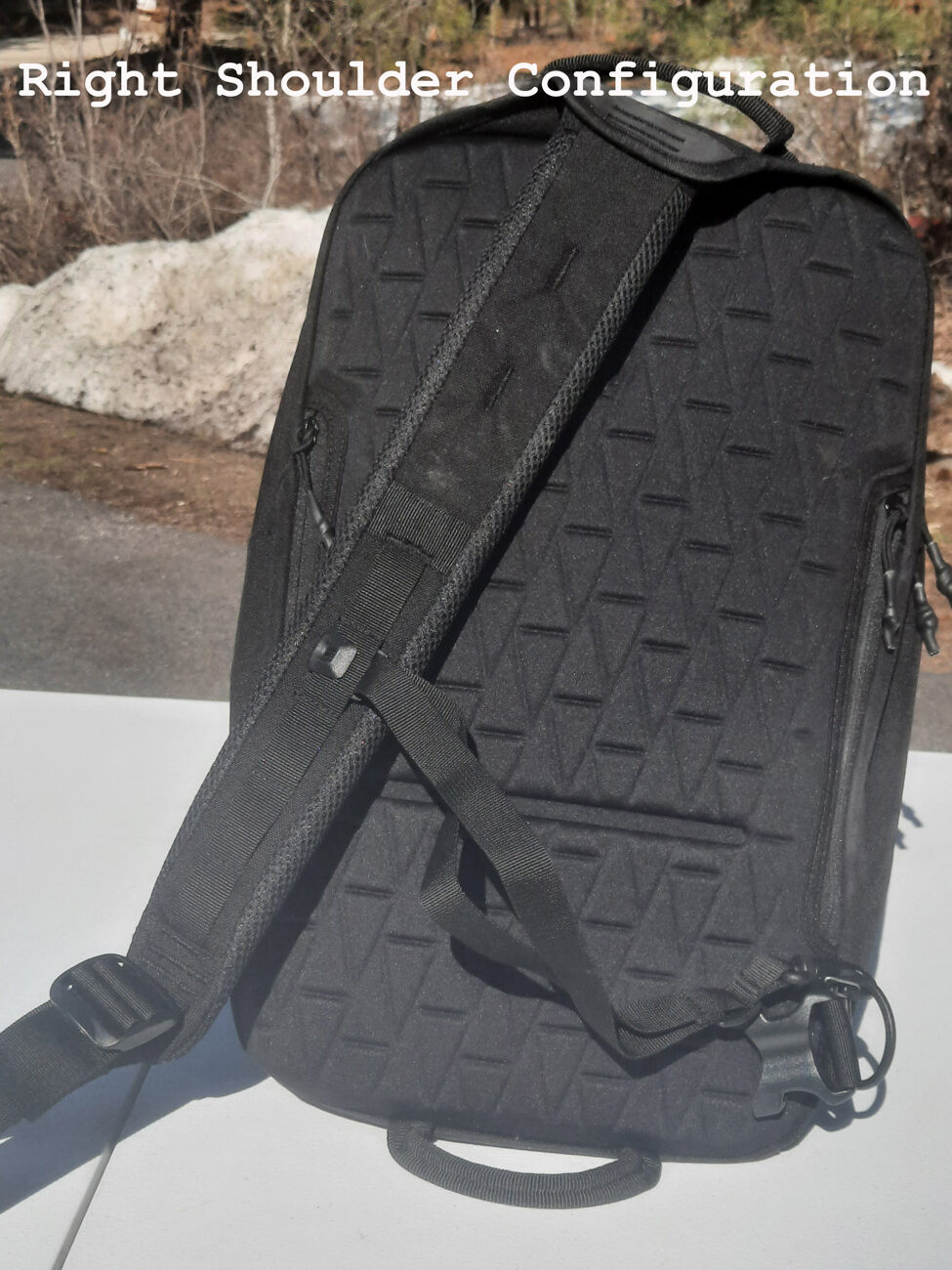 Being a slingpack rather than a backpack, the Smokescreen only has one strap, and is intended to be carried on only one shoulder.  There are side release buckles on each side of the lower portion of the pack.  The bottom of the shoulder strap can be attached to either side, making it extremely easy to switch the strap back and forth between a right should carry and a left shoulder carry.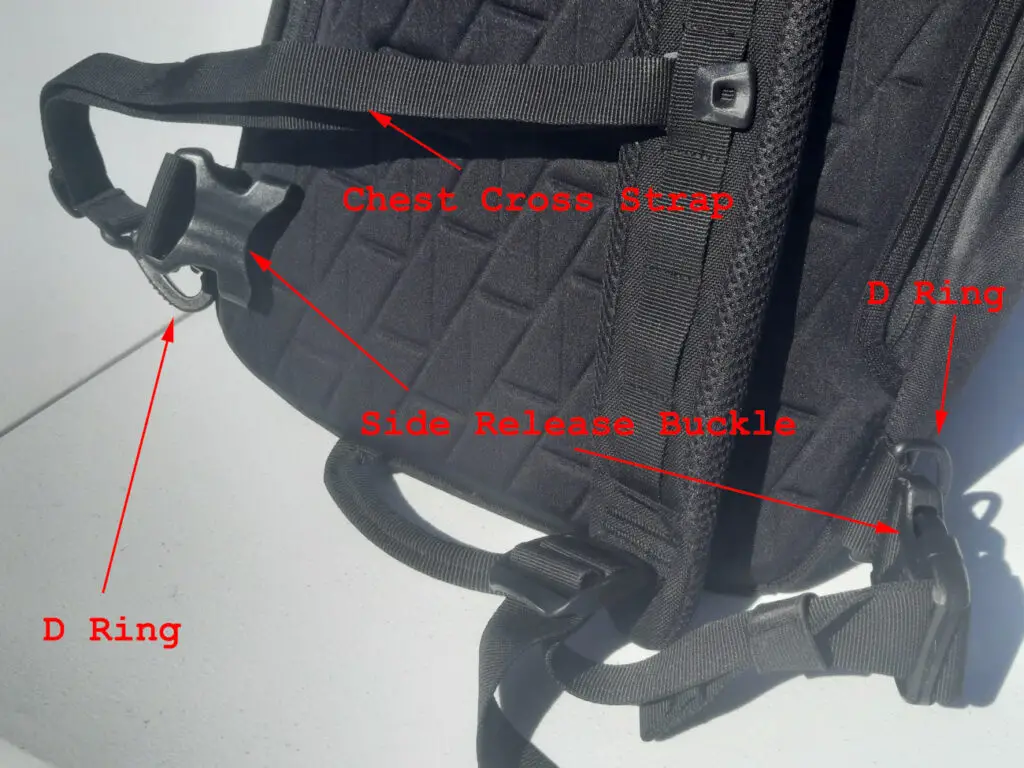 The side release buckles also have D rings that a chest crossing strap can be attached to, allowing the pack to be carried hands free without fear of it falling off of the shoulder.  The length of the cross strap seemed to have plenty of adjustment, and the strap attaches to the sling by use of a clip the inserts into a strip of Molle webbing on the sling.  The Molle webbing allows for the cross strap to be placed at 5 different heights.  The adjustable sling and cross strap are not complicated, and allow enough adjustment that the fit of the pack can be customized quickly and can accommodate a variety of body sizes to ensure a comfortable fit.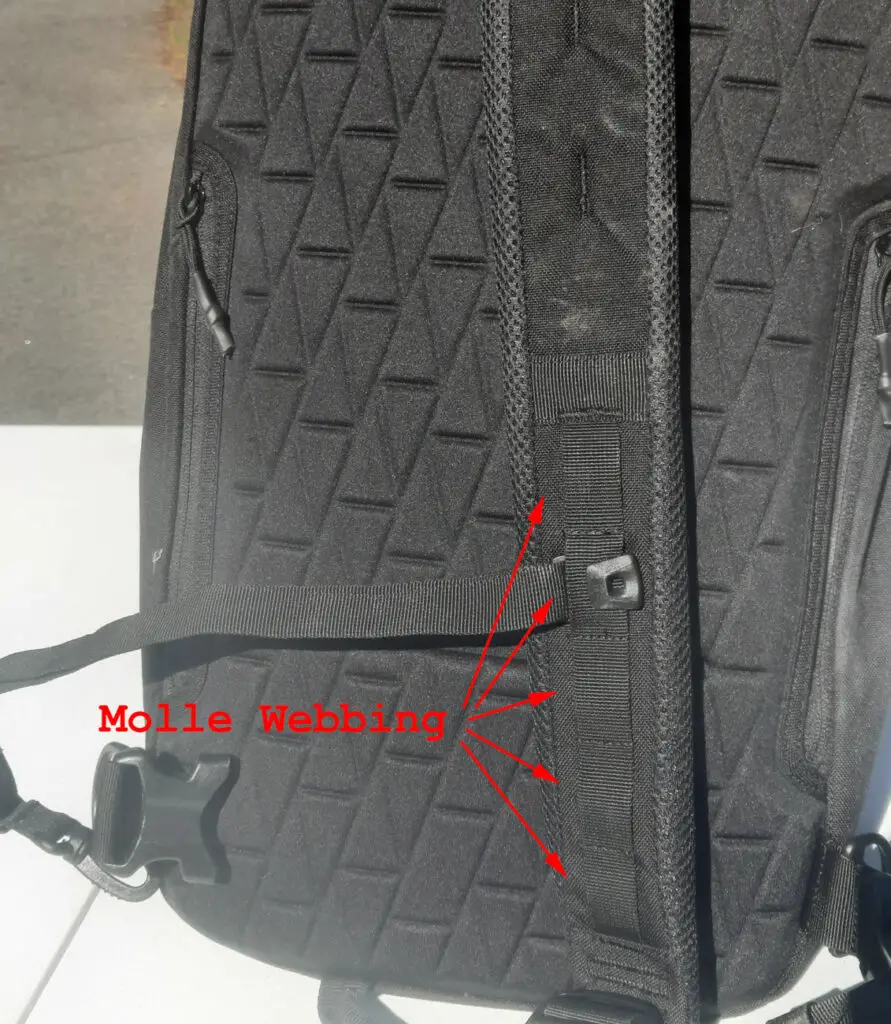 Storage Compartments
In the specs section above, I listed the pack as having 5 compartments.  That was the short answer.  The long answer is a bit more complicated.  The main compartment is accessed by a zipper that is pretty standard on all backpacks.  Inside that main compartment, there is a divider and 4 organizer pouches.  Two of the organizer pouches are small, and appear to be intended to hold one or two pens/pencils each.  The other two are slightly larger.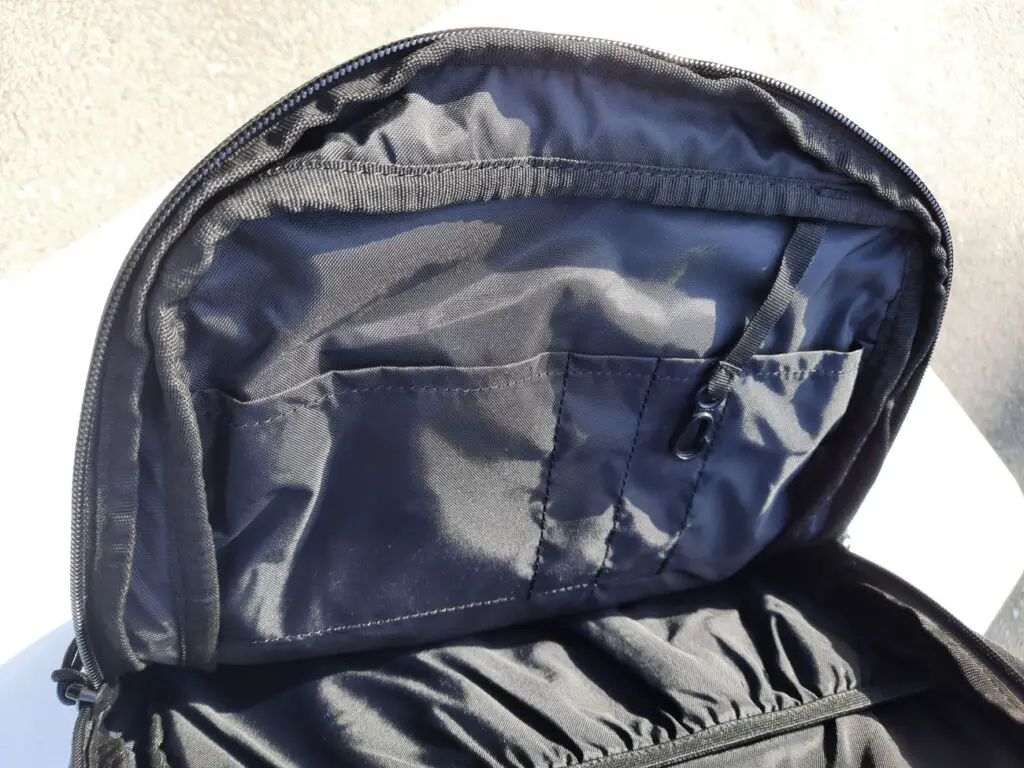 Because the Smokecscreen is designed as a concealed carry pack, I used them to store a couple of extra magazines.  They were definitely large enough to hold any size pistol magazines that I own.
Near the top of the main compartment there is a Velcro hanger and a pass-through cut out in the nylon for hanging a hydration reservoir and routing a hydration tube.  The Smokecreen did not come with a bladder, but it is clearly ready to have one added.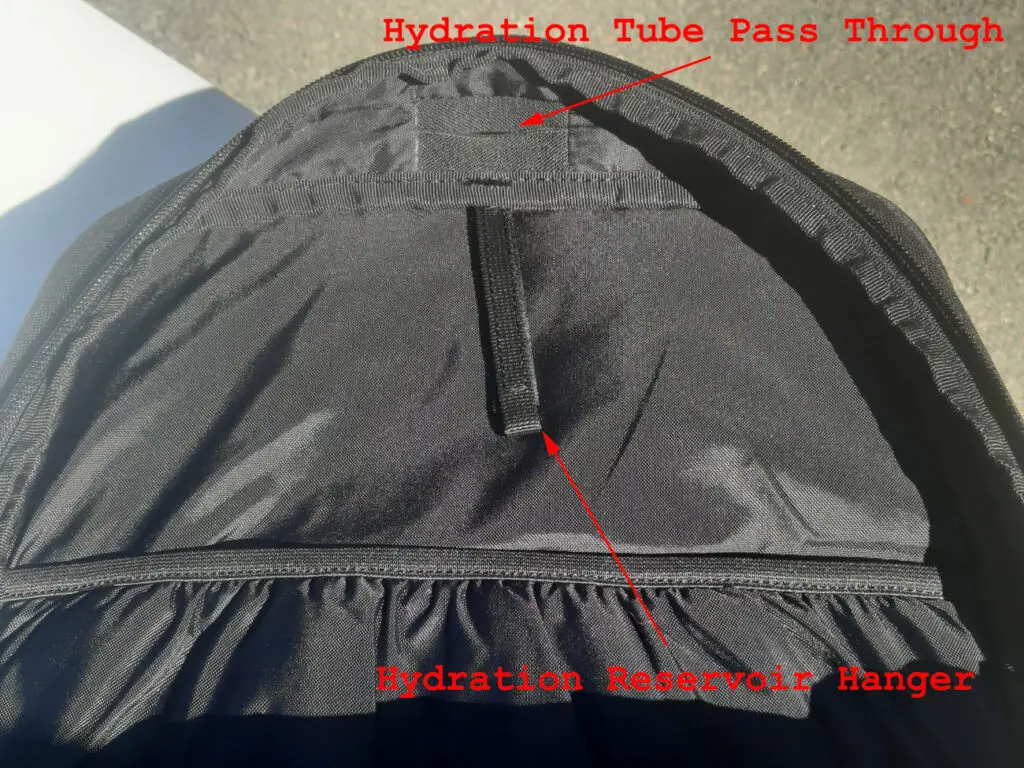 Behind the main compartment zipper is another zippered compartment.  It is a bit shallower (front to back), but it does run the full length of the pack top to bottom and right to left.  I though it seemed the perfect size for a small laptop or a tablet.  The are no partitions or pocket organizers in this compartment, but there is a Velcro access point at the top of the back side that leads to a thin pocket.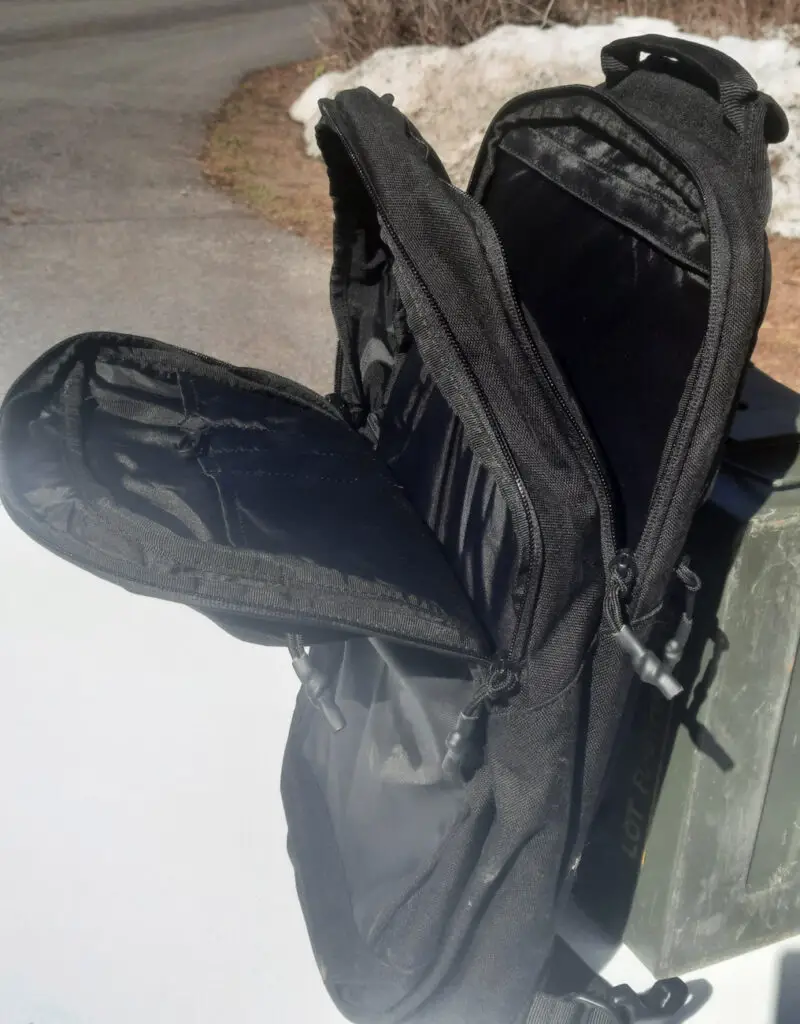 The pocket holds a hard plastic insert with foam on one side.  The insert provides padding and support for the vented foam back panel.  While there isn't much room for storage in this pocket, a person could utilize it to store something thin (e.g., papers, a thin book, maps, etc.).  In browsing the Elite Survival Systems website (elitesurvival.com), I saw they offer (for $159.99) a Level IIIA ballistic panel for use in any appropriately sized backpack.  Putting the ballistic panel in with the insert would probably add some support to the back panel in addition to providing some ballistic protection.
The dual vertical front pockets on the Smokescreen were a bit deceiving to me, but in a good way.  When I first unzipped the pockets, I assumed they both accessed the same area.  While each pocket does extend all the was across the pack, one is actually in front of the other.  On the inside, the pockets a completely separated by a piece of fabric, so they are truly each their own compartment. 
The eyewear pocket is on the upper front of the pack.  The interior of this pocket is clearly lined with a softer material that the other compartments do not have, but being advertised as an "eyewear pocket," I would have expected there to be some extras padding for protection.  The soft lining seems like it would help preventing eyewear from being scratched, but there really is nothing to prevent eyewear from being crushed if the pack is dropped or pushed up against something.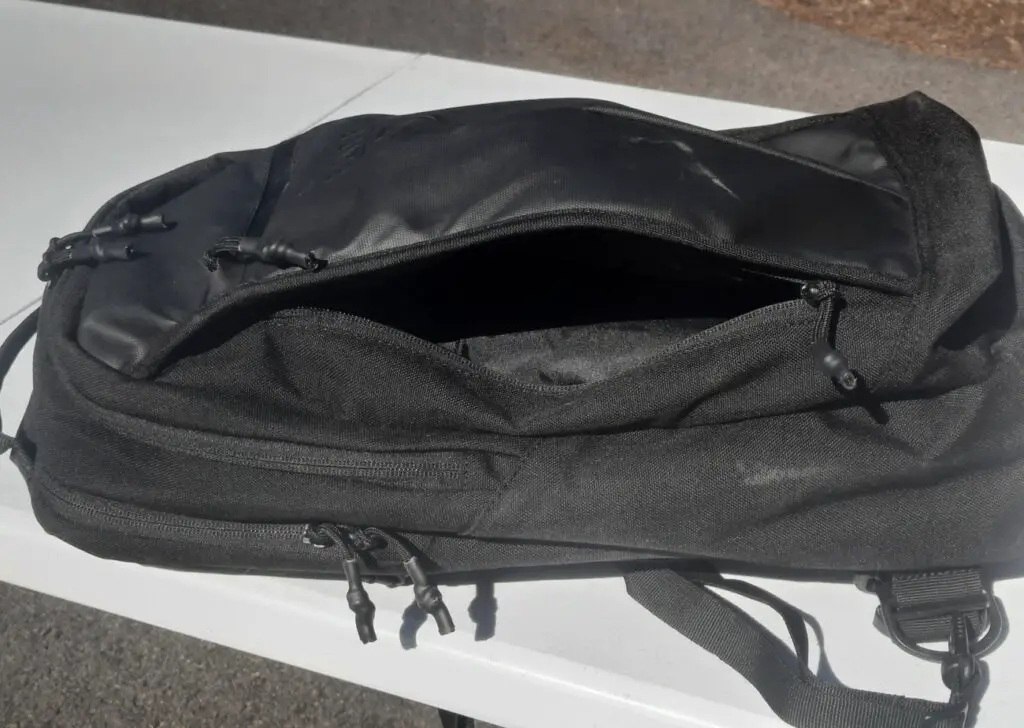 Gun Holster Compartment
The gun holster compartment zippers can be accessed from either side of the pack.  The "holster" is a generic nylon loop large enough to cover most trigger guards.  The holster is Velcro backed and holds itself into place wherever it is placed inside the compartment.  The holster does not have any retention mechanism other than zipping the compartment up.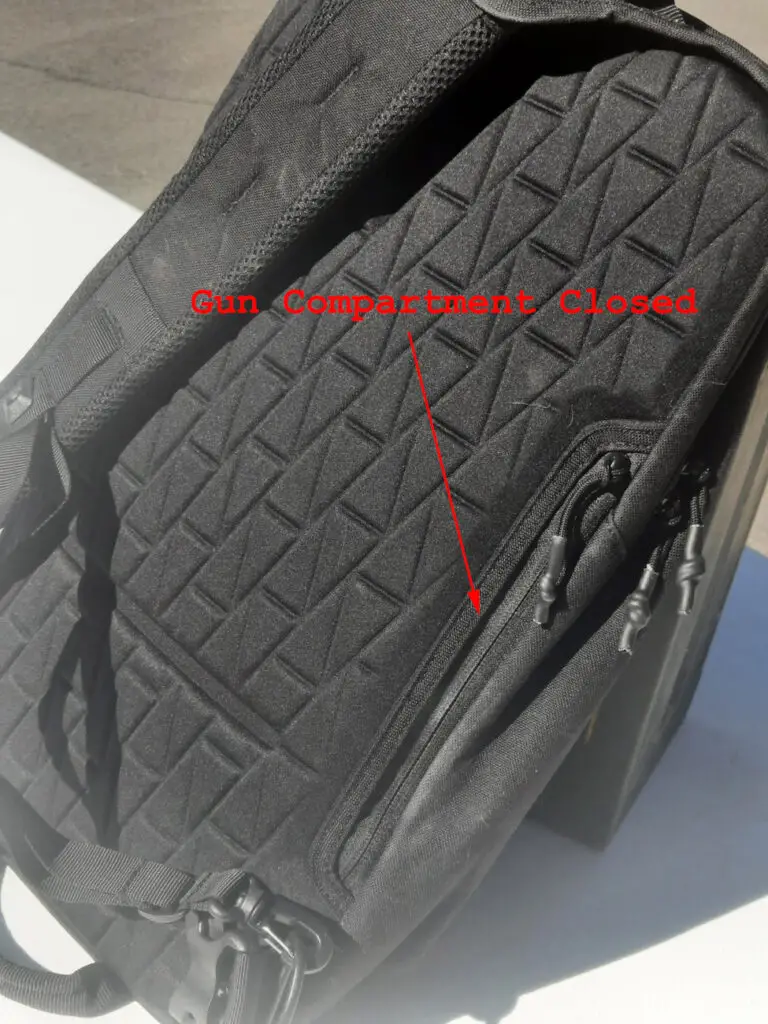 I was pleasantly surprised that the compartment is a tight enough space that with it zipped up, the pistol stays in place even when the pack is shaken and tossed around.  I tried the pack with a mid-sized pistol (a Kimber CDP II) and a full-sized pistol (FN FNX-45).  Both reasonable fit in the pack and traveled well.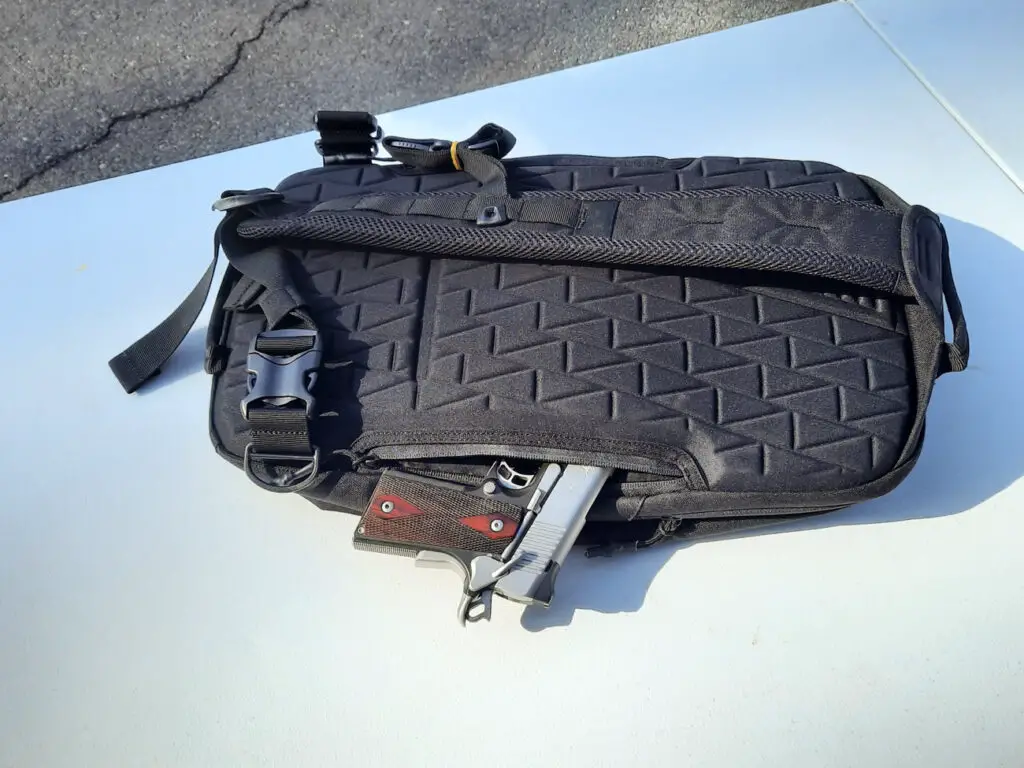 What I did not like about the gun holster compartment is that there didn't really seem to be any effort to conceal the access points for the compartment.  Anyone looking at the pack would immediately recognize how to access the holster compartment.  I would like to have seen something a little more covert.  I mentioned before that I liked that the compartment with a tight enough space to keep the pistol in one place.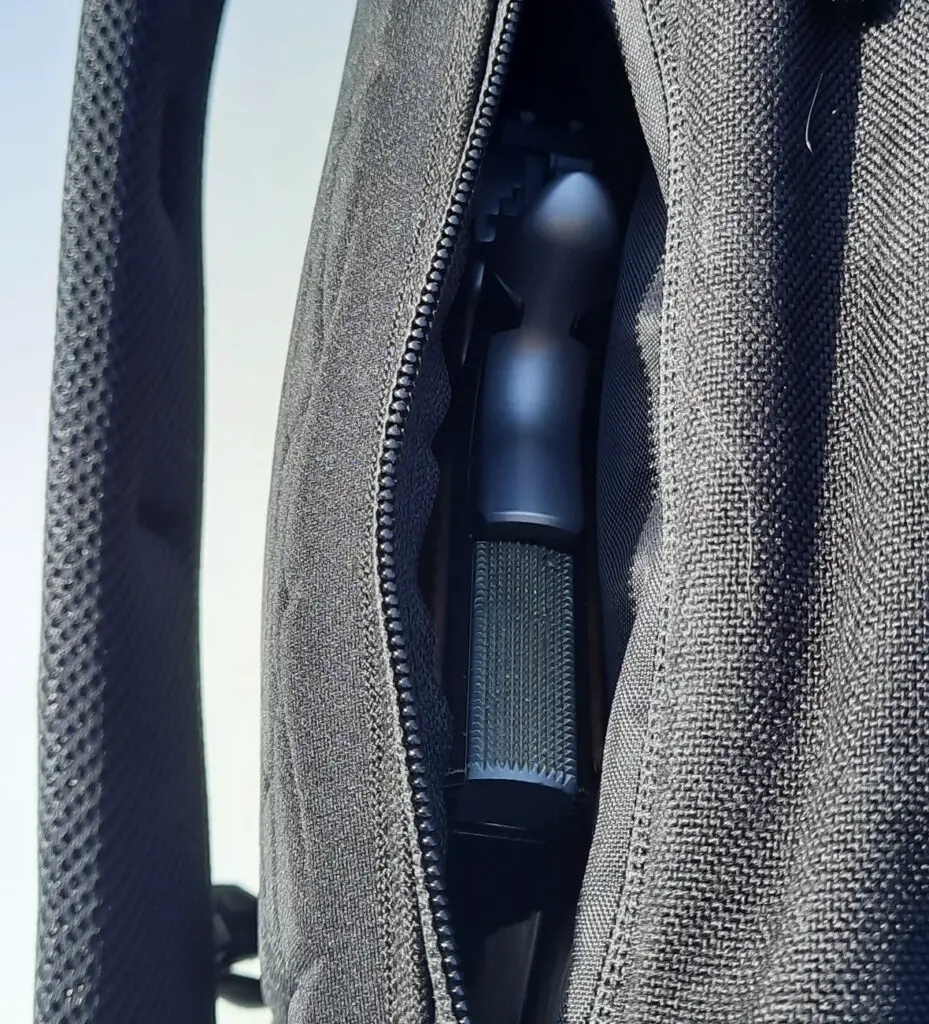 I thought that tight space was good in one respect, but bad in another.  Even with the pack right in front of me, I felt like I had to fumble around to get the gun out.  I didn't have any trouble pulling it out, but unzipping the compartment and finding my grip was somewhat challenging.  With the pack actually slung over my shoulder in the carry position, I had even more trouble trying to access the gun.      
Conclusion
The Smokescreen Gen III Concealment Slingpack is well made and I do think it has its purpose.  From a tactical perspective, the best positive thought I could come up with was that it would be better to have my pistol concealed in a pack I was wearing than to have it locked in my car or sitting in my gun safe at home.  Beyond that, for me anyway, I prefer to conceal carry in a holster attached to my person.  A pack is more likely to get dropped, stolen, or left behind somewhere, and there is no comparison when it comes to the increased amount of time it takes to deploy the weapon from a pack.  That being said, I will put the pack to good use.  As a compact, easy to grab "go bag" filled with a few bare essentials, I am a fan.  
With a product like this, personal preference is really the name of the game.  If you are looking for the most secure and tactically sound method of concealed carrying with readiness in mind, I'm not so sure a pack is the way to go.  If you're looking for peace of mind, reasonable accessibility, and a method of carrying other personal items as well, then I would definitely recommend the size, style, and quality of the Smokescreen Gen III Concealment Slingpack.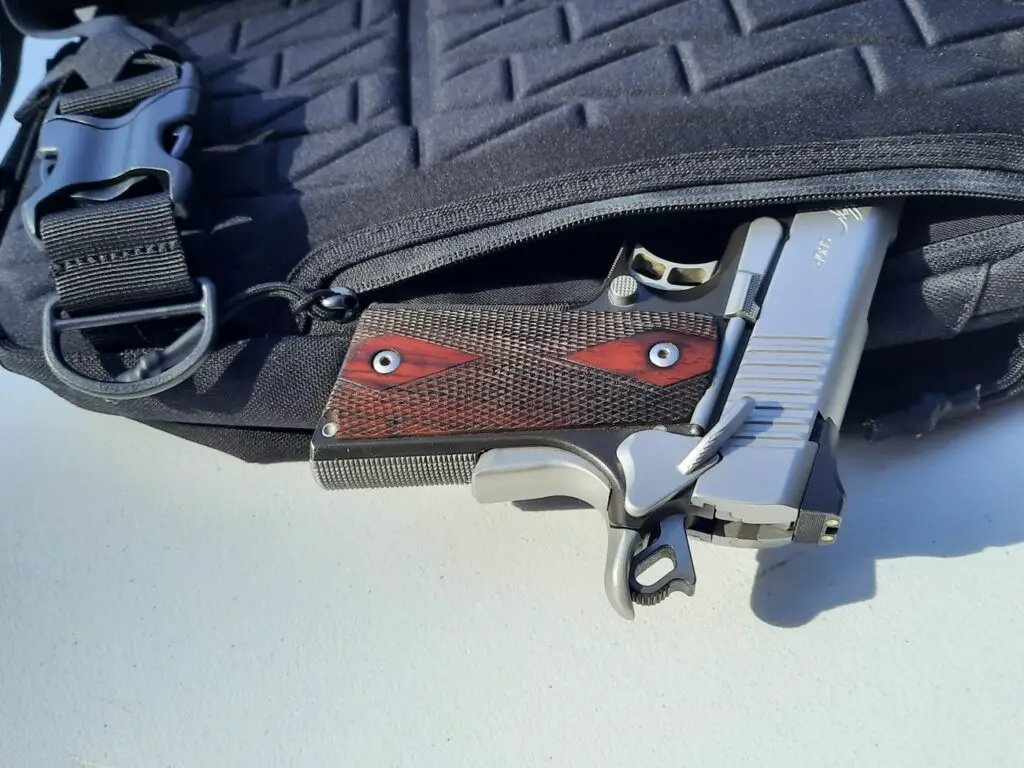 Check Price at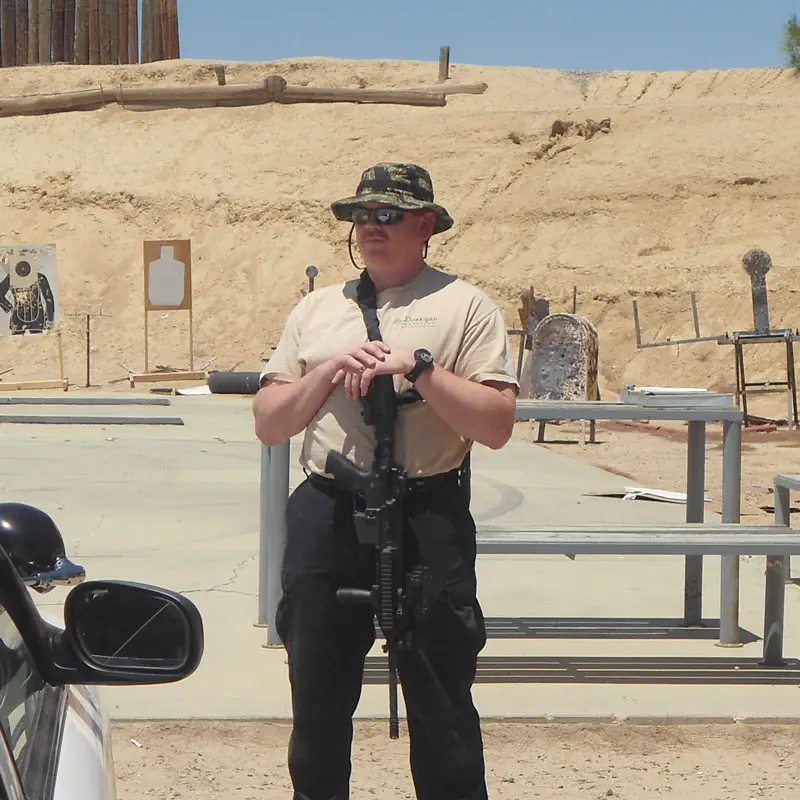 Jonathan started his career as a Police Officer in 2001. In 2010 he was promoted to the rank of Sergeant and became a firearm instructor (rangemaster). He has instructed law enforcement officers in the use of pistols, rifles, shotguns, and submachine guns. Jonathan is a certified armorer for the Colt AR-15/M-16 and for Glock. He served as a Sergeant and Rangemaster until his retirement in 2022.