For a lot of hunters, the shooting is the easy part: once you know where the game animal is and have a good idea of the kind of behavior patterns to predict, getting rounds on target is the relatively easy part. The hard part, on the other hand, is gathering the information you need to get yourself in the right place, at the right time, to make the shot. To gather more of the information you need to put rounds on target when it counts, there's no better tool than a well-made spotting scope. Thus, in this piece, we're going to take a close look at Cabela's spotting scope offerings.
To kick things off, we'll start with a little bit of background information on why you might want a spotting scope as opposed to simply using your rifle scope to scout for game animals or to spot for another person shooting. From there, we'll make the case that Cabela's spotting scopes are worth looking at not only in terms of features and performance but for their customer service as well. Finally, we'll wrap things up with our recommendations for spotting scopes at various price ranges. By the end of this piece, we hope to help you continue shopping for one of Cabela's spotting scopes that will work well for you.
Why a Spotting Scope?
Today, most folks have optics on their rifles or at least a set of binoculars in their range bag that they can use to look for game animals or to help either themselves or someone else to zero a rifle. Why, then, would you bother with a spotting scope when you probably have high-quality optics right at your fingertips? We think there are a few good reasons to go with a dedicated spotting scope rather than a scope you have on your rifle already.
First and foremost, spotting scopes have much higher performance than your average rifle scope, even for the same cost. Since spotting scopes don't have to withstand recoil, the attributes for the product are often focused in different directions. Specifically, spotting scopes often have large objective lens designs, which allows for a lo more light transmission, and thus higher resolution when looking through the scope. They also often have rapid and smooth focusing so that you can scan for detail at a wide variety of ranges while not moving from your current location.
The second is the comfort of use over time. When you're scouting an area or helping someone walk shots onto a target at long range, being comfortable matters, as you want to spend your energy on gathering information rather than eye strain or back pain. Most spotting scopes have tripods that you can set up so that you can use them comfortably while sitting or in prone. Furthermore, most of the scopes we recommend have fairly forgiving designs in terms of eye relief, so that you can get your head and neck positioned to avoid the strain that comes from scopes that have a narrow set of parameters of eye relief.
Why Cabela's for Spotting Scopes?
For the scopes we're listing here, we recommend Cabela's for a couple of reasons if you're looking for a good spotting scope.

The main reason we recommend Cabela's is their customer service. These days, it's hard to find places that have an actual phone number that you can call to talk to someone knowledgeable beyond a keywords menu that's posted on the website. Cabela's website is great for doing a store check or looking at average customer ratings, but with a company this well established, it's worth contacting support or going to a store location to get good information, or to get your hands on the products before you buy.
The fact that Cabela's has brick and mortar stores all over the country that you can walk into right now and pick up any product is a huge plus. Most of the time you can test things out and speak to employees there to get more insight on a product. That ability for ease of purchase and ease of return is really nice when spending a lot of money on a product that could be coming from who knows where if you buy it on Amazon.
Additionally, Cabela's offers a club card and accompanying club points area that you can use to, when you use the points, reduce the cost of future purchases and take advantage of the occasional club exclusive offer that is, from time to time, an exceptionally good deal on something interesting. This is doubly true if you're in the military: you can present your military member badge and get even better access to points and savings. If you play your cards right and make some smart purchases, it's possible to pick up some items at less than half price.
For these reasons, we're proud partners of Cabela's on this one, as we think it's the right thing to support a military member when we can here at home. Applying for the Cabela's club card, even for the rest of us, can be a great way to save a good bit of money on Cabela's spotting scopes
Our Process
Here, we want to make some recommendations for a spotting scope in several different price categories. On this list, we're looking for things that we found to be in stock, but, as with everything these days, store availability can be a major issue. If you have experience with any of these yourself, we highly encourage you to go online and write a review so that other people can make a good decision when they're looking for a spotting scope.
Over the past few years, there has been a large expansion in the market of well-made optics at a variety of price points. To some extent, of course, you get what you pay for: for the best clarity, most features, and longest possible ranges, spending a fair bit might be necessary. With that said, even relatively affordable optics will likely perform well for you.
---
Best Under $500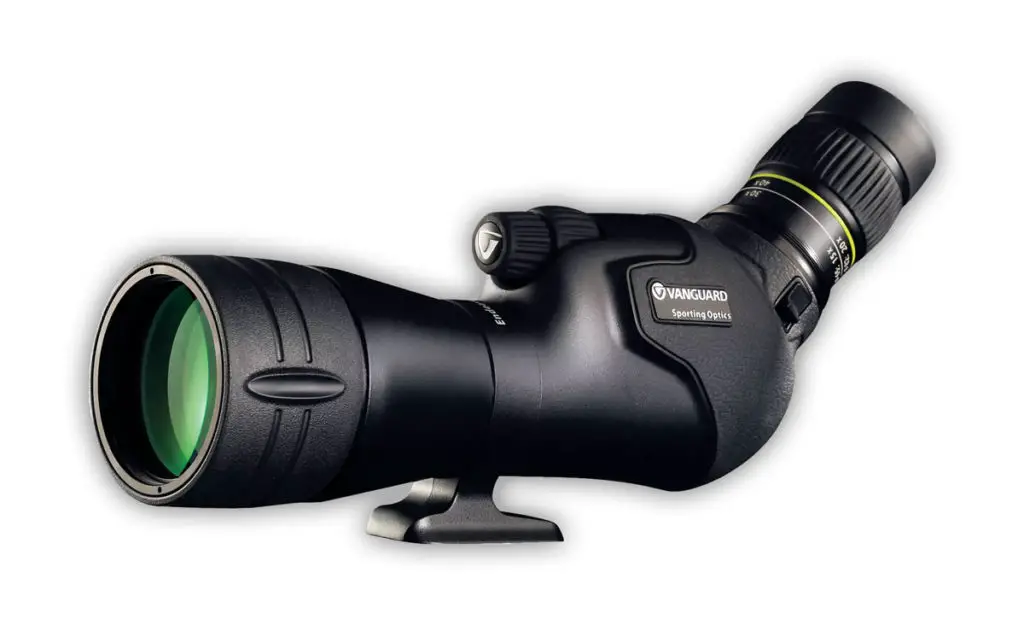 Vanguard Endeavor
The Vanguard line of spotting scopes is a great place to start if you're looking for a moderately priced spotting scope that comes with a nice set of features without breaking the bank.
These scopes come in two different sets in terms of magnification objective size: 65mm and 82mm. Generally, the larger the objective size, the more light transmission the scope can handle, and, thus, the more detailed and crisp the image you see will be. Here, we'd want the larger objective size, but we would be okay with either depending on store availability and budget.
In terms of features, this scope has an angled eyepiece to alleviate concerns over eye relief and has a magnesium body that is o-ring sealed to make the scope relatively resistant to both water and fog. In terms of utility, we think that this line of scopes would be perfect for people who are using their spotting scope to scout for deer from a blind or are using it at a range to help zero a rifle. The magnesium body is nice and light, but might not be the most durable thing in the world.
Of the other attributes for the product, we also very much appreciate the fact that the glass has been coated to increase light transmission: we would expect this scope to function extremely well out to ranges of about 500 yards under good lighting conditions, assuming you had it on a stable tripod.
---
Best Under $1000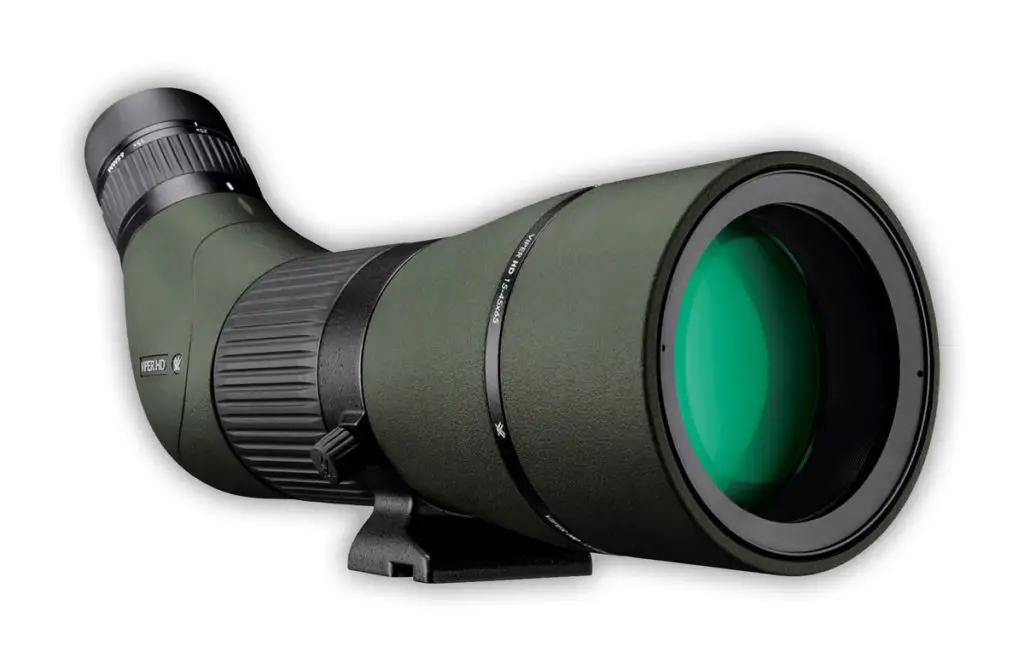 Vortex Viper
For the past several years, Vortex has been making weapon optics that offer great quality and value for customers including, apparently, some armed forces contracts around the world. We're happy to see that they've expanded into the spotting scope market with this spotting scope that can be had with either a 65mm or 85mm objective lens.
This scope comes with an angled eyepiece which is our general preference given the fact that we'd use a spotting scope for long-term observation of a target or a piece of land on which we wanted to hunt. This makes it a lot more comfortable as you can adjust the eye relief and overall setup so that you can be sitting in a comfortable position. For those who prefer a straight scope rather than an angled one though, there is that option as well.
In terms of features, one of the things that we like about all of the Vortex optics that we've run into is that the coatings that they use on the glass work remarkably well for the price. The Vortex rifle scopes that we've tested out tend to be highly resistant to fog and give great clarity of sight picture. Vortex uses the same technologies on these spotting scopes, and thus delivers high quality products for this line of scopes.
The flexibility of these scopes leads us to recommend these as something for people who want to shoot at a wide variety of ranges. Vortex says this scope will be effective out to 1000 yards with a fairly wide field of view, while also being able to focus on objects as close as about thirty feet. Therefore, these scopes would be a great choice for people who want to zero a wide variety of firearms as a spotter, or for a hunter who can't predict what sorts of ranges they might need to observe to get a good idea of what's going on in a given hunting area.
---
Best Under $3000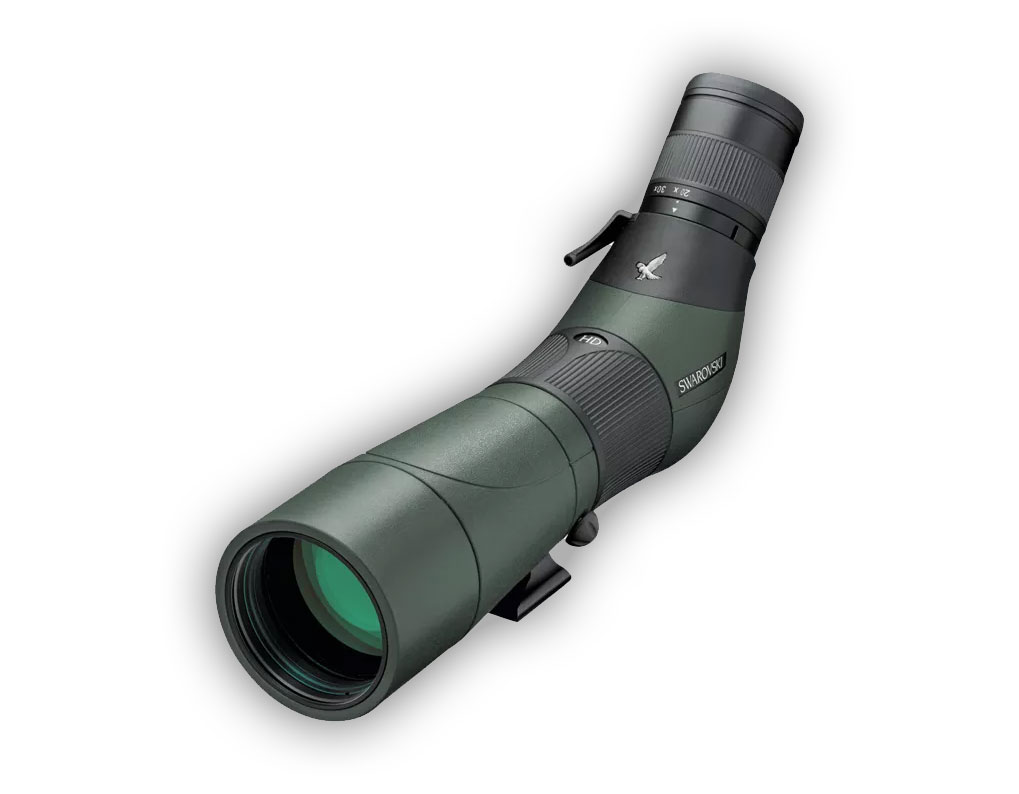 Swarovski ATS or STS HD Spotting Scope
If what you're looking for is the top of the line in spotting scopes, then the Swarovski ATS and STS HD spotting scope series is the one for you. Of course, as with any product from Swarovski, the clarity of the glass here is truly second to none. But, in this case, even extremely clear optics are only the tip of the iceberg for this impressive optic.
In terms of construction, the body of these scopes is aluminum to be both strong and save weight, with a rubberized coating to keep everything in good shape. We refer to this as a series of optics, as you do get some choices here: you can choose 65 or 80 in terms of the objective size mm, and between 50 or 60x maximum magnification power.
This is a highly feature-rich HD spotting scope: the body of the scope has been nitrogen purged for extra clarity, and the whole unit is sealed tight, making it highly resistant to both fog and water.
Something that we very much like here is that it has a quick-detach mount for either aftermarket eyepieces or a camera. We'd highly recommend this HD spotting scope for people who demand the highest performance from their scout optics for hunting or long-range shooting. Additionally, this would be the perfect spotting scope for someone who was interested in doing long-distance photography, whether for fun or to gather intelligence for whatever job might require clear pictures taken from afar.
Conclusion
In this piece, we've gone over Cabela's spotting scopes at a variety of price ranges. We're of the mind that, for our money, any of these scopes will make for an excellent option for someone who needs to do some scouting in an area that they wish to hunt, or for people who are trying to get rounds on targets at long distances.
In terms of application, these scopes are awesome for working in two-person teams, with one person doing the shooting and the other doing the spotting. If that's not possible, the optical quality of these spotting scopes is also excellent for people who are doing their own spotting, and each of these models is small enough to fit into a range bag or backpack for people who need to take their spotting scopes into the field.
We think Cabela's spotting scopes offer a lot of value: if you sign up for the club card and make a point to check store availability before you make a purchase, you might be able to not only walk out with a spotting scope that's a reasonable price but also with some rewards points that you can spend later on anything else they sell.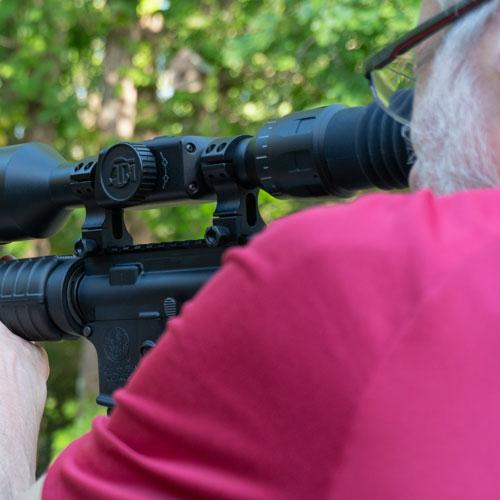 George has been an avid shooter for twenty years. He began shooting when he was gifted a Browning SA-22 for target practice. Now, as an academic, he combines his love of firearms and knowledge of history to write for firearms blogs and is still a frequent sight at the local range.